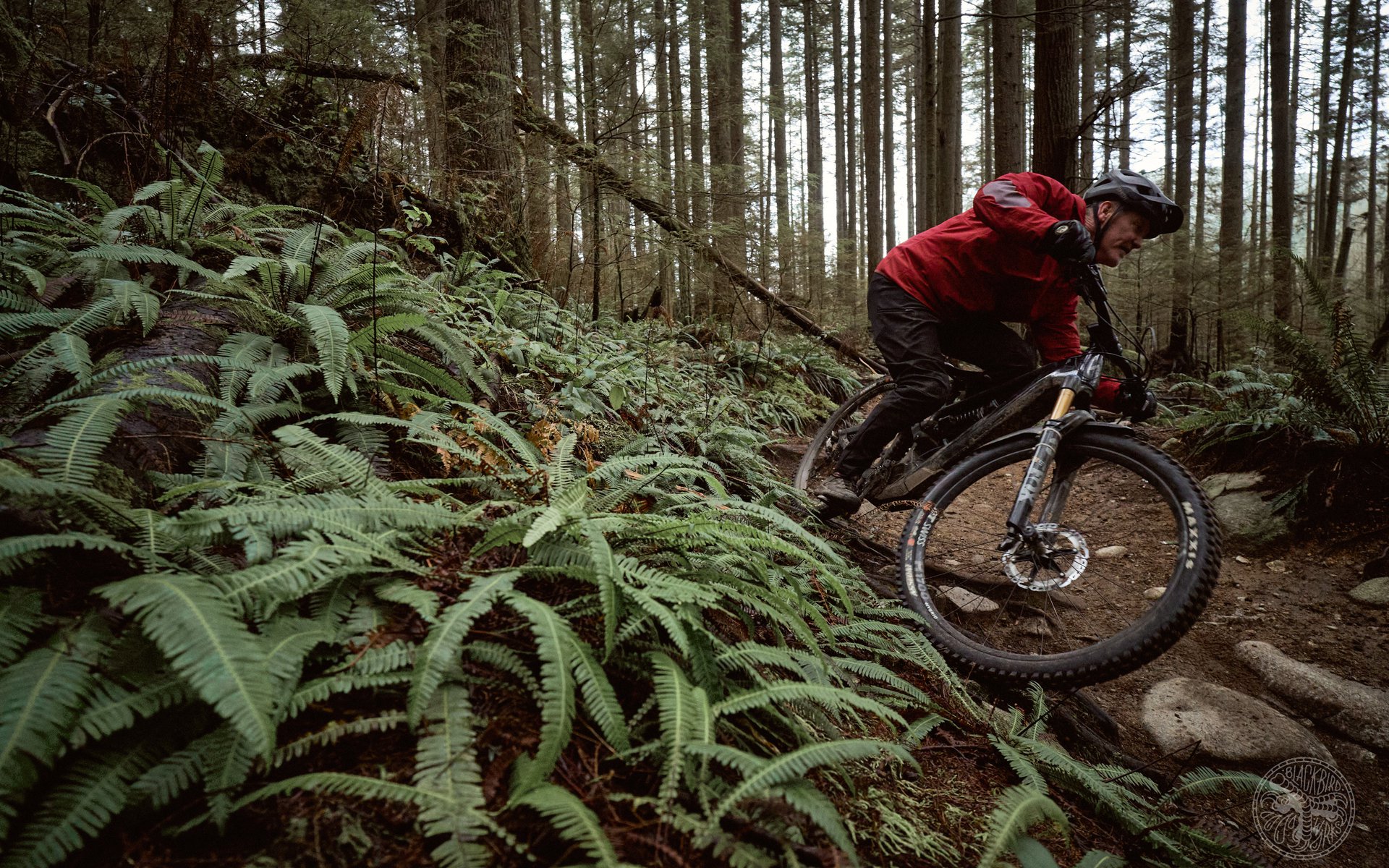 Long Term Review
2022 Norco Range VLT Full Review
A Big Long Travel Beast
The Norco Range VLT C1 is a 180/170 mm big beast of good times. Over the course of 6 months I have had over 50 rides on it. The variety of rides included a long dual mountain trip, post-injury road rehabbers, quick time crunch rips, ride-build rides, shuttles, meeting shuttlers at the top rides, and railing as many trails until the battery dies affairs. Having experienced eMTBs that I wouldn't want to ride on my favourite gnarly trails, I was pleasantly surprised to be able to take the Range down anything and everything. The bike's generous suspension, planted feel, and handling at speed, through the hard and steep moments, gave me the confidence to explore all that an electric bike like this can offer. I have pondered whether or not I would ever want to own an eMTB. Previous experiences had me thinking they may be of value for a small array of ride experiences but never as a ride-all tool. The Range VLT had me wondering if my mind might be changed.
Driving up
The Range VLT climbs exceptionally well on all surfaces and terrain but it has some difficulty climbing trails with tight switchbacks. I found out early in my eMTB riding that I needed to make adjustments for the extra speed and torque these moto-bikes carry into and out of corners. I used braking and lowered the seat on some tight turns to help with this. I found the large Norco's long wheel base (1301mm – my Spesh Enduro is 1243mm) coupled with longer chainstays (462mm compared to Spesh 442mm), 475 mm reach (Enduro is 463mm) and hefty weight penalty made it harder than my real/regular/that name of an unplugged guitar that I refuse to use, bike. I found that if I prepared for the tight uphill turns well in advance (the parking lot) I had more success negotiating them successfully. Sometimes I climbed with the DHX2 switch on firm but most of the time I just popped the drive into boost and gave 'er the onion all the way to the top with the switch wide open. I did not really notice much difference in performance switched on or off other than super steep tech climbs where the added traction with the shock open helped; however, at times I wasn't sure if the extra sag caused more BB smashes.
I wanted to install the One Up Bash Guard I received from our friends up the Sea to Sky for my WRP mullet link review in order to keep the frame and the battery plate from taking more beatings. The Range comes with an MRP chain guide but according to Colin Ryan, Norco's senior development engineer, "the motor can make it challenging to incorporate a ISCG mounted chainring bash guard but the other reason we don't spec one is that, sized for the 34T chainring on our Range VLT, it would not extend below the motor subframe to be the initial point of contact. We clocked the motor upward on our new VLT bikes for both the ability to remove the battery from the bottom of the downtube and also to improve ground clearance." The occasional BB banger hasn't caused any damage to the frame or the integrated bash plate.
Unlike the Range where Ryan found the Assegais slowed his climbing I did not notice that because, well, I had a motor. I would imagine the Assegais gave me extra traction on the slippery roots and rocks during the climb but I did not do a control so that's my sloppy not so scientific anecdotal evidence for you.
On paved and gravel climbs the Ergon SM-10 E Mountain Sport Saddle felt comfortable for the first fifteen or so minutes then a minor pinching in my inner thigh would develop. After 20 – 30 minutes the pain was so bad I would have to stand and pedal which I find awkward at speeds of 15 km/h or more. I could have changed out the saddle but I wanted to suffer for my readers ( yeah okay I was too lazy and/or kept forgetting). The 76.9 degree steep effective seat tube angle provided a comfortable riding position on trails and roads even with the ass hatchet (Roggey's term stolen from his Trek eMTB review ) Ergon saddle.
One of the arguments I have heard supporting eMTBs is that they are handy for people rehabbing or stuck with long term injuries. On the second day of my nine-week summer holiday (I bend minds and bodies at a high school for a living) I crashed and broke two ribs. After a couple weeks rest I was antsy to get back outside but whenever I breathed too hard my ribs ached. The Range came in handy for long road/gravel rides where I could go fast and keep my breathingmoderate to preserve my ribs. After I was ready to get some heavier cardio, I used the Enduro for the exercise benefit as I found it way too easy to slack off when the boost button beckoned on the climbs. In addition, I recently had a cold (not Covid according to the swish and spit results) and I wanted to give my lungs a break when I was ready to get back on the bike. Am I rationalizing again? Am I so addicted to biking that I can't just wait to be healed before getting out there…well duh
Going Down on the Beast
It took me awhile to realize the extra weight on the bike wouldn't hold me back on the steeps. As a matter of fact, I found myself going down some of my steepest sections of trail slower and thus more confidently than on my Enduro. The first time I noticed this was a really steep rock face into a long steep narrow chute I ride on a local OG trail. Normally I creep down the rock until the bike accelerates and I hang on for a fast, wild ride where I gain control and slow down three quarters of the way down the chute. My first time on the Range I found that I had so much traction entering the chute I had to get off the brakes as I was going too slow to get the fun factor I was used to. The bike has so much control that I found my confidence increased on the steeps and gnar-gnar which usually resulted in higher speeds and more control (except in tight spots, jumps requiring pulls, and loading/unloading when shuttling of all things-explained below).
In June I decided I wanted to experience what it would be like to only have an e-bike. I thought a solid 30 rides would get me the conclusion I was after. Over a 3 week period I rode with other e-bikers, I pedalled up and met friends who were shuttling at the top of the mountain, I rode slowly with friends, I towed friends, I even shuttled with the bike a couple of times risking back injury lugging the bike on and off racks and truck tail-pads. When trail building, I really enjoyed how the bike left me with energy to ride downhill after climbing up to work on trails. Normally the pedal up followed by work on the trails leaves me lacking energy and motivation for the ride down post-build. With the Range VLT, I could casually spin up, avoid soaking my gear with sweat, then build and maintain for a couple of hours. Afterward I still had the gumption to enjoy a sweet ride down.
After 14 rides, I missed my Enduro too much to keep going for another 16 rides; I had my conclusion, E plus SE (for Specialized Enduro) was the equation for me. On my first Enduro day I dropped into the steep trail I mentioned above. The trail was very dry and loose and I came off the rock with way too much speed having been lulled into the Range traction confidence of past rips down this trail. I lost control of the Enduro and slid into a stump. When I stood up I knew I had either bruised or broken ribs – after hiking up (my sherpa, Mr. Walters, carrying my bike), out and then rolling down the road to the car and the hospital, I got the diagnosis; two broken ribs due to E bike TTS (traction transference syndrome). Of course, I can only blame myself, not the fact that I got used to cheating traction.
Speaking of cheating traction, when I rode the Range on wet trails, the bike's weight, long wheel base, Assegais with inserts, 170 mm of coil shock, 180 mm of Fox 38 lovin', and slack headtube angle all added up to me riding faster with more confidence. On some of the steep faster trails I ride, I have a speed game I play with a couple of my faster riding buds. If I can still see them after a count of 5 I am riding at a faster than normal pace. Of course, it could also be that they are riding slower than normal but I disregard that as it gets in the way of my inflated self-confidence. One such day occurred when chasing Mr. Walters on his test Range. After the first couple of sections he noticed I was staying close to him all the way down and that I was riding faster than usual. My bubble was burst a bit when he mentioned that he was riding without inserts and that the higher pressures were making him slow down a bit. Whatever! I was keeping up.
The weighted, planted feel of the bike allowed me to high speed plow through chunder, over roots and rocks while maintaining control most of the time. The occasional off-camber root still got the bike sideways, but in all occasions I can remember, the Range righted itself and kept on plowing.
I mentioned in my initial impressions that:
The only trails it does not perform exceptionally well on are those with tight corners and those with jumps and optional side hits. Yes, it will go over all the jumps but it is an effort and it doesn't feel as fun and poppy as my Enduro or the Nomad I tested. But this is where a paradigm shift is necessary; this is a different ride and a different kind of fun than the usual bike ride. I am hoping that with more time on the bike I will learn new ways to get some of my old ways working with the hefty weight of this thing.
So, did I learn ways to work the weight over the next 30 or so rides? Kinda. I pre-jump more, I lift up more than J-hop and pull on small jumps. It reminds me of cheating jumps when I was clipped in; I could just pull straight up to get cheap air. With flats I just push down on the pedals and pull up on the bars – a lot.
The upper body gets a workout if I try to get more hits and carve a lot of extra turns instead of just plowing straight down. My messed up elbow takes a beating wrestling this caboose all over the trail. I swapped the DMR Deathgrips out for Ergon gd1 grips to help the wrestling pain. I also installed a OneUp bar because I find that helps my tender lil' bows when riding my Enduro. The difference with elbow pain between the Deity Ridgeline aluminium bar and the One Up bar was vast.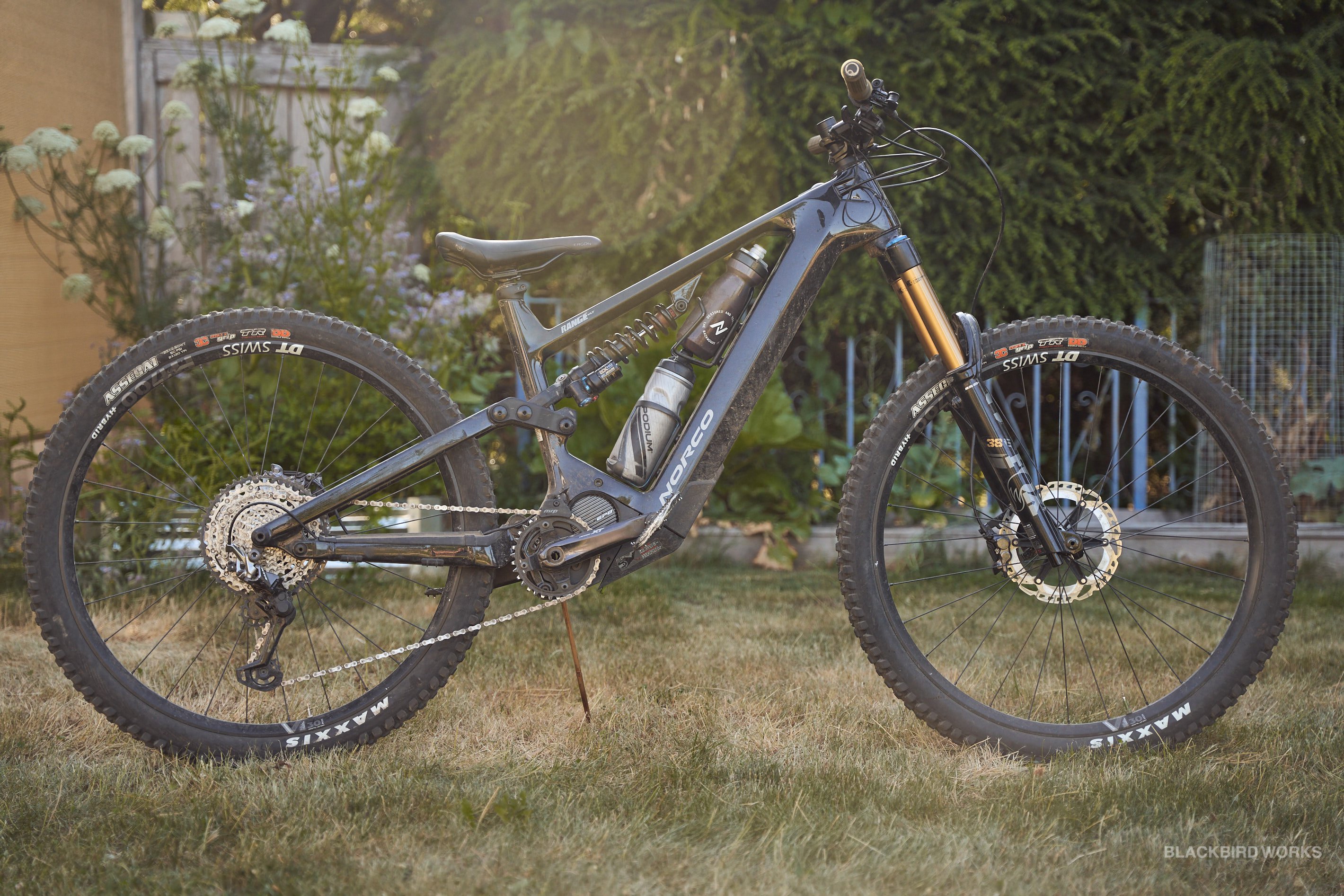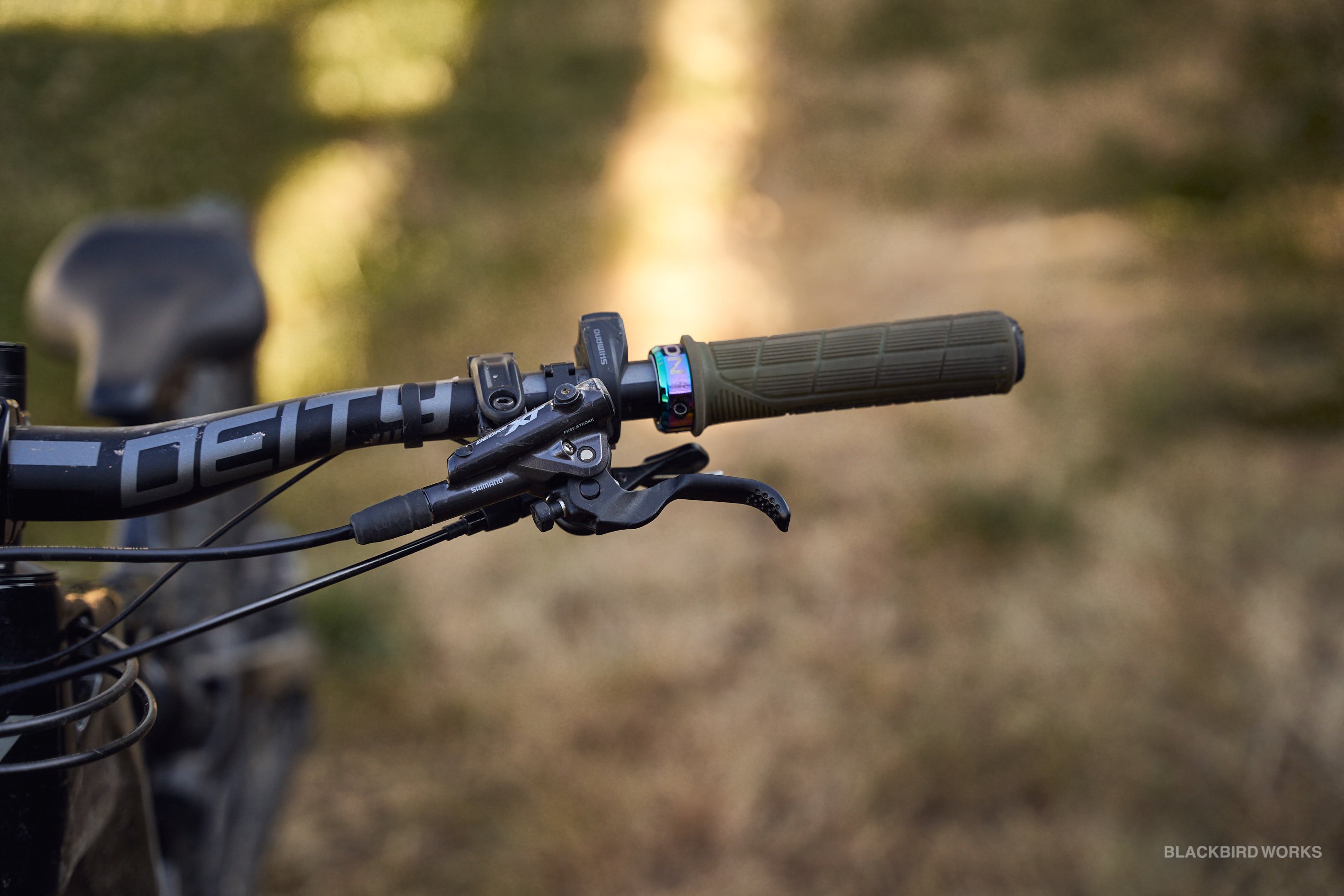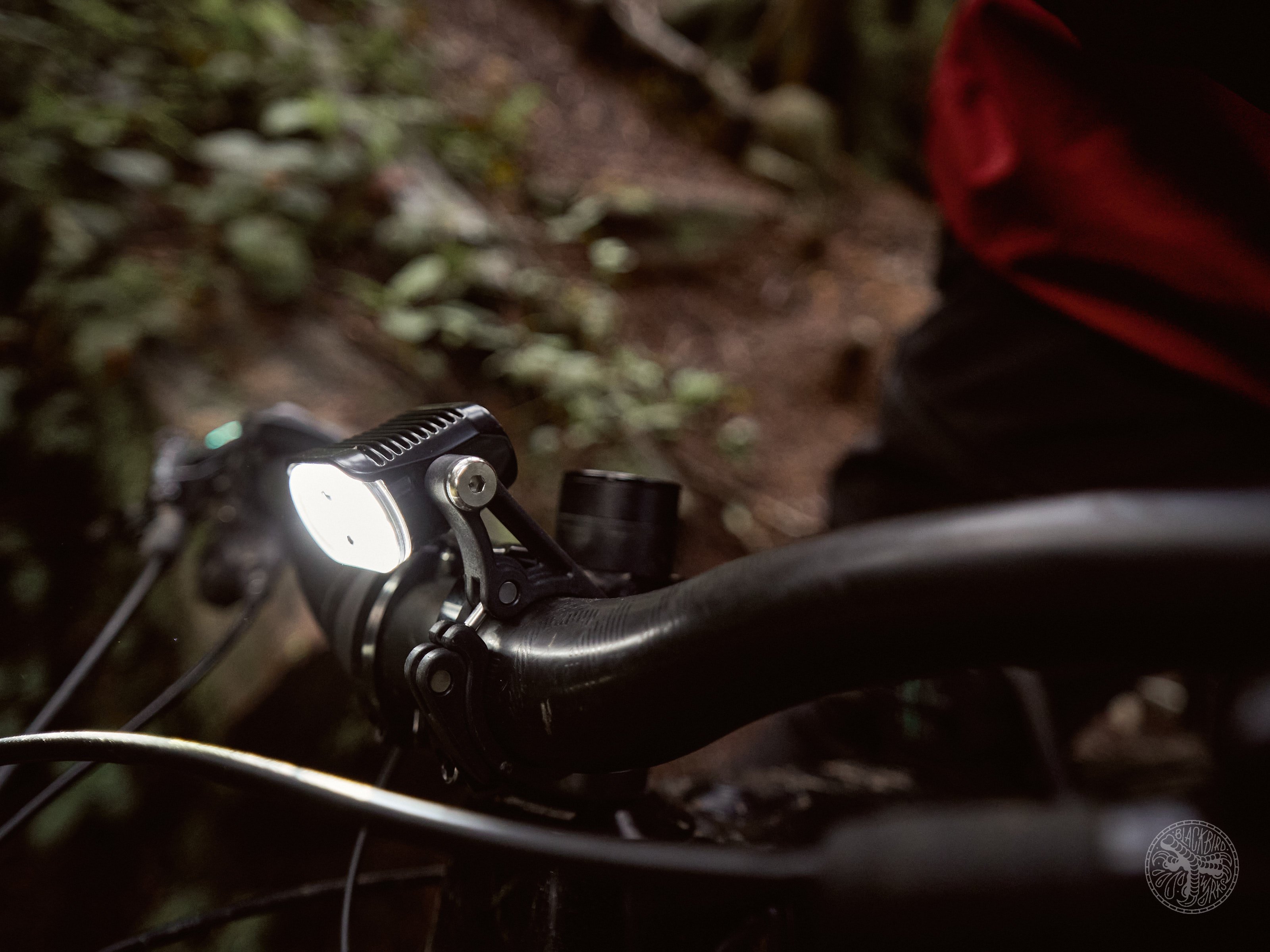 Components and Frame
The Range C1 is well spec'd for enjoying the ride. Norco told us a lot of the components were spec'd based on availability relating to the ubiquitous supply chain issues globally. Regardless, they did a fine job on the Range spec. in my opinion.
The highlight of the components has to be the suspension. Not only a Fox Factory Float 38 with Grip2 and some extra beef with the E rating but it comes with 180 mm of travel. That extra goosh was much appreciated. Speaking of goosh, I like how it comes stock with a coil. When you give up on weight issues why not go all in with coil? The Fox Factory DHX2 comes custom-tuned for the Range, which seems to be standard on most plus 5K bikes these days.
I had the same experience as Ryan did using Norco's Ride Aligned Design System set-up tool for his Range review. The system " includes data for a slew of current Norco bikes. The system takes input like rider height, weight, gender and riding skill, then provides some baseline settings for everything from cockpit arrangement to suspension settings and even tire pressures. For the most part, these baselines were fairly close to where I settled - although the fork settings were way off the mark."
Once I upped the Fox 38 air pressure from their recommended 87 psi to Ryan's recommended 95 psi, for a more aggressive feel, I had a better experience. All of the other rebound and compression settings worked well for me.
The Assegai DDs are a treat for the gnar I like to ride but I wish they came with inserts installed like Rocky Mountain is doing on some of their eMTBs. It wasn't a big deal because Nsmb HQ is stocked with a lot of inserts for testing purposes. I installed Cushcore in the front and Tannus armour in the rear. Again, some extra weight didn't make any difference to the already stout Range so why not increase traction with lower pressures and prevent flats?
The brakes are XT BR-M8120 with Ice Tech and the rear rotor is the RT-EM810 Ice Tech with the integrated sensor magnet. This improves upon the spoke magnet the previous generation Range had mounted. Norco said they would have gone with Sram Code RSC's so they could use 220 rotors but supply was an issue. Personally, I did not notice the 203 vs 220 difference (I have 220's on my Enduro); I never felt under-braked.
The DT Swiss 1700 E-rated alloy rims were flawless with E-reinforced hubs and spokes. All of the other components are high-end (ahem – repeated every other commenter). The mix of Shimano XT, XTR (derailleur), and SLX (cassette and chain) performed exceptionally well throughout the test. I replaced the brake pads after about 30 rides. The chain was replaced when it showed about 50% wear around the the 40 ride mark.
The frame handled all the abuse I could punish it with. After about 20 rides there was play in the rear triangle seat stay/chain stay bearing. I sent it back to Norco and they replaced it with a new seatstay.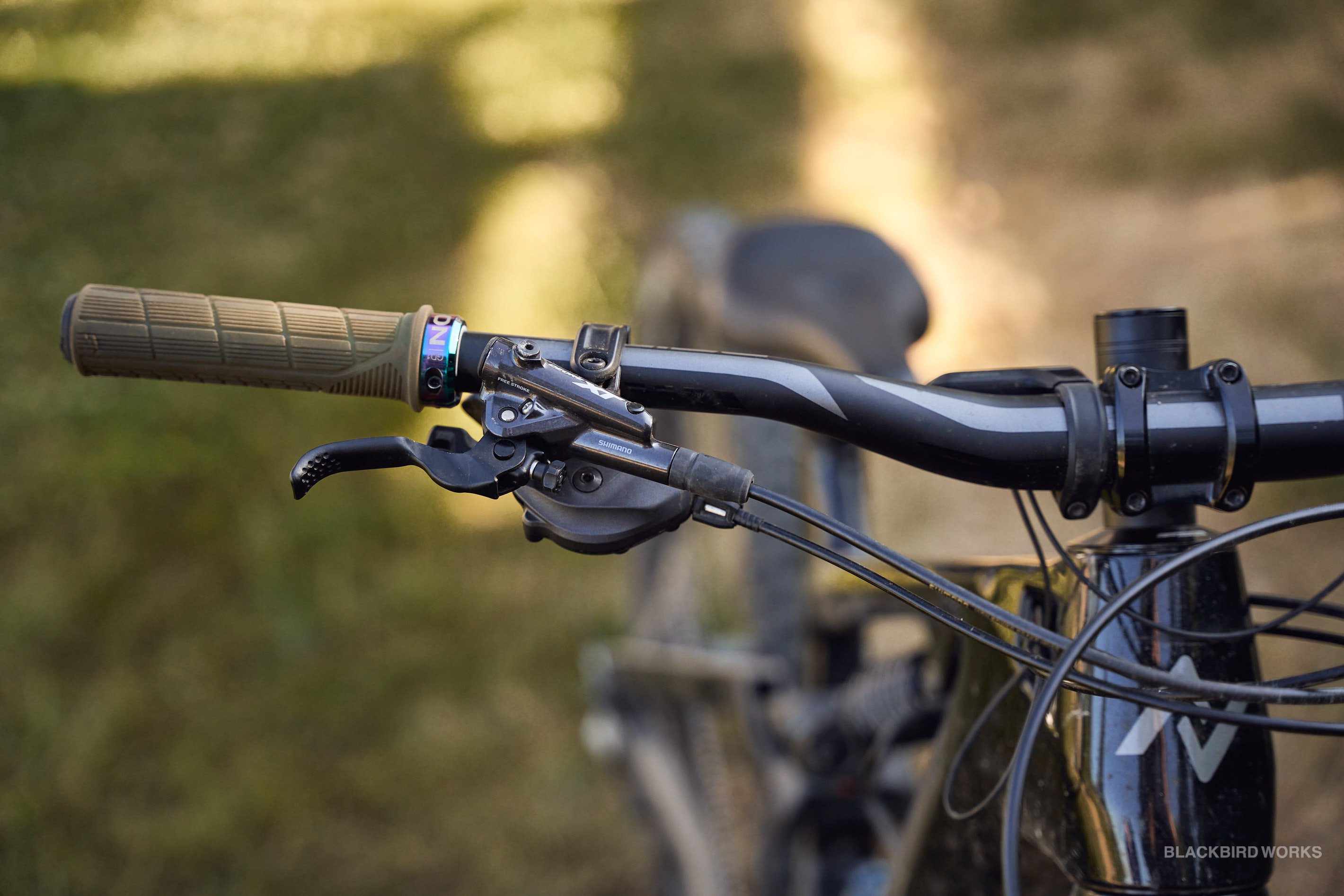 The E-stuff
One issue that scares me about eMTBs is the potential for motor and battery failure. Norco has spec'd their VLT line with lithium ion batteries manufactured for Norco by BMZ Germany. The batteries have 21,700 lithium ion cells. Even better, the waterproof charge port is called a Rosenburger; not sure why I like that but I do. Norco claims that their 900wh battery is the industry leader for capacity. With all that capacity, perhaps there is a downside. I experienced battery issues twice with the 900. Once it was my fault when I thought the battery was being charged and once when I was JRA (just riding along for those newbs reading this) and it just died.
The interface between the charging plug and the battery charge port is usually an easy click due to the strong magnets on the charging plug. On one occasion I thought I felt the click but when I went to turn it on the next day I noticed it had not charged. Upon inspection I saw dirt in the charge port. It was enough to prevent the bike from charging. That was my bad. From then on, I would ensure a clean connection then look at the lights on the port inside the downtube to ensure they were blinking which meant a charge was proceeding; also I forced myself to wait for the audible click of the charge unit. You have to listen for the plug unit to make a click sound to know it's charging.
The JRA battery death occurred on a ride while I was climbing in boost (as I always do – cuz I can) with a full charge. After about ten minutes on the climb the power shut down. After checking the battery interface (bike upside downz with riders going by - JRA: and revelling at my misfortune) I noticed that I still had no power. I called Norco Bike shop and they advised me to bring it in. To get to the shop I climbed up a steep paved road in low gear with no power for ten minutes. I was pleasantly surprised by how easy it was compared to the dread I had before the climb. It reminded me of the OG days pedalling my 48 pound Balfa BB7 all over the mountain with my kick down granny ring. Norco determined it was a faulty battery and replaced it.
The motor, the battery and the ETube app
The Shimano ETube app allows you to make a few adjustments including how much assist and how much torque you get in each mode. On paved and gravel climbs, biking with Cam on his test Sight, we noticed that while we were both in boost his Sight rode faster than my Range.
Upon checking the Shimano ETube app, I noticed that my assist was at 9/10. My Range did weigh more than his Sight ( 55 lbs. for the Sight vs 60 lbs for the Range with inserts, pedals and mud), I weigh about 10 pounds more and the Range rear wheel ran on Assegai DDs vs the Sight's Dissector/Assegai combo DDs. These factors all account for the fact that the Sight climbed faster than the Range because there is no way Cam is faster than me. (except on the way down - Ed.)
To keep up with that Mr. Jones, I turned the assist dial up to 10 though I wished it would go to 11. He was still faster than me. I let that go and enjoyed the consolation of my hair being way better than his. It wasn't just me though. Other NSMB writers noticed that riders on different brands and models of eMTBs were faster than the Range and it required more effort to keep up. I took this problem to Norco and they updated the firmware in the EP8. I took the Sight and the Range out for a number of time trials and recorded data that shows the Range is slower than the Sight by 14 - 17%. On each trial I noticed the effort level on the Range was significantly higher than on the Sight. After that due diligence I followed the Norco service tech's advice and brought the Range in for a motor replacement which they ordered from the US. With a new motor on the Range, I repeated the same time trials with the Sight. What I found was very similar time trials and effort levels to the Sight. Problem solved. The final conclusion from Norco regarding the motor not generating enough power was simple: the original motor was faulty.
Norco claims the Shimano EP8 drive system is "whisper quiet." Shimano claims that Despite its power, the EP8 operates with little noise so you can still enjoy the natural sounds of the trails without distraction. Now I have a few friends who, after a number of drinks, think they are whispering quietly, despite their drunken ramblings reverberating throughout the room (no names mentioned but rhymes with Bike Ballace). The EP8 on the Range is quieter than other e-bikes I have ridden and those others around me have ridden, but it is definitely not whisper quiet. I think the copy writers dialled their hyperbole up to 11 on that line. I really notice the sound of the motor when I am following another rider and patiently waiting for an opportunity to pass. When they hear the motor disrupting the natural sounds of the trails, and they always do, they usually pull over and let me pass. (I am however, happy to wait for an opportunity that does not require them to slow down or dismount. I have the motor advantage and I feel that that advantage means I should wait, not the rider on the real bike in front of me. Don't get me wrong though, I love passing them, saying hi, and boosting up, up and away.
The VLT line gives riders the option of purchasing the battery size they want separate of the bike's cost. Or they can buy more than one if they are greedy for juice.
There are three batteries to choose from:
540Wh = 3190g and $1149 CAD
720Wh = 3880g and $1399 CAD
900Wh = 4570g and $1699 CAD
I have ridden all the three batteries and, other than picking up the bike. I did not notice the weight difference. But did I ever notice the distance difference. So much so that after suffering for you with the puny little batteries so that I could provide an informed opinion I stuck to the big 'ole 900 for max trail time.
Wouldya?
Or more appropriately/importantly/all about me, would I? Well as I mentioned above, I need a bike like this in my bike barn with my Enduro. But the $13,000 CAD price tag (with the 900 big boy battery cuz go big for another $550 I say) is a tough pill to swallow. I see the warranty covers the frame for 3 years (not sure why the Sight VLT gets 5 years). Also, all the parts are covered for one year for manufacturing defects. The battery is claimed to still provide 60% capacity after 1000 charges so that's easily at least 5 years of riding at my current e-schedue. But what if the motor goes after a year? Or the battery dies post warranty period? That's a big hit when we already have to worry about high suspension tuning costs, wheel breakages, new drivetrains, etc. But did I mention how this moto-beast changes everything in my bike life? I am definitely going to have to use some explaining, rationalizing, and justifying skills on this decision. Perhaps this toy is like the Porsche in Cam's mid-life crisis article justifying spending too much on bikes. Or as one commenter in Uncle Dave's article on losing interest in mountain biking said, "Use an eMTB to invigorate, the trick is- buy a new eMTB. Experience the Up hill flow - it's magic."
After all the testing, the writing and the posing I have come to the bottom line:
I am going to buy me a big beast of an eMTB. As weird as it is I am going to be an electric bike owner. Good gawd Who am I?
Trevor Hansen
Age - 57
Height - 5'9"
Weight - 175lbs
Ape Index - 0.992
Inseam - 31"
Trail I've been stoked on lately - Bukwus
Bar Width - 780mm
Preferred Reach - 465-480mm