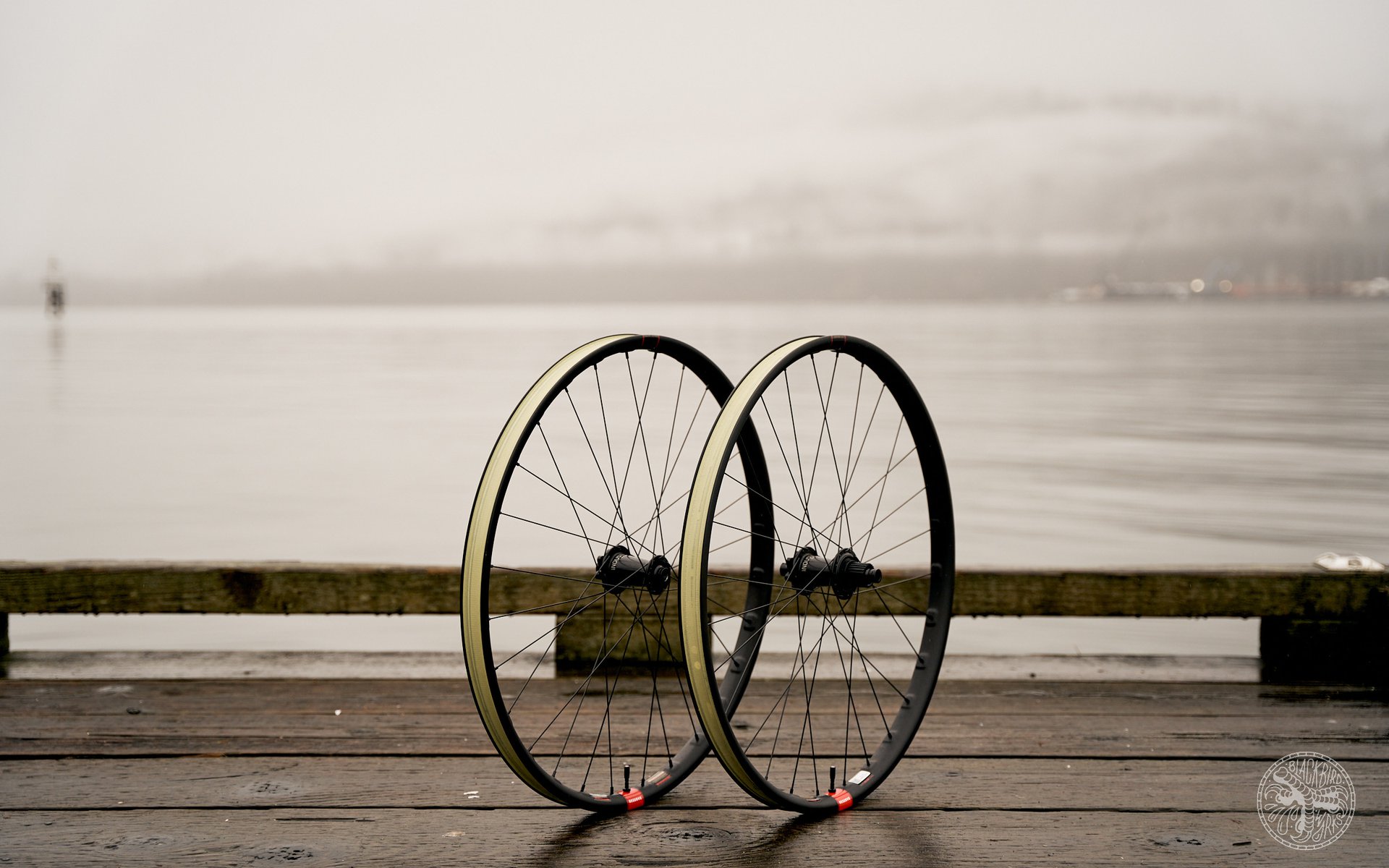 First Impressions Review
RESERVE 30|HD Wheels
Reserve 30|HD wheels
Reserve first made an impression on the mountain biking world in 2017, after Danny Macaskill repeatedly rode a tireless set down a flight of stairs with very little damage. After a long partnership with ENVE, Santa Cruz decided they should launch their own line of wheels, and Reserve was born. When the top secret news broke out that a new set of wheels was being released named the 30|HD, (not to be confused with SL or DH) I thought It would be interesting to run them on my new long-legged bike for some fun.
Reserve points out these wheels are for Aggressive Trail or Enduro racing. The word racing is a loaded one in my mind. It throws caution to the wind and suggests interpreting the trail at a faster-than-normal-human pace. This kind of wheel strength claim can bring needed confidence to your daily rides because you know you won't just shatter rims every outing. It can also often mean STIFF. Not the word I want to associate with carbon wheels.
There are now four wheels in the Reserve line up designed for single crown MTB use.
The 28|XC is designed for World Cup XC riding and Racing (think Blur and Blur LT).
Inner Width: 28mm
Sizes Available: 29 only
Recommended Tire Dims: 2.2 to 2.5
Spoke Count: 24
Rim Weight: 385 grams
Weight: 1321 grams with DT 180 hubs
Price: Starts at 1599 USD
The 30|SL is designed for trail riding (think Hightower).
Inner Width: 30mm
Sizes Available: 29 only
Recommended Tire Dims: 2.2 to 2.5
Spoke Count: 28
Rim Weight: 440 grams
Weight: 1750 grams with I9 Hydra hubs
Price: Starts at 1599 USD
The 30|HD (replacing the 1599 USD 30|30) is designed for aggressive trail riding and enduro racing (think Megatower).
Inner Width: 30mm
Sizes Available: 27.5 and 29
Recommended Tire Dims: 2.2 to 2.5
Spoke Count: 28
Rim Weight: 480 grams
Weight: 1800 grams with I9 Hydra hubs
Price: Starts at 1799 USD
What is the difference between the 30|HD and the 30SL?
The basic design of the two rims is the same. Both feature the new rim bed shape with bead bump to ease tubeless tire installation, and a new wider and lower rim profile to increase strength and lateral rigidity, while adding vertical compliance for enhanced traction.The differences are in the thickness of materials. The 30|HD has more overall material which adds lateral rigidity and impact resistance appropriate with the intended category. The 30|30 splits the difference. The 30|HD also has a 27.5 version which can be used for 27.5 or MX bikes.
Features
Reserve's 30|HD wheels have a newly designed rim bed to allow for easier tubeless setup. And set up easily they did, requiring only a few strokes from my Pro floor pump to start inflating. That's on brand new tires. WIN! An asymmetrical rim design is said to allow for stiffer and stronger wheels by equalizing spoke tension between the drive and non-drive sides of the wheels. Reinforced spoke holes back the spoke nipples up and provide thicker material where it's needed. I've seen many nipples pull through carbon wheels, and this design should reduce that without adding weight to the entire rim.
First Impressions
I've been riding the Reserve 30|HD wheels for over a month and have a good understanding of what they provide on and off the bike. Not long after the wheels made their way onto my bike, I stared blankly at the wall scratching my head thinking: Ok, what do we talk about in wheel reviews? Where do wheels fall when it comes to the importance hierarchy on the bike? Are they the legs of the bike? The Feet? Maybe the brain? Because it doesn't matter how good they are as long as you have some? Thankfully I didn't get far into this internal battle.
I've been on carbon wheels since 2017. Starting on WR1 Agents (strong and STIFF) moving on to Bontrager Line Pros, RF NEXT Rs, and finally the WR1 Unions. I love carbon wheels. They are the cerebellum of the bike. Getting things done instinctively in lighting fast manner without the need for constant attention. Broken spoke? It's ok, the rim won't go out of true much so you can finish your ride. Hookless, thick rim beads? Heck yes! No sharp alloy knife to cut your sidewall in half. Lifetime warranty? Shut the front door... really? I only have to buy one set of wheels until the next wheel or axle size change? Sign me up. There is a lot going on in favour of the layer cake that is the carbon hoop.
I was surprised to discover the Reserve 30|HDs are 170 grams lighter per wheel than my We Are One Unions. Both sets are laced with Industry 9 Hydra hubs so the difference would be the rim layup and spoke/nipple selection. Reserve wheels will come with Sapim spokes but the pre-production set I'm riding came with double butted Pillar spokes.
I welcomed this weight difference without much worry. Who wouldn't benefit from lighter wheels? My lazy winter legs cheered in unison. I pedalled up the first hill I could find. The increased pep was noticeable in the bike's demeanour. I wish I could say the feeling of pep stayed since the first ride, but I can't. Pedaling around on a 35-lb long travel 29er can only mean so much get up and go - but the bike feels great with these wheels.
Running 20 psi on the front and 24 psi out back, the overall trail feel is excellent and no unwanted deflection can be felt on rough, rocky descents. They seem to hold a line with easy bouncing on the tops of the rocks. The most obvious improvement has been the cornering characteristics of the bike. The wheels seem to flex just the right amount to spring me out of sharp corners. Carbon wheels like high tension spokes and the Reserves do not ping under hard cornering. No loose spokes since day one, either.
Value Proposition
Aluminum rims are perfectly fine at what they do and there will be a choir chanting from all corners of the internet describing why they are better at finishing race runs in rural France. I get it. But just give it a few more years and you'll see more and more carbon wheel manufacturing. It is easier to make a perfectly round shape and keep it round for a long time when made out of carbon. No dents to worry about and you are less likely to saw a hole through your rear triangle with your tire if you happen to lose a spoke or two on a ride.
The impact resistance of these hoops is quite incredible and backed by a solid warranty. If you break them while riding, they will send you a new wheel (yes - a complete wheel), for as long as you own them. If you drive over it accidentally after a couple of post-ride Crispy Buoys, you will be made fun of, but also sent a crash replacement at a reduced cost by Reserve (ASAP according to Reserve's website).
Fillmore Valves
To be honest with you, I was excited about trying out these valves. When something as archaic as valves makes a big splash on the internets, it gets my attention and I was stoked to find a pair in my media tester delivery. The idea behind them is really cool and the amount of air they let through is quite impressive. The resistance to sealant clogging is a very nice feature and they are made beautifully with lots of attention to detail.
The only issue I have relates to the proprietary valve caps that seal the system. If you lose one your valve can't hold air. It is probably not a huge risk for most mountain bikers but I couldn't help freak out about a What if? situation. I am told wheels will come with traditional tubeless valves (Fillmore valves are extra) which work just fine.
It has been brought to my attention that Fillmore Valve compatibility with pumps and pressure gauges may be complex. So we've tested the valves with some equipment I have access to. They seem to work with:
Lezyne Pump thread on chucks
Topeak D2 Digital Gauge
Pro Components Digital and analogue floor pumps
There is however an incompatibility with OneUp EDC Pumps at the moment, which is a shame because that's an NSMB favourite.
Would I?
In short YES!
The ride quality of engineered carbon wheels is immediately apparent on the Reserve 30|HD. The hubs from I9 are always a treat to see and hear on a build. The optional Fillmore valves can elevate your tubeless setup experience to new levels. If something was to go wrong, knowing that Reserve will back you up with a solid warranty is great peace of mind.
Depending on where you live and how close you are to a Reserve dealer, you may have a great web of aftersales support for owning the last pair of wheels you'll ever buy for your bike. I personally am in love with my Canadian made We Are One Unions, but If I was in the market, I would give the 30|HDs a serious considiration.
Starting at $1799 USD // RESERVE WHEELS (Fillmore Valves are extra)

Deniz Merdano
5'8"
162lbs
Playful, lively riding style
Photographer and Story Teller
Lenticular Aesthetician