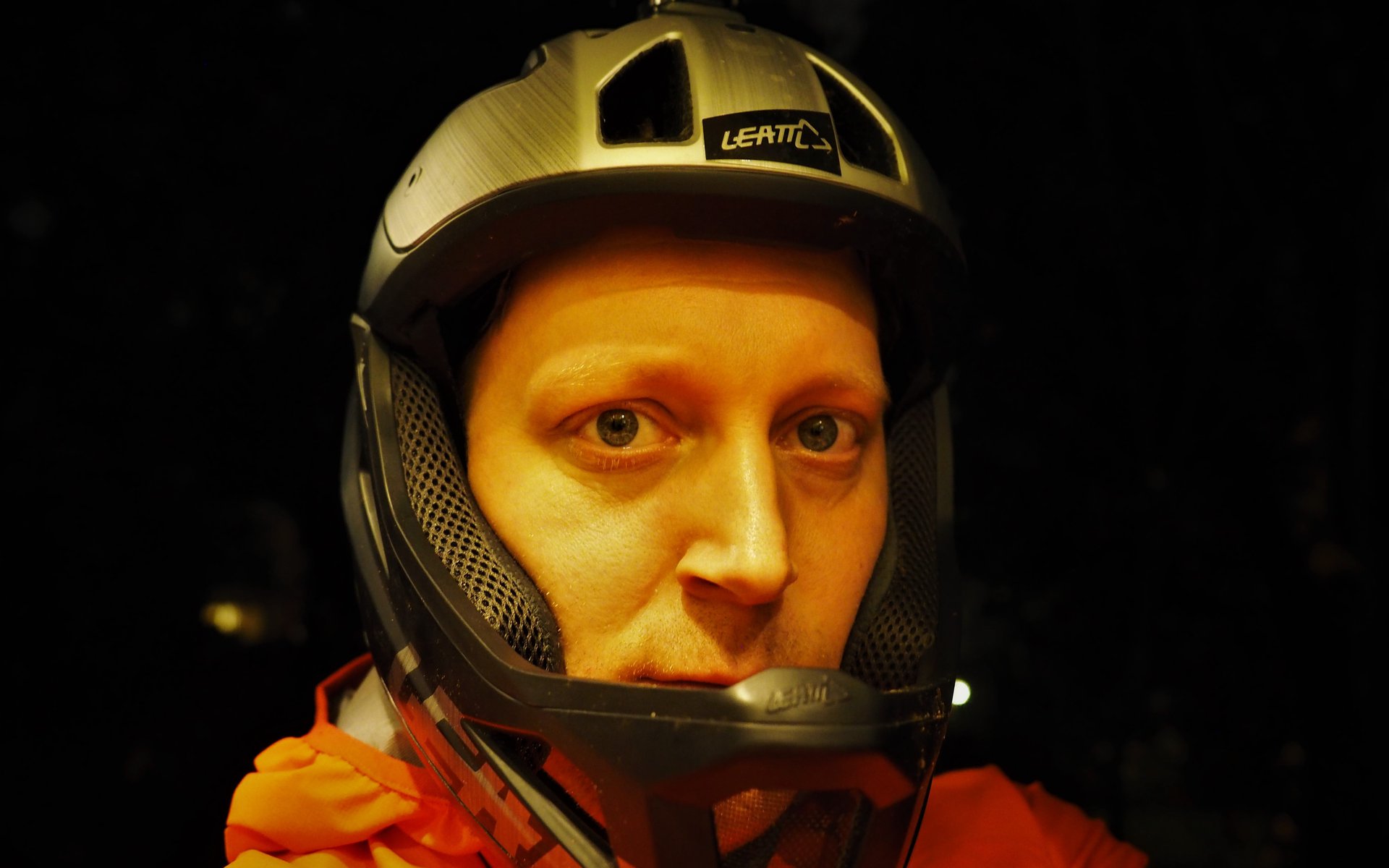 EDITORIAL
The (Seasonal) Death Of Vanity
Call Me Joey

The banter has been on point. At times vicious, absolutely hilarious, a bit raunchy, 100% friendly, and totally relentless. Pretty much standard for a parade of mountain bikers climbing single track in the pitch black sporting overachieving flashlights. The rain's just starting up but no one's expecting a deluge so the pace is brisk but fluster-free.
It's Tuesday night and we've been pedaling for maybe an hour and a half when we hit our destination. Someone pulls out some pads, a pump comes out to quickly feed a tubeless tire that's hangry for sealant, and I unclip the chin bar for my full face from my pack and quietly pop it on to my helmet.

That's when the sh*t show actually starts.
I don't need a mirror. I can see it in the eyes of my comrades. A stubble on my upper lip, the chin bar, squinting straight into someone's lamp. Oh, and of course I removed the visor from my lid.
Yep, if Matt & Jason were recasting I Only Ride Park I'd have a solid shot at the role of 'Joey' - Squidlid included.
Nope, didn't break my visor off in a crash. I removed it for a small but notable improvement in helmet light performance on the trail. Yep, nerd.
And, I'm certainly not toggling the peak on-and-off all winter so when a daytime ride warrants the chin bar I'm going footloose and visor free.
I love it. The rain picks up but we're too busy laughing to head down the trail. A beer's come out of someone's pack and it's going to be at least three minutes of abuse before we drop in.
In the back of my mind I start thinking about all the subtle changes in gear that happen this time of year and the suddenly silent evangelists I know trying to get away with them.
Off-Seasons Pass
I see you hip-pack guy. I see you but, strangely, I don't hear you. A mere two weeks ago you were constantly singing the universal praises for that little black strapless number that is perfect for every occasion but here you are sporting a mid-sized Camelbak complete with a rain cover.
What's stuffed in there? An extra jacket and gloves? Maybe some bonus food. Hopefully, a light as we'll be finishing close nenough to dusk. Maybe a reflective blanket, flash, and a couple of single-use heat packs in case we need to spend a bromantic night snuggled up in the woods?
I don't ask. I imagine you halfway out the door when the zipper pops open spewing your fanny-packings all over the floor. Or the well-endowed multi-tool you shoved in puncturing the hydration bladder that somehow stays in place with only a cranked down waist belt.
And now you're standing with I-never-wear-gloves guy who is sporting a fresh set of 100% Briskers debating which nearly-identical, almost invisible, front fender option looks the least stupid.
Something witty comes to mind and I'm in the process of forming a sentence when two riders come around the bend and one loudly shouts "nice lid Drew, where's the best place on Upper Oil Can to bust out a backflip?".

Before I can reply back snidely, my all too fashion conscious, and currently heavily gloved friend, replies: "give the guy a break, everyone gets an off-season pass".
And that about sums it up my uber-aware Enduro-Brah mountain bike fashionista friend. If I can rock shants and a visor-less full face and walk away unscathed you're probably safe to pack some extra clothes, keep your water source out of the on-trail dog sh*t, and be able to feel your brake levers.
There will be plenty of time to rock the smallest stash pouches, gnarliest naked meat hooks, latest colourways, and the largest of breakaway-bucket-balconies when the mercury rises and the sun comes out.