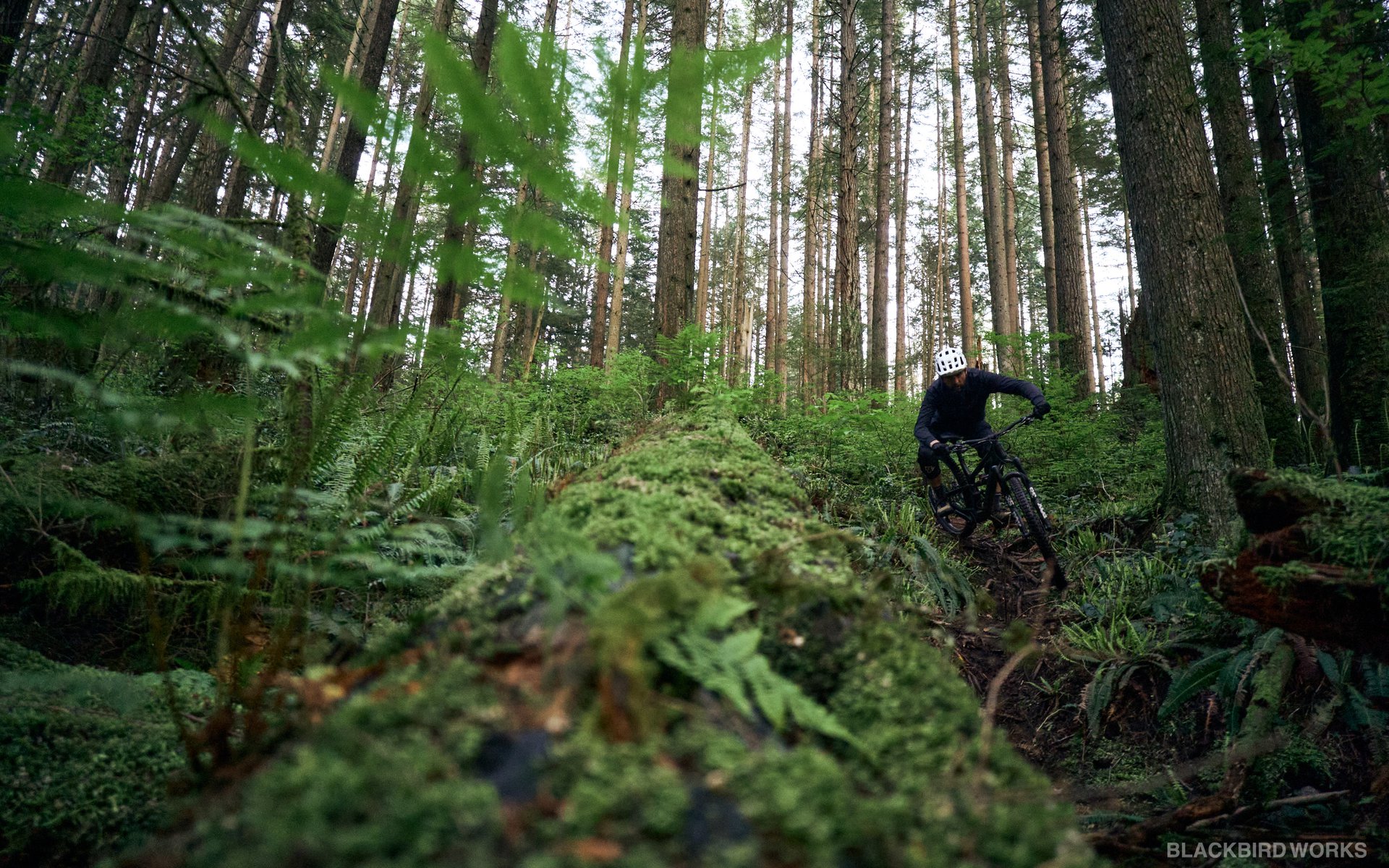 Head to Head Review
Canyon Spectral 29 CF8 vs. Ibis Ripmo AF SLX
Shootouts. Comparisons. Top 10's. People really love lumping things together and declaring a winner. Does it matter whether or not the comparisons make sense, or if they only account for a few possibilities in a sea of choice? Hardly.
So, never say that we, here at NSMB.com, don't listen to our readers. I mean…"listen", sure. Just like Justin Trudeau listened to the nation's request for election reform. It's more a bunch of nodding while we just do whatever we were going to do in the first place.
Ibis Ripmo AF vs. Canyon Spectral 29
The other week, as I was going through the motions of figuring out which bicycle I wanted to ride on that particular day, a thought crossed my mind. "Jeez…these two bikes are pretty similar!" They have similar amounts of travel (front and rear). They have similar geometry. Hell, they're even priced within a weekend at Whistler of one another. It would be absolutely crazy not to do a head-to-head comparison of these two bikes! Add in the fact that the Ripmo AF isn't exactly a new release, and that fancy boy Ryan is probably going to come up with a stand-alone review of that other Spectral 29, and there was only one way to do this. So buckle up, there's a lot of words coming.
Parts
It would be fairly easy to look at the spec sheets for these two bikes and declare the Spectral the winner, as most of the flashy bits are a step up from the Ripmo. But, it's never that simple, is it?
Drivetrain
These two bikes represent my first experiences with both the new XT and the new SLX. Both left me surprised with how good they are. They also left me a bit surprised by how different they feel.
The SLX on the Ripmo is buttery smooth. I've been hammering it too! For 5-6 months, every single ride resulted in me soaking the Ibis in mud and then hosing the crap out of it at the end of the ride. There hasn't been a single hiccup with this drivetrain. No missed shifts, or bounced chains. Not even a turned barrel. It's been totally faultless and I'm baffled by how smoothly it shifts.
The XT of the Spectral has been similarly consistent, but has a totally different feel to it. It shifts with much more deliberation. It lets you know that it's back there working for you and it gives you a lot more feedback about each of your shifts. And similar to SLX, it does all this without any missed shifts, bounced chains or barrels turned.
I spent a fairly good amount of time trying to figure out what it was that caused them to shift so differently. I compared the b-tension (several times). I stood the bikes next to one another and looked at them for long periods of time. I cleaned them and lubed them and rode them. There really only seems to be two substantial differences between these two drivetrains (beyond them being two completely different products, of course): shifter feel and cable routing.
For many years now I've been fairly generous with my criticism of Shimano shifters. I feel like SRAM does a much better job of just giving you a lever that you push on to make your gears shift, while Shimano hides the function under several layers of float and changes in resistance. That being said, both the SLX and XT shifters are a move in the right direction.
The SLX shifter has more plastic. There's a bit of free float here and there, as well. But it's very consistent and very light to the touch. The XT has much more of a premium feel to it, with better materials and stiffer action. The levers are rubbery coated metal and require a bit more of a deliberate shifting effort.
This plays out in how they shift across the cassette, as well. The Ibis is smooth and silent, while the Spectral is a bit thunkier. They're both really consistent, but the Spectral is just a bit more analog to the Ibis' digital feeling.
So the shifters feel quite different, but it seems like this wouldn't be enough to result in such a different shifting feel. Ryan felt like the XTR drivetrain on his bike was similarly thunky, and his suspicion was that it was a result of the circuitous cable routing. I can buy into this theory. No matter, something about these two bikes causes them to shift quite differently than one another, and it's hard for me to not give the Ibis the win here based on just how smooth and silent this bike shifts.
Brakes
Brakes give you the same split as the drivetrain, with SLX on the Ibis and XT on the Spectral. Again, I think it has been shown that there is more in common between these two brakes than differs, and that plays out in practice.
For a few rides, I was convinced that the Spectral had better braking, and I developed a theory that this was down to the fancier Ice Tech rotors. But then I realized that this theory was wrong, and that I'm not really a huge fan of either of these brakes.
Which felt a bit odd, seeing as so many people rave about them (and, to be fair, complain about them). That's not to say that they are "bad" brakes. I didn't deal with wandering bite point or rattling pads or anything like that. I just want more power than they are able to provide. So I dug into things a bit and figured out what the problem is.
The problem with the Spectral is that it comes with resin pads, and the problem with the Ibis is that it comes with non Ice-Tech rotors. They're not quite at the level of the dreaded "resin pad only" Shimano rotors, but there is certainly something going on here that is limiting the braking ability of this bike. Swapping to metallic pads on the Spectral dramatically increased the amount of braking power to the level that I was expecting. Swapping to some decades old Avid rotors that I had laying around didn't have quite the same impact on the Ibis. I wish that both companies just bit the bullet and specc'd Ice Tech rotors and metallic pads. The power is there, but not until you spend a bit of money.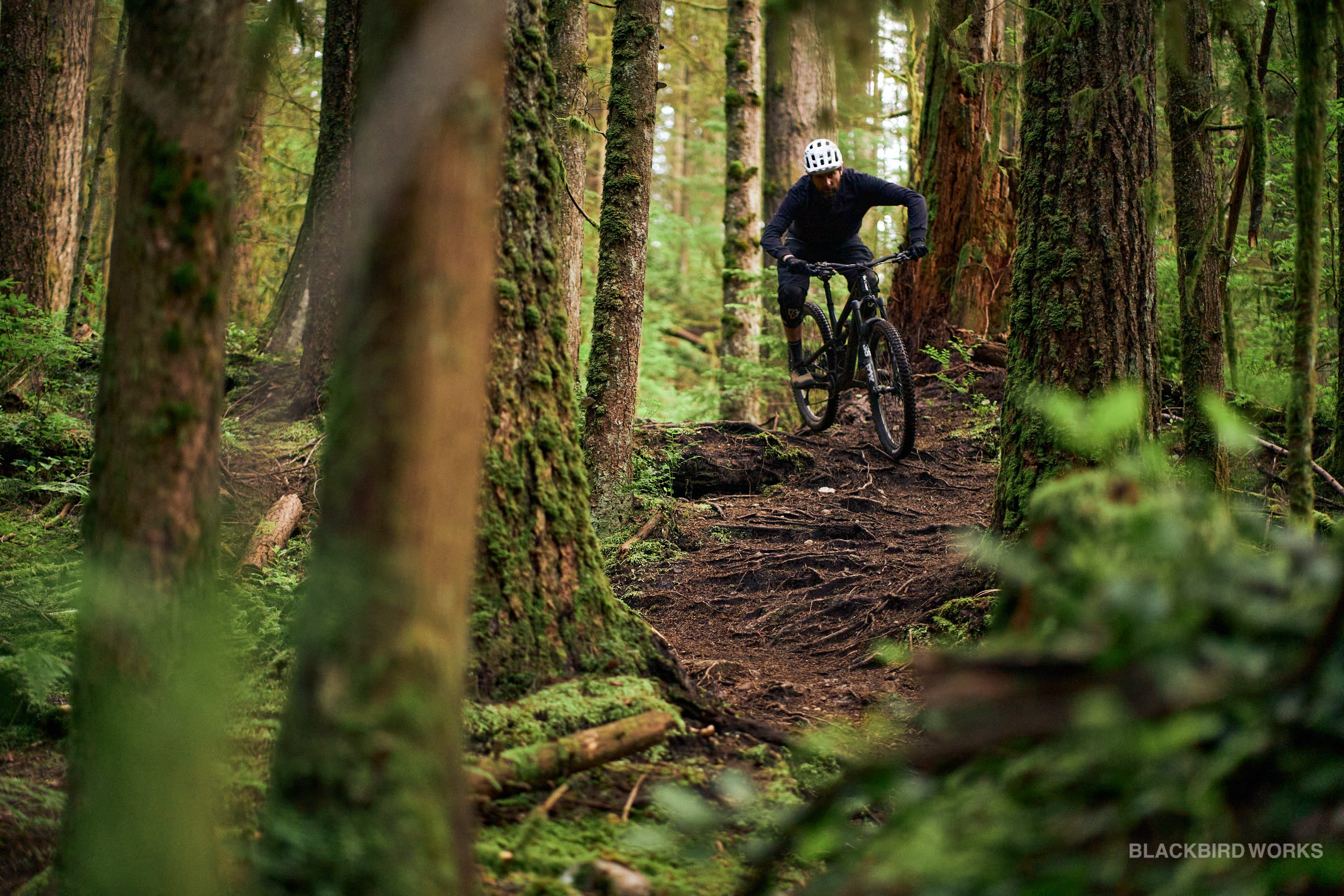 Tires
Both bikes are shod with decent tires. Ibis goes EXO+ and Assegai front and rear. Canyon goes EXO and DHF/DHR. Both use Maxx Terra. I had both bikes set up with Rimpact inserts, and was pretty happy with each setup 95% of the time. Most of my testing took place through the winter, and I ran 18/20 psi front/rear with no problems. If given the choice, I'd probably run something with a bit more roll on the rear of the Ripmo. The Assegai is not a fast roller, but you can't really argue with the traction.
I did reach the limitations of the Spectral's tires on a few rides where I was plunging down too-steep chutes chasing riders that were faster than me, but you're going to run into similar problems on most trail bike setups (and I didn't go near similar terrain on the Ibis). Overall, either set of tires will give most riders all of the traction that they need. If you need more, you probably already know it, and will factor in the cost of your preferred tires or inserts.
Saddle and Dropper
This is an easy win for the Ibis. The WTB saddle and the Bike Yoke dropper are head and shoulders better than the Ergon saddle and house brand dropper on the Spectral. The Spectal's house brand worked fine throughout the test (pretty good for a house brand post, really), but not on the same level as the Bike Yoke.
One note, I have been critical of the Shimano dropper lever in the past, but I have no complaints about it on the Spectral.
Controls
I'm not a huge fan of the Ibis branded bar. It seems pretty flat and I would prefer more sweep and rise. I swapped in a Renthal bar and immediately felt more comfortable. I do really like the Lizard Skins grips that it comes with. The stem holds the handlebar in place.
The Spectral bar is quite nice. The rise and sweep both felt pretty good, so I didn't feel a need to swap it out. I didn't notice anything positive or negative about the grips. And, again, the stem holds the handlebar in place, albeit with proprietary spacers.
Fork
There's an obvious difference in the fork spec on these two bikes. Both come with 160mm of travel, with the Spectral running what is probably the best bang-for-the-buck spec from Fox (36 with Grip 2 and no Kashima), while Ibis gives us a deep cut with the lesser known Onyx from DVO. But look closely, and these two forks have more in common than not, and wind up being a different branded means of arriving at the same destination.
We will start with the known quantity, the Fox. After all of these years, I'm finally honing in on a decent strategy for tuning a Fox fork. Yank out all the spacers, run all the compression damping as light as possible, and then tune the air chamber until things feel good. Within a ride, I had a fork that felt pretty good. I'd describe it more as "supportive and stable" than "plush". It always felt like the fork was there, whispering in my ear that I shouldn't worry too much about things as it had my back. It didn't endorse 38 levels of stupidity, but always seemed to have enough oomph to do what I required of it.
It wasn't until the Fox showed up that I realized just how good the Onyx fork of the Ibis is. For the first few rides on the Spectral, I struggled to notice any appreciable difference in how the fork handled. They both felt like they offered the same amount of support and they both felt like they were capable of taking me to the edges of my comfort levels. But when I hopped back onto the Ibis, only then did I realize how much softer it is off the top. Now, small bump plushness is not normally something that I worry all that much about on a fork, but at the same time, if you can get similar performance deeper into travel while offering a bit of a suppler ride at slow speeds, why not? And if you didn't want that plushness, you could also fairly easily change the feel of the DVO by adjusting the preload of the OTT spring.
These are both really great forks and I wouldn't complain if either showed up on a bike that I owned. I think the DVO may offer more in the way of usable tuning, and I also love the ease in which you can purchase spare parts for your DVO fork.
One gripe on the Ibis, is that there was only enough head tube length for one spacer (two if you cheat a little bit). I never felt like I could get quite enough height out of the bar/stem, and I would hope that Ibis could leave a bit more steerer tube length in the future for some more adjustment, especially on their larger size frames.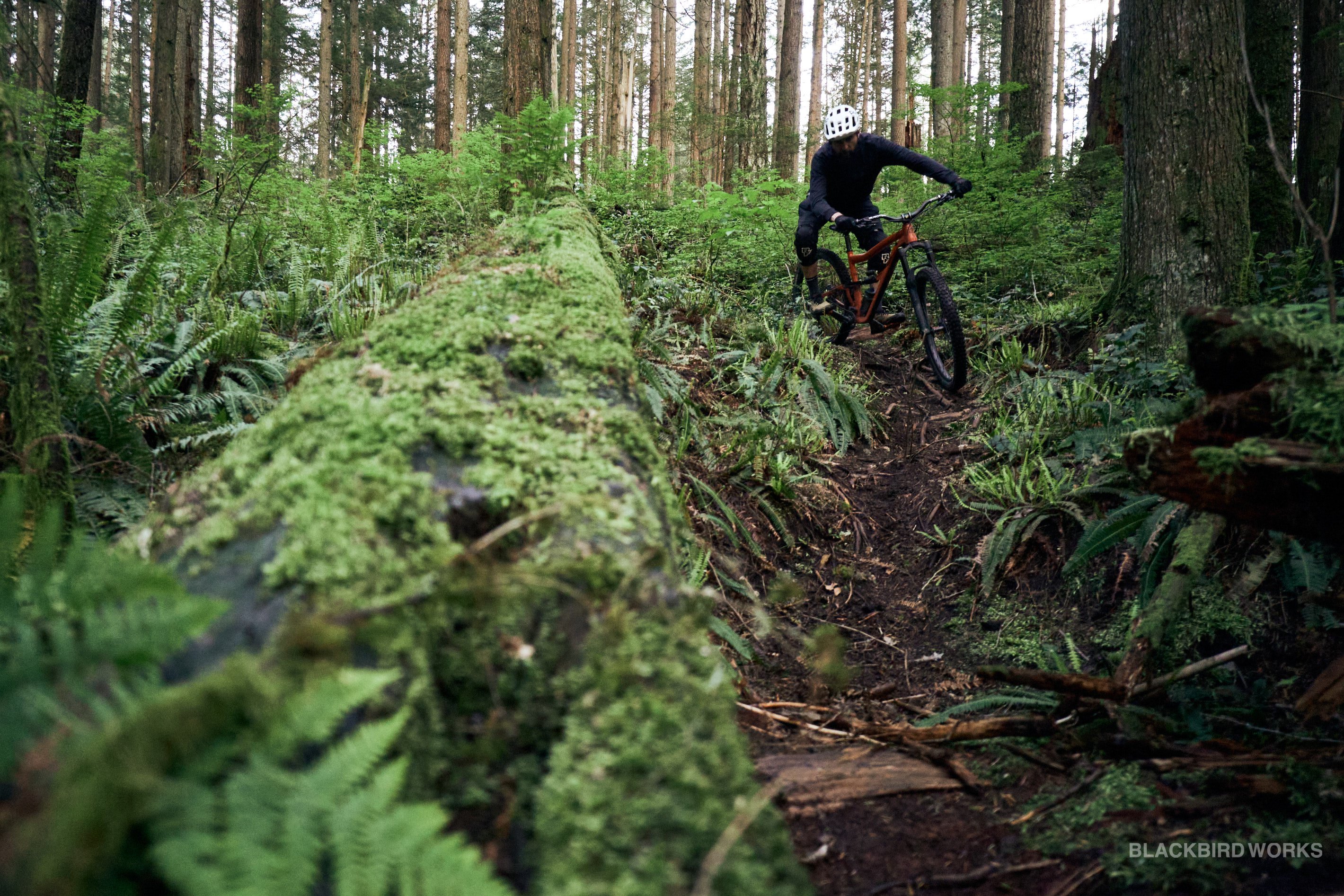 Frames + Geometry
The XL Ripmo and the L Spectral have shockingly similar geometry (see the intro articles…Spectral here, Ripmo here… for all of the details). Their head tube angles are within a half a degree of one another, and the seat tube angles have similar numbers on paper (the Ripmo has a steeper actual seat tube angle, which may be part of the reason why it climbs so well for my taller body). Stack is identical (although the Spectral head tube is a bit shorter) and chainstays are within 2mm of one another.
The main differences are that the Spectral has 5mm more bb drop (and a correspondingly shorter 170mm crankset), and the XL Ibis manages about 10mm more reach than the L Canyon. There are a few differences, but most of the important numbers (wheel size, fork travel, reach, stack, heat tube angle, seat tube angle, chainstay length) are the same, or very, very close to one another. They both even have the same hard-to-reach water bottle location!
The riding positions were fairly similar as well, with a few minor differences. Before I received the Canyon, I was worried a bit worried that the L was going to be too small. As it was so close to the XL Ibis, I just went with it, and for day to day riding the fit of the Canyon feels quite good. I appreciated the small bit of extra height that I could get at the handlebar, and I chased a similar feeling on the Ibis with a slightly shorter stem/taller bar.
The other major difference comes from the actual seat tube angle. They both have similar effective seat tubes, but as I run my seat pretty darn high, the actual seat tube angle has a noticeable impact for me. The Ibis felt like I was more on top of the pedals compared to the Canyon.
Of course, one of these bikes is made out of aluminum and one is made out of carbon. When you get into the construction and finishing touches, the Canyon does start to edge ahead. Most people that see the Spectral in person comment about how nice it looks. There's an incredible amount of details that are absent from many frames. From the larger things like the replaceable inserts for your shock hardware, to the smaller things like the cable clips to keep your routing in check, the Canyon is really nicely finished.
The Ibis is a bit more polarizing. I found that the carbon Ripley was quite a nice frame to look at, but I don't think the classic Ibis lines translate as well to aluminum. Again, we're comparing carbon to aluminum, but there's just a bit less polish when you compare these two bikes. The cable routing forms a bit of a mess down around the bottom bracket…but on the flip side, the slicker Canyon routing may contribute to some clunkier shifting.
One challenge for me on both bikes was the paint jobs. The two tone matte/gloss paint job of the Canyon is striking, but the matte portion always looks dirty. I don't mind having a dirty bike, but if I do expend the energy to clean it up it would be nice if the bike would cooperate.
The Ibis started to show quite a few battle scars near the end of the test period. Granted, I really did give this bike a solid winter thrashing, but it really did show, especially along the downtube. One nice thing though, Ibis seems to continually be refining this frame design. If you look at earlier models, the gusseting has changed, and Ibis is making running changes to improve this bike, and are now shipping the bike with a downtube protector that would probably eliminate many of the paint challenges that I had.
One place where Ibis deserves kudos is with their support and setup guides. There's a tonne of information in here on everything from fork and shock settings, exploded diagrams, torque specs and swingarm removal instructions. Throw in the really great spare parts store, and the home mechanic couldn't ask for much more from a bicycle company.
Canyon does offer some of this. They do have a setup guide, but it's much harder to find (I found it was easier to go back to my preview article to find it than to search for it on the Canyon website). There is an exploded diagram available, as well as a spare parts store. It's all just a bit easier and more detailed with Ibis, though. But, in Canyon's defense, Ibis is doing a near perfect job on these things (in my humble opinion).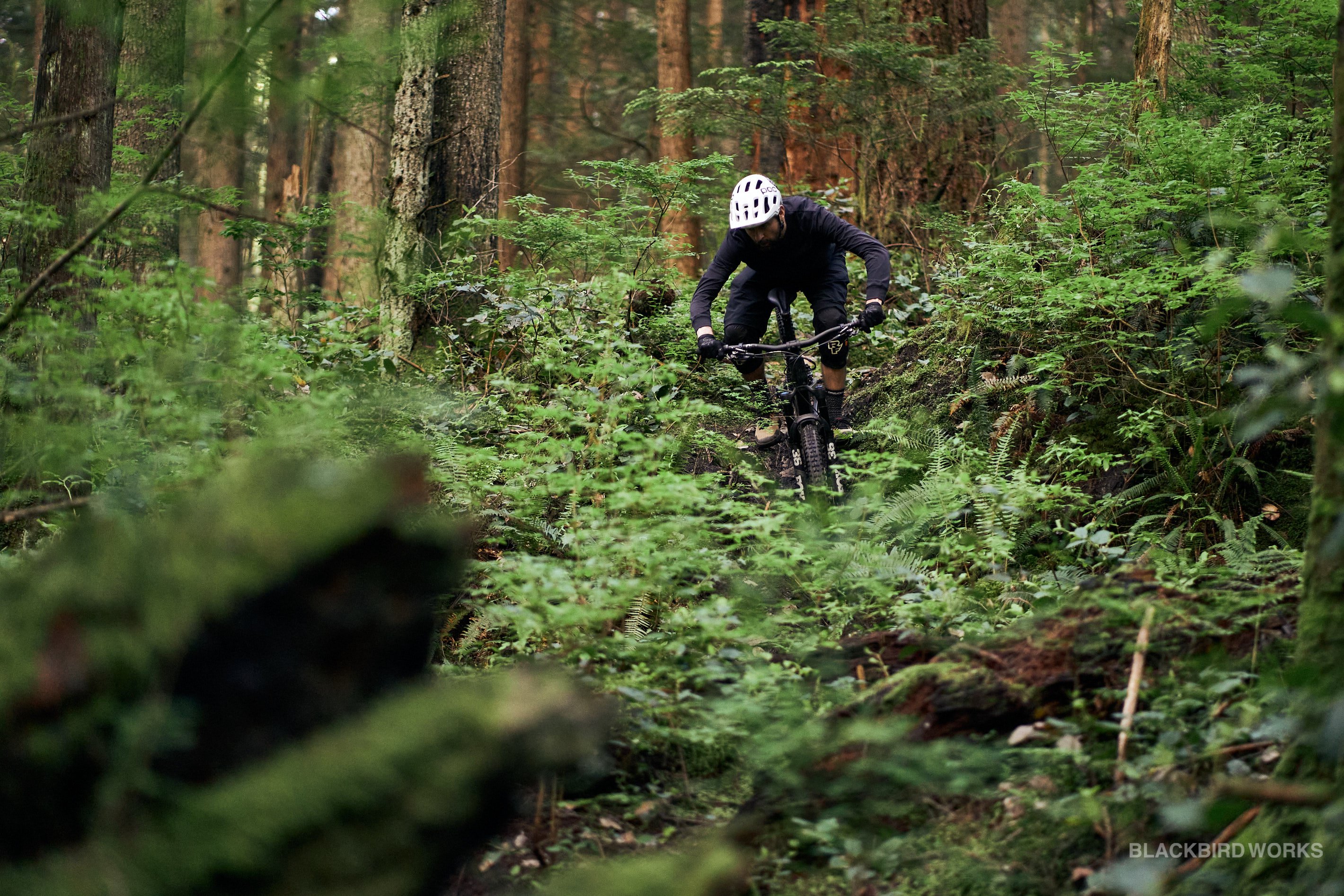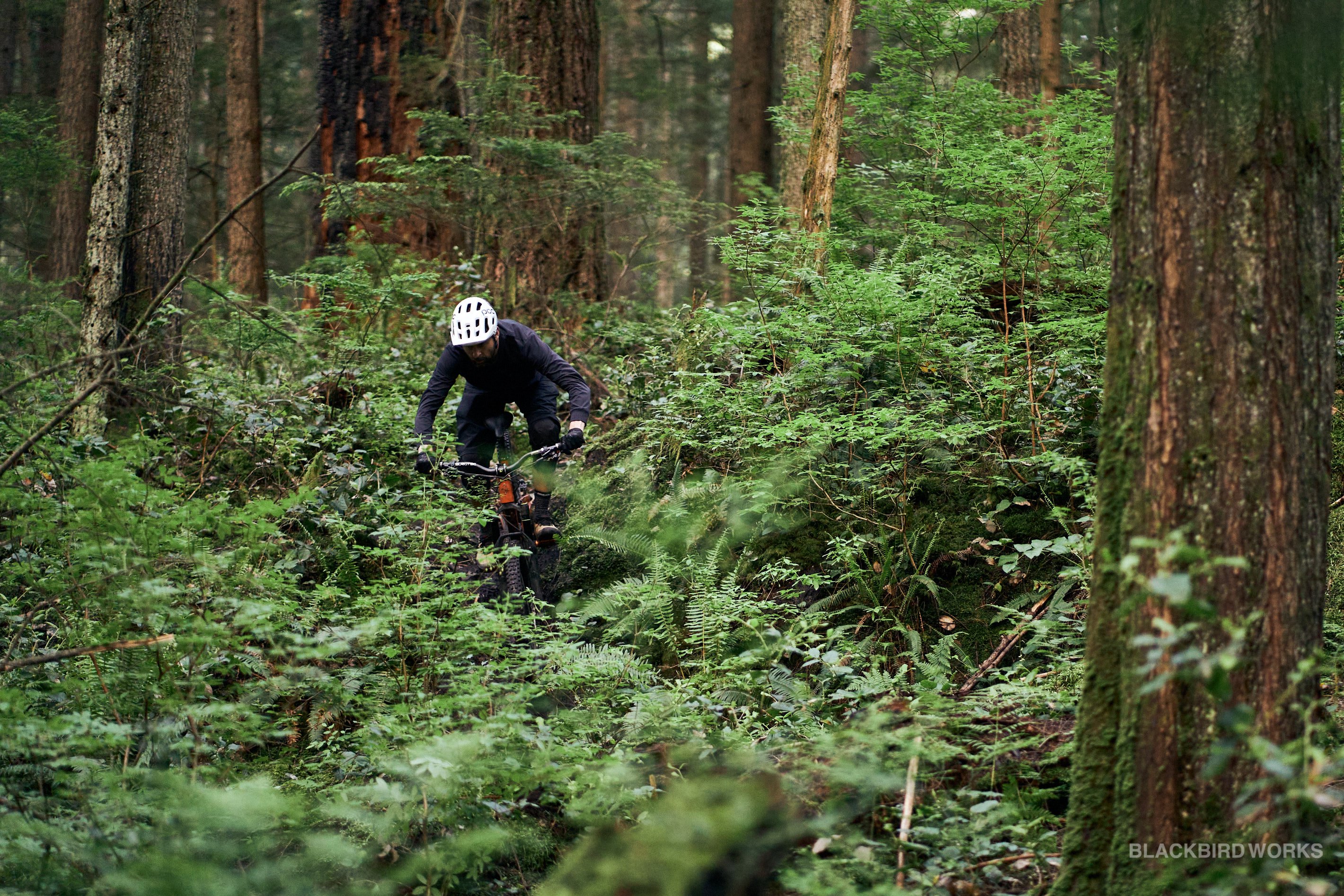 Suspension
Hands down, the biggest difference between these two bikes lies in their suspension design. Each company has a dramatically different strategy to get roughly 150mm of travel out of the rear end, and that will have the largest impact on who gets the most enjoyment out of these bikes.
Never one to sniff at a job well done, I'll point you here for a detailed look at the suspension design of the Ibis. There are a few things to note with the Ibis:
- A steep leverage curve that starts to flatten out at around 25-30% of travel
- A high degree of anti-squat
- A very lightly tuned rear shock
Throw these 3 things together and you get a rear end that requires a bit of thought when it is set up.
First of all, I feel like the "knuckle" at 25-30%, where the leverage curve transitions from fairly progressive to much less progressive, plays a really big part in how the bike acts. I started off with highish pressures in the rear shock, and I didn't feel comfortable on the bike. Once I softened it up a bit (I wound up almost bang on to the 14mm/27% sag recommendation from Ibis), the bike started to feel much better. My theory is that if you drift too far away from the "knuckle" (i.e. too little sag) and your suspension starts to work a bit like a relief valve. It's relatively stiff through sag and beyond, before it pops off into the linear part of the curve. It works best if you are getting off the steep part of the curve at your sag point.
But there's a flip side to this. Two of them, actually. First off, since the leverage curve flattens out significantly past the sag point, it's quite easy to use all of the travel. Even with an extra spacer in the positive chamber of the shock, most rides I would be using full travel. The air shock allowed for a relatively smooth bottom out, but I typically wouldn't run so deep into travel, so consistently.
On top of that, you have the light compression and rebound tune that leads to a really active, soft feeling ride. I wanted to try a different rear shock with a bit more compression damping to see if that changed the way the bike rode, but in Covid times this presented a bit of a challenge. This is no knock on the DVO shock. It's doing exactly what Ibis is asking of it, I'm just not sure I'm fully bought in to this theory of suspension tuning for my weight and riding style.
I haven't managed to track down any detailed curves for the Canyon, but based on how it feels, I think it follows the similar strategies to other Canyon bicycles. That is a bit of progression, an average amount of anti-squat, and fairly straight lines in all of the curves.
For the most part, this is how I prefer my bikes to feel. Setting up the Canyon is easy and predictable. I very quickly found a pressure that worked (~27% sag), and the bike settled right into its sag and gave a nice, solid platform to work from. I finished most rides on the Canyon with the O-ring telling me that I had some travel remaining. I thought about softening it up at times, but it just felt so right how it was, I didn't play around very much. I absolutely loved how the stiffer suspension felt in corners.
Is the Canyon as plush as the Ibis? No. But one of the benefits of being tall is that you wind up with lots of legs to work with. Personally, I prefer the increased support of the Canyon, and the Ibis acted a bit strangely when I chased a similar suspension feel.
Riding Uphill
The obvious choice here would seem to be the Spectral. It carries a bit less weight, it has tires that roll a bit better, and the suspension is firmer. If I were just planning on grinding away up a mellow road, this would probably be my choice (although the Ibis does just fine in these circumstances, as well).
However, as soon as things turn technical, the Ibis leaves the Spectral (and most other bikes) behind. Just like I found on the Ripley before it, it seems like if you can keep your legs turning you can figure out a way to climb up and over things. I don't know how they do it, but Ibis seems capable of building bikes that glue themselves to the ground (in the good sense of that statement) on the way up. I often found myself pedaling up things that are automatic hike-a-bikes on other bikes, and I do not generally include technical climbing on my list of things that I enjoy doing on a bicycle.
Either bike will get you to the top. If you really care about technical climbing, the Ibis might be your jam.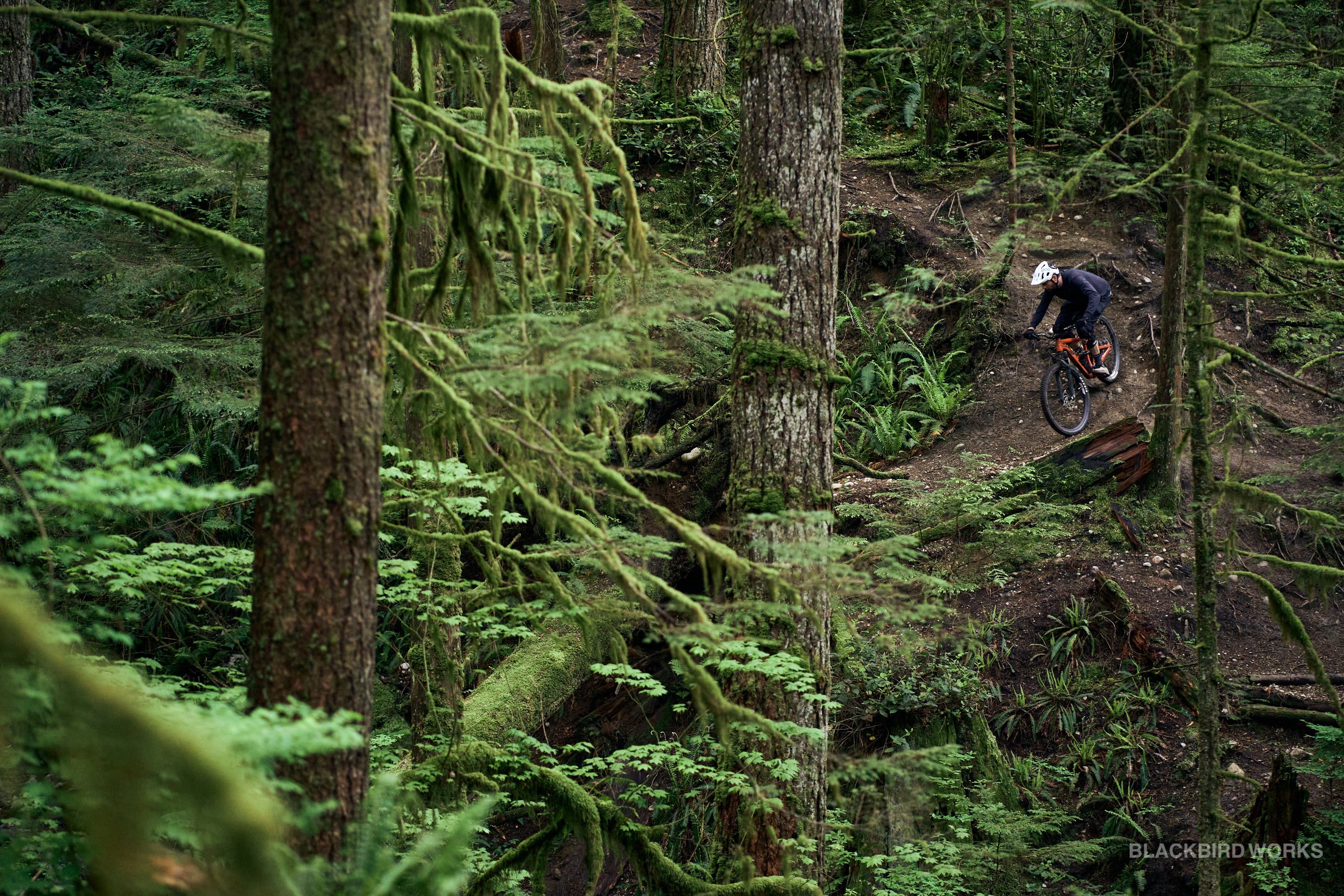 Riding Downhill
I feel like there was an idea that got me to this point. It started when I tested the Ibis Ripley, way back when. I felt like that was a really awesome handling bike, but that my old bones needed a bit more travel. I thought that if the Ripmo could give me that same feeling, but with a bit more forgiveness, it could be the perfect bike.
The interesting thing is that I think the Canyon is exactly this formula. It immediately felt comfortable, and it didn't take very long before I was doing my version of slamming it into corners and jumping it off of things. I love how planted the bike feels and how high it seems to ride in its travel. It's not super plush, but it always feels like the bike has more to give.
A consistent loop for me on this bike was to park on the Braemar side of Fromme, climb over to and then up Mountain Highway, then Ladies Only, to Lower Expresso and Lower Digger. For those who don't know these Trails, Ladies Only is the first trail that really scares the bejeebus out of anybody, when they first ride the North Shore. It's fairly steep, fairly chunky, and has some tight and tricky features that can take a few years to master. Lower Expresso and Lower Digger are about the closest thing that we have to flow here, on the North Shore. They're smooth, have a few jumps here and there, and are generally fun as hell, for the whole family (even according to Wade). The Canyon loved every minute of this, and seemed to have the precision to take on the tech, as well as the pop and boost for the flow.
Beyond the smooth stuff, I also felt comfortable enough to take the Canyon on some bigger trails. There's enough traction and travel that you don't feel out of place tagging along with the gnarlier folks on their Enduros and Megatowers. It's certainly not the perfect bike for these sorts of things, but it holds its own and shouldn't be your excuse if you opt for the chicken line.
Once I had the Canyon in my possession, I wrote off the Ripmo more than once. Each time I came back to it though, I discovered that this was a bit of a mistake.
For me, it was easier to prefer the more supportive feel of the Canyon. I feel like the Canyon asks you to be a better rider. It wants you to ride fast. The Ibis is less demanding. It's more active and it rides softer. Once you get it rolling, this matters less than you would think. Take the same loop mentioned above (Ladies Only to Lower Expresso/Lower Digger). I did this lap several times on the Ibis, often under heinous conditions. I found myself cleaning Ladies, more often than not, even the uphill sections as you climb up to the Big Stupid. There always seems to be traction, and the bike finds a way through the thing you're trying to ride down (or up, for that matter).
Once on the flowier part of the loop, the differences between the two bikes is more apparent. I could still ride the Ibis quickly through turns, I just needed to be a bit subtler in doing so. The Ibis moves a lot more underneath you, so you really want to try to just stand in the middle and let things happen. It's probably down to perception, but I always felt like I was going faster on the Canyon. I certainly didn't need to pop as hard any time I wanted to take it to the air.
These differences also really show up in the really slow and janky. If you need a lot of creative body movements to get the bike over and around things, the Ibis sucks a lot of that energy. Again, the firmer suspension on the Spectral gives you more to work against.
Other loops showed how the Ibis can shine in the right circumstances. I did a couple of back-to-back laps down Boogieman – first on the Canyon and then on the Ibis. Boogieman is another old school North Shore gem, but on a bad day it can feel like somebody keeps throwing rocks in front of your wheel. There's a tonne of roots, rocks and steps to test your suspension, and a free fall of smooth rock and loose dirt to finish (Wade shows you the way, here). The Canyon did okay, but there was often a feeling that I wasn't totally in charge of what was happening. Once on the Ibis, everything felt immediately better. The extra degree of softness made it a whole lot easier to feel in control of the situation. I finished the Canyon lap with a shrug of the shoulders, and the Ibis lap with a healthy grin and a thumbs up. This proved to be the perfect goldilocks terrain for the Ibis.
I wound up running each bike with almost exactly the same amount of sag, which really surprised me based on how differently they felt. The Canyon is more supportive, and leads you to ride everything as if you're a late 90's Dual Slalom racer. The Ibis is softer, and suggests taking a straighter line while letting the trail come to you a bit more. Neither is right or wrong, just different.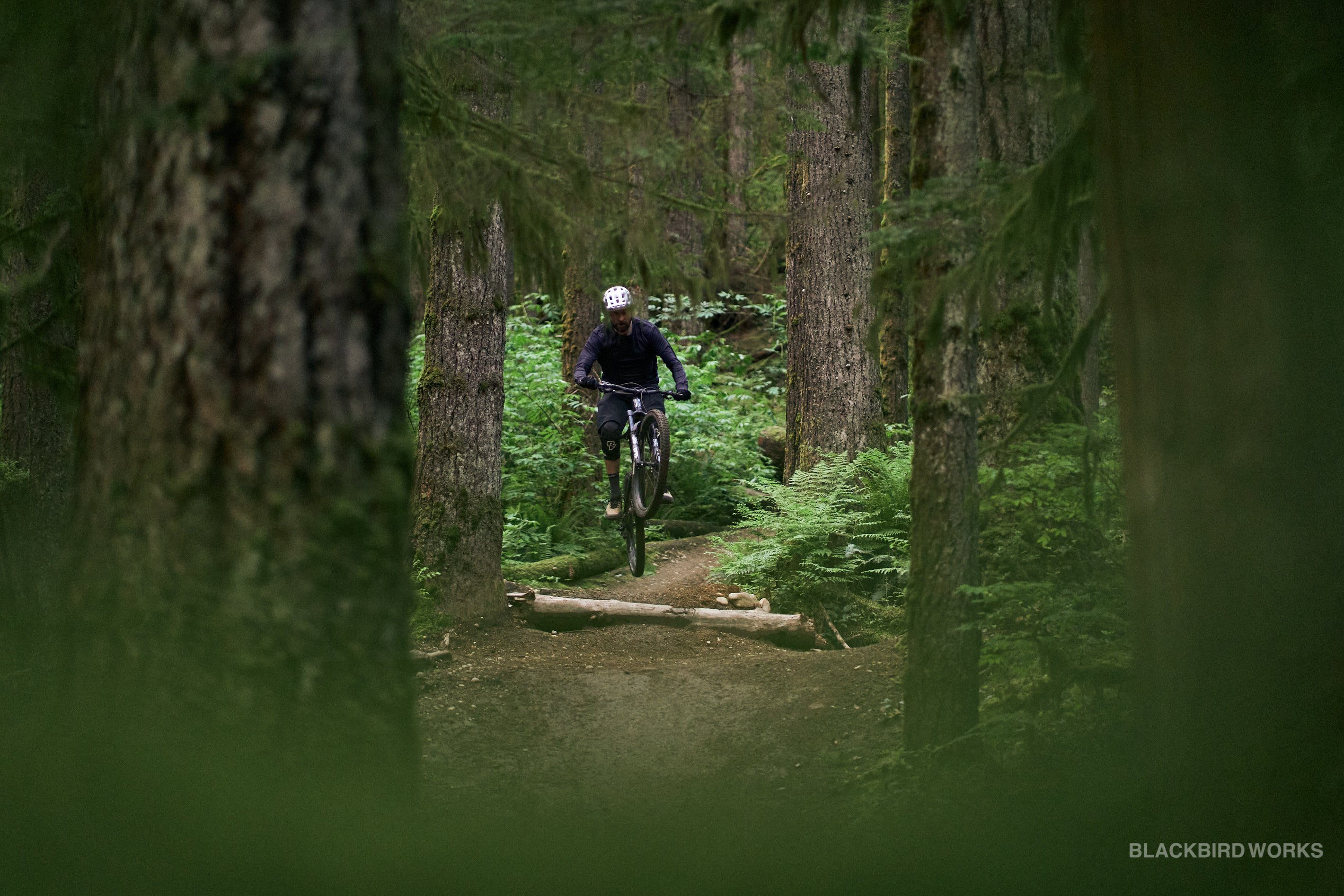 Price
MSRP for the Ripmo AF SLX build is US$4,299 or CAD$5,331. The Canyon Spectral 29 CF8 is CAD$5,499 + CAD$99 Shipping, or CAD$199 for Shipping + Velofix Assembly. In the US, that will run you US$4,999 + US$99 Shipping. The Canyon truly is a screaming deal in Canada.
Assuming you don't get hit with any duties, this means that the non-assembled Canyon will cost you an extra CAD$267, or an extra US$799. Your guess is as good as mine as to how much sales tax or duties you're going to end up paying on either of these bikes.
Overall Impressions
Who are these two bikes for?
We'll start with the Ibis. While my preference leans towards the Canyon, that's not to say that would be the right choice for everybody. While I feel like the tune of the rear shock is a bit light for my tastes, it could be just the ticket for anybody looking for a slightly softer ride, or for a lighter weight rider. Not everybody needs or wants stiff feeling suspension.
According to Ibis' documentation, they Ripley ships with the softer tune on small and medium frames, and a more standard tune on larges and XL's. I would love to see something similar on the Ripmo AF, or at least the ability to request a more classic tune. DVO does offer custom tuning services, so if you buy this bike and feel the same way, it could be relatively painless to have the tune stiffened up (I would imagine).
I do really love the package that Ibis brings with this bike. The parts choices are great, and I love the level of support that Ibis gives with their documentation and their parts store. Save for the brake rotors, this thing is ready to ride and is pretty great value for a bike from a smaller company. Combine this with the burly aluminum frame, and it's a package that could really satisfy the DIYer looking to hold on to their bike for a few years.
If you couldn't tell already, I really liked the Canyon, thought it suited me quite well, and feel like it could really suit a lot of other people. It offers incredible value and, save for the brake pads, is also ready to roll upon arrival.
While a great value, the consumer direct model isn't going to be for everybody. It's good to see that Canyon has parts available on their web store (and there are more and more service only shops popping up these days that won't sneer at your mail order bike), but some won't want to take the risk of no local shop support in those worst case scenarios.
This is more than just some nice parts, though, as the frame brings as much to the party. It's poppy and playful enough to be fun on the mellower stuff, but capable enough to take on gnarly things. I probably wouldn't subject it to the abuse of a bike park, but for most other things it's a pretty good choice. It's hard to argue with great value and the ability to take on almost any trail.
These are both good bikes. The Spectral is a pretty spectacular all rounder that pushes you to ride like a bit of an idiot. The Ibis is a bit doughier in the middle but climbs like a demon and treats you with forgiveness. It's interesting to be able to ride two such different takes on the same package, and it's great to know that there are options out there for different types of riders.