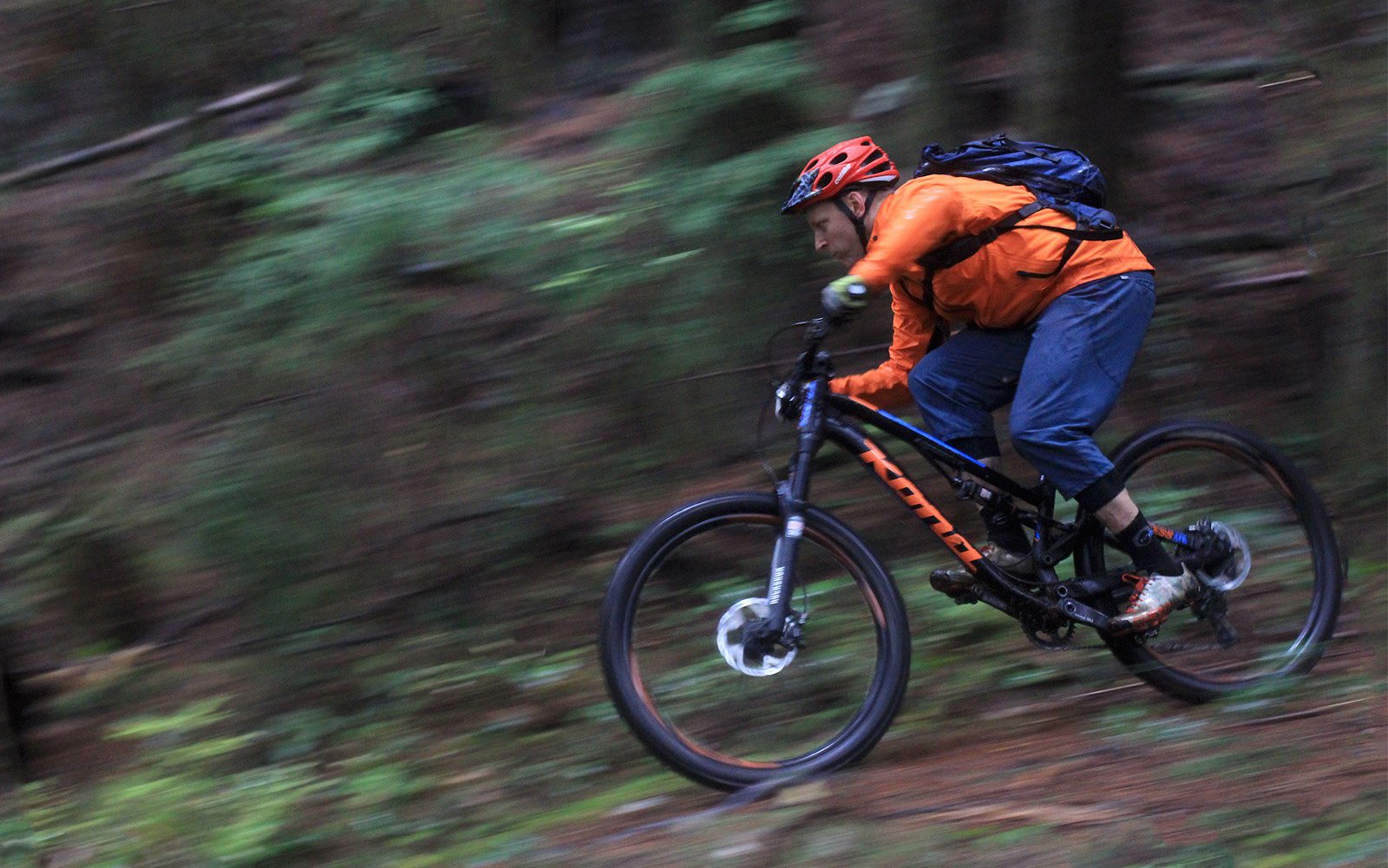 EDITORIAL
If You Can't Ride From Home, Ride From Somewhere
Riding From Home
I'm fortunate that multiple trailheads on my favourite mountain are within a thirty-minute ride from my house. No matter where I choose to enter the network, it starts with a flat pedal to spin my legs up and then a steep paved road to get everything humming. I arrive five minutes before I'm due to meet friends for a ride and I'm ready to pedal.
Compared to pulling the car out of the underground and loading my bike on the roof, and doing the opposite on return, I've worked it out to add around fifteen minutes round trip on an average traffic day. Living in North Vancouver, some days I'm passing cars like they're standing still - because they are - and I'm going to come back to that in a minute because it's the key.
Riding from home is awesome for all the reasons that sitting on a bike isn't sitting in a car, but the biggest one I've noticed is fitness. That relatively painless addition of forty-ish minutes of pavement a couple times a week really does add up. Hard to argue against the mental and physical health benefit. The first few times I was certainly more tired at the end of my ride than if I'd driven part way but I really don't notice it now. Progress.
Also, spinning home after a ride makes me aware of what I need to fix before the next time I pedal. Bent rotors, sagging tires, crooked stem, creaking whatever. It's all more apparent when you're rolling on fresh tarmac.
A Conversation
I was a bit gassed after standing and hammering up a steep road pitch to my second favourite mountain bike climb, No Quarter on Mt. Fromme. It was a solo ride without someone to talk to so I just kept cranking away, but I'm always happy to stop and chat* for a couple of minutes.
There's a chap leaning against a fresh carbon Enduro 29" reading something on his phone. He glances up and says heya as I'm riding by. "I saw you pedaling up the road, must be great to live nearby. I drive in from Surrey." He's meeting a group of local guys he's been riding with for years but thanks to unpredictable traffic he's thirty minutes early for his ride. Just hanging out.
*I've been told I have two sets of lungs: one for riding and one for bs-ing.
In addition to making the long drive over he's the caboose of his group on climbs. "I usually start climbing once a few of the others have shown up. I don't get much time to ride so it's good to get a headstart." But wait, you're thirty minutes early for your ride? "Yeah, usually it's a bit less and a couple of times I've been late even though I always leave at the same time."
So, why not park down the hill? If you can't ride from home and you have some time to kill why not ride from somewhere? Don't hammer yourself before your ride but from my experience, the extra pavement warmup is a net benefit.
Park & Pedal
I'm not trying to get preachy. It's mountain biking and there are bigger things to stress about. You do you, etc. But it seems to me disagreements between riders and residents near trail access points would diminish if we diluted neighbourhood parking, turned down the tunes, picked up after ourselves, and changed discretely.
Maybe that's a little bit preachy, but would it kill you to park a few blocks away instead of right next to the trailhead? You do have a bike.
Now I've got myself started. If I had a loonie for every time one of my friends complained about having to wait for a parking spot in the Fromme parking Lot on a busy Saturday or Sunday I could afford to drown my sorrows and pay someone to un-knot my knickers.
I like to think of limited parking situations at busy trailheads like the courtesy seating on buses. If the bus is empty sit wherever you want. During peak hours you suck if you don't give up your seat to children, pregnant women, and the elderly.
I realize we live in a first-come-first-serve society but it's worth considering that every time you choose not take the last spot near a busy trailhead that's someone who can take their dog or kid riding, haul in trail building tools, introduce a less-fit friend to sport, go for a hike, etc.
Riding From Somewhere
On occasions when I drive, I've discovered quiet parking spots that are great for a post-ride chew-and-brew without impacting relations with trail-neighbours. I've also found new ways to link up some of my beloved trails with new and rediscovered favourites thanks to a floating termination point. And there's a surprising amount of urban gravel and singletrack to explore away from traffic.
Don't take my word for it, try riding from somewhere next time traffic is light. Then try it a few more times and see if you don't pick up some climbing speed on the trail and start saving the 'I don't get to ride enough' excuse for when you really need it.
Remember, I'm pulling for you and we're all in this together.