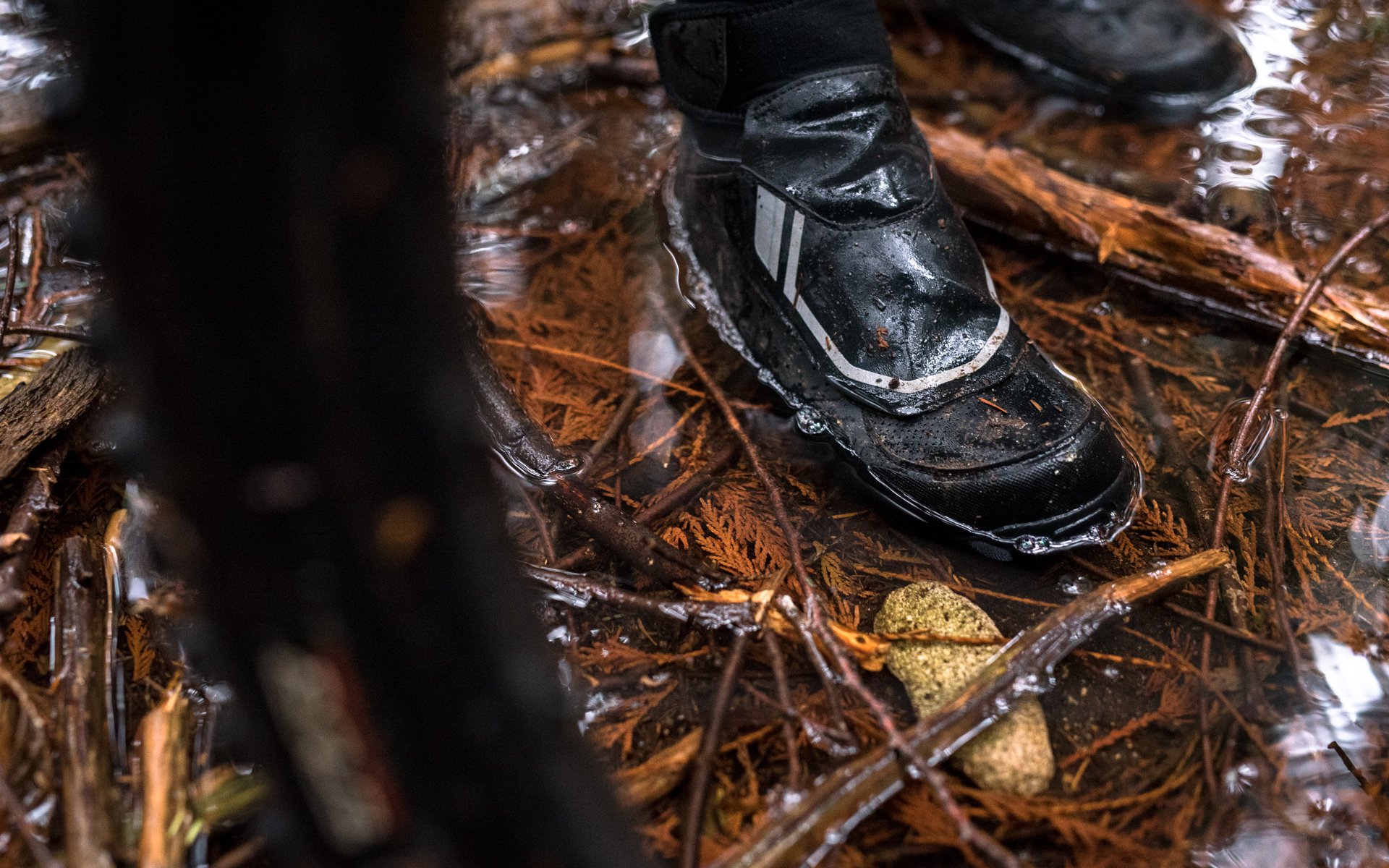 HAPPY FEET
Shimano MW5 Winter Shoes: Reviewed
Cold weather riding is not that hard to prepare for. Wet weather is a bit more challenging. Put the two together and you have a diabolical mix. From about 3º C down to the freezing mark, wet and cold have a multiplicative effect on each other. If you want to ride in wet weather and single digits, everyone knows you need the right jacket. Waterproof shorts didn't used to feel mandatory (mostly because there weren't many good options), but they're standard issue for winter riding around here these days. And I'm here to tell you that even when it's above zero but your feet might get wet, winter riding boots are unsung heroes. You can dabble in waterproof socks (not to mention spend less), but nothing beats a lined, waterproof shoe.
The creeks are running high, puddles are deep, and the saturated dirt will cling to your shoes and soak them. You've ridden for years with wet, cold feet. Let the suffering end.
The Shimano MW5 is not their top of the line winter shoe - that distinction belongs to the Gore-Tex-lined MW7. Other than the MW5's Dryshield liner, which doesn't come with Gore's name recognition but seems to work equally well, the only significant difference is that the MW7 comes with TORBAL - Shimano's Torsion Balance system which has a stiff midsole and softer forefoot. When it comes to jackets, I value a high-end membrane. In the case of these shoes, my warm, dry feet are proof that Dryshield is good enough.
What the MW5 does have is a fleece-lined insole and boot contained inside a synthetic leather upper (perforated outer layer, sealed underneath), and a robust neoprene ankle gusset that keeps splashes and dirt out of the shoe.  That insole is thicker and a tad bit more comfortable than a standard, shitty insole*. The speedlace system makes them easy to fasten: pull 'em on (great heel cup, nice and secure fit), yank the speed lace, cinch and tuck it in. Close the two ankle flaps over top of each other - velcro holds them in place - and finish by pulling the lace cover across the whole kit & kaboodle.
*Why hasn't someone started selling their shoes with good insoles? Seems like a good way to set yourself apart. Give us a little extra arch support and an anti-microbial finish, and you're set.
Fit
The Shimano MW5 is a very comfortable riding boot. The heel cup is well-defined and locks in easily, in my usual size 43 they fit perfectly with room for thick waterproof socks (which I haven't needed), and the aforementioned insole provides a warm and comfortable platform. The neoprene ankle capably keeps out the bad, retains heat while providing great articulation, and the two-flap closure allows you to get a good seal and set the snugness according to your preference.
Pedaling & Hiking
On Shimano's stiffness scale, the MW5 (as well as the higher end MW7) is rated at 5, which is the same as the new AM9. For comparison, the stiffest MTB shoe Shimano makes is the S-Phyre XC9 which measures an 11 (full morningwood status), and the ME7 All-Mountain shoe I reviewed last year is rated at 8. I can't say the MW5 feels soft at all, though a serious racer might differ. However for winter riding and training, when you're more likely to be hiking or dismounting to avoid things like downed trees or crossing creeks, the MW5 is terrific for walking, and the rubber sole was reassuring on wet logs as well as rocks. It is also a firm and comfortable platform for pedaling. Put simply, like with the rest of the shoe, it is spot on.
It is refreshing to come across a product that isn't the most expensive in its category, or even the priciest one the manufacturer offers, and realize that it is not only sufficient, but damn near perfect. While I can't comment on the MW5 at temps below -3 C (it just hasn't been cold enough this year), I think that the operable range of these shoes for me is at least -10 on the low end, and having worn them at 10 above with no issue, I can confirm that they breathe well also. If we did stars around here, I'd give five of them to the Shimano MW5.
The MW5 retails for CAD 259 / USD 200 (street price is lower if you hunt around a bit). For comparison's sake, the MW7 w/ Gore-Tex is CAD 320 / USD 250 but also available for less. It will be replaced by a new shoe for 2019. More on that sometime this Spring...