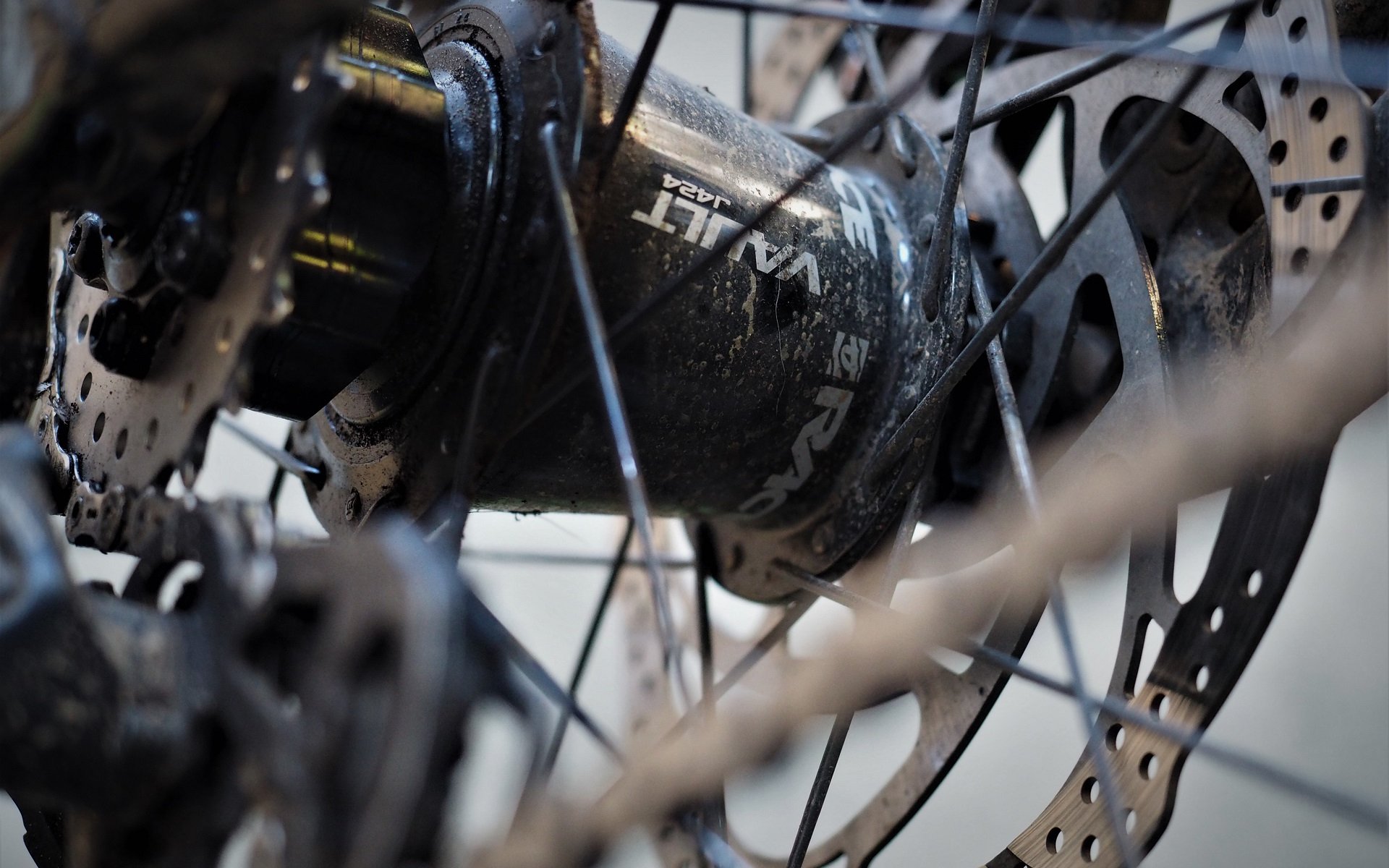 REVIEW
Race Face Vault J-Bend Hubs - Reviewed
Simple Hubs
I've been nerding out about high-performance, high-engagement, high-priced rear hubs a fair bit of late and as part of that, I've been putting all the hubs I've ridden into categories. I have lots of categories, some aren't so nice, but mainly I'm categorizing boutique hubs as having either complex or simple drive systems.
Race Face Vault hubs are simple. That's not taking away from their high-quality or snappy-fast engagement. It's just that like other pawl-and-drive-ring hubs there really isn't much going on. The Vaults provide quick & simple service, common bearing sizes, relatively inexpensive and easy to come by service parts, excellent sealing, and a massive inverted drive system in a package that anyone who's mechanically inclined can tackle at home. 
Folks that think hubs should be optimized for true instant engagement, or for silence, or for maximum longevity no matter the cost of replacement components, proprietary tools, or complexity of service likely already have a favourite hub. I love  Onyx, and True Precision, and Chris King as well and I can happily debate the pros and cons of any of those products. 
For folks looking for the best blend of performance, ease of service, long-term service costs, low drag, and rapid engagement I think the strongest arguments are in favour of pawl-style hubs. My favourites include Project 321s and Industry Nines but there is a slew of other options using very similar rapid and refined, but really simple, drive systems. 
One of those options, albeit with a unique* inverted configuration, is the Race Face Vault J-Bend hub. 
*American Classic previously used a similar system. 
Vault J-Bend Front Hub
Normally I'd choose hubs on the quieter-to-silent end of the spectrum, but I quite like the unique whine of the Vault. It's loud enough to alert my fellow travelers to my presence but not at all tinny or obnoxious when I'm out on my own pedaling through the silent forest at night. 

3° engagement, unique inverted drive mechanism, excellent protection from elements, a plethora of configurations and any option from the proverbial, for now, Fordian colour pallette. 
I don't have much to say about the front hubs. Bearings are still spinning smooth, they're a stylistic match for the rear, they come drilled for 28h or 32h - just like the rims, and two different hub shell widths cover every conceivable axle standard out there for mountain bikes. 
I've always questioned the relative value of the SRAM initiated "stronger, stiffer" Torque Cap interface, with an oversized hub-fork surface interface, but anyone regularly installing regular wheels in a fork designed for Torque Caps will certainly appreciate that the Vault has the option. 
Just to lay it out, the classic (non-Boost) hub shell can handle 15x100, 15x100 Torque Cap, 20x110, and 9x100mm axle options. The Boost hub shell can handle 15x110, 15x110 Torque Cap, and 20x110 Boost. End cap swaps, front & rear, are tool free. 

Great for dialing in custom builds, we'll have four new anodized colours by the end of the year" - Race Face
Vault J-Bend Rear Hub
I've ridden the Vault J-Bend hub exclusively with an XD driver but a Shimano option is also available. I've had it set up 11-speed, 12-speed, and single speed with no issues to speak of. The bearings still feel fresh despite not being anything exotic or bespoke and the drive system has the same drag as day one. 
I've done nothing to the hub since our initial teardown. I did not repack the accessible bearings with heavier grease, as I would with my own hubs, in order to test Race Face's labyrinth seals and I'm very impressed. The rear wheel has been drafted for single speed duty for what will hopefully be a long, wet, winter riding season so I will report back again briefly in the spring. 
Race Face makes three hub shell options for the rear. The classic covers 142x12, 135x12, 135x10. The Boost covers 148x12. The DH covers 150x12 and 157x12.
As with any hubset, this is where the magic happens. Race Face hits the 'quick enough' level for fast-engagement hub junkies with 3° of engagement. If I think about it I'm able I notice the difference between the true-instant engagement of a True Precision Stealth Hub or the 1.66° engagement of the Project 321, but then either of those hubs is 100 USD more expensive and the Stealth lacks the Raincouver friendly sealing system. 
I don't want to overstate the difference. I've also spent lots of time on an Industry Nine hub and Bontrager Line hub that had 3° of engagement and it's a different world from the 10° or 20° engagement hubs that I'd consider to have too much float for my preference. It's just that epic-bike-nerds will likely snicker a bit at Race Face's claim of "near-instant" engagement when there are more abrupt options on the market. 
Put another way, the 120-point is close enough to instant to be perfect for me but it isn't brag-to-your-friends-fast.  
Comparing the Vault to other similarly fast, similarly high-quality pawl-style hubs on the market, the Vault's oversized drive system has one definite long-term advantage which is that, eventually, the entire drive system can be replaced with no proprietary tools since the drive-ring isn't threaded into the hub shell but rather pressed onto the freehub.  
For the do-everything-at-home mechanic, this is unique on the market 
Most important for riders, everytime I slam on the pedals the Vault hub drives my rear wheel forward with zero complaints. As with other boutique hubs on the market this fully qualifies as sh*t they're supposed to do so I'm noting that they meet performance expectations, not trying to give them kudos for longterm high performance. 
If black's not your thing, Race Face let slip that the Vault J-Bend hubs will come in four more anodized colours by the end of the year.
ARC Aluminum Rims
I've been riding Race Face ARC rims on my own bikes for a few years now. I pair a 32h ARC 30 out back with either an ARC 30 or an ARC 40 upfront depending on the bike. 
I've had my share of dents and wobbles, but I've certainly never felt like one of the rims owed me anything. I'd say the latest generation of Stan's Flow rims can be easier to air up tubeless when it comes to the more challenging tires - looking at you WTB - but at the end of the day I've yet to come across a tire I couldn't air up on the ARCs with a floor pump and that includes 29+ rubber. 
The 20mm deep Arc rims come on a number of sizes from basically-gravel-grinding-only-now 24mm, through 27mm, 30mm, 35mm, 40mm, and 45mm internal widths. All are available in 28h or 32h spoke drilling and use 6061 aluminum with a welded seam. 
With the range of sizes in both 27" and 29" diameters the weight range is massive so for claimed weights, I'll fire you over the Race Face website. 
Vaulted
There's a stable of high-end aftermarket mountain bike hubs to choose from and a stack of criteria from price, to engagement, to ease of service, to cost of service, colour, and etc to choose from when it comes time to pry open the wallet. To that end the Vault seems to be a bit of a sleeper. Easy to service, a hungry high-pitched whine that is loud without being obnoxious, good seals - it's a great package? 
Chatting with my friend Dave, the owner and lead wrench at BicycleHub, the other day and he said the same thing. He's been hammering his Vaults sans service and recommends them to anybody. 

"I have been running my Vaults for almost a year now through a wet spring/dry summer/wet fall and they have continued to perform flawlessly. Their design keeps the bearings and freehub well protected so you keep rolling faster for longer." - Dave@BicycleHub
I love quick engaging rear hubs and I think they're one of my favourite upgrades on a bike. If I had an SLX drivetrain, Tektro 4-piston brakes, and a full Aeffect parts package my first upgrade would be some Shimano brake pads and my second would be a quick-hitting rear hub. 
Unfortunately, the Vault doesn't come spec on any min-maxed rigs at the moment but it is starting to show up as OE equipment on some Gucci builds like the new Devinci Spartan starting at the 5900 USD GX LTD model. It's still a tonne of money for a bike but I can't find anything in the price range with as nice a rear hub spec. 
So there you have it. Awesome, easily serviced, Vault J-Bend hubs that kick-it quick and loud with 3° engagement while coming in at the more affordable end of the high-end hub market, spinning quick and packing seals for days. Nice package Race Face. 
Available through your local dealer for 350 USD rear and 175 USD front.