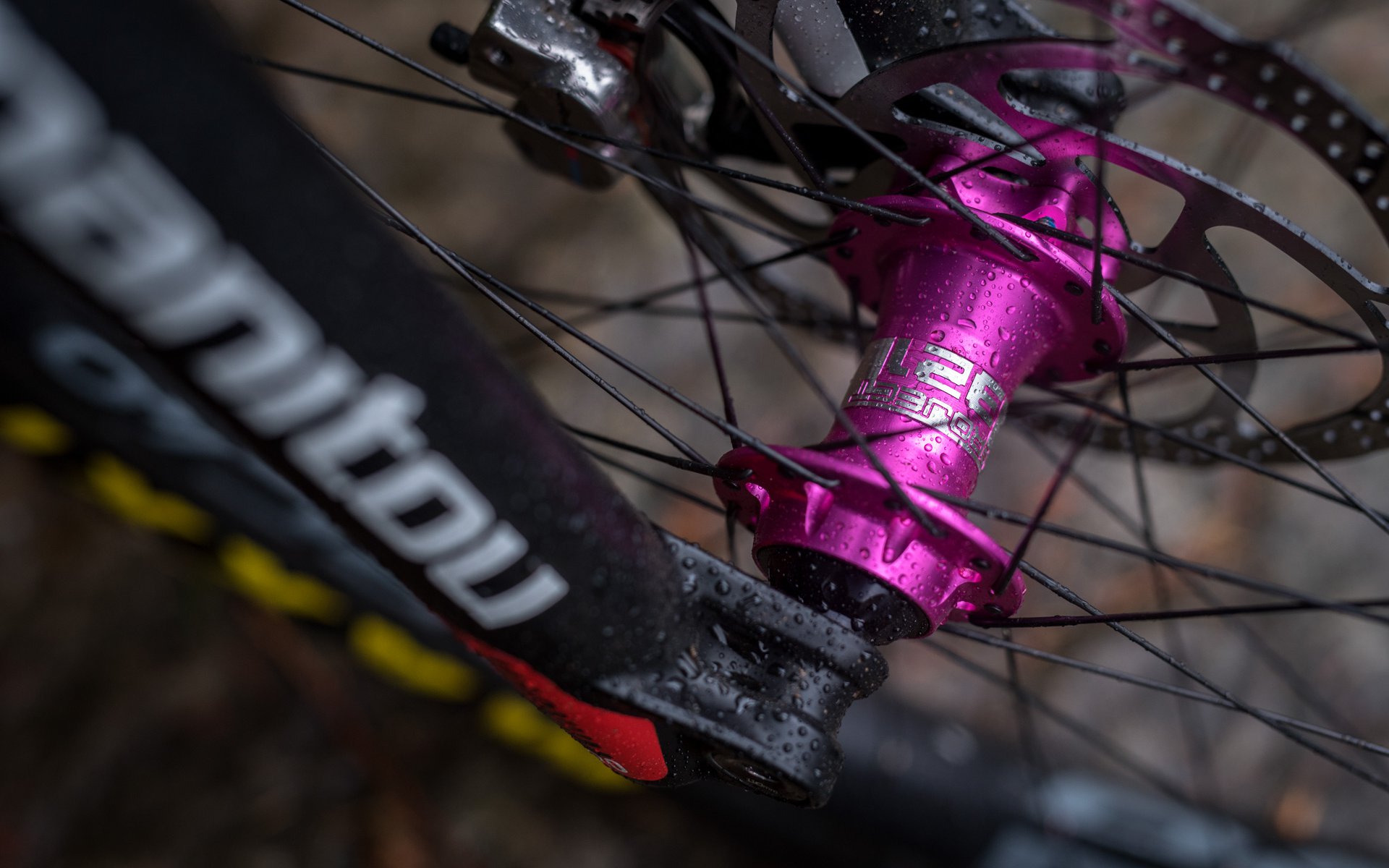 Review
Project 321 Hubs - Reviewed
Perfection? Not quite...
The Project 321 hubs were not the flawless high-end hub set I expected from the company. They started out fantastic, it got cold, there were performance issues, I rebuilt them, and they have been excellent for all the months since. I'm not the only person who experienced an issue, not all issues were as quickly and easily resolved as mine. Project 321 says that less than 0.1% of the hubs they sold have had an issue and everyone has been taken care of but I mention it up front as I will be recommending the 415 USD hub regardless. 
Simple to service, Japanese made EZO bearings that spin as smoothly as day one, and a quiet (or loud) 2x6 pawl arrangement that powers a 72-tooth driver for lightning fast 216-points or 1.66° of engagement; it's clear where P321 has gone right, so I'm going to start by talking for a couple of paragraphs where they went wrong. 
Project 321 has been making hubs for a number of years but the previous models featured proven Industry Nine internals. A new in-house drive system was released with the intention of delivering faster engagement and the option for quiet or loud freewheeling depending on which set of magnetic pawls was installed. 
My issue started when the temperatures dropped and my hub started skipping periodically. I traced the problem to the DuMonde Tech freehub grease that P321 chose for lubricant. I flushed the hub, replaced the grease with freehub lube, updated my teardown piece, and carried on enjoying the product. Swapping the grease for oil does make the quiet pawl set louder, though still very quiet for a high-engagement pawl hub. The loud pawl set is screaming loud so there was no change of note*.
*I'm certain one could calculate the change but it would be pointless; akin to tabulating the number of times a serial liar tells a fib over a 500-day period. 
Not all P321 owners were so lucky. Some needed a new seal to keep oil from leaking out of the hub, where this was not a problem with the grease. Some needed new pawls. Some needed a new drive ring. As mentioned earlier, P321 looked after everyone who had an issue but it took too long to do so.*  The offending parts were previously outsourced but P321 decided to move production in of the pawls and drive ring in-house extending the delay. 
*the company was in the midst of a move during this time
It's likely that these travails have cost sales. There's a cautionary tale for any small brand about testing in every condition that your product will be sold into. The length of time some riders waited to get their expensive hubs sorted was too long and yet I know of riders who will be customers for life thanks to how hard P321 worked to make everything right for them. 

And now, on to the hubs.
Quiet VS Loud
According to Project 321, the loud pawls have a slight increase in drag over the quiet version but it's not something I can notice in the work stand or on the trail. My verdict is to choose your pawl preference and roll with it. Based on their testing, compared to the leaf-spring-loaded pawl system they used previously, P321 claims a 68% reduction in drag for the quiet pawls and a 51% reduction for the loud thanks to using magnets instead of springs. 
The quiet pawls are not silent in the same vein as a True Precision or Onyx hub but even with oil installed instead of grease, they are the lowest decibel high-engagement pawl option on the market. I slurried in a dab of Slickoleum with the hub lube and that quieted the hubs down without introducing any skipping issues. 
I spent most of this test on the quiet pawls and even with the grease issue, and associated skipping I experienced, there is no wear on the pawls or driver after many months of hard use. 
For a visiual breakdown on how the drive system works check out P321's graphics here. 
Bearings & Tension
Every part of the Project 321 hubs is made in Oregon except for the Japanese EZO bearings. I'd never heard of EZO before doing this review but my takeaway is that I'll be trying to source them for replacements in any of my personal hubs in the future. Short of going Full-Chris-King and building their own stainless steel bearings in-house, I've never ridden bearings that spin this smoothly for this long. 
There are two schools of thoughts on hubs using cartridge bearings. One is to preload the system using the compression of the fork or frame axle being tightened down and the other is to allow for fine tuning of that bearing preload using a threaded collar. 
I haven't had any issues with cartridge bearing life or drag from hubs using compression like the Industry Nine Torch, so personally, it's not a must-have feature. I know a lot of riders who wouldn't buy a high-end hub without the feature and there is certainly no negative to being able to fine tune bearing adjustment. 
I have adjusted the tension twice over the course of my test which is similar to my experience with King hubs over the same period. 
Engaged
Project 321 recommends the 3x6 configuration for Tandems, E-Bikes, and riders over an arbitrary 275-lbs. Both configurations carry a 3-year warranty on all the drive components and if you're 274-lbs in your birthday suit I still wouldn't hesitate to order the 2x6 system. It's still a ridiculously fast 2.5° engagement for a pawl hub.

One other feature of note with the drive system is that it is backward compatible to the past generation P321 G2 hub series. The old system engages fast but for a trials rider, poacher, or someone who prefers the sounds of nature over the whir of a loud hub that may appeal. 
This begs a question. If the older generation Project 321 hubs used Industry Nine internals, and the new drive system is compatible with the older hubs, does that mean that I can put the 1.66° P321 guts into my Industry Nine Hub?
Project 321 hasn't tested for this configuration but it absolutely will physically work to install their drive ring and freehub into a Torch hub. They can't recommend it and do not extend a warranty on drive parts installed into another manufacturer's hub but the small parts are available separately. 
Since I swapped to oil in the freehub I haven't suffered a single slip, skip, or other hub related drivetrain issue. That meets my expectation for premium mountain bike hub. If I have to think about it out on the trail then it's not doing its job. 
Final Thoughts
A rider who doesn't care about hub engagement can maybe still appreciate the Project 321 rear hub for the quality and ease of service. I love fast engaging hubs and wouldn't personally spend on a high-end* hub that has more than 3° of engagement. That's my bias. And given that bias, I love these hubs. I don't need to have access to a full bike shop, machine shop, a ton of experience, or an engineering degree to fully rebuild them and there are no expensive tools required to do a full overhaul including the bearings.  
As to my issue early on, Project 321 says less than 0.1% of the hubs they've sold have had the issue and, of course, everyone has been looked after. Performance has been flawless and that's what I'd expect if I ordered a set of hubs today. Which I would certainly do if I needed to replace the Industry Nine hub I run on my lighter single speed wheelset. 
*Actually, after testing Bontrager's 300 USD Line Comp wheelset I can't can't think of a reason I'd buy any hub with more than 3° between engagements. 
Made in Bend Oregon with house-made parts, except for the wicked Japanese EZO bearings, these Project 321 hubs command a premium price - 415 USD rear | 185 USD front. 
That's a lot of money and a set of well maintained Bontrager Line Comp wheels, potentially with some EZO bearings installed at service time, make a compelling min-maxing counter-argument. 
But, high-end hubs are one area on my bike that I've long been willing to invest money, from my 2000 Profile Racing hub onward, and if they're in your budget I* think they're a great buy.
For more information please check out Project 321's website here. 
*For a second opinion please see Tim's We Are One review here.