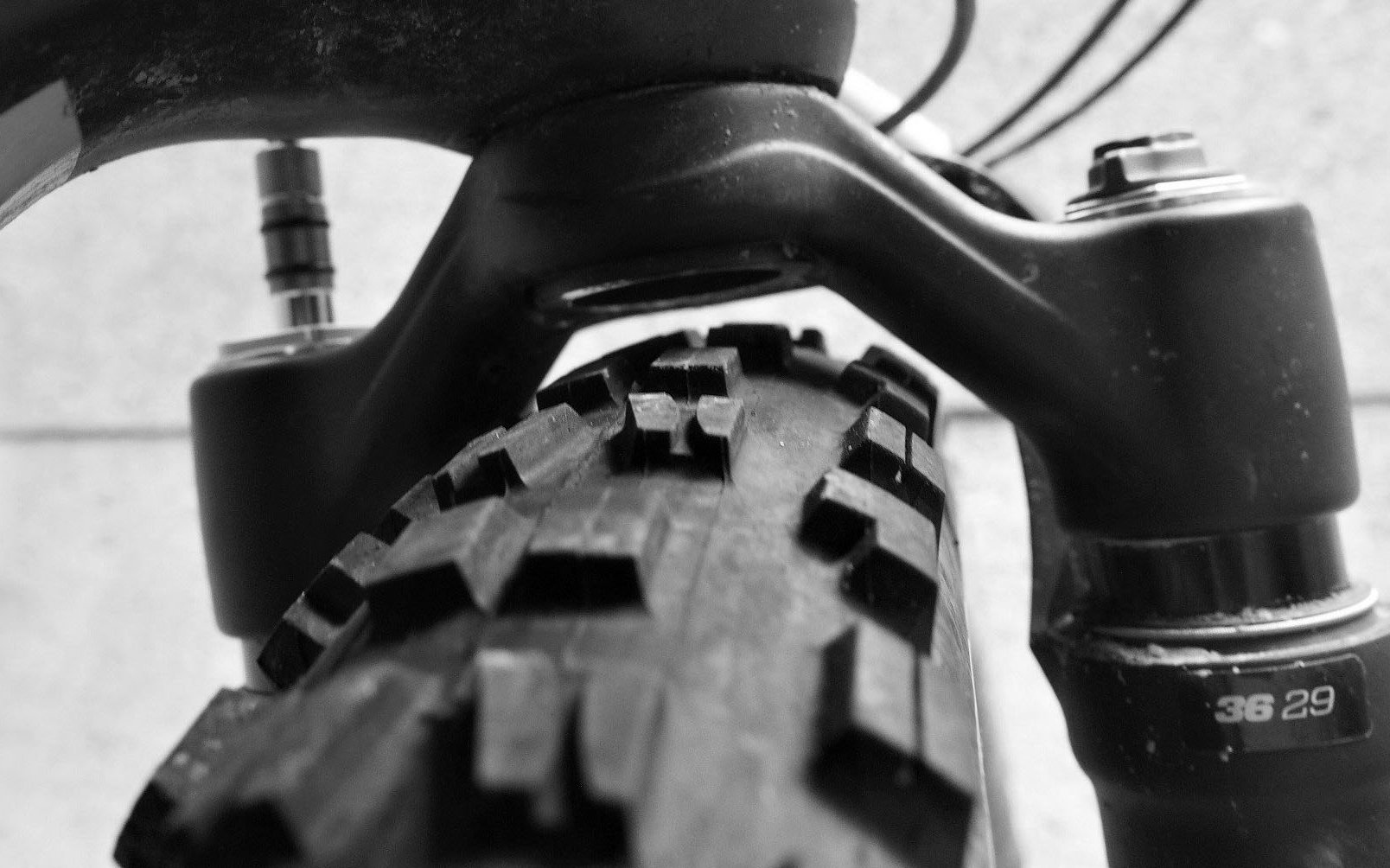 Editorial
Party in the Front? PLUS half of your 29er
Wider Winters
Aggressive PLUS tires, both 27+ & 29+, are ideal for North Shore winters - or anywhere technical terrain and frozen conditions meet. In our off-season they offer more rubber and lower pressures working in tandem to grip nasty sideways roots and Vaseline-varnished rock faces. For winters like the one we experienced last year they boost the fun factor riding in the snow by splitting the difference between a wide standard tire and the new-ride-requiring flotation of a Full-Fat setup.
Many riders with Boost spacing 29'ers have the option to fit a set of 27+ 2.8"/3" wide tires assuming they'll drop[ for an extra set of wheels and rubber. While I love the idea of 4-For-2 it's an expensive proposition, especially for a rider who prefers to run high end hubs and/or carbon rims. For most frames, without multiple geometry settings, the 27+ option also results in a lower bottom bracket height.
But what if your current 29'er can fit a 29+ tire up front? Whether fudging it on a narrower rim or buying a front wheel it's a potentially cheaper, and potentially better riding, option than swapping out to 27+.
Fatter Fronts For Life
My first PLUS tire experiences were uninspiring. Going from a 29'er with real sidewalls, aggressive tread patterns and grippy rubber to the first production 27+ tires was a huge step backwards.
Fast forward to my Best Of 2016 picks and I split one of my choices between the 3" wide Maxxis DHF 3C tire and a 40mm wide internal Race Face ARC rim. What changed? In addition to a broader selection of tires and wider rims to support them many manufacturers realized that the big tires running low pressures require real sidewall support.
Then summer 2017 hit and PLUS bikes seemed to be going extinct faster than dinosaurs in a meteor storm. Failure of the initial releases to live up to their hype? Consumer blow-back to the weights of a truly rideable PLUS tire? Neither of the 29+ Minions in my house are floating - at around 1150 grams per.
Marketing efforts behind 27+ bikes have all but evaporated, replaced with 29'ers and 27" bikes using 2.6" rubber that can be made aggressively rideable at a more acceptable weight. Demo fleets that were choked with PLUS bikes last year were more often rolling on 2-9s this season. I can't help but chuckle a bit over all the flak that Niner swallowed over abandoning their 29-For-Life platform - hindsight baby.

29+ was destined to be a niche product so there was no danger of it becoming a flash in the pan, but these days there are always a few companies willing to dabble in the fringes. Quality Bicycle Parts and Trek Bicycles prove that there are lots of weirdos that don't live on the Best Coast.
Proof Of Concept
What started as a quest for more traction on my rigid bike progressed into a ridiculous amount of fun when I slapped a 3" DHF, a top end fork and great brakes onto the front of a Trek Stache test bike. I had to try a 29+/29" setup on our Marin Wolf Ridge tester and that's what I'm currently running on my personal test mule with Manitou's Mattoc mounted.
With a regular North Shore-friendly 2.35" or 2.5" tire out back I don't notice a significant difference climbing PLUS-fronted bikes but the confidence boost pointed downhill on a greasy day is beyond justification. The promise of PLUS with none of the negatives. Well, except for a few hundred grams of unsprung weight up front.
PLUS Size You?
A Maxxis 3c PLUS tire and a suitable wheel aren't cheap but as far as experimenting with bicycle sh*t goes they're a very resellable drop in the bucket to try something unique. That's doubly true after confirming that the combo will fit up for a ride test.
Tire clearance in a stock Fox 36 29+ may not be ideal for really wet snow but I've certainly seen worse. The same idea likely fits with other 29er Boost forks but this is the only one I've tried. I wouldn't add a fender.

If you have been considering 29+* tires up front: do it. For anyone who has been begging for more traction over winter, at any cost, a Maxxis Minion 3c DHF or DHR in 29x3" and a decent aluminum wheel will easily pay for themselves in the added control and confidence.
Just be sure to check tire clearance all the way around including letting all the air out, or removing the coil spring, and bottoming your fork. Mountain biking has enough inherent risk without adding tire-fork contact in bottom out events.
*Having tried both 29+/29+ setups and 29+/29er setups I prefer a regular 29x2.5" tire in the rear. To each their own.