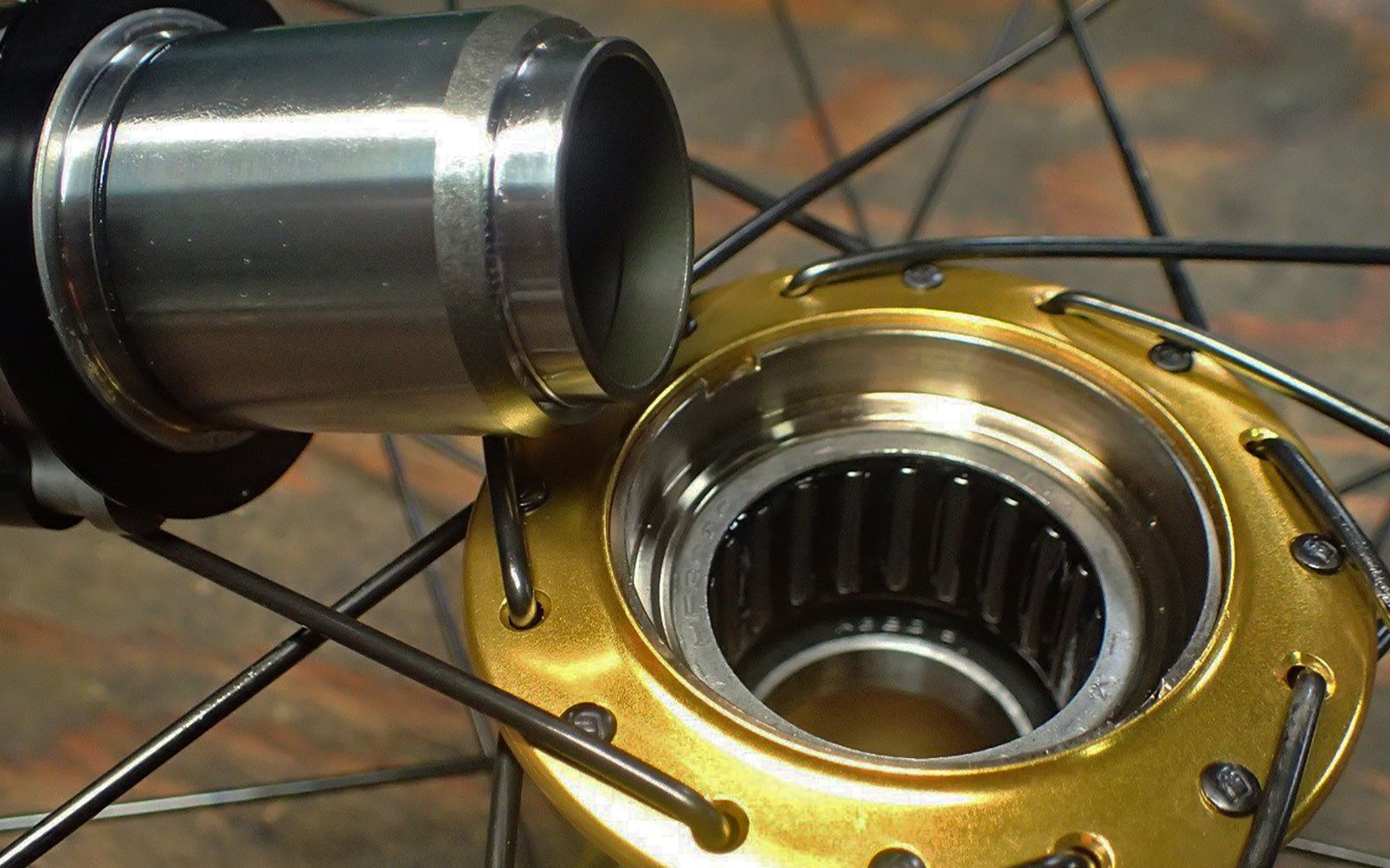 Review
True Precision Stealth Roller Clutch Hubs
True Precision
It's been six brutal months of riding since my friend Craig laced this pair of anodized gold Stealth hubs into my set of Race Face ARC rims. I had one set of clipless pedals explode and trashed another to the point of needing a full rebuild, replaced two chains, a ring, had a set of cranks fail, replaced a round of brake pads, re-greased* all the bolts on my bike and serviced my dropper post.
Other than tightening the rear axle once after the initial teardown I haven't so much as wiped the dirt off of the True Precision hubs (sorry Jeff). Engagement remains instant, action remains silent and the hub still spins very quickly if not as perfectly as when it was brand new.
The one concern about the silent roller clutch hub that I hear most regularly is regarding the early warning system a loud hub provides for other trail users.
I can count the number of negative experiences I've ever had with other trail users on a couple fingers and the last one I only grabbed the headphone wearing walkers attention by singing Like A Prayer louder than her IPod was playing it. Personally it's not a concern for me but I wanted to recognize that for some riders it's a potential issue.
Performance
The out of the box performance of the True Precision Stealth hubs is exactly as advertised. They are dead silent. They roll smoothly and quickly. Engagement is instantaneous.
I noticed no degradation in performance over the review period but that isn't surprising. The same can generally be said for the slow devolution of suspension and brake performance as well. In this case, a basic service for both the front and rear hubs did result in a slight improvement in how smoothly the wheels roll.
I'm a huge fan of fast engaging hubs; Industry Nine Torch, Chris King etc. I get that some riders don't care. Non-weight weenies who appreciate the feeling of instant power transfer should add the Stealth hubs to their list of potential candidates.
The Stealth rear hub is currently the only product I'm considering for future high-end wheels for my bike.
Driver
The only bearing, front or rear, sitting outside of the Stealth hubs' perfectly toleranced aluminum bearing shields is located in the heat treated stainless steel hub driver. It is subjected to the the heaviest pedaling loads and the most exposed to the elements so it is bound to be the canary-in-the-coalmine of hub condition.
The first step before performing any maintenance is removing the cog. True Precision makes standard Shimano and SRAM XD cassette drivers and in my case I'm testing the proprietary four-bolt mounted stainless steel BMX cog and driver on my single speed. I had zero issue with the four T-10 Torx bolts coming loose over the course of the test. With tiny heads and mucky trails it is a great idea to clean these fasteners out with a sharp pick before trying to twist them out.
With the cog and axle assembly removed Jeff noted the driver bearing definitely felt crunchier than when it was new. We popped the bearing seal and forced in an ample amount of fresh grease while cycling the bearing. It feels great now but I would expect to replace it the next time I open up the hub for a full service.
The driver itself is showing no wear whatsoever despite my neglect.
Shields
In addition to the perfect tolerances of the hub driver I'm also very impressed with how well True Precision's machined aluminum bearing shields keep out water and dirt without creating resistance like a seal. As a parallel, Hope uses a very similar configuration on their bottom brackets which are among the smoothest and longest lasting in the industry.
Wear
Aside from the drive shell bearing the only item on the front or rear hub showing wear is the stainless single speed cog. Massive burrs where a couple of chains have had their way with the poor 20t plate.
I filed down the burrs and flipped the cog. I'm anticipating it will get through at least another service if I can't stretch it for another service beyond that. That's pretty impressive longevity. Only my Chris King cog has shown less wear over a similar time period. The King cogs are roughly twice as expensive so as a value proposition both units are probably equivalent.
Service
I over-hedged in talking about service in my initial look at these hubs. I'd recommend a service schedule similar to a suspension fork, shock or brake system. It's a great idea to do a quick relube at the halfway point between a fresh hub and full-service time but the hubs have proved extremely resilient to abuse.
A quick service consists of flushing the roller clutch bearing with some WD40 and then, after it dries, lubricating it with a couple of teaspoons of ATF. I recommend re-greasing easily accessible bearings as part of the process.
The Sound of Silence
I've ridden a lot of high end super-quick engaging hubs. I've ridden a tonne of more value conscious hubs with 10-20 degrees of movement between engagements. I'll take fast engagement any day.
Thanks to the big stainless drivers the hubs aren't light but I think for most riders that's an easy trade-off for the extensive - if not infinite life.
It potentially comes down to whether a rider wants the loudest hub on the market or silence. Even then I know a number of riders who long swore by their angry bees until trying a silent hub, roller or sprag clutch, and now evangelize about them.
On solo rides, especially at night, my Stealth equipped bike always exerts the strongest pull. It's amazing being alone with the sounds of the forest and my thoughts on a bike that makes no noise beyond my tires scrubbing the dirt, roots and rocks and the odd protest from my brakes. It's a beautiful thing.
Having had the luxury to ride and service a lot of different high-end hubs, the Stealth is my favourite on the trail and coupled with impressive longevity and awesome, personal, service they will be at the top of my list for my next bike build.
For more information and pricing check out True Precision.
*I actually use copper anti-seize or Loctite for bolts on this bike.