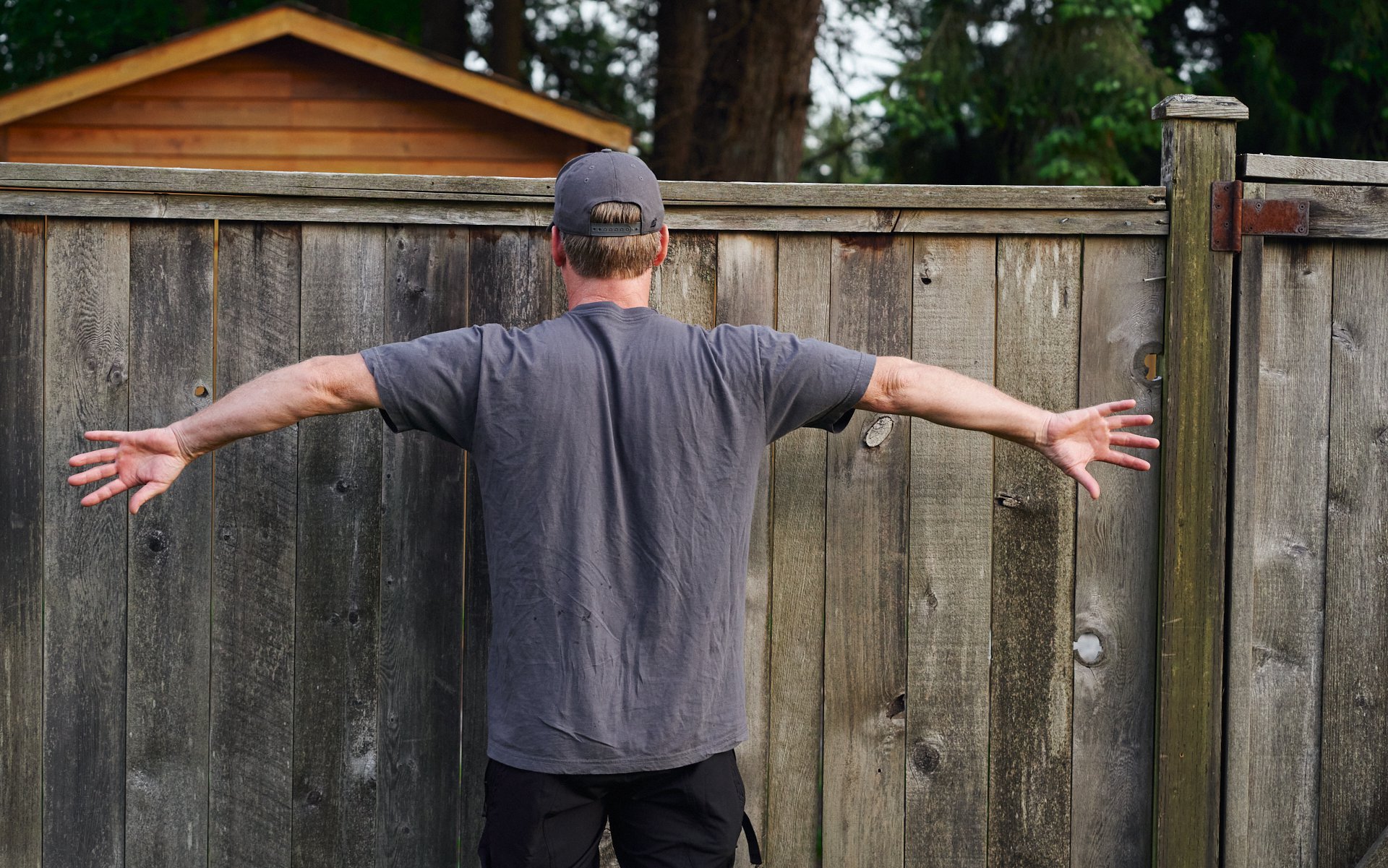 Elbow Pad SHOOTOUT! (pewpew!)
My Battle with Elbows (5 Elbow Pads Back to Back)
When I used to ride gnarly North Shore stunts I would wear as much armour as I could get on my body including knees, shins, Aircast ankle protection for all the rolled ankles from bailing, full upper body armour including elbows, shoulder and back protection. It was a lot like getting reading for ice hockey when I suited up for riding and just as stinky.
About ten years ago when I slowed the stunts down due to the injury recovery time keeping me off the bike for too long, I adopted the gear I see most riders using today; knees, half shell lids and gloves. I thought it was odd that we all cover our knee joints but not our elbow joints. Both pads restrict movement, create heat and take away from that no-pad feeling. Crashes typically involve knees and/or elbows to some degree so why not cover up both?
After clipping a pedal on a stump and slicing my elbow open, filling it with mud and bits of trail, I spent forty-five minutes in emerg. dealing with a doctor using a hose, tweezers, brush and scalpel to dig out as much dirt as he could. Some gunk remained so he gave me a pile of antibiotics and instructions to change my bandages and clean the wound every 8 hours. It was a massive hassle that would not have happened back in the elbow pad wearing days. Being a stubborn optimist, I rationalized that I would be more careful and after a month wearing elbow pads to cover the wound, I ditched the elbows for the freedom and anti-Joey status of naked arms.
About a year later, a few hundred metres down the same trail, my brake adaptor rotated into my rotor (ya I forgot to tighten it after adjusting the pads a month earlier) and I went OTB onto my elbow. No gashes - just a deformed and sore elbow, two ago years and counting.
I have resolved that I will wear elbows on every ride from now on, biker fashion/Joey status be damned. None of the riders in my different crews wear elbows even though most, like me, have had elbow trauma in their past. Two days after my latest crash, my buddy Gavin went down. He got the exact same emerg. treatment as me and he said he would be wearing elbows in the future. We'll see how long that lasts after the wounds heal.
I tried Dakine Slayer elbows but did not like the fit nor the protection (I just gave them to Gavin). I rode a few times on old Race Face Dig hard shells that offer a lot of protection but they were bulky and uncomfortable. When I was in the NSMB bunker, Cam offered me some POC VPD System Lites to test against a pair of 7iDP Sam Hill Lite elbows. At last I had some elbow pads that seemed to fit and perform the way I wanted.
7iDP Sam Hill Lite Elbows
These pads were my favourites (see Race Face Indys below) for a number of reasons: they are low profile, light, easy to fit in my hip pack and they keep my arms cooler than any of the other elbow pads I've tried (except the minimalist Race Face Charges). They have a Kevlar covering for tear and abrasion resistance and they use memory foam – nowhere near as scientific as POC's VPD but I just gotta hope it works when I do end up crashing. They have silicone at the top of the sleeve cuff for grip and elastic at the bottom of the sleeve which works on my skin or over my base layer. The sleeve is extra long which helps avoid slippage and avoids pinching the guns. They also have loops that help with hang drying and rolling them up for pack storage. They are easy to wash: simply take out the memory foam and insert again after they are dry.
The price is right as well: $90 CAD.
POC VPD System Lite Elbows
POC's VPD is Visco-Elastic Polymer Dough which sounds scientific until the dough part. POC claims that it transitions from soft to hard during impact (the title of your sex tape).
For sleep-inducing reading on research into VPD read this.
I liked the mesh inner sleeve (single layer of spandex) and the ventilated VPD material but they were still a bit hot with the double spandex on the outer sleeve. The pads slid down my arm when I wore them over long sleeve base layers but stayed put when against my skin. There are POC logos made of grippy rubber on the top of the sleeve cuff and half of the bottom sleeve cuff to help with slippage but it only worked on my skin. After a number of washes the pads grew a bit so I would recommend buying them a size down. Normally I wear a large elbow but I chose the mediums and they fit well now. I like the absence of straps which tend to increase arm pump and fatigue. I had one crash to test them and they performed well: no pain, no cuts, no bruising. I did not realize I hit my elbow in the crash until I saw the mud on my jacket. The molded protector sticks out a bit much for my liking and I found them to be better carried up on long climbs - either strapped to my top tube or in my pack - than on my arms. They are pricy at $140 CAD.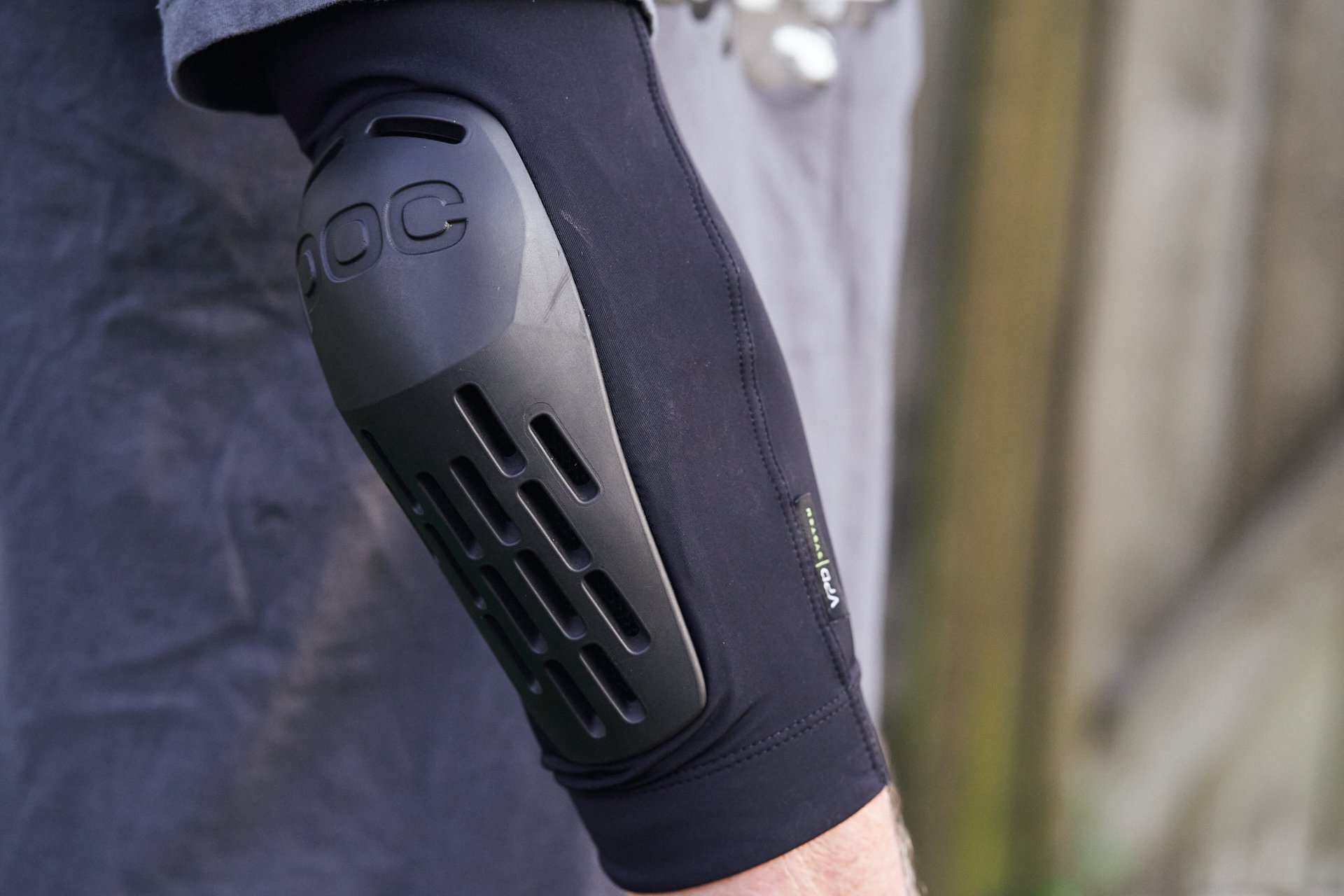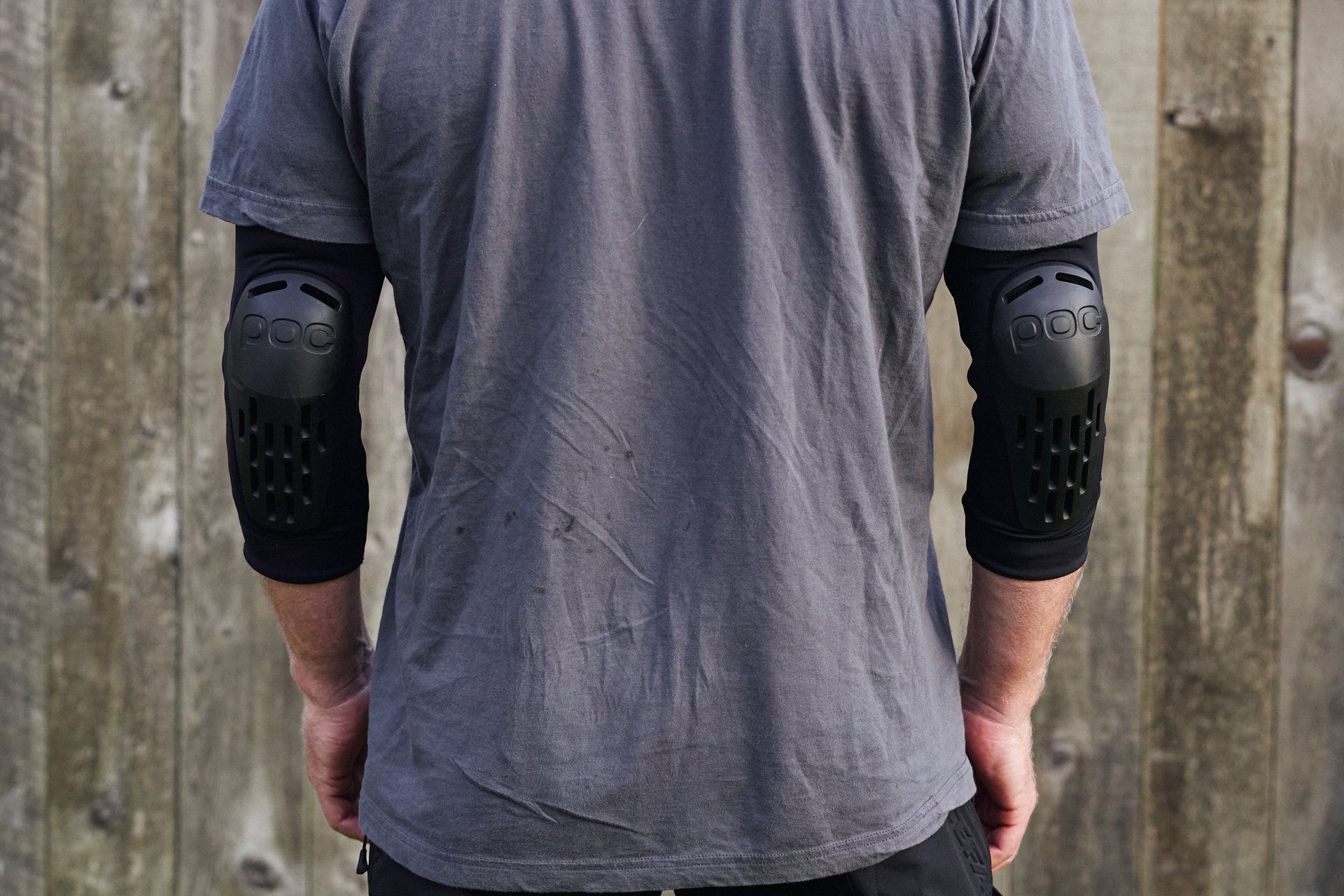 Fox Enduro D30 Elbow Guards
These elbows showed up about two months into my test with the POCs and 7iDPs. When I put them on I was underwhelmed for a few reasons. The fit was big. I wear a large in Race Face, Dakine, POC and 7iDP but these larges were more like L/XLs. The sleeve, though light, cool and comfortable is too long, going all the way up to my arm pit. In addition, the pad has about an inch of side play which could be a problem in a crash - though I haven't crashed in them…yet. Finally, these pads look like a piece of foam was stitched into a shirt sleeve (ya I know that is what they are but it really just looks like that). Other Fox pads like the Launch D30 and Launch Pro D30 as well as previously mentioned brands all have form-fitting, well-sculpted lines while these seem like the D30 pad was jammed into a pocket (well it actually is so that you can take out the D30 to wash the sleeves) and stitched tightly so you can see every line of the D30. It's not that big a deal but in combination with the other factors and compared to the 7iDPs and POCs these ones will probably only be used on days when the other two are wet, dank and stank.
Fox Enduro D3O elbows retail at $89.95 CAD.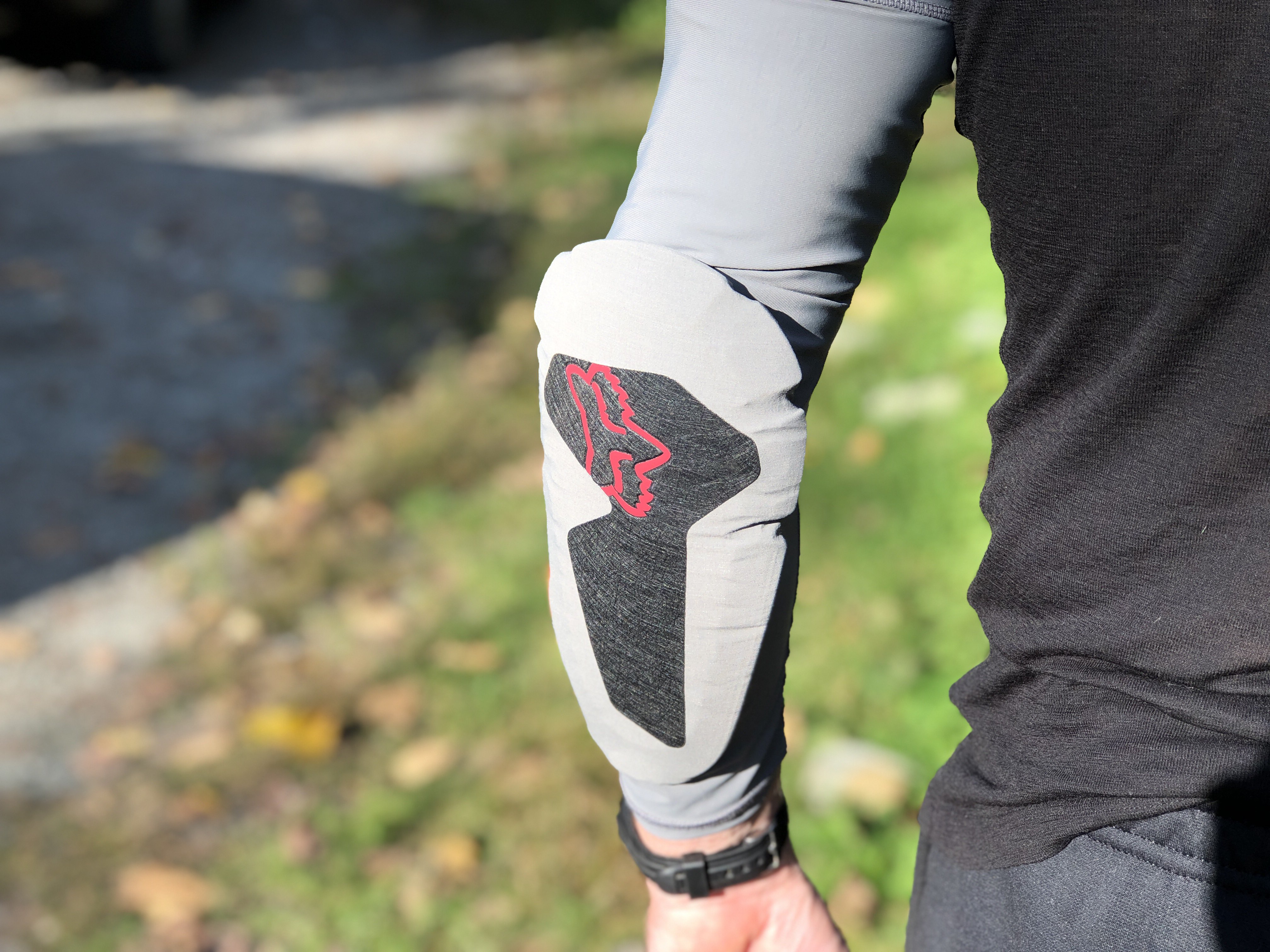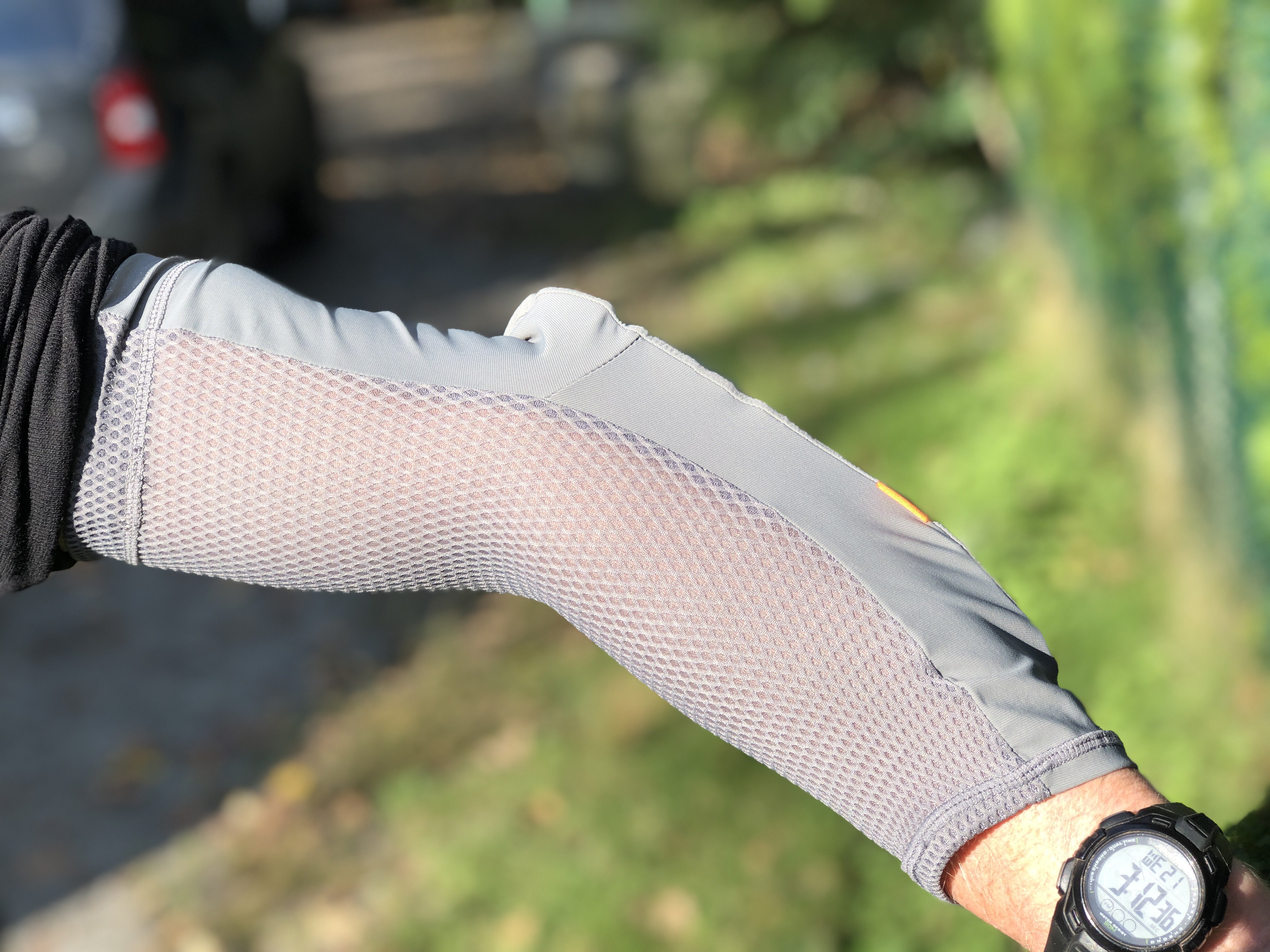 Race Face Charge Elbow
These are low-pro pads that are perfect for stopping cuts and their associated dirt and bacteria from getting below the skin. They are definitely better than a shirt, jacket or bare skin and they will help with the minor stuff. But, these pads are not aimed at protecting you from big hits. The Race Face site describes them like this: Non impact rated foam panels covered with stretch material with flat lock stiching to keep you xc trail rides comfortably abrasion free.
Other than the typos, it sends the message that these 'bows are not going beyond abrasions and cut reduction." I like using these pads on days when I am doing trail building then riding down afterwards or when I am hitting trails that are less gnarly than my usual stuff (aka the grey, the dark and the Cypes in local terms). They are the best pads for comfort, breathability and stealth but on a Likert elbow scale, where bare skin is one and hard-shell elbows are 5, these would be a 2. The faint praise is that they are definitely better than nothing. I would prefer to wear these all the time but due to the aforementioned issues I need to bow down to the bigger bows most of the time.
RF Charge elbows retail at $44.99
Race Face Indy Elbow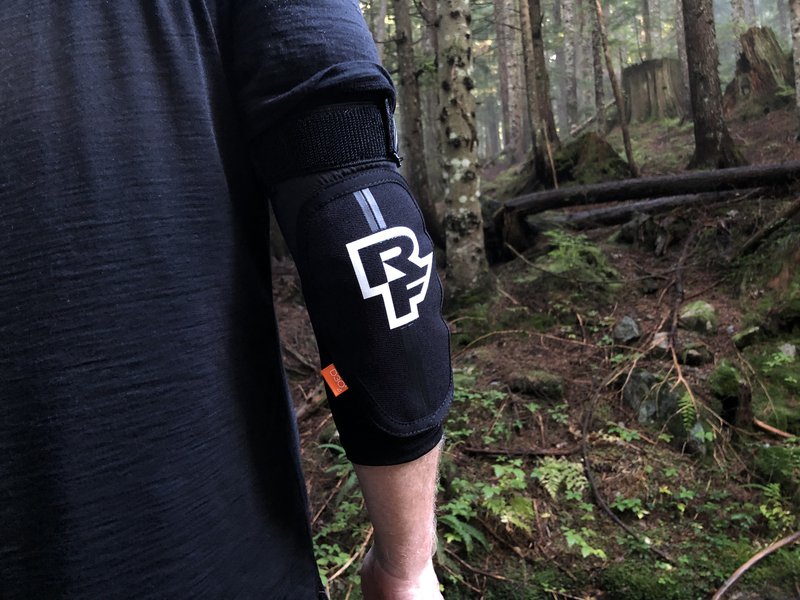 The best is last. I received these a few weeks ago and they are definitely the best despite being one size too small. That's right; the guns are too big for a size large... Or Race Face is just downsizing to make me feel better. These Ls are too small but XL would be perfect. I did however, perform some creative tailoring, cutting the straps off and slicing two V's in the upper arm sleeve to loosen them up. That made a big difference and now they slide on and off easily and still stay in place. I have yet to crash on them, or any of the pads in this review, but in terms of comfort and stealth these are the best pads in the group and the ones I reach for most. They do not go too high up the arm like the POCs, 7iDPs and Foxes which adds to the high comfort rating. The Indys provide full coverage of the elbow and half of the forearm without being bulky and feeling large. Despite the smaller size there is no arm pump, both before my modifications and afterwards.They are easy to launder with convenient D30 removal and installation.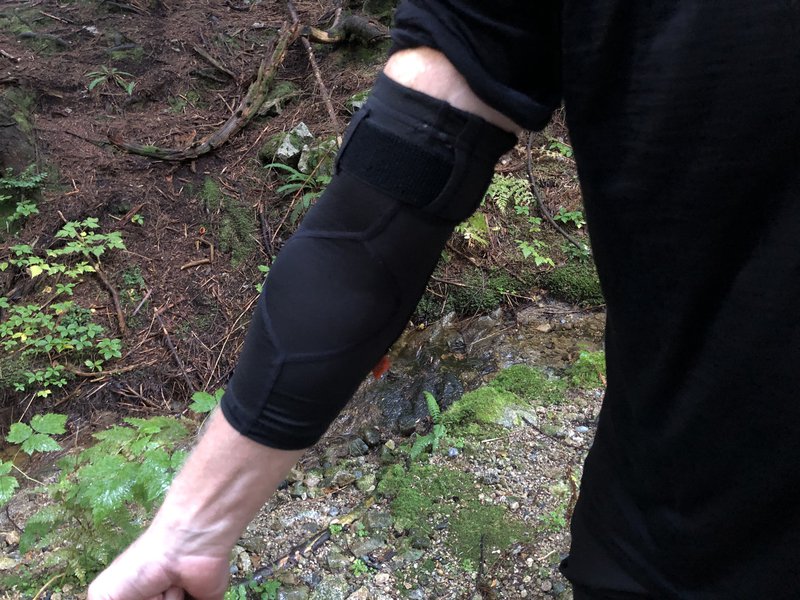 These pads are the winners.
Race Face Indys are $85 CAD
---
How often do you protect your boniest upper appendages?