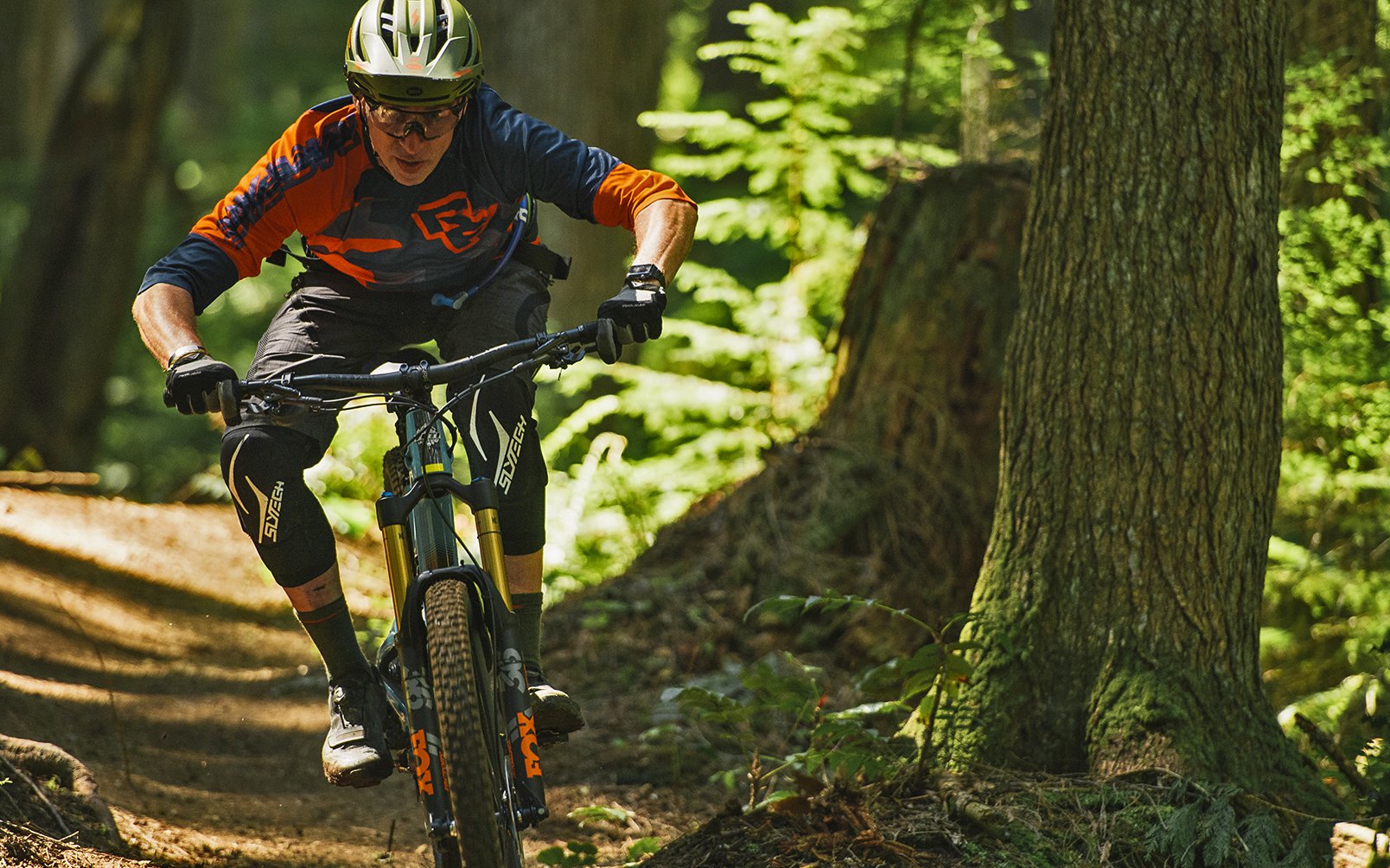 Protection Review
Reviewed: Slytech (Shred) XT Heavy Duty Kneepads
*Header image: Paris Gore
Kneepads aren't an essential part of every mountain biker's wardrobe, but for most of my riding I really appreciate patellar protection. There are those who think wearing pads makes you more likely to take risks and bail, but I think I'm pretty scared of crashing all the time. In fact paranoia from not wearing protection is likely to push me into the rhubarb. The other thing about wearing protection in a few areas (hands, head and knees in my case) is that you can alter your landing plan based on padding location. Except for the helmet. I wouldn't recommend aiming your helmet into something hard, unless the alternative is facial disfigurement.
If I am going to wear pads I see little point in wearing minimalist versions. If you are dealing with the warmth, weight and hassle of protection, it really sucks when you crash and get injured anyway. If it's the difference between wearing nothing or something minimal, that likely makes sense, but for rides on the North Shore I always pad up, and I'm fussy about my knee protection.
Protection
Slytech chose a polymer dough – like D3O – for the main protection of this pad and it's apparently an in-house version. I've had other pads that were nicely pliable when no impact was applied, but then failed to adequately stiffen when hit. These do that job admirably and I've taken several good diggers wearing them without injuring myself. Once I was actually surprised to come out unscathed because the impact was nasty.
The polymer padded area is long and covers well and is augmented by two lower tech foam pads on the inside and outside of the knees. I often smack my leg above the knee and while there is no extra padding here, the presence of the heavy wide strap offers some abrasion resistance.
Comfort
The back of each pad is made of velcro mesh so it breathes well and doesn't soak up sweat. On the first few rides I felt a little pedalling abrasion at the back of my knee but since then there has been none. I generally push my pads down to my ankles for the climb but inevitably there are times when I have an extended pedal padded up and there is no bunching, rubbing or moving. And once they are pulled up into place they never slip down, likely thanks to well placed silicone grippers and excellent fit.
Slytech was a sub brand of Shred optics, but it seems the name has been ditched in favour of Shred. The good news is you can still pick up a pair of these excellent knee huggers for a discount. Despite already being a decent bargain at 80 they have been reduced to 56 USD. My skinny legs fit the S/M size perfectly and you'll find a sizing video on the product page if you are unsure.
You really never know what you're gonna get. Sometimes an established name will come out with a product that looks great but either sucks or doesn't work for you. Other times a small, oddly named company knocks it out of the park. And then abandons that name.
I like these so much I have tried not to wear anything else for months. They hit every mark and represent my high water mark for knee protection.
For more on this pad at a discount check here. The new version is here. Use code NSMB20 for an additional 20% off any order from SHRED.