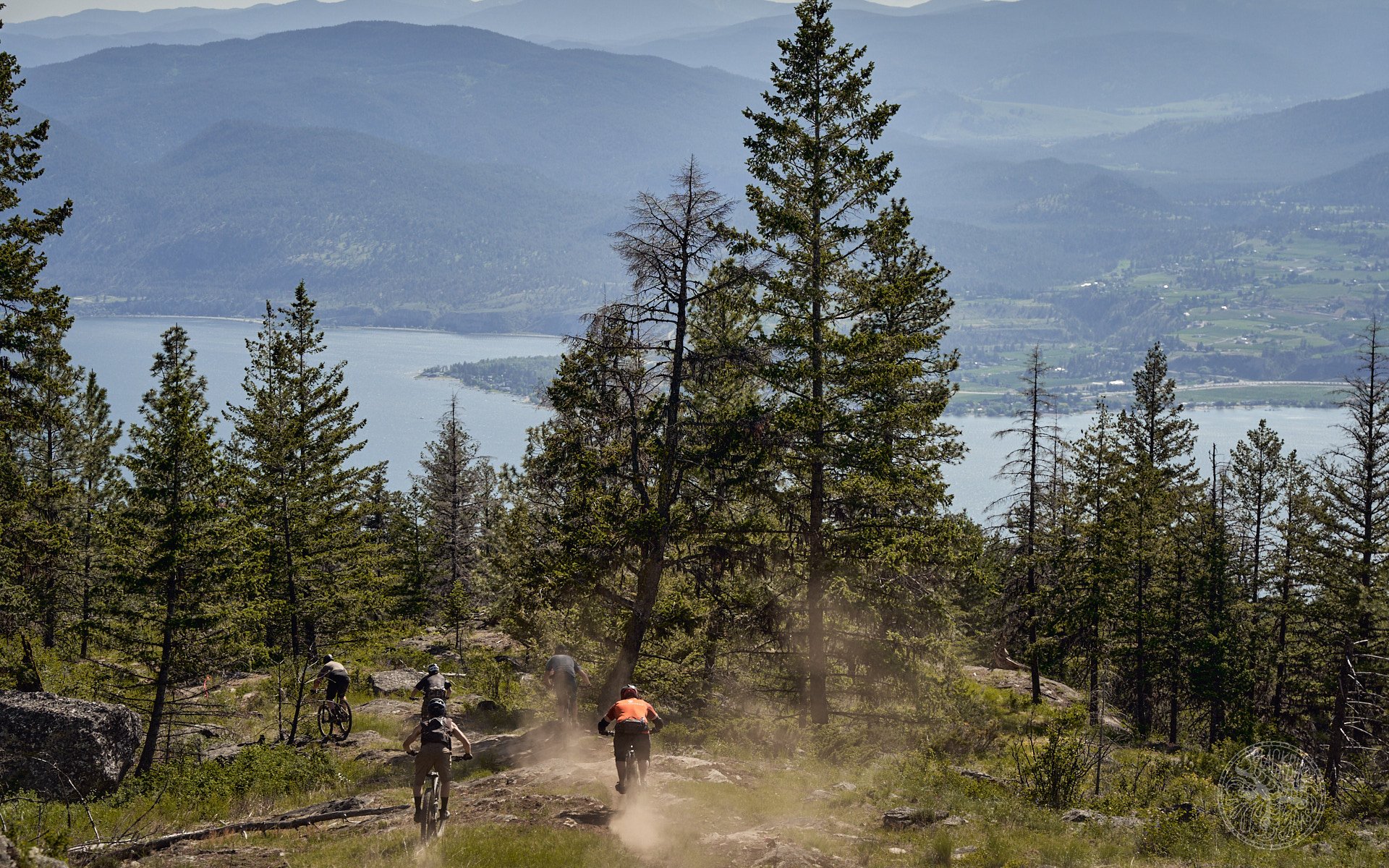 Deniz and Karin's Desert Adventure
MegaVolt 2023 Event Recap
MEGAVOLT 2023
It feels like it was just a year ago when Megavolt 2022 swept through the neighbourhood and left a lasting impression, meeting and riding with friends old and new when the event was at its infancy. We rode pedal bikes with motor assist around the Cowichan Valley trails. Not motor bikes, not mopeds, nor scooters. There were 50 or so of us men of various fitness levels and 4 women who had to navigate the E-MTB charged testosterone trains. The past 2 Megavolts had an industry feel to them. Trying to sort the kinks out of the new event is best done with people who have attended many of these things over the years. This year there was a change in the air. The venue, weather, format, bikes and of course the attendees.
A couple of weeks before the event date of June 2nd, I reached out to Andreas Hestler, a long time partner of BC Bike Race and Rocky Mountain Bicycles, to see how many female participants they were expecting. A definite number wasn't available at the time so I did the sensible thing and signed my partner Karin up for the event.
Karin is not anti E-MTB, but she doesn't trample me out of the way to reach for the Canyon Spectral:ON we have in our household to go for a ride. She loves to pedal and rarely shuttles. She has done a few endurance MTB XC events like the BCBR, Merritt Crown and Test of Metal in the past. She can ride all day given the correct amount of snack breaks and promised views. She has occasionally mentioned her interest in low weight/power e-mtbs for general riding.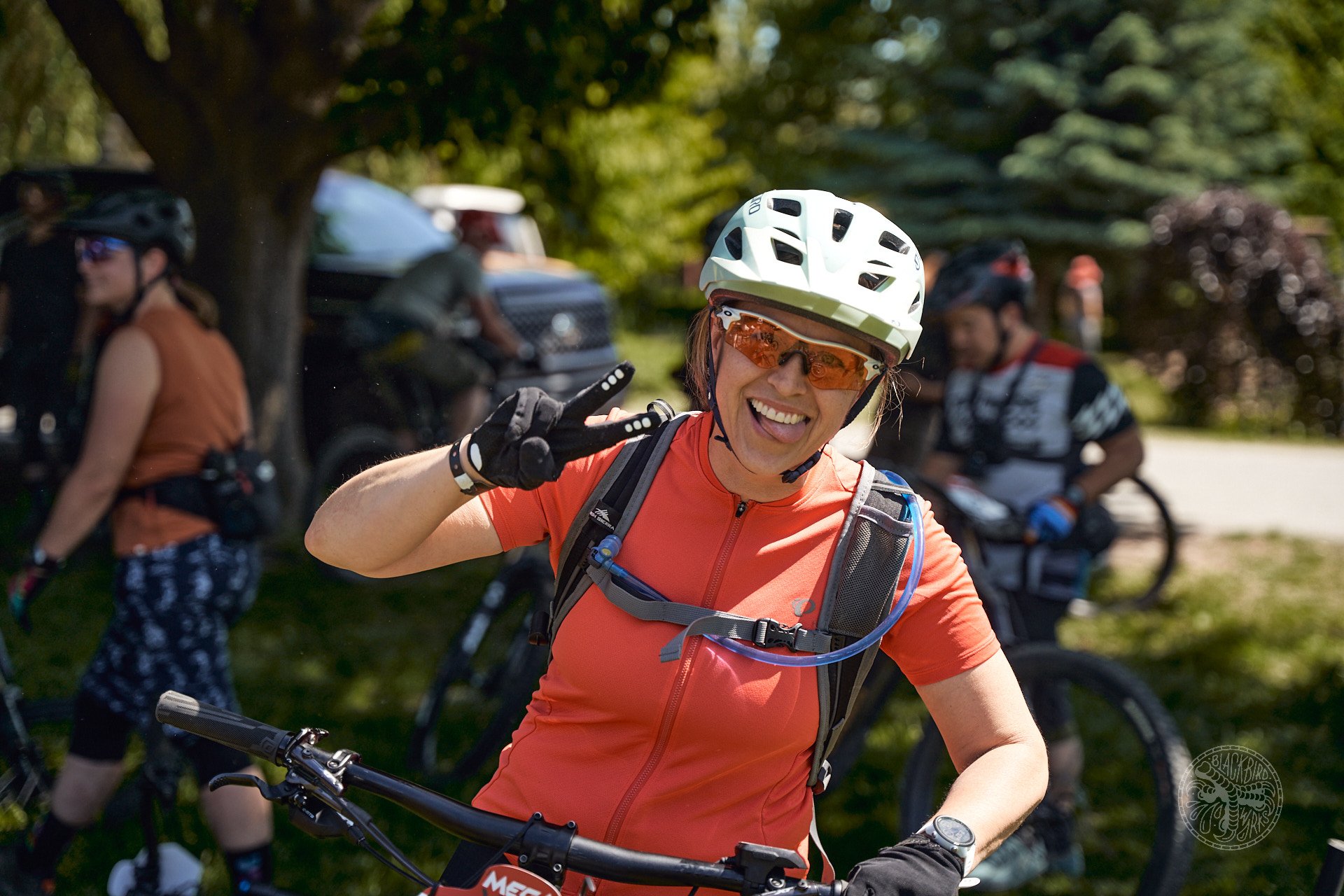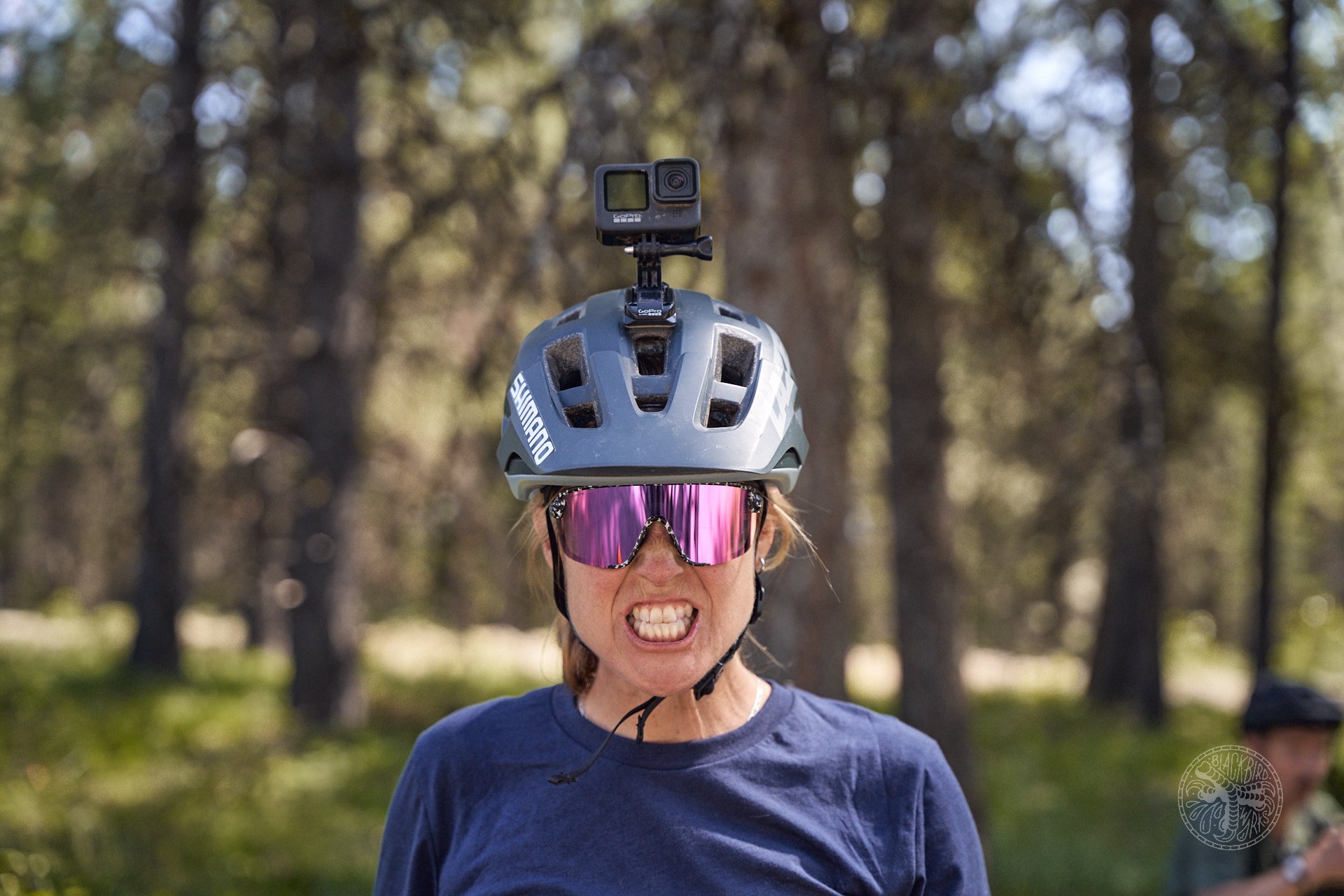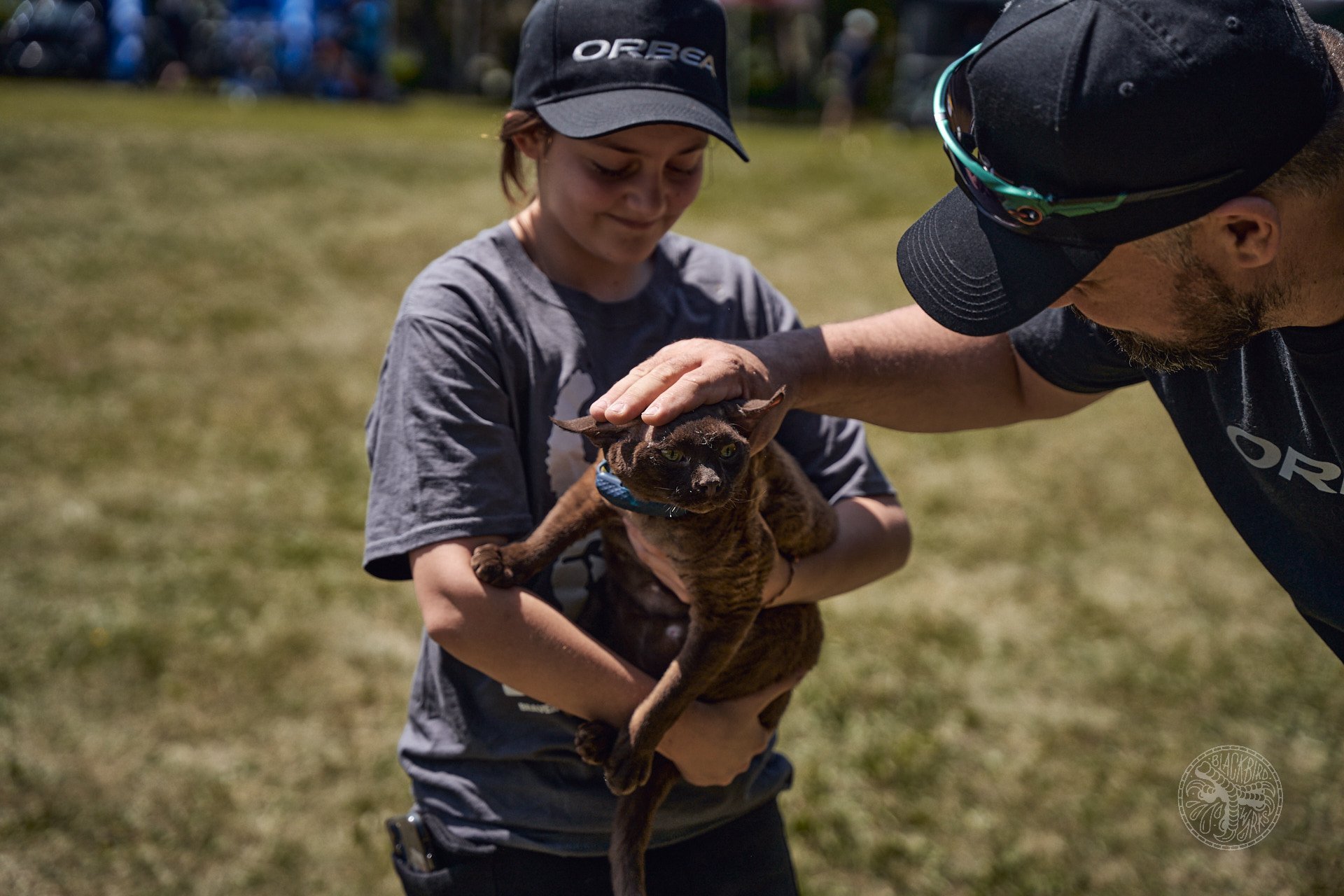 To be honest, I didn't know exactly what to expect from this years Megavolt. There were chants about how it was not a race we were embarking upon but more of a journey through the woods. Get a couple of race addicts together and there will be a race. We rode so hard for 3 days we wrecked our bikes and bodies and I didn't get any riding shots. That was a fail on my part. It is easy to get caught up in the need for uphill speed and max my heartrate out in situations like this. I had planned to play a different game this year. I figured If Karin, who hasn't ridden E-MTBs all that much, is along I could hang back with her and get some nice scenic shots in the process. Could I turn this into a work vacation for us? I wished and hoped and realised. I needed to secure not one but two bikes for us to ride. The Canyon Tester was to head back to the motherland shortly after the trip into the Interior of BC. Naramata to be exact.
It wasn't too difficult to convince Canyon the bike was originally planned to be ridden at last year's event. It could still be ridden at this year's but the search for another E-MTB in my size was going to be difficult. Pete Roggeman kindly offered his personal bike at the last minute. The XL Trek Rail had all the right ingredients to make it work for the event but the XL felt like I was steering a teeter totter. When we arrived in Naramata, a unique part of Okanagan and British Columbia landscape, we were stunned by the beautiful setting we were greeted with. Sure the wineries and farms and fancy homes were expected along Okanagan Lake but the low key, and rather humble Naramata, hidden under the weeping willow trees was a sign of great times to come.
The Naramata Center that welcomed the 2023 Edition of Megavolt was a former boarding school and Christian camp. You can read about Naramata's interesting history here. Lucky for us and the children who'd be sent there, it now operates as a touristic camp grounds and cabins to rent. Anything from creekside tent-only zones to full RV hookups, the Naramata Center has a unique feel that reminds you of a small village rather than organized camp grounds. There are streets, communal buildings, residential homes and massive willow trees you can park under for the weekend. Since we were rolling in our Van and needed to charge bikes and battery banks, we opted for a plug-in camp spot that was pet friendly. Before I even finished parking, a friendly Travis Hauck from Nelson jumped out to greet me in the friendliest manner. So friendly that I had to dig in hard to remember if we had met before. We hadn't. A good sign. We were friends with people before we even met them. The race village was setting up at a relaxed pace, on the big grass field of the community centre. Brands were on on board this year to make sure it was indeed a gathering that should be supported going forward. Dean Payne of BC Bike Race is no stranger to putting on events that attract 600+ participants but is the E-MTB event in the middle of nowhere worth investing time for a company that sells in the big cities?
Naramata is in the foothills of a trail network called the Three Blind Mice. A maze of ups and downs on punchy climbs that seems to clone themselves around every corner. The landscape is hard to make landmarks off of and seems the same, yet different around every corner. It was the 90s when young and energetic James Wilson and Kurt Flamman put their heads down and seats up to map out an extensive trail network as they punched in new lines over every rock formation. Today a few years older, not wiser, I found them prepping their new rides at their camp as a walked around admiring the town.
Hug were given and smiles were thrown frothing at the weekend ahead. They knew what we were about to experience on the trail, perhaps a little relieved from having to meat pedal it under the early summer heat. James had brought a spare bike with him as he owns a local North Vancouver Bike shop Obsession:Bikes and would agree to lend me a 2022 Scott Patron 920 in medium. Score!
Unique in design and approach, I was curious myself as to how this platform with the clocked motor and hidden shock would perform. A Bosch Performance CX Gen4 motor and 160mm travel front and back;I figured I was in good hands riding the unknown jank that was waiting for us.
Bikes charged, snacks prepped for the first ride of the event that was planned to start at 3.30pm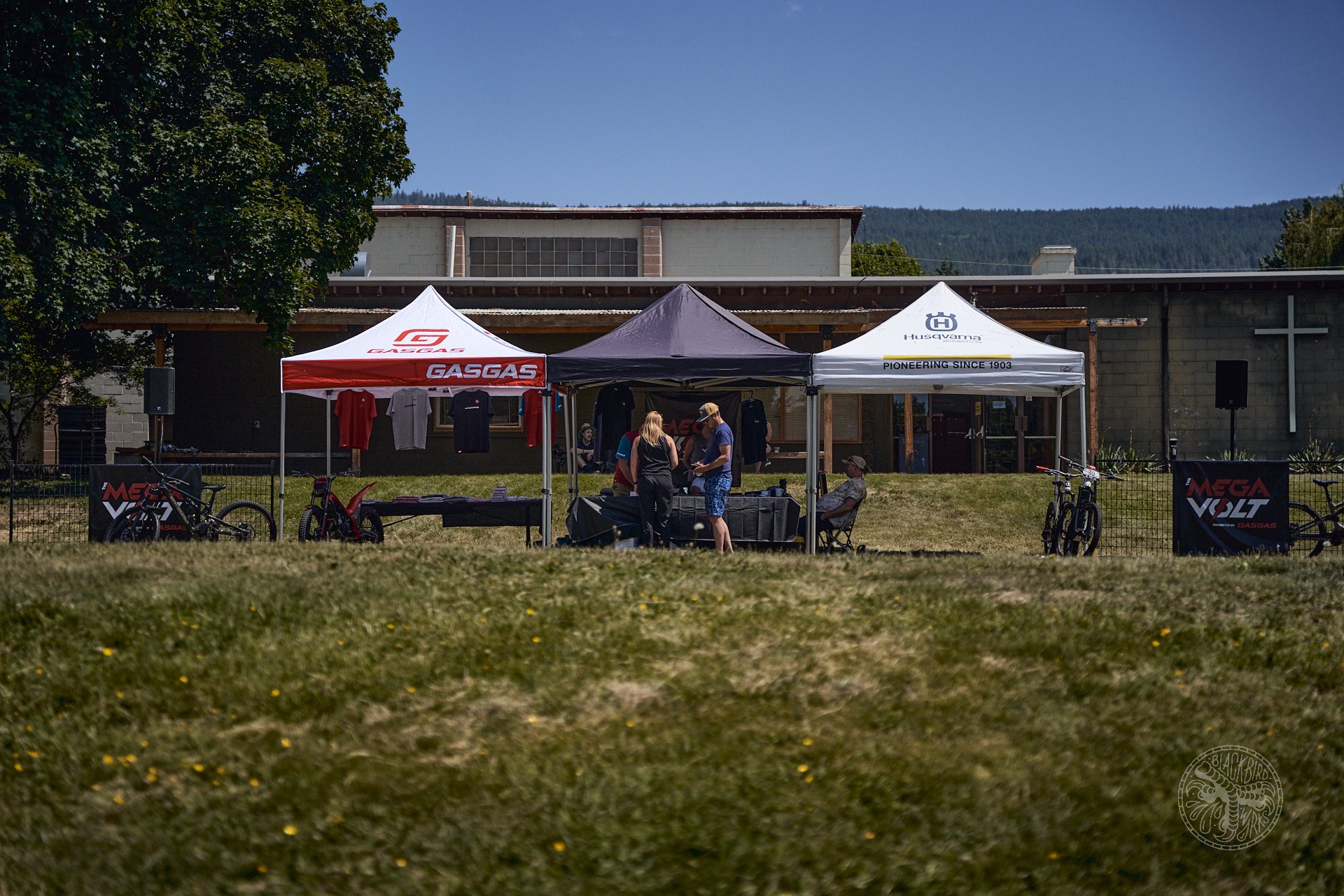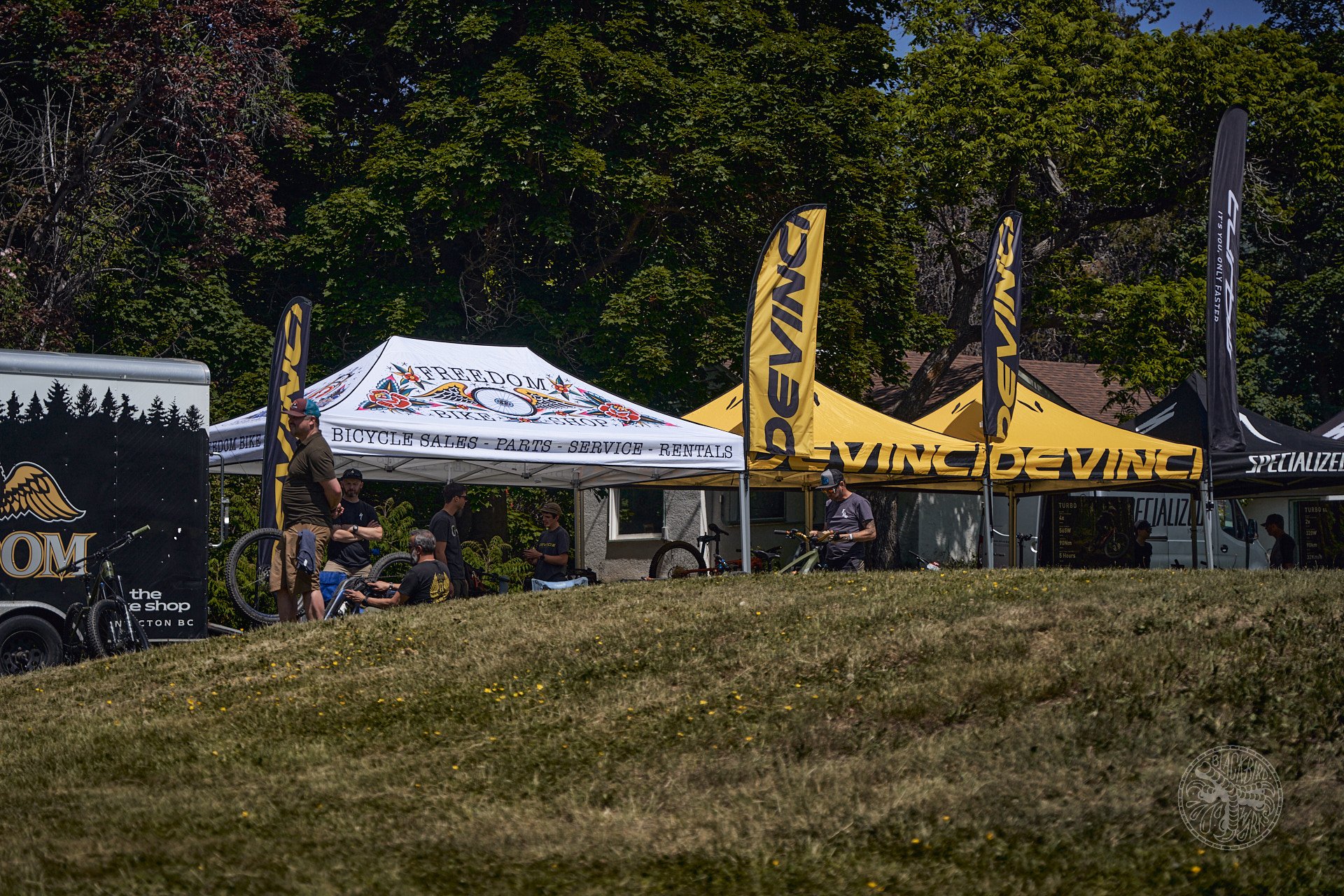 The consistency enduro was a 3 lap ride of a shorter course that would favour a person who could keep their lap times as tight as possible. Karin was confused and pleased with this discovery knowing that she didn't have to go full out on the first ride after a 3 hour drive. She could learn the bike, the terrain and the crowd and use this as an opportunity to ease into the experience. I was planning to set myself up on the looped course and take as many photos as I could with a gorgeous lake backdrop. Win win win
We were told that the timing system had a bug that couldn't be sorted out which was well received by the majority of people. If we didn't have to race, we could just ride!
The trials moto zone we were riding in for the day was sandy and would have been impossible to ride under human-only power. But with 90 to 108Nm of torque strapped to our bikes it was a comedic challenge watching people attach the climbs. Nobody rushed each other and instead cheered on if a friend made the climb that they dabbed on.
I began to realize this was for some, the first eMTB ride ever they'd embarked on. The electrified courage gave the 10+ women and 60+ men, the push to try a bigger gathering like this. Generally occupied by men, events under the race umbrella can be intimidating for just about anyone, let alone an E bike first timer.
Karin enjoyed the recon lap she did with me and our friend Tanya and as I set up camp at the top of the hill for some photos, she kept doing more laps faster and faster each time.
Back at the trailhead, the crew had hauled the coolers full of cold ones and let our injured Geoff Gulevich to guard them. He didn't put up much of a fight to keep you out of the coolers, and many refreshments later it was time to roll down to the camp for a swim in the lake in the name of showers.
On Day 2 the timing problems were sorted. Having bagged a ton of fun miles and photos the day before, I figured this might be a good opportunity to actually let the muscles and the skills loose a little. Many wore the same thinking cap. Bikes prepped and bodies rested, we prepared for a 70km day on the saddle with two big rides. One in the morning and one in the afternoon with a mid-day recharge. In retrospect padded liners would have been a good idea. As we got ready for our course briefing, we were told to follow the flagging. The stories back at the race camp after a gruelling 36km tech and flow fest was that the taping was not as clear as it should have been. Many people deviated off the track and took different trails to the finish. Some had to backtrack for tens of minutes but most managed to stay close to the original track. Confused and understandably frustrated, we voiced our opinions about this manner. The crew immediately went on the track and fixed the taping and reinforced the turns for the second half of the day.
Mid day swims and naps set our minds straight and we attacked another 36km course through the Three Blind Mice Trail network. I was happy with my performance and arrived at the finish corral in the head group. I knew Karin wouldn't be too far behind me as she got along with riding eMTBs fast in the desert right away. My wait got longer and longer and I decided to head back down to the camp. At camp I saw a sad looking Karin who had crashed mere minutes from the finish line. With the media crew chasing her she let it all out and clocked 30+km/h on the open grassy singletrack. A villain of a rock hiding in the tall grass caught her pedal and sent her cartwheeling down some of the worst surfaces you can crash on. Her hand was sore but her head was intact. She wouldn't be riding the next day.
Bandages and pain killers were consumed and we settled in for a panel discussion involving many of the brand representatives at the race camp. The open discussion was lengthy and biased in my opinion. There were many predictions that eMTB would be the future of the sport and how they will bring many riding groups and classes together. With the price of admission for the bikes and events, I thought this was a bit of an unrealistic approach to the matter at hand. Both Andreas Hestler and James Wilson had great comments from their experience in marketing and selling bikes for the last 20+ years. Pointing to the fact that a $10,000 bike is not inclusive and parts on these bikes are still mountain bike parts designed to be lightweight. Drivetrains needed to be stronger and tires needed to be tougher. It will take another decade before the technology trickles down and eMTBs become more affordable by the people who may need them the most. It also seemed like many of the participants also rode motos as their other two wheeled transportation, whether for adventure or on the track or trails. eMTBs gave them the closest experience in comparison that they can have from their doors. Even though we were at a primarily eMTB event, I wanted the crowd to discuss bikes in general. Perhaps as the event evolves from industry participants to consumers these conversations will become less biased.
The people who rode an e-bike for the first time came away with a pocket full of experience and a new born confidence to attend and ride at a fun, low pressure event like this.
I wondered if owning an eMTB is absolutely necessary to participate in the upcoming Megavolts. Many people who ride hard and can shred on an eMTB do not own one. Either by choice or due to the price of admission. If Megavolt can figure out a system where the participant can sign up for the event and secure a rental bike that's waiting for them at the race village, the participation will rocket through the roof. For the customer-hungry bike manufacturer, this is the ticket to getting people on the saddle with low commitment. I imagine many will start saving up for one after 3 days in Naramata Three Blind Mice trail network. Test Rides are mandatory!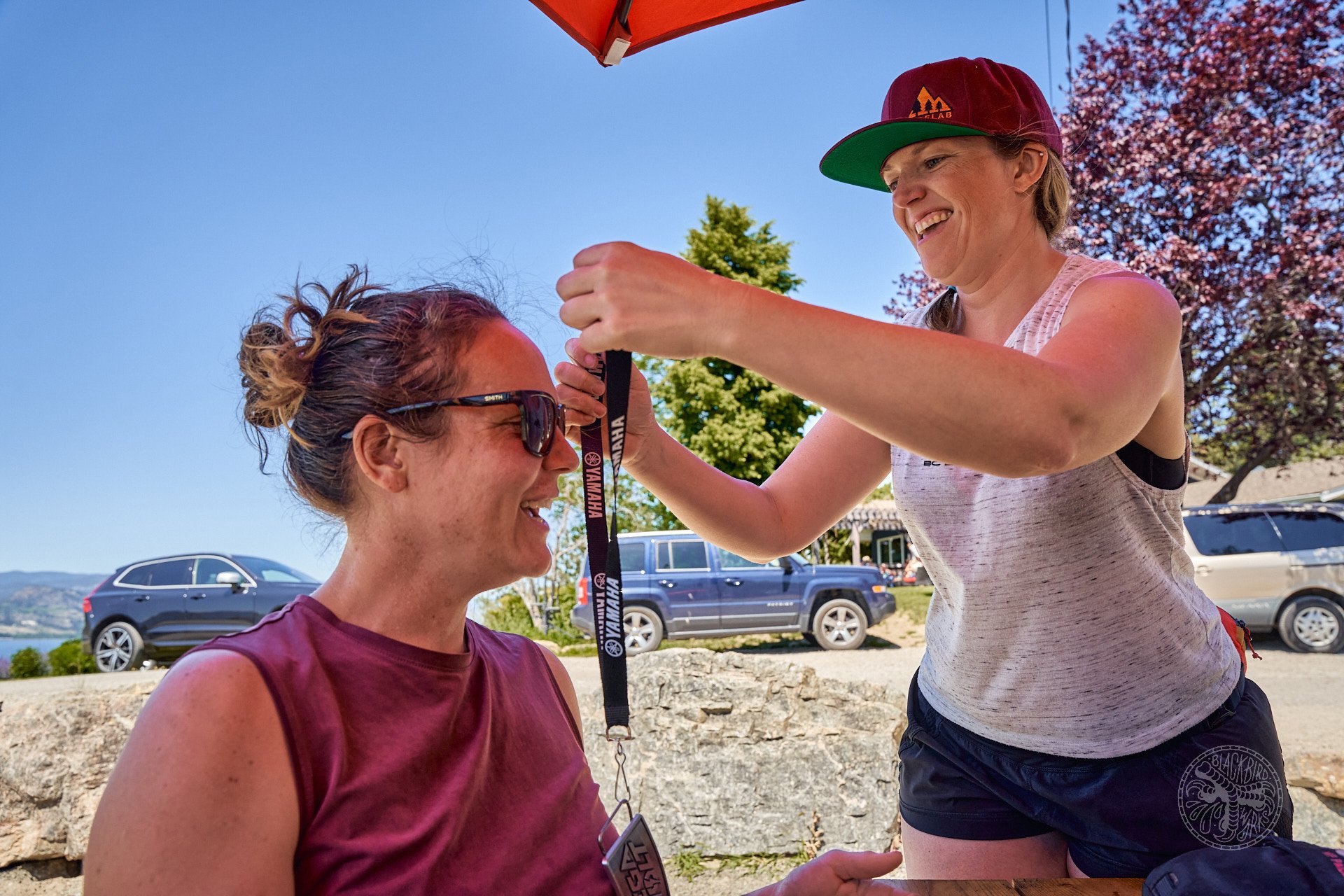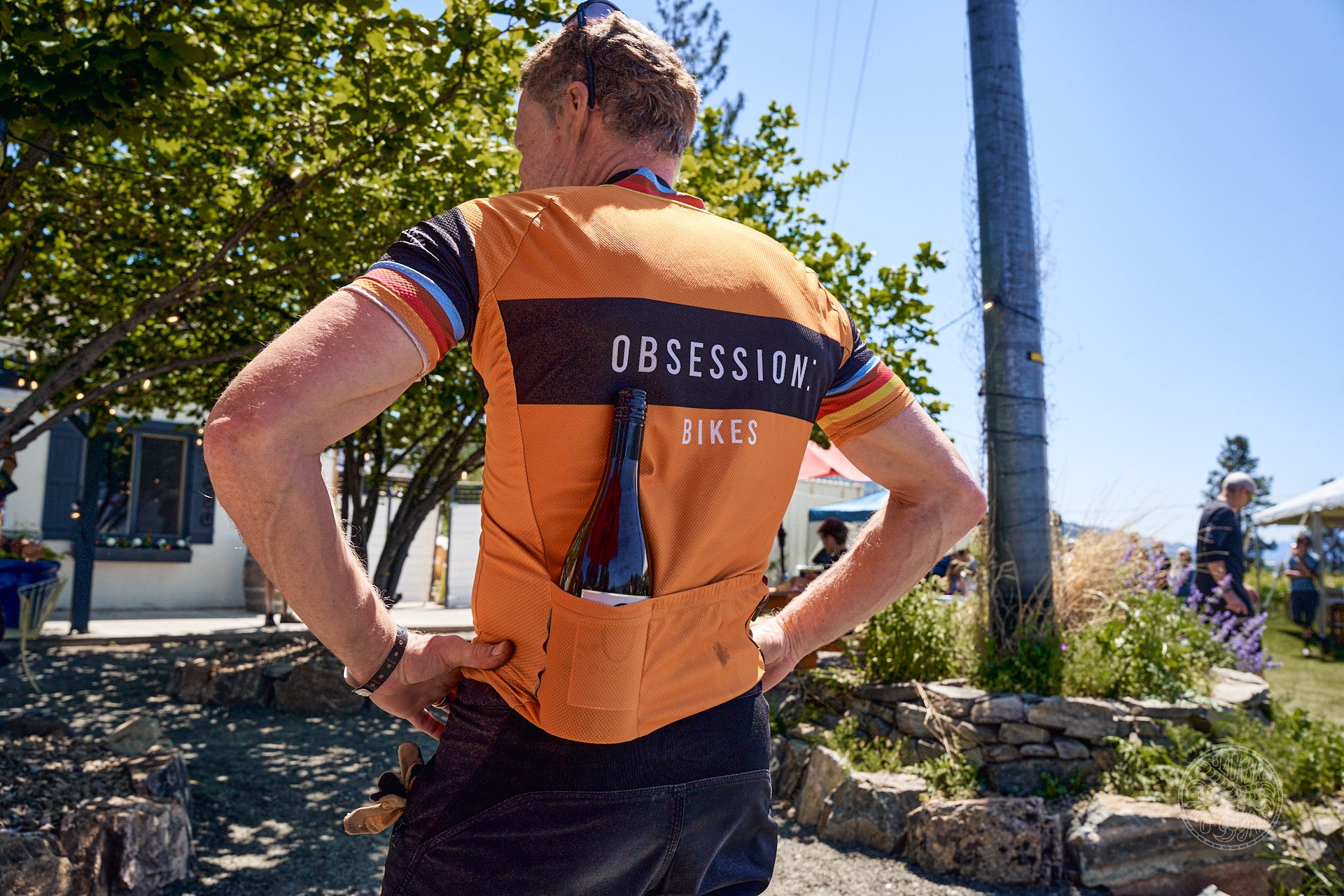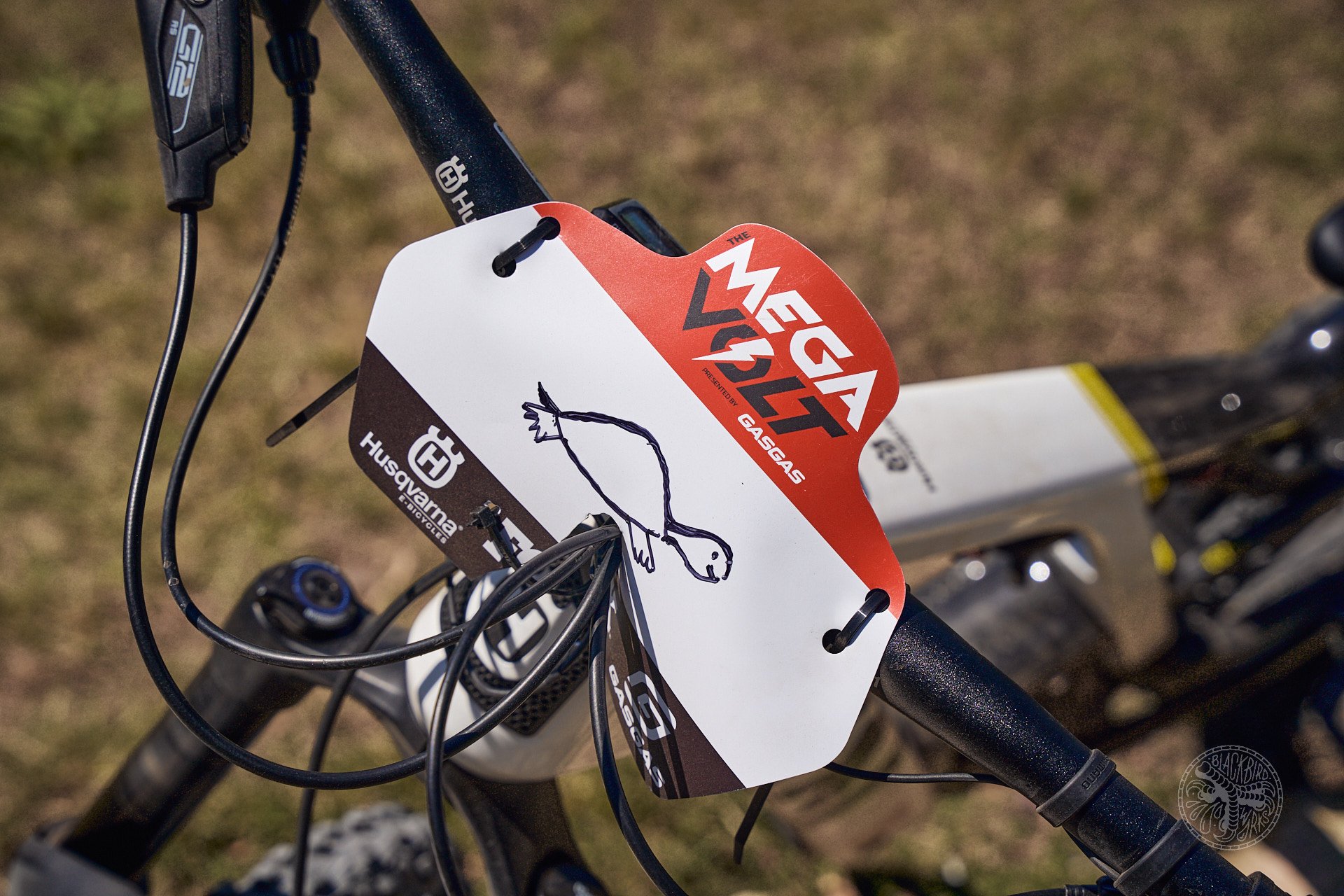 The BCBR team knows how to put a good event together and I hope this event can graduate from an industry weekender to an international festival with a wide spectrum of participants. The location is perfect and the megavolt team is top notch. I would love to see various ride options instead of a mass start race format.
Poker rallies, adventure rides, races, skills comps and everything in between to choose from for your day would be absolutely amazing. Hopefully the formats will evolve in the next few years because I can not wait to get back to Naramata.

Deniz Merdano
5'8"
162lbs
Playful, lively riding style
Photographer and Story Teller
Lenticular Aesthetician