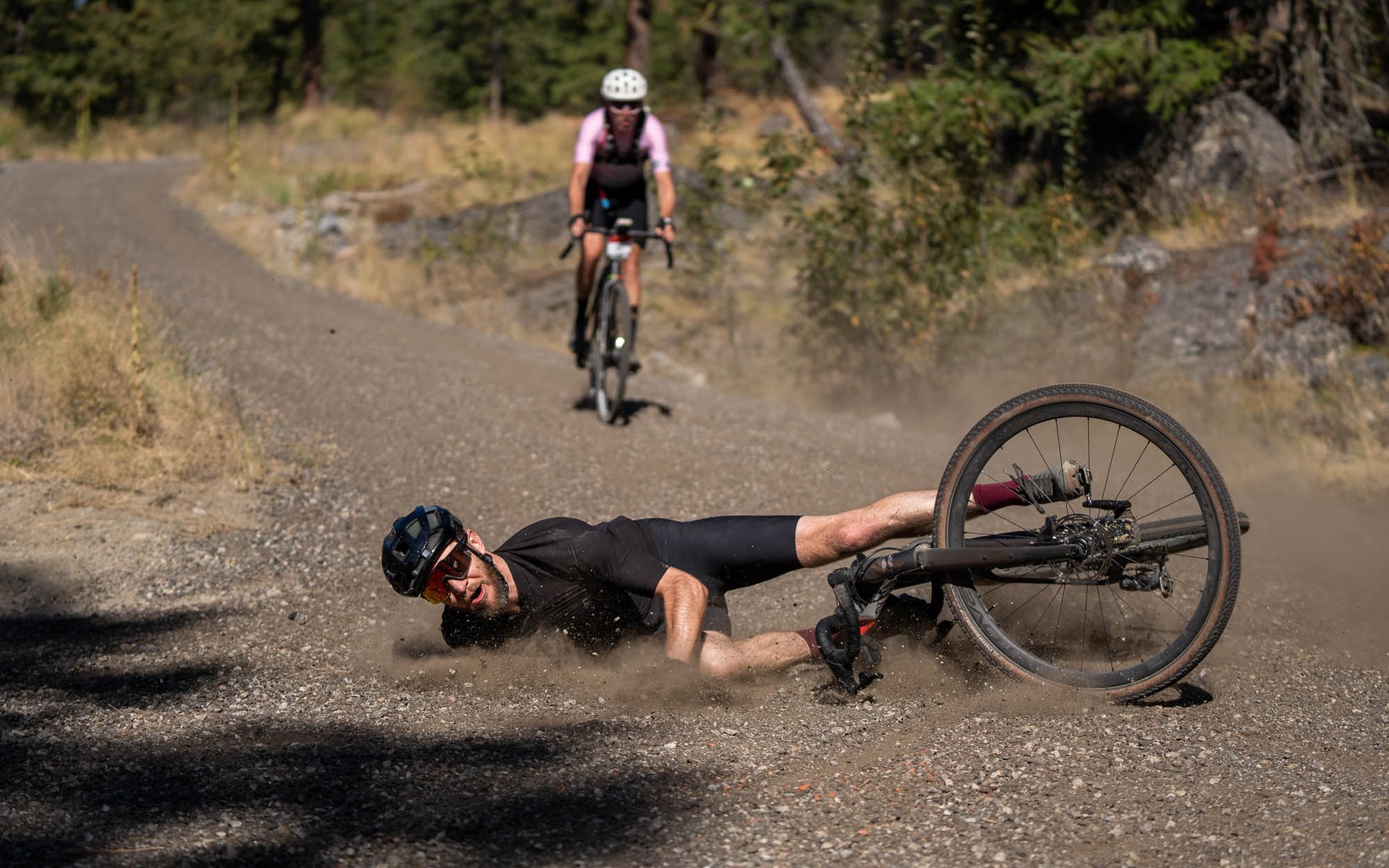 RACE REPORT
BCBR Gravel Explorer XLT
Let's get the big question out of the way. I got there. After 5,252 shifts, 7,438 meters of climbing, 366.6 kilometers, one stupid crash, and 15:09:52 on the clock, 'racing the BCBR Gravel Explorer, I crossed the line in 13th place overall, 3rd in Solo 30+ Men, at the BCBR Gravel Explorer XLT. Importantly for me as a Wyoming boy, I got a shiny new belt buckle to take home.
In the lead up to this race, I said I'd like to finish and go "Hey! Alright!" instead of anyone asking "I looked at the results, what happened?" and not embarrass myself. And I'm pleased with how it went, title image self-sabotage not included.
It was hard in the ways I expected it to be hard (I'm soft… where I expected to be literally soft), hard in ways I didn't expect, and not easy in really any way. It covered all three types of fun, and as much as it's cliché, I had zero desire to do it again on the day I finished, but that thought gets fainter every day.
So, how'd it go, how'd the gear fare, and what's it like to experience the BCBR Gravel Explorer XLT? Let's talk about the experience first.
The Okanagan is BC's wine country. Summer life revolves around the lake and it's entirely too hot for me. Fall is the perfect time of year to be there. Based on Pete's experience at BCBR last year, I packed a mountain of cool and cold weather riding gear. I arrived in Naramata to t-shirt weather, and needed none of it. Sorry, there are no race photos of everyone's favorite Ralpha vest. Unfortunately, due to COVID, there was no traveling circus and no tent city at this year's event either. After registration in the park, I enjoyed a beer and dinner with some friends and headed off into the Three Blind Mice mountain bike trail network to camp. I'd spent the rest of the nights camping right in the middle of Naramata. There are campsites throughout the town, a central shower, wifi, and they are 2 minutes from the lake. I'd highly recommend it.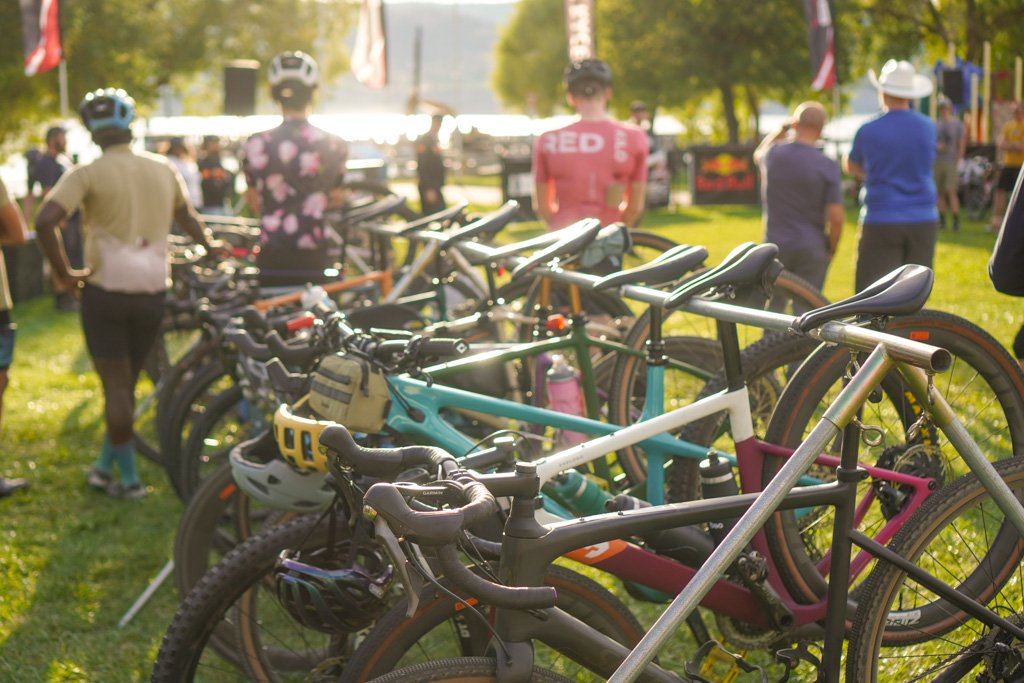 Day 1: Camaraderie! Cramps! Crashing!
I was cognizant on day one of a few things: I had no idea how fast or slow to go for five days of racing, I had no idea where I'd slot into the pack, and there was a stack of folks there for the one-day BCBR Gravel Explorer XL who didn't have to worry about blowing up on day one.
But off we went, with a neutral rollout, a bit of paved climb, and onto the Kettle Valley Railway. The KVR is an old railway converted to trailway that traverses the Okanagan which would feature in stages throughout the week. It's lovely, and it was awesome to see how many folks young and old were out enjoying it on a beautiful fall Sunday, even if it did present challenges for racing. I didn't know it yet, but many of the folks around me in the first hour would be the folks I'd see around me for the rest of the event.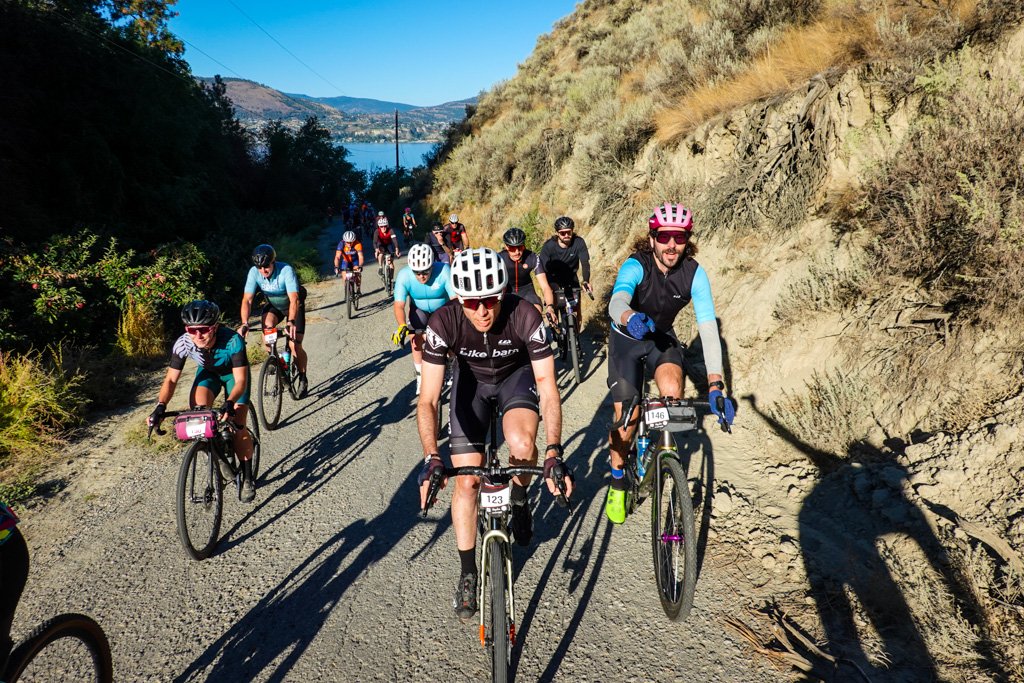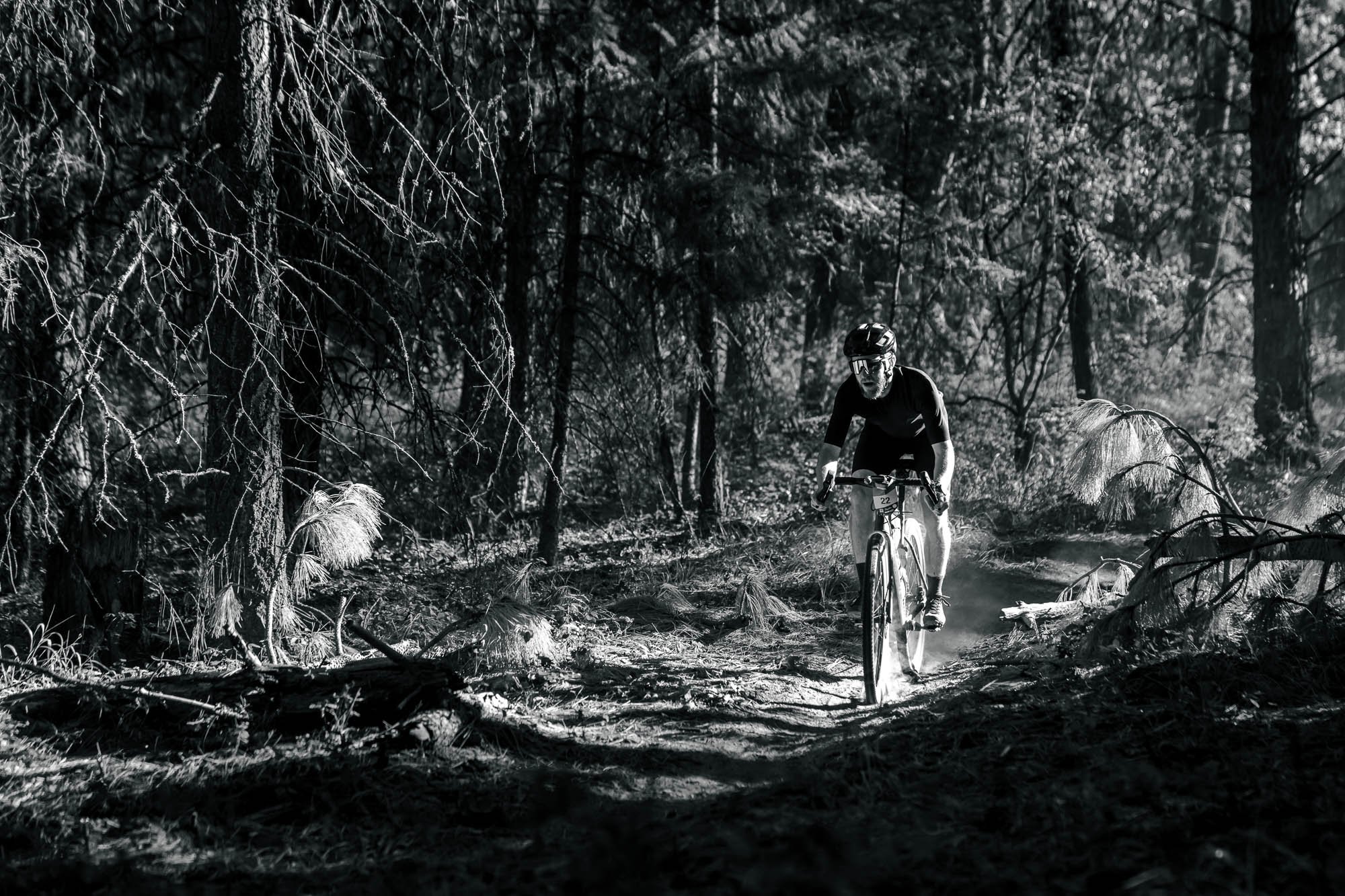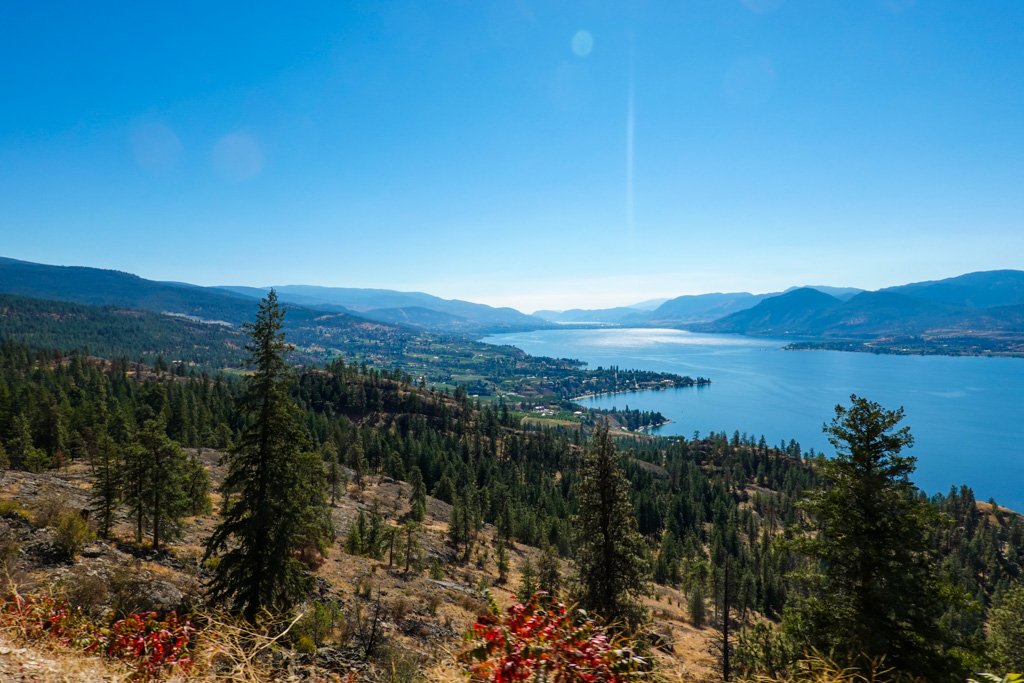 Overall, the first day was rough. The climbs were long and the flats had been abused through a dry summer, with enough holes to make drinking and eating challenging. This was offset by the views; we traversed up high with great views of the lake, Kelowna, and wonderful fall Okanagan colors in ideal sunny-yet-cool temperatures. The course was a large figure eight, centered around the aid station. The first descent was rough, loose, and full of large rocks and steeps. I passed a few folks, made a quick stop at the aid station, and headed out on to the roughly 30-kilometer loop at the top of the eight. Descending back to the aid station was long and rough. I passed a bunch more folks, some of whom I'd see again shortly. There was quite a party happening at the aid station with folks who were taking a more leisurely pace hanging out before heading for the second loop but I eschewed stopping and plowed on to the next few kilometers of false flat rail grade descending some of the KVR… and as soon as pedaling started back up, I cramped. Badly. Hamstings and quads - y'know, the two biggest muscles in your body. F*ck. Fortunately, after a few minutes of struggling, and only a few of the folks I'd passed on the main descent cruising past, the cramps abated. The KVR opened up and went from bumpy doubletrack to wide, fresh, ¾" crush, and there was a photographer up ahead in a beautiful wide switchback corner. Let's have some fun!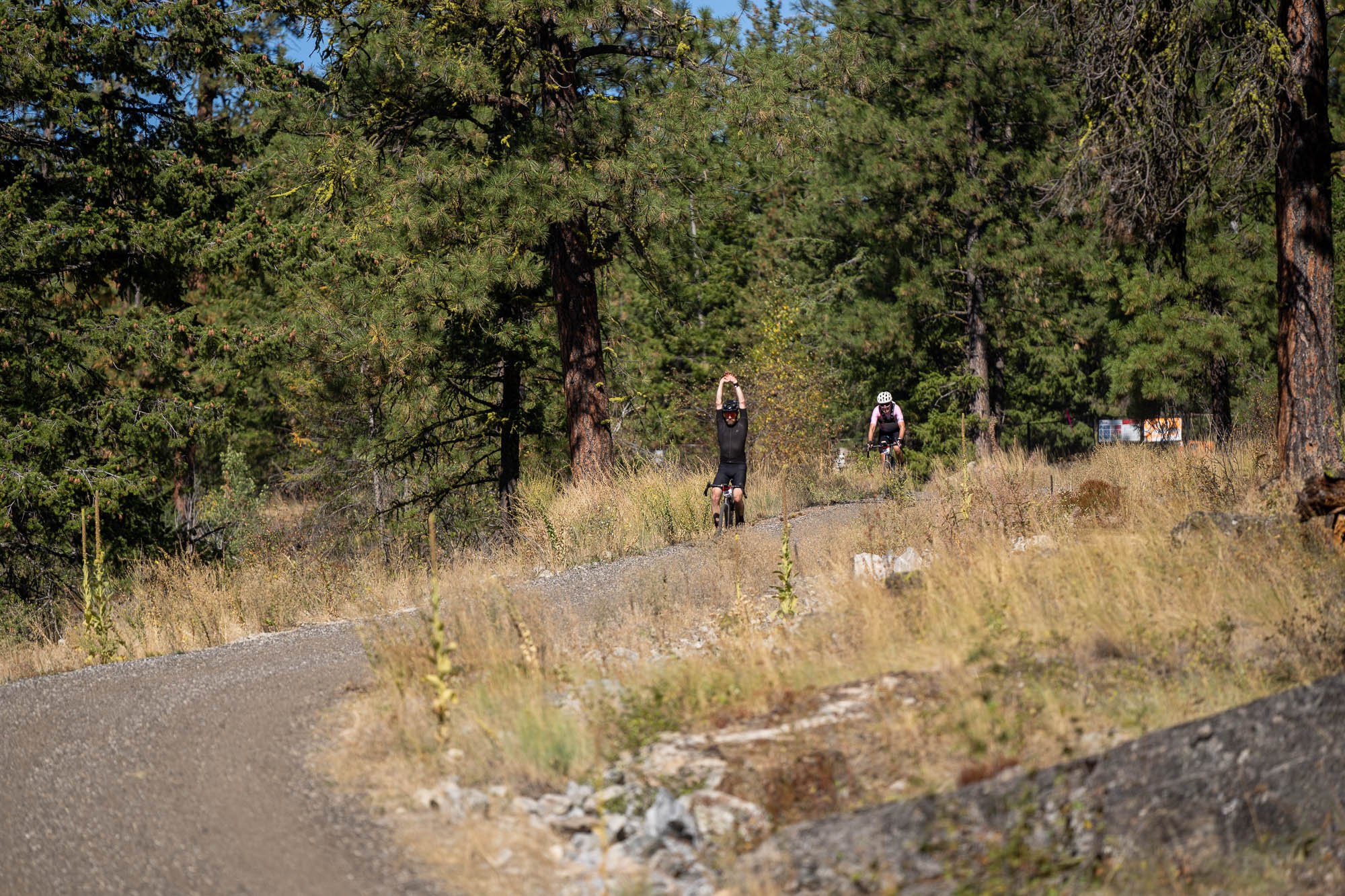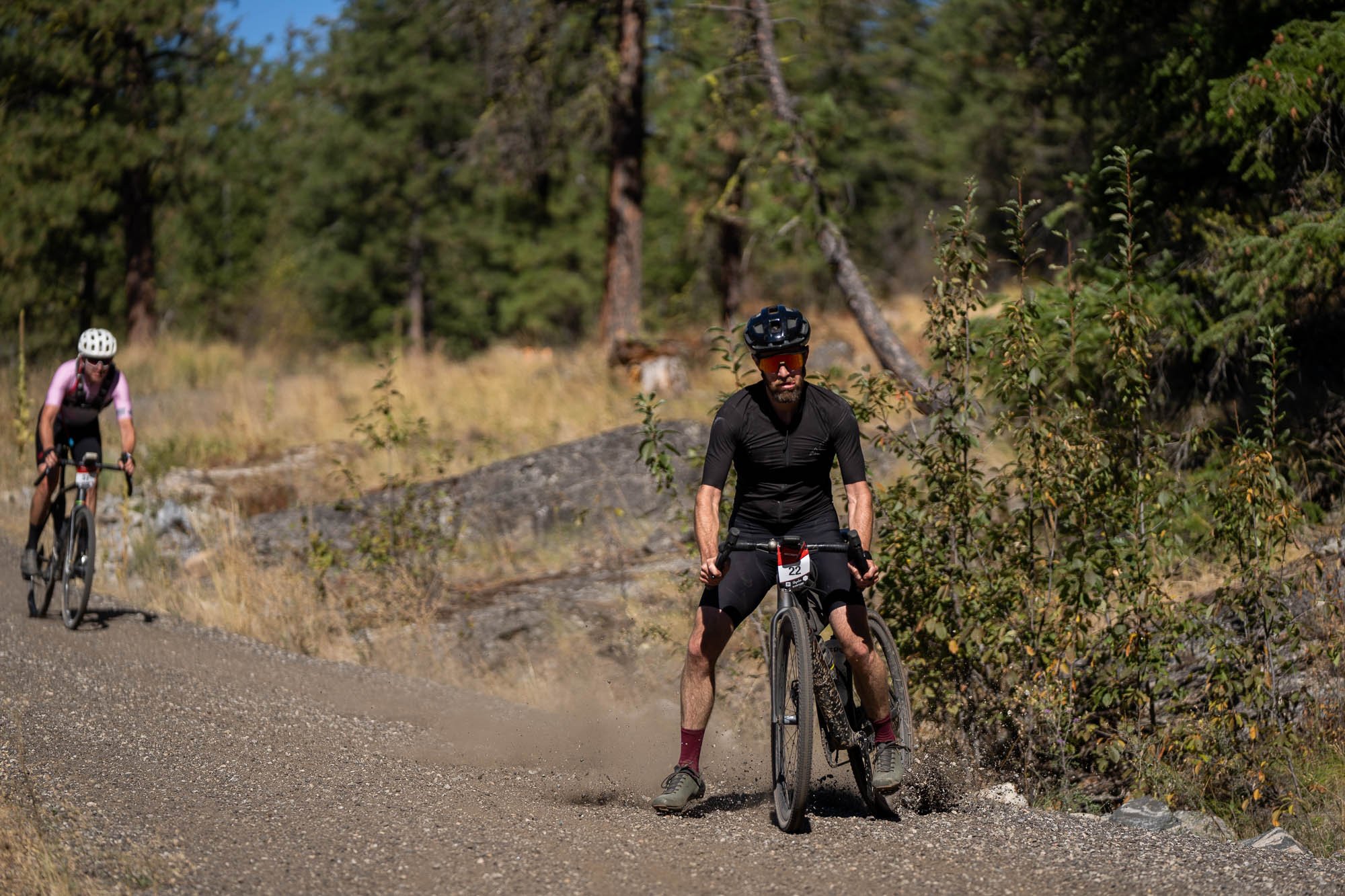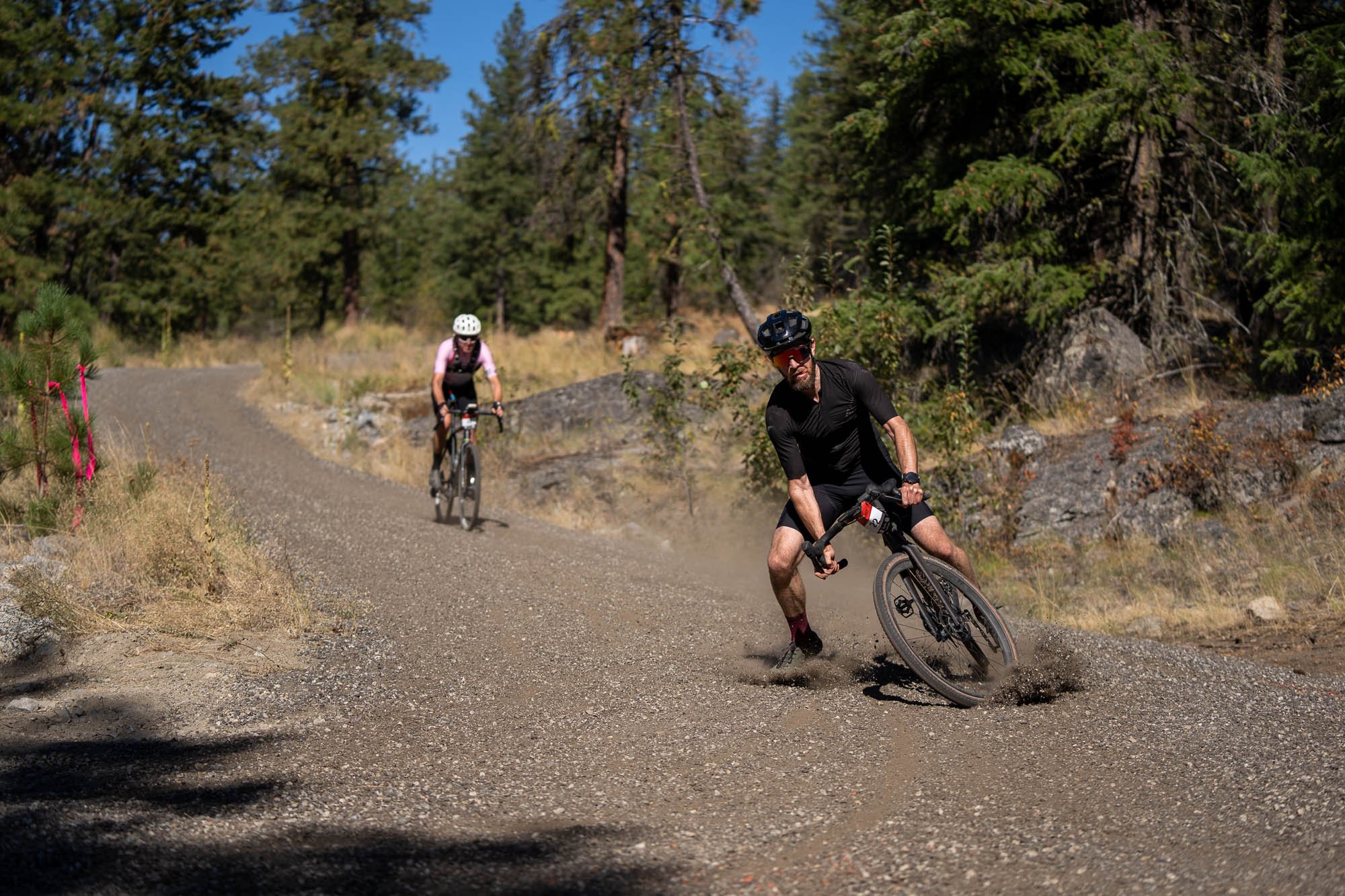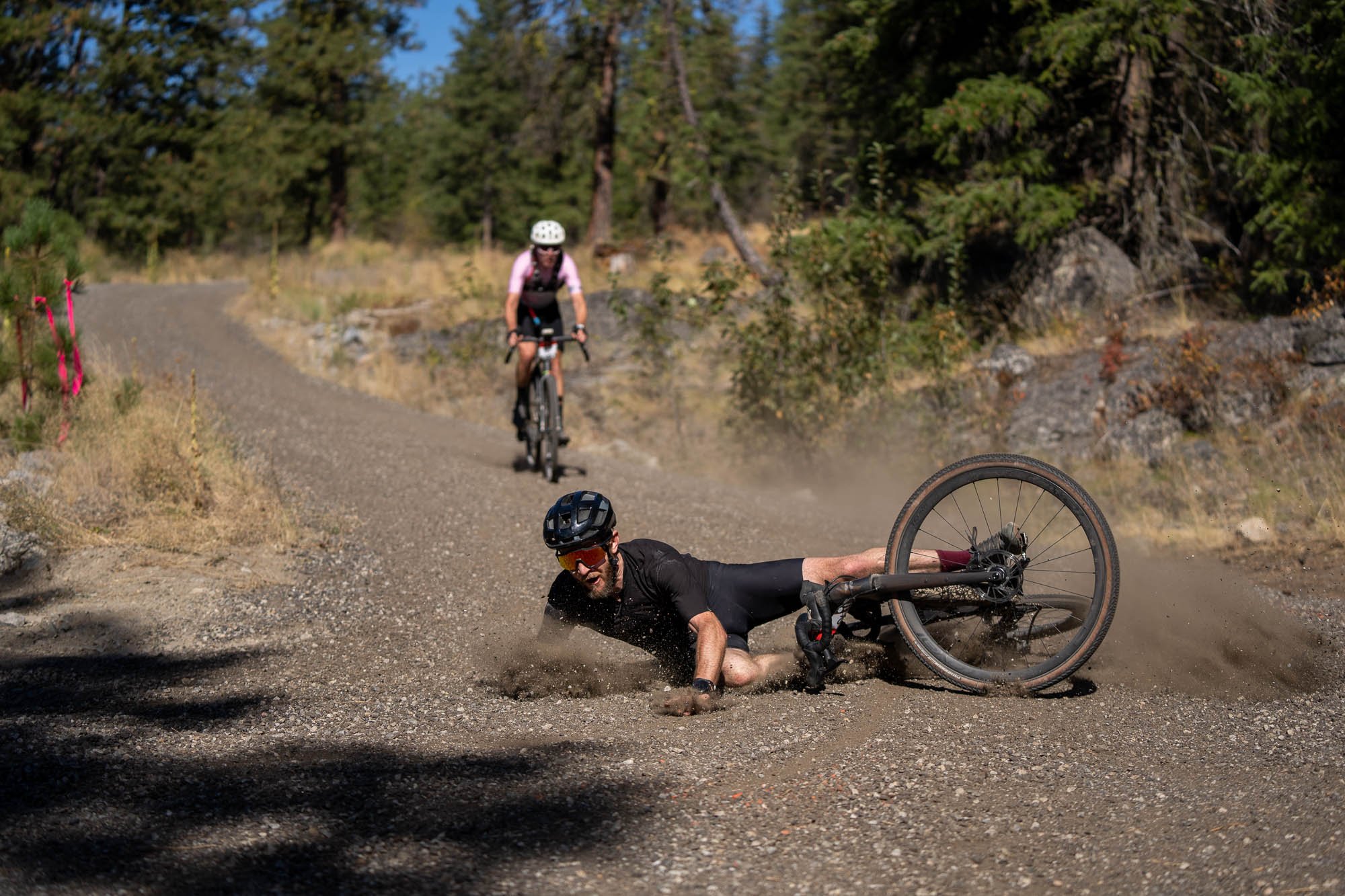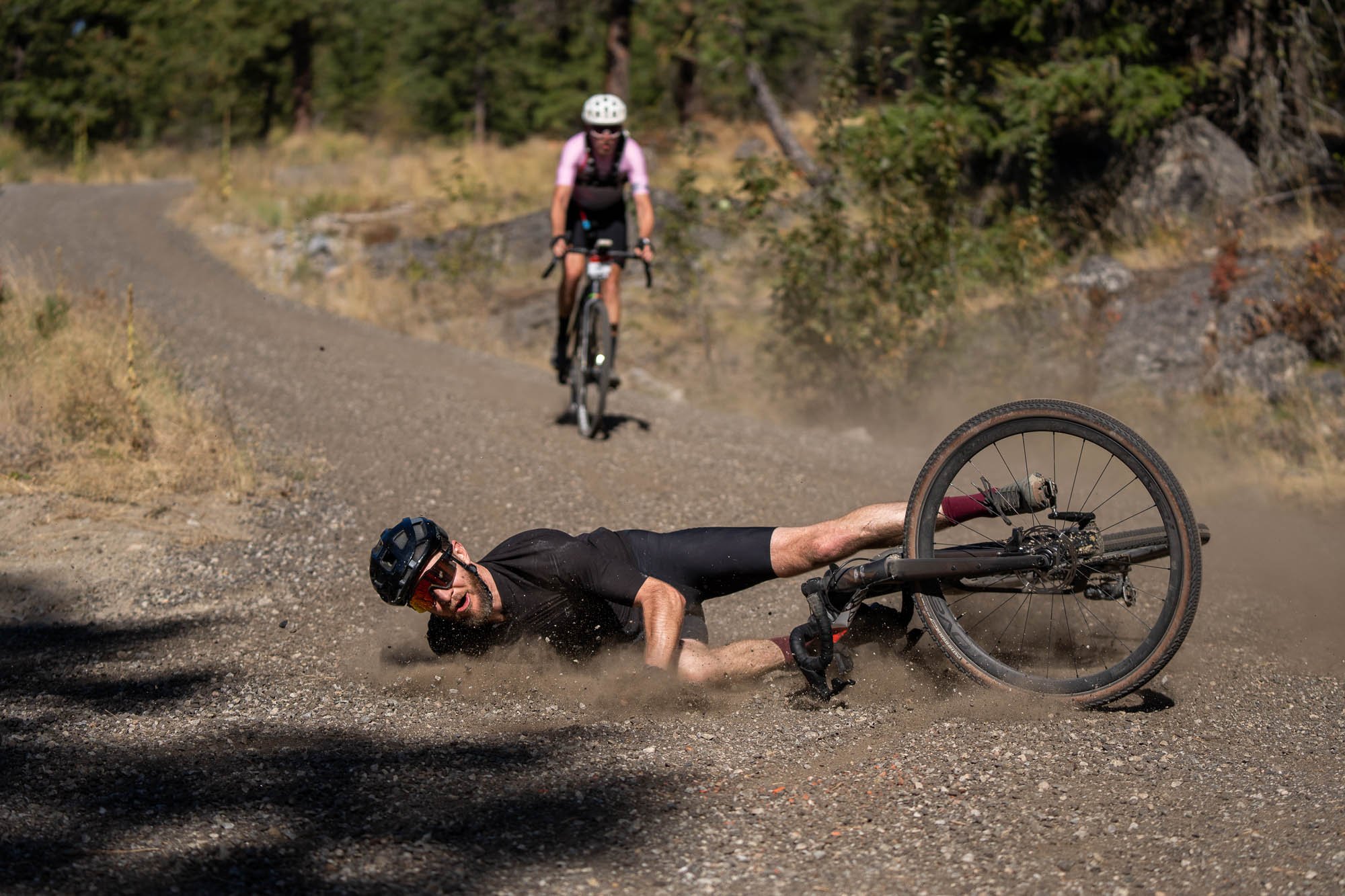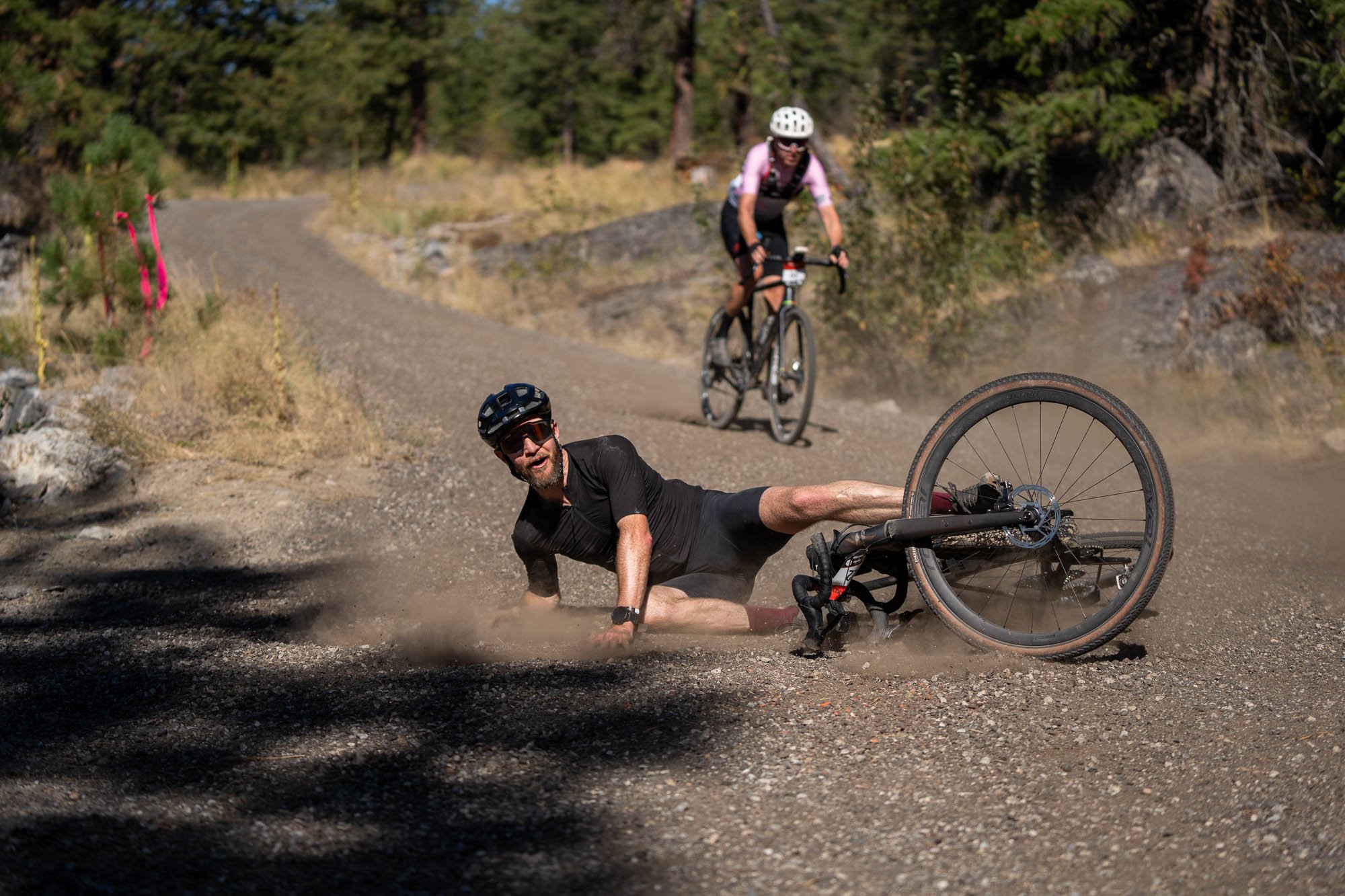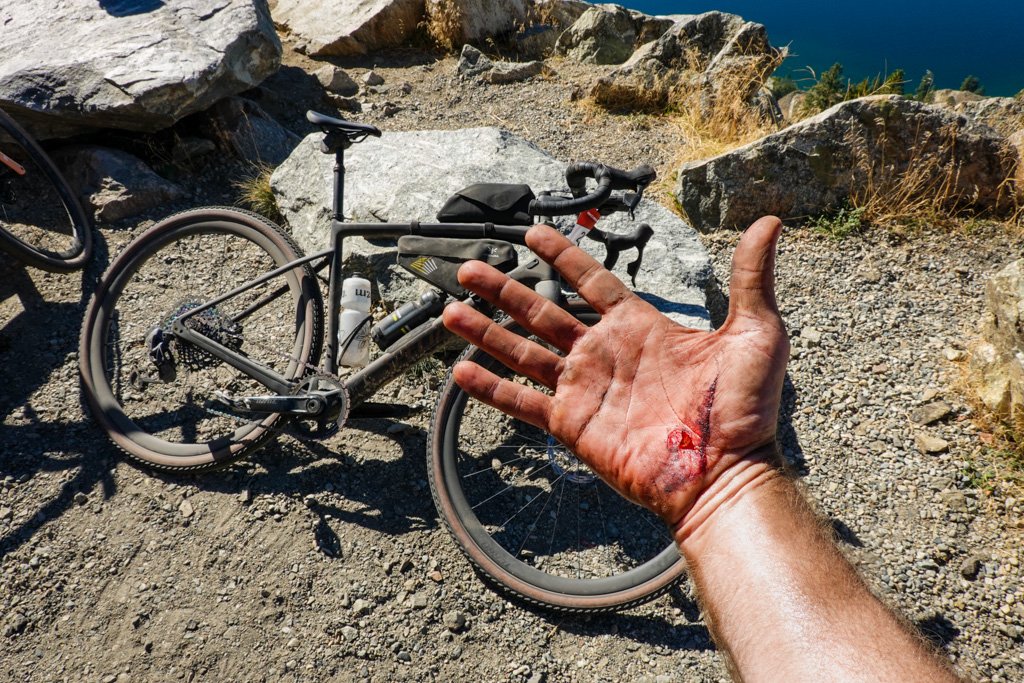 Leaving my ego laying on the ground, I grabbed a big helping of humble pie, hustled up on my bike, and four of us worked the downhill to the finish. My saddle was crooked for those last 18 kilometers. Miraculously the rest of the bike was fine. The final kilometers were a bit interesting - a very popular section of KVR with beautiful views of the lake, on a lovely Sunday afternoon filled with very casual cyclists, as we worked a paceline at 40 km/h through it all. Fortunately, no one made any erratic moves, and we avoided what would have effectively been a car crash to make it across the line.
And that was it. Day one done and dusted, and I finished way better than I thought I should have. So I had some beer and pizza, worried I'd overshot and failed on pacing on day one, and rolled back to my new campsite in Naramata to hammer out some emails before dinner.
Day 2: The Hardest Day (Type Three Fun)
Starting in the rodeo grounds by a steam train... Are we in Wyoming?! No, we're in Summerland, and a couple things started to set in as we turned off the KVR and up the big climb of the day: one, I was pleased with where I was stacking up in the group, two, it was going to be hard to stay there, and three, good lord I hope I don't cramp again. With the field cut in half as the One Day Wonders had left, I also started to recognize the people around me, and know who I was racing. The climbs were long, and occasionally technical, as the course took the KVR onto logging roads to a plateau where it meandered around some hills, some ups, some downs, and some views. I'd been swapping places with John and his 50+ leader's jersey all day until the aid station where I stopped, and he didn't… I wouldn't make that mistake again.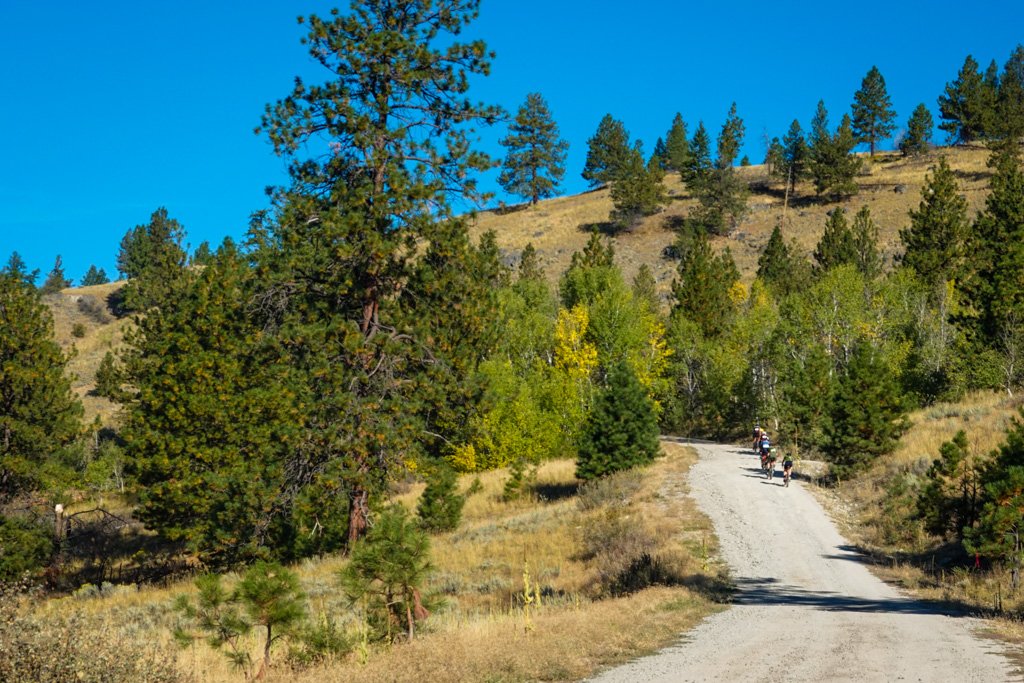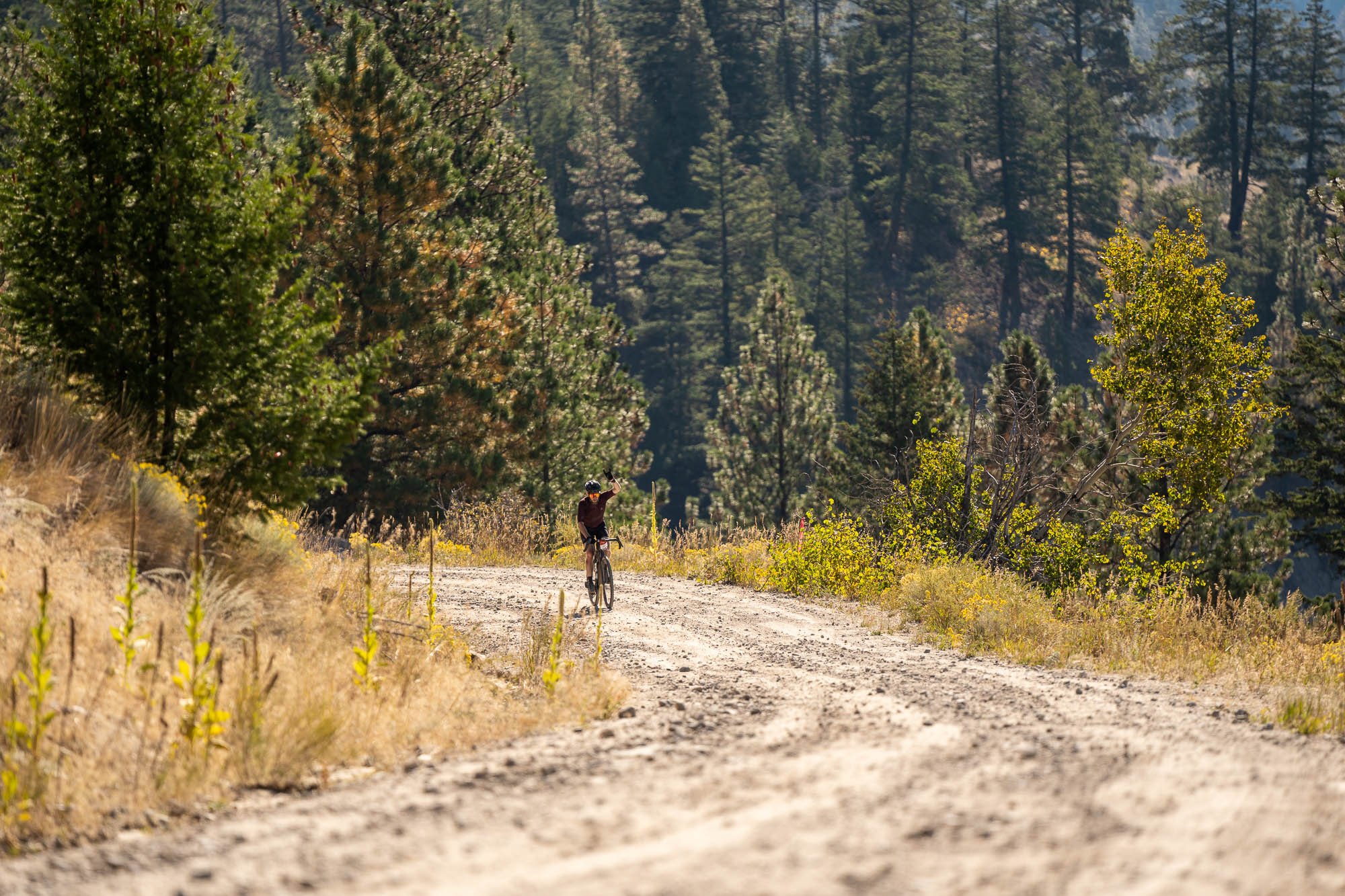 The most memorable part of the day was dropping off the plateau back to the KVR. Fast, very rough, and long, this was my least favorite stretch of the entire race. Gravel bikes don't have the traction or braking power of mountain bikes, and this descent was littered with sections of big rocks that were at best a flat tire, at worst a broken rim or massive accident. Attempting to keep race pace and not get caught out was successful for me but caused multiple mechanicals for others. This stretch dipped me pretty deep into the "what the hell am I even doing here, this sucks" hole of type 3 fun. My arms were f-cked, I was rattled to the bone, and the riding was borderline scary at speed. But then it was over!
20+ kilometers of rail grade descending on the KVR along the river, across old wooden bridges, and looking at the fall colors while taking turns at the front with a partner, wound up being a great way to end the day. Just as I decided I couldn't keep the pace anymore and dropped off the back, the two of us rounded a bend and came across the finish line, sans cramps.
I had a routine now – back to camp, clean up my bike, get everything charging, shower, and spend the afternoon doing work on my laptop by the creek until my camp mate showed up later and it was time to have some beers and plink away at cans with a pellet gun. It was good living.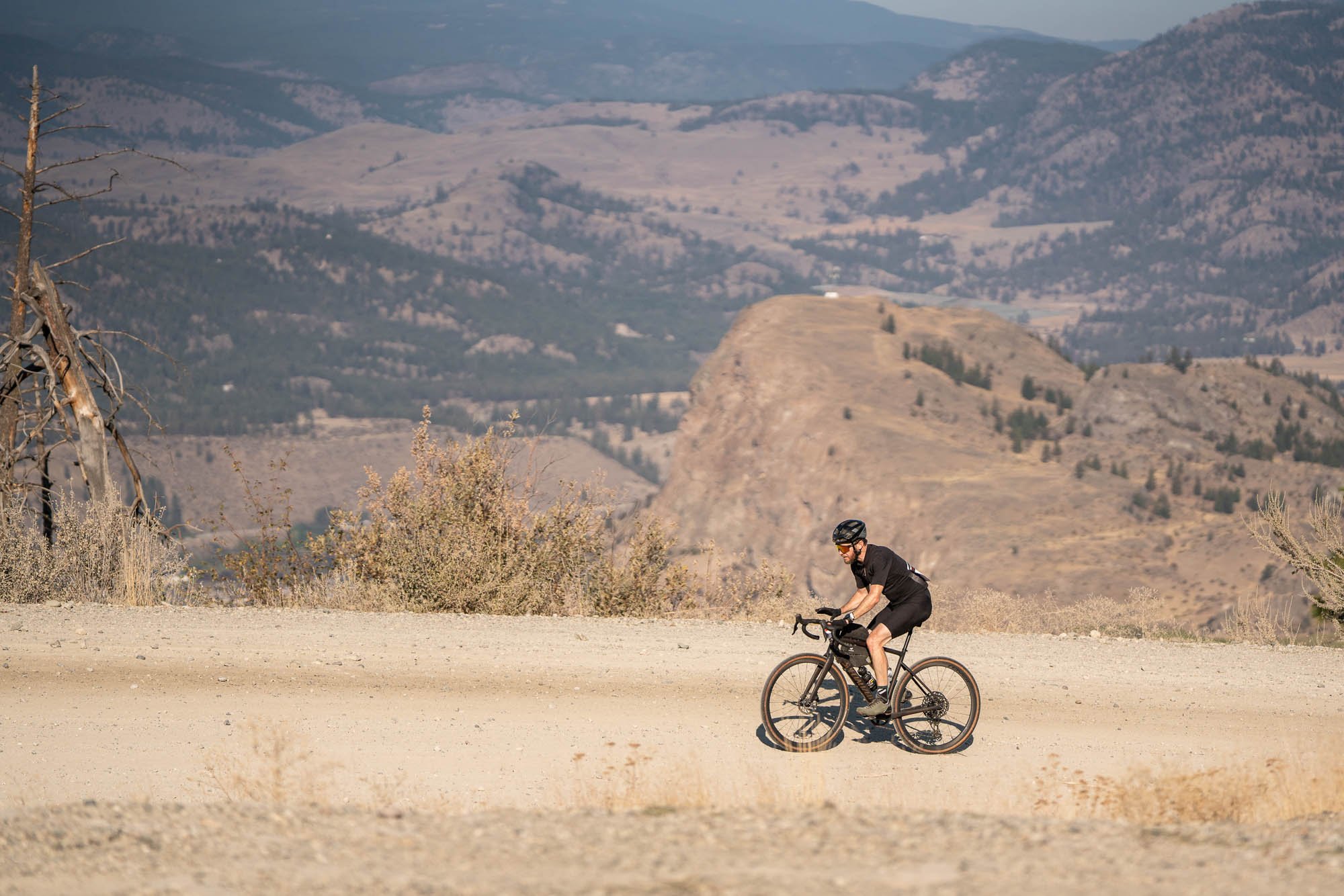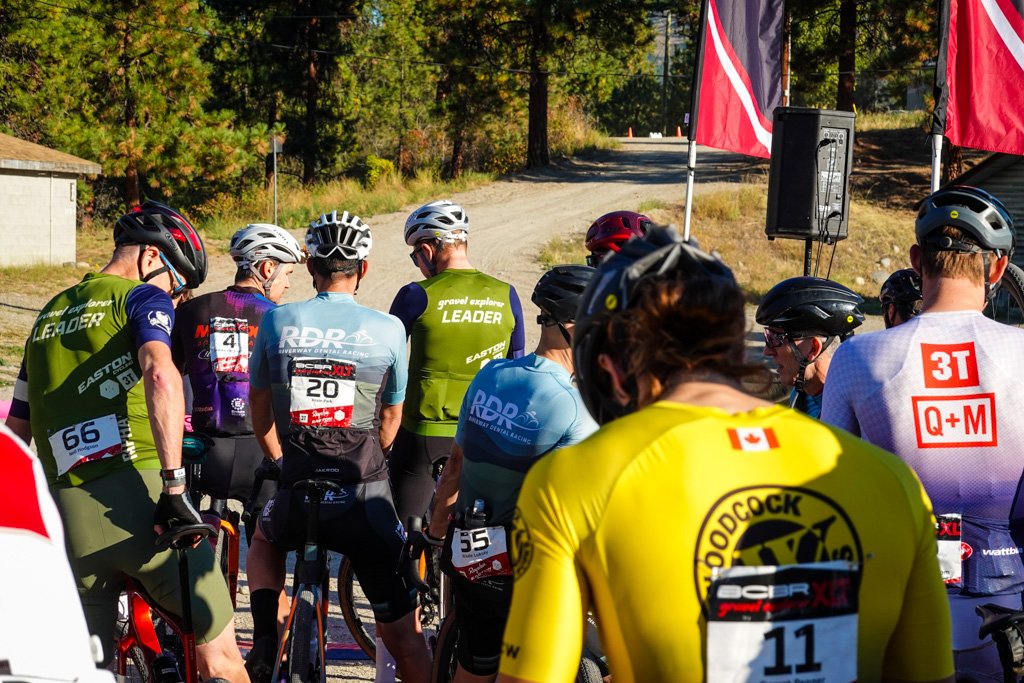 Day 3 – Okanagan Falls. THIS is Gravel.
Up until this point, much of the riding had been the 'gravel' I usually wind up riding… which isn't really gravel at all. It was rough, loose, steep, and technical. Day three shifted gears onto wide expanses of ¾" crush, where the only rough bits were occasional washboard. It also meant a bit of technical skill couldn't make up for differences in fitness; this was a day to just keep your head down and grind it out to the top, watching as you painstakingly made gains on someone in front. Or, despite your best efforts, slowly fall into the clutches of someone behind. I'd been trading places with someone for the latter 1/3rd of the climb, so I blasted past the aid station around the halfway mark – done with climbing – and away we went down the hill. Halfway through the day, halfway through the BCBR Gravel Explorer XLT, and about to hit warp speed.
That's all for now but we'll pick it up from here in another instalment shortly...