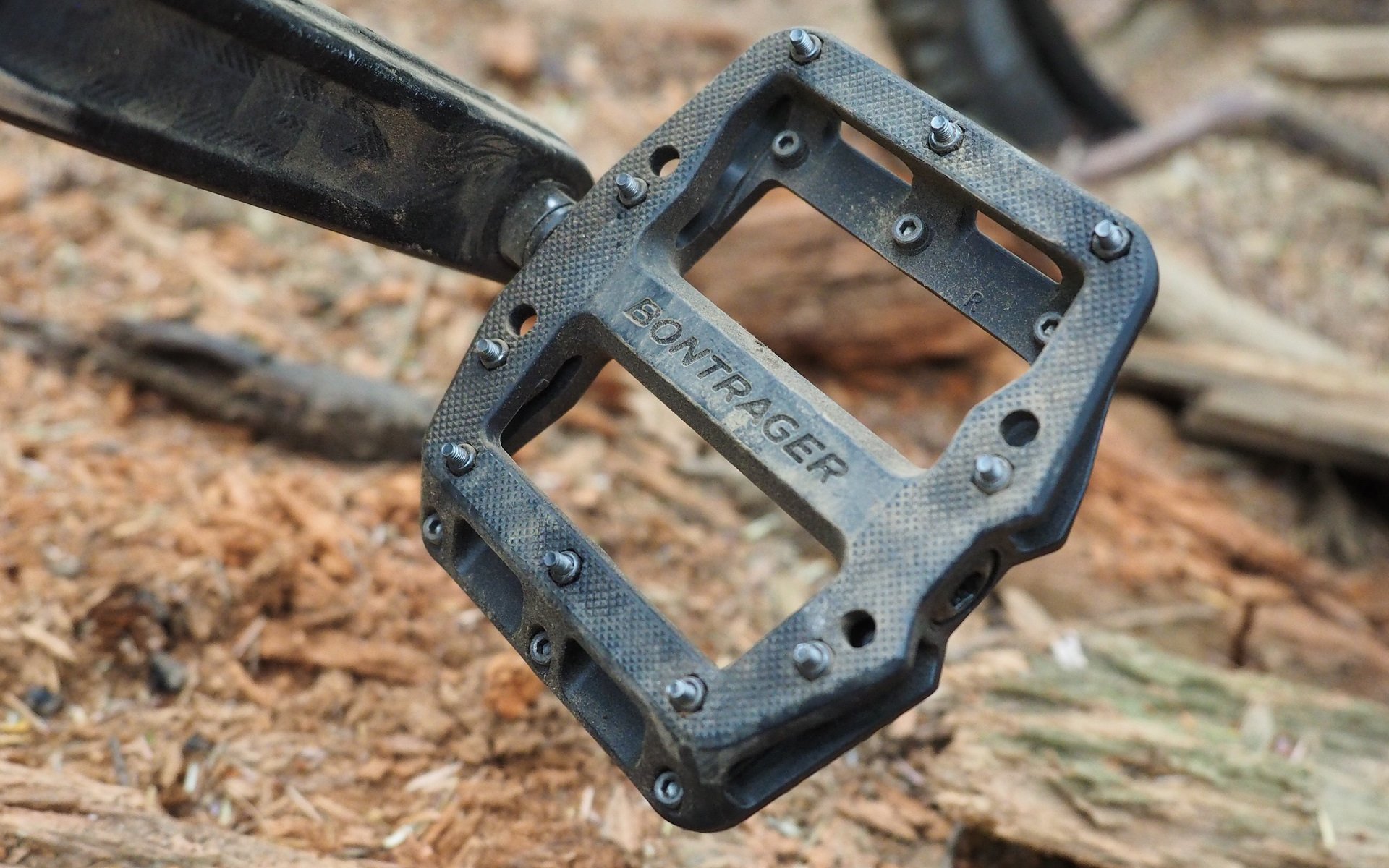 REVIEW
Bontrager Line Elite Plastic Pedals
Plastic Pedals
After rediscovering flat pedals while managing an injury, I've mostly been riding clipped-in. I have however stayed true to my goal of regularly working on my flat pedal skills and currently I'm spending my rides on a set of Bontrager Line Elite nylon composite pedals. 
The 102mm x 100mm Bontrager Line is like a smaller version of my gold-standard, the 120mm x 118mm Kona Wah Wah 2 Composite, and that's intended 100% as a compliment. 
Where the Wah Wah has a larger platform and a massive cartridge bearing at the crank arm, the Bontrager Line has a more typical layout and has a slightly smaller footprint. For those with larger feet the Wah Wah is going to offer more support, especially for aggressive DH or Enduro riding, but for riders with smaller feet or, as I understand it, a penchant for dirt jumping the Line Elite will likely be the winner. Where's the cut-off between regular feet and larger feet? I'm a size 43 and I can happily ride either pedal so maybe 43 is the boundary. 
I've heard the odd story from folks that have broken plastic flat pedals in situations where they felt the aluminum equivalent would have held up. Fair enough, Bontrager sells metal editions of these pedals for about twice the outlay. Personally, I can't think of a reason I'd spend more. 
Based on measurements with my crappy caliper, the Line Elite has a slightly concave shape but compared to say a Chromag Scarab they feel flat. I've been riding them with both Shimano GR7 shoes and Bontrager Line Pro shoes (review pending) and the grip is great, and predictable, without the locked in feeling and knee pain I get from Five Tens. 
On rainy days I get more traction from the larger bodied Wah Wah 2, but I do smoke the smaller Line Elite against fewer objects in tight trail situations, so the trade-off is again going to depend on foot size and preference. 
For riders with a strong flat pedal preference, I don't think the Line Elite is going to blow your mind and convert you. At the same time for any rider with small-medium feet, or a focus on dirt jumping, new to the sport or otherwise looking for the best bang for the buck, these are a great option. They come in five colours, they're quiet and durable, the bearings have held up great, and they're a relative bargain. 
You can check out the 50 USD Bontrager Line Elite pedals online at Trek.com and I'd be surprised if every local Trek dealer wasn't carrying them as well.