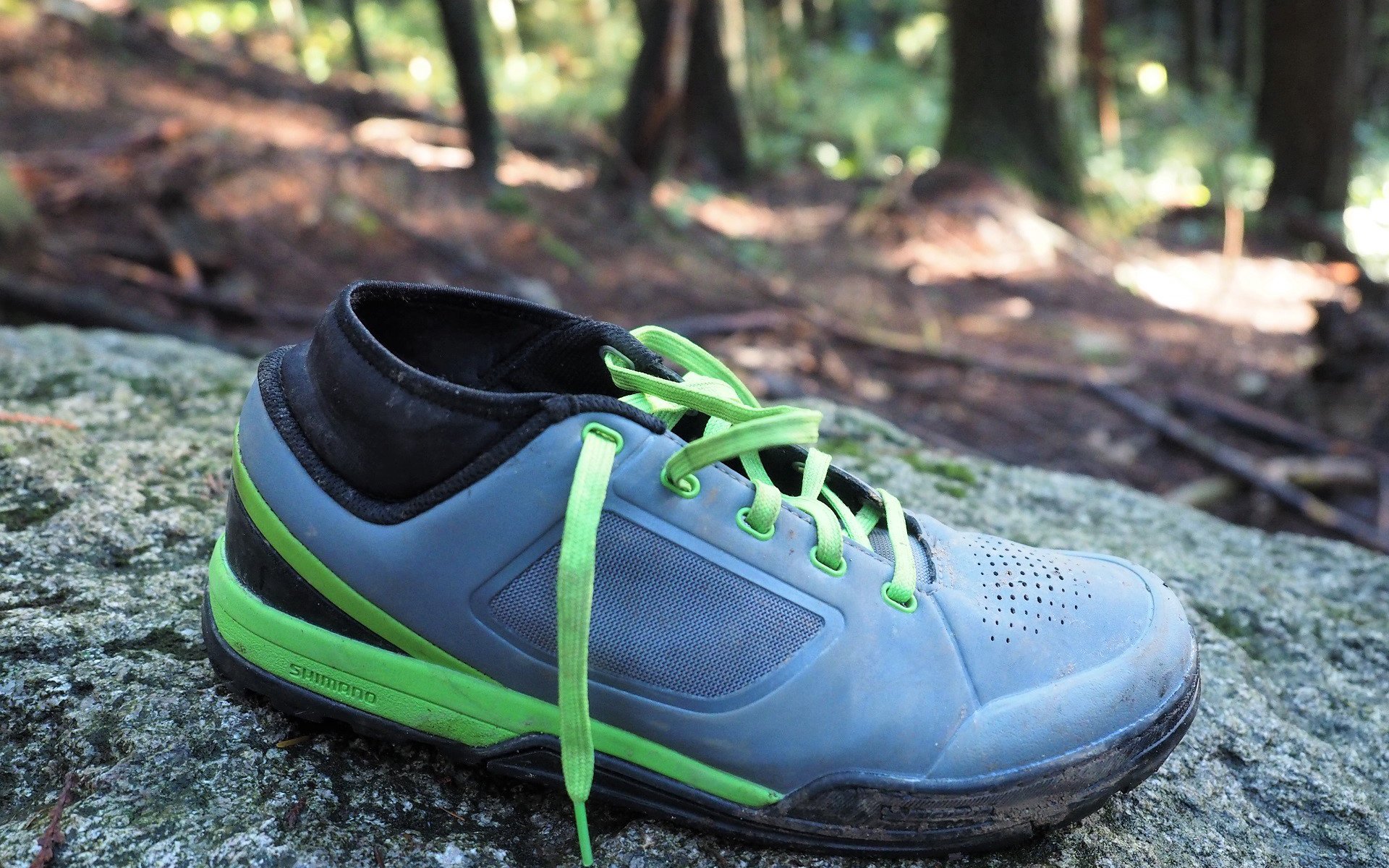 2 Minute Reviews
Shimano GR7 Flat Pedal Shoes
All The Details
Imagine the best flat pedal shoes that Shimano has ever made. Add a collaboration with Michelin on the rubber sole that's a direct shot at the market leader for stickiness. Make it in a huge range of (whole) sizes from 36 through 48. Dial in the stiffness to balance pedaling efficiency and grip while remaining walkable. Welcome to the new Shimano GR7.
The construction of the shoes is top end. The material is highly breathable thanks to perforations, it dries as fast as anything on the market and it's proven to be durable. They are no worse for wear after catching the pins of my pedal on the top of the toes a few times (don't ask).
How breathable? This time of year a good pair of wool socks is called for every day and if there's a hint of bonus moisture I hit the Showers Pass waterproof socks without a second thought.
The GR7 shoes dry so fast that from fully saturated to dry & toasty only takes a few hours on my Peet Shoe Dryer. I've ridden them for two torrential rides on the same day with a lunch break and short nap in between.
On Trail
The tacky Michelin sole consists of two tread patterns. The toe and heel are designed for hike-a-bike moments and the center interfaces beautifully with a range of pedal pin patterns.
I've spent my hours on the GR7 shoes on a range of flat pedals with very different shapes, pins and pin patterns. I've been happy with every pedal I've tried and I particularly appreciate the shoes with pedals that have aggressive and narrow pins like the Blackspire Big Slim.
With every pedal I've used, I find it easy enough to reposition my foot if it lands in an awkward position. To answer the big question; the shoes are not Five Ten sticky but in this case, I'm saying that in a good way.
I've ridden a more efficient flat pedal shoe, namely the Pearl Izumi X-Alp Launch, but as the balance of conformity versus power transfer goes I think Shimano has really dialed it in with the GR7. That's in a size 43. Riders with gigantic flippers may find them a bit soft for all-day pedaling.
If the shoe fits...
I think Shimano has produced the best flat pedal shoe on the market. They grip excellently in wet or dry conditions without feeling locked in place, they're stiff enough for all-day epics on flat pedals, they're light (380 grams/shoe in size 43) and the manufacturing quality and details are almost excessive at this price compared to other shoes. From my experience working in shops, Shimano also sets the standard in terms of standing behind their shoes under hard use with a one year warranty.
All the tech, fit and function for 130 USD.
For more information please check here or your preferred local bike shop.