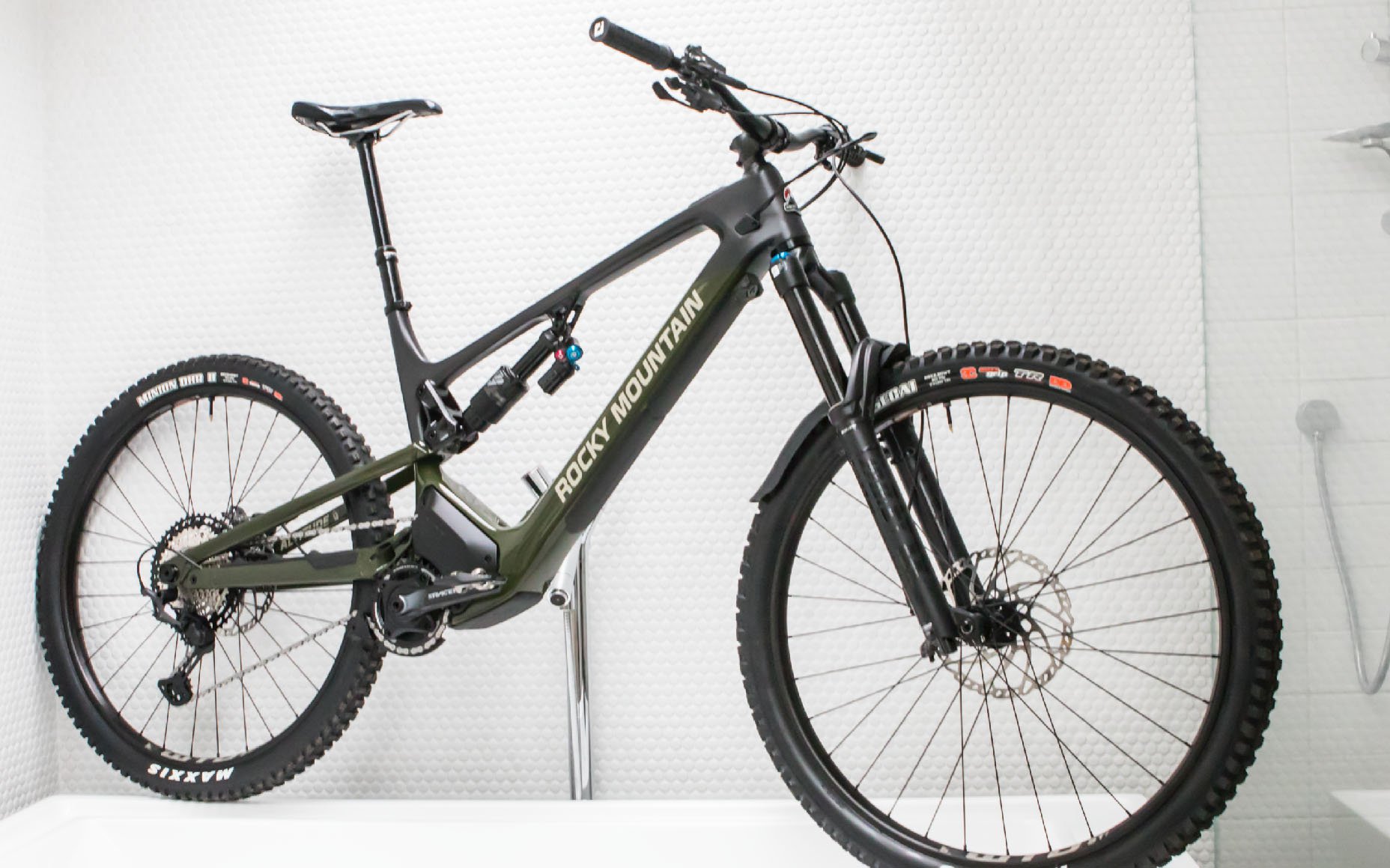 First Impressions Review
2022 Rocky Mountain Altitude Powerplay with Dyname 4.0 Motor
As time goes on I am becoming less sheepish about riding eMTBs and I'm enjoying the experience more over time as well, as I figure out new rides and become accustomed to the increased heft. I don't love riding under my own power any less however, which is a relief because I feared that was inevitable. In fact, if I've been riding an eMTB for a couple of rides in a row for testing purposes, I get quite excited about jumping on a more spritely steed. eMTBs are here to stay, but mountain bikes aren't going anywhere either if my experience is a good barometer.
Rocky Mountain's Powerplay models have been well received by the riding public, which is a big achievement for a relatively small brand, particularly considering they opted against an off the shelf motor from Shimano, Bosch, or Yamaha.* The previous generation, which performed very well, lacked the polish of some of the bikes from Santa Cruz, Specialized, or Trek however. Most of these gaps were in small details, but there were some larger issues with the previous generation Powerplay bikes as well.
*The Dyname 4.0 motor was developed in partnership with Propulsion Power Cycle, a Canadian company based in Québec
My biggest complaints about the previous model related to a few mission critical elements;
The absence of a display to communicate battery level and power level, which were both expressed with the same LED lights on the controller, was a big one. This led to range anxiety and confusion as a struggled to remember what each colour meant and/or blink represented. That has been addressed with the "Jumbotron" and while it isn't as large as the name would suggest, it does a respectable job of communicating the most important information.
On the previous generation I once ran out of juice after a long ride about 2 kms downhill from home. Normally this wouldn't be a big deal, but the previous Dyname drivetrain produced significant resistance without electric assistance, and those 2000 metres hurt as a result. The new system does away with the upper chain slider and has addressed this issue effectively.
The aforementioned improvements to the drivetrain also dealt with what I felt was excessive mechanical noise, now making the Altitude PP one of the quietest and least offensive-sounding eMTBs I've ridden.
Dyname 4.0 Motor
The eMTB arms race is heating up, and motors are clearly the main battlefield, since battery technology seems relatively consistent across different brands. Both Shimano and Bosch have recently released new motors, and Rocky Mountain is releasing the new Dyname 4.0 power plant with the new Altitude and Instinct models. It is both smaller and lighter but the big improvement I noticed was significantly quieter operation. The previous generation Dyname didn't whine like other motors but there was a significant mechanical sound coming from the enclosure. This has been reduced significantly and the result is one of the quietest eMTBs I've ridden. The sound is also more pleasant to my ears, apparently because the motor operates at lower RPM resulting in lower frequency sounds compared to the whine emitted by other motors I've ridden.
I also notice a difference in terms of power delivery compared to the Shimano EP8. When I put the power down on the Altitude PP, the increase in power is instantly felt and it feels more noticeably proportional to my input than others as well. At times it feels like it requires less effort to go faster because of immediacy and what I would describe as the progressiveness of the power delivery. Other motors feel as though they have a more linear power delivery in comparison, which to me feels less effective and satisfying at the pedals.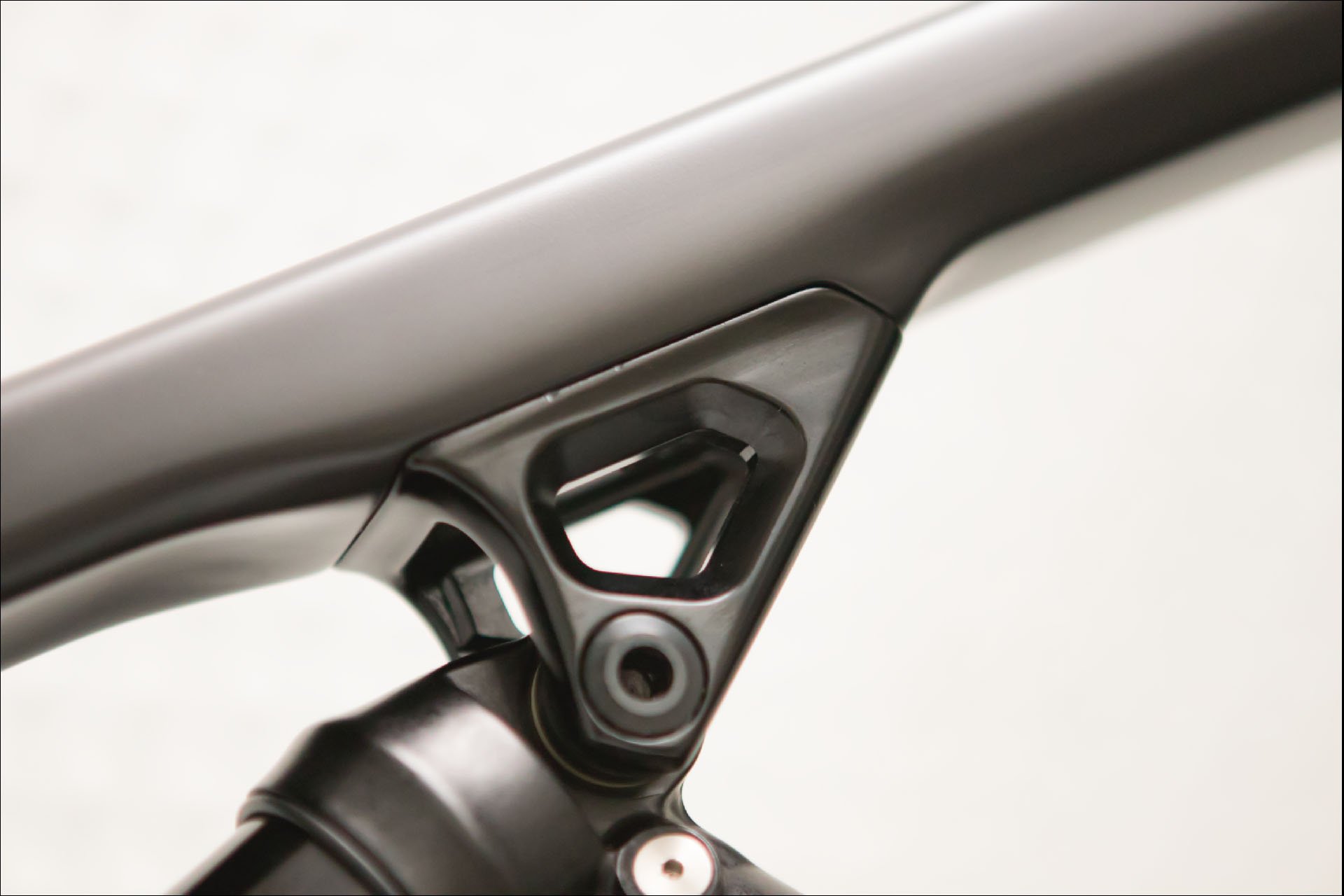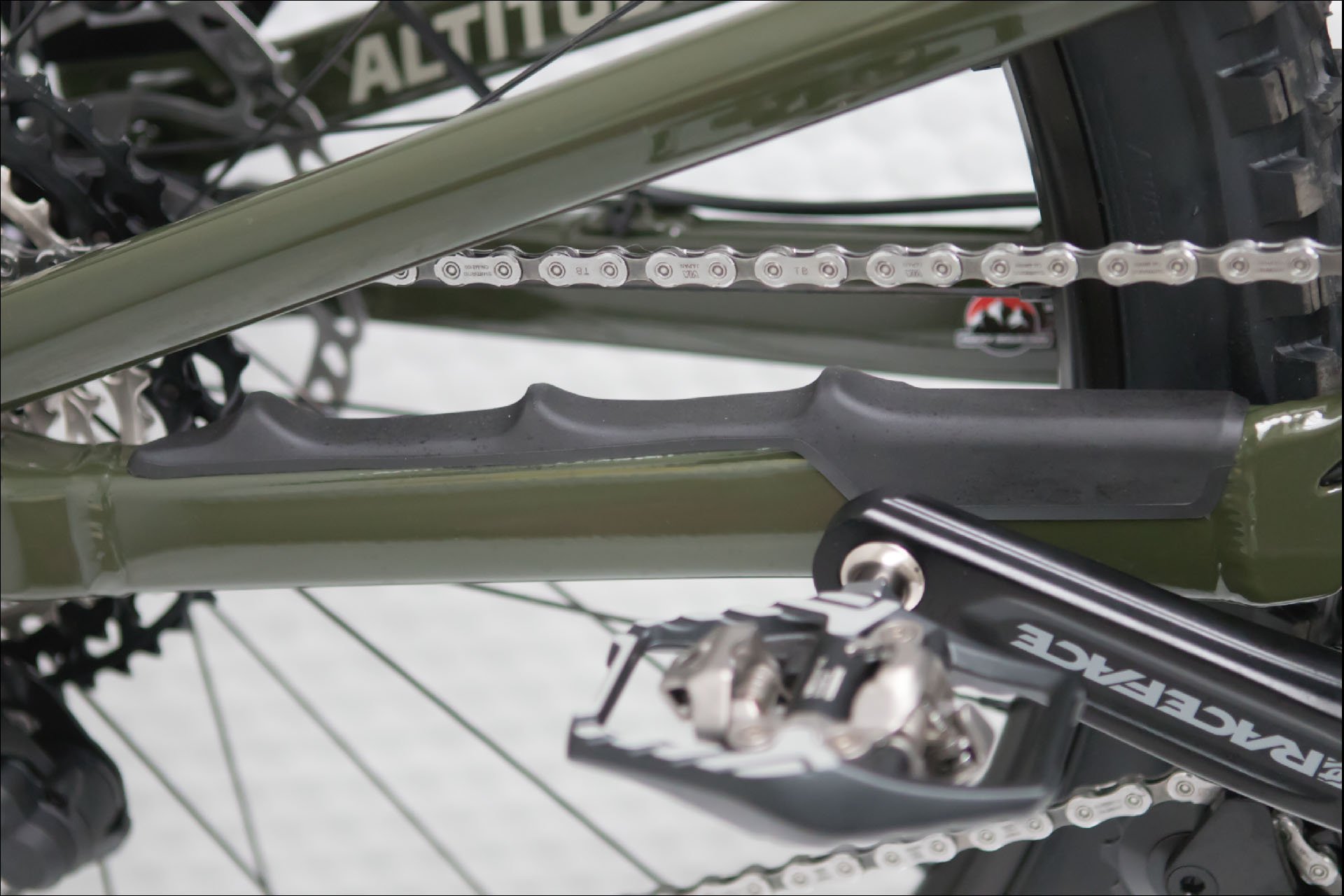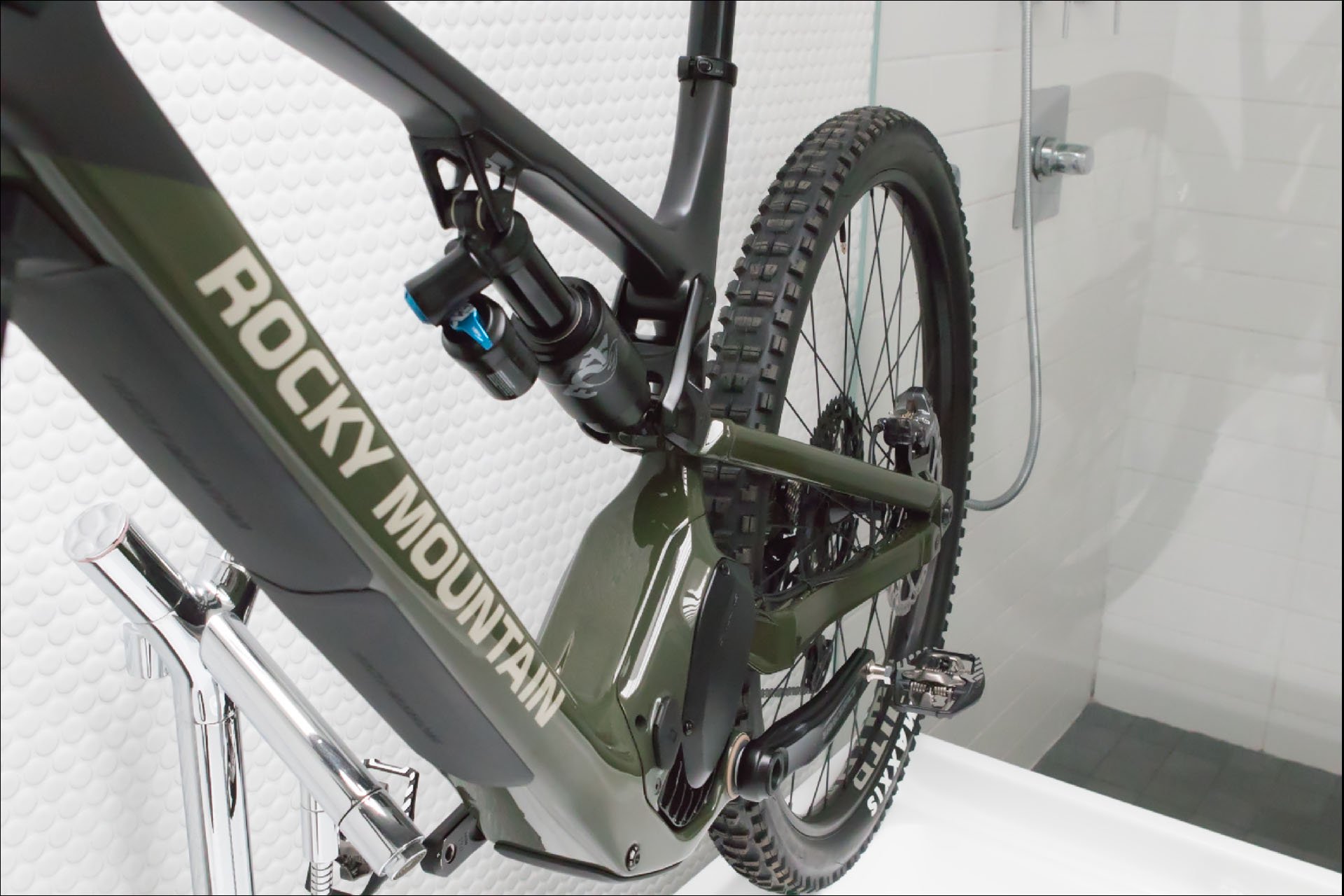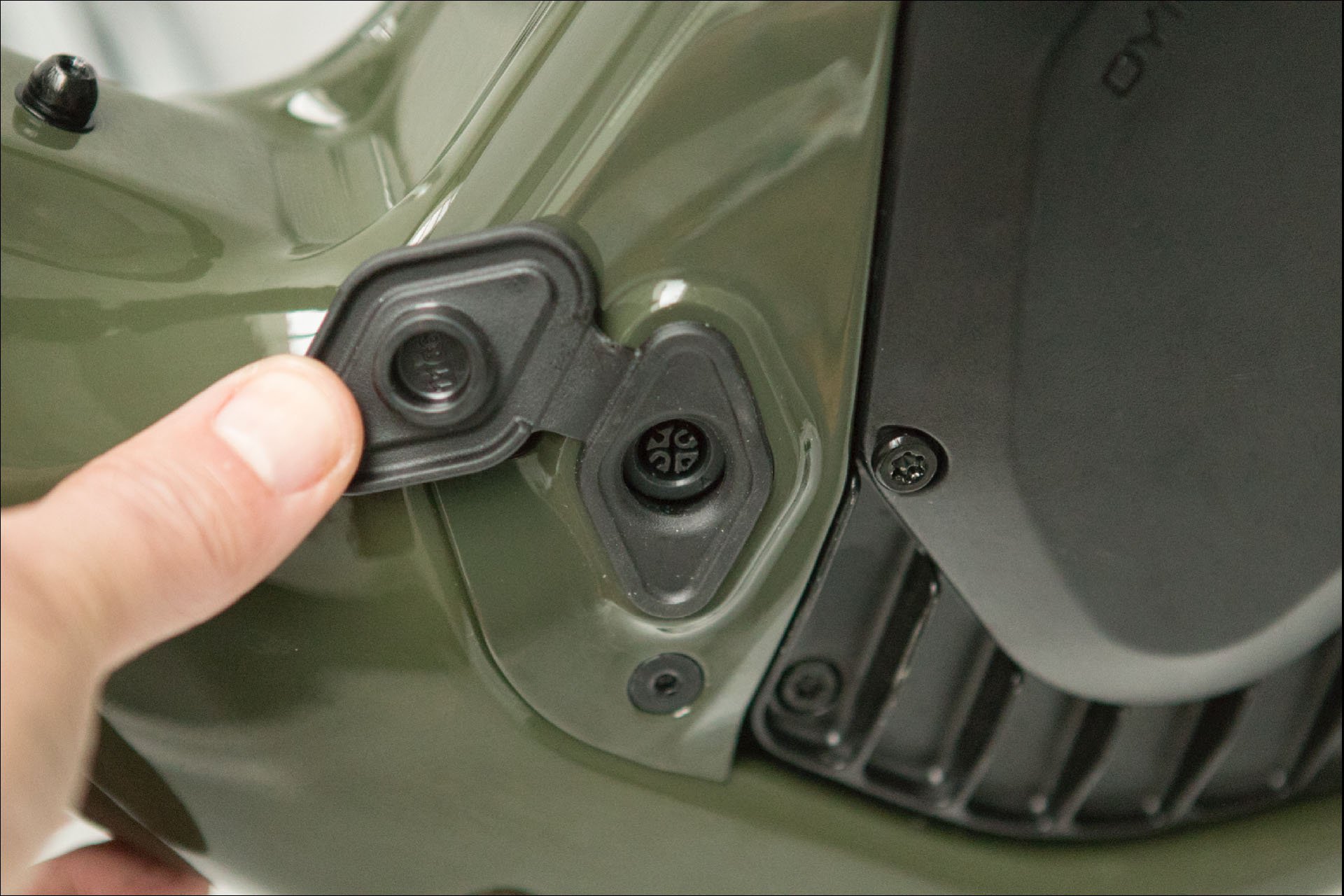 Altitude Powerplay Carbon 70 Features, Improvements, and Highlights (info from RMB)
Dyname 4.0 drive system w/ 700w power and 108 nm torque (peaks)
Quieter operation
Improved un-aided pedalling
170mm, 44mm (FOX) or 42mm (RockShox) offset fork - rear travel of 160mm with
Max tire clearance is 29 x 2.6
Sizes: SM - XL
Weight - 23.53 kg (51.9 lbs), size LG
Ride-4 adjustment system
Modular Shock Mount for future proofing
Dual bearings at seat stays and chain stays
Integrated Jumbotron display
720 Wh battery (up from 672)
Smaller remote
Mid-high main pivot
10mm chainstay adjustment
More rearward wheel path and increased progression in shock rate
Improved small bump performance
Descending Performance
The first thing I noticed both up and down with the new Altitude PP, was improved traction. The rear wheel tracks very well, perhaps because of the mid–high main pivot and the more rearward axle path. It also deals with large hits effectively and tracks very well, both in corners and when things get lumpy. The counter point to this stuck to the ground feeling is that it is indeed a little earthbound when it comes time to get off the earth. I'm hoping I can make it feel a little more poppy with some tuning refinements (both the shock and the Ride 4 adjustment) but thus far it isn't as playful as I'd like, even for a ~53 lb 24 kg (size XL) eMTB.
After four rides (3 if them at Megavolt) I have found the Altitude PP most at home at speed and in rough and rocky situations and a little less competent in tighter terrain. The reach is on the long side for me and I may be able to address that with the Ride-4 system, but I have thus far left the chainstays in the shorter setting. It's early days however and an adjustment period is to be expected. In other ways I've felt right at home on the new Altitude PP.
Component Spec.
There is little to argue about here. The Maxxis DD tires tick all the boxes, Cushcore is an inspired addition, and the Shimano XT components perform extremely well. I particularly appreciate Shimano drivetrains on eMTBs because they shift so well under power. It's common to hear a loud clunk accompanying a SRAM shift on one of these bikes but it's rare with Shimano. The unidentified (but apparently Rocky-branded) stem appears a little sub-standard on a bike that retails for 11,400 CAD, along with the Rocky Mountain-branded bar but they do the job fine.
I appreciate the size-specific seatposts, but my XL came with a 170 post rather than the specified 200mm, and it was certainly missed. I've been climbing with my saddle a little low so it's more out of they way for descents. This has probably contributed to the bike feeling a little unwieldy in tight sections of trail as well.
I like the Fox X2 performance shock and I wish this model was available for the after marktet. It peforms well and keeps the MSRP down. I'd prefer to see a Grip 2 damper on the fork but the Fox 38 Evol Float Grip (44mm offset) is feeling better with every ride.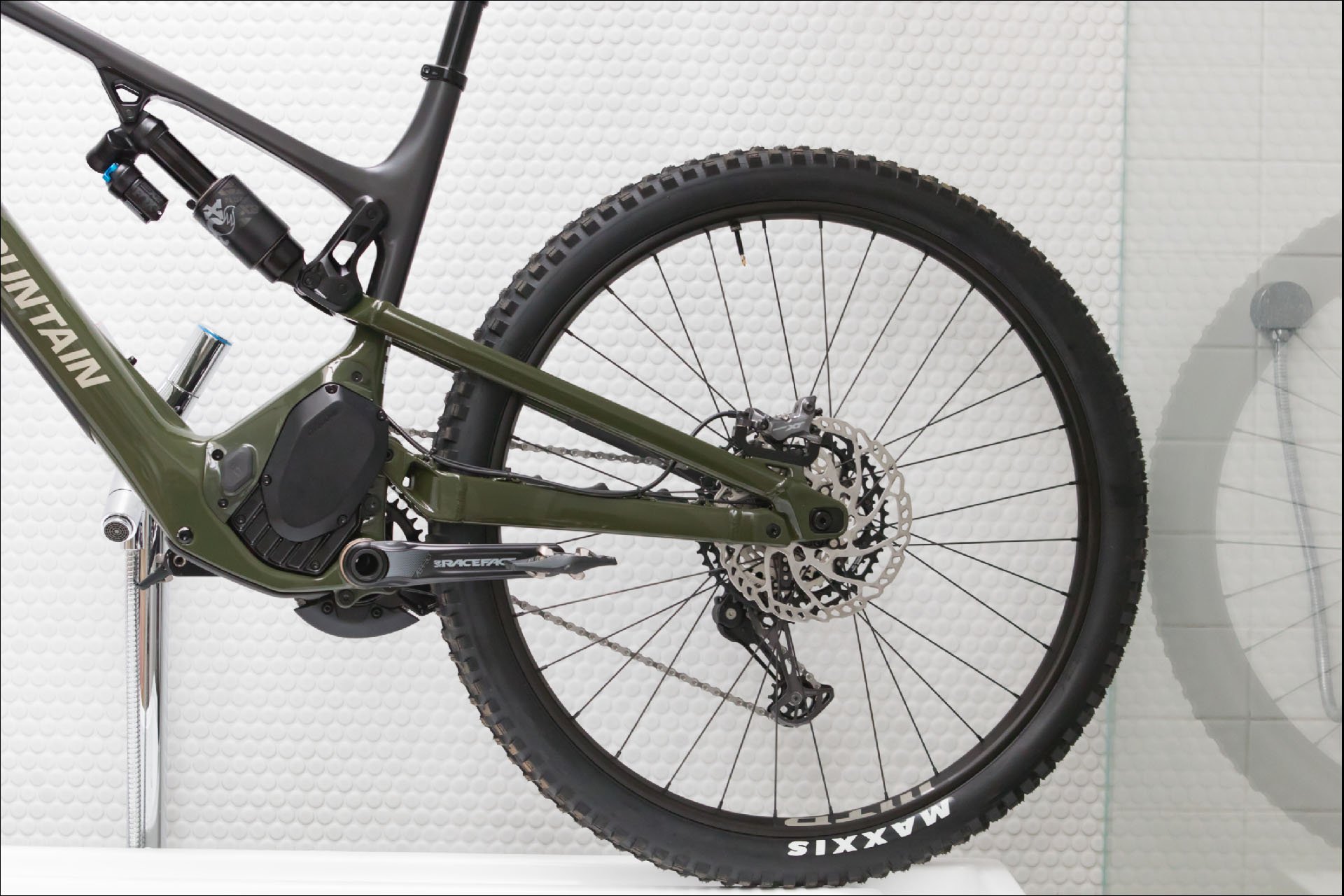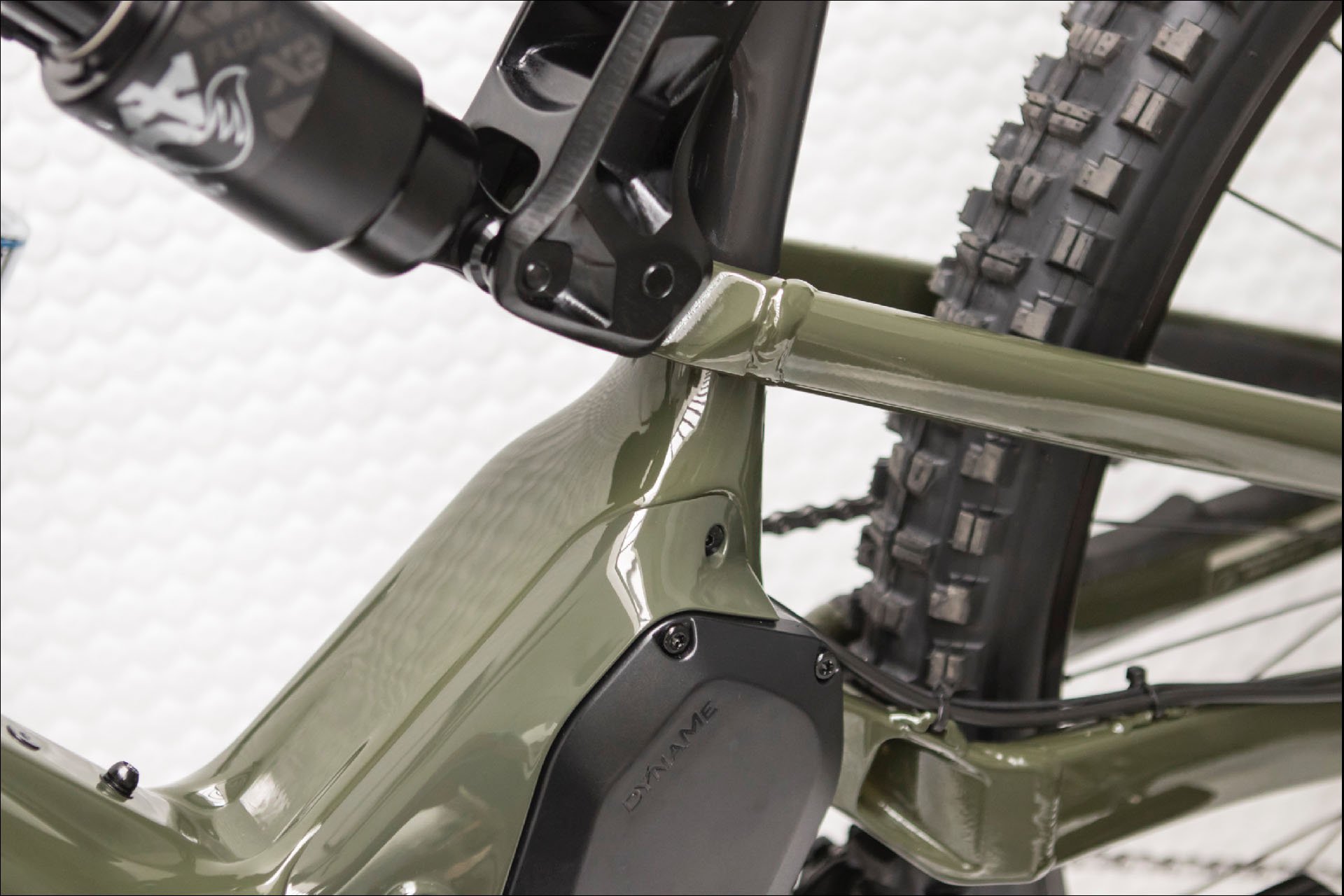 Adaptability
While the new Powerplay models have easily removable batteries (I've been told, but haven't done this yet) there aren't other sizes available to swap in like Norco's new system. There is however a new generation of Rocky's Overtime Pack which bolts on to the water bottle mounts and provides an extra 314Wh for a total of 1034Wh. I have yet to see the new version of the booster but I hope to have an opportunity to try one out. Beyond that the Ride-4 system and the two chainstay length options allow for individual customization.
TBD
I have barely scratched the surface with this bike and there is much to learn. I haven't yet played with the programming using the Jumbotron to try the other power modes but I'm keen to try those, both to conserve battery and to get more juice for steep climbs. The other feature I need to mess with is the Ride-4 shock placement, which could help my fit and make the bike even more of a downhill destroyer.
I haven't yet tried a ride with the potential to drain the battery or attempted a quick charge with the new 4.0 amp charger. Not have I even removed the battery.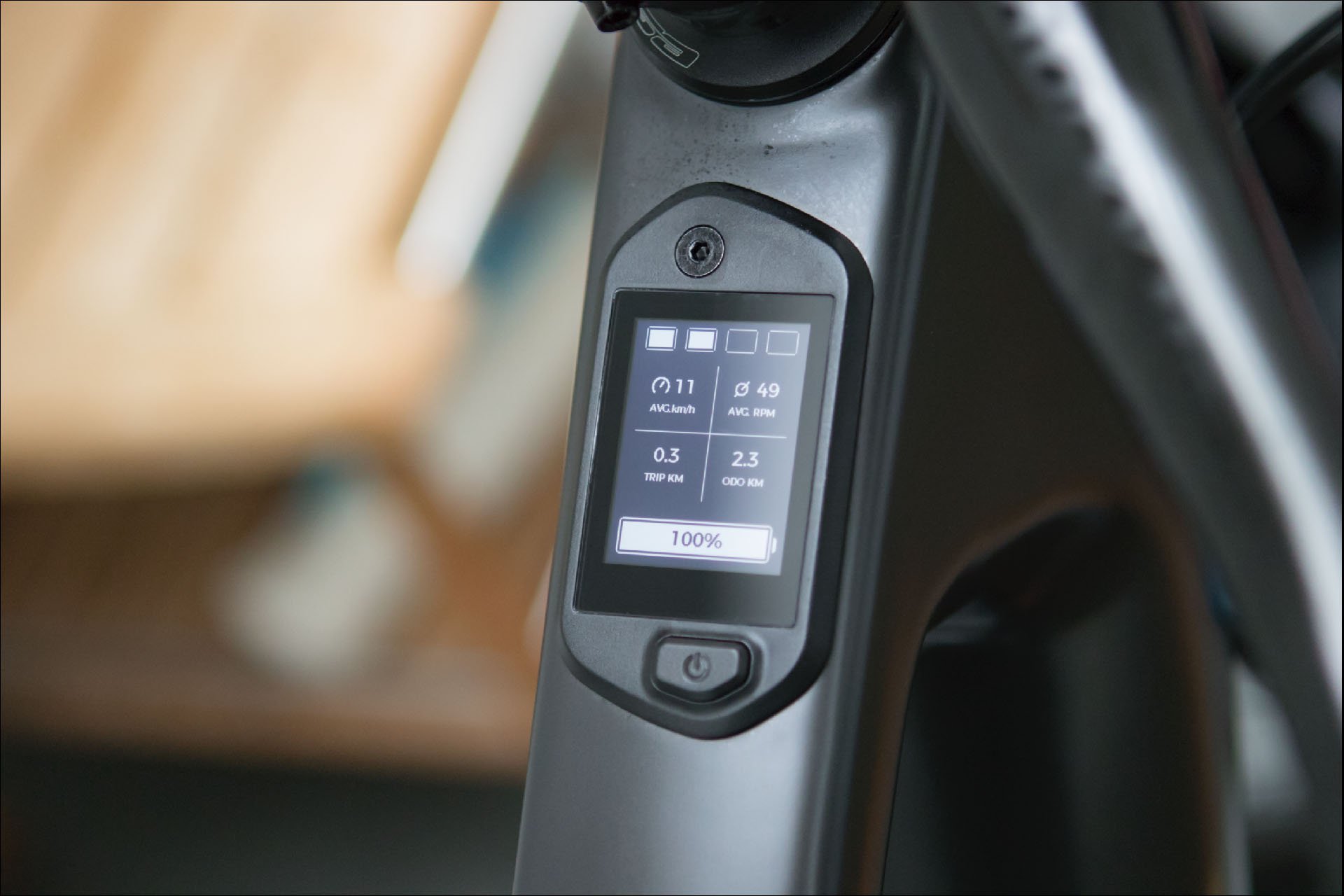 A Few Little Issues
When the bike arrived the shifting wasn't perfect. I couldn't adjust the cable tension to hit every gear on the way up. I assumed there was a problem with the cable but once it was detached it felt very smooth. Next I checked the hanger and it was slightly out of alignment, but not enough to impact Shimano's XT M8100 drivetrain. Eventually I realized the cable wasn't strung perfectly where it loops to meet the binder bolt. This would have been caught by a bike shop normally since Rocky Mountain is not a direct to consumer brand at this point but it took me some head scratching to sort it out.
I rode the Altitude in the BCBR Megavolt event last weekend and after a quick and sloppy hosing off the night before, the freehub was a little sticky, which caused the motor to stay engaged for the first couple of seconds when I started coasting downhill. This only lasted about 15 minutes and hasn't recurred.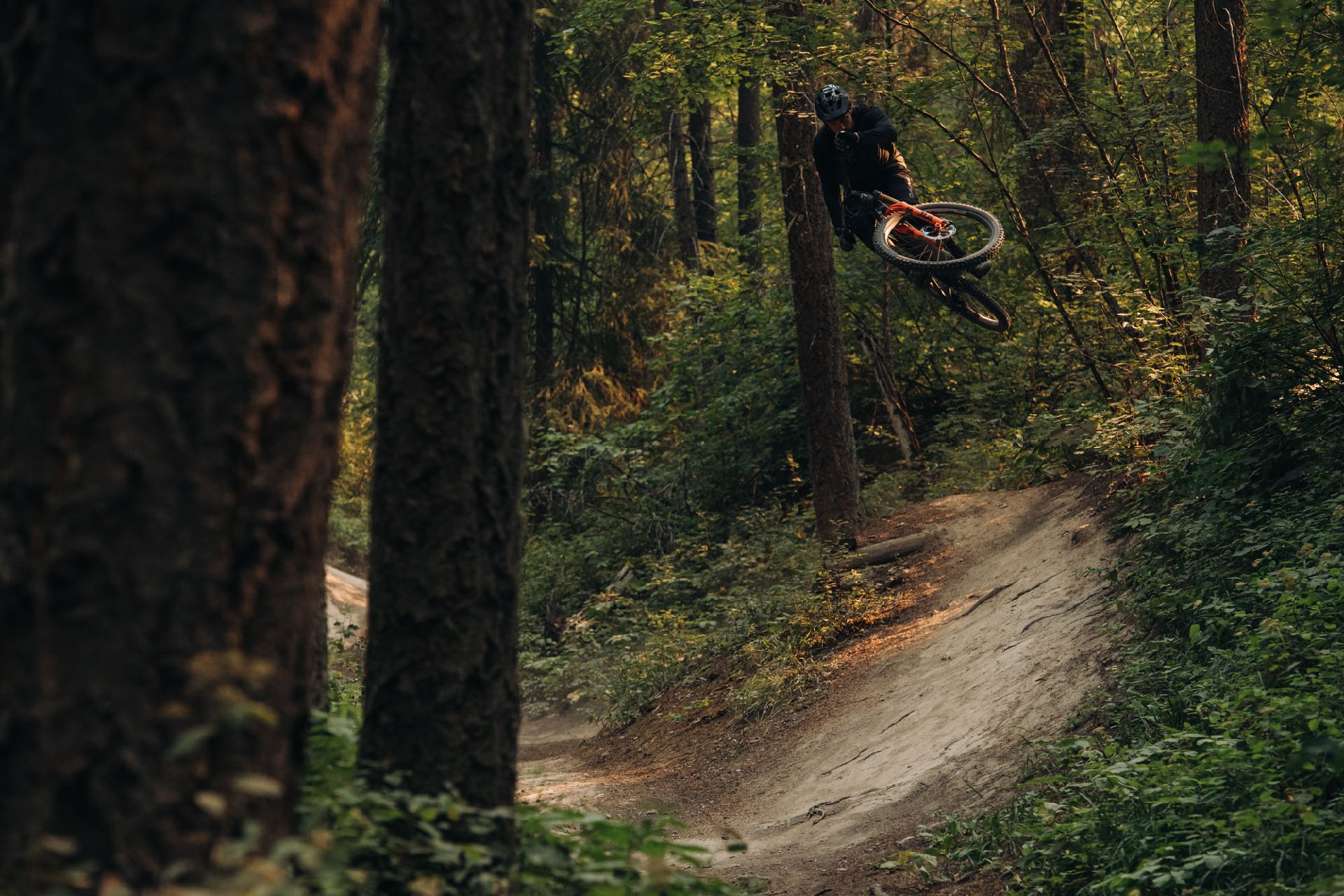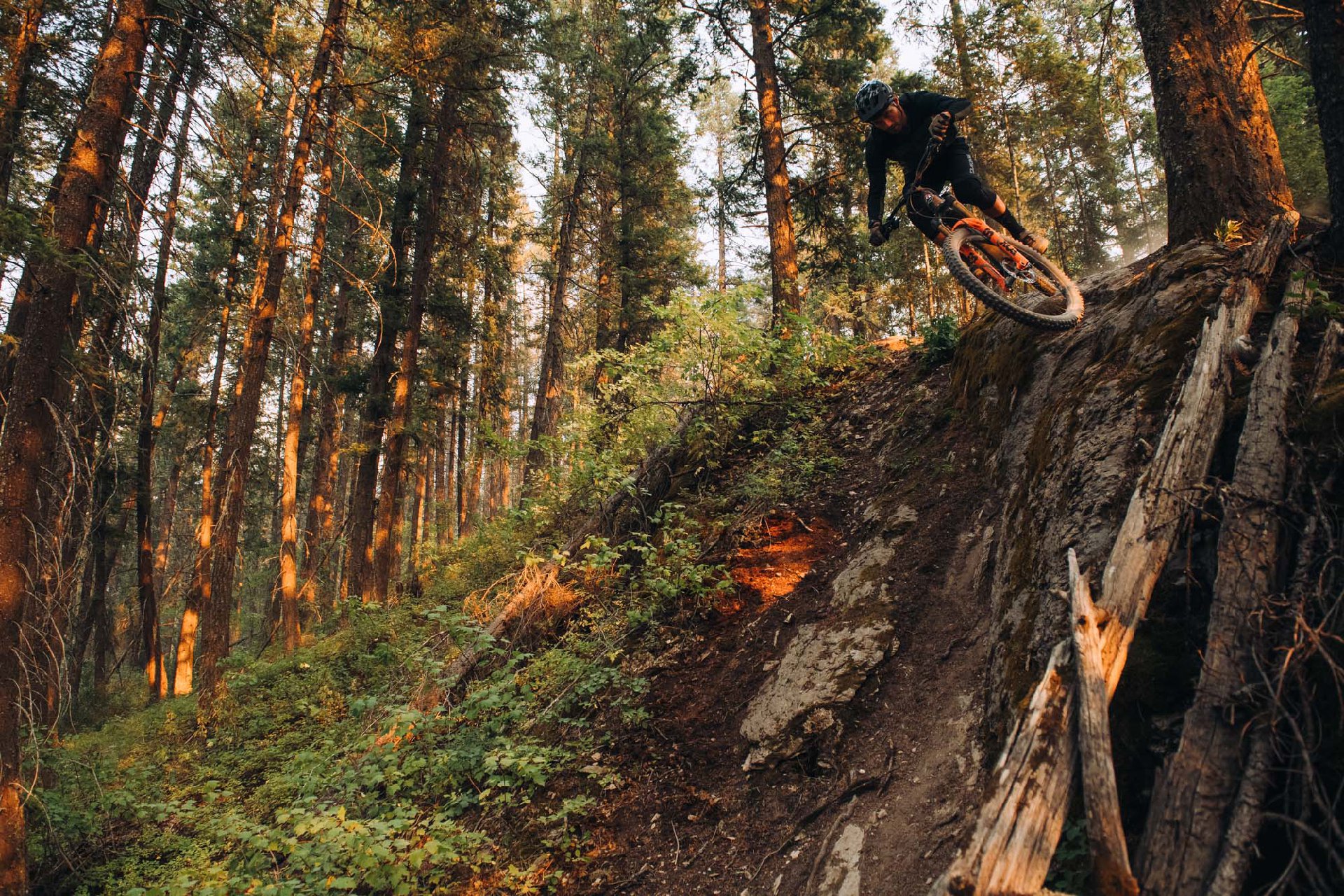 As mentioned above, the Jumbotron's small characters are tricky for my old eyes because I don't wear glasses when I ride, and some colour would improve contrast and readability, but otherwise the execution and placement are excellent.
Before I read the spec. I assumed the stock post for the XL was only 170mm drop but it turns out I just got the wrong post and it should be a 200mm.
Along with the Altitude, Rocky Mountain is releasing the Instinct today. It has 150/140mm of travel and is slightly less aggressive in every way. Pricing and availability information can be found below.
For more information on the Altitude and the Instinct PowerPlay, both with the new Dyname 4.0 motor, head over to Rocky Mountain Bicycles.
PRICING AND AVAILABILITY
The Altitude Powerplay and Instinct Powerplay will be available this winter from your local Rocky Mountain dealer. Regional availability may vary.
Altitude Powerplay Carbon 90 Rally Edition: $13,129 CAD / $10,649 USD
Altitude Powerplay Carbon 70: $11,339 CAD / $9,059 USD
Altitude Powerplay Alloy 70: $9,239 CAD / $7,779 USD
Altitude Powerplay Alloy 50: $8,399 CAD / $6,999 USD
Altitude Powerplay Alloy 30 Coil: $7,349 CAD / $5,749 USD
Instinct Powerplay Carbon 90: $14,699 CAD / $12,039 USD
Instinct Powerplay Carbon 70: $11,549 CAD / $9,159 USD
Instinct Powerplay Alloy 70: $8,819 CAD / $7,459 USD
Instinct Powerplay Alloy 50: $7,769 CAD / $6,499 USD
Instinct Powerplay Alloy 30: $6,929 CAD / $5,599 USD
Stay tuned for more once I log a bunch of rides on the newAltitude PP.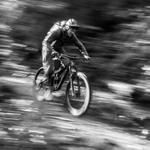 Cam McRae
Height - 6'/183cm (mostly legs)
Weight - 170lbs/77kg
Inseam - 34"/86cm
Ape Index - 0.986
Age - 56
Trail I've been stoked on lately - Boogieman
Bar Width - 760mm
Preferred Reach - 485-500mm (longer with 27.5 wheels than 29)