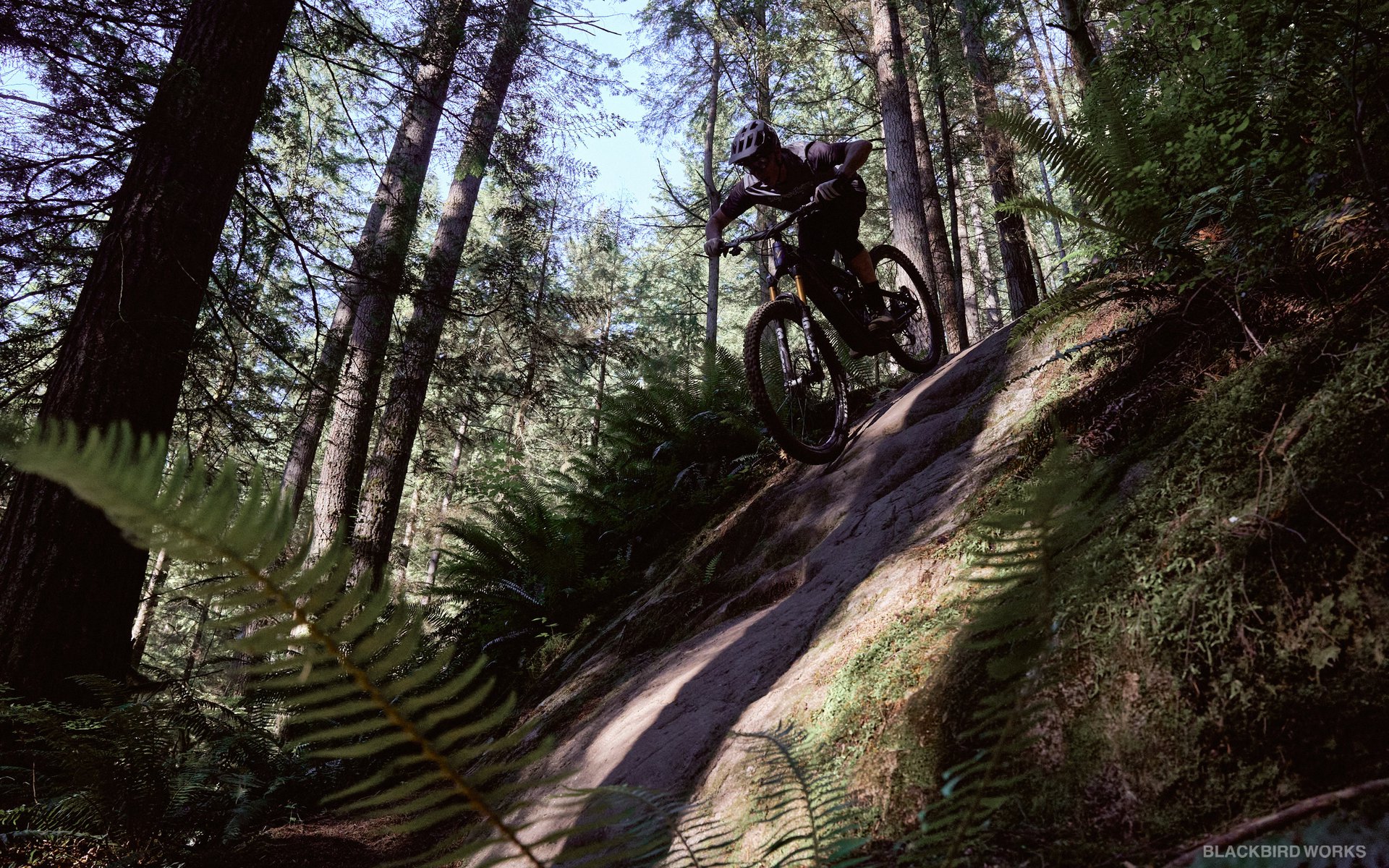 First Impressions
2022 Norco Sight VLT eMTB
Electric mountain bikes are going every which way right now. They are getting lighter, and they are getting heavier, both less and more powerful, pricier and cheaper, more widely accepted in some circles and despised more bitterly in others. It's a fast moving marketplace with technology that is trying to catch up with and anticipate riders' emerging desires and preferences.
This makes it an interesting time for eMTB riders, and even more so for those looking to do some long term e-doping. Like the bikes themselves, some riders are looking for less weight and an experience that is closer to a good old fashioned mountain bicycle (or at least they think they are), while others lust for more amps and watt hours and are willing to accept the weight penalty to get to the top of more hills in less time. It's a fierce battle and there is much at stake. Companies that establish early dominance in this slippery category will be well-positioned for market traction once the shake out slows down.
Now that I've ridden quite a few eMTBs I can say that I'm on the side of more. I'm not looking for an experience that mimics my mountain bike time; I'm looking to cruise up the hills at 20km/h, do more laps than usual, and explore further, faster, and longer. I also have some work to do on the Spanish Underpants and getting to the top in a hurry, with tools, will be a big help. If you are the type looking for one of those sub 40 lb e-sleds, that's great, but that isn't what I'm after. At least I don't think so, considering I haven't tried one of those yet.
Swappable Batteries
Norco came at their new line of VLT bikes with an eye on pleasing a wider range of riders; both those looking for less range in exchange for (somewhat) lower weight, and those who want all the juice to ride all the day. Companies who have gone the piggy-back battery route have had some success turning one bike into two, but who wants an extra battery strapped onto their frame? Keeping an eMTB as inconspicuous as possible is a goal I support,* and while the Sight VLT is rather audacious looking, it's not related to the power options available.
*not to hide their true nature, rather to preserve as much of the elegance of the bicycle as possible
To address riders' diverse desires, the 2022 VLT line has a quick-change modular battery system. You aren't buying a bike with a battery from Norco any longer. Instead you'll choose the platform that suits your needs and then choose between three battery sizes to go along with it. There is a price for the bike and then another for the battery, or batteries rather, because you can pick up as many as you want. The power packs are available in standard sizes of 540 and 720 watt hours, but there's also an enormous 900wh unit, which Norco claims is the largest in the industry.* The batteries will be swappable with a single bolt and can be charged on or off the bike. Our test bikes both came with an extra battery, but Norco was short on some of the hardware so our swaps involved an additional 7 bolts and some extra futzing, but we could clearly see how easy this would be with the production batteries.
*Let's assume this distinction applies only within the world of mass produced and regulated class 1 eMTBs
Aside from the obvious financial concerns, choosing a bike will involve asking yourself how you'd like to use your electric mountain cycle. Are you going to want to climb in boost for as long as possible, blasting the top in the shortest time, or would you be happier in trail or eco modes, doing more with your own juice and getting to the top in less of a hurry? Or maybe you're feeling flush and you'd like one of each? Our bikes came with the 900mh batteries installed, and taking range anxiety out of the eMTB experience is remarkable. I have ridden to the top of each of the North Shore mountains in blast furnace mode and only used one bar of 5, or 20% of the total available. Often charging between rides is unnecessary.
The Failed Triple E Crown
Trevor Hansen (who has been testing the Range VLT) and I decided to attempt an all-boost, all gnarl, North Shore triple crown starting from the bottom of Mount Seymour. We planned to ride the longest and most challenging trail on each mountain and do as much of the climbing as possible in Boost mode. We completed Seymour and Fromme and I made it back to our battery swap location without emptying the tank. Trevor ran out of gas about five minutes and a short climb from our destination. His Range seems to actually have less range than the Sight I've been riding, and Trevor contends it requires more effort in Boost mode compared to the Sight. Oddly, in Trail mode he seems to be faster than I am on the Sight using the same setting. If you are familiar with the Shimano drive system, you might be wondering why we don't just log in using bluetooth and adjust the power output in each of the three settings. Normally you'd be able to choose between high, medium, and low for each of Eco, Trail and Boost modes, but for some reason we have been unable to connect with these head units. In fact the menu item inviting you to connect with Bluetooth doesn't appear on either screen as an option. Norco isn't yet sure why this is happening to our pre-production bikes but I would expect it to be cleared up by the time market-ready bikes are in Canadian stores. (which should be a couple of weeks - but not until the fall for other markets)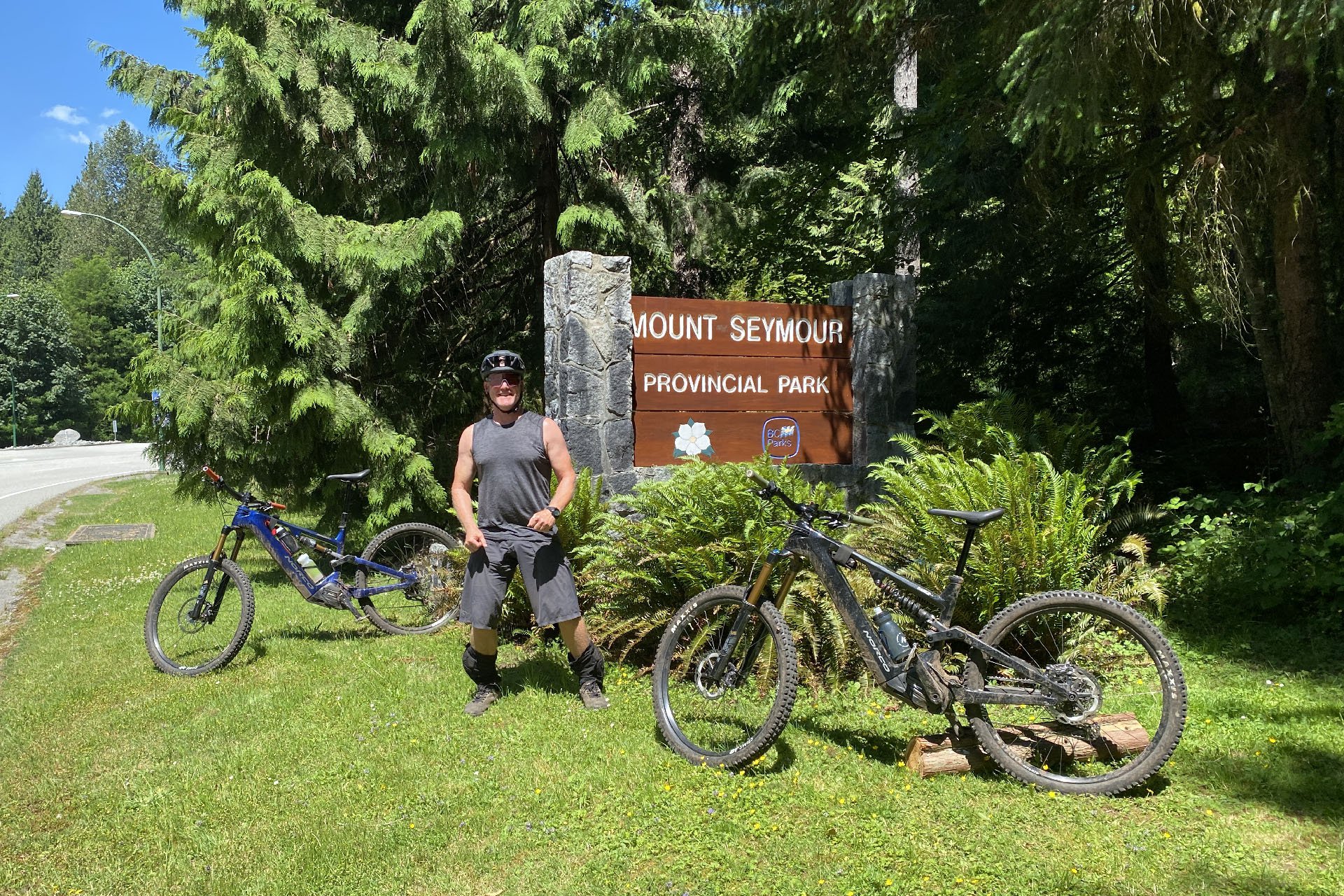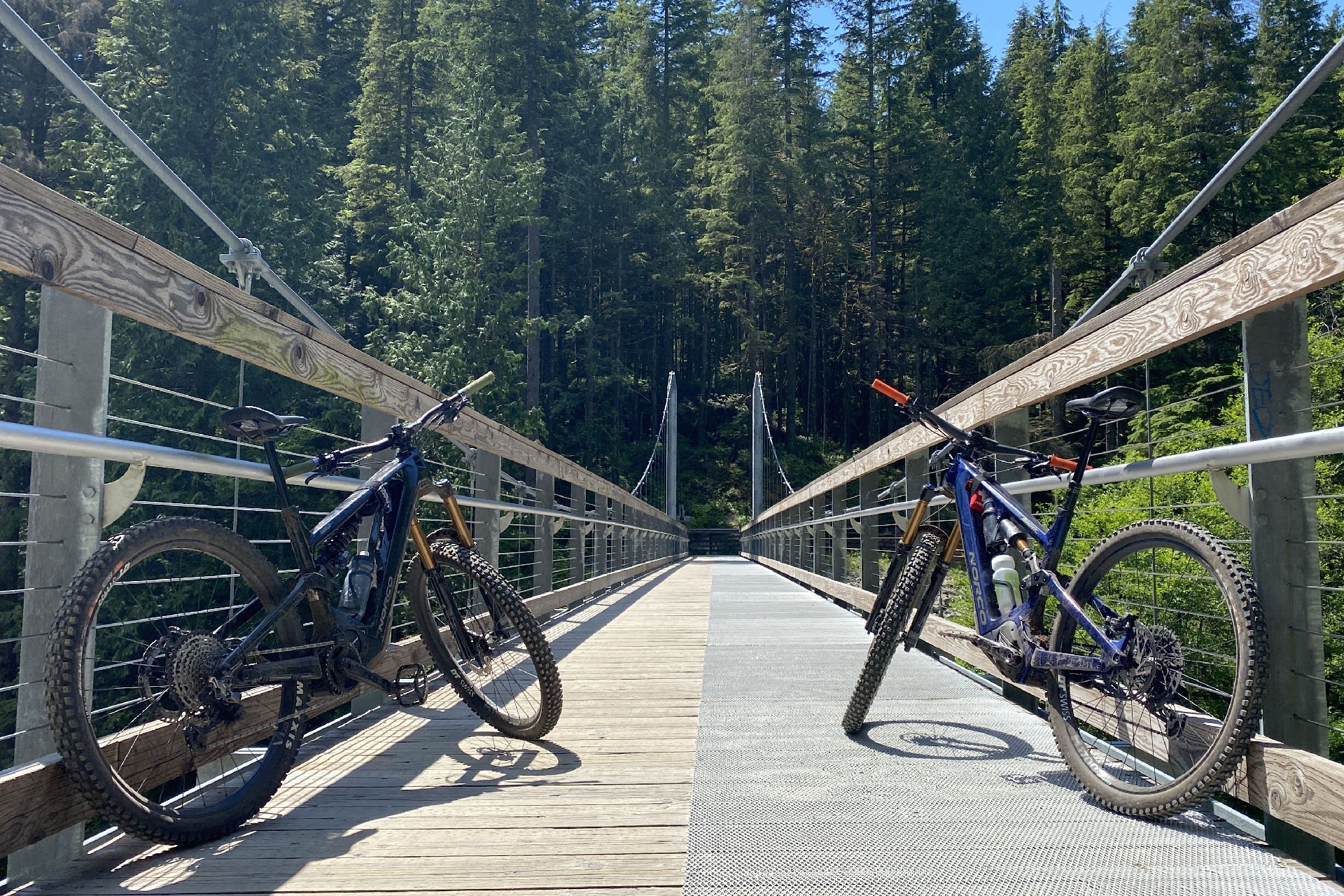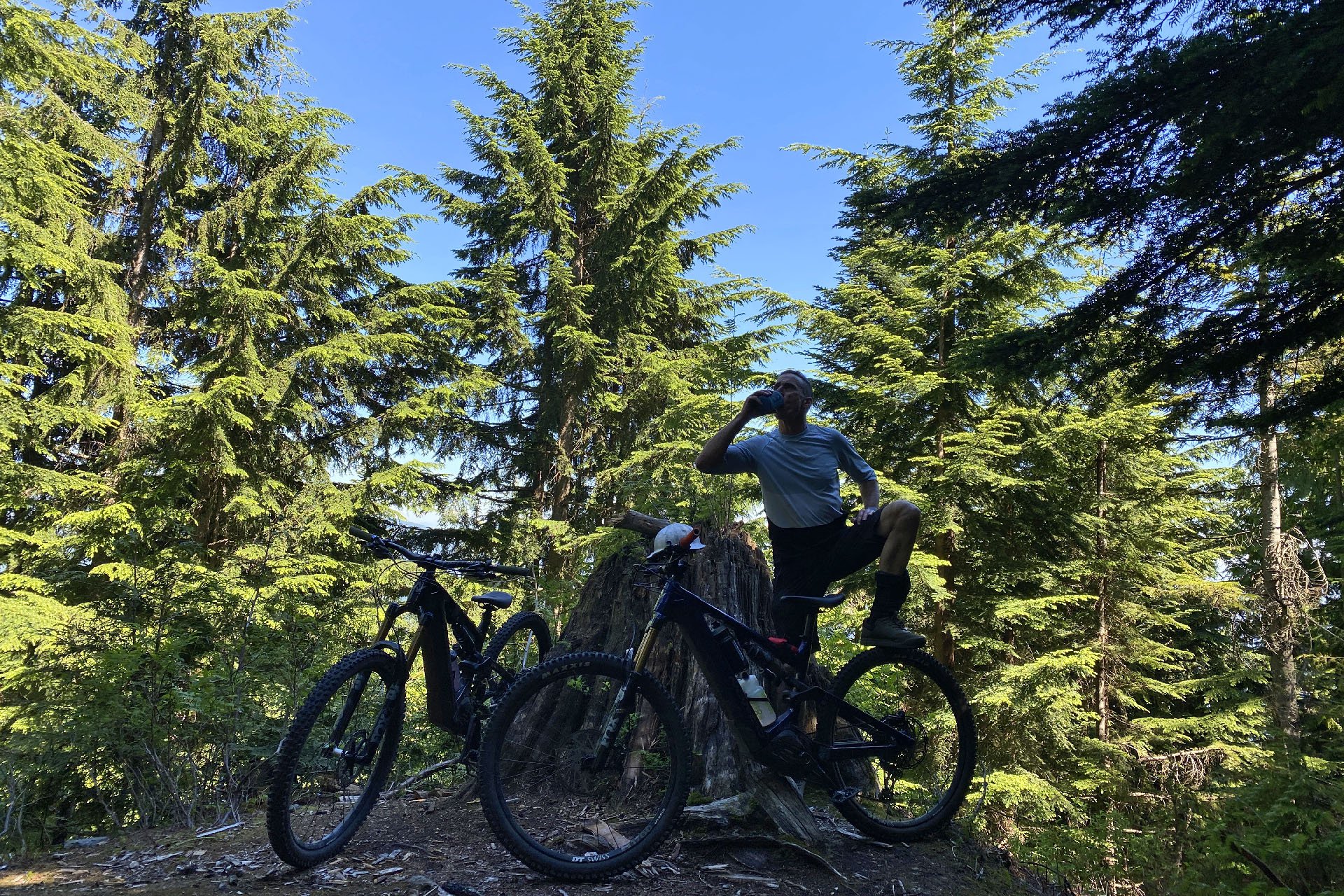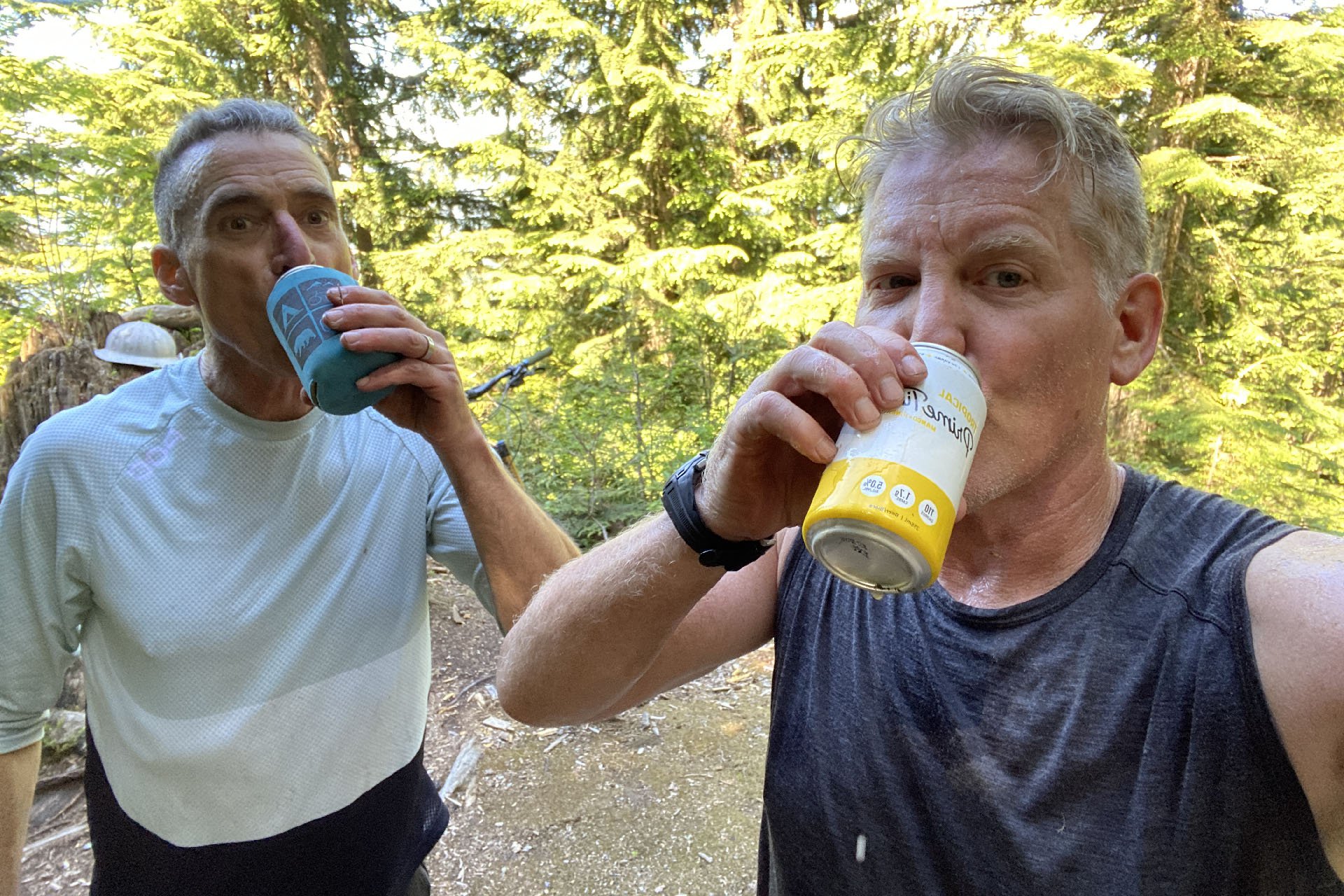 In the end we were foiled by a battery that didn't charge (user error - it was likely unplugged by a member of my family) so we had to abort after only 2/3 of our adventure. We managed 1873 metres of climbing (6145') and 41 km of distance (25.5 miles) in 4:25, stopping for a beer at the bottom and top of each mountain. Unfortunately beer number 5 was the last of the ride,* but we had another to drown our sorrows when we eventually got a lift back to our cars that were parked near Horseshoe Bay.
*Note - this was over 5 hrs of time and our efforts burned off much of the alcohol. And don't try this at home. It's dangerous and a bad idea. And we didn't even actually have any beer. I just wrote that for no reason.
Ride Characteristics
Modular batteries won't make a lame dog run, so let's not get ahead of ourselves. If you've been paying attention you may have noticed that Norco has turned a corner in recent years and begun producing some high performing bikes that are often ahead of the curve in terms of geometry and suspension design. Beyond that, Norco has become an industry leader in terms of building frames that better fit riders by changing the rear centre for each size. Unfortunately that attention to detail hasn't crossed over here and each size has the same rear centre. Overall though the attention to suspension kinematics, tuning, and geometry shine through and the Sight is a bike that handles extremely well in every situation I've put it in. I have been comfortable on every trail I generally ride my pedal bike on, and in some cases I've been more comfortable. More on that. later, but the idea that eMTBs can't handle some terrain that a motor-less bike does well on seems to be moving further into obscurity. For obvious reasons, descending on the Sight VLT is more physically demanding and tiring in some situations, particularly in dynamic circumstances where the bike needs to get up and over obstacles or on long rough descents because of the extra weight you need to deal with during braking.
The rigid front end likes to be leaned on and while the Fox 36 does the job, I would have preferred the extra torsional rigidity of a Fox 38 or RockShox Zeb for a bike this capable and burly, but this is an 'e-rated' 36 and it felt fine. I'm just greedy. On my last pre-write up ride I wanted to re-verify my theory that the Sight is happy on technical trails, so I chose a couple of my favourites. I pedalled from home, (near where Lonsdale crosses the highway) up to the Fromme fireroad and climbed to Bookwus in 32 minutes. . Bookwus has a double black rating which likely refers to how frustrating it can be to new riders rather than the gnarl factor. I was pretty happy with how I rode it and the Sight was all over it. I dabbed once on my nemesis move, a blind and steep down ramp. I should try to launch it to flat next time. It was more work than it would have been on my Yeti, but I wouldn't have called it more difficult in most situations. Next up was Ladies Only, also rated with two diamonds, but a less difficult trail overall. I flowed the trail and took most of the optional moves and managed to ride clean. I had a little mechanical (more on that below) and got home in 66 minutes. This was a bonus ride that I wouldn't have had time for without the glorious wattage of the Sight VLT.
I finished with Lower Digger, a popular bermfest with a drop that is similar to the one on Schleyer in the Whistler Bike Park. After hitting the drop and carrying speed into the next berm I felt a shudder that led me to believe the rear wheel was loose. I tightened it a little but it seemed to already be well-torqued. As I began to ride again it was clear my shifting was off and the bike continued to feel loose. I stopped again and noticed the derailleur hanger, that doubles as the threaded receiver of the rear axle, had popped out of its seat along with the axle. I turned the bike upside down, removed the axle and slid the hanger (maybe a SRAM universal hanger?) back into place. I haven't had a chance to talk to Norco yet but I've never had this occur previously on any bike and the experience was unnerving.
MTB vs eMTB
I've made an effort to ride trails consecutively on my Yeti and the Sight VLT, to get a clearer sense of how the bikes perform in similar descending situations. I've noticed that I'm more inclined to get in the air off some features on the VLT than on my Yeti, and more comfortable once I get there. Chris Porter has spoken about the relationship between sprung and unsprung weight and how that impacts suspension performance. What I've gleaned from his musings is that while reducing unsprung weight is important, it's the ratio between sprung and unsprung weight that is truly vital for suspension performance. This bodes well for eMTBs considering the unsprung weight isn't dramatically different from a conventional bike, while the sprung weight is significantly heavier. My impression is that this weight. allows your bike to overcome stiction and get into the travel more easily. There's a move on a trail on Cypress Bowl that's relatively new and I did it for the first time on the Sight. It starts with a rock roll down to a short shelf which is followed by another roll, this time on dirt. Some fine trail builder has made an air over a stump on the second part of the roll and I hit it easily and confidently on the Sight. When I returned on my Yeti I didn't have the mojo the first time I was there and the second time I did it but almost shat myself because I got squirrely in the air before the steep landing. There are certainly situations where the Yeti is more nimble and effective but the gap is closing as I get better on eMTBs.
Component Spec/Motor
This is a well appointed machine and I've been pleased with all of the critical components. Fork, shock, wheels, and brakes all work exceptionally well. Norco's attention to detail is evident from the choice of a 220mm rotor up front and a 200mm rear to give the SRAM Code RSC brakes something to bite into, as well as the Double Down Maxxis rubber. I'm not sure how well the Dissector rear will do once things get mucky in the fall but so far it's been fine. I like DMR deathgrips but I prefer the firm compound version so I swapped them out. I'll be doing the same with the Deity bar which I have found much too stiff, to the point that my hands and wrists get sore quite quickly. Otherwise, from tires to post and saddle, I'm very happy with the choices Norco made for the Sight VLT C1. I really like Shimano's EP8 motor as well. It's quiet, powerful and incredibly seamless in use. The one proviso I have is that this is the second EP8 I've ridden that has a rattle while descending. The speculation the previous time, riding the Santa Cruz Bullit I believe, was that it was the freewheel inside the motor causing the sound, but this was never confirmed.
Features
CARBON MAINFRAME AND SEATSTAY, ALLOY CHAINSTAY, 150MM TRAVEL, RIDE ALIGNED
SRAM GX/XO1 EAGLE DRIVETRAIN AND CODE RSC 4-PISTON BRAKES
FOX FACTORY FLOAT 36 GRIP 2, HSC LSC HSR LSR, 160MM TRAVEL E-RATED FORK
ONEUP ADJUSTABLE DROPPER POST 34.9MM WITH SIZE-SPECIFIC DROP
FOX FACTORY FLOAT X2 SHOCK WITH CUSTOM TUNE
29" WHEELS
Final Thoughts (for now)
I'm not sure I'd spring for a carbon frame if I was going to throw down for an eMTB, particularly at an entry price of 8400 CAD without a battery for the C2. I'd gladly trade a couple of pounds for a couple of grand when I've got a motor helping me up the hill. That said, I have really been enjoying this bike. I've got more knob twisting to do and I'm hopeful we'll get to the quick swap stage with batteries, but for now I'm going to keep sneaking out for quick rips and adding laps to big rides. And then there's that cheaters triple crown...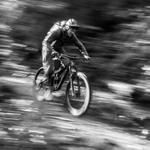 Cam McRae
Height - 6'/183cm (mostly legs)
Weight - 170lbs/77kg
Inseam - 34"/86cm
Ape Index - 0.986
Age - 56
Trail I've been stoked on lately - Boogieman
Bar Width - 760mm
Preferred Reach - 485-500mm (longer with 27.5 wheels than 29)