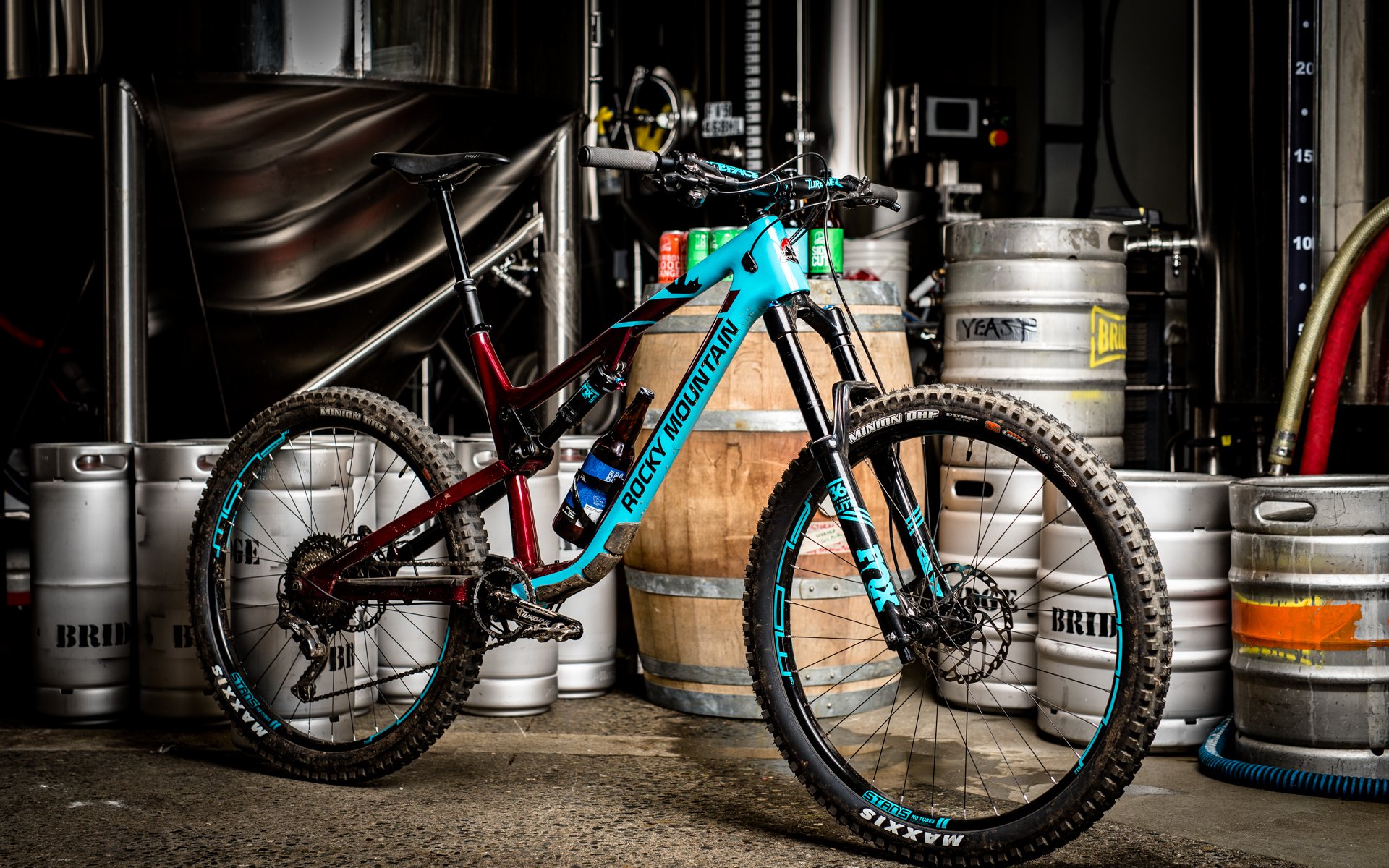 FIRST LOOK
2018 Rocky Mountain Altitude Carbon 70
For several years, the Altitude stood alone at the top of their heap as the longest travel trail bike in Rocky Mountain's lineup. The Slayer was on sabbatical for a little while, so if you wanted an aggressive Rocky, you ran the 150mm platform, whether you raced Enduro or Fro-rode on trails. Despite the success of the Enduro race team - and they have been very successful - there was room for growth, especially for the company that invented freeride, (and never thought there was a need to trademark it, but someone else sure did).
The Slayer came back in late 2016, paving the way for the Altitude to settle back into its status as a litmus test for the Trail Bike category. The new version is no exception, with one exception: it has bucked the recent trend of bikes that allow you to run them either in 29er or in 27 plus format. Rocky splits the difference somewhat by outfitting every one of the new carbon and alloy models with 27.5 x 2.5" Wide Trail tires and wide rims. The 2017 Trek Remedy is another 150mm Trail bike that now comes only in 27.5. Unlike the Remedy, the 2018 Altitude is also compatible with 26 Plus. We haven't seen a whole lot of wheels and tires in the short 'n thick size yet, but if you're in the mood, the Altitude will dim the lights and drop the needle for you.
Key Design Notes
Wheel size and platform philosophy aside, the new Altitude is an all new frame design with some cues from the new Slayer. It retains Rocky's clever Ride-9 geometry and suspension tuning system, but it has moved to the link mount to make it lighter and narrower. It also gets the distinctive blind pivots on the chainstays that improve heel clearance and look incredibly clean. Also significant: the switch to bearings at all pivot points, which we'll be seeing on all Rockys in the future.
The Altitude was designed to be stiffer than its predecessor, with extra anti-squat, better small bump compliance, and with some nice-to-haves like seat tube lengths designed to accommodate long dropper posts and extra standover. A few more: Boost hub spacing, Metric shock sizing, 1x only, and the aforementioned Wide Trail tire compatibility. Lastly, geometry has been LSL'd (Longer, Slacker, Lower).
Technical Details
Here is a complete list of the technical details for the 2018 Rocky Mountain Altitude.
Increased anti-squat for better pedaling efficiency

27.5" Wide Trail and 26+ compatible
Bearings at all pivots, including at lower shock mount (compatible with aftermarket shocks as well)
Blind pivots maximize heel clearance
Lighter, tooled rear axle
Improved cable management: large headtube ports, full shift housing, large downtube access port, and internal shift and brake housing within the front triangle.
Future-proofed to be compatible with Di2, Fox Live, and a dropper post simultaneously
Seat-tube lengths have been adjusted to accommodate longer dropper posts at maximum insertion
Chainstay and downtube protectors
Integrated "Spirit Guide" chainguide, with 2-bolt ISCG05
1x only
Lower standover height
Significantly stiffer thanks to one-piece seat stay, new envelope, and updated layup (Rocky claims 25% more lateral stiffness)
Modern parts compatibility (boost spacing, metric shock lengths, post-mount 180mm brakes, etc.)
All sizes fit a water bottle in front triangle, even with a reservoir shock
Sizes: XS-XL
Weight:

Frame & shock: 5.45lb (2470g), size Medium
Protectors, chainguide, & axle: 0.57lb (260g)
Altitude Carbon 90 & Carbon 70 complete: 28.4lb (12.88kg), size Medium
Pricing
Altitude Carbon 90: $6999 USD, $8699 CAD
Altitude Carbon Frameset: $2749 USD, $3499 CAD
Altitude Carbon 70: $5299 USD, $6499 CAD
Altitude Carbon 50: $4099 USD, $4999 CAD
Altitude Alloy 70: $3999 USD, $4999 CAD
Altitude Alloy 50: $3199 USD, $3999 CAD
Altitude Alloy 30: $2899 USD, $3699 CAD
After a few rides on the Altitude, no surprises - and I didn't expect any. The added reach means a Large finally fits me, with a respectable front center of 452mm, there's plenty of room up front without making it feel like a stretched-out race-hungry bike. This is still a trail bike with a trail bike's playfulness, but it's also stiff and stable with a predictable temperament. This is just a First Look so I won't dive into riding impressions too much, but the pedaling position and performance of the Altitude so far are checking out very nicely, and I haven't yet nosed into a steep section or thrown it around a berm that didn't feel great. I have yet to do too much suspension or Ride-9 tweaking, and that combined with more rides for familiarity will add a lot more ride impressions to the pending review. Until then, enjoy some more of Dave Smith's tasty photos, shot on location at one of North Van's favourite brewers and post-ride watering holes: Bridge Brewing Co.