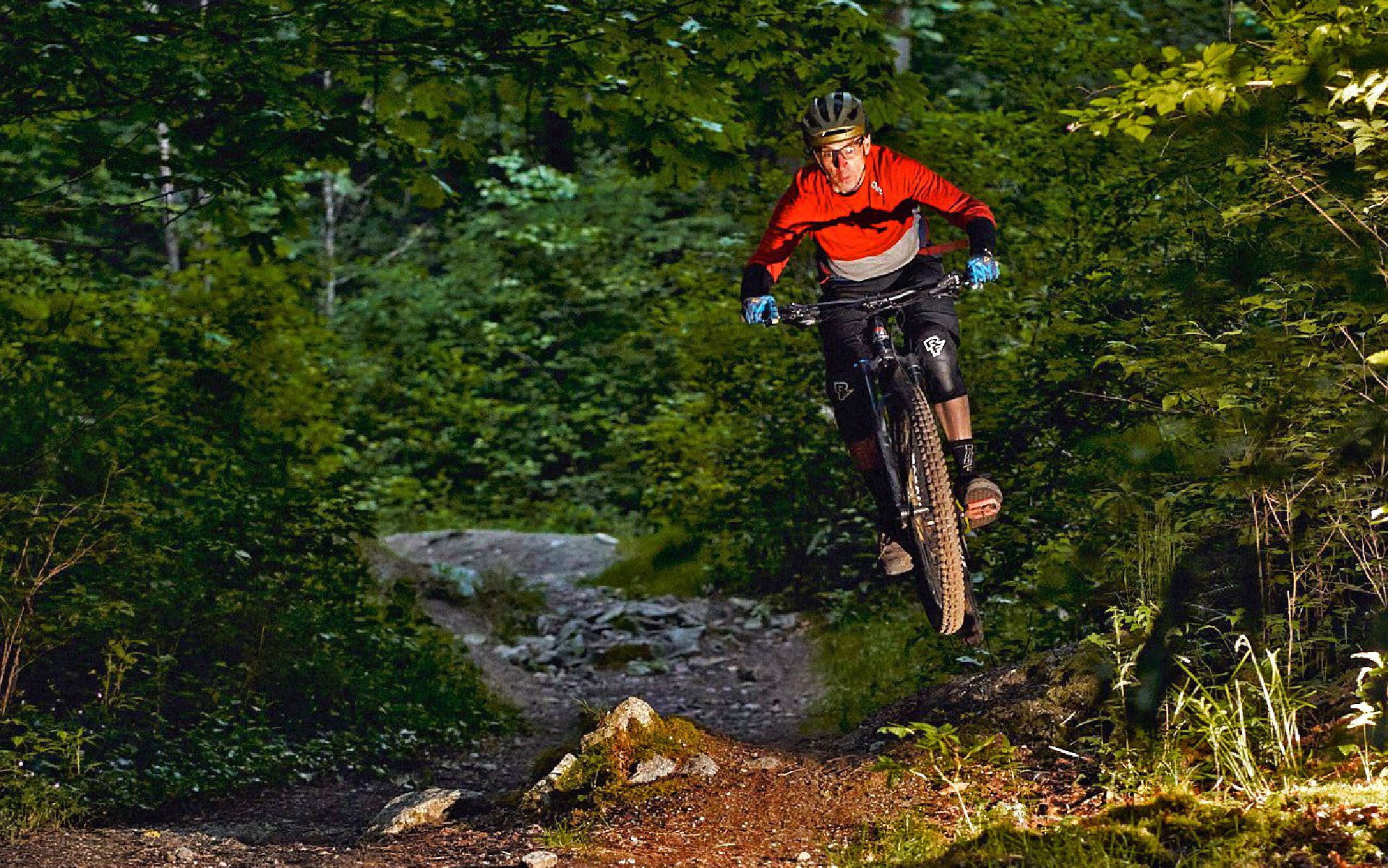 Sort of a Review
2020 Rocky Mountain Instinct Powerplay Alloy 70 B.C. Edition
I'm going to start with a little insight into where I'm coming from when I write about e-bikes. There are riders who are hooked when they first ride a mountain bike with an electric motor. Some of these riders sell their mountain bikes and never again ride without an electric boost. I'm not judging these people, but I am not in that category.
I love mountain bikes. I don't love e-bikes. I enjoy riding eMTBs because of what they offer; more speed climbing and more range, and sometimes rides that take less time so I can shoe-horn one in as a bonus. I am a mountain biker who sometimes likes to ride an eMTB, but mostly I prefer riding under my own meagre power. I reject the prediction I've seen in some other publications that eMTBs are going to make mountain bikes obsolete. I'll be turning the pedals with my own power for as long as I'm able, but I may continue to occasionally ride an electric bike off road.
If you don't like eMTBs, I'm fine with that. I only like them sheepishly anyway.
That means I'm not going to dig deep into the subtleties of drive systems, torque ratings, and battery output. If that's what you're looking for, you've come to the wrong place. If you are a mountain biker who is e-curious or someone who already has an eMTB, and is considering a different model, you'll get a mountain biker's perspective on the eMTBs I try out for a month or two, rather than a geekfest with lots of statistics and comparisons with other electric mountain bikes.
Component Spec.
The Instinct Powerplay B.C. is a lot of bike. With 160mm of travel up front and 150 in the rear, it's built for rough play, and is well-equipped for the task. Mostly. It has Maxxis Double Down tires front and rear, but the choice of an Aggressor out back was disappointing. Despite the name, it lacks the aggressive knobs found on the DHR II, DHF or Assegai, and it was easily overwhelmed when things were moist on the climbs or loose and steep on the way down. It was however nice and efficient on the road on the way to the trail. The DHF up front was just fine.
I'm not sure if it's the low-slung weight, the added mass overall, or the ability to mostly disregard climbing performance, but I find e-bike suspension very easy to set up so it performs well. The eMTB-specific Fox 36Float EVOL Grip Performance sat up admirably in its travel and responded well to bumps of all sizes and was happy to slam into the bottom of rock faces with poor transitions. I was similarly impressed with the DPX2, which I expected to be somewhat overwhelmed by forces it was exposed to by the added weight and speed of an eMTB. I expected to be wishing for an X2 but that wasn't the case.
---
Otherwise the spec. is suitably tailored for a bike aimed at getting rowdy. This was the first eMTB I'd ridden with a Shimano drivetrain, and it's an excellent choice. The smooth-shifting Shimano 8100 drive components are well-suited to the forces an electric motor generates. Absent were the usual clunks and crunches I've experienced in the past, particularly when shifting up the cassette under load.
Similarly the XT 8120 brakes, with 203mm rotors front and rear, reined things in consistently and powerfully. I've occasionally lost the reins riding other eMTBs because of the added weight, but that wasn't a problem with the Instinct B.C. Otherwise the Race Face AR 30 rims, paired with Rocky branded hub up front and a DT Swiss 370 in the rear, worked admirably. I had occasional and undiagnosed troubles with the Race Face Turbine dropper not reaching full height, despite the seat bolt being properly clamped.
Instinct Powerplay B.C. Features
Wheels: 29"
Travel: 160mm front, 155 rear
Drive: Dyname 3.0 Class 1 eMTB Drive | 250w | 108Nm
Battery: 672 Wh Fully Integrated Li-Ion | 48V FAST Charger | 80% Charge in 2:10 | 100% Charge in 3:50
Frame: FORM Alloy. Full Sealed Cartridge Bearings. Press Fit BB. Internal Cable Routing. 2-Bolt ISCG05 Tabs.
The Drive System
Rocky Mountain could have made the easy decision and used one of the two most popular e-bike drive systems on the market, Bosch or Shimano. Instead Rocky partnered with Propulsion Power Cycle, a Québec-based company * that developed the Dyname 3.0 Propulsion System found on the Instinct Powerplay. And Rocky will tell you it has some advantages over other systems. One big one is torque. The Dyname is said to provide 105 Nm of torque while Shimano's popular E8000 motor is rated at 70 Nm while the new Shimano EP 8 delivers 85 Nm as does the Bosch Performance CX.** And the Dyname does indeed pull well. Like most drives, the Dyname performs best at high RPMs. It's also more efficient at higher cadence, but it's able to handle situations where you get stuck in the wrong gear or are surprised by steep up, better than some others I've ridden.
*Rocky's parent company is based in Saint-Georges Québec
**It turns out I might geek out a little
The Instinct was particularly at home on steep singletrack climbs. I spent a day chasing Wade Simmons and Andreas Hestler where they found the steepest lines they could and crawled their way up. It was one of the most beastly days I've had on the bike in years and I was a wreck by the time we got to the top for the last time. The bike performed admirably but my eMTB climbing chops are nowhere near those two legends. I did make it up some pitches I didn't expect to and this is truly a strength of the Instinct Powerplay and its Dyname drive.
Another thing I noticed early on was the immediacy of the drive's response to my inputs. All class 1 eMTBs produce power proportional to what you generate with your legs, but the Dyname 3.0 seems to do this better than most. This is likely the result of the way the system measures your inputs and communicates that to the drive system to determine the output needed. This is done using a torque sensing arm attached to a pulled that presses against the chain and measures its tension. The harder you push, the more tension in the chain, which translates to higher output from the drive system. While it works very well, this system has some drawbacks I'll get to later.
Geometry
This Powerplay fits me very well, with a reach of 481mm and a 74.4º seat tube angle. Unfortunately I was riding an XL and I'm 6' tall without gangly arms or a long torso, which means if you are taller this bike may not be big enough for you. When a new model arrives the sizing will undoubtedly grow, but for now you should try before you buy. Otherwise the geo, while not groundbreaking, does a very good job of balancing all the elements. The 65.9º head angle isn't extreme but it handled great at speed and when things got steep, but the bike did well in the tight and twisties as well.
Instinct Powerplay B.C. Flaws
For me the biggest problem with this bike is the friction generated when the drive system isn't engaged, either because you've exceeded the maximum speed for Class 1 ebikes or because your battery is spent. On top of the torque sensing arm there is an idler pulley and a chainguide that keep the chain under tension as well as the drive pinion, meaning once you're battery is spent it's going to feel like you're pedalling through quicksand. The other systems I've ridden from Bosch and Shimano produce much less resistance when the motor is off.
In terms of noise, this version of the Dyname drive is said to be much quieter than previous iterations, and it doesn't make as whine as much as other systems, likely because it runs at much lower RPMs. You do however hear significant chain noise because of the idler pulleys and the torque arm. I didn't find the sound obtrusive or worse than the sound coming from Bosch or Shimano systems but I thought it was worth noting.
Most eMTBs you'll see have a display that shows you vital information like how much battery you have left, how long you'll have at your current speed and effort until it's dead, and how many KOM's you've knocked off, etc. This bike instead has an Android or iPhone app that provides all of that information, which is great if you are interested in mounting your $1000 telecommunications device on your handlebar, which probably works okay if you're a roadie. You can check your phone if you are solo or out on a mellow ride, but if you're chasing your buddies it's somewhat less convenient.
And finally that Aggressor tire, which was anything but.
As a result, battery life and boost level are indicated by the same coloured LED light on the controller. The light is white until you are below 75% remaining, green between 75% and 50%, yellow between 50% and 25%, red below 25%, blinking red below 10% and fast blinking red below 5%. On two rides my indicator went yellow seemingly ahead of schedule, but then lasted for the rest of both rides after I rationed my power some. Having a visual and numerical indication of the battery level that you can look at whenever you like is vastly preferable in my books.
I searched high and low for a water bottle and cage combo that would fit the XL frame I was riding. I finally sort of managed it with a cheap bottle with a small cap my son was given at a basketball camp. While it fit, there was no room between the bottle and shock. None of the other Powerplay riders I rode with had a bottle, so I ended up giving my combo to Andreas Hestler of Rocky when I gave the bike back. YT uses a custom Fidlock bottle for their eMTBs and while it only holds 600 ml of water, that's about as much as my shitty bottle held.
The Ride/Overall
I really enjoyed riding the RMB IPPBC. It rode much later than its 55lb weight would suggest* (leading me to believe there isn't a huge advantage to laying down for a carbon-framed eMTB if you plan to use it mainly with battery power) and it did all the things I wanted it to. It was particularly handy climbing what I imagined were unclimbable sections of single track, but that doesn't take anything away from its downhill prowess. In fact it was happy as hell to stamp through rooty bits and over all kinds of trail chunder and the bike liked to be ridden with some anger and attitude.
*proper Double Down Maxxis rubber is responsible for a good portion of this heft
While there is much to like about this bike, I think the elements I perceived as flaws might push me to look elsewhere if I was in the market for an eMTB. This model is also available in 27.5 wheels for those who appreciated a more spritely feel.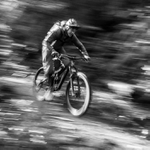 Cam McRae
Height - 6'/183cm (mostly legs)
Weight - 170lbs/77kg
Inseam - 33"/84cm
Ape Index - 0.986
Age - 57
Trail I've been stoked on lately - Lower Digger
Bar Width - 760mm
Preferred Reach - 485-500mm (longer with 27.5 wheels than 29)