2bliss Rim Strips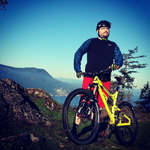 Posts: 9198
Joined: Nov. 19, 2002
Posted by: thaaad

This is my favorite part about the Velocity plugs
BWAHAHAHAHAHA...WTF!
Posts: 1241
Joined: Sept. 30, 2006
They never claimed to be for tubeless application.  Spoke holes probably vary so much from rim to rim manufacturer that there is no way they could guarantee a air tight seal with these plugs. They are a replacement for rim tape (note how they say 'cloth' in their description) for us heathens who still use tubes.