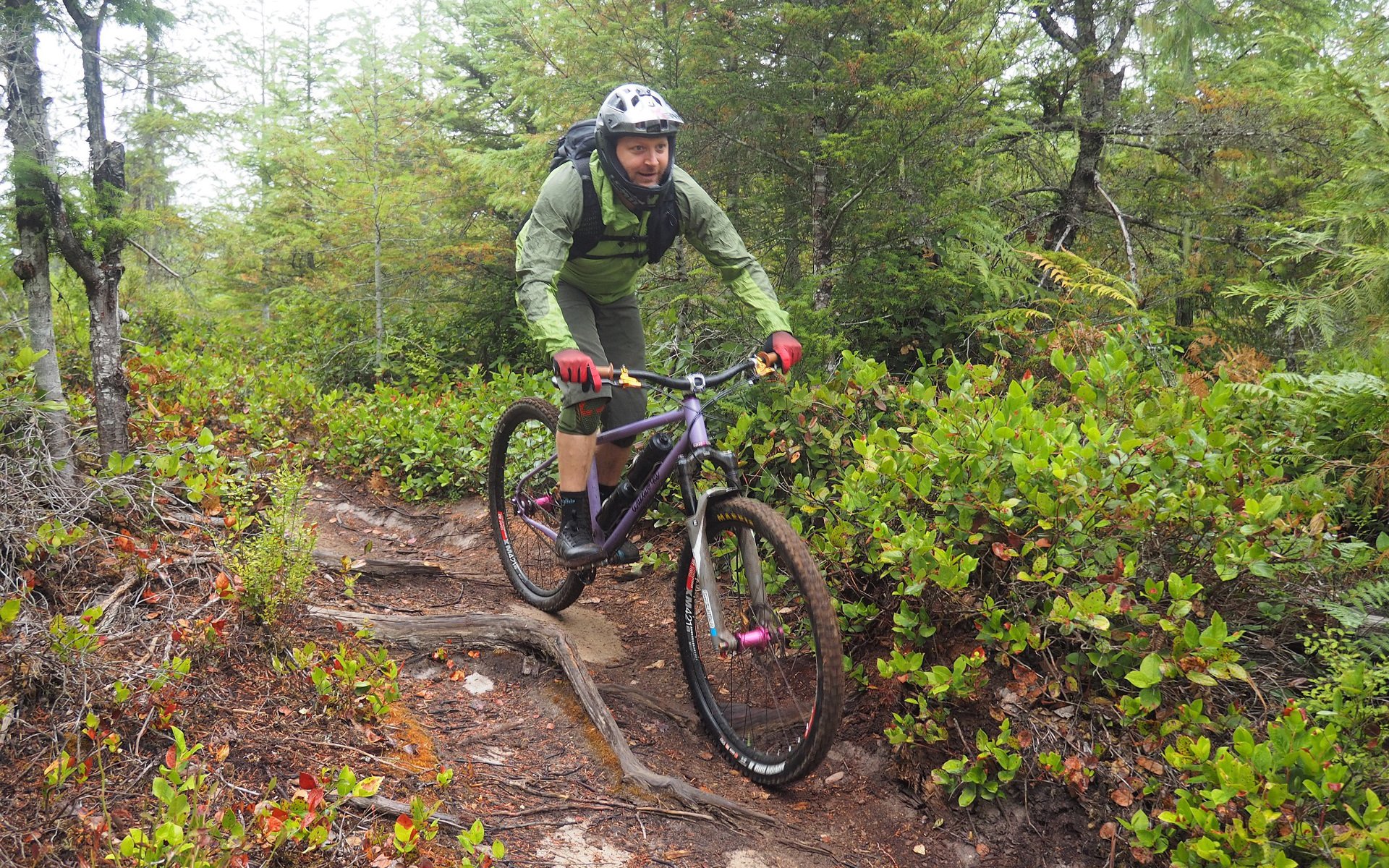 REVIEW
Rivals & Collaborators: The Race Face Conspiracy Jersey v. Stash Jacket
Emotional Support Jackets
I've tried every combination of packing for rides. Different kits for long rides and short rides, bike-based tools and a little fanny pack for all rides, just taking a pack anytime I leave the house to pedal, small frame bags etc. At times I carry a bunch of 'sometimes tools' and at times I only carry tools I'm likely to need. Extra gloves? Yes. Extra socks? Maybe.
But one constant in my kit for the last couple of years, even for the shortest warm summer rides, is an emotional support jacket. I've continued to lend my ESJ out to less prepared riders and it's always nice to have for that post-ride coffee or beer, enjoyed outside in any weather. I generally find myself riding in my weatherproof vest over a merino layer is perfect for most situations where I'm moving, and when I guess wrong the ESJ becomes my mid-layer. When I'm going slower and the rain gets colder I'll still reach for a real rain shell but it has been a great surprise how comfortable I've been for any weather conditions on the fairer side of a deluge.
For the past many months I've been going back and forth between two very different ESJ options. Both are from Race Face. One is a traditional emotional support jacket, a very light, 143-gram, 165 USD just-in-case shell. The other is a mega-stretchy, 210-gram, 100 USD, weather-resistant cycling jersey. An emotional support jersey if you will.
I've also done a number of shorter, non-stop solo rides, warmer rainy rides, and 'it-may-rain' rides wearing the Conspiracy jersey and supporting it with the Stash jacket in my pack. More than once I've misjudged how much some heavy precipitation cools everything down and ended up wearing both of them.
When I first set out to put together this review, I was thinking of these as competing pieces but as not that I have more miles into them I've been begun seeing them as a system. Mix in a simple Conspiracy jacket for those proper deluge days, and nights, and my outerwear options are dialed year-round. Already owning an ESJ that I really like, and a Conspiracy jacket, I could still see myself purchasing a Conspiracy jersey.
As standalone pieces, or as a system, here are some Race Face outer layers to consider as we enter the fall. The best part of the local riding season.
The Stash Jacket
The cut is absolutely key in a garment with limited stretch and the Stash is a winner in that regard. The large is slightly big for me, but a medium would be too tight for executing body English on the trail. It layers well over whatever I'm wearing, which for me is key for a sometimes jacket. I've even pulled it on over a soaking wet combination of a vest and hoody just to act as a windbreaker on my road ride home.
The hood fits over my helmets, which is a must for me in an ESJ. In a pinch, there's nothing that gets me through a colder, wetter, more bitter bicycle experience like pulling a hood up. The fit is a bit tighter than I'd choose, considering the lack of stretch, but thanks to the elastic opening, the hood also stays in place very well, even riding into the wind.
The cuffs of the arms are elasticized as well, which I'll always take over my enemy; Velcro. This creates a seal to trap some body heat when I need it, which is most anytime the Stash is coming out of my pack.
As 143-grams the Stash is 34-grams heavier than my Pearl Izumi Summit Shell, which is my measuring stick for ESJs. The difference comes down to an extra zipper, for the chest pocket, and the Gripper strap that lives in said pocket and is meant to attach the Stash jacket to my bike frame. Actually, for the extra weight, the Stash material feels more robust as well though I haven't damaged either jacket to date.
The Stash stuffs easily into its own chest pocket but I don't love doing up said pocket between the diminutive zipper and fairly inflexible material. So, I leave the zipper open and use the Gripper strap to keep everything bundled tight together and only close the chest pocket to contain the strap when I'm wearing the jacket.
I can't picture myself ever using the Gripper strap to attach the jacket to my bike and initially was going to suggest that it's a superfluous feature that Race Face could ditch, along with the chest pocket, to cut some weight and complexity. However, since I first had that though I've counted dozens of riders on the trail with lightweight shells attached to their bikes one way or another, so I had to walk back that thinking. The fact that the Gripper is a component of the Stash means one less thing to think about when packing for a ride.
If I could change one small thing the jacket would be a pullover rather than a full zip. I mentioned it to a couple of regular riding friends on the emotional support jacket program and they fully disagreed for a couple of reasons including ease of installation and removal and also heat management and maybe that's how the majority of folks feel? Personally, I use it like a 1/3 zip pullover anyways so maybe the way it reflects the most universally saleable option.
The Stash jacket is also available in black, but I think the pea-green is a solid winner, and I could see Race Face making more colours available in the future. Value, as with any ESJ, is a tricky thing to calculate especially considering that this is a true sometimes layer. With a price tag of 165 USD | 215 CAD if it goes unused in a pack or on a frame, the peace of mind alone may not make for a great investment. But, if it saves your ass, or even stops your friends' whining when you loan it out, I think it will pay for itself tout de suite.
Most folks I know who ride with some sort of ESJ tell stories about it coming into play but can't remember what they paid for it, so I think that backs up the product category pretty well.
The Conspiracy Jersey
The Conspiracy jersey was not love at first feel. It's a bit, slippery and cold to the touch. It's not like any jersey I've worn or like any hardshell jacket either. If I had to come up with a comparison I'd say it's akin to a softshell material. A much thinner Giro Chrono maybe. It's not something I would wear right against my skin. I generally wear it over a short-sleeved, very thin, merino wool baselayer and that's perfect.
At first, I found the Conspiracy a bit confusing. It has the same C6 DWR coating as the Stash jacket but for whatever reason, it is remarkably more weather resistant while not being a rain shell by any means. Race Face bills it as a summer rain layer, "the perfect companion for rides on warmer days that have light rain in the forecast." On those days I just wear a merino shirt and have the Stash in my pack in case of a mechanical popping up or if I grab a coffee après.
It's fantastic for an 60 to 90 minutes of of non-stop riding on days when a true rain-shell is too hot for us diesel engines who'd prefer not to ride around in sopping wet clothing. Even when the Conspiracy is fully wetted out it does an okay job of blocking the wind and it never gets super heavy.
The jersey also looks great, or at least so I've been told. I'm certain no matter how many colours Race Face offered, black would be the number one seller, but I'd choose something brighter if the option existed. The pea-green of the Stash or maybe dijon-yellow.
If I was the boss, I'd only make one change to the 100 USD | 130 CAD Conspiracy jersey and that would be to add a hood. Or maybe Race Face could just add a hoody version? Either way, a hood that fits over my helmet would really take this piece to the next level for me. Also, I'd add a little internal stuff pouch to make the Conspiracy self-contained for improved packability.
The Stashpiracy Jersket
There was many a day wearing the Conspiracy jersey or Stash jacket that I would daydream about my personal perfect combination of the two. A real hodge-podge 'The Homer' level effort to such a point that when you clicked the link on Race Face's website La Cucaracha would play. First off, to hell with zippers and velcro.
I'd take the wonderfully stretchy Conspiracy Jersey and add an inside stuff pocket so the thing would be self-contained in my pack. Then I'd stitch on the lightweight hood from the Stash jacket. And while I was hybridizing anyways, Stash sleeves or panels of the material from the Stash jacket for the areas of the sleeves and torso that require less material could certainly cut some weight.
Then I started thinking about my preference for weatherproof vests, and even my weatherproof vest over the Conspiracy jersey as a substitute for a proper rain jacket, and I think I may be on to something with a three-way hybrid. Take the weatherproof shoulders, chest, and back of my Conspiracy jacket including the gilled armpits, then add the super-stretchy weather-resistant arms and torso of the Conspiracy jersey, sans zippers. Then tag on the super-light hood from the Stash jacket and add a stuff pocket.
Yes, I would probably just end up cutting the arms off and making a Stashpiracy vest instead. But I still think I'm on to something.
Crazy ideas aside, if you don't already have an emotional support jacket in your backpack, fanny pack, or strapped to your frame, the Stash is a great option. There are others as well and most of these super-light shells have similar features so I'd recommend finding the one that fits in a colour you can live with for a long time. In my experience these sometimes jackets have a lot of staying power. I've talked to a few people who have the Stash - the Grabber makes it pretty obvious when it's frame-mounted - and the reasons for the choice were fit and availability.
The Conspiracy jersey is a very interesting piece. I think it's a hood and a stuff pocket away from being a true ESJ, and it won't layer on top of whatever else I'm wearing like the Stash, but on rides where I'm wearing a simple jersey, it is always my choice for the extra layer. I haven't talked to any other folks who have tried the Conspiracy jersey, so I'm prepared to be told otherwise, but here on the relatively mild 'Wet Coast' I think it's a piece that anyone going out for a continuous-rip will love.
For more information on the 165 USD | 215 CAD Race Face Stash Jacket.
For more information on the 100 USD | 130 CAD Race Face Conspiracy Jersey