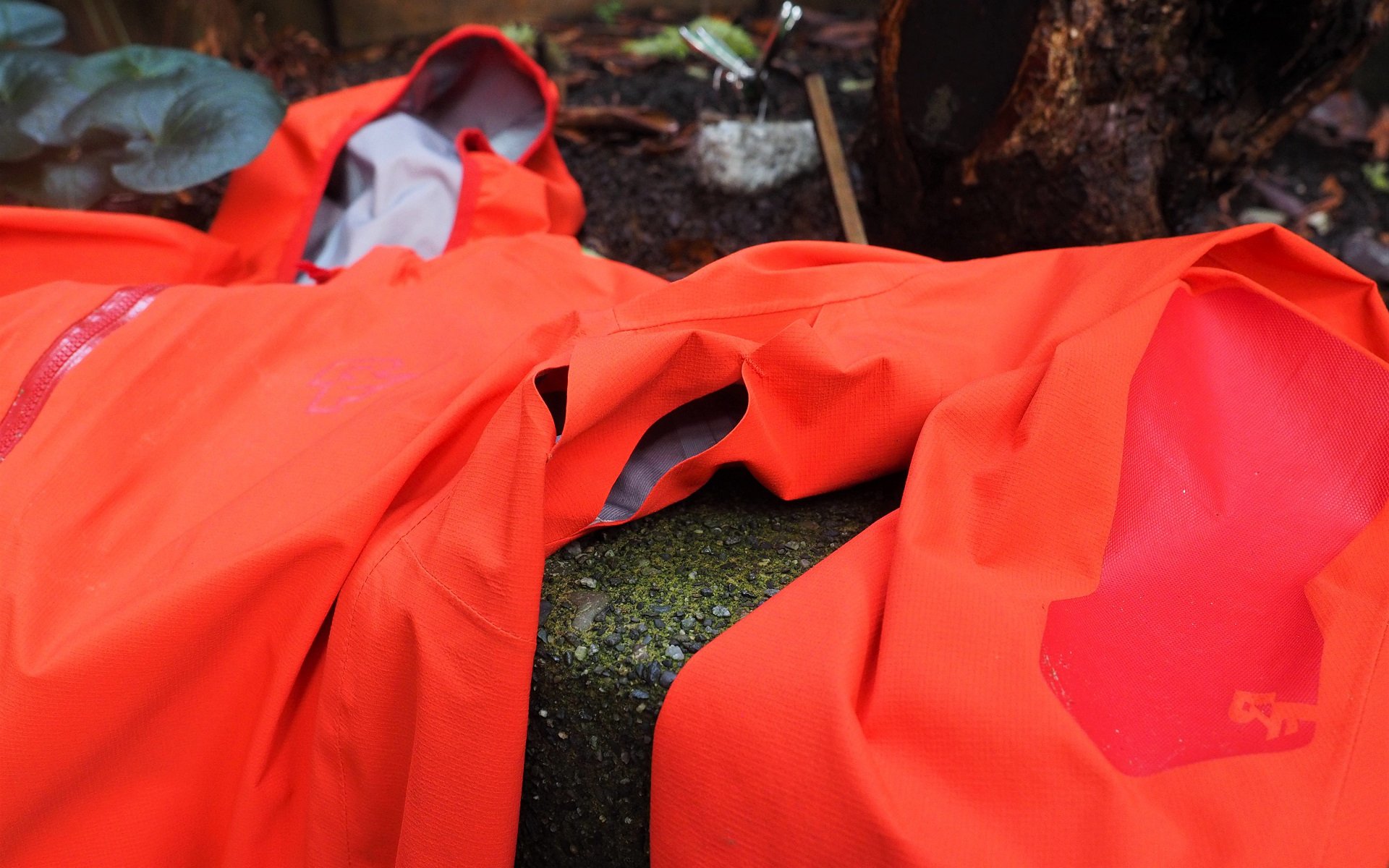 Waterproof Jacket Review
Race Face's Simple Conspiracy Jacket
K.I.S.S
Once I leave the rarefied Gore-Tex Active atmosphere of 7Mesh and Arcteryx or the preferred permeability of my first-gen Mission Workshop jacket, it gets a lot harder to say positive things about rainwear. Some may claim it's a matter of not being into chewing chuck after tasting tenderloin, but as a counterpoint, I can appreciate a Deore clutch derailleur after riding XTR.
Often with less expensive rain gear, the delicate dance of breathability, weatherproofing, flexibility, and durability becomes more mosh pit than tango. This makes for severe saturation inside my coat when it's warm and rainy. That said, newer generic 3-ply, seam sealed, waterproof options like the 200 USD Race Face Conspiracy is constructed from are getting pretty impressive, especially once pricing is taken into consideration.
Having purchased in quantity from overseas factories I can fully appreciate the biggest mistake I think most jacket designers make. It costs relatively little to add features so they stack jackets full of adjustors, velcro* tabs, and zippers in order to justify the price. I love BOA adjusters on my shoes and helmets but that doesn't mean I need one on my hood.
With this new jacket, Race Face conspires against that norm by delivering an impressively breathable, especially stretchy, waterproof product with a grand total of two zippers and zero velcro. The two zippers are the main full-front zip and one internal chest pocket that's perfect for a couple of cards.
*I HATE velcro on cycling clothes
In the absence of an adjustable hood, arm cuffs, waist, and venting, Race Face has used a truly stretchy waterproof fabric and combined it with elasticized cuffs and waist. The hood fits better over a range of lids than any other I've used - including all the adjustable ones - and forgoes the weight, complexity, and cost of being removable. I use it often enough that I'm not in the camp of people who'd rather the Conspiracy came without one.
I wish all jackets had the gilled underarm venting that Race Face is using. On the one hand armpit zips are a common failure point and on the other hand I wonder how much more breathable even a Gore Active shell could be with an exhaust system.
Steal This Feature
Speaking of features worth stealing, I hope every outerwear company starts rubberizing their elbows the way Race Face has with the Conspiracy. If any jacket makers are listening - R&D* the sh*t out of this feature!
It's not that big a deal to seal up a torn elbow with some Tenacious tape and a bit of Freesole but no one loves tearing open the elbows of their new waterproof-breathable the first time they crash. The only thing that I don't love about the rubberized elbow overlays is that Race Face didn't do the same thing on the knees of the Agent pants.
*Ripoff and Duplicate
Even with the lack of zippers, the Conspiracy isn't a notably light or packable jacket. I have no problem stuffing it into the outer pocket of my Airborne-9 but for the pack-less I don't think it's going to tuck nicely into a bum-bag or jersey pocket.
The nylon face fabric, while being very flexible, has been chosen with an eye to survivability so combined with the rubberized elbows and a solid seam-taping job, reminiscent of the Agent pants I reviewed, I expect this to be a product that will last multiple seasons.
The Conspiracy
This jacket is an orangey-red when dry and then when water hits it darkens up to more closely match the reinforced elbows. The Conspiracy is also available in black. If I was the designer I'd forgo the two colourways (K.I.S.S.) in favour of black with reflective details and additional sizes. Race Face currently makes small, medium, large, XL, and XXL jackets and, as is often the case thanks to my Fatness goals, I'm smack in the middle of M & L in terms of fit.
I'd love to see that, one colour, size run stretched to small, medium, medium-large, large, large-tall, XL, XL-tall, and XXL. It's still fewer SKUs of Conspiracy than the Burnaby brand is currently producing.
If the outerwear team at Race Face wanted to strap on a red suit and long white beard for next year, a higher-end, middle-sized (M-L) Conspiracy LTD jacket made with Polartec Neo-Shell would definitely fulfill one of my Christmas wishes.

As it hangs now, for 200 USD I think the high-stretch factor, waterproofing, and breathability of the Conspiracy represents an excellent value. Race Face's published numbers for waterproof-membrane are 10,000mm; 15,000g/m2 but don't forget the gills when comparing it to other garments on paper.
It has great features without trying to justify its cost by being over-featured, and it's survived enough washes at this point that, as with the Agent Winter pants, I'm feeling very comfortable with the quality of the manufacturing. I think the rubberized elbow pads are a must-grab feature for other manufacturers and the hood volume is dialed.
In the market for a new outer layer and trying to split the difference between a garbage bag and four C-notes? The Conspiracy is worthy of consideration.
There's more information at your local Race Face dealer or on the website.