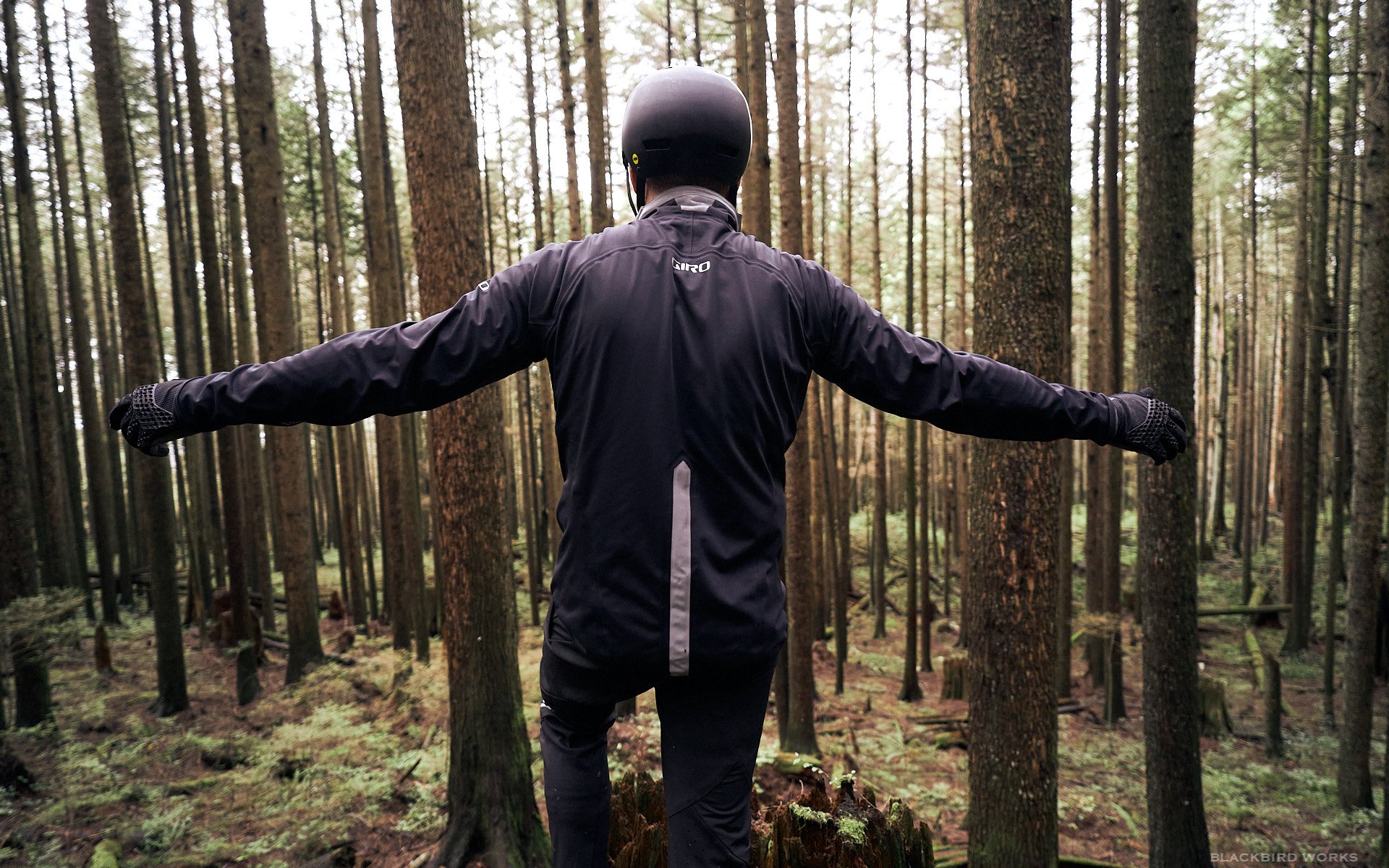 REVIEW
Giro Chrono Pro Neoshell Rain (& No-Rain) Jacket
4-Way Stretch
It's somewhere around 4°c and absolutely torrential, even under a heavy forest canopy. I slowly reach my right hand across my chest, grab a fistful of my left sleeve, and twist assertively. A surge of water bombs out and is visible through the sheet of rain all the way to the rock-armoured ground where it rebounds back with a notable sploosh. I repeat with my other arm, sploosh. My riding companion, aged six, looks over at me incredulously and says: "that rain jacket is not very good for rain is it?"
Argh! I've been sitting on my hands for weeks when it comes to writing this review of the Giro Chrono Pro Neoshell. You see, it's my favourite rain jacket of all time but if I can't defend it to a kid who's witnessed me wringing out the sleeves on more than one occasion how am I going to explain it to the critical collective of NSMB.com readers? The silent, 4-way flexibility! The general wearability! The Polartec Neoshell breathability! The tight roadie fit? Oh, wait a second...
I had two challenges in presenting this piece. Firstly, it's not the answer for the crowd that wants a jacket to be waterproof like GoreTex Pro, breathe like a fishnet tank top, and feel comfortable like an old hoody. There is no jacket that will satisfy that crowd. And for the record, this is also not it. It does a pretty good job of fending off wind and rain while at the same time being as comfortable, and breathable, as any softshell I've worn.
Second, the Chrono Pro Neoshell is only currently available in a fairly tight roadie cut and, as with fishnet tank tops, I'm the last person in the NSMB.com stable who needs to be photographed wearing a sausage casing - see Survival Of The Fattest. That's not to say the Chrono is uncomfortable. That's not to say I don't happily wear it all the time. It's just a bit on the tight side - in a size large - when my lunch muscle is in Deniz's camera sights.
In many locales, the Chrono has the potential to be your true two-in-one jacket. On the North Shore, for mountain biking, we only get so many days that are cold enough - but also dry enough - to warrant a proper softshell jacket for riding. On the road, that's a whole different matter and frankly, if you're sharing kit between road and mountain applications this is an easy, easy choice.
The Polartec NeoShell membrane is the most breathable I've used. As I've noted many times in past reviews of other garments, NeoShell is nowhere near as waterproof as GoreTex with the tradeoff being significantly increased breathability. Polartec claims it's the "world's most breathable waterproof fabric technology:"

For years the outerwear industry has prioritized excessively high waterproof ratings that sacrifice the breathable performance needed during physical activity. Neoshell® provides the strength and durability of a weather protective fabric, while still allowing dynamic air exchange and comfortable full range of motion.
""
I really like the term 'weather protective.' The 7Mesh Guardian is, for example, much closer to being truly weatherproof - while being fairly quiet and breathable at the same time - but as flexible as it is, it doesn't come close to the softshell feel of the Chrono. The Chrono Pro, on the other hand, is significantly less weatherproof on a long and relentlessly torrential ride in the rain. The sleeves get inundated fairly quickly, where the core seems to hold out much longer. That softshell feel is exactly what every brand should be going for, frankly. It's literally like wearing any nice softshell jacket in terms of that second-skin stretch and feel but adds the NeoShell membrane and seam taping to make for a weatherproof product.
Maybe the price of living in Hollywood North has massively skewed my sense of value, but 300 USD actually seems borderline reasonable for high-performance weatherproof-breathable outerwear. The fact that it's a unique piece only adds to the value in my mind.
It's 100 USD more than the Race Face Conspiracy jacket which I consider a value leader amongst rideable rainwear. My Conspiracy is absolutely sh*t-kicked but still totally rideable. The underarm gills make it quite pleasant for a jacket that's not manufactured from a high-end membrane. It's pleasantly stretchy. But, the Conspiracy - though I use it regularly due to where we live - is still a rain jacket in every sense. I take it off as soon as the droplets give way to just being atmosphere and I'd sooner just wear my GoreTex vest if it's only a risk of showers.
I think the Conspiracy hits the sweet spot in fit, flexibility, weatherproofing, breathability, wearability, and all without being so much money that crash-ability becomes a big concern. I've even been known to wear it trail building. But, it's still a put-it-on-when-it-rains jacket and that's where the Chrono Pro Neoshell eats its lunch for an extra c-note. Especially for the rider who doesn't have the storage capacity to strap the Conspiracy to their hip pack or backpack mid-ride when the taps turn off.
It will take a few years of hard use and regular washing to comment on the Chrono Pro jacket specifically, but one thing I have noticed with NeoShell jackets in the past - mine and friends - is the membrane itself will not last 'forever' the way a well-maintained GoreTex jacket will. No one said choosing a high-end weatherproof piece for mountain biking is easy! Personally, as someone who runs hot, the ability to just leave the jacket on and ride my bike adds enough value to the purchase that I can accept the jacket's membrane only lasting five years or so and still give it strong marks in the value department.
I have completely wetted out the Chrono Pro NeoShell a couple of times but the body does, for whatever reason, keep up the defense against wind and rain significantly longer than the sleeves. Even once the core is fully saturated, the wind-blocking qualities make it better than any other breathability-focused pieces I've worn. What I'm saying is that if you're a sweaty person - there's a women's cut for the NeoShell Chrono as well - and you want an ultra-comfortable, very breathable, and 'weather protective' rain jacket then I don't think you can beat this one. If you're going to get all whingey about soaking through much, faster than a GoreTex jacket then buy the GoreTex jacket and deal with the fact it's much less breathable.
It's okay if you don't get the Chrono Pro NeoShell jacket. The taped seams and NeoShell membrane make it significantly more weatherproof than a standard softshell with a DWR coating but they give up some breathability versus a product that's more tailored to dry-cold. It ramps up breathability compared to a GoreTex membrane at a cost of being much less waterproof on a truly torrential day.
Buying a rain jacket for mountain biking you have to recognize whether you're someone who's balanced towards breathability or weatherproof-iness. If it's maximum breathability, and max wearability, even on a cold day when the rain turns off, I think this is the winning piece. It's the only jacket I've been wearing for cycling for months, whether it's on my commuter bike to repel the wind, on my mountain bike because it might drizzle later, or out in a wall of rainwater getting a lap, this is the current champ against which I'll gauge other mountain bike jackets.
---
Giro sells the Chrono Pro NeoShell jacket in men's and women's cuts.