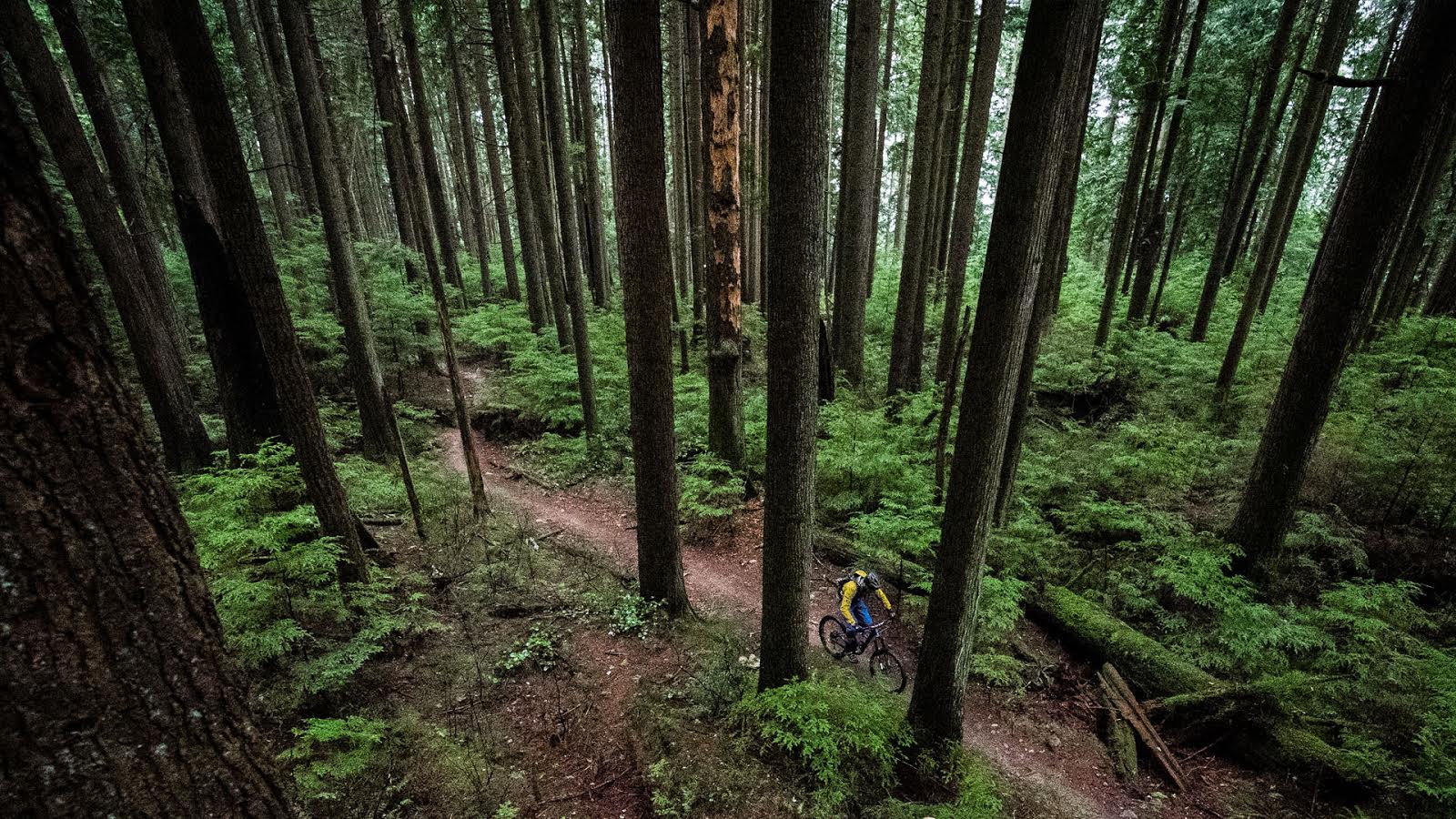 Race Face Stage Shorts & Ruxton Jersey
The Race Face Stage shorts and Ruxton long sleeve jersey were my go-to choices for riding gear this summer. Very light weight, a reasonable balance between not-flapping-around tight and suitably baggy, quick drying, comfortable, and in the case of the Stage shorts some really well-considered details.
Flowers. For you. I picked them myself. The Stage shorts and Ruxton jersey aren't as casual as what I normally ride in but the colourful details are pleasant, not brash.
If you follow Race Face's clothing line you probably recognized that this is a mismatched kit. There is a more gravity oriented Ruxton short or pant available and differently styled Stage jersey. It's simply the case that I like the fit and finish of the Ruxton jersey and for a hot summer of pedaling that Stage seemed like the best option. I wore the two pieces together exclusively and all summer.
Race Face Ruxton jersey and Stage shorts drying in the sun. Both items are made of lightweight fabric and dry very quickly after a wash. Notice the belt loops. I love belt loops!
Stage Shorts
Belt loops. I love belt loops.
If you don't that's okay because the Stage shorts have an internal velcro pull tab adjustment system which works great. I'll personally never buy another set of shorts for riding that don't have belt loops and my dislike of velcro tabs (on shorts, gloves, packs, etc) is becoming borderline fervor because they seem to always die WAY before the product in question. Thank you, Race Face.
I also really liked the slightly raised back, the very old school Roach-esque gusseted crotch, and the idea of the DWR treatment. In practice, the DWR treatment was neither a positive or negative when cycling in any kind of rain.
The four colourways of the Race Face stage shorts. Note the old school Roach-esque crotch gusset and the raised back. Oh, and did I mention belt loops?! There are also zippered pockets. All in a really lightweight package.
I've lost count of the number of rides I've ended up doing in the Stage shorts and I really like them. The double crotch shows zero signs of wear, the material has held up really well, there are no signs of any future issues pending, and the fit is as new.
Unfortunately, things were not 100% perfect with my Stage shorts for the entire test period. On the fifth ride, after four washes, they developed a significant draft in the crotch area. This was made all the more notable by the crisp early morning air and the fact I was wearing some very lightweight Sugoi bib liners with a flap at about exactly the point the shorts failed: "WHOOO HA! THAT'S CHILLY!".
On my fifth ride, the single seam below the zipper and above the gusseted crotch split open.
I have a couple of friends with the same shorts, which also have a single stitch in this area between the zippered fly and the crotch gusset and neither of them has had any issues despite lots of rides and washes. In fact for how lightweight the shorts are it is awesome how well the material has held up to the unplanned meetings with the ground we all have on occasion, not to mention day to day wear. I contacted Race Face and it is not an issue they had seen, and I know from experience it would definitely be a warranty for a consumer.
For me the best fix was to see my local seamstress… for what proved to be a very quick and inexpensive improvement.
The problem I have with warranty replacements is I know these otherwise perfect shorts are going to end up at best being recycled and at worst thrown in the trash. Not to mention the hassle and time of taking them back to a shop, mailing them back to an online store, or shipping them back to Race Face for the warranty replacement to happen.
All fixed! With a double stitch. For less than the cost, never mind the time, of shipping them back for a warranty. Chances are if you aren't handy with a sewing machine you have a local seamster/stress that would appreciate the business.
For me, the best fix was to see my local seamstress, the very tiny North Vancouver shop of Sherry at Sateen Alterations, for what proved to be a very quick and inexpensive improvement. In the many rides since she double stitched the hole the Stage shorts have been awesome.
I've had a number of pairs of shorts and jerseys re-stitched over the last few of years – which has been a real boon to my bike budget – not to mention zippers replaced. Oh, the f***ing zippers. I also wrote about it here and here if you're interested in getting more life out of your stuff.
Ruxton LS Jersey
With the Stage shorts fixed and back to being my everyday riding gear for the summer the Ruxton LS Jersey also ended up getting a tonne of use.
In recent years I have started regularly wearing long sleeve jerseys on aggressively sunny summer days due to my aversion to direct sunlight and the fact that – in a parallel to wearing armour while riding a bike – the more protection it offers, the more disgusting sunscreen gets. In addition to its long sleeves, the Ruxton is UPF50!
UPF50, long sleeves, quick drying, good feeling Cool Touch fabric. Race Face Ruxton LS jersey.
In absolute terms, I do prefer the feel of a lightweight merino long sleeve for riding but there is something to be said about the fact that the Ruxton LS jersey looks as good today as when it arrived. I wear out lightweight merino tops significantly faster.
Unlike a lot of synthetic jerseys I have worn previously – I switched to wool for most jerseys a few years ago – the Ruxton is actually quite comfortable against my skin until it gets really sweated out. Durability has been very good after countless washes and I think the fit is a great trail riding (All Mountain, Enduro, etc) compromise between baggy DH or Park riding gear and XC lycra.
Both the Stage shorts and Ruxton jersey dry really fast. Wash them in the lake, go for a swim, ready to ride! Well, not quite and your chamois will still be soaked but I still think it's a great characteristic.
In my mind, this is a fantastic set of riding kit. I wish they made a longer 3/4 version of the Stage shorts but let's face it, I can only think of a couple of weirdos who would wear them. Otherwise, I'll take both the Stage shorts and Ruxton jersey exactly as they are, now.
I've talked previously about expectations for reviewers and in this case the issue I experienced with the Stage shorts does not seem to be common. The fact is it was a very quick and inexpensive fix. Personally, I think Race Face should double stitch the small area between the zipper and the gusset at the factory. Then the shorts would be perfect.
---
Flowers? I shouldn't have!? Wait, now you want the clothes off my back?