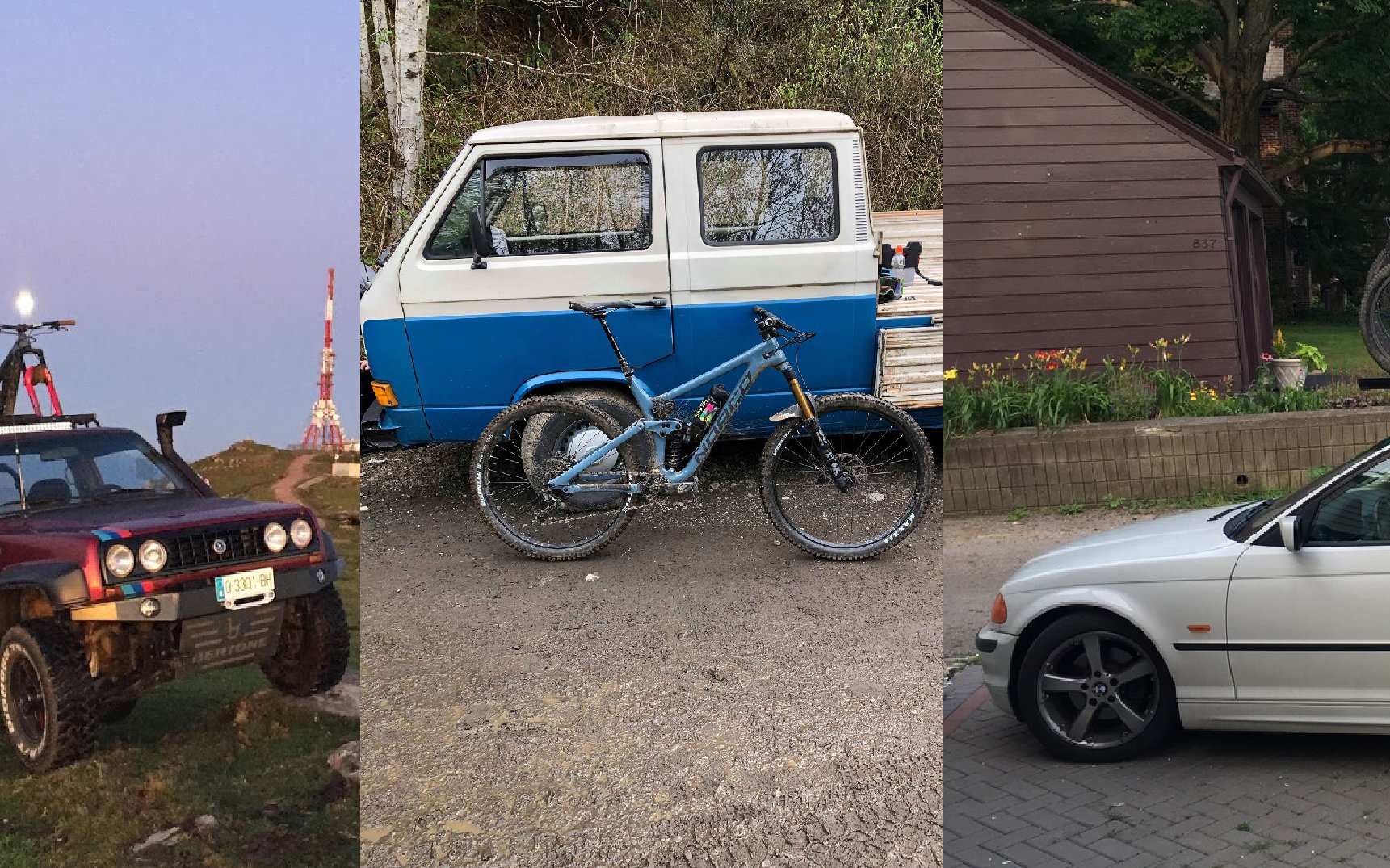 Pistons & Pivots
Pistons and Pivots: Reader Submitted #3
Presented By

Pistons and Pivots is presented by Maxxis. Every second Monday, we'll present a new round of Pistons and Pivots which features cool vehicles with character, and a little about their owners and the bikes they ride.
If you've got a vehicle and bike that fit the series, we'd love to help you share them with a wider audience, and you can take a crack at winning some tires from Maxxis.
You can submit your photos in one of two ways:
Send photos and articles to submissions@nsmb.com. Make sure to include 'Pistons and Pivots' in the subject line.
Or simply post a few vehicle and bike photos and details to Instagram and use the hashtags #pistonsandpivots and #nsmb.
Once a month, we'll pick a winning submission and feature it on the site, and the person that submitted it will earn a fresh set of tires for their bike, courtesy of Maxxis. At the end of six months, we'll pick a grand prize winner, who will walk away with Maxxis rubber for the vehicle they submitted for Pistons and Pivots!
We have a stellar collection of vehicles this time around, and really I'd like to be able choose all three as winners. Hopefully, like the academy awards, it's an honour just to be nominated because we can only choose one monthly champion.
---
Carlos Fiero's 1993 Bertone Freeclimber and Dual Norcos
BERTONE FREECLIMBER 1993 swap BMW 318is
Norco RANGE 2020
Norco AURUM HSP 2019
NSMTB? Why didn't we think of that! North Spain MTB.
Here's what Wikipedia says about the Bertone Freeclimber
Assembled in Grugliasco, Italy for European sales, the version called Bertone Freeclimber used mechanical components by Daihatsu, although it was powered by a BMW 2443 cc turbodiesel or one of two BMW petrol engines (1991 cc and 2693 cc), with a Bertone modified body. The first Freeclimber is a well-equipped, high-end deluxe (luxury car) off-roader produced from 1989 to 1992. Bertone built about 2800 Freeclimbers, of two generations.[11] The Freeclimber II was based on the smaller F300-series Rocky/Feroza.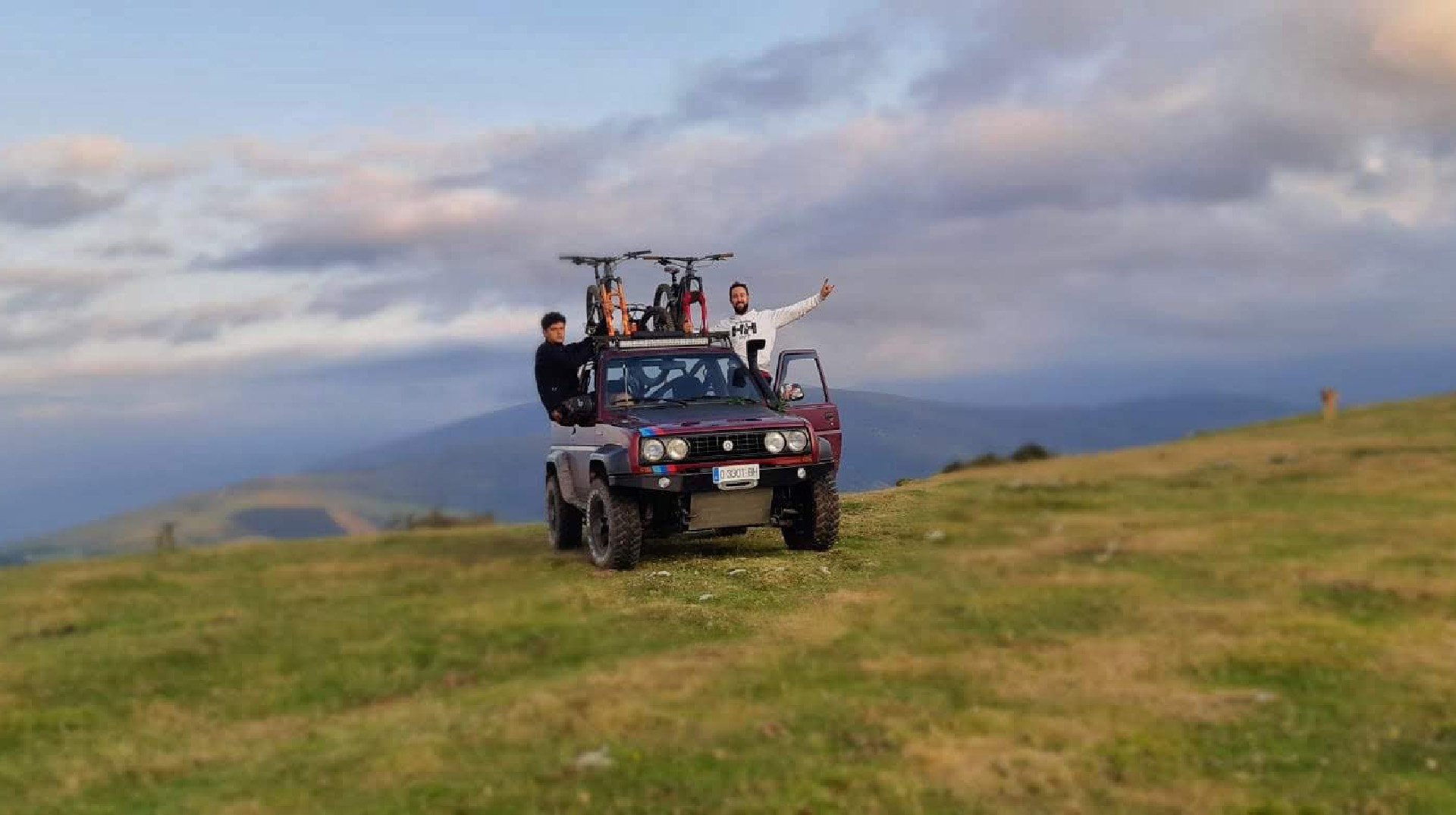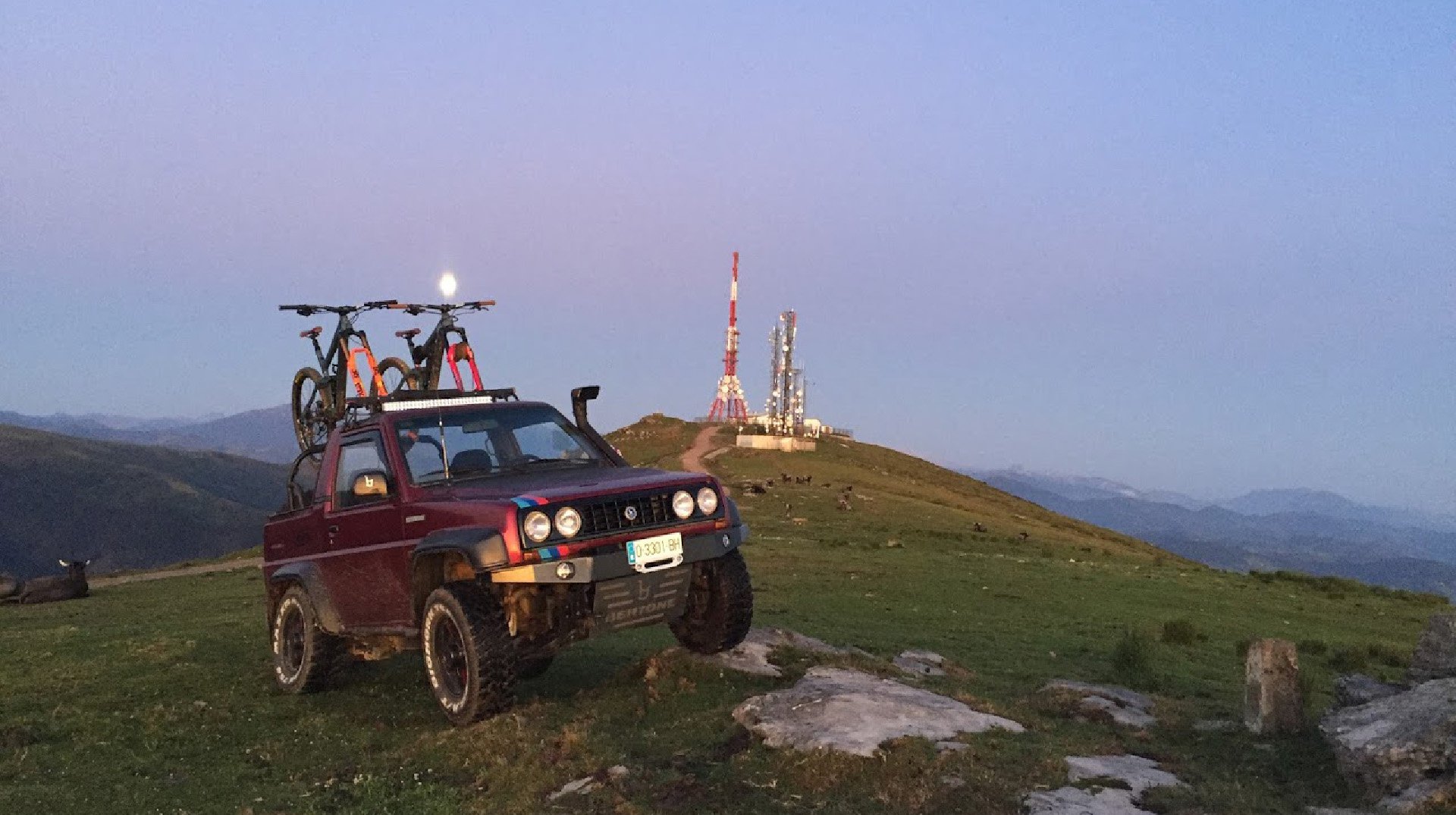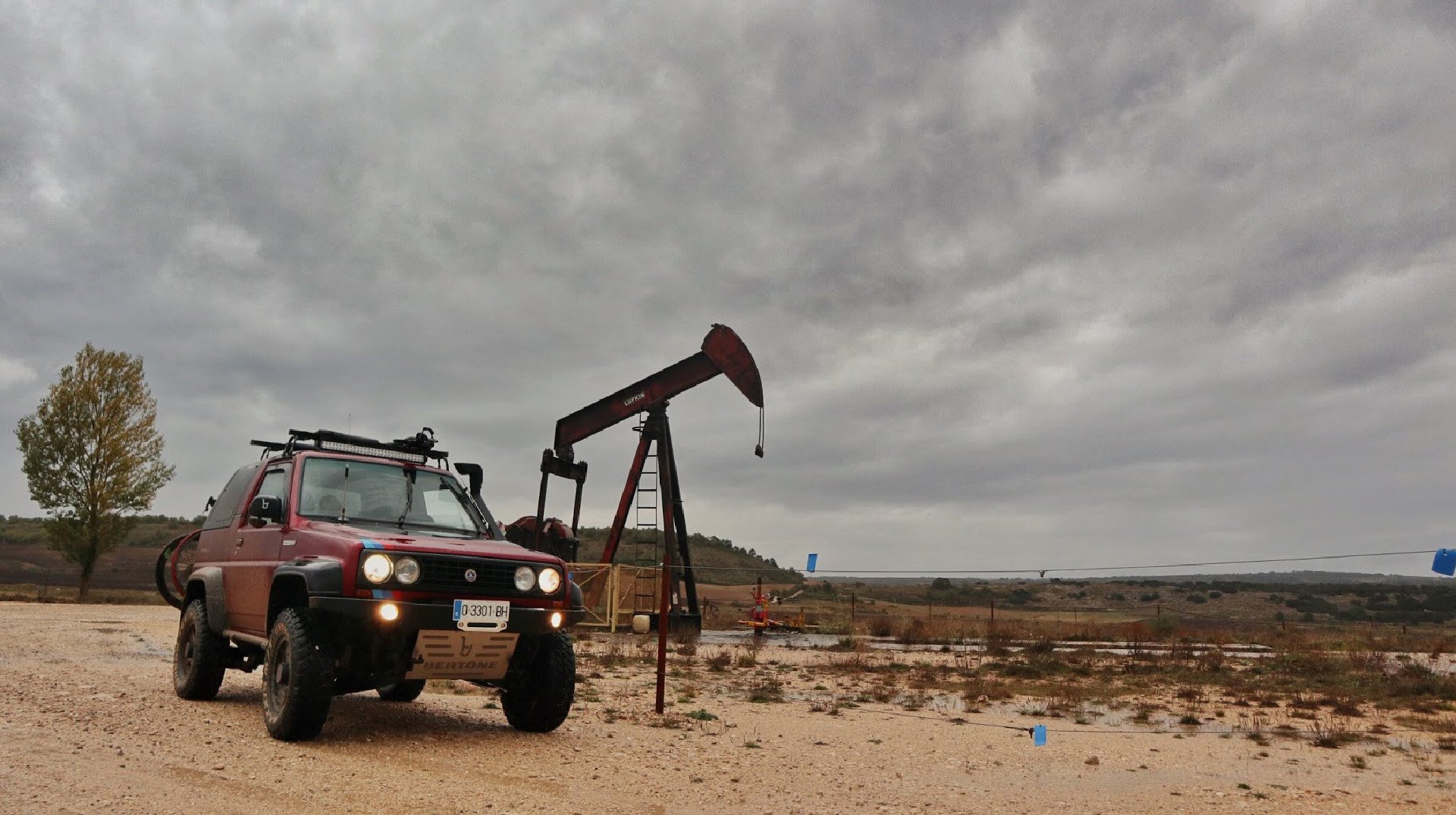 Allen Lloyd's 2000 BMW 320i Touring and Canfield Nimble 9
Car is a 2000 BMW 320 wagon with euro roof rail delete and wheels off I believe a Z3. Car sat on the dealer lot for almost a year till my neighbor bought it and drove it for 15 years and 170,000 miles. I bought it and did the roof and wheels along with some paint work. Car was always maintained by a local specialist and is an absolute hoot to drive.
Yes car is a stick AND it has the sport package so the suspension is slightly different and that combo was very rare on wagons. The full story was it was a custom order and the buyer backed out, so it sat for a long time till my neighbor agreed to buy it and it was his baby. My dream car is an E46 M3 dark grey with the red interior, one day I will pay way too much for one.
Bike is a Canfield Nimble 9 with an old Zokie fork that occasionally squirts oil out the top. I would upgrade, but finding a long travel 29'er fork with a straight steer tube is getting hard. Bike also has a set of Chris King to Flow wheels that are non boost and are the main reason I keep riding this bike. I waited 20 years to invest in a set of King hubs and then boost happened and made these obsolete for new frames. I also have a Hightower, but most of the time this is my preferred bike. It pops off everything and will manual for days with no effort.
Tom Richards' 1985 VW Doka and 2019 Norco Range 29 C2
My name is Tom Richards, I am the in house photographer and film maker at Norco. I drive a 1985 VW Doka pickup, it's called a Doka for short. Doka comes from the short form of doppel Kabine, the German way of saying crewcab/double cab. It is powered by a 2.1L 4 cylinder engine sending power to the rear wheels via a 4speed manual transmission.
Truck and Backstory
I have always loved these old T3/80's generation vw vanagons. I am originally from the UK and spent a lot of my summers as a child going on family caravan holidays in Europe. We would go away for 2-3 weeks at a time, towing the caravan behind my parents VW Passat wagon and drive for 3 days straight to a campsite in southern France, Spain, Slovenia etc. Sometimes my aunt, uncle and cousins would meet us at the campsite and join us for a few days camping in their VW Westfalia pop top van. I always thought it was the coolest van ever, way cooler than my parents caravan! Those memories planted the seeds of obsession with this generation of VW vans, however I would obviously have to wait a long time before I would be in the position to own one myself.
Fast forward to 29th May 2015 and I made the move from Sheffield, UK out to Whistler, BC with a bunch of friends to live the mountain bike dream. I spent the first 6 months of my time in Canada living the bike seasonaire lifestyle in Whistler. At the end of that summer, my 2 year work visa finally kicked in so I moved to Vancouver in October to try experience 'real' Canadian life outside of the Whistler bubble.
A few months after moving to Vancouver I met my girlfriend Fiona and we went on our first trip together as a couple to Tofino. It was a really hot summer weekend so we stopped off in one of the river swimming pools that you can see from the road to Tofino. I vividly remember that we both looked over towards the highway at exactly the same time as a green VW Vanagon Westfalia drove over the bridge. There was just something so special about a little green Westfalia puttering along the road to Tofino that I couldn't shake that image out of my head. Fiona and I had been talking about how much we would love to get a campervan of some description but I had always just assumed that a Westfalia would be way out of our small budget. We looked up the prices of them on craigslist as soon as we got back from that trip and were pleasantly surprised, though the good condition examples were still way out of our budget. However we decided to save some money up over the autumn/winter/spring and see what we could afford come late spring/early summer of the following year.
Long story short, in April of the following year we found a green 1980 aircooled westfalia for sale for an ultra cheap price as it needed an engine rebuild and a bunch of other work. At the same time someone listed a freshly rebuilt aircooled engine for sale for cheap as well so it all fell into place and we got the van. The dream came true! We now owned a green 1980 Westfalia!
Fast forward a couple of years of summer camping/bike adventures in the Westfalia and I was completely in love with the van and old VW vans in general. I had just sold my daily commuting car and was browsing facebook marketplace for a replacement when up popped this 1985 VW Doka pickup truck for the exact same price my car sold for!! I knew that these 80's double cabs existed but I had never seen one in person, so for me they were just this ultra rare unicorn vehicle that only existed on google images. Needless to say I messaged the owner to arrange a viewing, got the ferry to Vancouver Island and went to check it out in a small little village called Metochosin.
The second I saw it pull up into the carpark I knew I was going to take it unless it was completely rusted out. I took it for a test drive and it drove pretty good, sounded good but most importantly it just felt right. There was a bit of rust concentrated in one particular patch but overall it was in decent condition for a 35 year old truck. The seller told me the engine had been swapped out for a lower milage unit but didn't have the paperwork to prove it…I should probably have left, waited for him to get back to me with the details and then make an informed decision but by this point I was not thinking straight! I told him there and then I would take it and paid him a deposit to keep it for me till the weekend after when I could come pick it up! So that's how the truck came to be in my ownership.
In my opinion, it's just the coolest vehicle ever! It has the charm and classic dorky looks of the T3 vans with the practicality of being a double cab truck. The first thing I did when I got it back to Vancouver was fit a tailgate pad and chuck my bike in the back. The little blue and white Doka has been all over now in the couple of years I have owned it, most frequently used as a shuttle vehicle or bike hauler to go riding on the Northshore, Squamish and Whistler. I have had it fully loaded with 6 people and 6 DH bikes doing shuttle laps on Cypress and it just keeps chugging away. It may only be RWD but the engine is over the drive wheels so its surprisingly capable off road. On the Sea to Sky highway its hilariously slow and loud, but it's fun to drive in a way that only VW vanagon owners will know. I absolutely love this little truck and the only reason I would ever sell it is to buy one of the factory Syncro 4x4 Doka's…but those are an entirely different unicorn with a price tag to match the rarity.
Bikes
As the photographer/film maker at Norco bikes, I am a bit biased, so it's pretty obvious that my bikes are going to be Norco's! However I am currently between trail bikes. My 2019 Range C29 is up for sale as we speak and I am just finishing building my new Sight. The Range 29 is hands down the best bike I have ever owned, so the new Sight has a lot to live up to! I rode three laps of a fast techy trail on a pre-production version of the Sight back in March 2019 and it felt pretty amazing, so I am really excited to get mine finished and get riding it. I mainly ride trail bike stuff, my favourite trails being Hot Tuna in Squamish, Cypress shuttle trails and Seymour darkside. I also ride DH stuff on my Norco Aurum HSP and bmx tracks/pumptracks on my Norco Rampage.
---
Those are our three contestants this week and, if you haven't already guessed, Tom's 1985 Doka takes the prize. Some yellow-lettered Maxxis rubber could look pretty sweet with that two-tone colour scheme, but we're getting ahead of ourselves. For now Tom wins a set of Maxxis rubber for one of his bikes. Let's hope he's shuttling with buddies before the summer's out! Get in touch Tom and we'll get you sorted out!
If you'd like to submit your Pistons & Pivots combo, send an email to submissions@nsmb.com