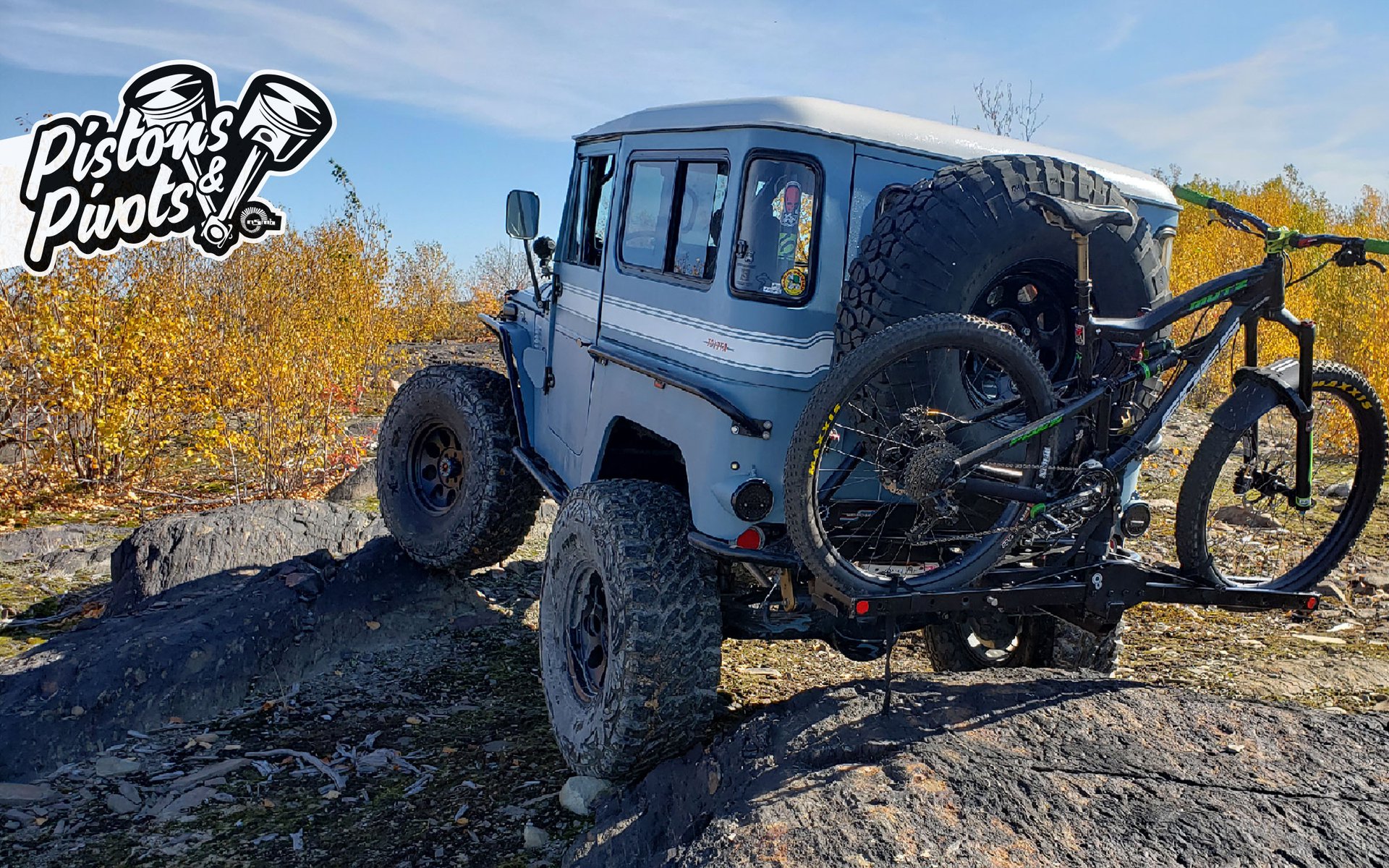 Pistons and Pivots
Pistons and Pivots: Reader Submitted #2
Presented By
Pistons and Pivots is presented by Maxxis. Every second Monday, we'll present a new round of Pistons and Pivots which features cool vehicles with character, and a little about their owners and the bikes they ride.
If you've got a vehicle and bike that fit the series, we'd love to help you share them with a wider audience, and you can take a crack at winning some tires from Maxxis.
You can submit your photos in one of two ways:
Send photos and articles to submissions@nsmb.com. Make sure to include 'Pistons and Pivots' in the subject line.
Or simply post a few vehicle and bike photos and details to Instagram and use the hashtags #pistonsandpivots and #nsmb.
Once a month, we'll pick a winning submission and feature it on the site, and the person that submitted it will earn a fresh set of tires for their bike, courtesy of Maxxis. At the end of six months, we'll pick a grand prize winner, who will walk away with Maxxis rubber for the vehicle they submitted for Pistons and Pivots!
---
One of the best things about Pistons and Pivots is seeing the cool vehicles and bikes that people send us. The tougher part is choosing a winner monthly, although this month's winner is pretty sweet. Here are the contenders and the winner.
Dan Murphy's Toyota 'Eggvan' and Trek Slash
I met Dan at the Crankbrothers wheel launch a couple of summers ago, and we've ridden a couple of times since. He's a ripper and a great tour guide in Bellingham. On top of that he works in health care and is currently busting his ass making things run smoothly in Bellingham. Thanks for all you do Dan, and to everyone working to smooth out the bumpy road ahead. Here's Dan's description of his dry land Toyota submarine.
Below is my '94 Toyota Previa and my somewhat more expensive '18 Trek Slash. Both are well-worn and well suited for each other. We have traveled together everywhere from Whistler to Hood River and I foresee a lot more PNW road trips in 2020 what with this coronavirus business seizing the world's attention. (let's hope so! -Ed.)
My Previa is my daily and though it has nearly 310,000 on the clock, it's still going strong. It's not an AWD AllTrac model but it gets the job done. It was owned by a German car repair shop for a decade and served as its customer loaner vehicle so it was very well cared for when I bought it in 2018. While the drivers' seat is a bit worn, everything works in this oddball mid-engine Toyota van. Lights, switches, a/c, cruise control, you name it.
---

Kai Penhaligan's GMC Savannah van/house and Santa Cruz Megatower
We appreciate commitment and utility, and Kai's got both of those covered. He lives in this panel van year round. We're pretty sure that if it was insulated and well-appointed Kai would have sent us some photos of that, so we're imagining bare steel panels and mattress found at the dump on the floor. You need to be a hard man to live like that for a winter in Whistler so, despite his brief description, Kai gets an honourable mention. Thanks Kai! And respect.

Darwin Krmpotich's 1969 Toyota FJ40 and Foes Mutz
I'm always impressed by people who have the tenacity and skill to accomplish tasks like completely rebuilding a beaten up 50-year old truck. And Darwin's done a beautiful job. Here's what he had to say about it. I understand some of the words below, but not all of them. Johnny jointed? Hydro bumps? Those of you into modding 4x4s will be all over it.
The 40 is 5.3LS swapped with a turbo 350 and Orion 4:1 transfer case. It's locked front and rear with 5:29 gears in the 60 series front axle and 80 series ff rear, both with nitro chomo axles. The front suspension uses 4' long, johnny jointed radius arms, Bilstein shocks and Radflo hydro bumps while the back is sprung over on OME leaf springs, a ladder bar and also has the Bilsteins. The wheelbase has been extended, frame fully boxed, heavier gauge steel is used throughout the tub and it has custom bumpers/sliders/skid plate/roll cage/axle trusses etc. Tires are 40x17 Procomps on Mickey Thompson wheels.
Interior features a custom center console/shifter/cup holder contraption, fj60 tilt column with fj40 wheel, spectre sliding cargo windows, custom storage under drivers seat, paisley head liner (resined into the fiberglass roof), and cedar accents. A few spider webs and saw blades were thrown in for good measure.
Darwin - you win! Your meticulous resto-mod is no show pony and that's one of our favourite things about it. Yes, the work was meticulous and very well done, but Darwin isn't afraid of getting 'er dirty, and that scores points in our book.
Congrats! You win some Maxxis rubber for your bike, and you'll be in the running for some rubber for your FJ as well.
Please send photos of your vehicles, no many how many wheels they have, to submissions@nsmb.com