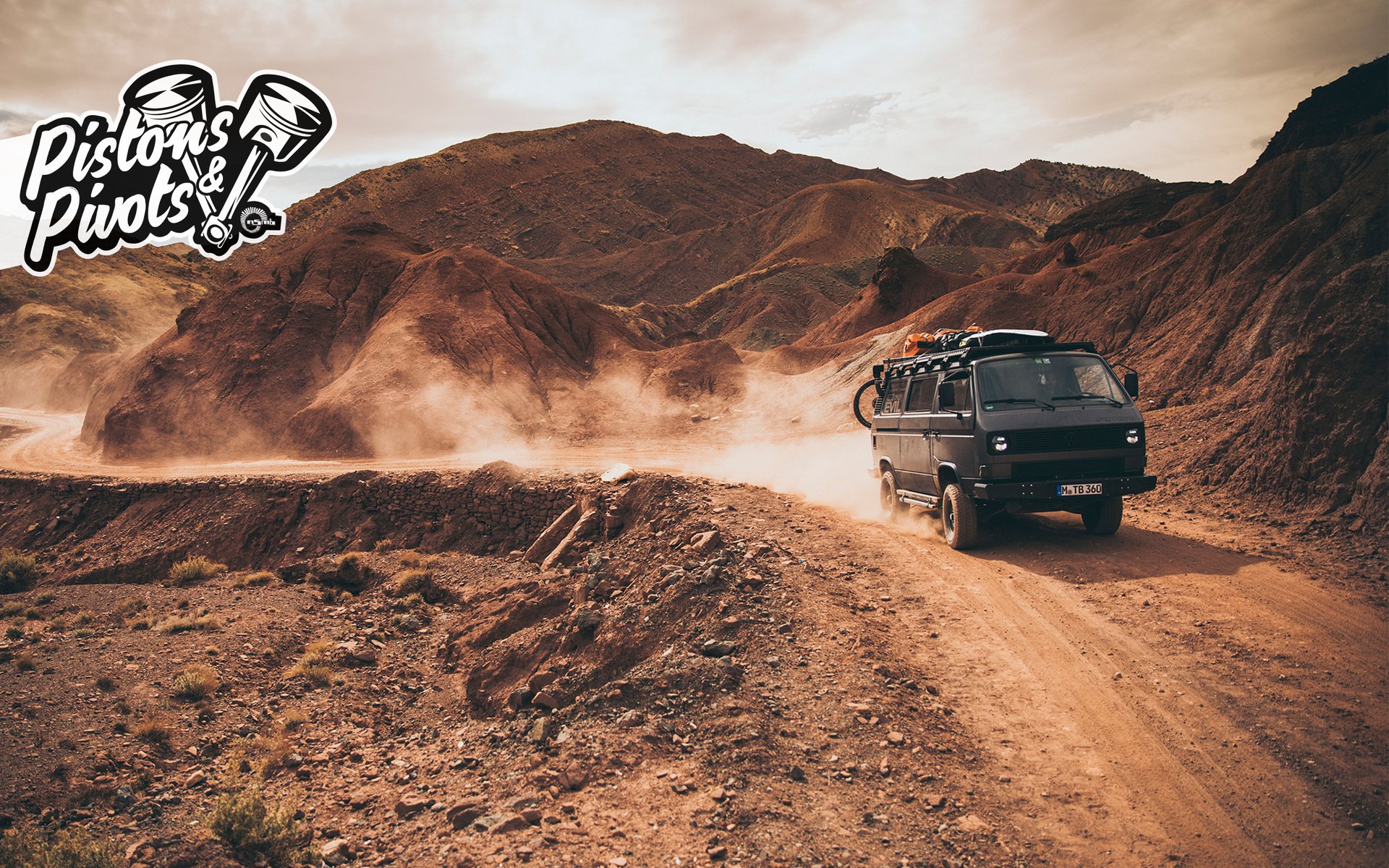 PISTONS & PIVOTS
Rob Heran's VW T3 Syncro & Evil Offering
Presented By

Pistons and Pivots is presented by Maxxis. Every second Monday, we'll present a new round of Pistons and Pivots which features cool vehicles with character, and a little about their owners and the bikes they ride.
If you've got a vehicle and bike that fit the series, we'd love to help you share them with a wider audience, and you can take a crack at winning some tires from Maxxis.
You can submit your photos in one of two ways:
Send photos and articles to submissions@nsmb.com. Make sure to include 'Pistons and Pivots' in the subject line.
Or simply post a few vehicle and bike photos and details to Instagram and use the hashtags #pistonsandpivots and #nsmb.
Once a month, we'll pick a winning submission and feature it on the site, and the person that submitted it will earn a fresh set of tires for their bike, courtesy of Maxxis. At the end of six months, we'll pick a grand prize winner, who will walk away with Maxxis rubber for the vehicle they submitted for Pistons and Pivots!
---
When we first launched Pistons and Pivots, we knew we would be receiving terrific submissions from around the world. Having seen images from Rob Heran's Syncro conversion several years ago, I had intended to reach out to him to see if he'd share some photos and details with us. He beat me to the punch and emailed me as soon as he saw AJ Barlas' first feature for the series which profiled Owen Foster's 4Runner, Zombie. We first met in 2005 or 2006 when Rob was riding for Rocky Mountain in Germany, and I haven't seen him for many years, but have followed his progress from afar through his results in comps and appearances in various media. He's as friendly a guy as you'll meet, and talented as well: as a rider and photographer, but also clearly as a vehicle modifier.
Rob was kind enough to augment his already extensive collection of media devoted to this massive conversion project with some fresh photos - and included some from Sebastian Doerk as well. We hope you enjoy learning about Rob's incredible Syncro project, and that it inspires you to take on one of your own, submit photos of your own pride and joy, or maybe just get out there and seek out a little adventure on two wheels or four.
All Adventure Pics by Sebastian Doerk
Van and Bike pics by Rob Heran
Rob Heran's VW T3 Syncro
Ask anyone that spends time living in their vehicle how long it took them to build, and most will tell you that it'll never be finished. For Rob Heran, it seems like his Volkswagen T3 Syncro is pretty well dialed, but it was a long and arduous road. This T3 was not the first VW van he owned, but it was the first Syncro he could afford (for those unaware, 'Syncro' denotes the 4WD version of VW's vans). It's a 1990 ex-military van he bought back in 2007 for 5,400 Euros. Back then it was an empty transporter with all original offroad tech and equipment, including 2 locking differentials. Since that time, almost everything has been replaced, in two main phases. Who would have known that after 17 years of life in the military, this van's adventures were only about to begin.
Engine and Transmission
1.9l TDi AFN from an Audi A4 with a larger custom built turbo and intercooler. 120hp custom made air intake with snorkel which is not really intended to go through deep water - it's for better airflow into the system with the new engine and a different organization than original.
5-speed transmission. The 1st gear is the 'G' for Gelände which means 'terrain'.
The van is originally a full-time 4-wheel drive. Rob added the middle knob in between the diff lock knobs and with that one he can disconnect the front wheels and drive with rear wheel drive only, which he says is great for normal driving on paved roads and some drifting in winter.
For every Syncro nerd: this 3 knob system mean business: The T3 is well known for its great offroad capabilities. That's why these vans carry a really high value nowadays. No van in such a 'small' size offers better offroad performance with that much usable space on the inside.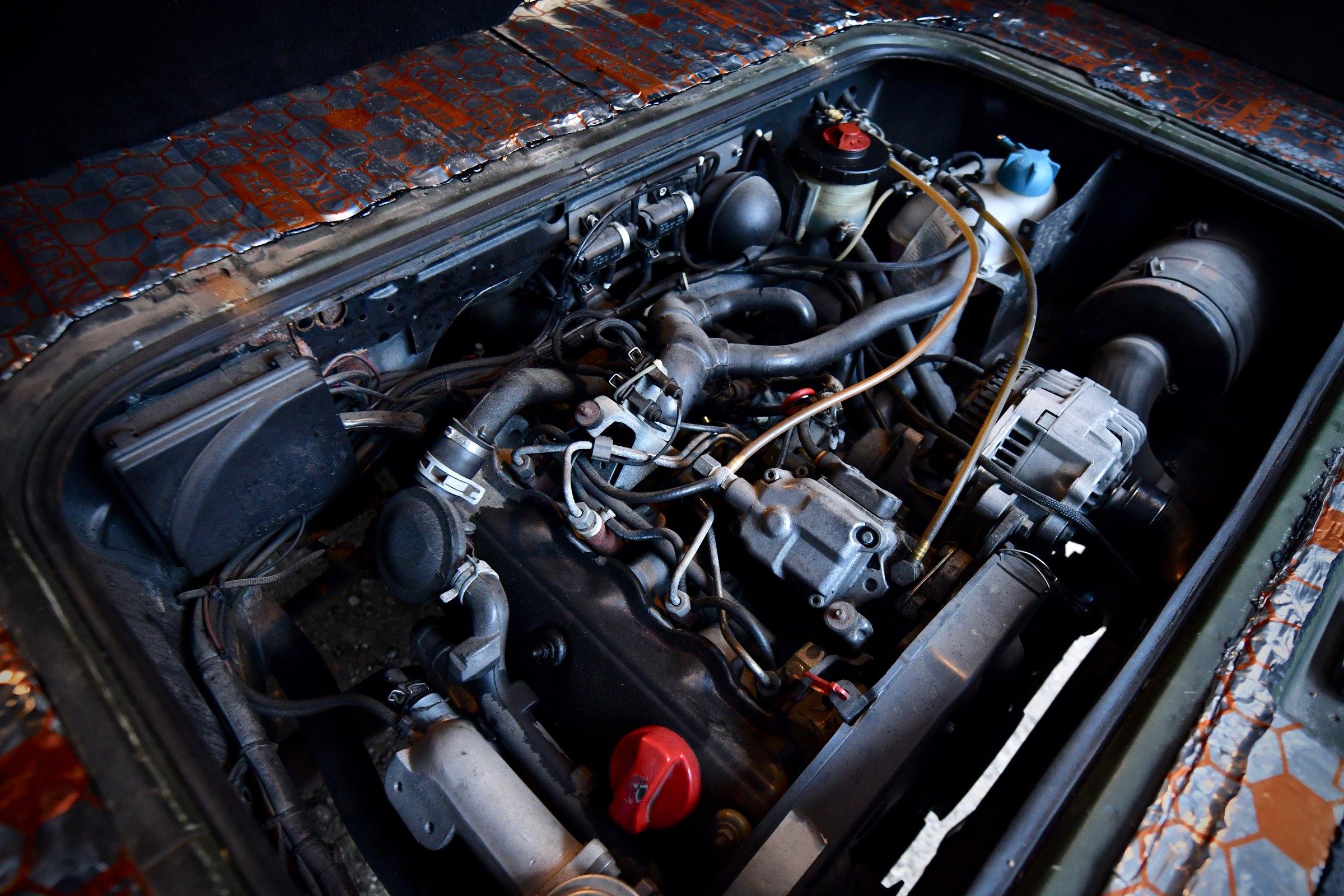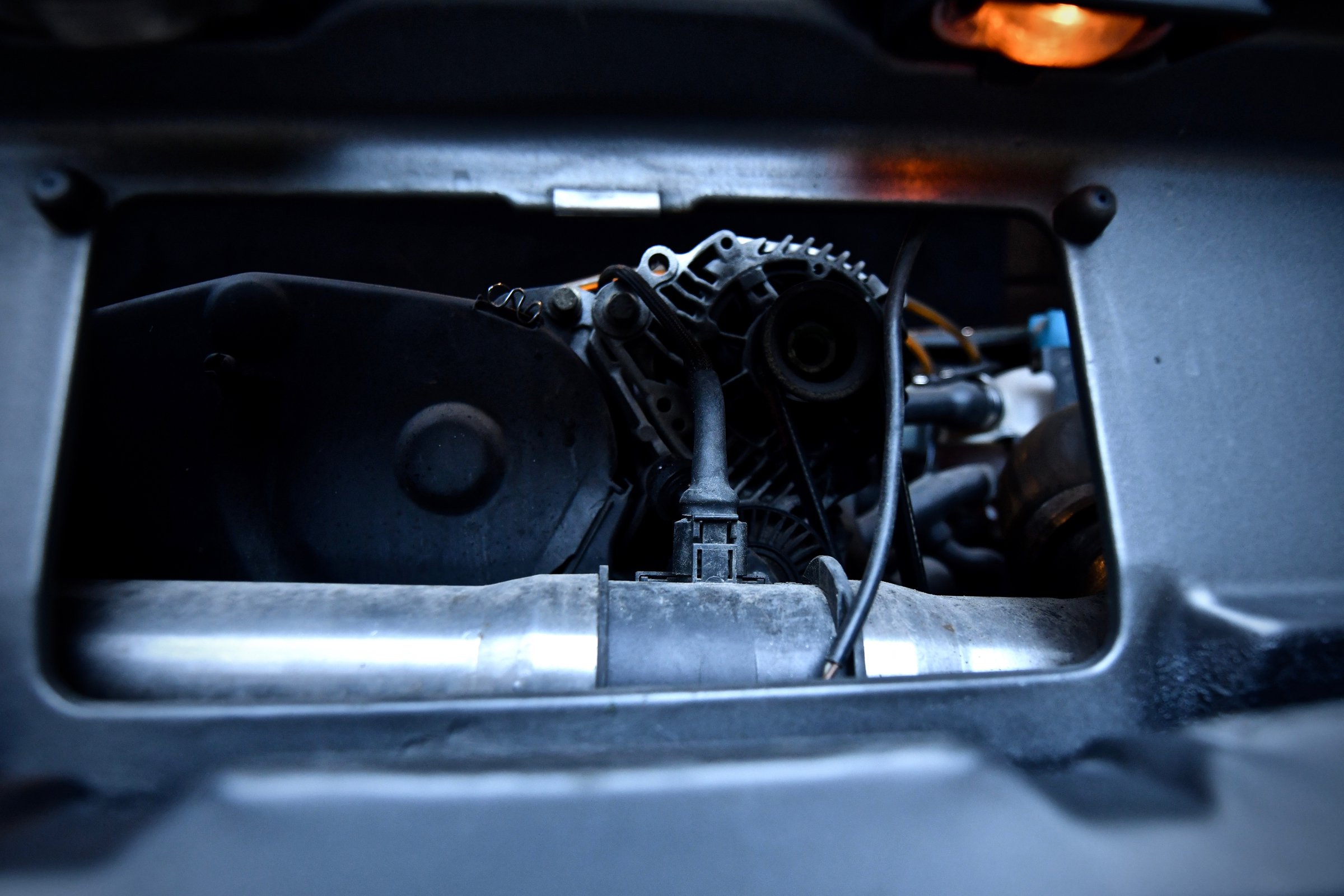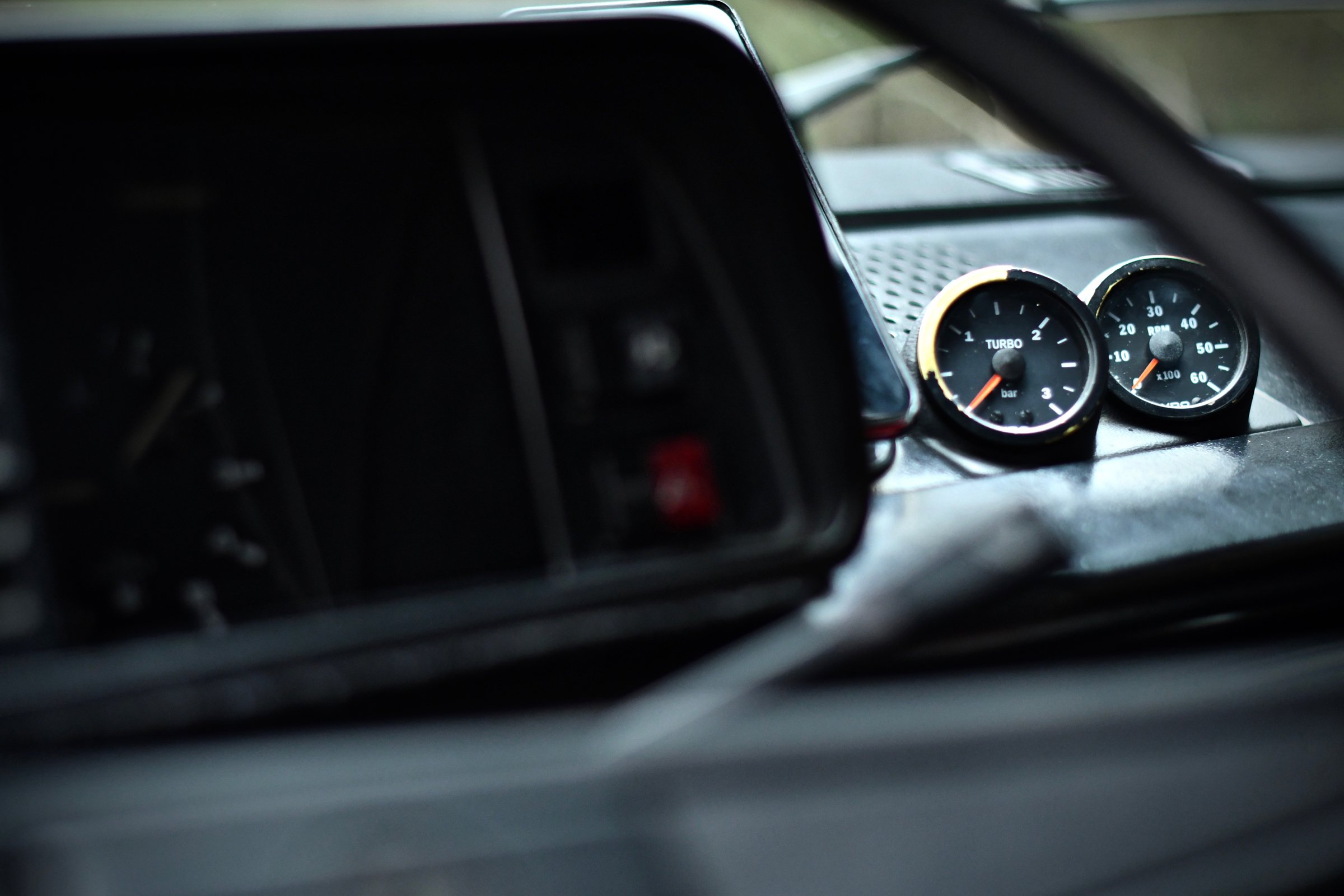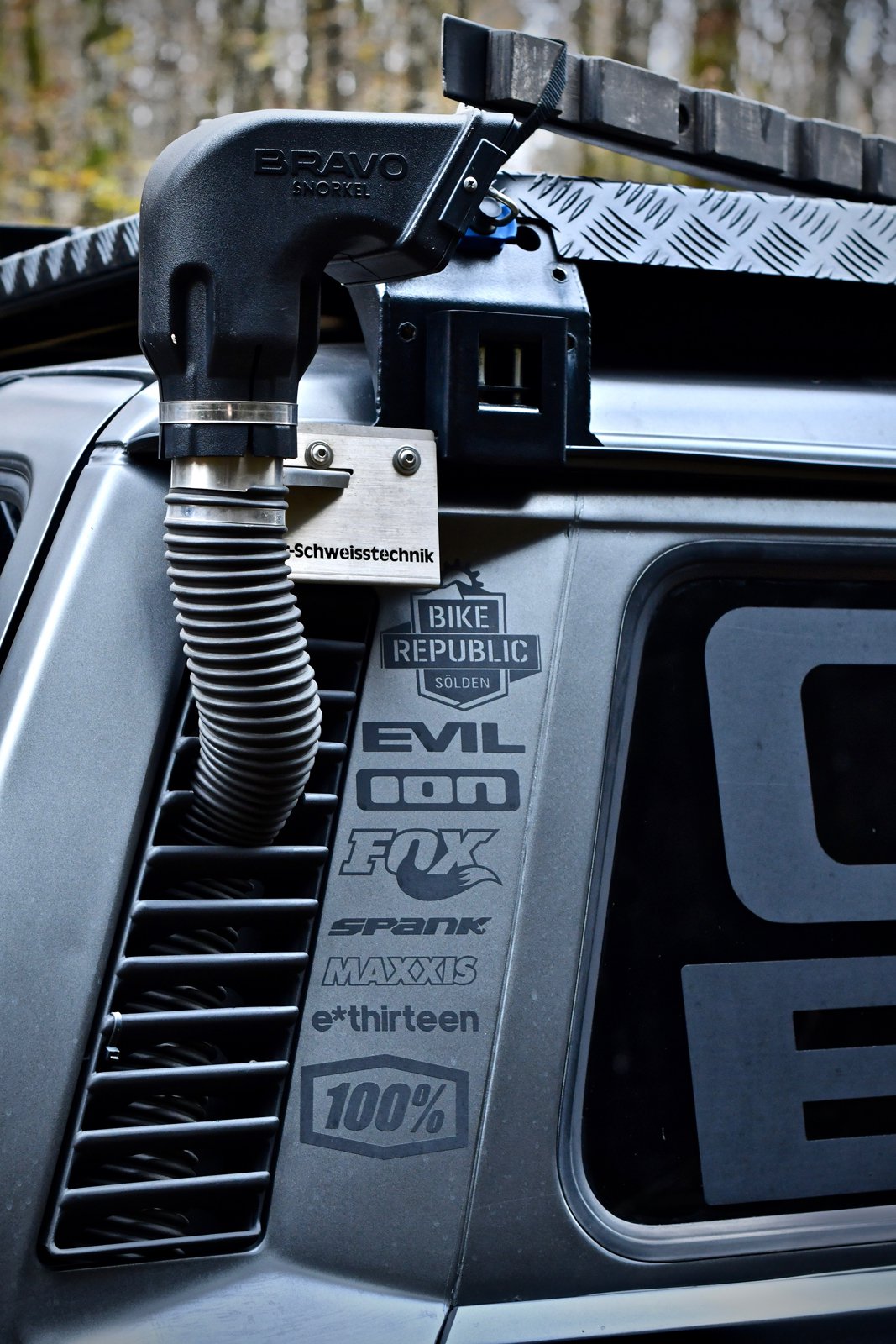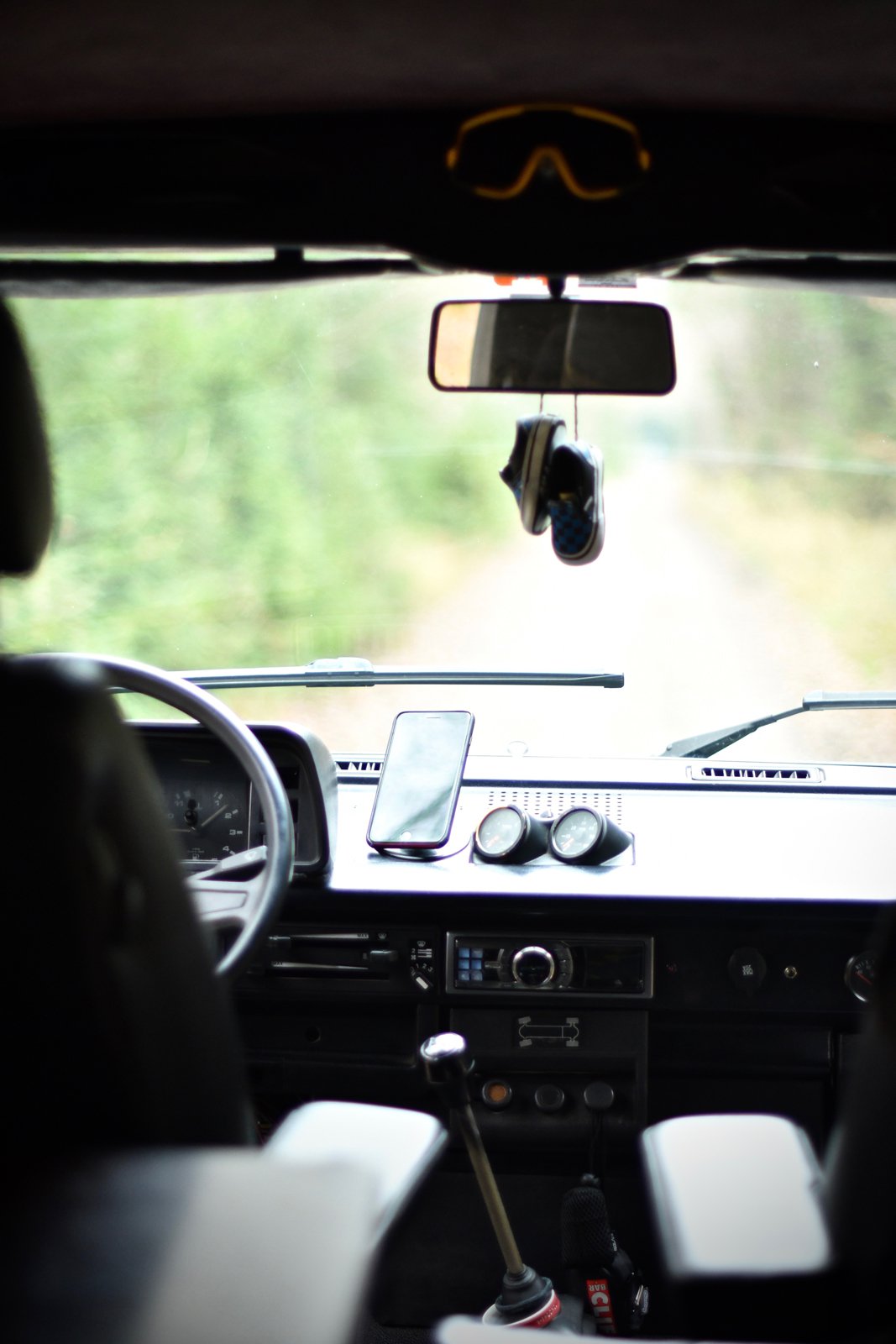 Exterior
Body completely refurbished.
New paint.
Bumpers by Rocky Mountain Westy.
BiLED lights by Nolden.
Bike Rack is a custom assembly with a Paulchen and some aluminum sand plates from GMB-Mount.
The massive rear bumper helps with the heavy load (on big trips I have my spare wheel and my hi-jack mounted on it as well) and avoids movement of the rack when off-road.
Wheels: Mefro Steel rims with BF Goodrich A/T Tires: 235 75 R15.
Thread chassis suspension: Fully height and damping adjustable GMB-Mount suspension specially made for Syncro Vans made by German specialists H&R (unfortunately the FOX suspension that is available in US is not permitted in Germany).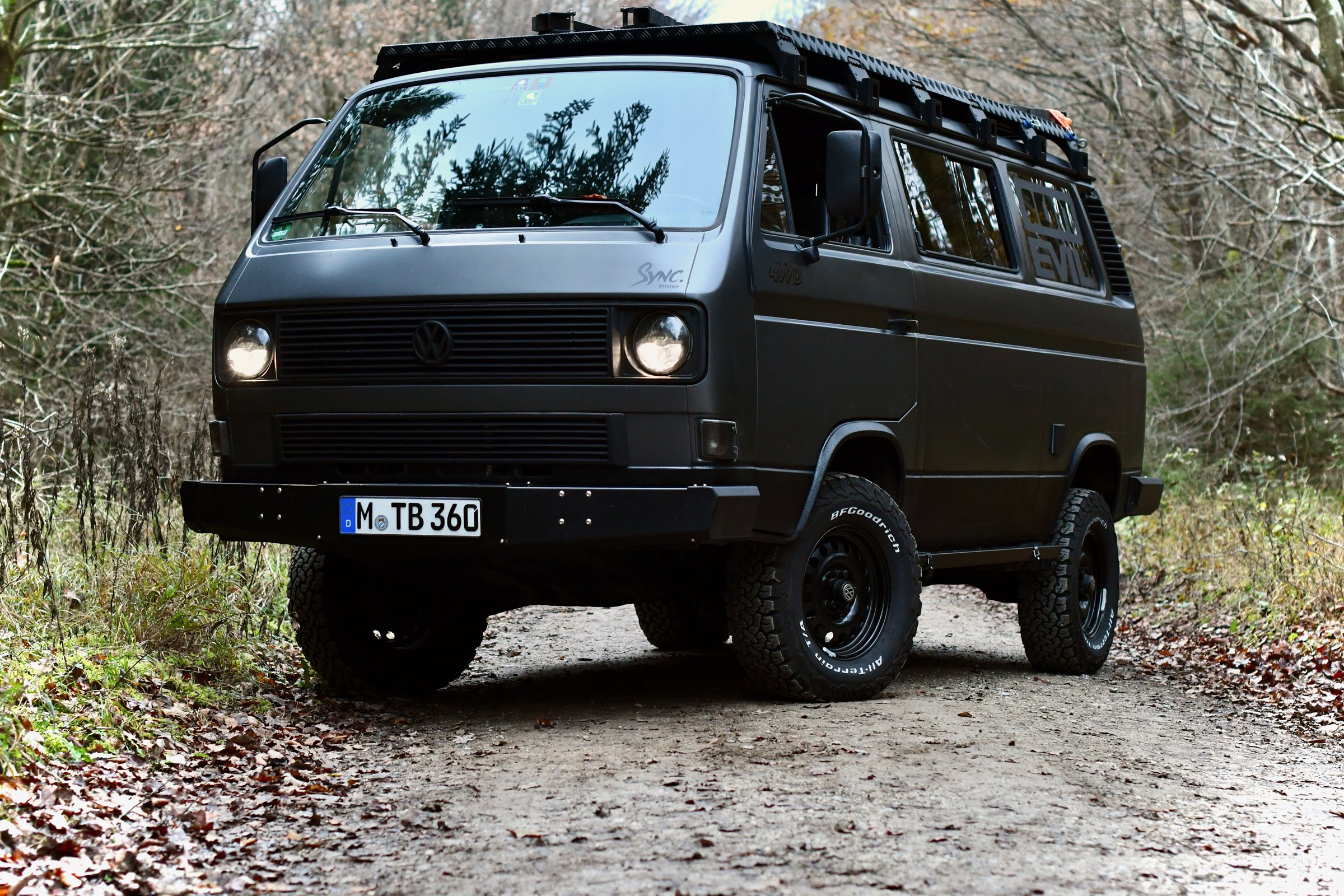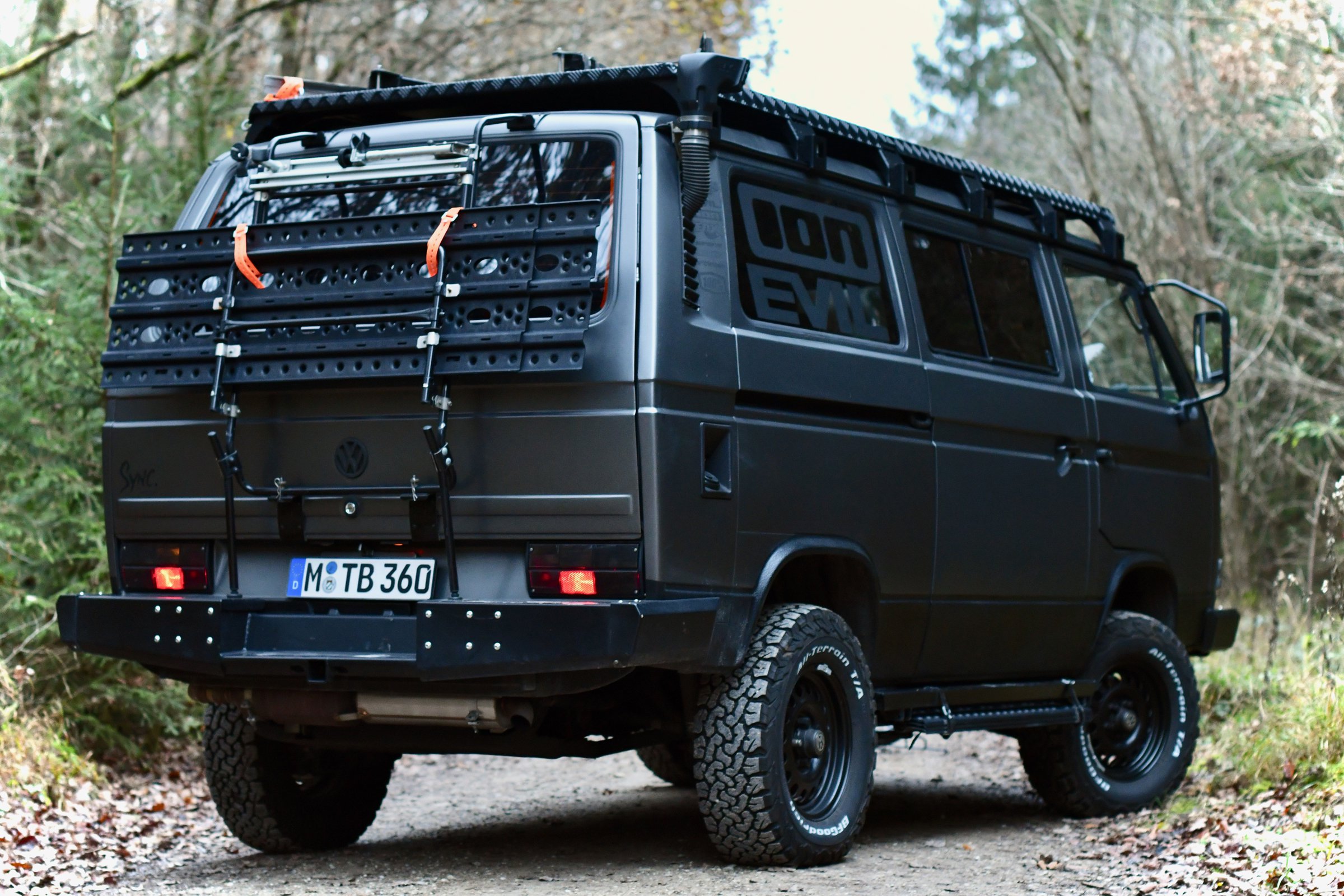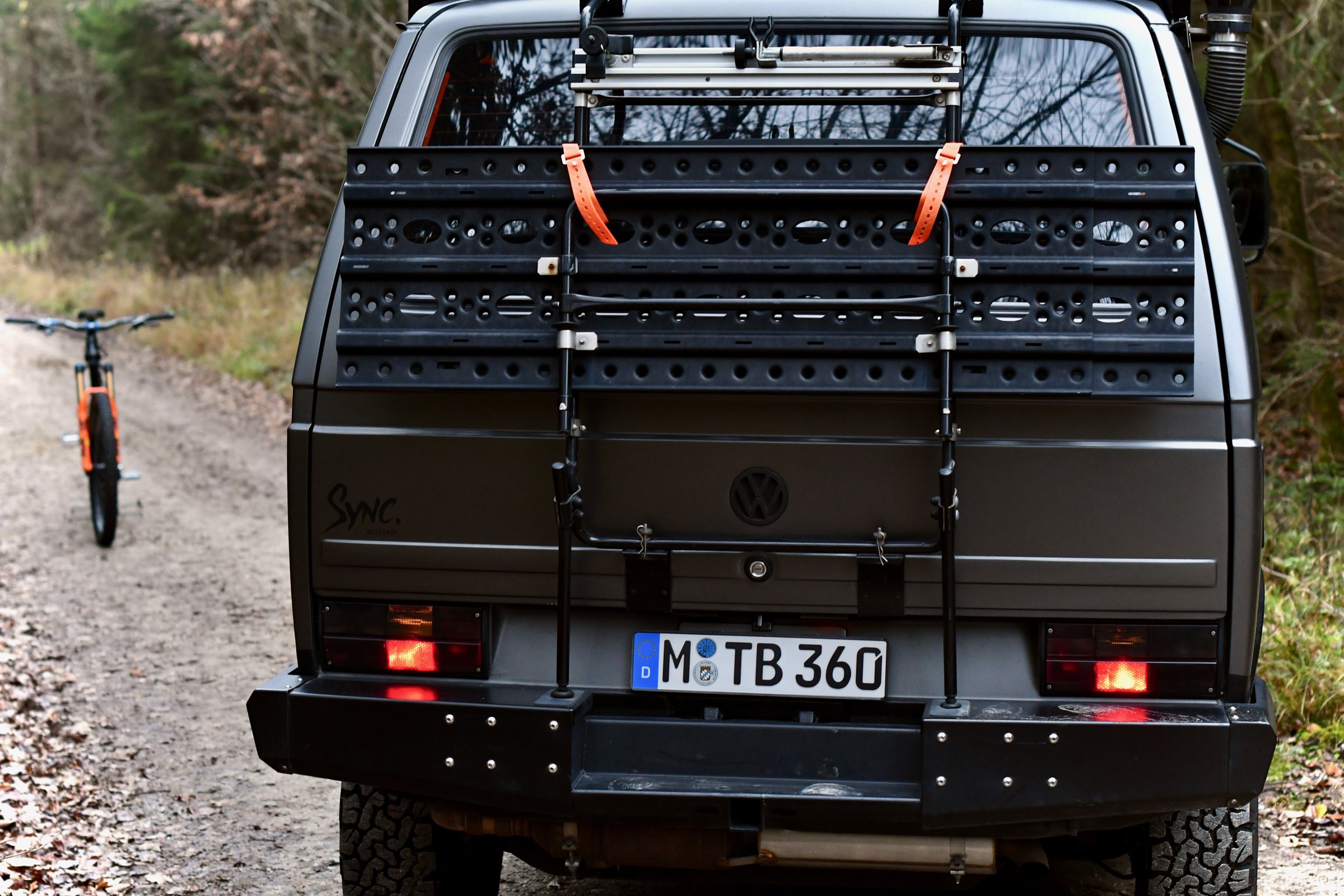 Roof Rack
You may have already realized that this isn't a typical made-for-Instagram #vanlife conversion that belongs more on @youdidnotsleepthere than in a professional rider's travel plans. Once you check out Rob's Syncro's very special roof rack and other capabilities, this Syncro really jumps into one-of-a-kind status. I'll let Rob tell it in his words. His english is excellent, after all.
Platform is by GMB-Mount. Flat surface with multiple anchor points to load whatever you have in mind. Like a ramp. The van transforms into a mobile super kicker if needed. As a freerider I often look into the landscape and see lines. Sometimes all it needs would be a kicker placed in front of a natural landing. So I built it.
The transition rails are mounted on the roof. When I take them down I can mount the parts on the side of the van. My riding surface consists of 11 aluminum sand plates (like the ones on the bike rack) and are hidden but always with me mounted underneath the van on both sides. I can fold them down and take them out.
The Van is transformed into a Superkicker in about 30 minutes when I do it alone.
When these rails are out of the way to the sides, I can then set up my inflatable Heimplanet tents for some extra space to sleep when traveling with my family or more riding buddies.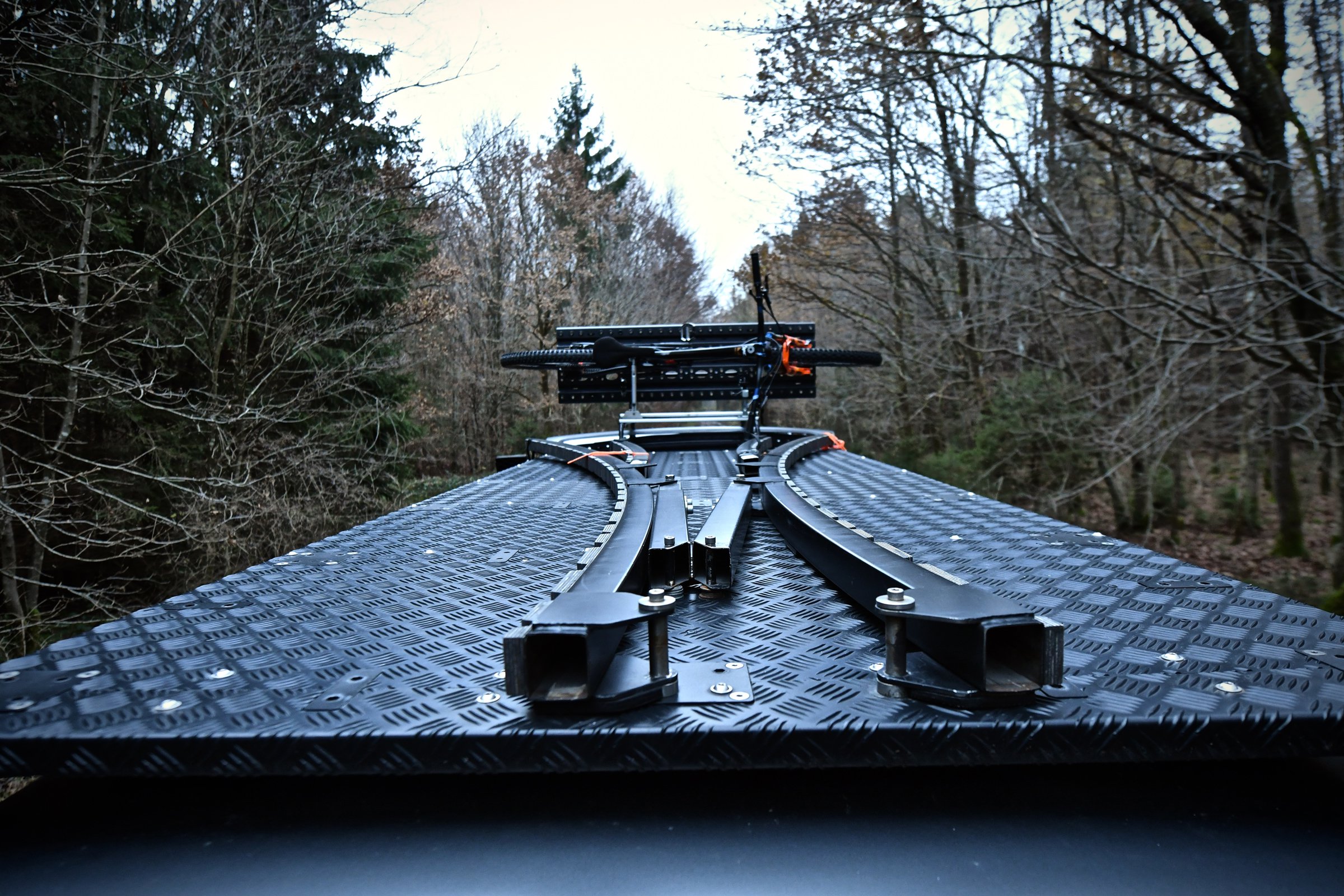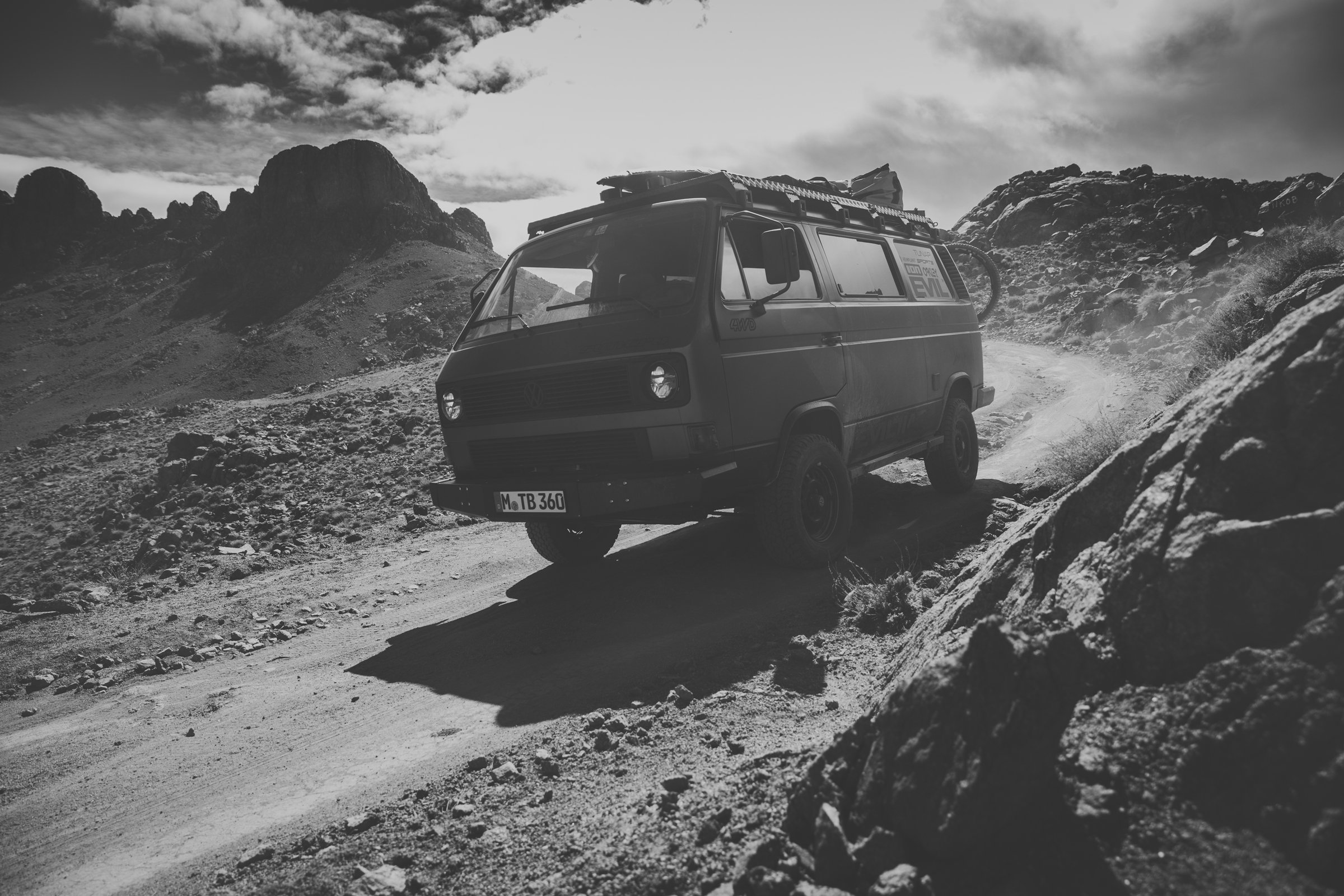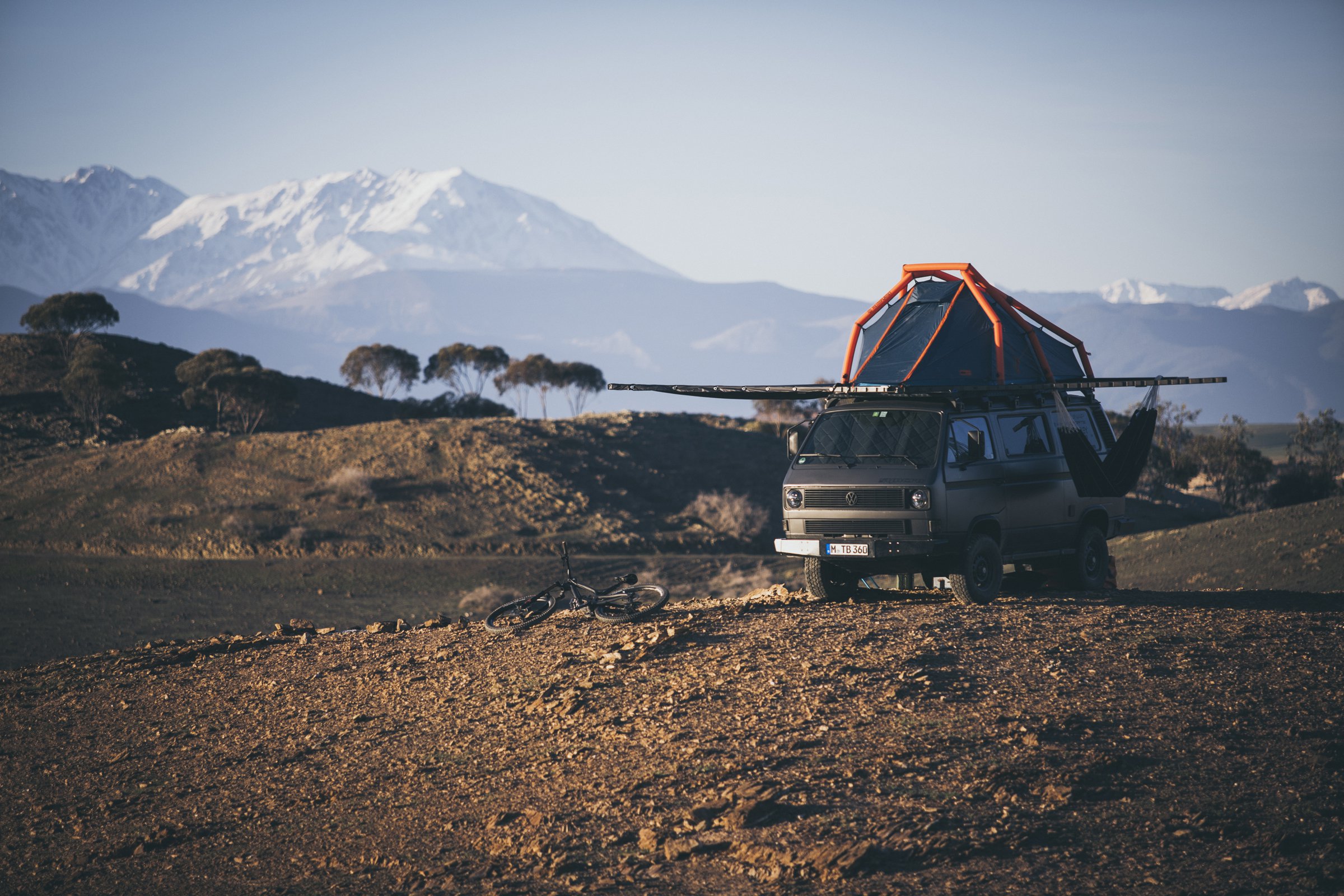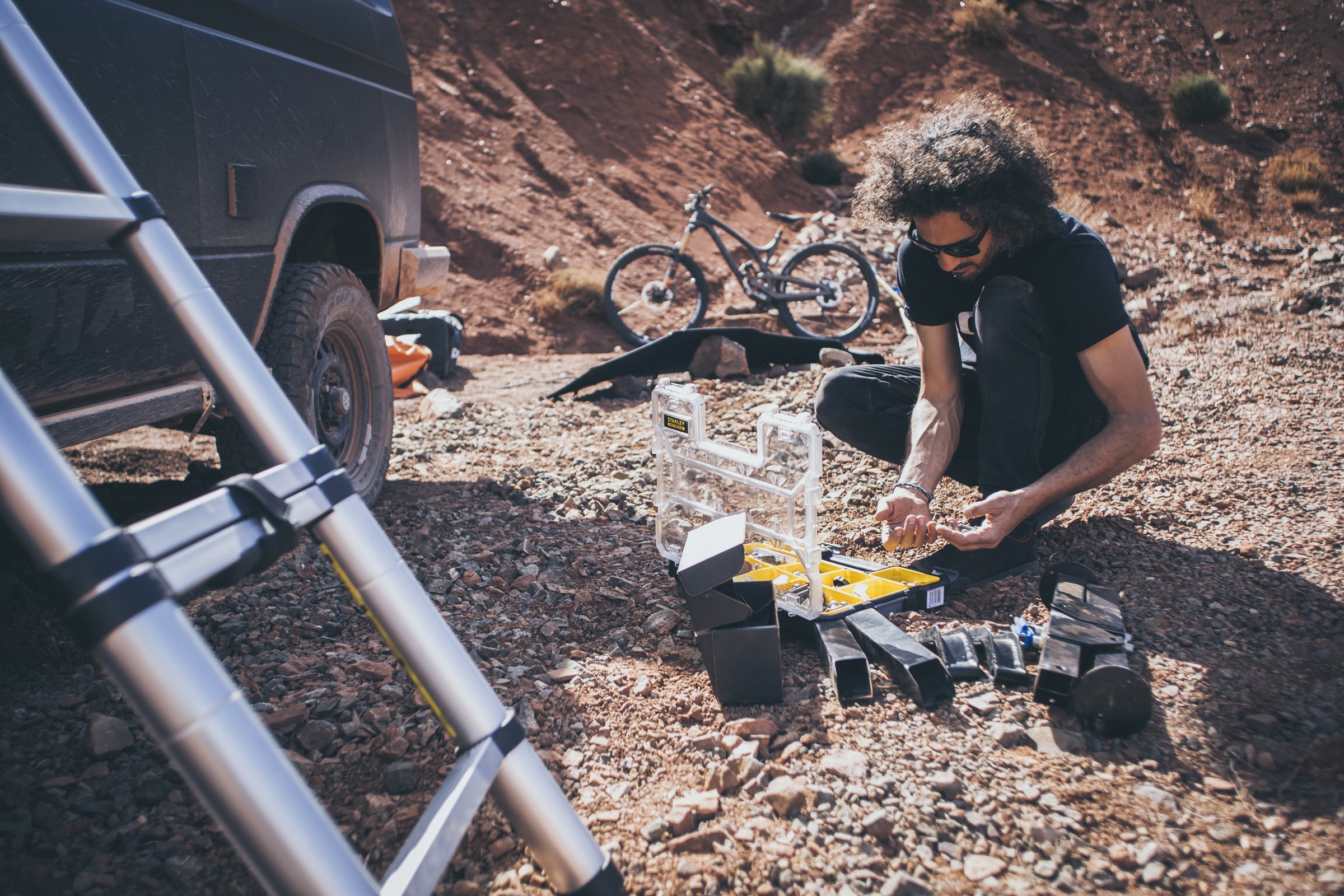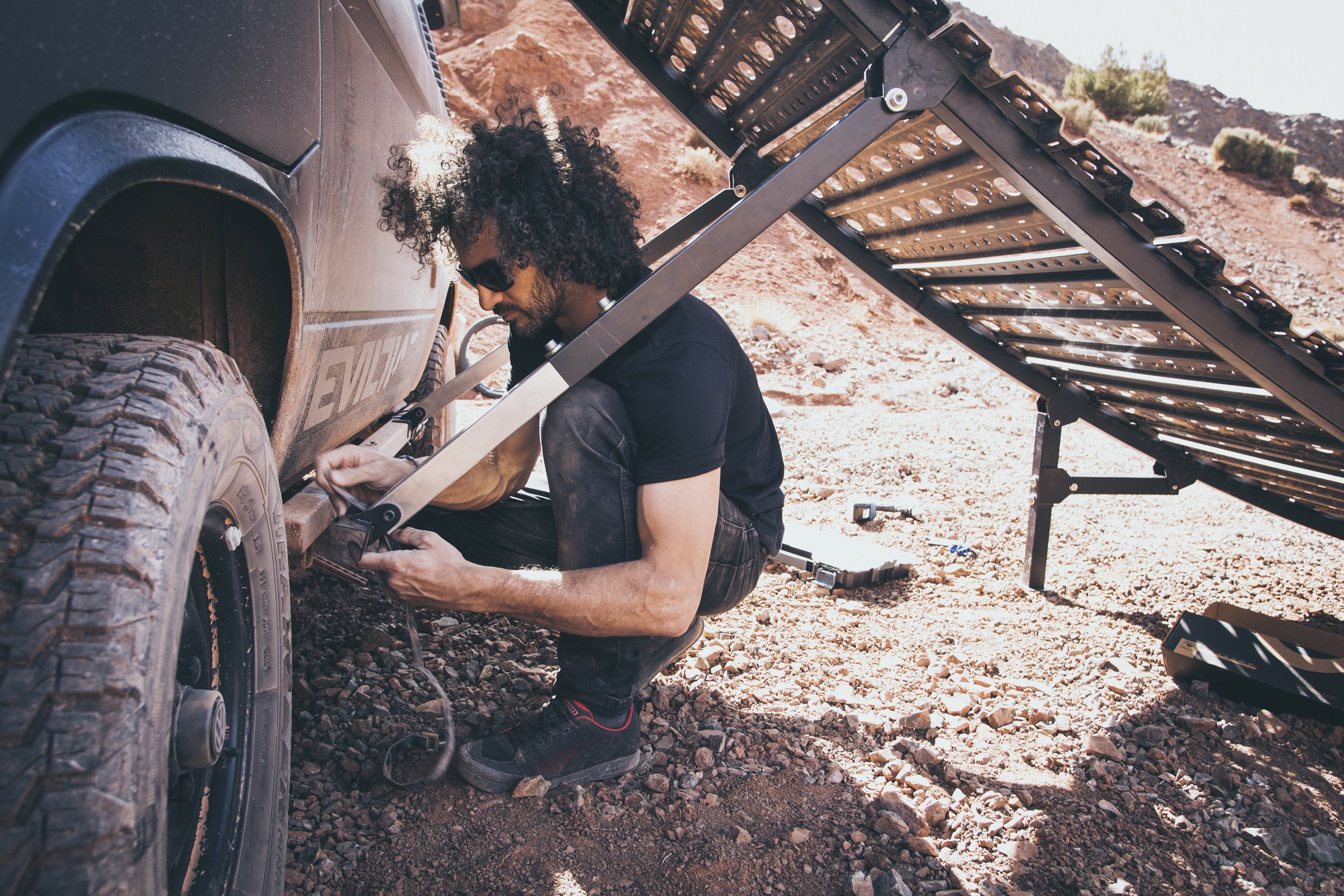 Interior
Completely sound and heat dampened floor, doors and sides.
Walnut floor.
Alcantara sides and roof.
Recaro pilot seating (both can be turned around).
Rear bench for 3 people. Folds into a bed.
Under the bench: 3 massive batteries to recharge filming equipment when spending time off the grid; also powers electronics and the subwoofer system as well as the Webasto permanent heater.
Foldable solar panel.
Kitchen (in the wooden box), Engel fridge, storage boxes and table are modular so I can equip the van as I need it. Without the modules, I can fit up to 6 bikes inside for transportation if needed and I can still unfold the bed and sleep inside.
Under the rear bed is my trunk where I have (spare) parts for my van and bikes, tools and shovels with me. And a slack line for the times off the bike...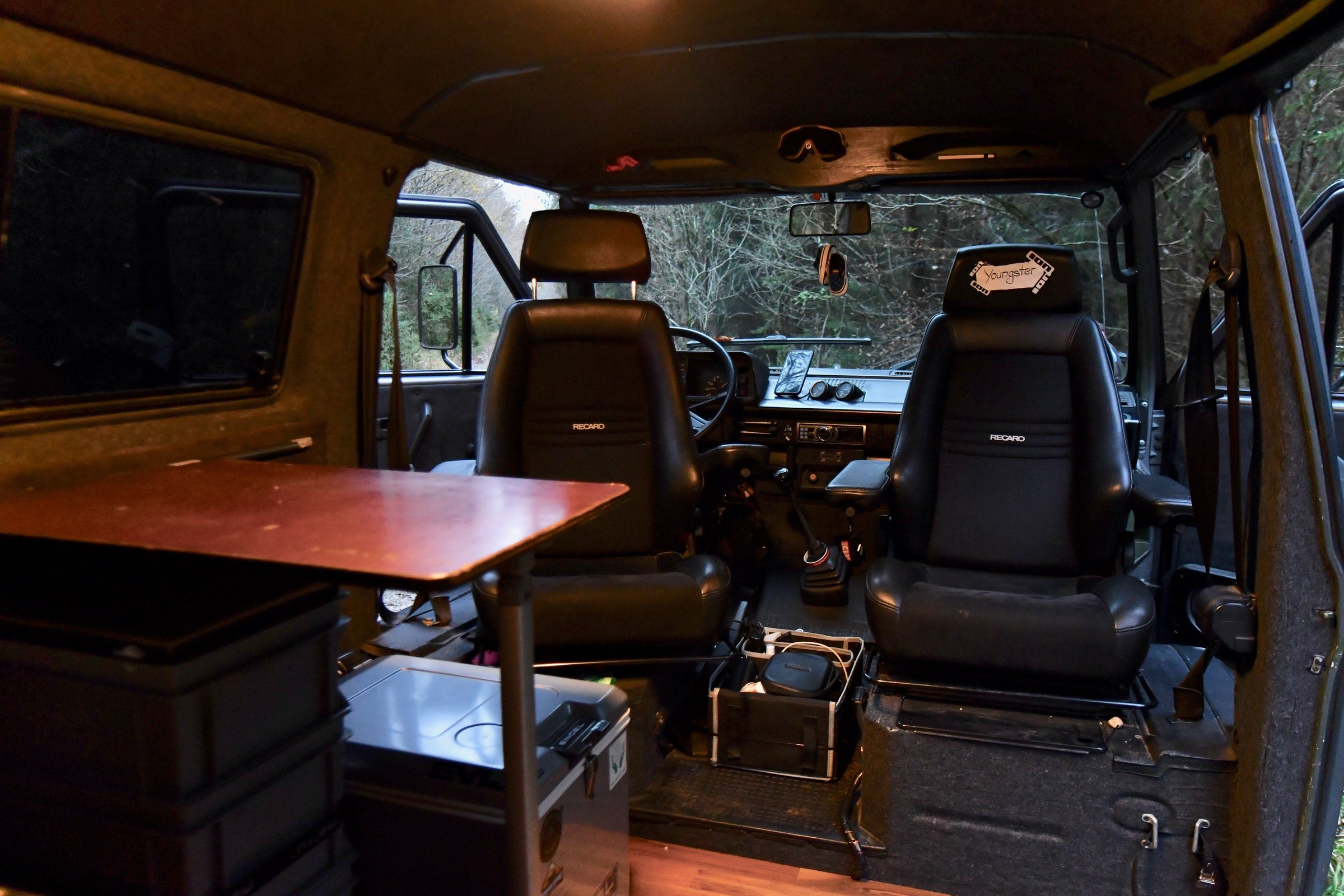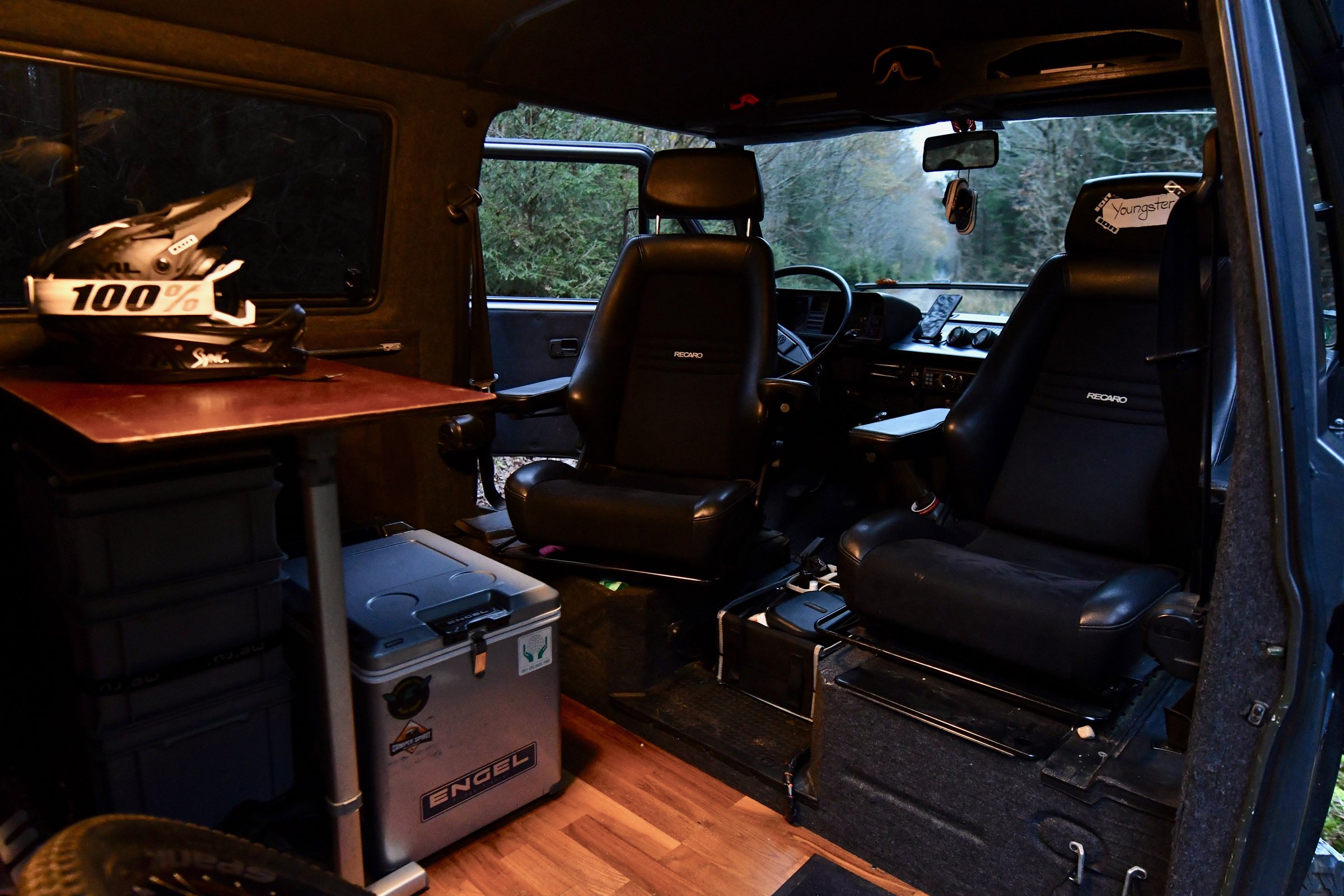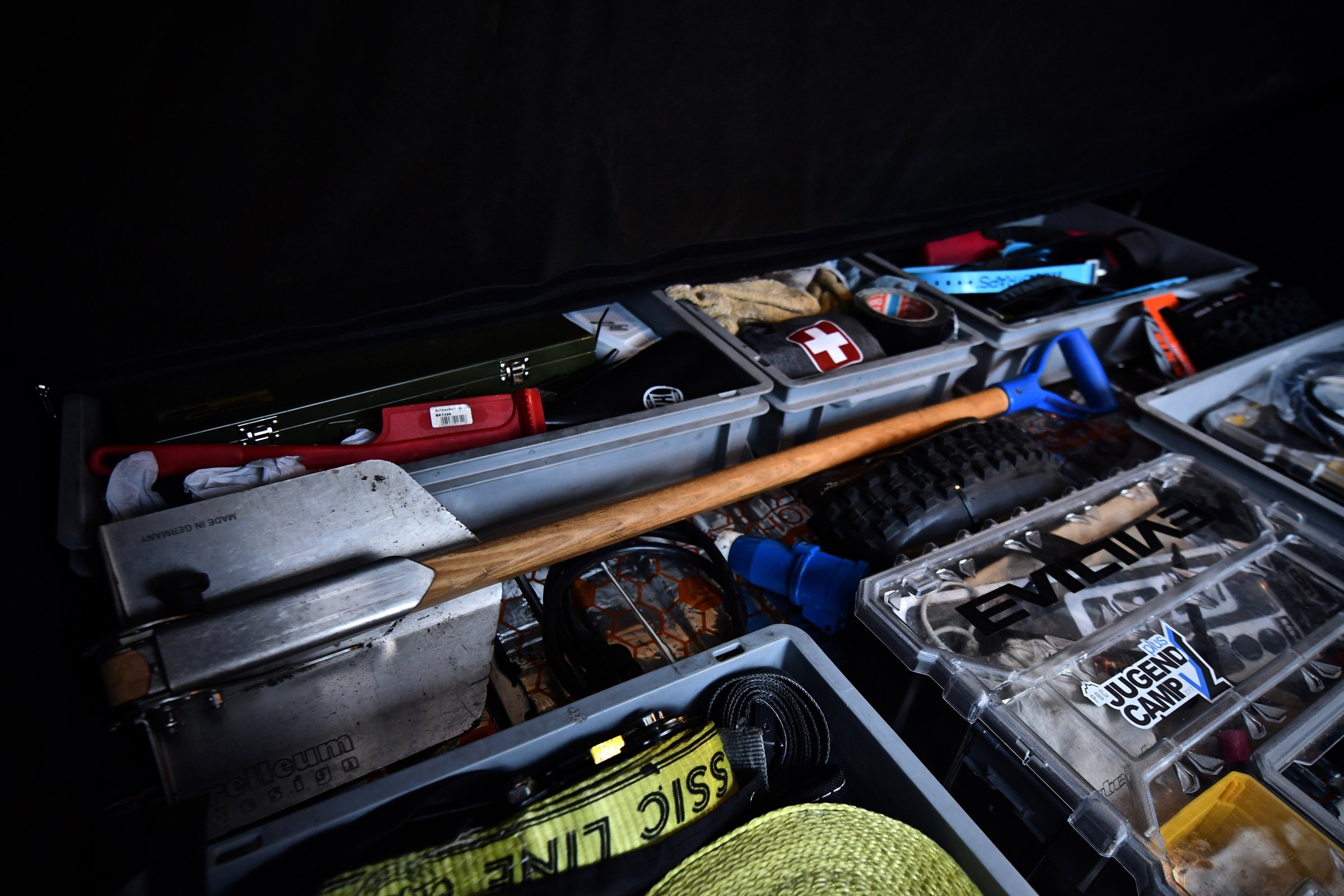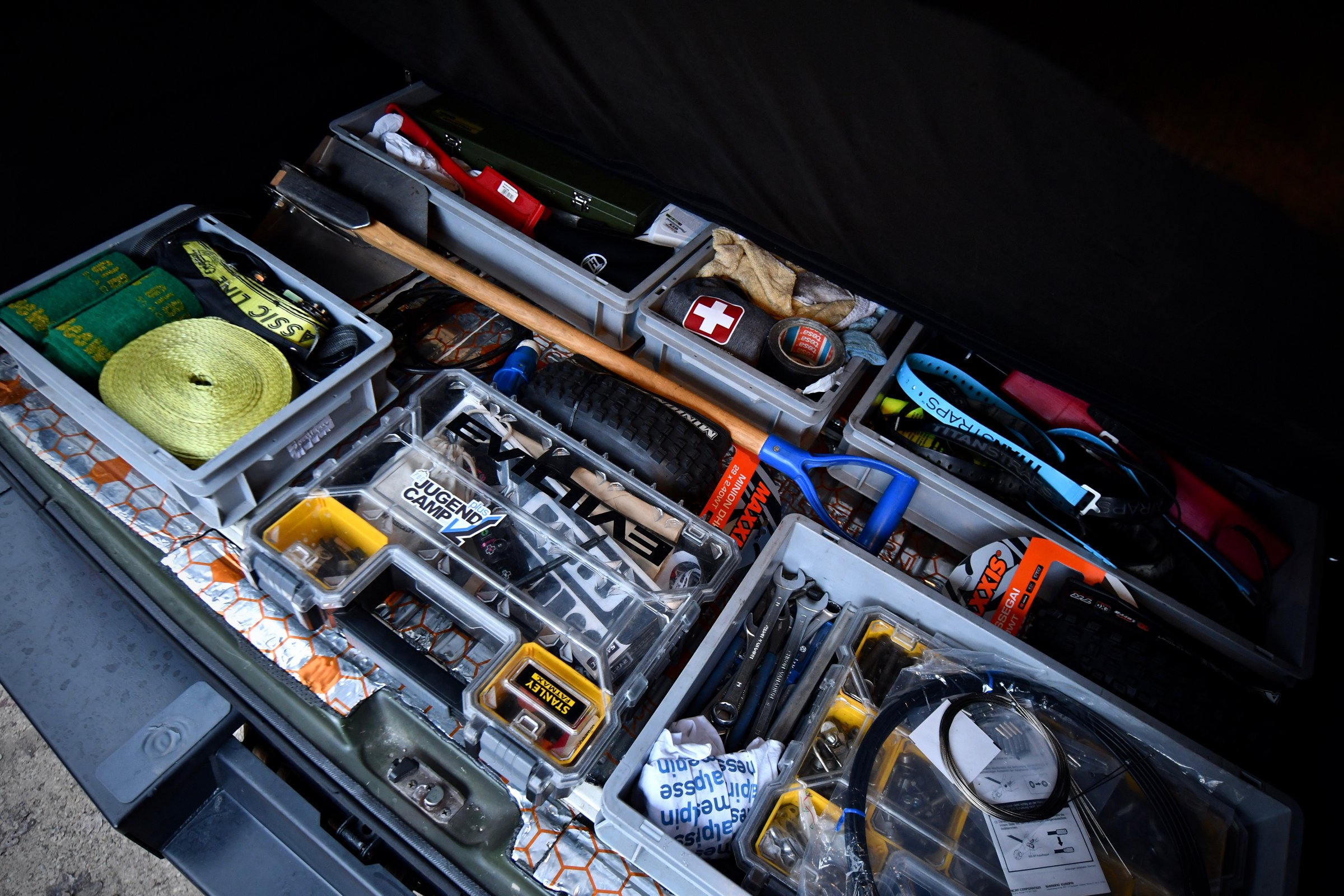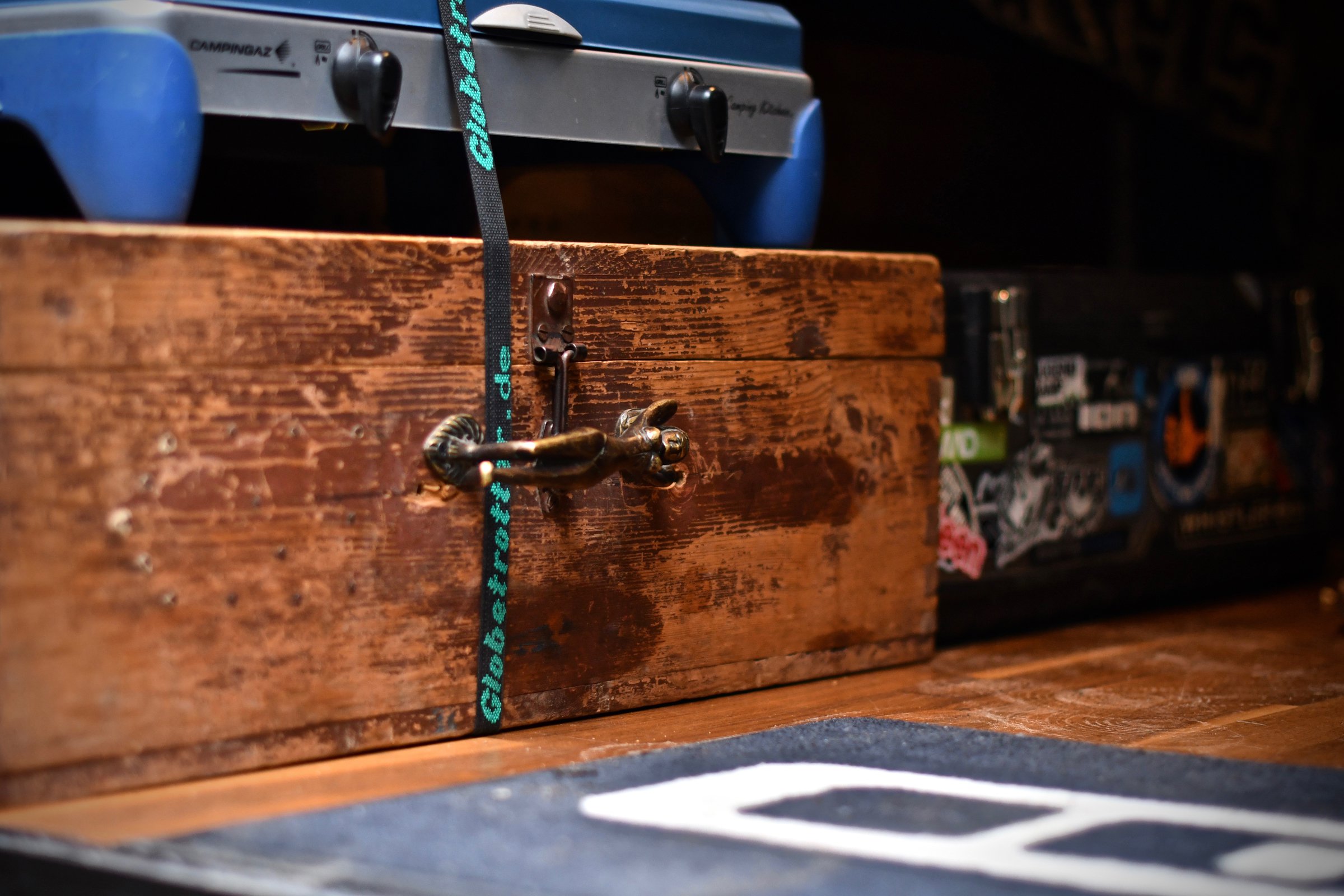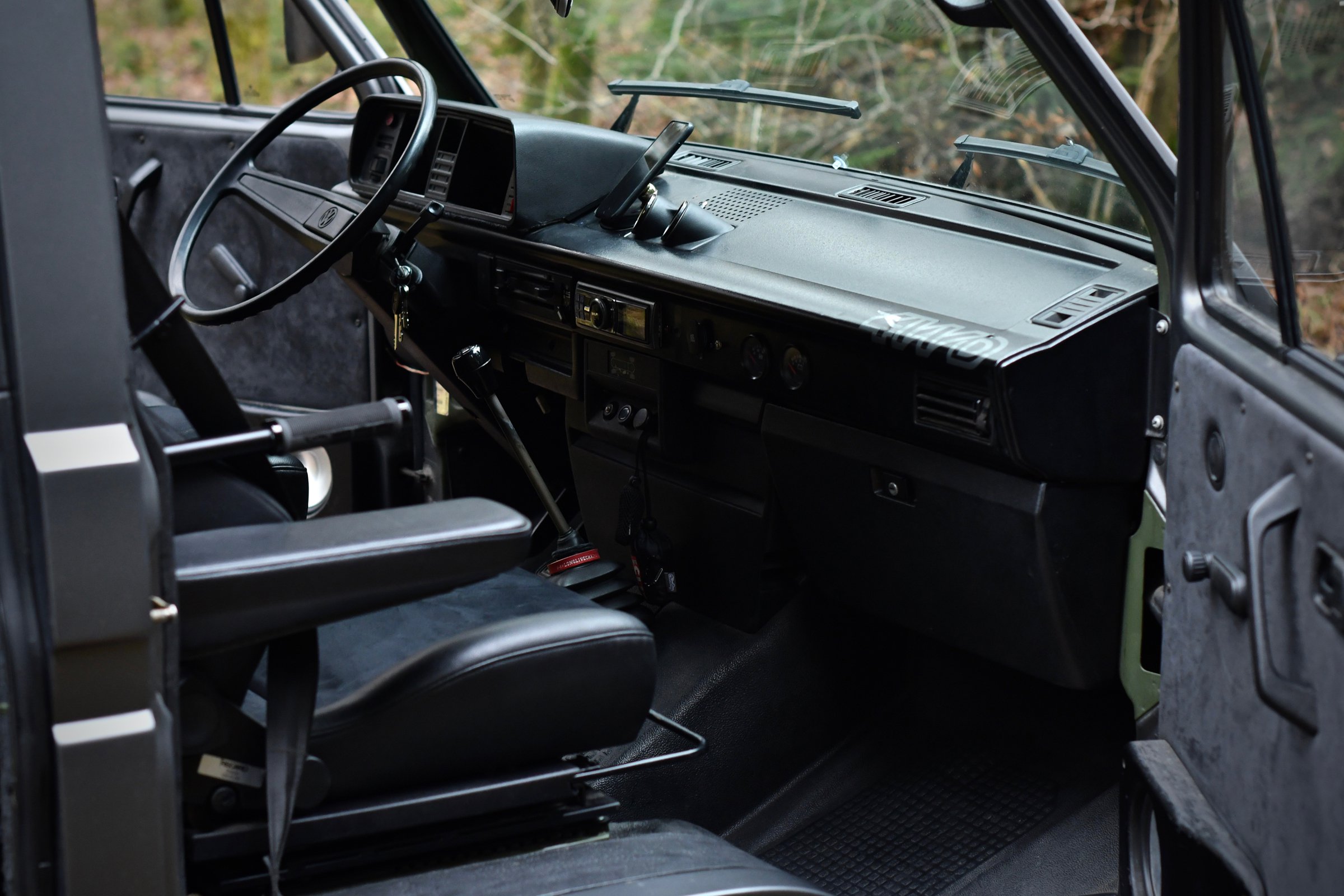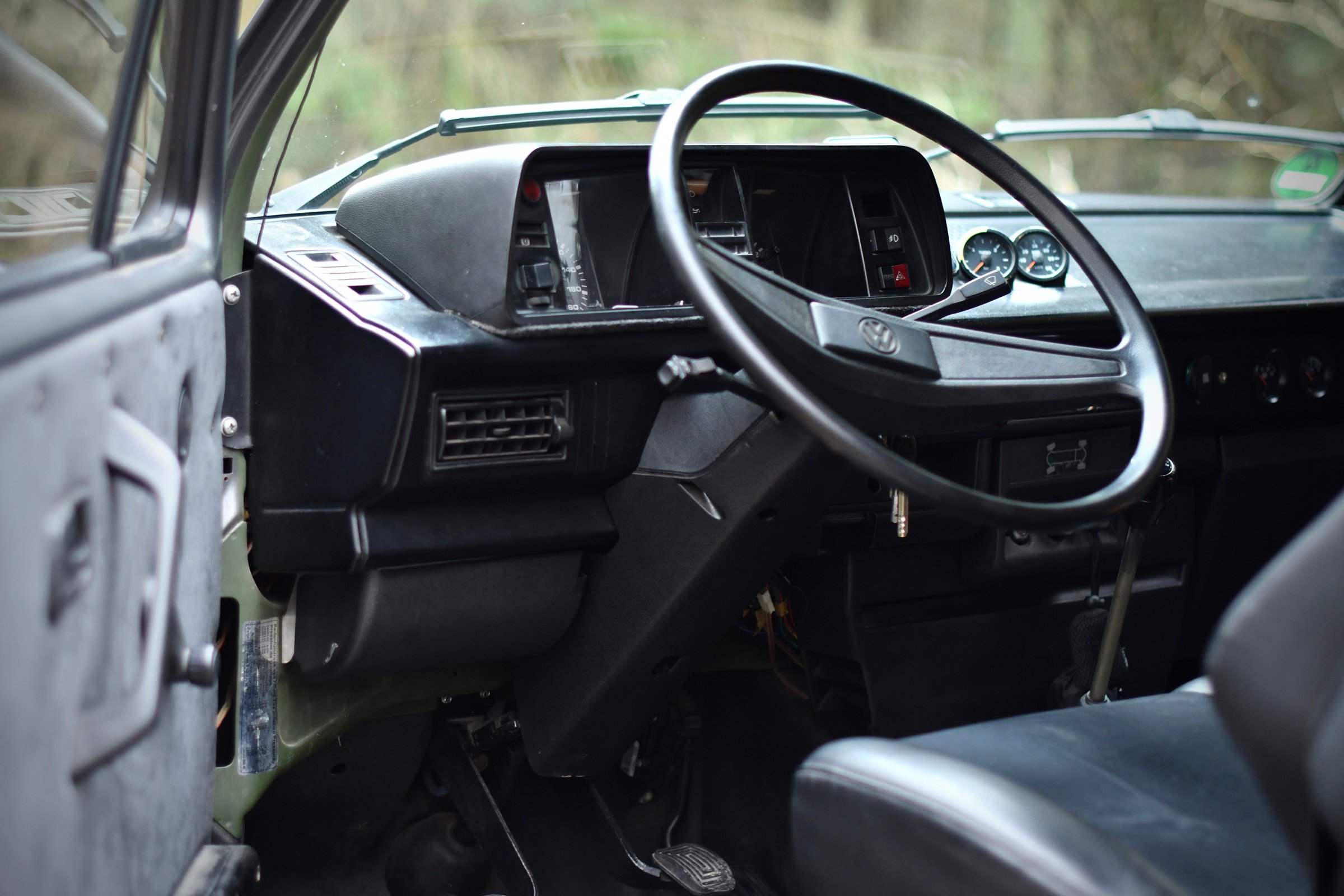 Rob Heran's EVIL Offering
This is Pistons and Pivots after all, so we'd better cover off the Pivots part. Rob has been riding for EVIL for several years, and the trail bike he chose to profile for this feature was his carbon-framed Offering with 140mm travel in size Large and Black Out Drunk colour scheme.
Suspension: FOX DHX2 2-Pos'n adjustable shock and FOX 36 Grip 2 fork with 160mm travel.
"In that combo I ride the Offering geometry in X-Low".
Custom made blacked out Trickstuff Direttissima brakes with Goodridge steel flex hose: "fucking expensive!!! but the power and controllability is the best by far", according to Rob.
He writes that "since I am with SPANK from the beginning of the company there is always a good chance to spot some prototype parts on my bikes:
Here is the new rear hub with 102-Tooth, 3.5-degree engagement inside that I am testing for multiple months already. The rear SPANK hub is combined with a 28h Spike 359 Vibrocore rim. Standard SPANK front hub comes with a Spike 350 rim without Vibrocore."
The SPANK Spilt 40 Stem holds a 35mm Spank Spike Vibrocore Bar with 25mm rise and full 820mm width. (With the big wheels and long travel I love having the wide bars for more control and corner railing).
Rob continues: "Under the Stem is a specialty: The Stiffmaster Headset by Intend. That thing is clamping the fork shaft like a dual crown fork would do. What it does is reduces the fork's shaft flex under load and gives me more steering precision when it gets rough and wild."
SPANK Spoon 100 pedals.
e*thirteen 170mm TRS race Carbon Cranks with 32t sprocket e*thirteen TRS race 11-speed Cassette.
Shimano XT 11-speed derailleur.
FOX Transfer 150mm seatpost.
66sick Espacio Libre PE Alcantara saddle.
EVIL Palmela Handerson grips.
MAXXIS Assegai 2.5 WT 3C Maxx Terra Exo front.
MAXXIS Minion DHR II 2.4 WT 3C Maxx Terra EXO+, rear.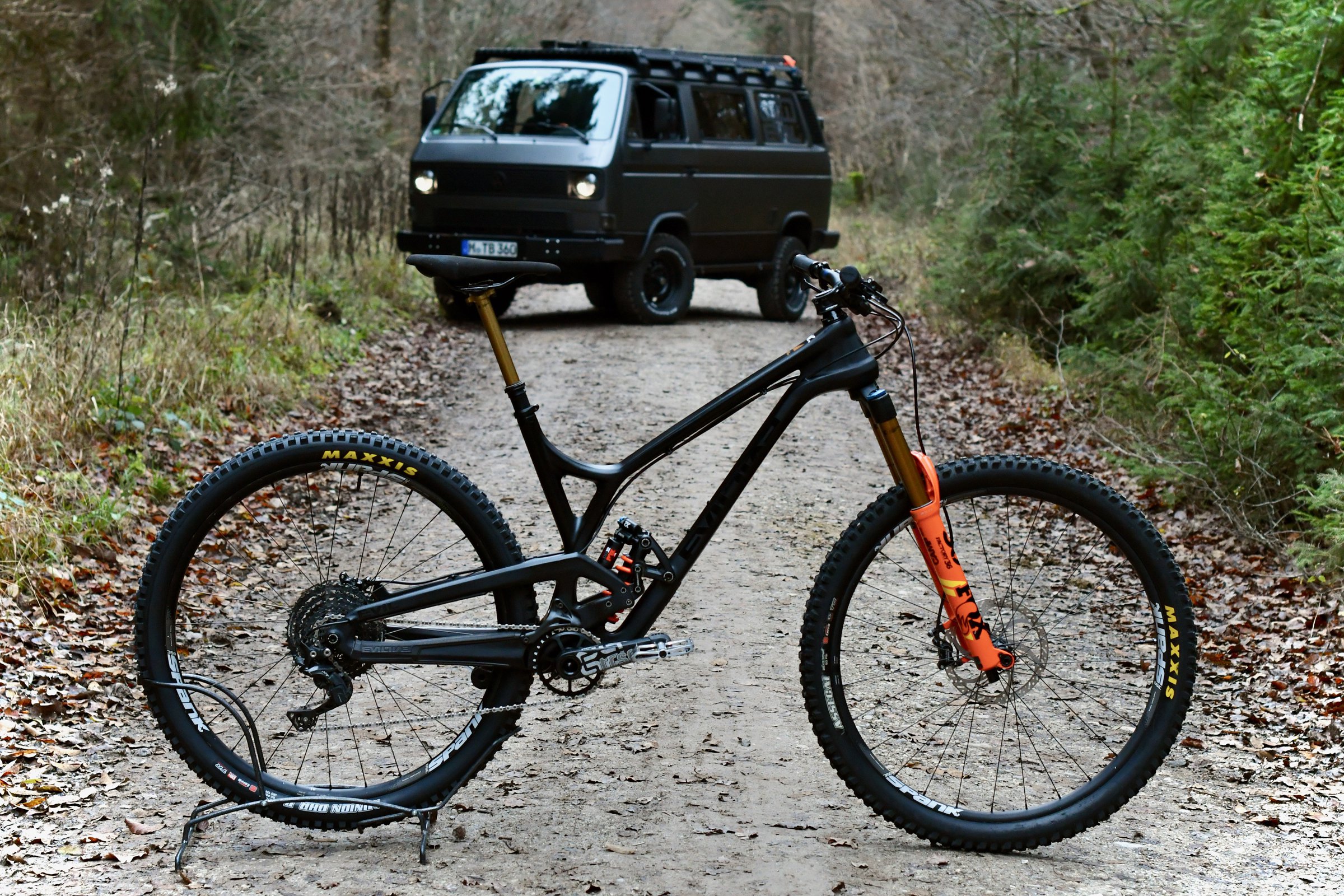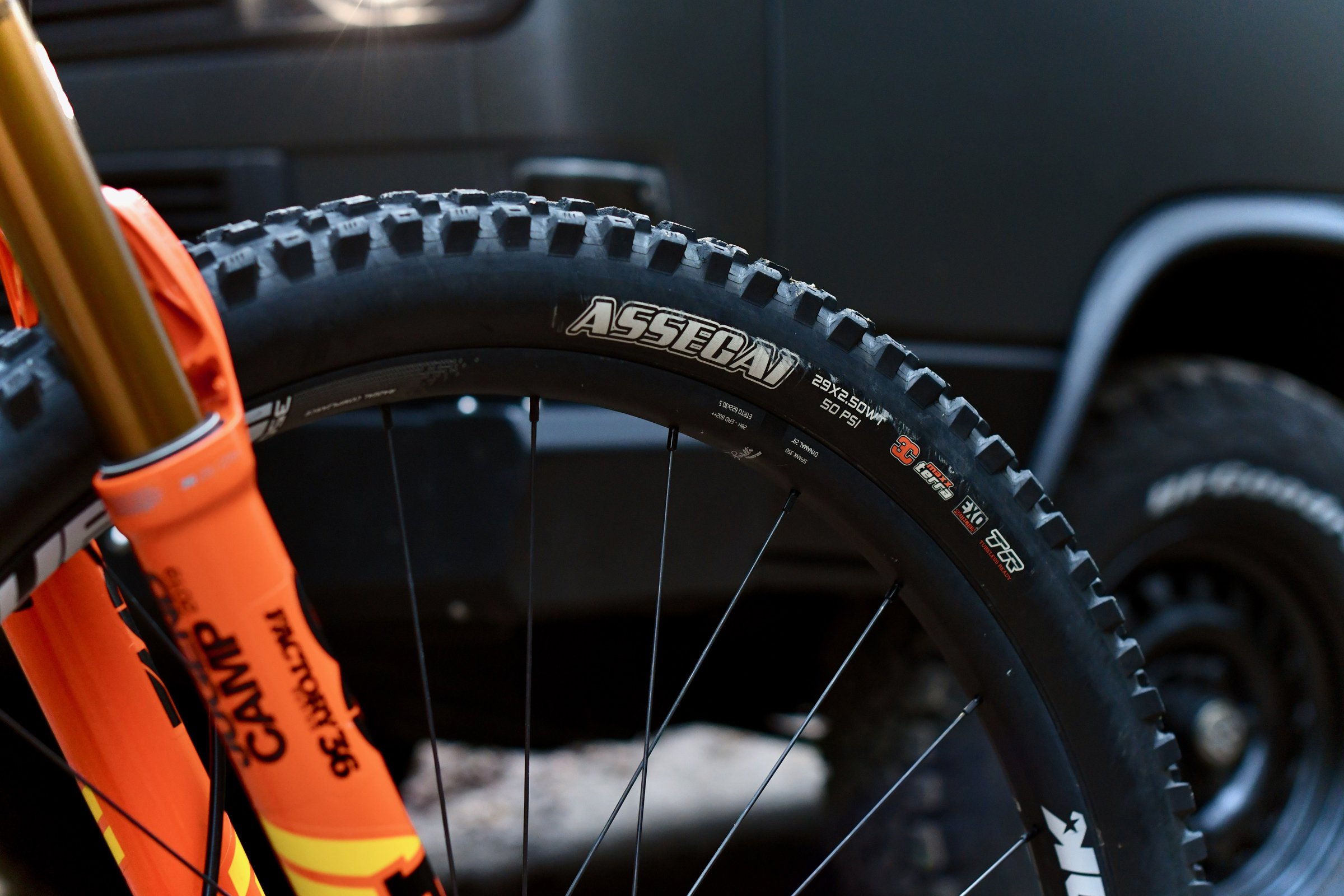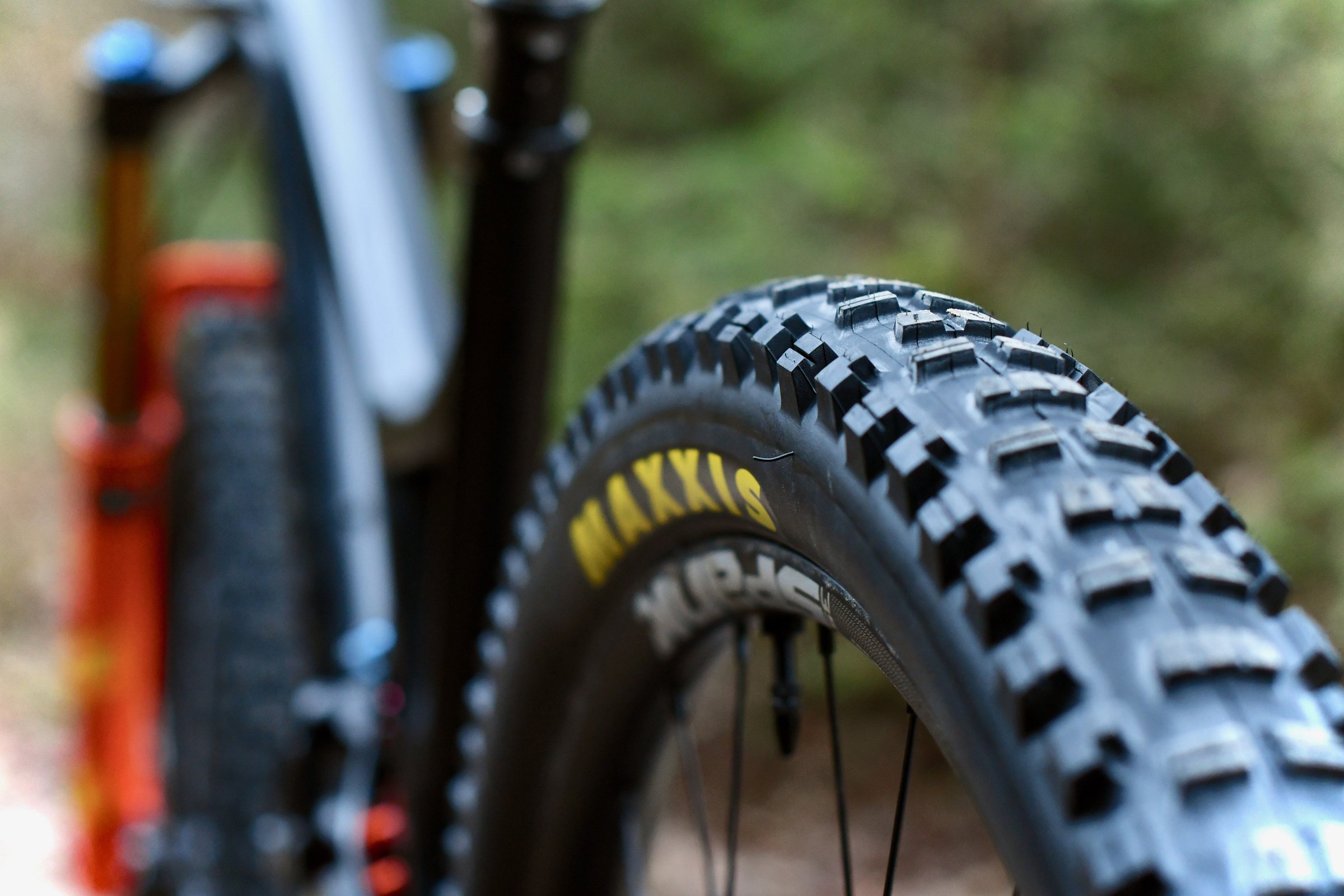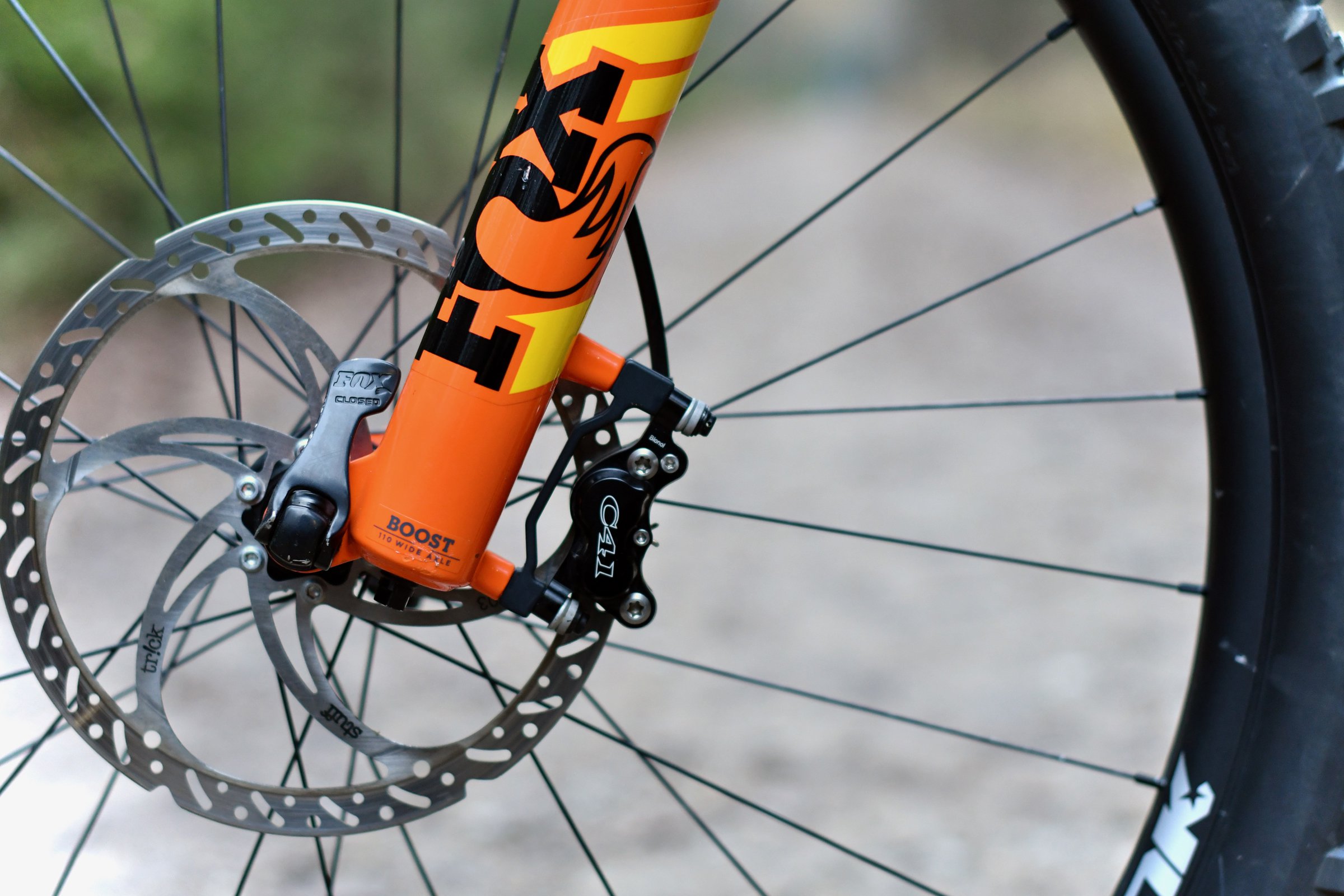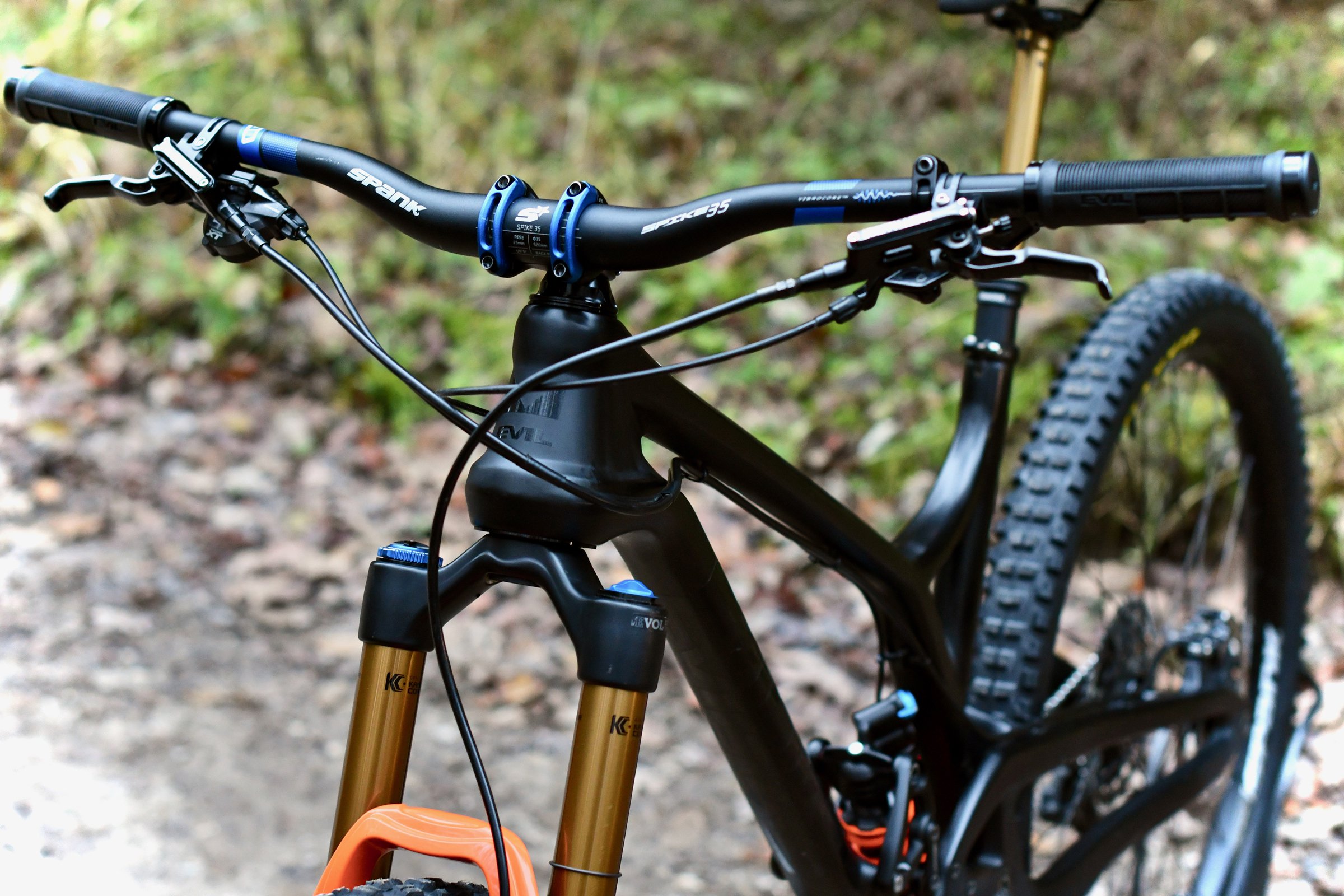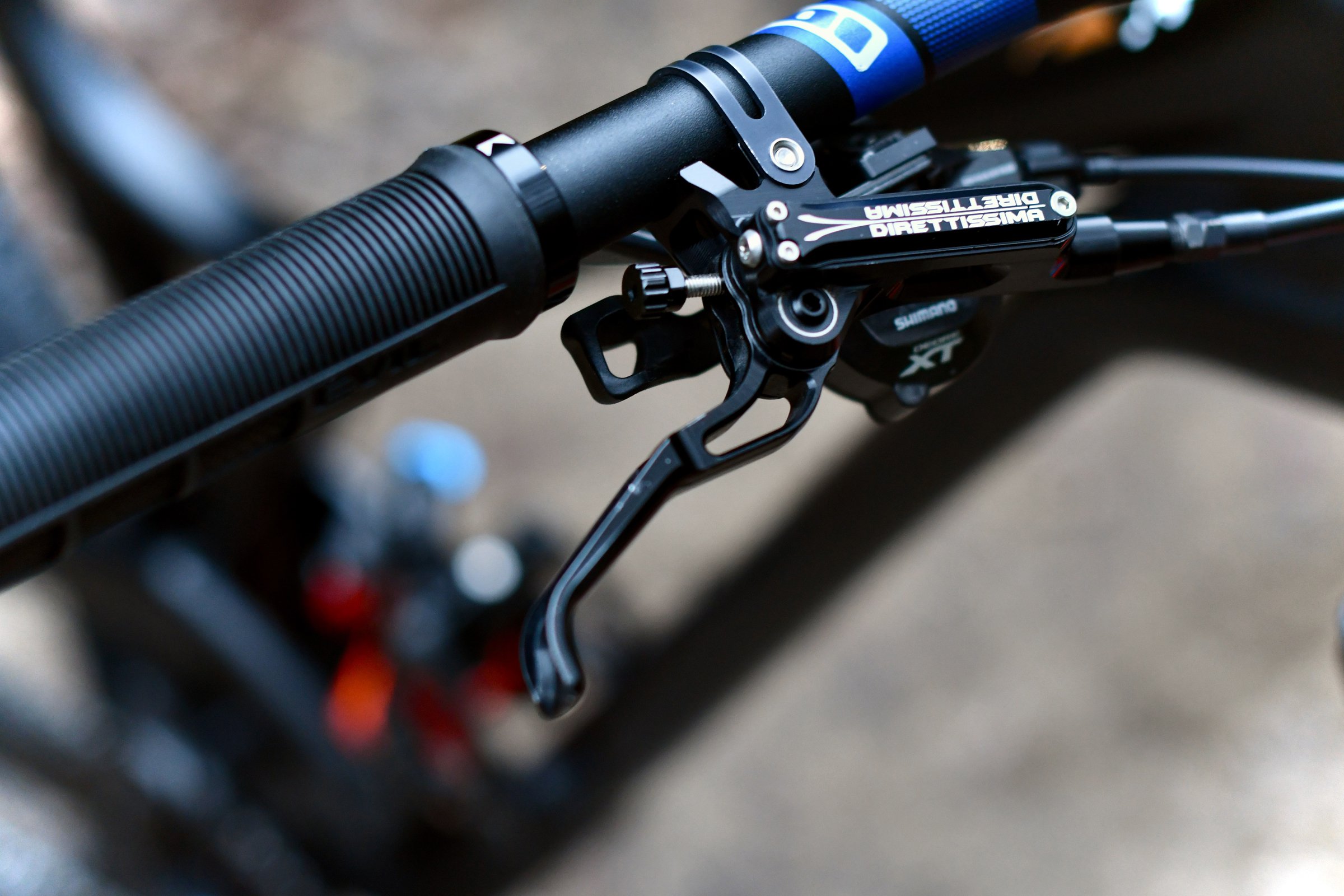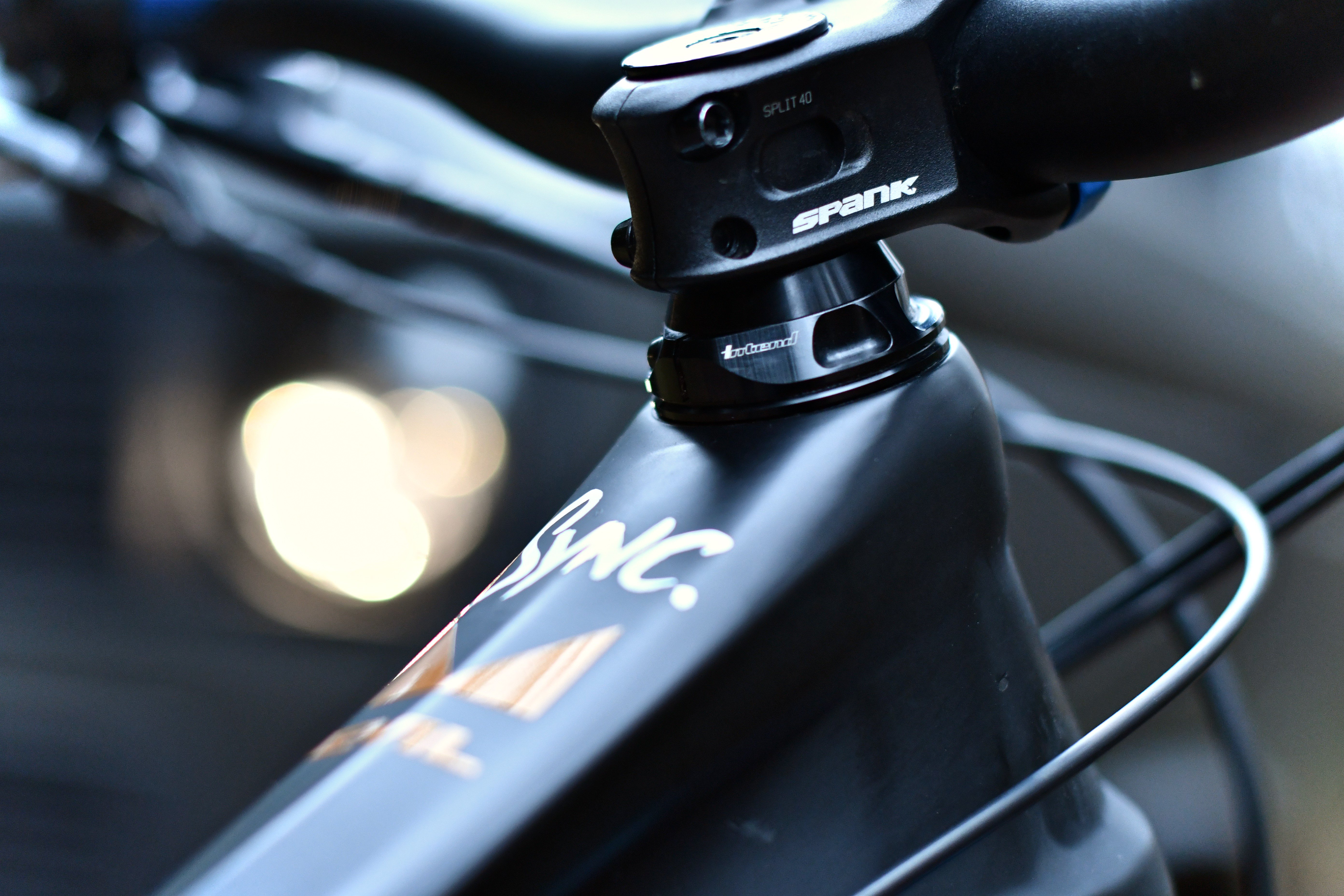 Dirt Jump Bike - EVIL Faction
Rob has a strong DJ background, so he wanted to include his current trick whip.
EVIL Faction II steel frame, size Medium.
FOX 36 831 Factory Fork with 100 travel.
Fly BMX Dolmen 3-piece cranks.
Assembly Industries Five Stroke Dirt hubs w/ Spank Spike EVO Race 33 rims.
SPANK Spoon 100 pedals.
SPANK Spike Bar 50mm rise, 780mm wide.
Brake: there is something special here. This is a 16-year old brake made by Christopher Hug, the original founder of The Cleg brakes which later turned into Trickstuff.
Back then I was his first sponsored athlete. Since then I have had these brakes... This year I gave them to Trickstuff for some overhaul and got them back like new. These are a bit of an overkill on a dirt bike - but hey, fuck it! It's too dope not to ride it.
Seatpost: Acros
Grips: EVIL Palmela Handerson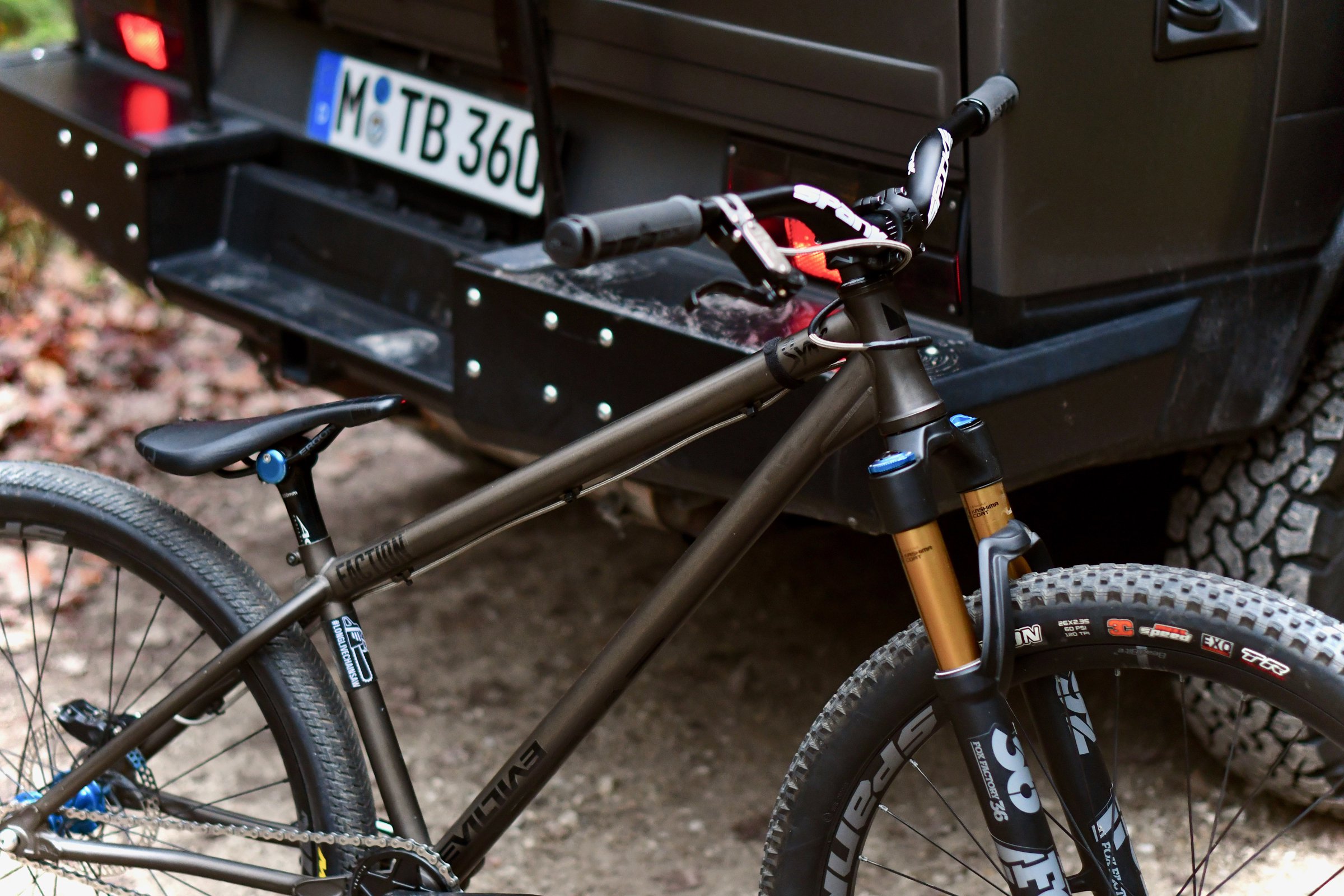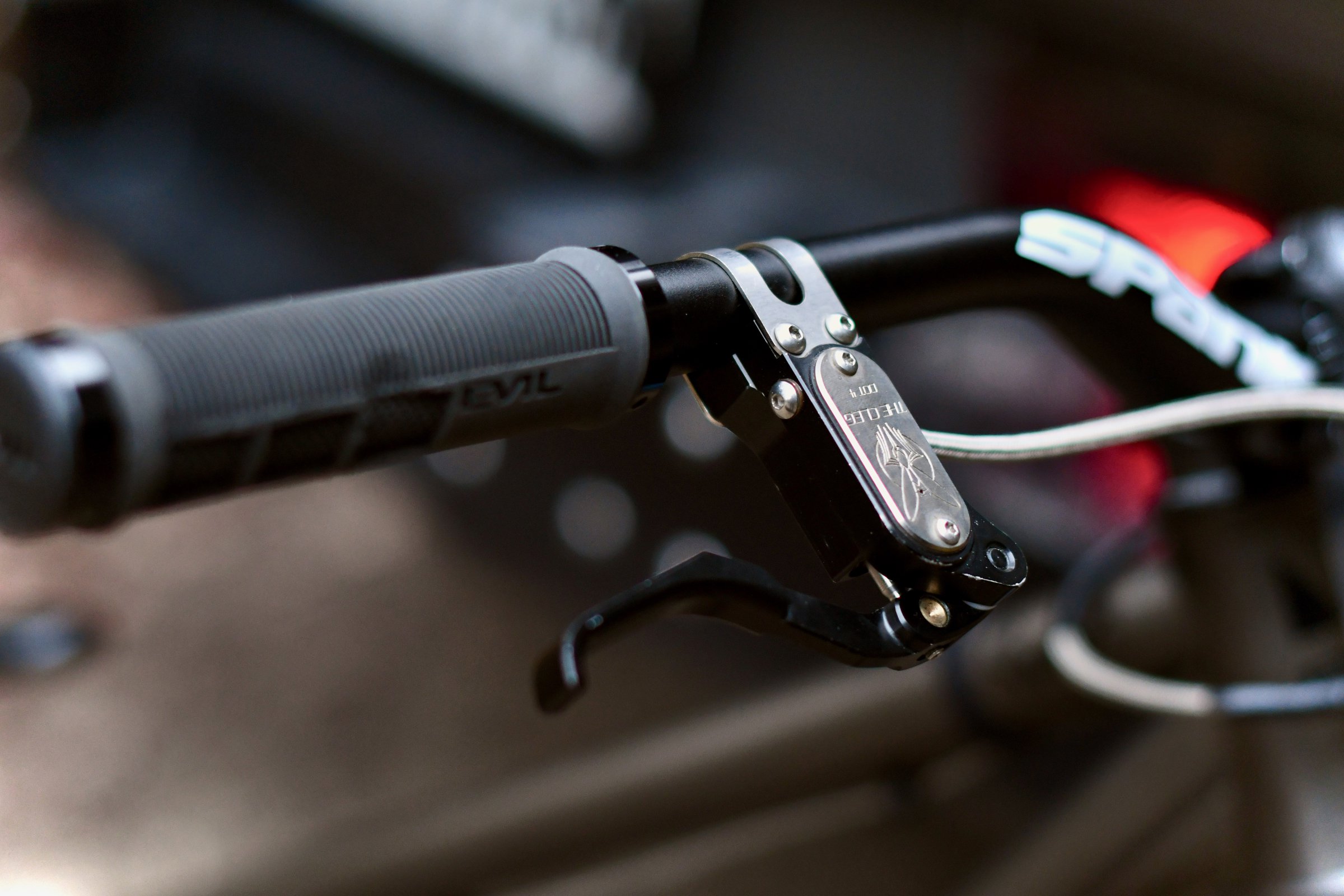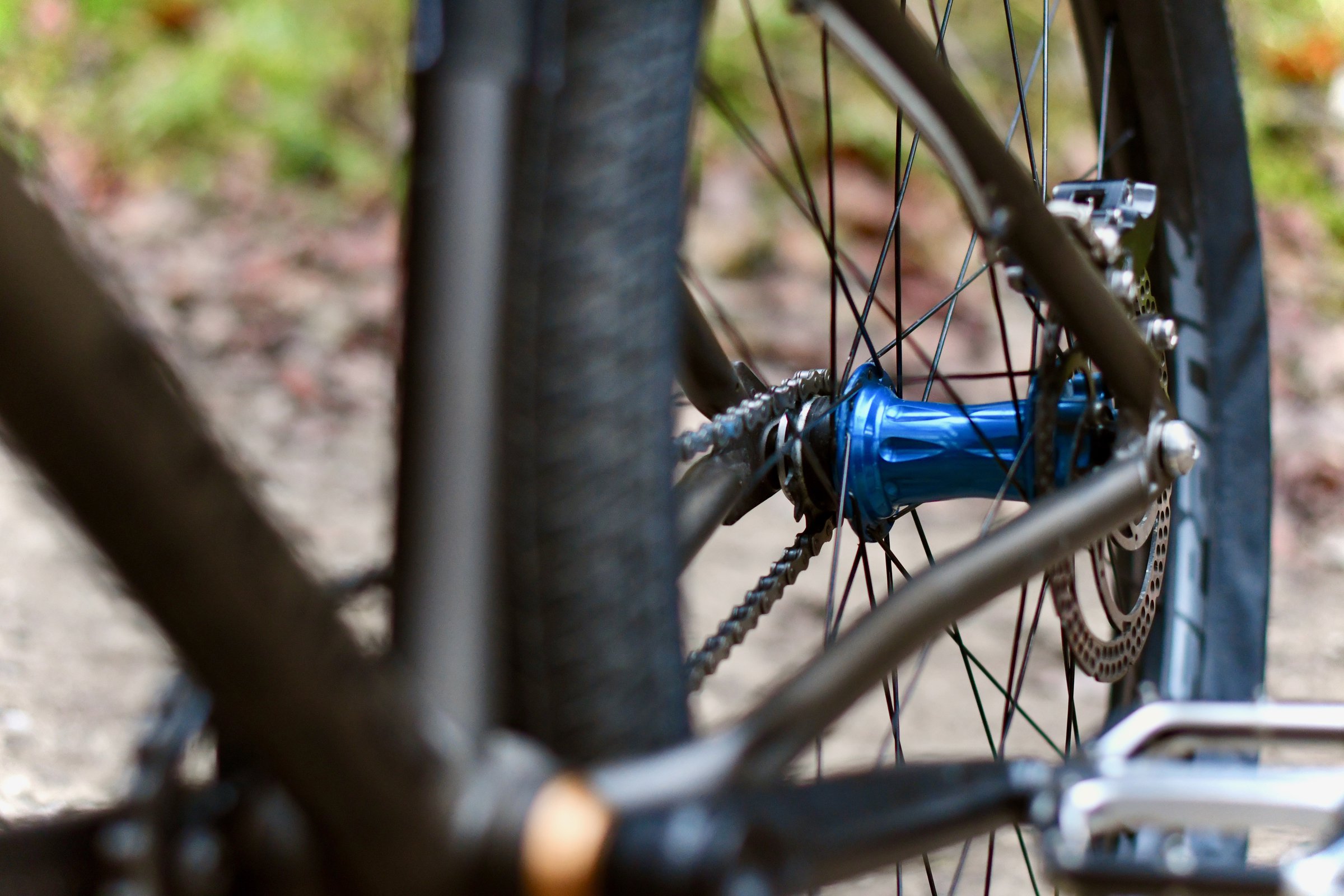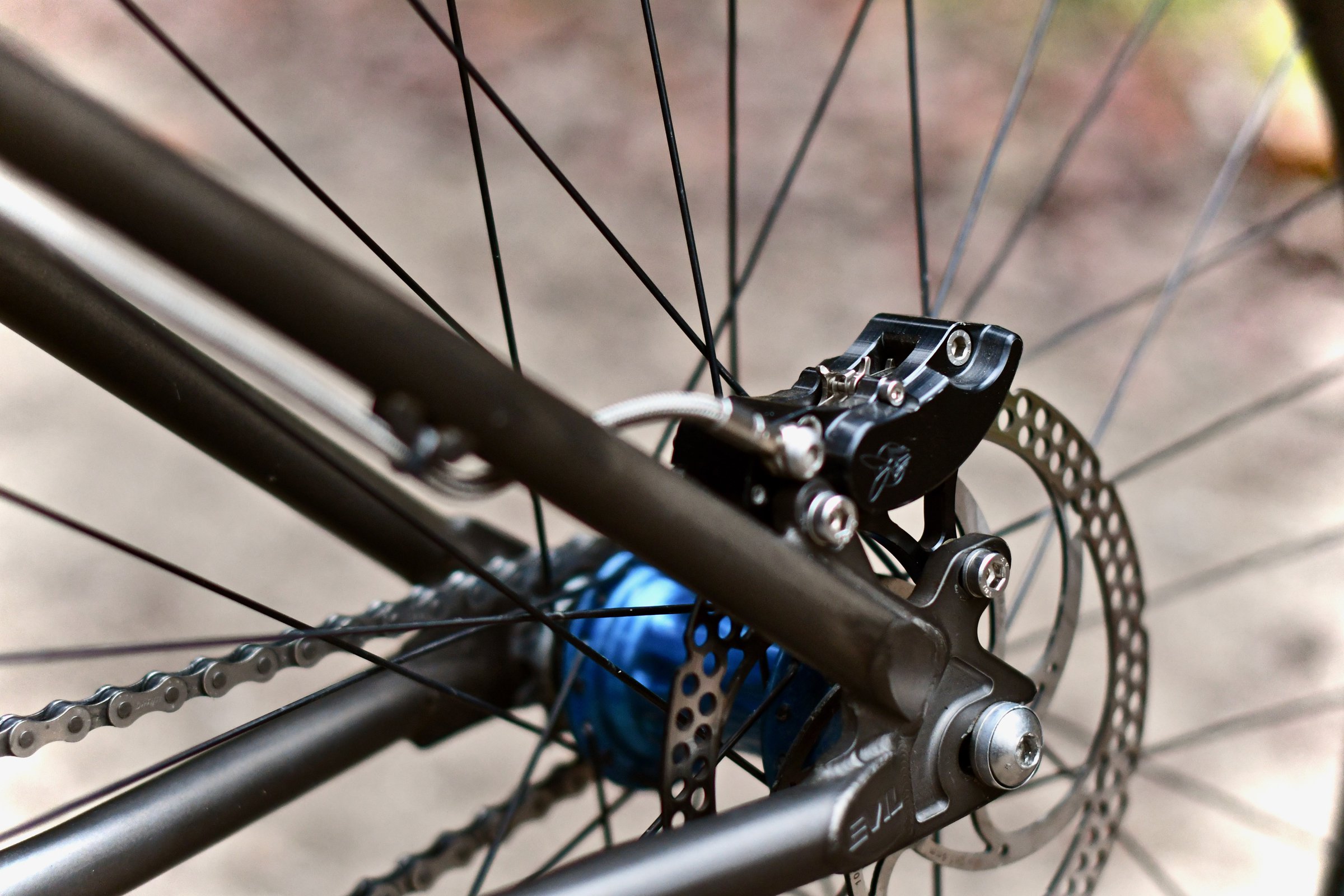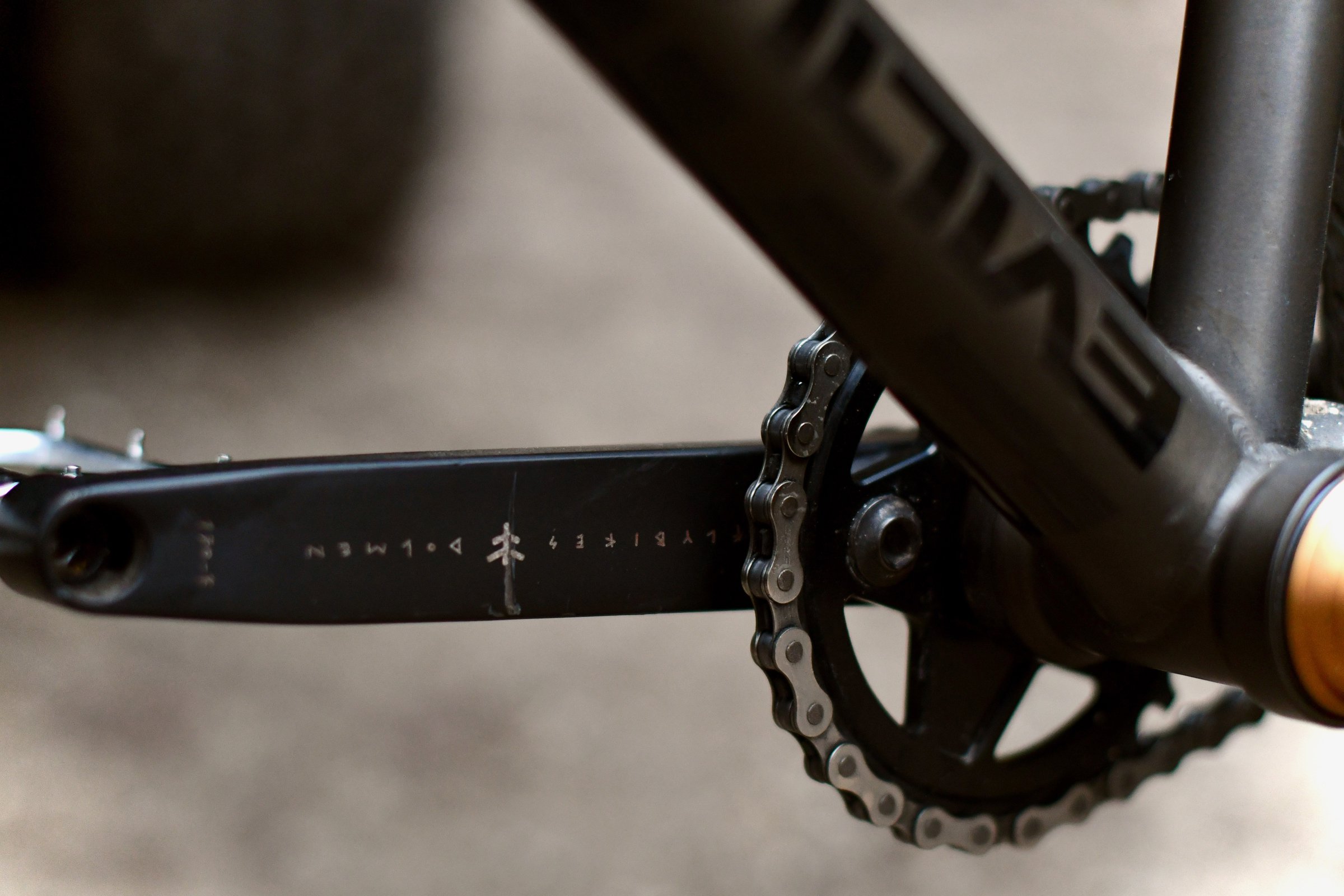 It's evident that Rob has poured an incredible amount of energy, time, and money into his T3 Syncro, but the result is an incredibly capable and versatile van that has provided experiences and memories over the years for Rob, his friends, and his family. That effort extends into a website dedicated to the work he put into the conversion as well as a few of the adventures he's had in the van. If you're interested in learning more, I highly recommend you check out http://thesyncronicles.com.