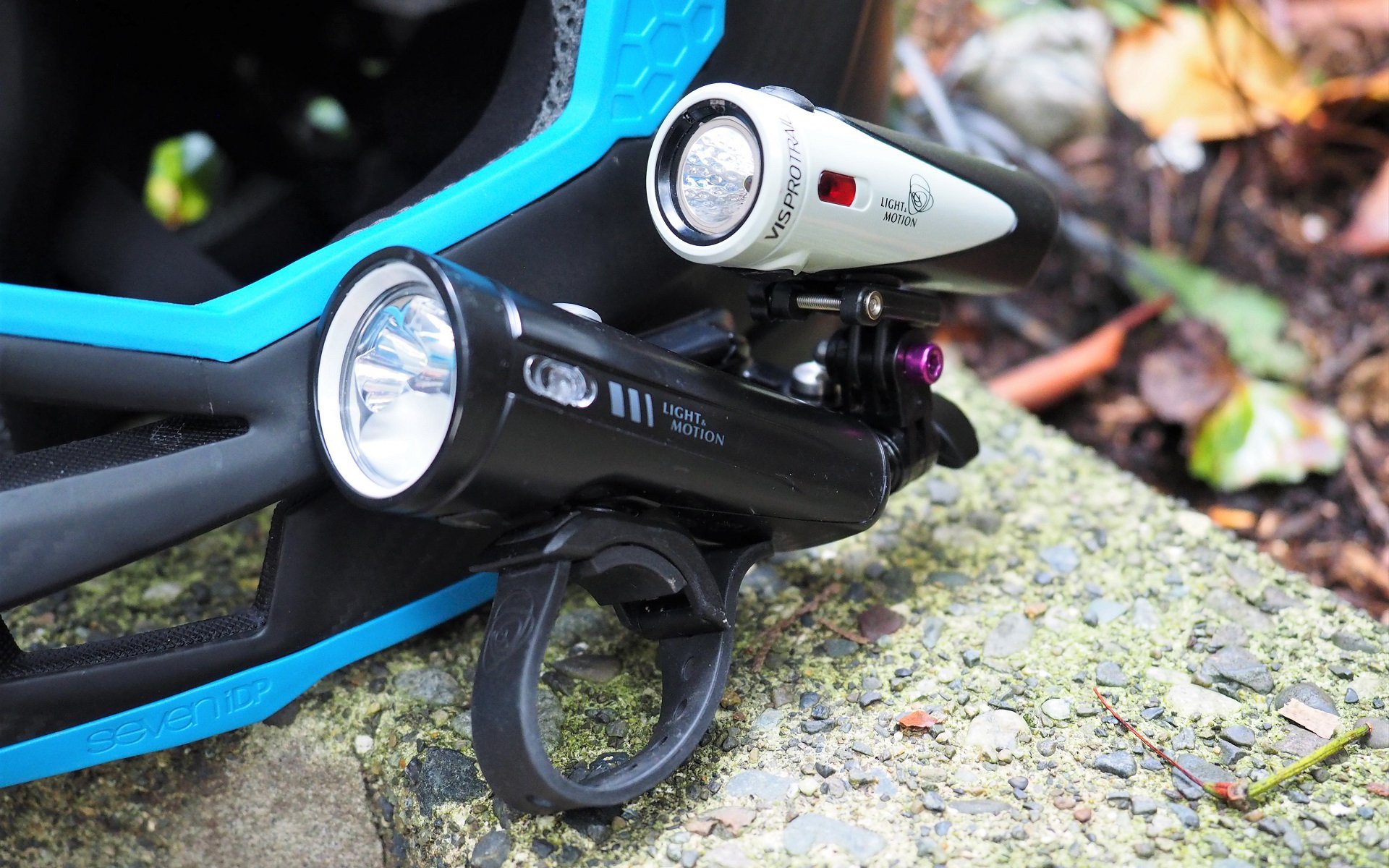 REVIEW
Light And Motion Seca Comp 2000 & Vis Pro 1000 Trail
The System Killer
I've been regularly night riding since long before I had to.That is before I had a family and riding at night became a matter of fitting in my fix. I've owned a number of top-end systems, including some from Light And Motion, and ridden some interesting exotic systems. I love to ride janky North Shore trails in the dark, particularly Fromme trails like Pipeline and Lower Crippler, and my friends Andy and Chris have been known to cajole me into night time adventures down much harder Fromme-fair outside of my after-hours comfort-zone.
I ride often enough at night to justify investing in good lights that will be reliable in all weather conditions, maintain their max brightness over sustained riding, and give me years of hard use and the trails I'm riding are technical enough to warranty packing a lot of lumens into the woods.
This is a review of two lights made by Light And Motion, which has been one of the most established and appreciated bike light brands since 1995. The Vis Pro 1000 is good. The Seca Comp 2000 is a beauty. Both are nice pieces that I've been happily riding in weather both fierce and friendly. It's an all-in-one 'System Killer' handlebar-light that I recommend to anyone and everyone.
Vis Pro 1000 Trail
Light And Motion's Vis Pro 1000 Trail light's spot beam delivers a very usable 1000 lumens of light for 1.5 hours and passes my basic requirement for a helmet light in that it uses a GoPro mount. It's also fairly feathery for an all-in-one system at just over 120-grams. I like it. I have lots of hours riding it. I have recommended it to a few friends. It's a great little lamp.
For my purposes, the Vis Pro is a solid product with comparables. It runs for 30 minutes longer than the Blackburn Dayblazer on the highest setting and throws a similar amount of light for an extra 40 USD. It shaves about 65-grams off the Bontrager Ion Pro albeit delivering a bit less brightness over the same 90 minutes of riding for a 10 USD premium - 135 USD for the Vis Pro versus 125 USD for the Ion Pro.
I prefer the cosmetics of the Dayblazer but think that appearance aside, the Ion Pro delivers the best punch-per-dollar on a danky-janky night ride. I'm okay with the Vis Pro in use and the quality of manufacturing has a more premium fit-and-finish than either of the other light sets.
Light And Motion has a great reputation for quality manufacturing and after-sale support so there is a lot to like about this system aside from its manners on the trail. I'd love to see a bigger version of the Vis Pro that throws more light for the same run time without packing on the grams like the Seca Comp so it would remain head-mount friendly.
It's not the min-max winner. Bontrager puts out more juice for less money. Blackburn is 30-minutes shy on the runtime of being a category darling but still manages to put out a similar amount of light for less money using the same almost universal mounting system.
Seca Comp 2000
This thing is the system killer. No extension cable to wreck, no separate battery to misplace. I, for one, hail our compact-light-lords! We've been above freezing, but still fairly crisp, and runtime is as advertised on this light set.
I have not used any light setup to date that would convince me to spend more. This has an intense spot beam with a healthy amount of diffusion, so I can see the whole trail. On slow techy North-Shore night rides the system stays bright even with no rain-cooling and limited airflow. The light colour is warm enough for saturated slop and the output is as bright as I need all for 230 USD.
I'd love for the Seca Comp, nee Taz, 2000 to be cheaper, lighter, and have twice the run time on full-blast. And how about a COVID vaccine for Christmas when we're at it!? When it comes to actual potential upgrades, I would prefer the base to be GoPro compatible as original equipment. I really like the universality of the rubber-strap mount for handlebar use. I also mount it on the fork of my cargo bike for commuting. If Light And Motion sold GoPro compatible rubber straps separately I'm sure they would be a popular upgrade for all compatible camera systems. I missed it, thanks anopsa, but L&M does offer a Seca Comp GoPro mount for 10 USD.
In the name of science, I bolted on the mount from another system so I could try it. It was okay at best. Heavy on my head but livable. The Seca Comp 2000 works very well on my bar so I've gone back to running it there but certainly, if there was a solid helmet mount interface I'd strap this to the side of my Project 23 full-face and never look back. It's a lot heavier than other lights I've been using on my lid, but mounted off the chin bar that doesn't seem to be an issue.
I really don't like extension cables and all the issues I've had with them. It started as a helmet thing and I'll never go back to having a separate battery and cord for lights on my lid. I've never much minded the extra collection of bits and bobbles for my helmet mount but now that the potential for high-powered self-contained light sets is so apparent to me, thanks to the Seca Comp, I'm done with extension cables and expensive separated systems for all applications.
It's virtually impossible to go wrong with Light And Motion for your night riding investment. I think they're delivering some fantastic value in a triumvirate of quality, brightness, and usability. Tops on that charge for after-dark excellence is the Seca Comp 2000. Why pay twice as much for an extension cord and some fancy waterproof plugs? That's just looking at L&M's other options! The Seca Comp 2000 has a great combination of miss-nothing floodlighting and go-there spotlighting for any application.
I can make a few different min-max arguments for what light is best combined with the Seca Comp on the handlebars but suffice it to say that keeping it in the family results in a good experience with the Vis Pro 1000 Trail System. It just doesn't have a best-in-show value lock like the Seca.
Light And Motion's future systems will likely we'll continue with full line of lighter weight, longer running, GoPro mount lights in the Taz/Seca Comp tradition. In the meantime, combined with the Vis Pro at 135 USD or with another helmet-mounted system, at 230 USD, the Seca Comp 2000 is the best lighting package I've come across.
Self-contained lumens for the win.