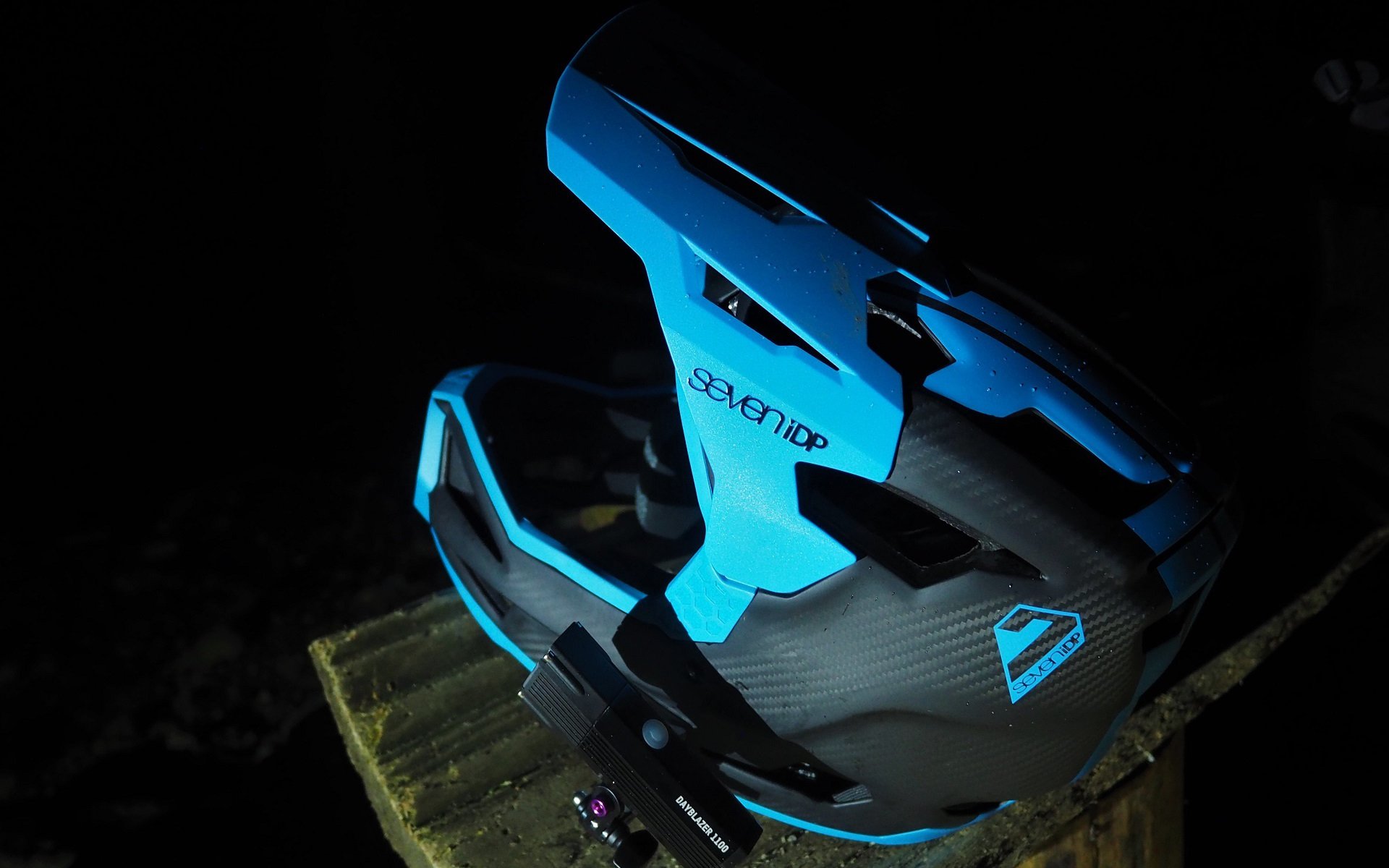 REVIEW | EDITORIAL
In the Dark with the 7iDP Project 23 Helmet
Climbing. In A Full Face
It's about an hour until dusk. I'm riding my rigid-forked hardtail up my favourite, intense, local singletrack climb. I mention the bike specifically because it clashes terribly with my accoutrements. Specifically, the sub-1000 gram SEVENiDP full face I'm wearing. A fact that I do not miss in the faces of other riders passing me in the other direction where the trail isn't twinned, as they stare at me incredulously.
The why is perhaps more interesting than the how, but I'll begin with the latter as it's easier to explain. How does a self-proclaimed sweat machine survive an hour riding a single speed uphill in a full face? First, I remove the cheek pads and strap them onto my hip pack. That makes breathing a lot more pleasant. Second, the Project 23 lid has an impressive array of large vents. Twenty-three actually, hence the name. Also in the breathability column, the helmet has a magnetic Fidlock clasp so it only takes seconds to take it off and put it back on when I take a quick break.
Comfort is another big component of the how-factor. The 7iDP is sold in six sizes (XS-XXL) and the medium fits me like it's custom made. The carbon version of the Project 23 lid is also surprisingly light for a full-bore hard shell helmet. This medium was 961 grams on my scale before I stuck a GoPro adhesive mount on it.
Thankfully, I haven't tested the other key features of the Project 23 helmet. That would be their falling-friendly Crash Release Visor (CRV), which thankfully doesn't float around or rattle, and Seven Energy Reduction Technology (SERT) slip-plane. SERT's "smart foam" is the same concept as Kali's viscoelastic Low Density Layer and Leatt's 360° Turbines which absorb low-G energy from impacts that don't necessarily engage the EPS foam, thus reducing rotational forces.
The Project 23 also passes the CE, CPSC, AS, and ASTM F1952-15 standards. The ASTM F1952-15 standard is for downhill racing, and I think it is worth noting that it sets criteria for the performance of the helmet's chin bar. Thus far all the chin bar has done for me is make drinking water from a bottle more difficult or messy, but if I'm going to go through all this full-faced climbing I'd like to be suffering for a reason.
Down to the why. The Project 23 combines my preference for wearing a full face when night riding on aggressive, rooted & greasy trails on the North Shore with the headache-free fit of a pad-fit helmet. I went into it in greater detail with my review of the Quarter MIPS, but suffice it to say that my experience with pad-fit lids is significantly better than anything I've tried with a ratchet or dial to cinch a helmet harness around my skull.
At the same time, I was regularly wearing a Leatt DBX 3.0 without a helmet visor after dark so that I could add a bit of facial protection without porting around two helmets. It goes without saying that if Giro did a removable chinbar version of the Quarter lineup I'd be very happy. In the meantime, the 7iDP breathes very well and it doesn't require any more effort to snap in the two cheek pads than it does to install the chin bar on a Bell Super DH.
It helps that it's generally cooler at night when I'm riding in the 7iDP lid but when I hit some shuttles or if I make it to the bike park this summer I'll certainly take it out in the daytime. The Project 23 bleeds heat exceptionally for a full-dome. The carbon version looks quite spectacular, but with all the same features, venting, and same level of protection I would be very tempted to take the 100-gram hit and keep 100 CAD (110 USD) in my pocket by going to the fiberglass version of the same model.
I'm a very poor candidate for the title of NSMB Weight Weenie (Cam may own it in perpetuity anyway) but I have often wondered in these weeks if I would notice the weight difference between Leatt's two top full-face lids with the amount of climbing I've been doing.
I've been wearing this carbon Project 23 a lot as I balance mountain biking and the rest of life and I'm enamoured with it. I'm using it while testing a few light systems as part of a project looking at min-maxing the cost of nighttime efforts on aggressive trails.
SEVENiDP sells the Project 23 Carbon in six sizes, two colour options, and at an it-still-costs-way-less-than-replacing-a-single-tooth investment of 399 CAD / 350 USD. There's lots of tech here to help me get back up when I inevitably eat sh*t, but it's also comfortable for the rest of the ride.