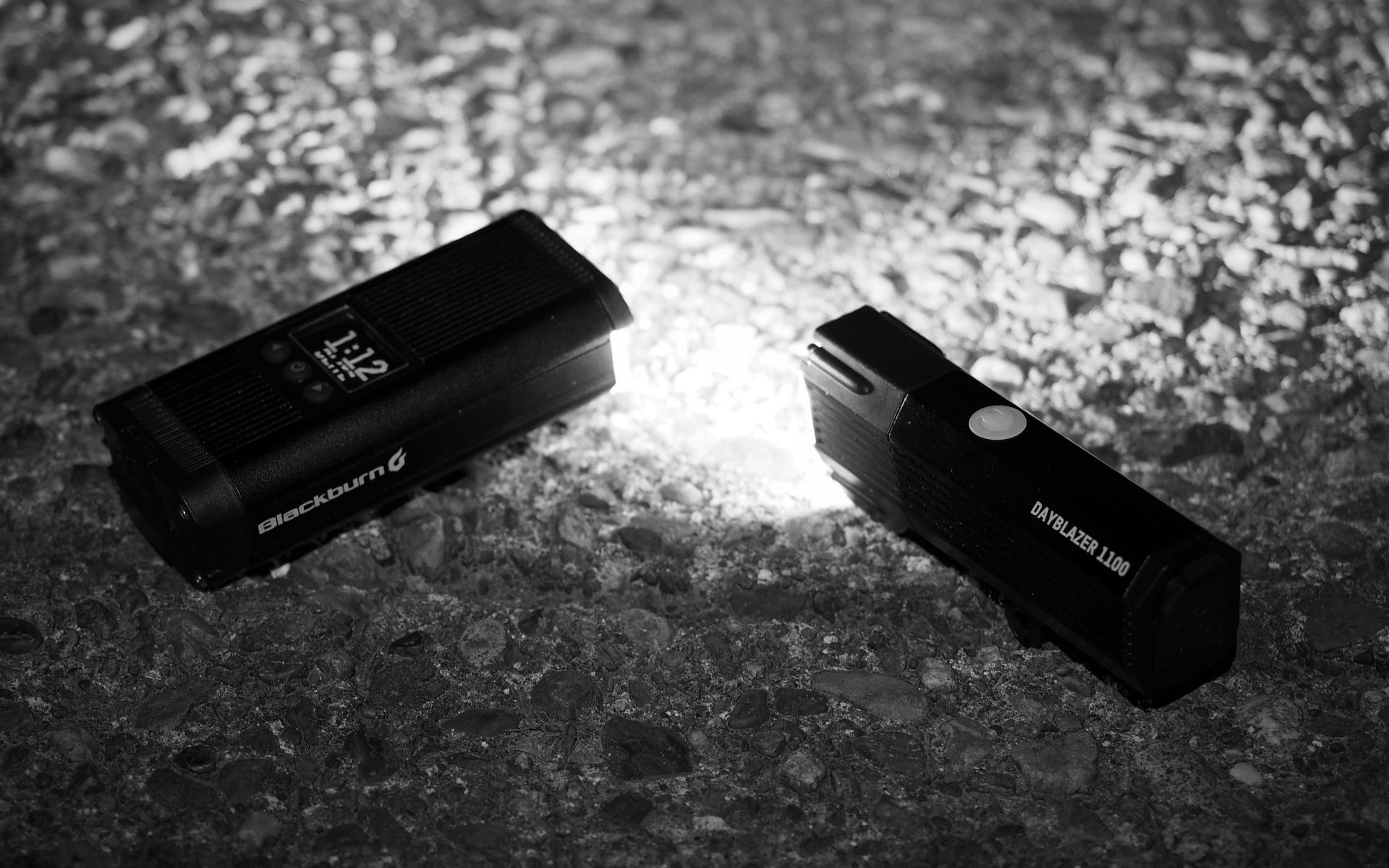 LIGHT REVIEW
Blackburn Countdown 1600 & Dayblazer 1100
Blackburn Lights
Before I jump into my mini-rant directed at brightness setting terminology, I want to say straight-up that their Dayblazer light at 95 USD - or more accurately a pair of their Dayblazer lights at $190 - is just about as perfect an intro-to-real-nighttime-mountain-biking as I think you will get. The lights are weatherproof, the beam quality is excellent, they're bright enough for aggressive trails, their run time is adequate with judicious management, they carry a two-year warranty, and they aren't a massive investment in the event that you end up hating the forest at night and they get transferred to home-from-the-bar or commuter detail.
Paired with a brighter system on the bar, I think the Dayblazer would be a happy choice for most riders for a helmet light, or at least for those not trying to set personal best times on descents in the dark. I'm even slower at night than I am during the day but this light saw me safely down difficult trails like Pipeline and Ladies Only, on Fromme, after sundown and I think that's saying something.
I have a lot more words to spill over the Dayblazer, and also Blackburn's Countdown 1600 bar-mount light, but I wanted to say upfront that from the GoPro-compatible mounting to the obvious quality of manufacturing, and the on-trail performance, Blackburn is not a name that I used to associate with light systems, and that's certainly changed.
One other bit of housekeeping. Blackburn uses a standard (ANSI FL-1) for its lumen count and run time. Qualifying how a light beam appears in different trail conditions is valuable, but it's also nice to have the ability to know you're accurately comparing the true output v. obvious cases of wishful calculating.
[rant] I'm of the strong opinion that, for mountain biking at least, light systems need exactly two brightness modes. UP and DOWN. In most cases, these correspond with a system's 'low' and 'high' settings but some companies have a low setting so dim it would be unusable for finding your bike after a crash if it was right next to you. At the other end of the spectrum, occasionally the marketing department sneaks into the room and we end up with settings above high. You know like retina burner, ridiculous mode, or in Blackburn's case: Blitz.
Here, High is not high. High, in this case, is a slightly brighter medium. Certainly not the setting you're choosing to go blitzing down North Shore trails in the dark. What Blackburn calls Blitz is high. Does it really matter? Yes. Why does it matter? Because Blackburn claims that the 'High' setting on the Dayblazer, for example, will get you 2.25 hours of riding and the competition's claiming their similar light, on their 'High' setting, gets you an hour and a half. But actually, that Blackburn's Dayblazer 1100 can run on their actual high setting for 1 hour, fully charged. There's a big difference between 1100 lumens and 800 lumens. There's a big difference between 1 hour and 2.2 hours.[/rant]
Now, my persnicketiness about setting-names aside, an hour on full blast is a lot longer than an hour of riding time. For most folks, it's likely more than sufficient to get out and back with a bit of juice remaining on every ride. I practice solid light management and between turning off my lights when I stop, climbing on lower light settings, and then going full-bright for the descents I can get couple-or-few hours of riding on the Dayblazer no problem and I stretch the Countdown 1600 out way longer.
For the purpose of my review I used Blackburn's lights as such:
Dayblazer 1100 helmet light. UP: 400 lumens @ 3.5hrs of run time. DOWN: 1100 lumens @ 1hr of run time.
Countdown 1600 bar light. UP: 300 lumens @ 8hrs of run time. DOWN: 1600 lumens @ 1.3hrs of run time.
I also regularly mixed-and-matched the lights with other systems with the goal of making budget North Shore Night Riding suggestions. My gut feeling is that if a system works on a rainy night in our mountains it works anywhere but I'm open to explanations of why that's wrong-headed.
Blackburn has done an impressive job with these systems. The optics are excellent, the prices are right, and run times are accurate at 10+ degrees. Cold and wet rides are right around the corner so it will be interesting to see how that varies when we're closer to freezing and it's pissing rain.
Dayblazer 1100
If it's not obvious, I really, really like the Dayblazer. The beam pattern is excellent, the manufacturing quality is solid, aesthetically it's appealing, and the 95 USD price is totally fair. And for anyone wondering where the 'but' is, my only complaint at all is that the system comes in a bit short on run time, and low and high, compared to some competing products.
The on-trail light performance is at least equal to the Bontrager Ion Pro and I didn't find the extra 20 grams notable at all, but for an extra 30 USD the Bontrager delivers 30 minutes of extra juice on high and as someone who is often out for a while, that is a big difference.
The math gets more interesting once I'm factoring in a proper night riding package. Say I was to run Dayblazer on both my helmet and bar - which, if you're getting into riding bikes at night, is a great idea. Then for an extra 30 USD I could get three lights v. two of the Ion Pro at its higher price. That's a boost to redundancy and run time and I can certainly argue that the beam pattern of the Dayblazer is the winner.
I haven't dunk-tested the light to see if its submersibility is as claimed, but I have had it out in some pretty impressive weather multiple times without issues. I also smoked it hard enough on a tree to break off a GoPro mount on the side of my chin bar and the light didn't complains. Heck, it even stayed on so I could find it a few feet off the trail in the salal.
Speaking of the GoPro mount, Blackburn scores a solid hit with the mounting options for this light; rubber strap for the bar, GoPro-compatible mount for the helmet. Perfect. I think this is what every self-contained light should use as none of these companies are going to come up with a better mounting system, never mind how readily available 'action sport camera mounts' are these days.
I'll come back to this with the Countdown system, but I have enough of an aversion to superfluous clamps that I'd even consider a stem such as PNW's Range model with the mount integrated into the faceplate. Actually, it's more than a little surprising that Blackburn, being known for their racks at least as much as any other accessories, hasn't made a front rack or basket with an integrated light/camera mount.
In choosing lights, riders must balance their budget versus brightness requirements versus run time. This will be true whether someone is new to the idea of night riding or a veteran enthusiast who'd rather spend discretionary monies elsewhere on their bicycle.
Nothing tests a light system like a rainy night in a dense forest, so it also comes down to the kind of conditions being experienced. Night riding in Moab under an open sky proved to require an incredible amount less output than a typical November evening in North Vancouver.
For around here, trying to hit one shorter lap or a medium lap with a fair amount of climbing on roads, I think the Dayblazer is excellent. Running one on the bar and one on the helmet and alternating which is on and set to the low setting for climbs, will stretch out run time well past when most riders are packing it in for the evening. Throw a third light into the mix and it's more run time, with better light quality, for less money, than a single system could deliver at the same price a few years back.
The Dayblazer 1100 sells for 95 USD per unit and I would love to see Blackspire selling offroad packages with two lights - one with the rubber strap bar mount and one with the GoPro adapter installed - for a paired-price to encourage the best on-trail experience.
Countdown 1600
Full disclosure, the Countdown's display screen drives me nuts. I'll take the 'green means go, red means go home' LED of the Dayblazer every day of the week over the mountain biking equivalent of a doomsday clock. I also can't look at it without thinking that Blackburn could have reduced the price, increased the run time, or otherwise improved the system without the digital display.
On the other hand, I'm prepared for all you front-country-survivalists with your crash-detection-apps, Trailforks, Strava, live-while-you-ride Zoom meeting, etc., going while you ride to absolutely love it. I have some riding friends who start getting paranoid about burn time a half hour into a climb with their high-end system in the mood lighting setting. I really wish they'd buy a decent third light as a backup and get on with it but, that option aside, the Countdown light would likely do them some solid peace of mind.
Back to me, I also wish the system came with a rubber strap for the bar and a GoPro mount option instead of the cheap-looking hinged clamp, on an otherwise premium looking machined-body light system, but the clamp works well enough that it's not a deal breaker.
Performance? Who gives a... Well, actually, the Countdown has a nice beam pattern and delivers 1.3hrs on high. I mean Blitz. High delivers 2 hrs at 1200 lumens, and it's actually a very usable setting for those that are trying to squeak out a longer ride without investing in a bigger light system.
At just over 360 grams, not to mention viewing the screen you paid for, the Countdown is destined for the handlebar and aside from my digital dislike, the performance for the weight and cost of 170 USD is solid. That's particularly when paired with a good helmet-mounted mountain setup.
The Countdown system does heat up surprisingly quick compared to some other systems I've tested so absolutely best to keep moving for some air cooling any time the system is on. Again noting that I'm judicious about cycling to a lower setting on climbs and turning the system off when I stop, I never had it down-cycle itself to a lower setting on the ride as I have experienced with other self-contained light systems when I'm cranking slowly up a hill and forget to dim them.
When I'm climbing I usually will just have one of my lights on or the other - my bar light for gravel climbs and my helmet light for single track. As such, I've done quite a few rides with the Countdown and the Dayblazer where the lights are either set to off or are turned on full blast and I can confirm the run times on the highest settings are accurate to claimed in spring and summer conditions. I still need to get it out for some cold & nasty January nights to see how the cold affects run times.
The Countdown charges from famished to full in 4 hours, which is an hour faster than the Dayblazer, and selecting from one of its six power modes (or in other words four too many) is just a matter of side-scrolling.
The quality is certainly there with the Countdown 1600 and it does nicely complement the Dayblazer 1100 as a helmet unit. Personally, I'd be down for a pair - or even a trio - of Dayblazer 1100 lights or a Dayblazer combined with a different system on my bar; however, don't let my aversion to the Countdown's display dissuade you from checking out the system if that particular feature appeals to you. I'm not disputing the function and quality of the 170 USD Countdown 1600 system.
I also previously abandoned systems that use a lamp, battery, and extension cord when it comes to helmet mount use - after years of killing a couple of extension cables a year - and I'm now moving to the same program for my bar lights. Lights like the L&M Seca Comp and this Countdown 1600 demonstrate that self-contained simplicity, at a lower price to boot, is the way to go on my handlebar.
As someone who has mainly owned NiteRider and Light & Motion lights for many years and had at best 'meh' experiences with other systems, it's nice to see some great exceptions from companies that wouldn't have previously turned me on in the light category. First I had a great experience with Bontrager's Ion Pro and now I count Blackburn amongst companies I would consider when buying my next light.
The combination of budget, expectations, and of course the value provided by brand trust on brightness, reliability, and after-sale support compared to direct to consumer options is going to be different for every rider. For me, today, aggressive North Shore riding starts here with a pair of Dayblazer 1100 lights, at 95 USD each, or a Dayblazer and Countdown combo.