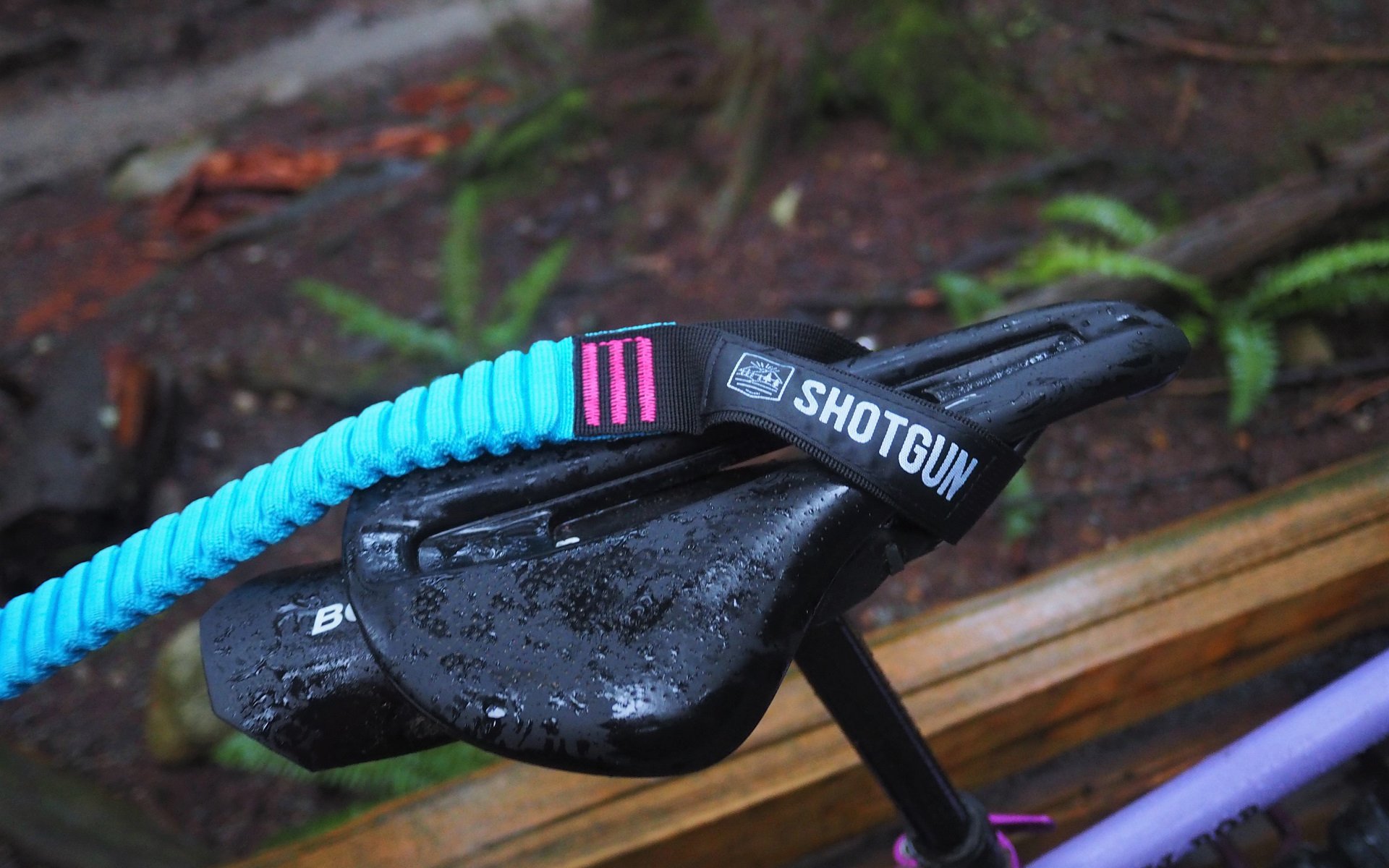 REVIEW | PRODUCT RELEASE
Kids Ride Shotgun Tow Rope & Hip Pack
Tow Rope Life
I was more than a bit trepidacious about trying the new Kids Ride Shotgun (KRS) Tow Rope. You see, I previously made one myself for free, out of two tubes salvaged from going tubeless on a test bike, a carabiner I had in a bin, and some string. My daughter hated it. She hated it so much that mid sh*t-fit, on the way to Bobsled, when given the parental ultimatum between being towed or pedaling herself, she paused, nodded, unhooked the tow rope, and rode off up the gravel climb - completely chill - leaving me to pack the thing away.
We certainly don't get up to Bobsled anywhere near as quickly as kids getting towed, especially compared to kids getting towed behind their parent's e-bikes, and if it was all about me I'd probably lament the workout I'm losing, and our range is reduced such that we end up riding the same trails again and again. But she's happy, I'm happy, and in the long run, I think there's a decent argument it's for the better.
Enter the KRS Tow Rope into our lives. It's WAY nicer than my freebie, which absolutely should not be surprising at 60 USD | 75 CAD. It's faster on and off and functionally having a solid interface at each end with a just-the-right-amount-of-stretch section in the center is much more predictable in use. Handling the TRS Tow Rope at home made me cautiously pessimistic that my six-year-old might really like it. It had the potential to change our riding experience and I'm usually batting .500 when it comes to whether changes are good or not.
Whether the news is good or bad will depend on your perspective, but regardless... my kid's not a fan of this tow rope either. I've been told we won't be testing any more options in the future. Which I suppose is, in some way, vindicating of my earlier effort. I don't have an explanation. She loves commuting on our Burley Kazoo Trailer Bike so it's not just about being towed. Is it the big kids we see riding without getting a tow? Is it the whiny snits we've witnessed refusing to go 1cm further without getting towed? Your guess is as good as mine.
In my case, it's lucky that Kids Ride Shotgun shipped their tow rope with a Shred Til Bed themed kids hip pack. My daughter really enjoys Shred Til Bed, and really wanted the hip pack, so I bribed her to give the towing a solid second chance in exchange for keeping it. We shared a few minutes of can-barely-stand-laughter over the idea the hip pack is to be used for kids to carry their own rope. Transporting a tow rope, like tools and extra layers, is definitely a 'Papa Job.' As it turns out, this hip pack is perfect for packing sour gummy bears and spare gloves.
I was going to say that the waist straps seem way long for little kids who'd want the Shred Til Bed characters on their gear but kids do come in all shapes and sizes and they are easy enough to tuck or shorten. Given we've only used it riding near dark in the rain when there was almost no one else on the trails, I also can't speak to whether there's any adult appeal for this piece of kit. It does have waterproof zippers if you're big kid looking for justification to wear a hip pack with tiny mountain biking animal cartoons.
Now, if you are going to buy a tow rope, I think you'll be hard-pressed to beat the KRS experience. Throw the loop over your saddle, then lasoo your wee one's stem, and now pedal off into the sunset. Yee-ha! The whole process, including removing and re-packing the tow rope in my pack, takes a few seconds, without rushing.
There are other options on the market that come from adventure racing - where mixed fitness or mechanicals may require some transfer of oompf-factor - that clip conveniently behind your seat and are certainly save seconds out on the trail. But they take significantly more time to install and remove completely, and are you really going to show up to a group ride - with your friends - with a retractable leash hard-mounted to your saddle? I know for the folks that I ride with, attaching me to trees or trying to hook themselves up for a tow would never, ever, get dull and repetitive.
If for whatever reason you do want to tow your full-sized friends, the Kids Ride Shotgun Tow Rope will do that for you without an issue. The system is rated for 500 lbs of load and when you're putting in the work it stretches out to about 10ft. I've been passed a couple of times this year by adults riding together with one on an e-bike while towing their friend on a prehistoric person-powered platform and if that's your jam this is a small investment in a very packable e-umibilical cord.
My daughter's derision aside, Kids Ride Shotgun presents two key use cases for their tow rope, and tow ropes in general. First, some kids genuinely hate riding uphill. I've seen this with my own eyes on numerous occasions and know it to be true. If that's your kid and mountain biking vs. not mounting biking comes down to you putting in some extra pedaling, well - you need the workout anyway, right?
The second use case, which mirrors that for adults on e-bikes, is that you can go way further, way faster. I've long believed that we find trails when we're ready for them and that can come down to fitness or skillset. The fact my ripper-runt is discovering riding the same way I did, at a much younger age, is a happy accident. And yes, it can get a bit repetitive slow-pedaling up gravel roads or ratcheting up singletrack - which is why I put together my own tow rope in the first place - but patience is the most important trait for parenting and who doesn't need some practice?
Presented with the argument that the short days make getting in a ride after school very, very, tight for time, my imp intoned that we own lights and we've been night riding at least weekly since, so cancel the riding vs. not riding argument for a tow as well.
The tow rope, hip pack, or a combo of the two is currently available directly from Kids Ride Shotgun, and will also be in your preferred local bike shop soon. On their own the 250-gram tow rope system is 60 USD | 75 CAD, the Shred Til Bed themed hip pack is 40 USD | 55 CAD, and the combination of the two is 90 USD | 120 CAD. If you're thinking combo, just don't fool yourself into believing your kid will be carrying their own tow rope. I tried that concept out on some kids in my daughter's class and won an award for best dad humour for the month of November.
Among my friends with kids the whole concept has sparked some interesting debates about when, and if, to tow, but like everything else when it comes to raising wee ones it's going to come down to what works best for your family. If your kids appreciate a tow, and it's within your budget, the quality of manufacturing is excellent and it's obvious that Kids Ride Shotgun knows their niche.