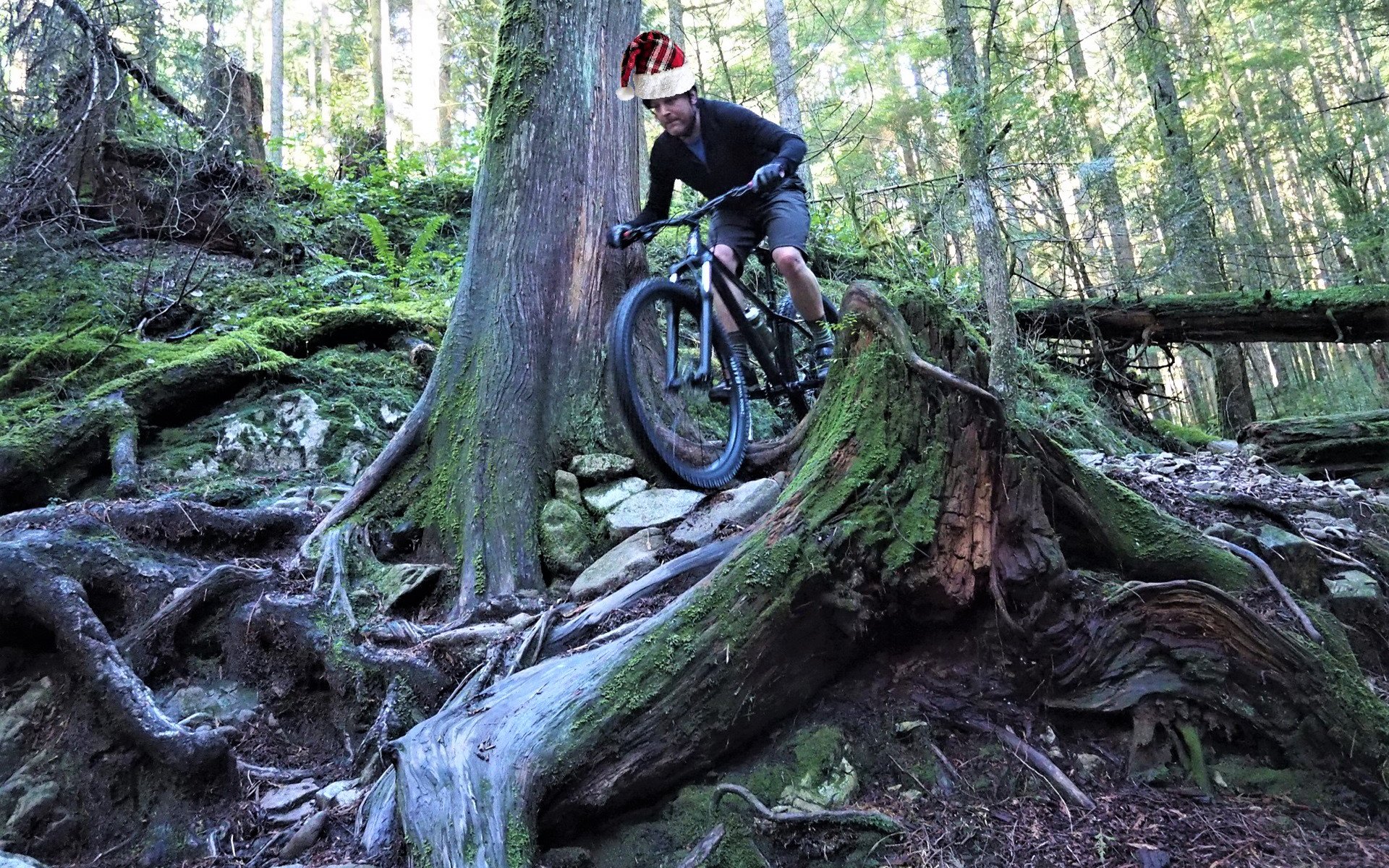 Liberating The Island Of Misfit Standards
Dear Santa - Andrew's List For 2019
Dear Santa,
This year I'd really like you to go to the Island Of Misfit Standards and bring some back for the nice girls and boys designing the mountain bicycles I love to ride. They've been ever so good with bringing awesome geometry to lower price points and trying to be better at min-maxing spec*.
I know I'm asking for a lot here so if you'd prefer to spread these gifts out over the next couple years I completely understand. Or you know, just frontload me this year and give me (Merino) socks and (Saxx) underwear until 2025 - that's cool too.

*Except for the folks putting 3-pawl DT Swiss 370 hubs on 5K+ bikes. WTF? They might look like the excellent 350 on the outside but that spec choice is guaranteed to get you on the naughty list.
Pair Noel
I understand market pressures to cut grams and clean up appearances so Santa, please spare me the dirty looks and stocking full of coal. This is not a call out, it's a shout out, to one of the best conversations I've ever had about bike design, sometime in the later-noughties, with Noel of Knolly Bikes fame.
Noel's infamous for his beyond-in-depth e-mail responses and winding conversations so I'm sure it was a long chat; here are the two, brief, takeaways that I've carried as my strong opinion for over a decade thanks to Mr. Knolly:
1) Some riders want the shortest possible chainstays. Some riders want longer chainstays. Why not make everyone happy? In Knolly's case the V-Tach, Delirium T, and Podium all provided 20mm of chainstay length adjustment and let the rider decide.
2) 1.5" (49/49) headtubes are the most adaptable option. They fit every steerer size, there are external and internal headset options and heck St. Nick now there are reach-adjusting and angle-adjusting options too all in the straight KISS beer can headtube.
How amazing would if my full suspension bike could have all the fun trail pep of 425mm stays, the downhill stability of 455mm stays, and a choose-your-own-blend in-between? Combined with the swap-out thinking of Banshee Bikes, it would be easy to offer different wheel spacings as aftermarket options as well. Companies don't have to give away the farm but I think it would be great to be able to purchase 142x12 dropouts for a Boost bike as an aftermarket option.
And Mr. Klaus, while you're giving the gift of adjustable wheelbase, it isn't going to be a big deal to pop-on straight 49mm headtubes with press-in headsets is it? I'm not saying the Trek folks are a bunch of ruiners for introducing Tapered headtubes, AND Boost spacing, and introducing their own slightly different T-47 bottom bracket standard, and popularizing Trunnion Mount shocks, but let's face it you've been letting them get away with a lot so how about we start with a fresh Slash that can take a zero-stack (ZS) reach adjusting or angle adjusting headset thanks to it's throw-back 1.5" headtube and while you're at it lets take those 435mm stays add some sliders so they'll stretch out to 455mm.
Dual Crown Forks
And that sweet new Slash won't need Knock Block to keep it's sweet looking straight downtube either Santa thanks to a plethora of sweet, light-ish weight, 29'er dual crown forks you'll be bringing to market. Fox 38 DC, Manitou Mezzer DC, Suntour Durolux DC, Cane Creek Helm DC - heck, let's get everyone on board!
Remember back in the nineties when RockShox and Manitou said that long travel single crowns didn't make sense, produced 100mm travel dual crown forks, and then Marzocchi said: "hold my beer" and the Z1 changed mountain biking? What if those companies were right but twenty years too soon?
Better stiffness to weight ratios, all that extra room to produce lower pressure air systems, replaceable stanchions in the event of a crash, direct mount stems, and no more creaking crown steerer units (CSUs). The time for the 160mm-180mm dual crown Enduro fork is absolutely here.
Take a page out of Ohlins' book and sell different offset crown options aftermarket and the twiddlers will jump on board with the product.
I see you and your 5° turning radius Manitou Sherman TPC+ DC! I see you Boxxer U-Turn! I see you original Fox 40 that could be lowered to 160mm travel! This is not a new idea by any means but it's an idea whose time has come. Again.
ISCG Tabs On Everything
And that new Slash will of course come with beefy ISCG tabs so I can run a bash-taco! Trek gets it already where many companies do not. In a day when riders are spending hundreds of dollars to wrap their frames in 3M tape, I can't believe how many super-bikes come without the provision to run a protective skid plate.
I know I'm a bit of a hypocrite here having commissioned a few hardtails without tabs but to be fair my wife runs a Blackspire Grannie God and I'm still running Wolftooth stainless steel Camo chainrings so we've made other provisions.
The gift of ISCG tabs combined with a bash-taco, like Blackspire's 45 USD Crusher, could save hundreds of dollars in chains, rings, and cranks not to mention allowing my bike to slide over awkward up-and-overs. I know a few companies had issues with their ISCG tabs breaking off of carbon frames in minimal impacts, and riders expecting warranty replacements for otherwise okay frames, but the simple solution here is to put those companies on the naughty list if they use sh*tty designs or manufacturing.
Bonus Stuff
Okay, Santa I know I've already asked for a lot and I haven't really been 'that' good this year but if I still have some karma left after sliding drops, 1.5" headtubes, dual crown forks, and ISCG tabs then let's talk about some stuff under the tree.
First off, how about a Kids Ride Shotgun seat for all my friends with tiny humans, or tiny grand-humans, under the age of five? It's a great way to have fun together and build memories while enjoying the forest, not to mention getting a solid work out while they yell "Climb Faster! Climb Faster!"
The perfect stocking stuffer for a lot of riders is the fresh PNW lock-on Loam Grips so I'll happily take a pair of those for all my friends who won't Ditch Their Lock-On Grips. My more in-depth review is pending but the shortest version is that the Loams are my new favourite grips-with-a-clamp. I think of them as an updated single-clamp version of my longtime favourite, the Sensus Swayze, with a bit of extra give at the palm and an average width of 30mm.
Five colours mean something for everyone and the 25a compound is quite delightful. You can't go wrong with fresh grips big guy, and these are the freshest.
What's that Santa, something under the tree for myself? Well, you shouldn't! Okay, there's a ton of life left in the ones I've been testing but if you could see your way to picking up a set of blue-on-blue 'nautical navy' Bontrager Rally shoes for me that would be fantastic - love the shoes and love that colour option. I'd love to try a Leatt DHX 1.0 Urban pad-fit helmet as well. Maybe some fresh knee pads?! Sweet!
Until that day, happy trails to all and to all some good rides.