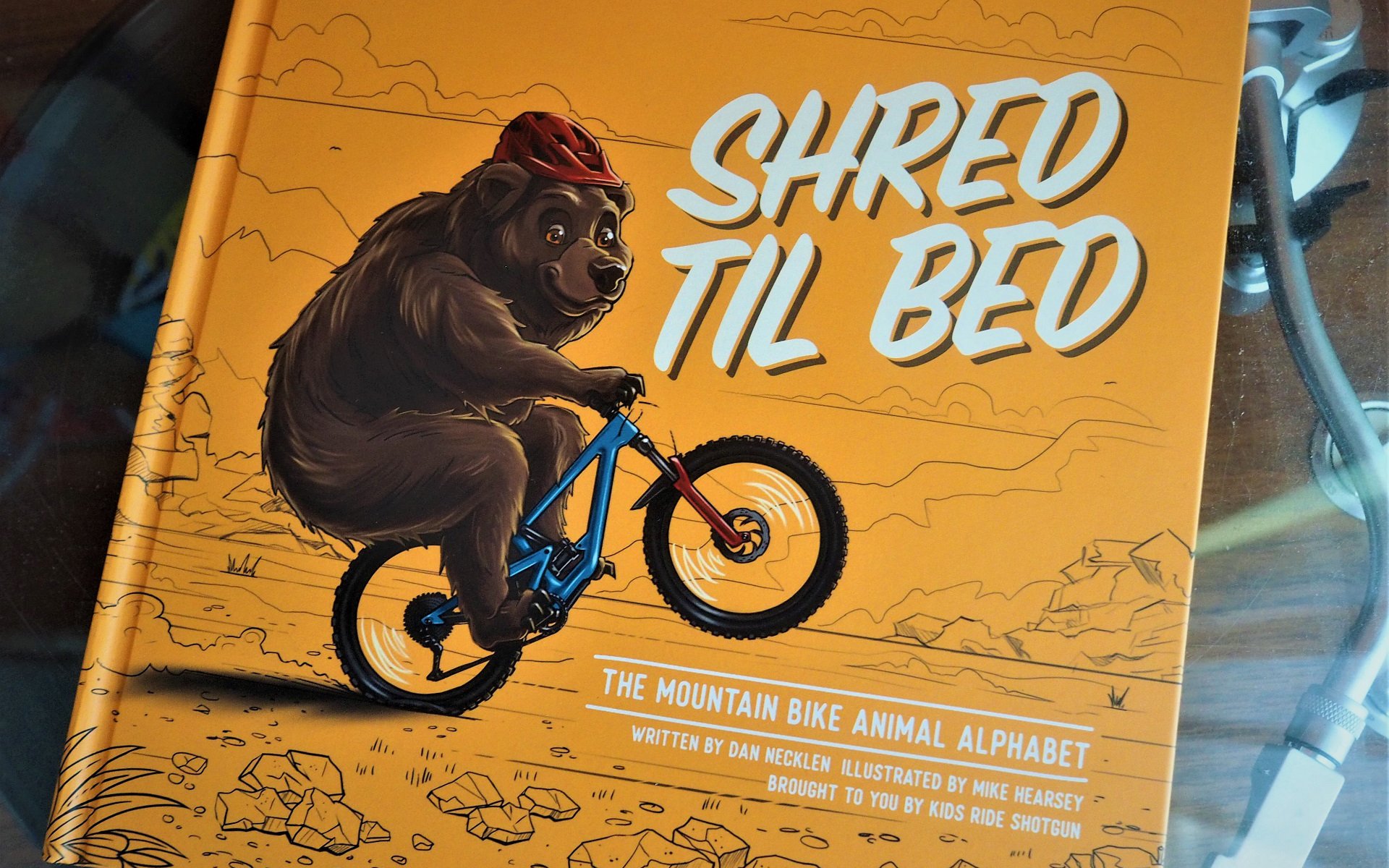 Kids Book Review
Shred Til Bed
'P' Is For Passion
You're passionate about mountain biking and excited about sharing it with your favourite little future shredder? Shred Til Bed (STB) is a fun avenue for stoking the flame. It's packed with pictures of animals A-to-Z enjoying their mountain bikes as well as some solid messaging for life and riding. Most importantly, given that my wee-one has only recently become interested in riding bikes in the forest, a quick flip through STB always ends with the magic question: "When are we going mountain biking?" I love hearing those words.
We started off riding together, and then with a friend from her hockey team, and now she's started asking about riding with other people. "Do you think Uncle Crash Test wants to ride with me?" Of course, he does. "Am I fast enough?" Heck yes, that's the beauty of mountain biking; we wait for our friends and they wait for us. It's covered right at the start under letter A: "Riding is a great adventure, especially when it's done together."
I'm not saying that Dan & Mike, the author & artist, have unseated the reigning alphabet book champion, Sandra Boynton, but the chances are that your child, niece, nephew, friend's child, cat, dog, goldfish, etc. already own a copy, or three, of that and Dr. Seuss' efforts so where it ranks is really meaningless. This is a very fun, mountain bike-themed-book that random family members are not going to accidentally happen upon at the book store.
I think Kids Ride Shotgun would be smart to offer a bulk option for STB that comes in ten-packs (twenty packs?) because it absolutely has the potential to be your go-to newborn gift - never mind birthdays, Christmas, and other holidays. Either way, it's currently only available through their website but just as the KRS seats are internationally distributed, you'll hopefully be able to grab a copy of this book at your preferred local bike shop soon.
Back to the messages contained within, my favourite one is filed under letter C: "A crash can happen when you're riding, get back on to keep on trying." My mini-mountain biker likes U: "Whilst climbing up might make you frown, it's worth it when you're zooming down." Climbing up actually doesn't make her frown at all - she actually likes it, which I understand is genetic - but the Unicorn is sweet.
There's also plenty of great riding vocabulary: yard-sale, x-up, wheelie, send, roost, pumping, loose, kicker, huck, gnarly, dialled, berms, and yes, even enduro make the cut. Friends who grind their teeth every time they hear "OTB!" (over-the-bars) will be happy to know it's not being added to any children's lexicon but I admit I'm sad that 'endo' didn't appear in print.
The quality of printing and material is good but I think it's the specialized subject matter that justifies the 29 USD price. Orders over 99 USD get free shipping in Canada or the USA so there's an opportunity to save a few bucks by giving multiple copies or splitting orders with friends.
All told, I already know a fair few folks who have ordered a copy online - including some adults who just wanted one for themselves, which is of course totally okay. Shipping has been quick but it is already the middle of November so if you want a copy hit up Kids Ride Shotgun sooner than later.