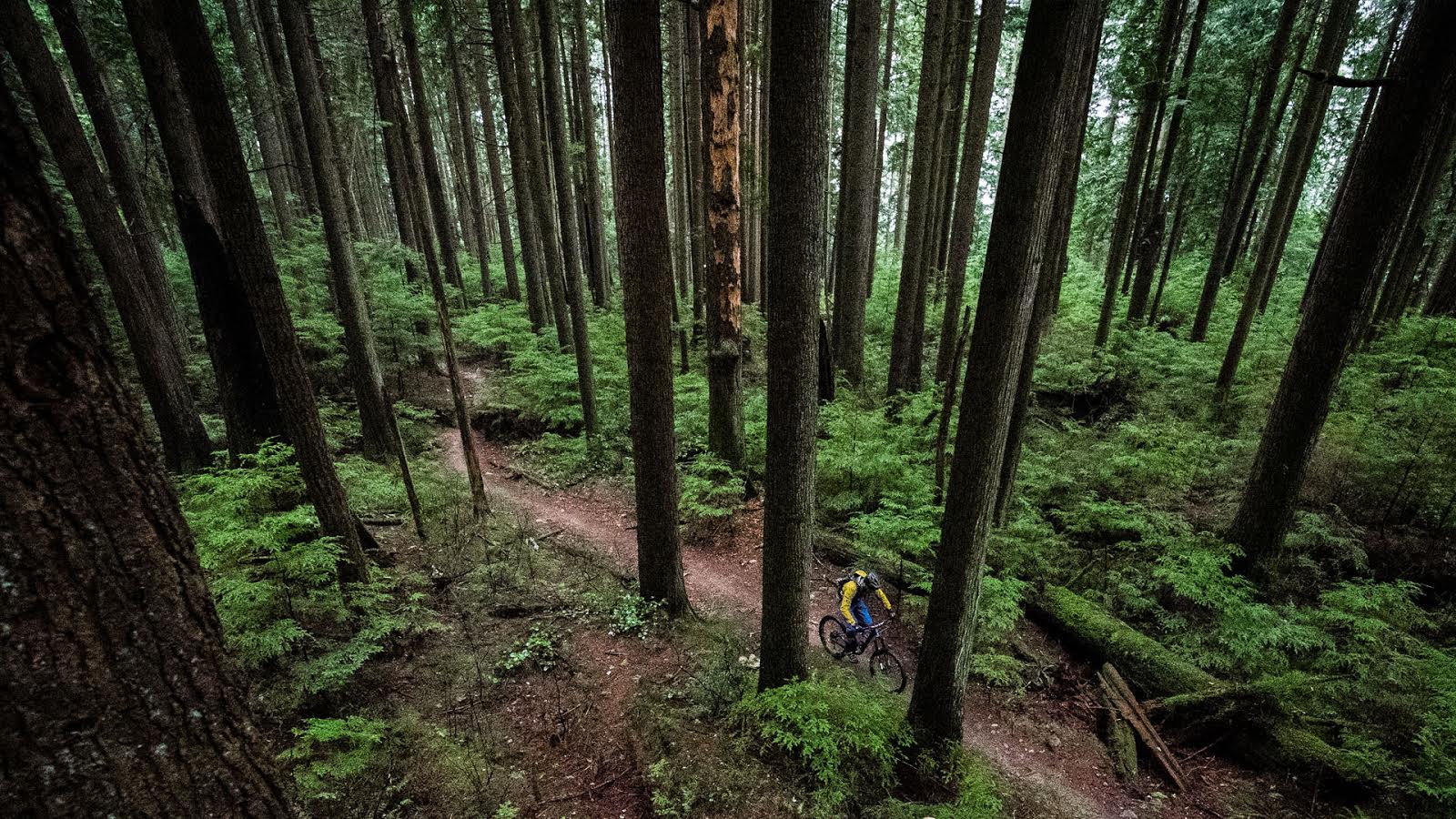 Cannondale Jekyll 2 Reviewed
It's been an entertaining 3.5 months on the 2016 Cannondale Jekyll Carbon 2 that I first showcased in February. The bike has been adorned with three forks, a few handlebars, different tires, Schwalbe ProCore and some magnetic pedals. It has also dissected a wide range of trails from long North Shore loops to punchier, pucker-inducing lines.
Cannondale Jekyll 2 -- equipped here with a Lefty SuperMax - and a regular-length pair of TroyLee shorts. Photo - Dave Smith" src="/media/original_images/05172016-NSMB-gearreview-cannondale-jekyl-andrewmajor-51_fiRaU0Z.jpgresize16002C1200" alt="Cannondale Jekyll Carbon 2" data-recalc-dims="1" />
Glorious Fun; Glorious Ferns. Doing my best to fit into a gorgeous Dave Smith photograph on the grey-on-black Cannondale Jekyll Carbon 2 — equipped here with a Lefty SuperMax – and a regular-length pair of TroyLee shorts. Photo – Dave Smith
The answer to the oft-asked question, "when is a review over?" is when Cannondale's racers showed up at EWS Ireland on a 'prototype' of an updated version. I'm sure the new bike, with a traditional shock layout, will be much easier for Cannondale to sell. Despite this, it's impossible to imagine, even with more modern geometry, that the replacement bike will match the qualities of the totally unique DYAD shock-equipped Jekyll.
I love to climb out of the saddle. The DYAD-equipped Jekyll, in short travel mode, loves to be climbed out of the saddle. It's a great match. Photo – Dave Smith
The key to the Jekyll's overall performance is the DYAD shock, which delivers a friction-free feel off the top and excellent traction in various terrain. With the click of a remote, you are switching the bike from a 160mm travel All Mountain rig with ~30% sag to a 95mm travel XC rig with ~20% sag. The DYAD doesn't have a blow off so until you release the lever you are in XC mode. The Jekyll does pedal fairly well in its longer travel setting, as long as you are either focusing on smooth pedaling or frothing-at-the-mouth in t00-rabid-to-care attack mode, but there is an added benefit of the DYAD's shorter travel setting.
On long rides, I generally struggle with some tightness in my back. If you can afford a carbon full suspension bike you might be old enough know what I'm talking about. On longer travel bikes I end up playing with my handlebar height and stem length a fair amount to find the magic spot that balances climbing, descending and comfort. This decision-making process is much simplified with judicious use of the Jekyll's handlebar remote. Engage the remote and your weight transfers forward for climbing efficiency, even with a taller stack height. This allowed for a more comfortable position pedaling flat terrain in the 160mm setting and also a better position on the bike descending steeper terrain.
Depending on how you view the DYAD remote it could be a crutch to help you limp up the hill or a GO-Switch to help you out hound-dog your friends.
160mm Flow & 95mm Go. I used the DYAD's remote almost as often as my dropper post. The firmer, taller, stance of the shorter travel mode meant I could run my bar higher in the long travel setting. Photo – Kaz Yamamura
The stock fork, a 2016 RockShox Pike is a great complement to the Jekyll. The Pike's air spring curve and very light initial damper compression match up very well with the DYAD's linear initialization in the 160mm travel setting. On paper, the Jekyll has a conservative (for the genre) 67-degree head angle but the balance between the front and rear suspension was such that this felt spot on even in steeper and rougher descents.
The Jekyll feels very planted and confidence inspiring but not especially playful compared to other bikes in its class. It loved being driven into manky rock-and-root messes but on smoother new-school trails, even with the fork and shock rebound quickened up, it didn't pop the way some other 160mm travel bikes can.
Kaz Yamamura" src="/media/original_images/CannondaleJekyllProduct_NSMB_KazYamamura-23.jpgw1600" alt="CannondaleJekyllProduct_NSMB_KazYamamura-23" data-recalc-dims="1" />
The Jekyll Carbon 2 in its stock configuration with the 2016 RockShox Pike. More than any bike I've ridden the Pike felt like the perfect complement to the Jekyll's rear suspension in both the long and short travel modes. Photo – Kaz Yamamura
With the shock shut down in 95mm travel mode, the Jekyll takes great advantage of the Pike's initial suppleness by pushing your weight into a more supportive part of the air spring curve. It feels optimized to hammer and, with some more XC biased tires and lighter hoops, I could easily mistake the performance for many 120mm travel trail bikes I've ridden.
That is to say, if you are looking for a capable long travel bike that climbs really well the Jekyll punches both tickets. You could get a little closer to fulfilling the 'one bike myth' by investing in a light set of wheels and running an aggressive semi-slick on the rear like Schwalbe's Rock Razor, or even swapping between two wheel/tire sets depending on the day but I'm certainly not making any bold claims of a compromise-free XC-Enduro bike.
The 2016 Cannondale Jekyll Carbon 2 updated with a Lefty SuperMax strut and a 20mm rise alloy Renthal bar. With judicious use of the DYAD remote, I ran the bar higher than I normally would on a 160mm bike to optimize comfort and descending confidence without compromising climbing precision. Photo – Dave Smith
I also had the opportunity to ride the Jekyll with a Cannondale Lefty SuperMax that I tore down with SuspensionWerx in April.
The Lefty SuperMax offers very similar performance to the Pike and also uses a SRAM/RockShox Solo Air system. The Lefty Strut is at least as stiff as the Pike's chassis, and the Solo Air system combined with Cannondale's own damper provides a bit more low-speed compression damping hold in the initial stroke, but a very similar – and similarly tune-able – feeling air curve.
Lefty SuperMax 160mm. Stiff & precise, light, and great suspension performance thanks to the RockShox Solo Air air system. Photo – Dave Smith
If you are a lover of the current trend towards steep seat tube angles, where I prefer a middle road between old-school-slack and new-school-steep, the Lefty would likely be your preference, but I found that the Pike was a better mate for the Jekyll than the Lefty.
I preferred the slacker seat- tube angle that the notably taller axle-to-crown height of the Pike delivered. I would have really liked to try a longer travel fork, like a 170mm Lyrik, on this bike to see how that would affect its overall descending capability. I also felt the Pike's more-ramp-and-less-damped feel off the top was a better complement to the DYAD's climb setting.
From my experience with my personal fork and this SuperMax it's apparent that the air system takes more effort to equalize than RockShox forks with the Solo Air system. You have to compress the fork periodically whilst airing it up or on the trail you may find the fork suddenly goes from pretty stiff off the top to "WOW, there's the bottom" the first time you punch it through a technical section.
The Jekyll equipped with X-Fusion's fantastic 29″ Trace Roughcut HLR fork and a 29″ front wheel. Photo – Kaz Yamamura
This is a bit of an aside, but when I mounted the X-Fusion Trace Roughcut HLR fork, (teardown in April and first reviewed in May) on the Jekyll I had three motives: affirming my own personal set-up, testing the fork, and generating some discussion. The comments were instead loaded with a haranguing about the length of my shorts. Either not a single person noticed that I was running a 29'er fork/wheel on the front of the Jekyll – or no one cared.
I've been running my personal bike for almost a year with a shorter travel fork (a Lefty as noted above) that combined with a 29″ wheel matches the ground-to-crown height of the stock 650b fork/wheel. I Love It. I feel the majority of advantages of the 29″ wheel are felt up front, and by running a 650b/27.5″ wheel out back it is possible to optimize chainstay length, seat-angle, front derailleur compatibility, and suspension design.
In this case, the 140mm Trace and 29″ wheel added 1cm to the ground-to-crown height of the 160mm Pike and 650b wheel. If anything I would run a 150mm fork with a 29″ wheel, or a 170mm Lyrik on the Jekyll if it was my build. I preferred the geometry (seat tube angle, head tube angle, BB height) with the taller fork. The shorter travel Trace has quite a bit of initial support from the damper compared to the Pike, or even the Lefty, which made it a bit tricky to balance with the initially linear Jekyll, but after some playing around I found settings that worked very well for me.
The Jekyll was an easy bike to adapt to and ended up being a great test platform for multiple forks, bars, and set-ups. Photo – Kaz Yamamura
What category of bike is it? It's a 'Mountain Bike'. Take it anywhere. Photo – Dave Smith
Outside of my aesthetic dislike of remotes, which I forgive in the case of the Jekyll because of how much functionality it adds to the bike, my only real complaint is the gearing. The stock set-up is 30t x 10-42.
If this was my bike I'd consider running an unfashionable front derailleur. If I was working in a shop selling these bikes then Eagle would be the simple answer. With the exception of those 'third-lap-on-a-long-day' climbing situations, I didn't want for an easier ratio than the 30t:42t provided, and while descending I didn't run out of gears, except on the road. However, the drivetrain/chainslap is quite loud in the smaller cogs when you're up to speed on technical trails. The easy solution is a larger front ring, say a 34t or 36t, that would see me in the middle of the cassette stack on more technical descents combined with a bigger cog to keep the easiest ratio approximately the same.
Dave Smith" src="/media/original_images/05172016-NSMB-gearreview-cannondale-jekyl-andrewmajor-51_BPpfpp0.jpgresize12002C1600" alt="Rider: Andrew Major | Location: Mount Seymour, BC" data-recalc-dims="1" />
The Jekyll happily carries steam while pedaling, especially in the short travel mode, but it can also be hammered out of the saddle and the transition is easier than most long(er) travel suspension bikes I've ridden. If it was my bike it would be very hard to choose which tire to run on the rear. Photo – Dave Smith
So, who buys a Jekyll? I suppose a price conscious rider looking for bang-for-buck performance, (a new model release generally means clearing out the old ones) anyone having a challenge getting other 160mm bikes to fit properly (see DYAD), and riders looking for the ultimate compromise between XC-aggressive climbing and 160mm-Enduro bike descending.
Eagle me this… I would like a wider gear range than the stock 30t x 10-42. Photo – Dave Smith
At the end of the day, it's a great example of the type of modern mountain bike most people living in the Shore-to-Sky corridor need, or anywhere with technically advanced descents and lots of climbing. It's also a great argument against the current trend towards compromising with a shorter travel bike and similarly aggressive tires.
NSMB.com office is located anywhere in the World that serves good coffee (as seen here). We should add good beer and good riding if we're honest. Photo - Dave Smith" src="/media/original_images/05172016-NSMB-gearreview-cannondale-jekyl-andrewmajor-51_3ZKWWiR.jpgresize16002C1200" alt="Andrew Major in his office." data-recalc-dims="1" />
The NSMB.com office is located anywhere in the World that serves good coffee (as seen here). We should add good beer and good riding if we're honest. Photo – Dave Smith
I have a lot to say and I've tried to keep this to a reasonable length, so if you feel that I have glossed over anything please post a comment below. I'm happy to extrapolate or answer any questions I can about my experiences.
---
Would you ride a Jekyll, with or without a Lefty?