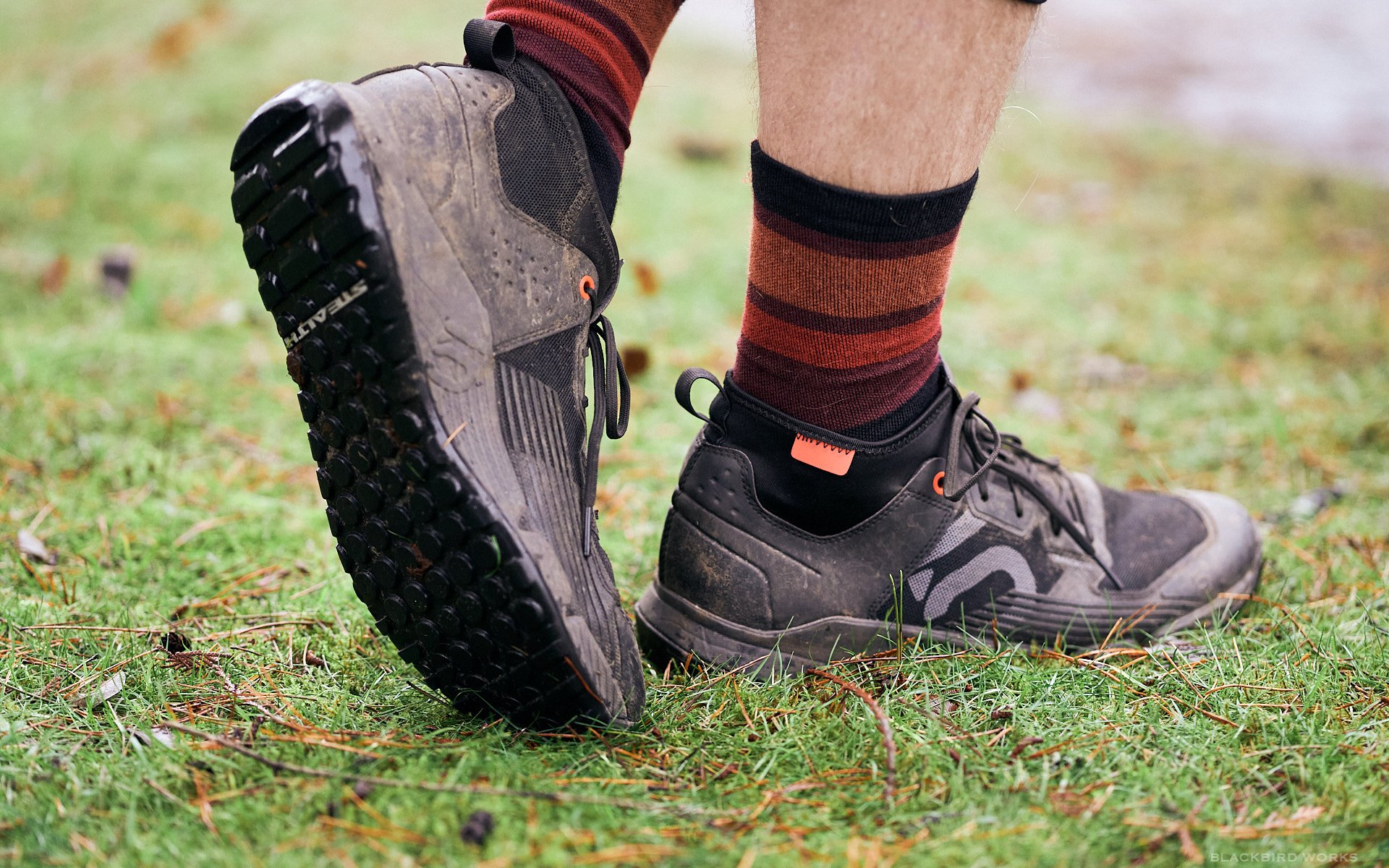 REVIEW
Five Ten Trailcross XT
In the 20 or so years since Five Ten first ported Stealth rubber from climbing shoes onto a skate shoe chassis intended for riding, a lot of refinement has taken place in the flat shoe world - just not as much as we all might have liked. Indeed, Five Ten's first act as a MTB shoe company was its finest: Stealth rubber is an innovation that actually deserves the dreadful game changer moniker. Its consistent supremacy and the difficulty competitors have had in catching up to it are a rare feat.
In all that time, Five Ten's competitors have been able to attack traits that, for some, kept Five Tens from being perfect: shoes became lighter, dried faster, fit better. And despite all of these competitors taking swipes at Five Ten's spot atop the podium, no one has been able to knock them off their perch. Five Ten has remained the gold standard, despite some imperfections: they're heavy, especially when wet, and when wet, they take forever to dry; they aren't known for their durability, they haven't advanced the fit or the refinement as much over the years as some would like. And yet they're still the best.
Every new shoe brand and model release has us wondering if it's the one that derails Five Ten (OWN, Ride Concepts, Shimano with Michelin rubber, Giro with Vibram, Northwave with Vibram, Teva's short-lived foray, etc) and all of those shoes are great in their own right, and have their share of happy users. But when pedal comes to shoe, most of us still prefer that locked-in feel that only comes with Stealth rubber.
So, about a year and a half ago at a popular MTB festival called Crankworx that you may remember from the BC (Before Covid) days, Five Ten's somewhat unassuming booth had a couple of very assuming shoes on display. When we lifted the veil on the samples, called Trailcross, the reaction was excitement. A very polarized type of excitement.
Introducing the Five Ten/Adidas Trailcross XT
A few things had finally converged in those samples we saw at Crankworx, and the flat shoe wailers had been waiting for them for some time. Years ago, Five Ten was purchased by the teutonic shoe brand with the three stripes, and everyone had been waiting to see if the folks from Nürnberg would fuck it up in the ensuing years. This is not a dig at either brand - both are great at what they do - but we've all seen what happens when non-endemics come to play in our tiny little sandbox: they usually end up eating humble pie that tastes a lot like mud with tire tracks running through it.
So the little engine that was Five Ten got hitched to the giant German wagon, and we all hoped innovation and refinement would follow. Instead, years went by and nothing seemed to change all that much. Adidas launched a few Terrex-branded riding shoes, with limited success (and almost no availability) and Five Ten kept chugging along.
Which brings us to the Trailcross XT. First thing to note is that it is co-branded: the iconic three stripes appear on the tongue, complemented by the very recognizable 5.10 branding on the side of the shoe. But forget all that, let's talk about the shoe itself, because it likely isn't the one you expected, though it is surprising in a number of ways.
The latest iteration of the Adidas/Five Ten Trailcross actually comes in three versions: the LT, the XT seen here, and Mid Pro. LT is intended for warm climates, and XT is supposed to be the all-rounder - intended for all regions and climates. We'll come back to that. The Mid, which we haven't got our hands on yet (inventory continues to be an issue with Five Ten shoes) has a higher cut and a bit more protection, but to these eyes doesn't look too different than the XT. Rumoured to be coming next year is a Gore-Tex Trailcross, and can I just say that's the one a lot of us have been waiting for...forever. I have spoken to marketing and product people at several different shoe brands and still do not know why nobody has addressed that gaping hole in the market. There are flat pedals shoes that work for fat bike commuting at 30 below but not a single flat shoe that is waterproof and breathable. Note to all brands: the first to do this right is going to absolutely corner the market in the PNW, BC, and the entire UK. You're all blowing it.
Back to today's programming... The naming convention is a little strange, since the Mid Pro is actually a high top, and the XT is what I'd call a mid height shoe. Anyway, all three definitely succeed at what Five Ten & Adidas intended, which was a riding shoe that draws inspiration from a Terrex trail running shoe. 'Five Ten on the bike, Terrex for the hike' is along the lines of their propaganda line (not bad, actually). I've owned several pairs of Terrex shoes (a light trail runner and a hiking shoe) and both were truly excellent examples in their categories. So, does that translate to MTB? In short, yes. The longer answer is a bit more nuanced.
What is it good for?
Those trail runner looks broadcast the intended use of the Trailcross shoe line - especially the LT and the XT, which are intended for trail use as well as...bikepacking. Hold on a minute, because this actually makes sense. Anyone who's done any amount of bike packing will tell you that hike-a-bikes are not just an occasional thing. Depending on where you're BP'ing and over what kind of terrain, pushing is common. And then when you're done for the day, you're at camp, so it stands to reason you need a comfortable shoe you can wear all day and night. Yes, a Five Ten Impact or - better yet - Freerider would do the trick. But do you need that weight, toe armour and sole stiffness? You don't. But this means that at first blush, these shoes are not a first choice for the one writing this and those reading it who come to NSMB for shore-style riding. Still, this is Five Ten's first really new shoe in some time, and to these eyes the first real collaboration to come out of the Adidas partnership that looks interesting to our type.
The first thing I noticed was the light weight. Compared to the Impact Pros I've been wearing for three years now (I do not have the same durability complaints about them that others do), the Trailcross XTs are noticeably lighter. That weight has to be lost somewhere, and most notably it's in the lack of toe, heel, and forefoot protection. Depending on your needs, this may be a problem. For me, so far, it has not - but that may be luck because I've definitely used every square inch of the armour on my Impact Pros over the years. Regardless, in 25 rides or so in these kicks, I have had no issues with foot or toe strikes, and they've been used in plenty of nasty terrain. Where the lighter weight is a good thing is when pedaling. Remember that your feet, shoes, and pedals (and knee pads if you wear them around your ankles to climb) represent rotating weight. Just like your wheels and tires (but on a smaller scale), reducing that rotating weight can make a difference on longer rides.
How do they handle the elements?
Next, the ankle gusset. I love this feature - just like I loved it in the OWN FR-01s I reviewed a few years ago. What I don't love is that the Trailcross XT's gusset simply isn't tight enough to be effective. Dirt, pebbles, and loam seem to be holding the door open for each other, and then partying in the heel cups of the shoes. In fact, it's possible that a not-tight-enough gusset works like a funnel, making it worse than a shoe with no gusset. Can not confirm. It hasn't been awful, it's just not effective.
The forefoot has mesh panels that reach back to the level of the first eyelet. This also helps with weight but also, and far more importantly, with ventilation. Recall that these shoes are intended for all day pedaling, often in warm or hot climates, not to mention routes where you'll have to cross the odd creek. Paired with the water egress ports under the forefoot, and you start to get the picture - the Trailcross XT lets in water and cold air like guests late to a dinner party - but at least they also know how to kick those guests right out again when they've overstayed their welcome. The sum of all of this is that on cold days, my feet got quite cold. On wet days, very wet. Waterproof or thick wool socks to the rescue, but for winter riding in areas that can be cold and/or wet - this is not your shoe. For long, hot days, or wet and mild ones, this is an excellent choice, with one other benefit: they dry quickly.
If the Trailcross XT isn't the ideal shoe for cold or wet days, that hasn't actually stopped me from wearing them in those conditions, made much better by using them with Showers Pass waterproof socks when it's torrential. What I did appreciate in all conditions was the Stealth Phantom rubber, which delivers grip in spades. That part is no different from what you've come to expect from Five Ten over the last two decades. What was a little different was the softer flex of the sole, however I actually liked the ability to flex the sole around the contours of the different pedals I tested them with (Shimano Saint, OneUp Alloy, and Chromag Scarab). For a shoe intended to be pedaled in all day that is equally happy hiking - or hike-a-biking - this makes perfect sense. It was a relief that that didn't sacrifice their performance on the bike, though. Bruising DH or bike park shoes they are not, but that's also not what they're trying to be.
Another note on the shoe's construction that differentiates it from your typical Five Ten is that the midsole feels lighter and thinner - not to the detriment of comfort. We all know how skate shoes feel thick and bulky, right? Well the Trailcross XT feels like a trail runner or super lightweight hiking shoe in that regard. Way more comfortable on your foot in just about every situation: hiking, driving, pedaling, and drinking beer at the dumpsters after your ride. If flat shoes all have the jump on clipless togs for comfort, these things make your regular flats feel like snowboard boots.
Lastly, I found the toe box to be slightly lower in volume than a typical Five Ten, which worked well for me - YMMV so size carefully as I've heard a few grumblings from riders with wide feet.
Not to detract from the products they've rolled out over the years - it's difficult to argue against the brand's hegemony when every flat shoe ever reviewed anywhere is compared to a Five Ten - it's just that over fifteen years it would seem like we might have expected a bit more. With the Trailcross XT, it feels as though Adidas and Five Ten are finally starting to take real steps towards building on past successes while evolving the flat shoe category to appeal to a wider group of users. If you can forego the foot armour and are looking for a flat pedal shoe suited to trail riding that will be comfortable for long days on and off the bike, the Five Ten Trailcross XT may be a good choice.