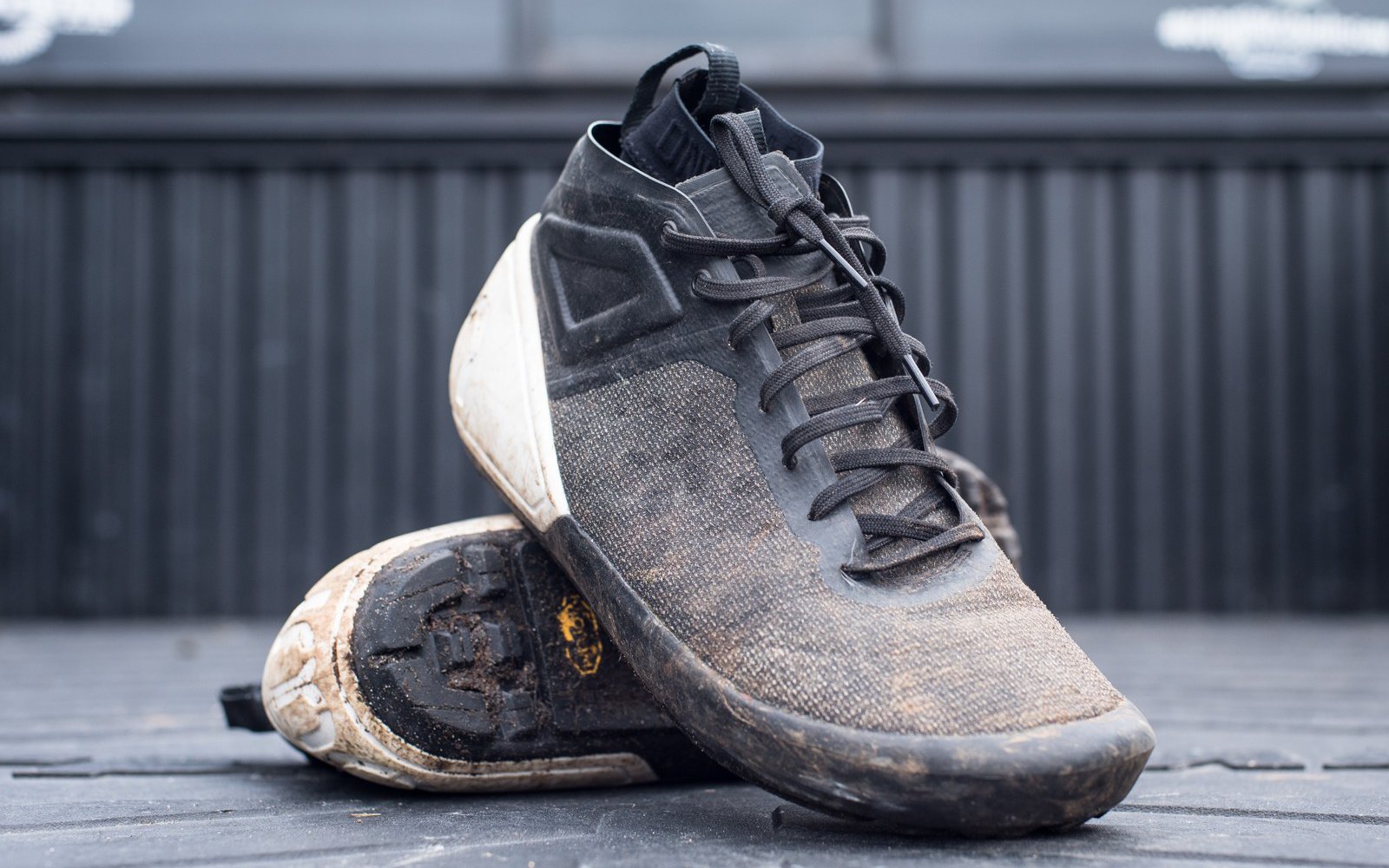 REVIEW
OWN FR-01 Shoe Review
The first comment about the OWN FR-01 shoes I've been testing is always about the looks. The second is invariably a question: people want to know what I have on my feet.
"Are those Air Jordans?"
These shoes attract a lot of attention. Maybe it's the fact that any flat shoes that aren't Five Tens gain extra notice. Maybe it's the kevlar forefoot. Maybe it's the white heel cups. Yeah, it's gotta be the white heel cups. Look a little more closely, and you get the idea that these are unlike any other MTB shoe you've ever seen – and they sure as hell fit unlike any other MTB shoe you've ever worn.
OWN stands for Only What's Necessary, and it was founded by a couple of Brits named Warren Bosomworth and Dan Hutchinson. Based in a studio in Annecy, France, they design shoes for brands you've definitely heard of. And I can attest that they designed the dickens out of these shoes.
There's a great angle of the toe bumper. Some shoes have a lot of protection up there but make you feel like you're wearing a pair of those really weird shoes KEEN makes. Not so with the FR-01. That trapezoid on the ankle gives a bit of protection for your bony protrusion.
Construction of the OWN FR-01
The FR-01 are a modular shoe: they come complete with an outer shoe and two different booties or liners. One has a thin microfleece lining and a soft shell outer for warmth, as well as tape on the seams and a water repellent finish to keep the water out. That one is for colder or wetter rides. The other bootie has a mesh liner and is intended for use when it's warmer out. Since my test pair arrived in December, I haven't used the warm weather booties yet, but we've had snow and cold temps aplenty. Down to -8º C with thin wool socks, my feet have stayed warm. And on a few rainy rides with puddles, mud, and a few stream crossings, I can also report that my feet have stayed almost entirely dry – the ankle deep stream crossing let a little water in, but not much, and my feet never felt 'wet', just a bit damp.
The microfleece-lined winter liner has a soft shell outer with taped seams. Note the elasticized cuff and burly tabs. Fits like a champ, but that snug fit means the tabs are not there for show.
Multiple materials are not the only trick the booties have stuffed in their cuffs. Both liners have a D30 sole which provides comfort and softens the blow on drops. This has also allowed OWN to keep the shoe's sole quite thin, which gives them terrific feel on the pedal. They also have cuffs which fit snugly around the ankle and are effective at keeping debris and mud out of your shoes.
Both versions of the liner have the same D30 insert, intended to provide cushioning and comfort. It works. I have noticed more comfort on drops than with the other flat shoes I've been wearing, and when riding a hardtail, it's even more noticeable.
The outer shoe is extra impressive. The bonded construction is clean and minimalist. The forefoot area is Kevlar, and it has not scuffed or changed in appearance due to abrasion. I have high confidence I'll never put a tear in them. The flashy white heel is molded TPU which both creates a nice heel pocket and also feels protective and solid. The sides of the ankle are protected by nicely shaped bumpers – I can confirm they work when called upon. The rubber sole wraps up around the toe box and forefoot and provides more bumper and protection than you can see or feel. The careful balance between a low-profile toe piece and essential protection for the foot's leading edge is one of the many design tricks that OWN has pulled off with the FR-01. Some riders may still prefer a larger toe bumper, but for aggressive trail riding, these have always felt sufficiently protective.
12 Ride Flat Pedal Challenge. It's all come together nicely." src="/media/original_images/NSMB_2017_gearreview_Chromag_primer_PeteRoggeman_Cypress_1666_a2Ln2Le.jpgw1600" alt="Rider: Pete Roggeman | Location: Cypress | Trail: Pull Tab" data-recalc-dims="1" />
I've spent the winter doing new things with my riding. First time on a hardtail in over a decade, first time back on flats in 2.5 years. And I've been dabbling in Ryan Leech's 12 Ride Flat Pedal Challenge. It's all come together nicely.
The Sole
There's no question that the single most important element of the success of Five Ten is their Stealth Rubber soles. Many hopeful shoe brands have put forth good looking shoes up top, only to be thwarted when they failed to provide enough stick on the bottom. Such is the importance of that sole that complaints about weight and drying times measured in days instead of hours failed to shake riders' faith in Five Ten. OWN tapped Vibram for their outsole, and I'm happy to report that while they aren't as sticky as Stealth, they still provide excellent traction on the bike and while hiking. If you want maximum stick, Stealth is still the champ, but the dual compound soles of the OWN FR-01 are not far behind. The long flat area under the foot provides a huge area for the pedal interface and uses Vibram's IdroGrip, which is gummy on pedals but has also been sure-footed on wet rocks and when walking over logs. The toe and heel have a blockier construction and use a more durable compound that Vibram calls DuraTreck.
The flat area of the OWN FR-01's sole is Vibram's IdroGrip, which is sticky and plays nice with pedals. The tread at the toe and heel uses DuraTreck which is an abrasion-resistant compound.
I know it sounds crazy but I think these are the best fitting shoes I have ever worn.
Fit
It has been at least a year and a half since I first heard about the OWN FR-01, and even then they had already spent a few years working on the design. So I was familiar with their obsessive design ethic, and it would be fair to say I expected the shoes to fit and well at that. What I wasn't prepared for was just how great they feel on my feet.
Hardtails are very useful for testing certain components: tires, brakes, wheels, pedals…even shoes.
Sizing is done according to the total length of your foot, in socks (it matters). Mine measured 260mm (aka a 10 or a 43), so Warren sent me the 280mm-sized shoe. Pulling them out of the box was pretty special – they're nicely wrapped in tissue paper with one set of liners in the shoes and the other in a separate compartment. I still have that box. My excitement was almost dashed when it turned out to be bloody hard to get them on. It required a shoehorn and some judicious pulling on the tabs, which are thankfully very robust and big enough to get a good grip on. The first time I wore them around the house (admit it, you wear clean new shoes around the house, too, don't you?) I was concerned that they were a bit snug. After an hour my left foot felt tight. But I rode in them the next day and a) they were just a bit easier to get on, and b) they still felt snug, but now it was a perfect kind of snug.
The cuffs keep everything out of the shoe and contribute to the snug fit of the FR-01. And those laces? Tie 'em up casually and don't worry about them coming undone unless they snag on something. Just another little thing the guys at OWN got just right.
The thing is that because the liners basically are slippers, I'm not being hyperbolic when I say these shoes fit like slippers. The interface between the inner and outer shoe is perfect, and I'm left trying to remember a pair of shoes that ever felt better on my feet. Not just riding shoes. Any shoes. And I still haven't come up with one. Yes, I know it sounds crazy but I think these are the best fitting shoes I have ever worn.
The snow has finally melted on some of our low elevation trails, but there's another foot in the forecast for this weekend.
Once you slip them on it feels almost like a cartoon shoe that shrink wraps your foot. After about 10 rides I could start putting them on without a shoehorn but I still use it if I've left it within reach. The laces are there, and I tie them so they don't flop around like a puppy's ears, but don't feel the need to do them up tight. It's a bit like a helmet that stays on your head without being done up – even upside down. At the end of a ride, I never rush to take them off. But I hear that if you do finish a ride with super wet shoes, you can just slide off the outer shoes and drive home in the liners. F*cking brilliant.
Performance
I've covered the soles but will repeat that the stickiness is a small step down from Stealth rubber, but the pedal interface is terrific (I've tried Chromag Scarab and Crank Bros. Stamps with good success). As far as stiffness, it's been tuned for good pedaling performance (I've been on several 2+ hour rides on a hardtail with no arch or sole soreness) but if you move your foot forward on the axle, there is enough flex to grip and feel the pedal. This is enhanced by the relatively thin soles that haven't had to be made thick with foam for cushioning, thanks to the D30 inserts in the liners.
All the snow on the Shore this winter made it easy to switch back to flats for a change – and stay that way.
So the pedal interface is great, the rubber sticks, they're a pleasure to hike in, the fit is perfect, and you can pull them apart to hose out the inside and outside of the outer shoe, which will then air dry in minutes rather than hours or days. Are these the perfect shoe? For me, they are. I don't mind the look of the white heels but that will be polarizing, and a dark grey or a black would age better – mine have already been subject to mud, loam, grease, snot, and blood. But given how well these shoes are designed, am I really going to tell Warren and Dan that the white heels have to go? Nope. I'll take 'em just as they are.
Molded TPU heels are protective but not bulky. Some may not like the flash of white. I don't mind it, but I think a dark grey would be right up my alley. Above the heel, the material is a type of nylon that conforms to the shape of your ankle.
If you're ready to pull the trigger, you'll have to shell out for them. At 190 euros, they ain't cheap. That's $260 CAD / $205 USD by today's exchange rate. OWN are still a small outfit and sell direct since they don't have distribution in North America (yet). The upside is that your purchase will directly support the guys behind the brand (no margin erosion via retailer and distributor). It's a lot of money, but two sets of liners should keep you in business for quite a while, and the incredible quality of construction and design should hold up to some serious abuse. The soles would be the one thing I'd worry about. Not because they seem underbuilt, but because the rest of the shoe is so damn robust.
When I say they stick to the pedals well, I'm including a whole bunch of riding in snow – not conditions in which pedals or rubber are at their stickiest.
It seems like a constant refrain in our sport these days. "It's expensive, but it's worth it". It's an expensive sport but that doesn't mean that everything you use has to cost a fortune. That includes shoes. However, I can't remember the last time I was sent a product that was this good. Design, materials, and performance are all flawless. It comes at a cost but I have no problem claiming that the OWN FR-01 represent good value. They may very well last as long as two pairs of shoes, and they'll fit better, too. I promise to report back on durability if I have any issues. Otherwise, even though we're only one month into 2017, I think I've already found the first product for my Gear of the Year list. They're that good.
More info about the OWN FR-01, sizing, shipping, and some very nice product photos can be found on the OWN website.
---
How do they look to you?