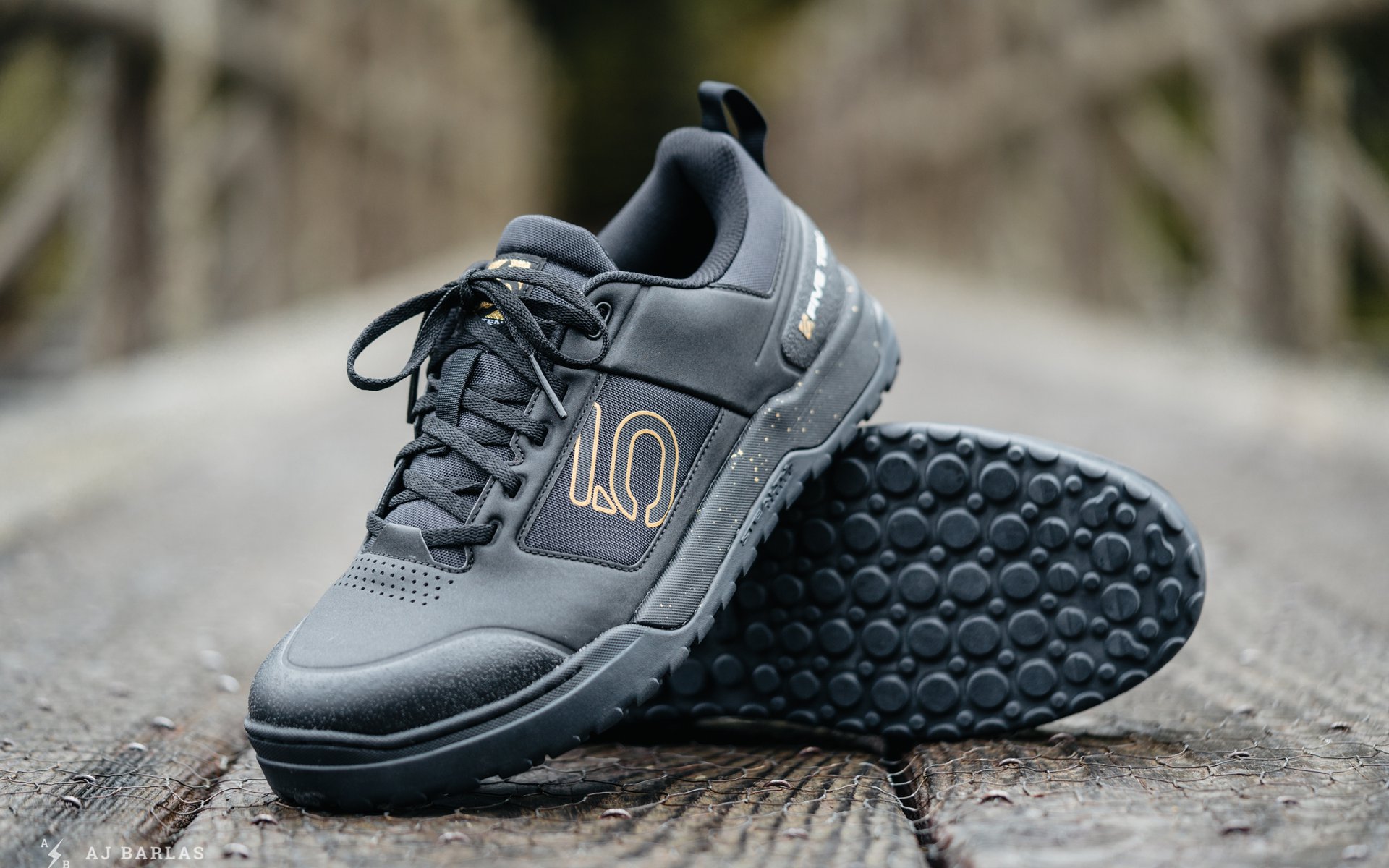 A Return to S1 Stealth Rubber & Much More
Five Ten Impact Pro Shoe Review
The Impact was the first mountain bike-specific shoe Five Ten released. They started making shoes with Intense branding for Chris Kovarik and a number of other lucky pinners but eventually that shoe was brought in-house. That early version wasn't perfect though. Grip was spectacular, especially coming from the skate kicks often used at the time, but the rest of the shoe was akin to a sponge. After a wet day on the bike, it was often next to impossible to dry them out before the next ride, despite loading them up with newspaper. They also soaked up weight, and their dry mass was porky already.

Despite their limitations, I always found the sole and pedal feel of the first version close to perfect. My first pair of Impacts were high tops. They lasted a couple of years before pin holes formed in the S1 rubber sole. They were retired when they began letting in too much trail debris. Being so happy with the original shoe—despite their sponge-like characteristics—I replaced them with the second version. They didn't lose much weight and still took ages to dry, but they were more water resistant and the great S1 rubber sole carried over. Unfortunately, they'd become quite bulky and the sole lacked the pedal feel of the original. After reviewing some other shoes I ditched them entirely despite longing for the grip offered by their magical rubber.
Now more than 13 years since the first Five Ten Impact, the latest version sets out to improve protection, grip, feel, and water resistance.
Features:
Abrasion-resistant, fast drying synthetic upper
Reinforced toe cap (with Poron XRD Foam)
Compression-molded PU midsole
Stealth S1 Rubber outsole
"Multi-dotty" sole pattern
Weight: 493g (claimed)
MSRP: 160 USD
The Impact VXi, which preceded this version, featured improved pedal feel but used a foam midsole and Mi6 rubber. Five Ten claims that to improve durability, they moved to a polyurethane midsole and went back to the classic S1 Stealth rubber outsole for this latest Impact Pro. The tread pattern has evolved as well with the front half of the sole incorporating smaller dots between the traditional discs. These changes were apparently made primarily to improve feel and edge control but also to help shed dirt and mud. The tread variety continues at the heal and toe, improving hiking traction.
Pedal feel has improved greatly since the second version and while they're not as sensitive as the Freerider Pro, they're close, while providing more support and protection. In fact there was good pedal feel straight out of the box. As with most new shoes though, they were on the clunky side during the first few rides, but they've been great since.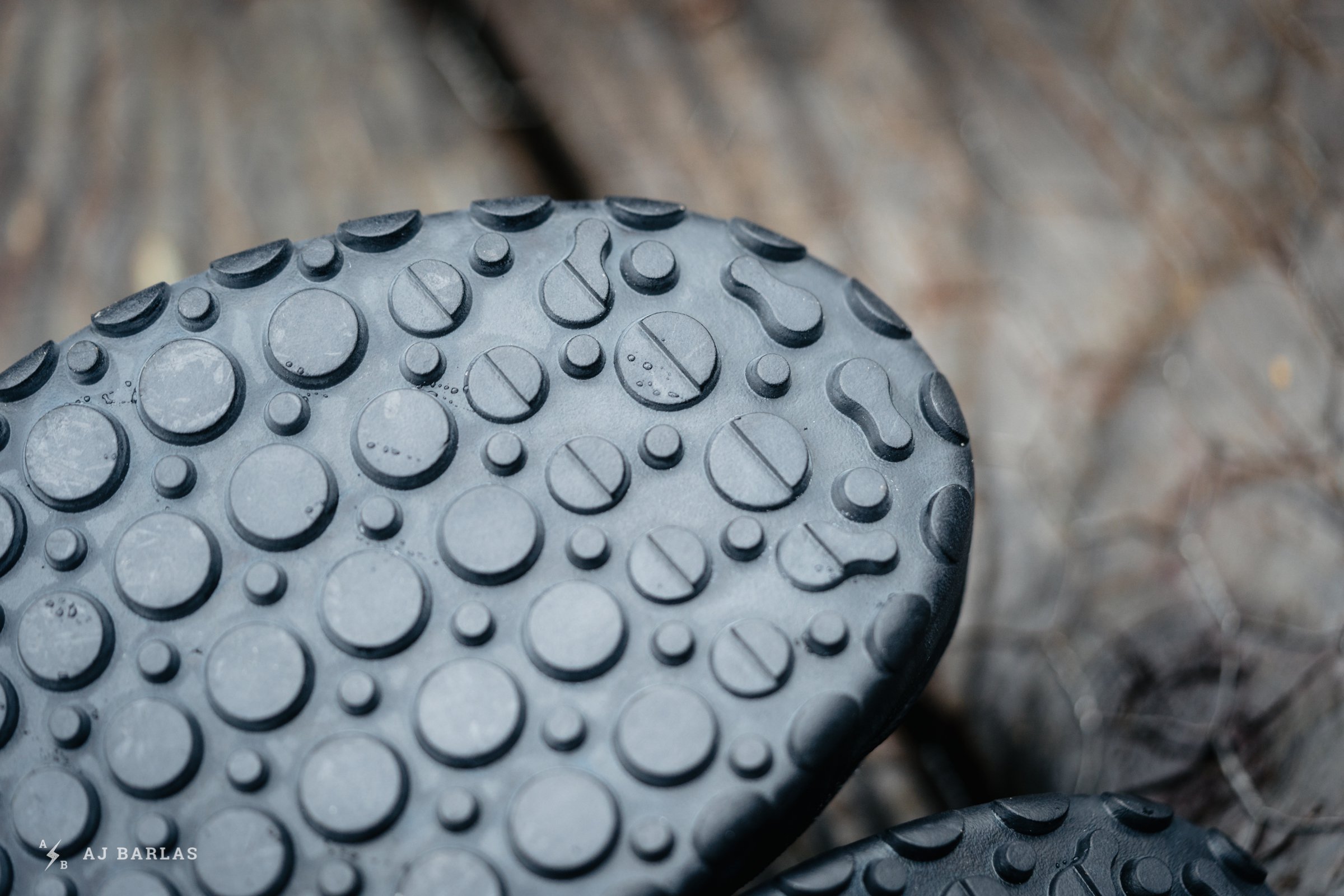 These are bulkier than the Freerider Pro, or any of the other shoes I've been riding in the last 12–18 months, but smacking my toes wearing the Impact Pros left me undeterred and uninjured. The generous toe box width adds to the bulky sensation for someone with an average width foot. After breaking several toes in lighter, less sturdy shoes, I'll happily take that minor bulk.
Having a more positive feel combined with the sticky S1 Stealth rubber has resulted in an easier reposition than the past Impacts. Don't get me wrong, these are still sticky enough that riders who prefer being able to easily hift their feet around should look elsewhere. For those who like to feel locked in, the Impact Pro provides a more positive feel, making it easier to know where you're positioned on the pedal.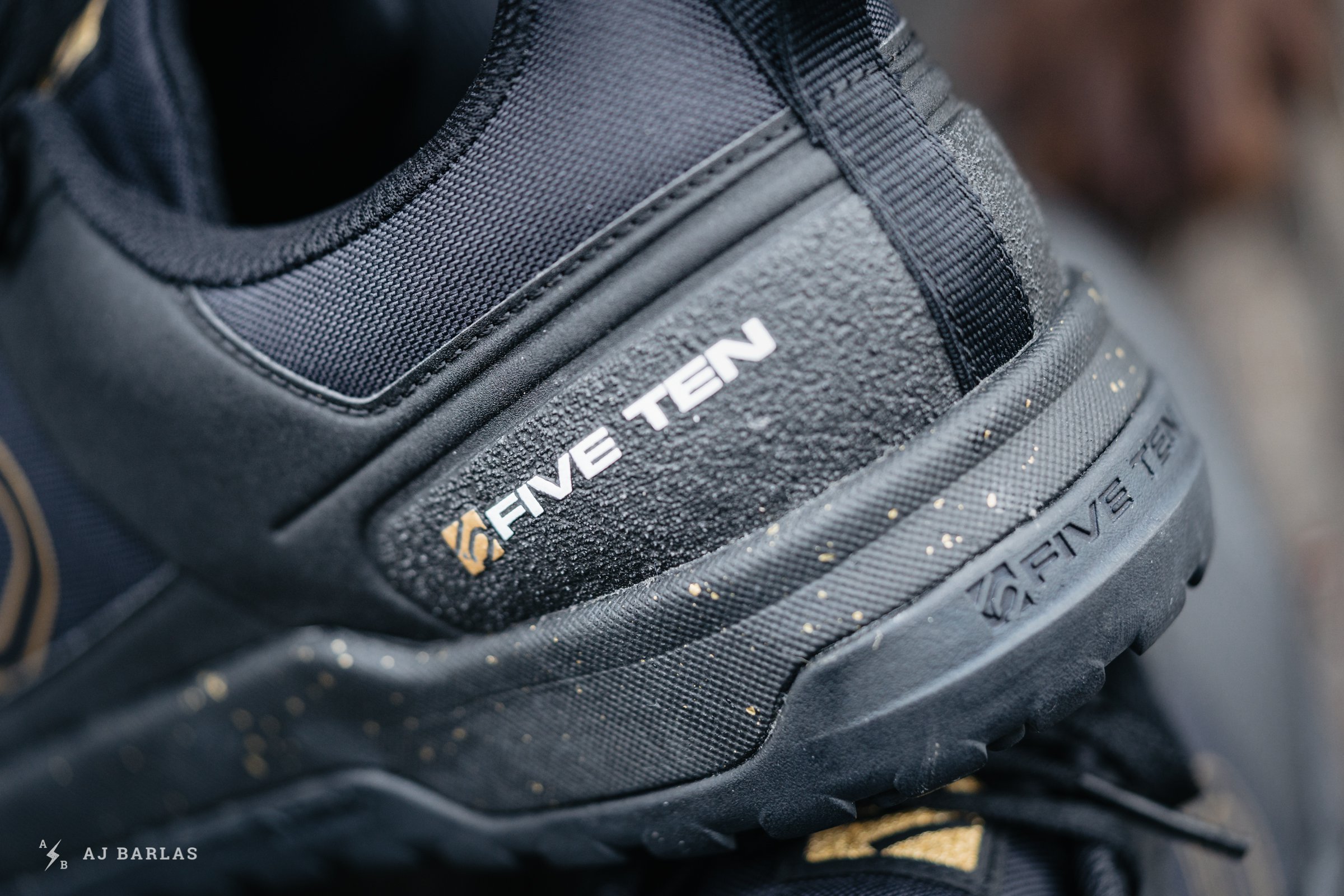 Balancing feel, grip, and durability isn't easy but the updated Impacts show Five Ten has gotten mighty close. The pedal feel gets close to the Freerider Pros I am most fond of, while providing far more protection. The sole is stiffer than the Freeriders too and while I typically don't get on with stiff shoes, these strike a great balance, providing ample support for longer days riding while still allowing the rider to feel what's happening. Take a bow Five Ten.
Five Ten claims these more water resistant Impacts dry quicker than predecessors but I haven't had a full soaking yet. Regular rain and showers did little to penetrate though and they dried in time for action the following day. The material is also proving to be very durable and despite all of the abuse these have received, the uppers show little wear. The tradeoff comes in hot, steamy weather and the lack of a mesh toe-piece compromises air flow. If only we could have the moon on a stick.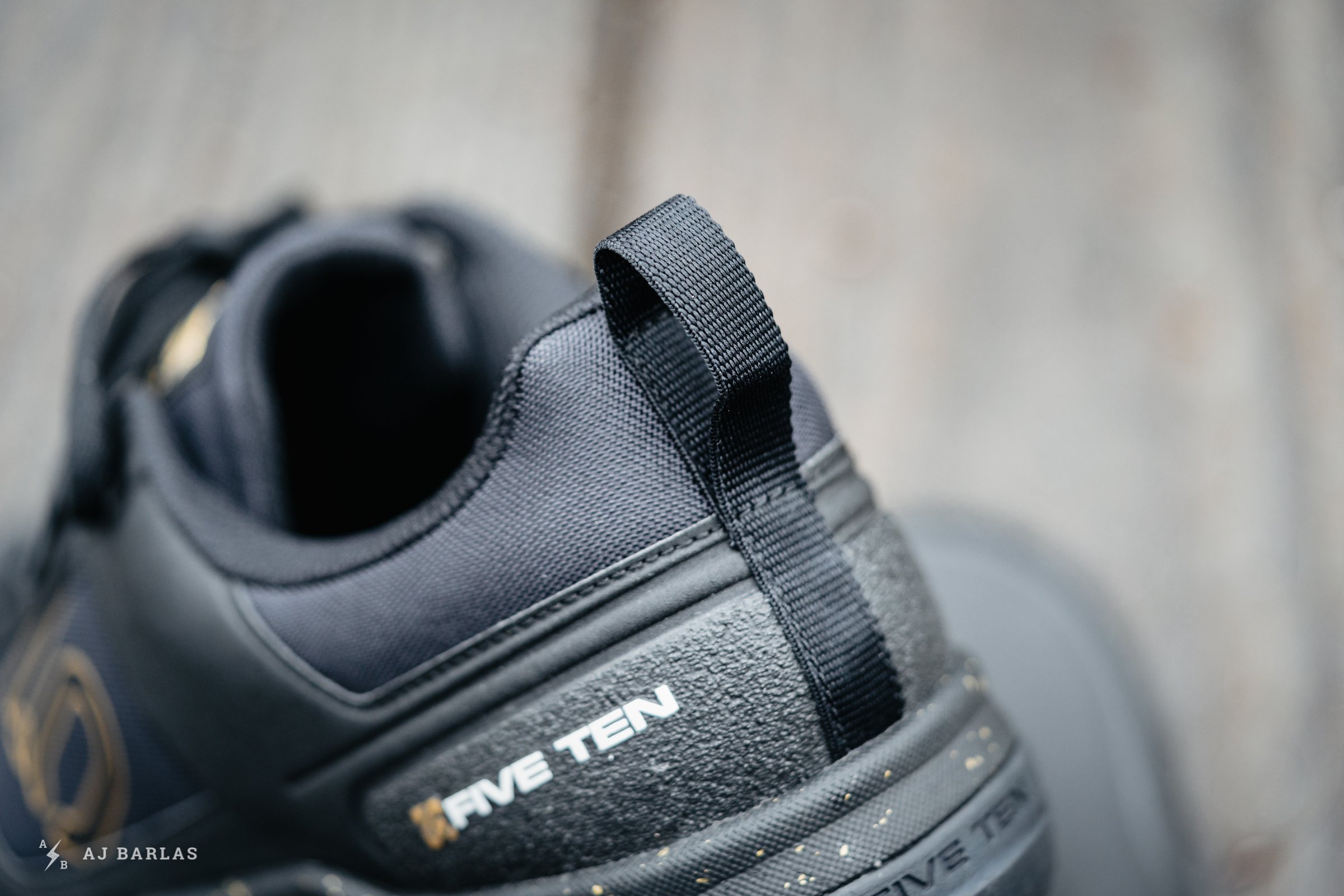 Verdict
I've beaten on these for the last four months. They've seen everything from cold and wet to hot and dry, and I have to say I'm really pleased with the updates. They're proving more durable than their predecessors and despite testing some new pedals with (very) large pins, show minimal wear in the sole. The uppers have remained solid and the entire shoe continues to provide excellent support, despite multiple full day hikes throughout Asia. It appears the move back to the S1 Stealth Rubber and inclusion of a PU midsole has done wonders for performance during long days in the saddle.
The high level of traction won't be for everyone and the Impact Pros remain planted, even through the rowdiest of chunk and have shrugged off everything thrown their direction.
The new Impact Pro is a winner for any aggressive flat pedal rider who won't compromise grip.
Head to the website for more on the Five Ten Impact Pro.