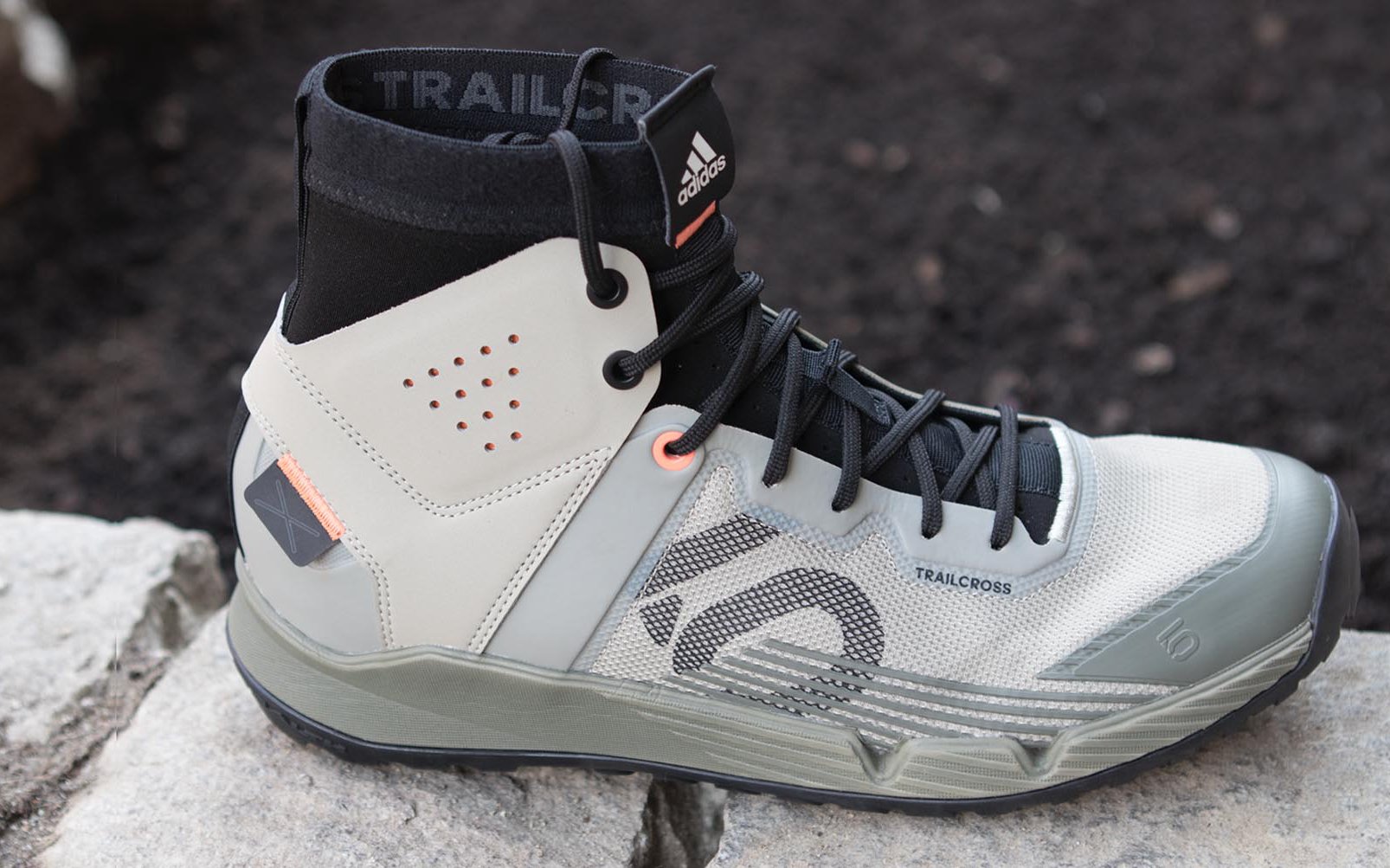 Product Intro
Fiveten and Adidas Reinvent the Flat Pedal Shoe - The Trailcross
Puma has tried, Nike tried and even Adidas tried before the purchase of Fiveten but none of those gained any... traction. The hubris that led to that failure is pretty common, even within the bike industry, because how hard can it be to make something as basic as a flat pedal shoe?. I once went to a media camp and was told we would be given shoes for flat pedals to use. Luckily I brought my own because the shoes in question were SPD shoes without cleats.
Good flat pedal shoes need to balance several factors to be considered; grip, stiffness, tread pattern, sole profile and protection. If a shoe is too stiff you won't be able to flex over the pedal for maximum grip. Too soft and your own soles will take a beating and generating power will be a challenge. Grip needs to range from high to maximum based on user preference, etc. etc. It's a minefield that has, until now, been best handled by companies immersed in the flat pedal universe.
When big companies like Adidas purchase smaller companies, like Fiveten, they usually fold them in and dissolve the original brand. Before this Adidas hadn't meddled much that we could see but some riders have noted an erosion of quality in recent models. The newest shoes from Fiveten, the Trailcross models shown here, display the Adidas logo on the tongue which may be a sign of things to come.
The idea here, in the words of Fiveten's Luke Honz was, "to combine the technology from Adidas trail running with our technology for flat pedals." The shoe tosses the skate shoe style out the window and uses a trail running midsole but thinned it by the mid foot for feel and to prevent bounce from excess EVA foam, and kept the thickness at the heel for protection and support.
Fiveten was beginning to feel the limitations of the skate shoe style, in terms of weight and ventilation and most significantly in dealing with water, despite admitting some responsibility for pushing that trend. I'm a little concerned about the absence of protection in some areas of the shoe, particularly the mid foot both inside and outside and relatively minor armouring at the toe, but the hightop version adds some welcome ankle protection with D3O inserts.
Eyeballing a flat pedal shoe will only get you so far and the most important factors can't be known until you stick them into some pedal pins and ride some trail. Will these have the right balance of stiffness and flexibility? The grip should be adequate but otherwise we'll have to slip some on to give you a better idea of how these compete on the dirt.
Expect to see these in Feb. 2020. Trailcross LT - 130 USD, Trailcross Mid Pro - 160 USD.