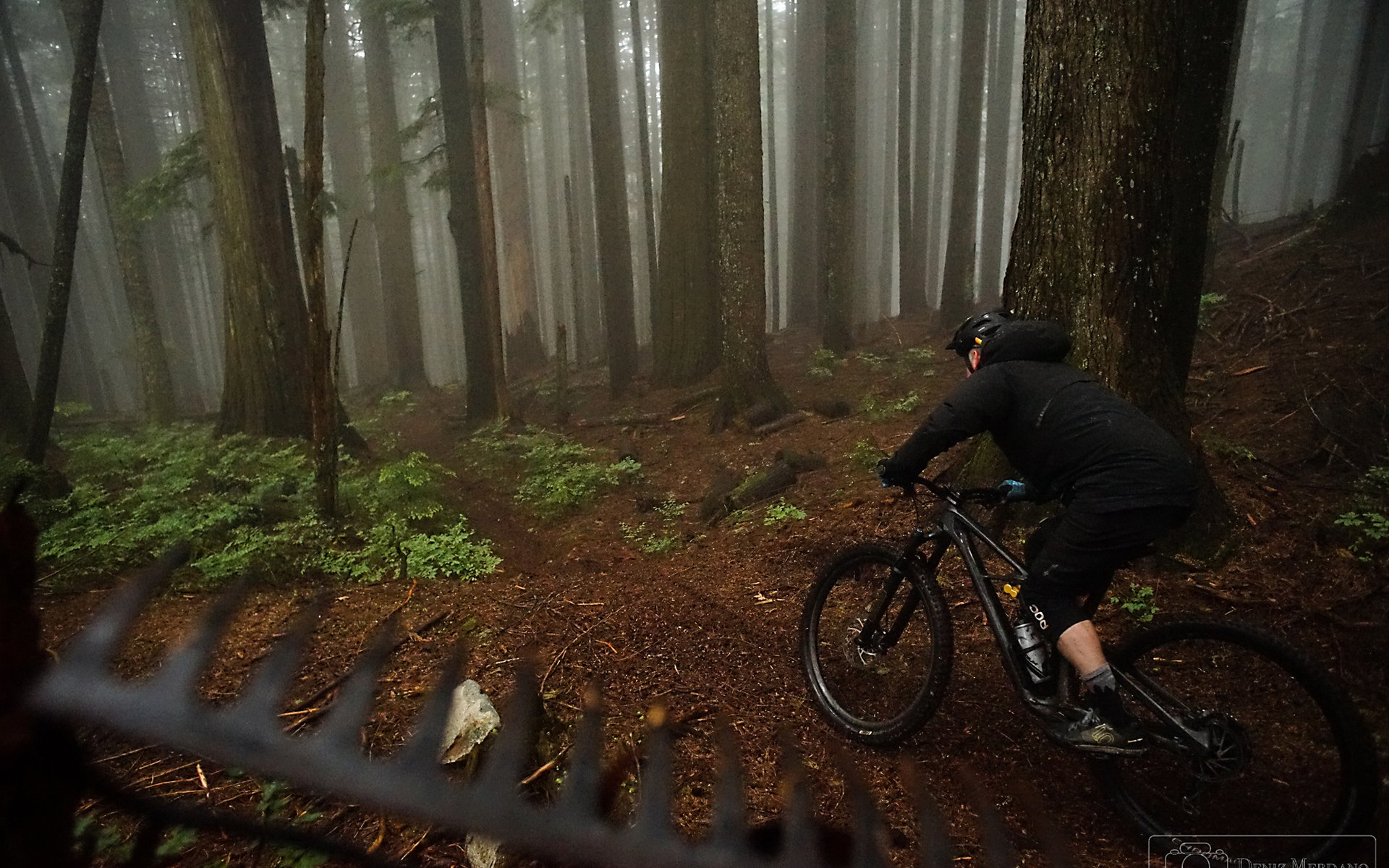 Comparison Test
Coil vs Air - Öhlins long term test
Coil vs Air on Öhlins forks and shocks
I have been running air shocks and forks since 2010 on both DH bikes and trail bikes. Some of my riding bros were experimenting with coil shocks recently and a few had gone all in on coil forks and coil conversions - like the Push ACS3 and the Vorsprung Smashpot.
I decided to give coil a go because I am a firm believer in purchasing riding ability through technology, and with all the big crashes and aging I've been doing the over the past few years it was time to invest; my hope was that coils were the answer.
The coil vs air debate has been well documented and most riders declare that coil gives a more supple, plush feel that hugs the ground better while offering excellent tracking, feel and control that surpasses air. Coils are said to require less maintenance and you may even luck into the right spring weight to get the "set it and forget it" happy place. In addition, air uses more seals so friction may increase with heat build-up. Sounds like coils are perfect… except coils are heavier and they are linear by nature as opposed to air's progressive spring rate. Air is considered more playful, allowing for a poppy feel on the trails.
Many top of the line air shocks and forks allow for ramp to be adjusted with tokens, spacers or air. Öhlins coil suspension does not allow for these adjustments and must rely solely on compression which does not offer adjustment specific to the end of stroke rate.
I have been riding Öhlins air suspension on a Specialized Enduro S-Works 29'r for the past two years and I'd been happy with the performance for the most part. I had an STX22 shock that leaked some air but this was easily dealt with by Suspensionwerx. Other than that all that was leading me to change was the greener grass of coils.
My test protocol idea was to try different combinations of air and coil for about 20 rides each then decide after all the riding which set up I preferred. The first was easy: air shock and air fork. I had been running this set up for about a year on the Enduro. That was my base.
The first deviation was a coil shock with an air fork. I started with the coil (525 lb/in) that Thomas Westfeldt, product specialist for the mtb side of Öhlins, said would be the right fit for my size (180 lbs with gear). I found it a bit too firm on a lot of the lower grade high speed trails I was riding so I swapped it out for a lighter 502 lb/in spring. This size gave me all the benefits of coil that I had been reading about: rear wheel tracking, increased traction into and out of turns as well as over roots and rocks and even better grip on steep and technical climbs. I even found it climbed better on fire roads than the air shock. However, I found that when I rode fast blown out trails with big dips, holes and drops I was not getting the support I wanted so I went back to the 525 spring which allowed me to plow through all of those elements.
After 20 rides on the coil shock/air fork set up I went back to the STX22 air shock and converted the RXF 36 EVO to a coil. Öhlins sent me the updated fork with an air spring installed. The RXF36 EVO coil can be converted to air but it is not possible to do it the other way around. You need the little threaded washer mounted at the end of the inner leg when you run coil and air forks do not have that thread. Without that the spring will damage the inside of the inner leg. The new RXF36 m.2 trail fork will have that feature on both air and coil forks.
I enlisted Jeff Bryson, owner of Wheelthing to do the conversion. Using all his tricks from years of wrenching all across the world Jeff performed some voodoo that makes all forks feel better than new. He then completed the conversion removing the air spring and installing a white Öhlins 55 lb coil spring. It was way too stiff so after one ride of only using half the travel I swapped out the white for the blue 50 lb spring.
I liked the smooth almost buttery feel of the coil off the top into the sag point but I had a hard time enjoying the ride as I went faster and started hitting drops and steep hits. I went through the mid-stroke and found it ra too low in its travel. This is one of the downsides of coil. If there was a way of adding tokens to make it more progressive it might be an option but without a spring to suit me (52.5?) I did not see the need to carry on with the coil fork part of the test any further. I went back to Jeff and he quickly swapped out the RXF 36 EVO air, did some more of his magic and made it feel better than new. I rode another 20 rides on the air shock/air fork combo to remember the feel again. With 20 rides on a coil shock/ air fork, 20 on an air shock/air fork and 5 rides on an air shock/coil fork I needed to come to a conclusion on the air vs coil shock part of the test.
For that I did a back to back test on one of our local mountains. I chose a route that had all the elements of riding I usually hit: steeps, loam, tech gnar, flow trails and a few big rock moves. I did the route on the air shock/air fork set up first, then did the exact same route on the coil shock. The coil gave me more traction which inspired more confidence to go faster and it made some of the hard moves on the route seem easier to initiate. Even though the air shock allowed me to pop small hits and double some sections of trail, the constant slipping of the back wheel had me anticipating the rear end sliding on me on most turns.
Ever since that test day I have been running the coil shock exclusively…sort of. I decided while writing this to give the air shock one more try. I noticed the back wheel skipping out of turns and off roots and rocks immediately. After a few minutes I got used to that and adapted my riding. I appreciated the lighter weight on the climbs but missed the extra climbing traction. I also was liking the poppy feel of it on jumps and even on trails trying to double small features. But even with the weight and pop I still longed for the plushness and confidence of the coil so it is back on the bike again.
There is never a perfect solution in the world of mountain biking; nor the world in general. However, for me I am sticking with the plush, easily adjusted, progressive, stiff and smooth RXF 36 EVO air fork and the good traction, buttery, confidence inspiring feel of the TTX22 coil spring…until the crew at Spesh come out with a new Enduro; then I might have to re-evaluate everything.
For more on these products hit up Ohlins.com