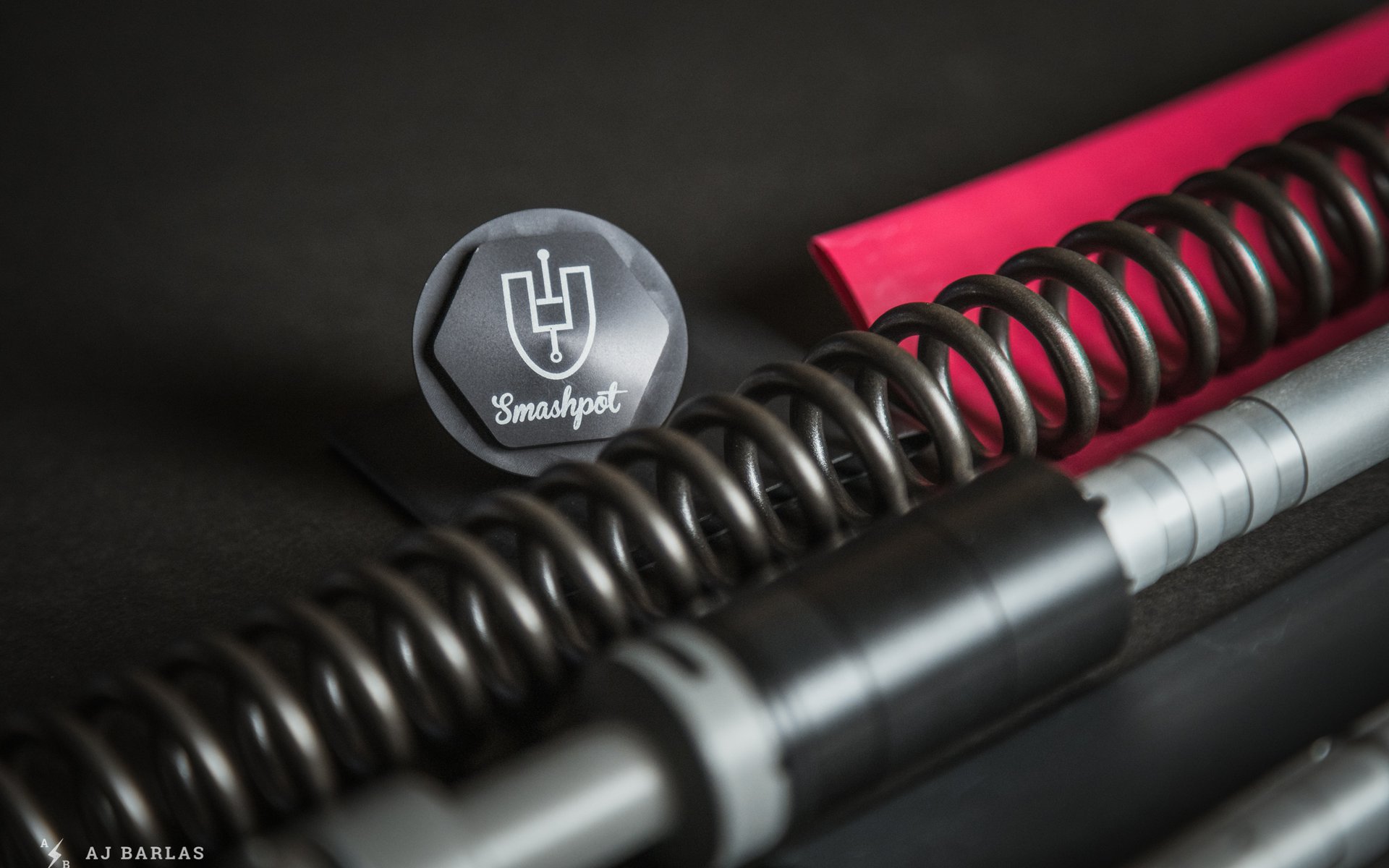 Coil is the new black
Vorsprung Smashpot Coil Conversion For Fox 36 Reviewed
Air springs have come a long way over the years and the latest options from the major players are incredible. But do they really feel like a coil yet? Vorsprung believes there's still merit to a coil sprung fork and they developed the Smashpot to serve riders who agree. And while air springs are great, sliding a Smashpot conversion into my fork clearly demonstrated the advantages of coil over air.
You've likely heard the gospel of the spring; coil-sprung suspension has less friction making it more sensitive, has better mid-stroke support, yada yada yada. However, the lack of bottom out support because of the more linear nature of a coil spring can be a setback. Air springs progressively build pressure as they get deeper into their travel, naturally providing more support at the end of the stroke. The clever cats at Vorsprung have tried to remedy this with a speed sensitive hydraulic bottom out control valve, aiming to deliver the best of both worlds.

My air sprung 2019 Fox 36 was set up perfectly. While I couldn't imagine a better feeling fork, remembering the feeling of coil sprung suspension left me curious. I was also growing tired of checking the pressure in the fork. After removing the excellent Fox Float X2 rear shock in favour of the wallet-friendly Marzocchi Bomber CR, I was keen to see how a coil fork would go.
Highlights
Fits Fox 36 (2015+), Fox Rhythm 36, Marzocchi Z1 (2019+) and 35mm RockShox Lyrik, Pike, Yari and Revelation
Works with forks between 130–180mm travel
Tool-free bottom out adjustability
Customizable hydraulic bottom out (HBO) shim stack
Universal cartridge. Requires only a potential new top-cap and brand-specific foot stud to fit a new fork
Allows 180mm of travel
Weight: 547g (Setup to run with a 160mm Fox 36)
MSRP: 420.69 CAD (Replacement Springs: 80 CAD)
Details
A few things caught me by surprise when I picked up the Smashpot kit from Vorsprung. I hadn't ridden a coil sprung fork since around 2013 and I'd forgotten to even plan what spring rate I'd need. Thankfully Steve is always on it and after sharing my weight and how I normally run my air-sprung forks, we settled on starting with the 45 lbs/in spring. He also sent me off with a firmer 50 lbs/in spring based on where we ride and my feedback.
I chose to install the conversion kit myself and was surprised how straight-forward the process was. Vorsprung offers excellent, easy to follow instructions on their website and anyone comfortable with taking their fork apart can install this system in a little more time than a lower fork service.
There are some important steps to the installation process to ensure the kit is prepped for the right travel. Before the fork is even opened up, put together the spring assembly. Once the top out spring spacers and travel spacers have been set for the travel of your fork, heat shrink is carefully applied to the tube assembly. While the gun was heating, I applied the included heat shrink to the coil spring and then proceeded with the rest of the assembly.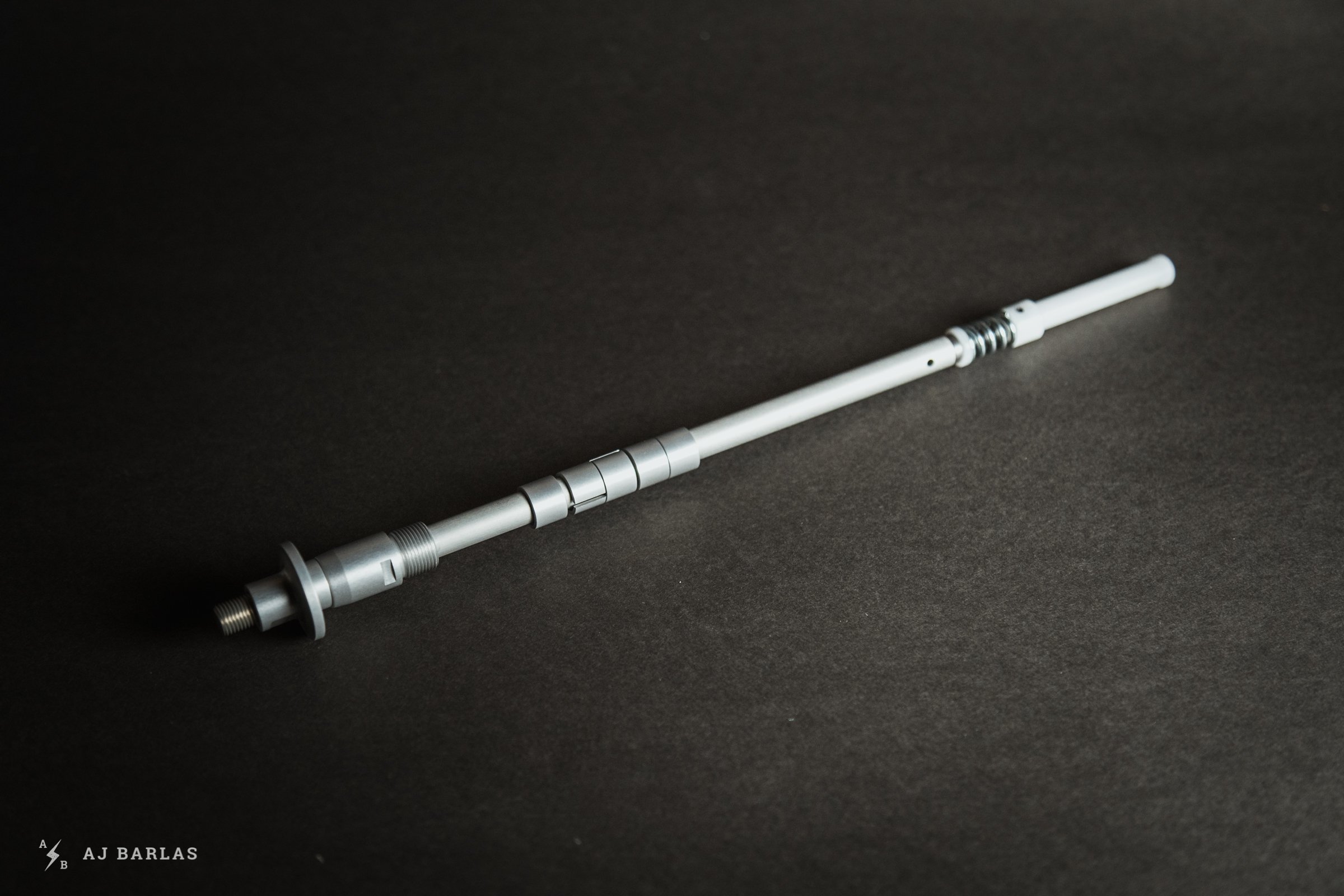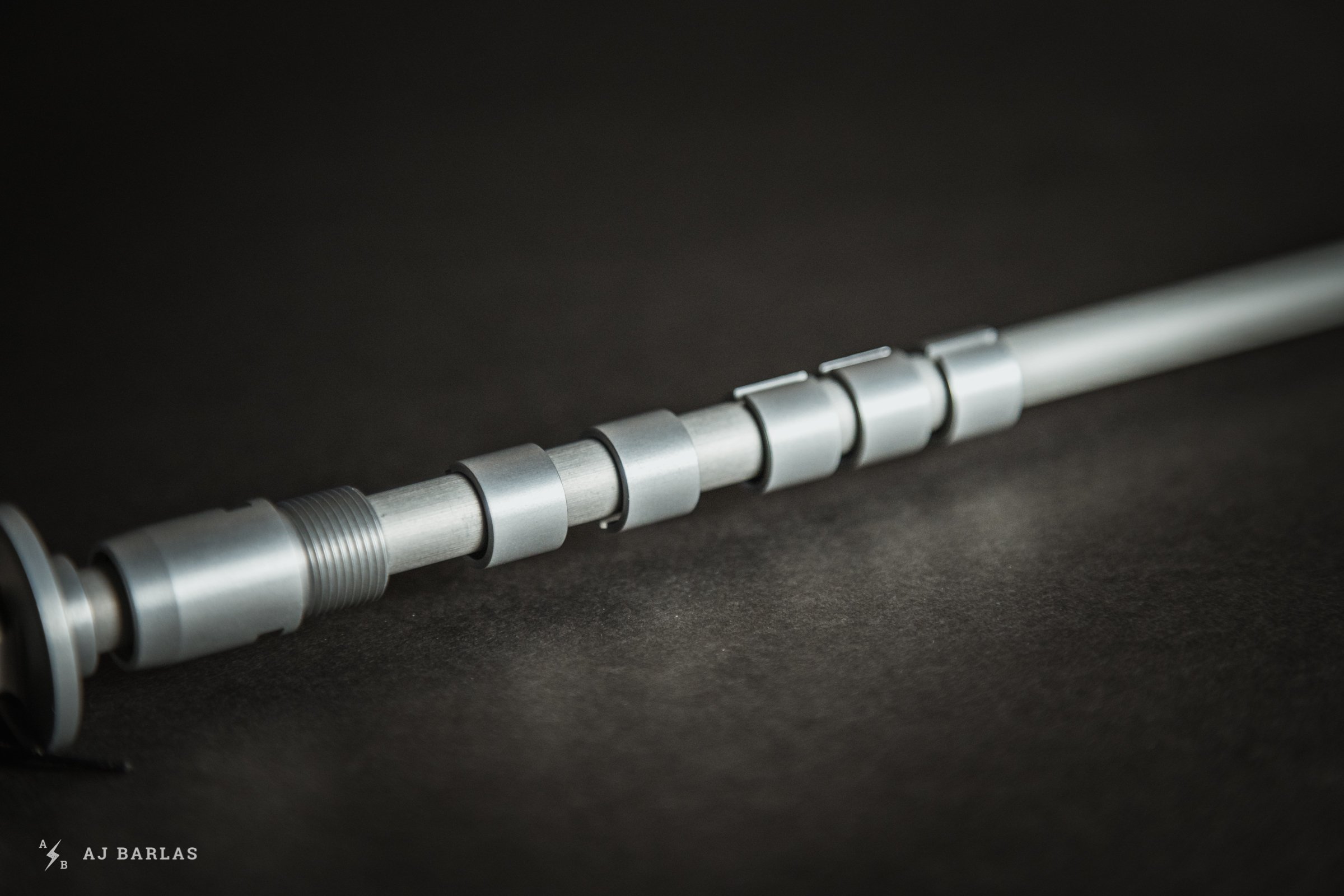 There are other parts of the process to take special note of as well. When applying the heat shrink to the inner tube assembly, it must remain clear of the ports or the fork won't work as intended. The spring collar also needs to have between 8 and 10mm of thread exposed before the top cap is installed. Each of these was easy enough to get right but required extra care.
The Positive
The most unique feature to the Smashpot coil conversion is the speed sensitive hydraulic bottom out. Its attempt to marry a coil with the feeling of air deeper in the stroke has been done before; Push does this with the ACS3 conversion. But something I looked forward to with a coil sprung fork was the consistency it offers. Temperature, ambient air pressure and elevation each affect how an air spring behaves but with coil—unless temperatures take an extreme change—it's no longer an issue. This remains true when using a hydraulic bottom out system rather than air like Push does.

With the Smashpot I never need to check the air pressure and regardless of the conditions, it performed as expected. More time riding and less time faffing is always a win. Another benefit of coil over air is more traction, thanks to the more compliant, consistent nature from fewer seals and more oil. There's also less to overcome when initiating the fork's travel, making it more sensitive, especially in the first 30% of the stroke. Greater mid-stroke support is also offered thanks to the linear rate of coil springs, holding the rider up better in relation to how light it is off the top. Improved lubrication of the internals also comes into play with a larger amount of oil. This can create a better running fork and it's claimed to result in less maintenance.
The Negative
The downside to coil over air is, of course, the weight. You'll have to decide if the extra heft is offset by performance. According to the Vorsprung website, the Smashpot conversion adds between 250-450g grams. It's a noticeable amount, especially when first installed. But once the first ride is complete it's quickly forgotten. During installation I weighed the individual pieces for a better idea of the differences.
Spring w/ top spacer and wrap: 335g
Top cap (FOX 36): 23g
Inner tube assembly (stock): 68g

Inner tube assembly (setup): 65g (2 x 10mm top out spring spacers for 160mm travel fork)

Outer tube assembly (stock): 119g

Outer tube assembly (setup): 105g (160mm travel)

Finished assembly (160mm FOX 36): 542g (547g w/ extra 50mm length of heat shrink for 36 fork – FOX Rhythm, nor RockShox forks need extra)
Replaced air spring assembly weight: 96g
On my scales, the Fox 36 160mm setup results in an extra 451g, without oil. My rough estimate for the weight of 110ml of 20wt oil puts me around 550g (1.21 lbs). A coil conversion isn't for the weight conscious.
There's also the possibility of noise from the spring contacting the inside of the fork. I heard it rattle occasionally during the first ride with each spring and was also able to force a top out clunk when I really pushed the issue. Once everything settled in I didn't notice any noise that wasn't rubble churning up off the front wheel.
That's it for negatives. For me, the positives far outweighed the weight gain and occasional thunk during the first ride.
Time to 'Smash Everything'
I first installed the lighter 45 lbs/in spring. Instantly it felt soft, and my gut said it was too soft. Part of the difference came from how freely the front end moved. The fork had seen about 240km since its last service. It's not heaps but enough to make a difference with the lowers freshened up. I went through my usual setup process. I was able to get the shape of the bike similar to my setup with air once the damper dials were adjusted deeper into their respective settings.
With the lighter spring installed, the front end was clearly more composed compared to air. I found myself riding more aggressively with the front wheel, demanding where it went with relative ease. Pushing harder did little to unsettle the bike—it tracked superbly and trail feedback was more muted. Similar to nagging your older sibling just to get a response, I found myself driving the front wheel into things I shouldn't have. I pushed harder into sections than I had previously only to find myself going faster than I should. It took everything in stride. Well... almost.
During the first ride, I experienced a mild break in and by the second outing things needed further adjusting. On average grades, the fork was working remarkably well but in steeper terrain or on sections with successive ledges, it dove too deep into its stroke. With the hydraulic bottom out set between four and five clicks out (from fully closed) it never bottomed, nor was there a harsh end to the travel used. But the fork was getting caught deep in its mid-stroke, negatively affecting my bike's shape.
I adjusted the damper dials more and repeated the process. Hitting the same sections of trail that caused the issues. I was able to achieve a setup that I was reasonably happy with. But in order to retain shape, I found myself sitting at the limits of my damper settings. And it still wasn't quite there.
The 45 lb/in spring was pulled from the fork and replaced with the 50 lb/in option. Once everything was back in place I set my compression dials back to my base settings. The bike instantly felt better. Its shape at sag was how I prefer but during the parking lot test, it felt harsh during deep, fast compressions. After backing out the HSC compression completely and fettling with the rebound things improved. That first ride on the firmer spring was the opposite to the previous rides on the lighter option. In the first 50–60% of the stroke the fork felt sensational but beyond that it was harsh. I was now experiencing hand fatigue, and on shorter trails too.
With the fork feeling great everywhere outside the last 40% of stroke, it seemed like the perfect time to pull apart the HBO shim stack. The Smashpot's hydraulic bottom out has a tunable stack for those that don't mind getting their hands dirty (or you can send it to Vorsprung and have them do it). It's not something Vorsprung feel many will need, thanks to the external adjustability of the HBO, but it can be done if needed. Everything about the firmer spring worked well for me except where the HBO was coming into play. It was time to pull the spring assembly out again.
I wanted to make a fairly drastic change to the shim stack. It was pretty clear I needed something but I also wanted to make sure it was clearly felt. Three shims were moved to the back of the stack, leaving two at the front. Once mounted back to the bike the change was immediately noticeable. On the trail, it felt excellent and I was able to add a couple clicks of HSC back in. The fork worked really well and the bike held it's shape no matter how hard it was pushed, or how sketchy I rode. After big compressions, the fork would show 15–20mm of travel remained and despite it feeling so good, I wanted to get more out of it. The HBO was also still completely wound out (fully open) and I wanted to use that too.
Again, the fork was torn down and the shims reordered to leave only one at the front of the stack. As with the previous stack adjustment, it was noticeable but more subtle. Once out on the trails, it was much clearer. A couple more clicks of high-speed compression were added. At this point, I wanted a bit more LSC too and added one. The hydraulic bottom out adjuster had a click added to it and it felt really good. I was left with about 5mm of travel after some larger hits but knowing there will be bigger, another was added.
Perfection.
While my bike, riding style, terrain etc. may not match yours, here's what I've ended up with. Interestingly my damper settings aren't too different from my air setup:
Bike: GeoMetron G16, size "Longest" / Fork: Fox 36 Grip2
Travel: 160mm
Spring: 50 lbs/in
Shim stack: One forward, four rear
HSC: 16 Out / LSC: 7 Out
HSR: 4 Out / LSR: 7 Out
Rider Height: 191cm
Rider Weight: 75kg
The current setup is everything I had hoped for. My bike is tracking remarkably and I'm able to be more demanding of the front wheel in more situations. Composure through choppy corners has greatly improved, allowing me to focus on what lays ahead rather than adjusting to keep things upright. It's made exit speeds higher, which in turn has resulted in greater momentum over the course of a trail. Under braking, the front stands up more while still accounting for the feedback under the front wheel. But probably the most enjoyable thing is forcing my front wheel onto inside lines loose with debris that I have no business being on.
Verdict
Right now my bike is coil sprung front and rear and it's incredible. It's heavy, for sure, but I prefer the gob-loads of traction, composure, and lack of faffing. And while the front weighs more than before, it actually strikes a more level balance. The adjustability of the Smashpot conversion is what really made it work for me though. I often find there's some form of compromise but with this being the weight, I was finally able to get the performance exactly how I wanted. It never does anything unexpected and feels perfectly planted but best of all, I can just grab my bike and ride confident its going to feel the same as the last ride.
More information on the Vorsprung Smashpot Coil Conversion is available on their site.