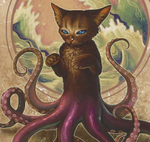 Posts: 1455
Joined: Nov. 8, 2003
Posted by: FLATCH

Posted by: Hepcat

Posted this in another thread, should have been here. In response to a joke about getting an E-bike if you're old:

Jokes aside, cycling is a low impact aerobic activity. Ride a pedal bike till you die. It's inherently a perfect old person activity, like water aerobics for the hardcore 🤘 except beneficial for balance and cognition too. Look at pictures of pre-capitolism China and the ancient old people happily riding their bikes around.

Personally I'll ride a bicycle until I'm no longer able to pedal, and then realistically, I expect to park the bike and keel over in short order.

Think the trails are dumbed down now, wait till we're all 80 and shaping the trails to suit us 😅

Cycling is a low impact aerobic activity? Not so much for mountain bikers.
George W isn't hitting dorps to falt, but reportedly mountain bikes regularly and he's a thousand years old. 
After I shattered my knee cap in 24 pieces and ruptured my patellar tendon, the very first real activity I did was mellow trail riding- at my surgeons suggestion. Yeah, I'd say it's inherently a low impact activity.
I expect to be able to mountain bike on mellow trails up to the bitter end. Trail doesn't need to be 5th Horseman to be real mountain biking. 🍻