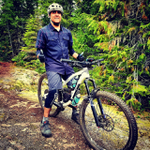 Posts: 566
Joined: Sept. 10, 2012
Posted by: Enurjetik

TL;DR: My next upgrade will be to a short travel frame that can carry two bottles inside the triangle.  

Currently the mtb advancement I'm most stoked on is the shift to allow us to carry all the things on our bikes.  My short travel trail bike is a Devinci Marshall.  I over-shocked it and slapped in a 2 degree Works angle adjusting headset.  It's now dialed from a riding perspective.  My long travel bike is a Fezzari La Sal Peak, and thing that I absolutely LOVE about that bike is that I can carry three (!) water bottles on the bike as well as a small Evoc frame pack at the headtube junction.  The ability to ride for two+ hours in the summer heat without carrying a single item on my person has been a paradigm shift.  Now, when I lust for new bikes all I drool over are the short travel trail slayers that allow for two bottles inside the frame.  Ideally my next whip will have bottle braze-ons underneath the downtube like my Fezzari, but Fidlock has a strap-on option that do the trick.  I don't think I'm a sufficiently sophisticated rider of bikes to notice the differences between any of the modern suspension designs or other nuances like slightly slacker head angles, but I can assure you that I notice that third bottle about 90 minutes into an August ride with a triple digit heat index.
I like my packless riding and for sure any frame I pick would have to fit my gear and water bottles. I've checked out the La Sal Peak and the mega water capacity looks sweet. :-)