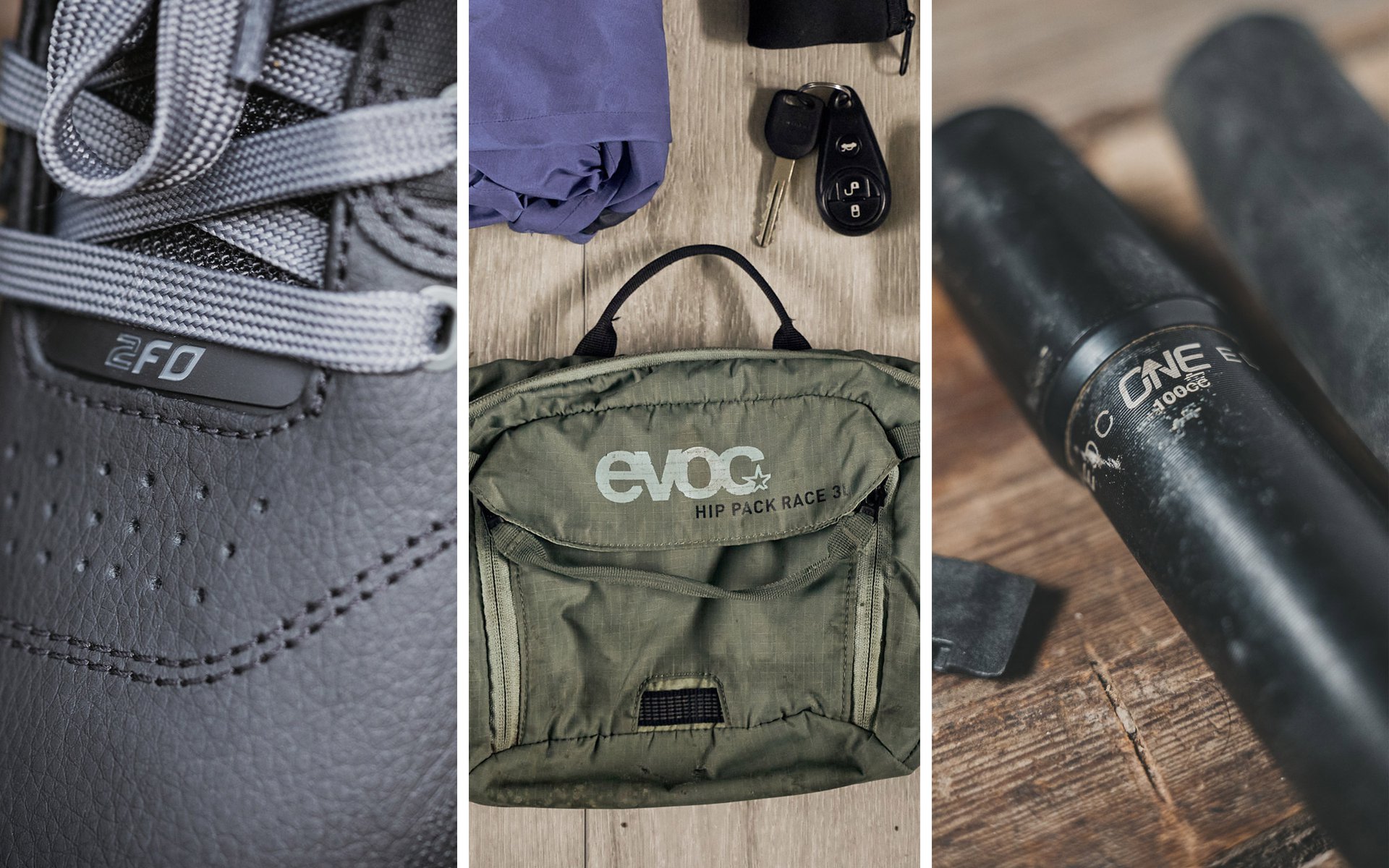 WORTH EVERY PENNY
Worth Every Penny: August 27th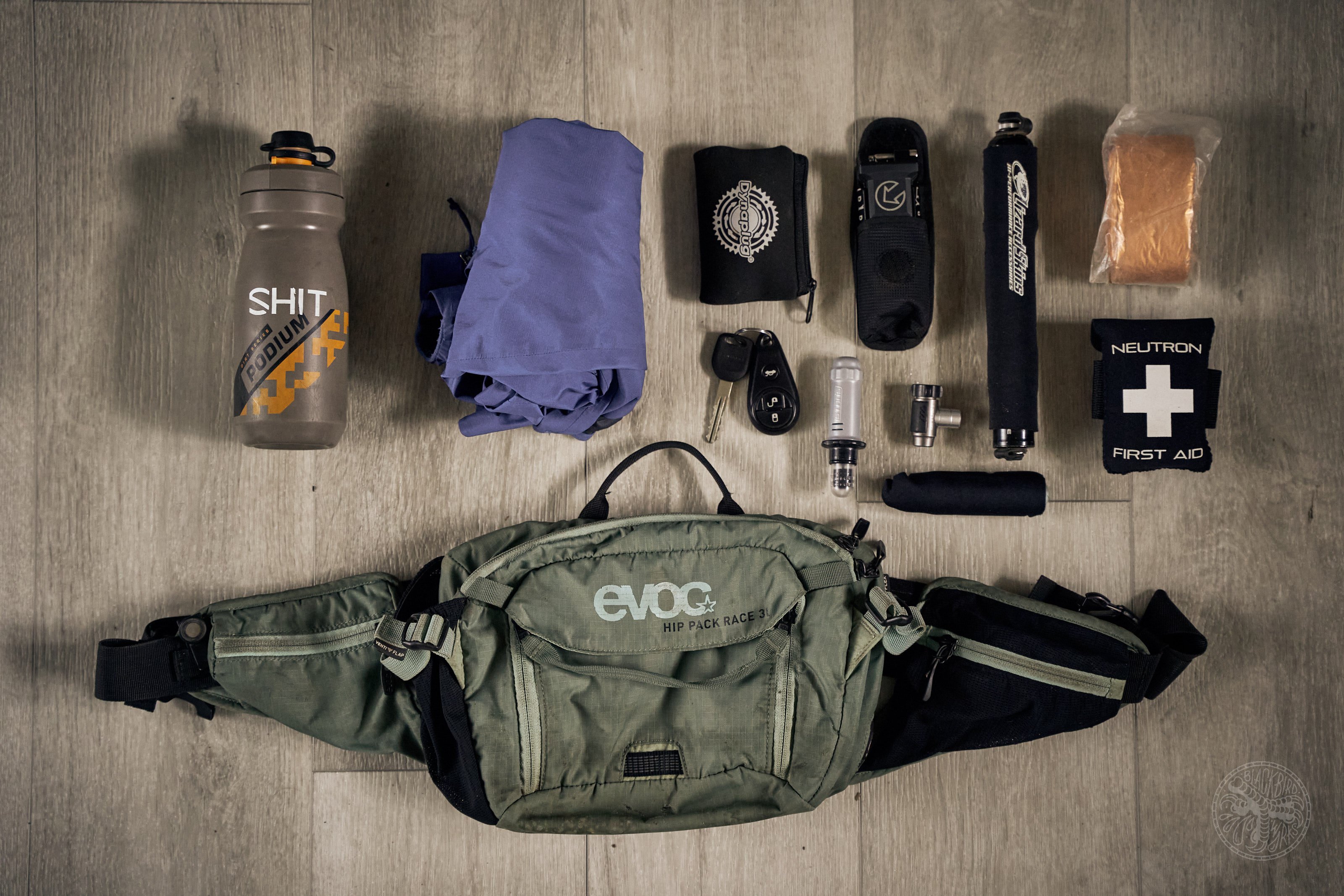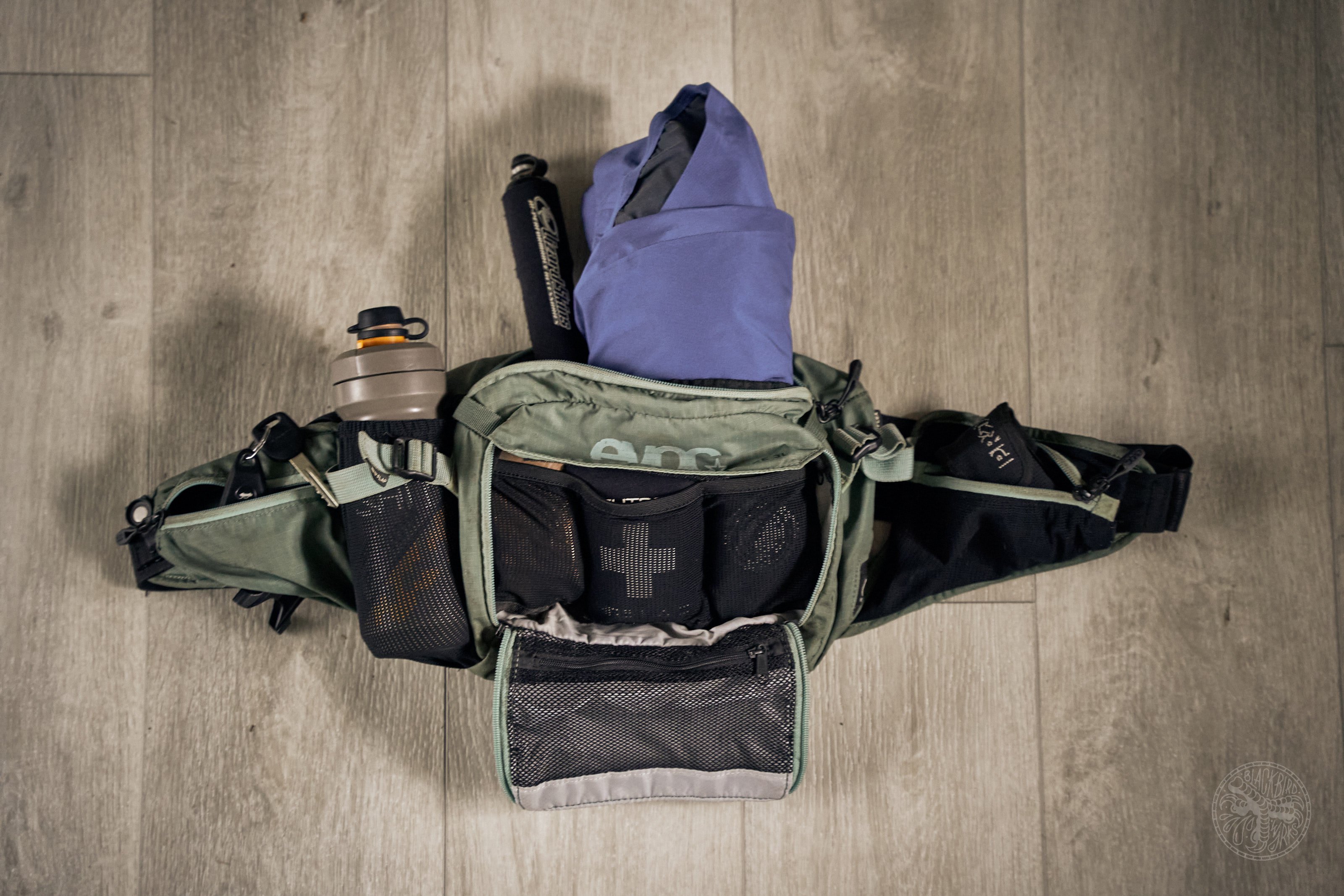 Evoc Hip Pack Race 3L (Deniz Merdano)
We are adaptable creatures. We can get used to so many different user interfaces quite rapidly. Unless the system is designed by a 5 year old (I'm looking at you, Sony). Same system interface familiarity applies to riding clothing and accessories. Your pack needs to be an extension of you with the conveniences it carries.
I have a few different setups that rotate depending on the type of ride I go on. One thing that has been often a "first choice" is the Evoc Hip Pack Race 3L. Although it is no longer called the "RACE" the 3L volume is the perfect cavity for a short or a long day's adventure. Mine came with a bladder, but I didn't like trying to suck water from an ill-routed hose that sat low on my back. It was more work than I wanted when I was really thirsty for a mouth full of warm water. You can purchase these with or without a bladder.
Luckily The Evoc allowed me to carry a bottle on the dedicated pouch. I could also fit another one inside for quite a bit of onboard hydration. How I usually pack this work horse is the mesh front pocket takes a set of Pro components tools. It is easy access and used most often for quick trailside repairs and adjustments. The non- mesh pocket is to be opened twice for the entire riding period. Once before the pedal to put the car keys in, and once to take the keys out afterwards. I find it secure enough to trust with my keys in there. Sometimes the wallet or money will also go in there. If it is really mucky out, those items can go inside the main chamber in a ziploc bag. The front tool flap permanently holds an emergency blanket, first aid kit, a CO2 cartridge, and a Stan's Dart pouch. All these items can be quickly transferred to another pack if the trip required a bigger pack or a photography equipment hauling.
In my experience the Evoc pack stays put and minimally interferes with my riding. I forget that it is there and holds most of the goods I need during the rides. It is easy to adjust the tension and get on with the ride. I have a size 30 waist and close to the limits of how tight I can get the pack around when it's not packed fully. Smaller folks may have a harder time getting a good fit for descending. There is currently a PRO model with 2 bottle meshes and a velcro aided waist strap. These seems like an improvement in the right direction.
Silly as they look, I am happy to not to wear a backpack on my rides. EVOC's Hip pack Race has enough room for water and food on a 4 hour ride in the middle of the summer. In the winter where my rides are shorter, It has plenty of room for an extra layer of clothing.
$100 USD // $145 CAD
https://evocsports.us/products/hip-pack-3l-1-5l-bladder?_pos=3&_sid=f7fc8aa54&_ss=r
---
RideWrap Tailored Protection Kit (Pete Roggeman)
Today's bikes are expensive, and if you treat yours like an investment and take good care of it, you can either make it last a long time or recover some of that investment back when it's time to move it along to its next home. RideWrap offers a variety of levels of protection to choose from: the Essential package focuses on areas where cable rub can be an issue, in addition to obvious spots like the down tube near the BB and the top tube (which is vulnerable to wet/dirty shorts or pads rubbing against it and scuffing your paint). The Covered package adds high risk areas, including full length down tube coverage, comprehensive chain and seat stays, and back of the seat tube. The fork...covers your fork's lowers and crown. But the Tailored Protection kit represents the most protection for your bike and does the best job of protecting your investment, by providing full coverage of your frame, leaving only small, carefully-placed gaps in between pieces. This is possible because RideWrap maps each frame and size using lasers and stuff, and then uses print wizardry we don't need to get into here to spit out perfectly-sized pieces of vinyl, all ready to protect your ride.
The vinyl they use is impressive stuff. It's made to last and keep looking good, so minor scuffs and scratches will actually self-heal when a little warmth allows it to cover itself back up. A Tailored kit only weights about 50 grams, comes in matte or gloss, and is warranted for 10 years against cracking or discoloration. A Tailored kit costs $180, but it's worth more than that in terms of your bike's resale value, so it's a no-brainer for all of your bikes. At NSMB, we've been using RideWrap to protect our personal bikes for years, and some of our long-term test fleet is also getting the full treatment.
You can install it yourself with a bit of patience and a steady hand, or peruse RideWrap's list of dealers to find someone near you that can take care of the wrapping. Learn more at RideWrap's site. The Tailored kit is the best deal at $180 CAD, but the other options are worth considering too if you don't need quite as much coverage, or want to wrap a bike that doesn't see as much potential for damage, scuffs, or scratches.
OneUp EDC Pump (Cam McRae)
I've gotten used to mini pumps being wear items. They work okay when they are new but before too long they stop sealing, the plunger gets loose, or they so corroded or gummed up no amount of WD40 will free the shaft. After more than two years of use, my OneUp EDC 100 cc pump works exactly as it did when it was new. I've never even had to lube the shaft. It's not just durable though; this is a remarkably useful and versatile little manual compressor.
Ingenuity is part of OneUp's DNA and here that involves a removable pump head that doubles as an inflator for your CO2 cartridge. Where will you put that cartridge you ask? It goes into the hollow, large diameter pump shaft and threads into the top cap for safe keeping. If you prefer you can slide in an EDC tool as well and thread your cartridge into the bottom where the capsule normally resides.
The large diameter shaft helps give the pump a sturdy feel so you can hustle air in with confidence. Speed is good as well with this 100cc version. I tested the pumping capacity against a Lezyne Drive HV, and it pushed over twice as much air per stroke. If anyone gets a flat on group rides the first question is often, "who has the best pump?" I offer up the OneUp EDC and it generally lands the role.
In case you didn't notice, I'm quite fond of this pump. It weighs just 156 grams (the 70cc version is 135g), is 25cm (10") long and will set you back 78 CAD or 60 USD. You can find one at your LBS or order directly from OneUp.
---
Specialized 2FO DH Flat Pedal Shoes (AJ Barlas)
It's no secret I'm a big fan of having all the pedal grip possible when riding flat pedals. Having ridden nearly every brand of flat pedal shoes available, I've always favoured the tenacious grip of FiveTen's Stealth Rubber. Most recently that's been in the form of their Impact Pro, which I've also found to have excellent protection and durability. Nothing could dethrone them, leading me to include them in my Worth Every Penny article roughly a year ago. In that article, I stated that "I will happily buy a second pair when these finally kick the can."
Those Impact Pro shoes are still charging hard with plenty of life left in them. They've been ridiculously dependable over the three years I've had them but their third year of service has been lighter, their time split with the new Specialized 2FO DH. The shared time only lasted a couple of months and more recently, the Impact Pro shoes have become a permanent fixture on my shoe rack, something I honestly didn't think would happen. Heck, I probably stretched their rotation time with the 2FO DH longer thanks to an unhealthy denial that they could ever really be replaced.
But they have been, their Stealth Rubber sole outdone by SlipNot ST. The grip of the Specialized 2FO DH flat pedal shoe is so sticky it allows me to ride more relaxed on the pedals, with less chance of feet shaking loose. It grabs at the pedal pins with more immediacy than Stealth Rubber; as if rubber gremlins are lunging for the pins before the shoe is weighted to the pedal.
Once broken in, the 2FO DH shoes have also been comfortable. There's more room through the front half of the shoe than I have in the Impact Pro and I've needed a thin footbed under my custom ones. I thought this would negatively impact the pedal feel but it's been great, still providing at least a similar feel to the Impact Pro, which has a thicker midsole than the 2FO.
The materials used in the uppers have been durable with nothing to note. They aren't as robust around where the sole meets the uppers as the Impact Pro, which I believe to be class-leading. Nevertheless, the protection of the Impacts comes with additional bulk and for many, it's over the top. The 2FO DH shoe has sturdy toe protection but the overall smaller outline does feel like there's less to buffer strikes, similar to being in a competitive Go-Kart compared to the kid-friendly karts with all the bumpers.
The durability of the SlipNot ST sole is looking good but these haven't even had a full season in them. However, similar to grippy, soft tires versus longer-lasting, less grippy options, I'm all for trading some service time in favour of maximum traction. For that reason, and given the minimal sign of wear after ~500km of abuse, I hold the Specialized 2FO DH shoes atop my Worth Every Penny list.
MSRP: 160 USD (flat)