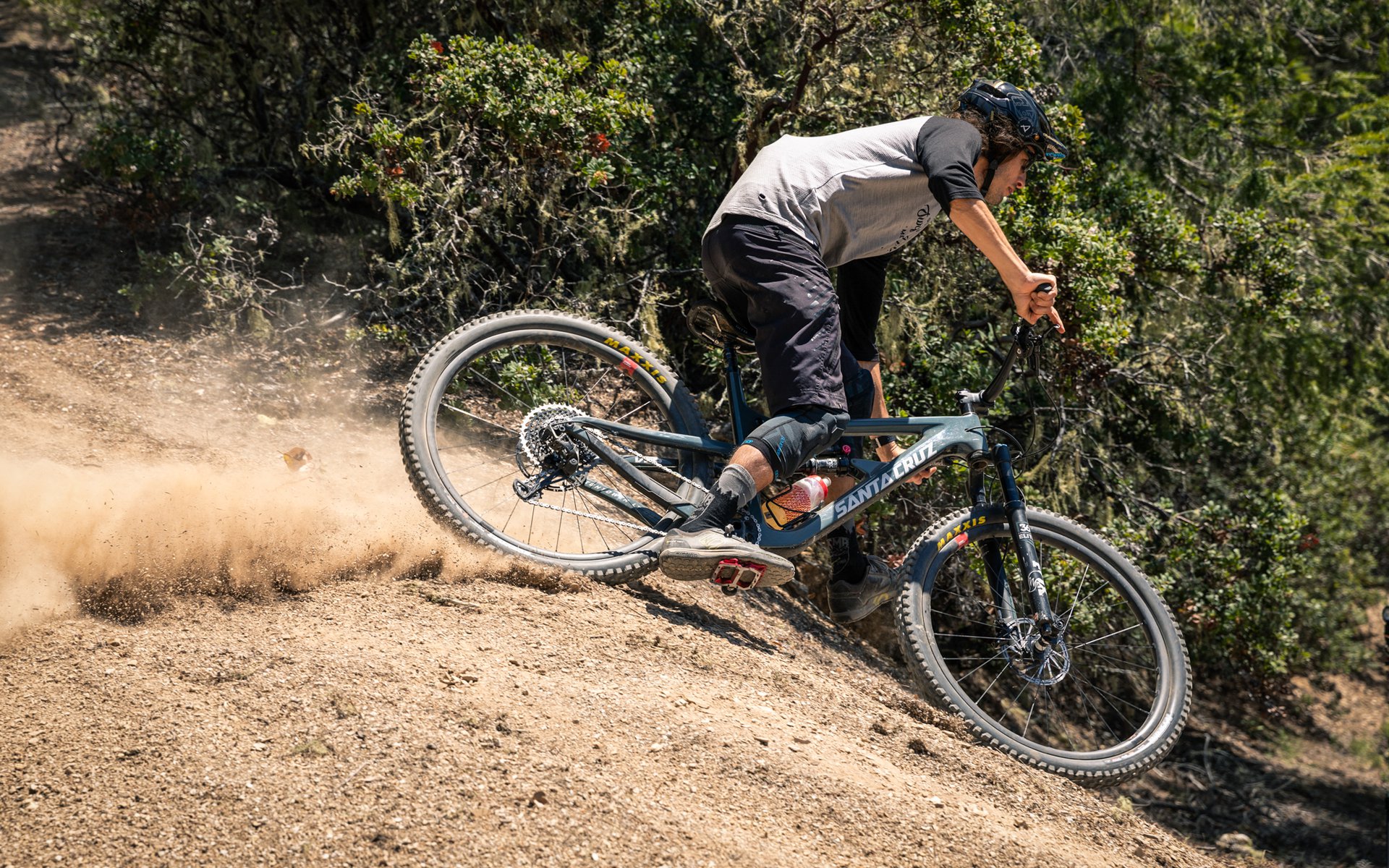 Editorial
Max Flat Pedal Grip vs Some Slip – What Are Riders After?
Two decades ago, when I started riding mountain bikes off-road, flat pedal riders didn't have much say about how our feet connected with the pedals. For me, the journey began with an older pair of skate shoes and a second-hand pair of forged alloy pedals, which lacked grip even when new. Replaceable pins hadn't yet come into the equation.
Around this time DMR began building a presence with their classic V12 flat pedal. For those lucky enough to get a pair and experience the replaceable screw-in pins, grip improved but was still less than ideal, particularly in a race run. The discovery of the Vans Rowley XLT shoes helped again but staying on the pedals remained a challenge.
Shortly after I started riding, Intense began having FiveTen make a shoe for their team rider, Chris Kovarik. Two other well-known Australian downhillers, Nathan Rennie and young ripper Sam Hill, were able to get them too but for us mortals, gawking at them when the guys were at State or National races was as close as we got. Those early shoes were shrouded in mystery but we knew the idea came from Intense's Jeff Steber. Unfortunately it was another five years before FiveTen released what was essentially the same shoe to the public.
Grip Like Stink To Shit
When I arrived in Canada I was pressing a pair of Etnies Vallely 2s into the Primos on my BMX and eventually the stock Kona Jackshit pedals on the Kona Stuff. Keeping my feet firmly positioned on that little alloy hardtail while riding the Whistler Bike Park was a challenge but without knowing better, I made do.
The following summer an upgrade to a Giant Faith and a pedal I had dreamt of owning for years, changed things drastically – the Easton Fatboy. To be honest, my dream pedal was the Easton Cully – a classic and Cully is also a hero of mine – but they were no longer in production or available new in 2005/06. The Fatboys were the next best thing.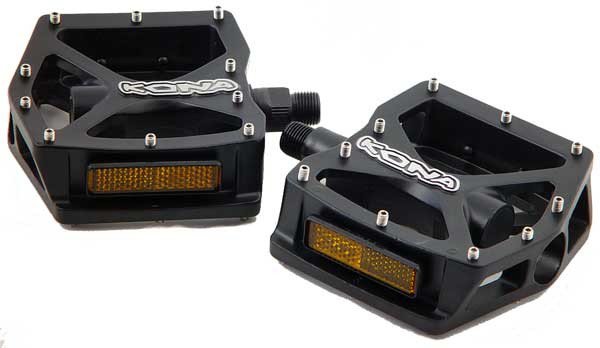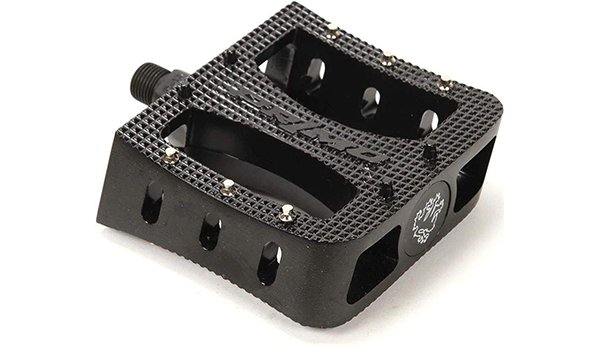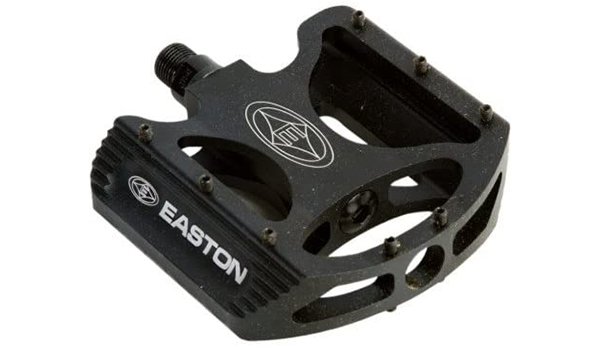 Hold improved significantly with dual suspension and more-so with the grippy Easton Fatboys, despite still using skate shoes. But as equipment evolved, so did my riding and I again found myself having to brace into the bike as much as on the hardtail. The effort required to keep my feet planted in challenging terrain was tiring, especially early in the season. But that same season the FiveTen Impact became available and the combination of Fatboy pedal with Stealth rubber grip was everything I'd been looking for.
All of those years spent fighting for grip with skate shoes and okay pedals limited the ability to push and place the bike. With my feet now firmly held in place, I established new habits, increasing my speed and improving technique. I never realized how my evolution had impacted my riding until after moving to clips, and again returning to flats.
Moving to clips, I found my feet were always moving a little, more than with flat pedals and I wasn't a fan of the float or the interface. Having less pedal feel took some getting used to but the biggest problem was cornering. I found my outside foot regularly unclipping and flapping in the breeze around corners early in the learning process, and there were a couple of instances where both feet blew out.
After years of trying to remain fully planted to shitty flat pedals with skate shoes, I relied heavily on the grip provided between the pins and rubber to manoeuvre the bike. The ultra-grippy Stealth rubber allowed me to relax and stand lighter on the pedal. I was now twisting my foot aggressively into the pedal while steering through corners but less firmly. On clipless pedals, that connection was gone and the twisting motion disconnected my foot from the pedal.
I'd also become quite picky wearing FiveTens, and if my feet weren't placed perfectly on the pedal, I'd lose concentration. Zero movement from the shoes became my preference, while my feet, ankles, knees and hips twisted to steer the bike. I became so attuned to getting my foot perfectly positioned on the pedals that it wasn't any quicker than friends clipping in. This is still one of only two things I'm quite fond of with clips; your foot never moves (unless you blow out) and it's quick to get perfectly into your happy place.
While some riders don't mind their feet moving on the pedal a little, I've spent heaps of time making sure they don't move and my technique has developed around it. Learning how to adjust on the fly if I do get knocked and increased comfort with the occasional slightly missplaced foot has improved. But if my foot doesn't move, why worry about being able to adjust it? Less bulky options from FiveTen have also helped.
This glued to the bike feeling is largely what FiveTen has built their success on – they're renowned for it and are the benchmark to this day. But they too have realized not everyone wants to feel clipped in, without actually clipping in.
Other Grip Preferences
I'm not even sure I knew anyone that wanted less grip when FiveTen became a household name among mountain bikers. While plenty of riders are keen on being glued to their pedals, many wish for the ability to move and reposition more easily mid-trail. Examples include freeriders or dirt jumpers but there is a mix of preferences between those and the max grip crowd.
NSMB's own Cam McRae is a rider who enjoys the ability to maneuver the foot more freely. Chatting with Cam about his preference, it's clear he's not keen on a dirt jumper loose connection, but he'd rather not be glued to the pedals either. Below, Cam and two other NSMB colleagues, Pete and Deniz share details on their ideal flat pedal grip.
Cam's Flat Pedal Grip Preference
I began riding mountain bikes long before SPDs and I started on crappy Suntour XC Pro pedals and whatever shoes were around. I soon switched to toe clips and shoes made for that interface and was vastly happier. It sounds awful if you've never ridden in toe clips but it was much better than the flats available at the time. When SPDs came along I was all in and went along like that happily until Trevor Hansen convinced me to try flat pedals again. At the time I was riding a lot of elevated stuff and drops to flat and after one ride on the Crazy Carpenter out at the Woodlot, I was sold. Eventually, this led me to FiveTen Impacts, the original high top version. Nothing else had enough grip for me; even other FiveTen shoes were inadequate.
Eventually, I went back to SPDs for about five years or so, and I was happy as can be. Then last winter I put some flats on for some snow rides and loved it. Once the snow was gone I went back to clipping in but wasn't having as much fun, and slowly I returned to being a flat pedal only guy. I tried a bunch of different shoes and pedals and discovered that I preferred a little less grip this time around. I couldn't bear being stuck in the wrong spot and sitting down or putting one pedal at the bottom of the stroke to adjust placement is unnerving when you're about to tip into a slippery rock face.
Clipping in seems to have made me reliant on perfect foot placement at all times, whereas previously I may have been less fussy. I like ample grip, but I dislike bad placement more than I rely on high grip to keep my feet on the pedals. I can do both high and low grip but there's a happy medium that feels best for me. I also think the coaching I received from Blueprint Athlete Development has reduced the amount of pedal slip I experience because my heels are lower and my weight is more balanced. All this puts my needs below the maximum grip threshold, but this continues to evolve. – Cam McRae
Deniz's Flat Pedal Grip Preference
I visualize the relationship between the soles of my shoes and the pedals to be multi-dimensional. No acid tripping here but the feeling of hovering above my pedals always puts me at unease. I don't mind a little lateral slip for repositioning, and I actually encourage it.
I like to ride actively and pump the bike through the terrain finding speed on the backs of rocks and roots. Unweighting the bike is a serious chore if I'm not connected to my pedals firmly. If the bike is plush and has plenty of planted suspension travel, I will happily ride on my Shimano flats and sticky-soled shoes. Otherwise, you will find me on Time pedals which give me that vertical retention and lateral float and freedom.
But…
Imagine me on a steep B.C. hike-a-bike, where I can't decide if I should just push my bike up or sling it over my back for the next 45 minutes. The hill is steep, the ground soft, and it's slippery. I don't have long legs so I have to walk right next to my bike. This means more than once I will come in contact with the rock-sculpted and oddly enough 'not much duller than when they were new' pedal pins. My shins will tell you the story and it's primarily why I switched to clipless riding. – Deniz Merdano
Pete's Flat Pedal Grip Story
I bought aftermarket pedals for the first time in about 1992 when SPDs were considered a significant performance upgrade, and I was all SPDs all the time until 1999 or 2000.
As I got into riding skinnies, it just took a few 'barely unclipped in time' moments from head height above the deck to convince me to try flats. It was probably about '07 when I got my first FiveTens, but I moved back to B.C. after four years as a roadie in Switzerland, and shortly thereafter began experimenting with clipless pedals again. That transition back was fairly easy, but I wasn't riding skinnies much and had lost whatever skill I ever had in terms of jumping, so I was pretty happy to get back to that clipped in feeling.
Riding in the snow one winter convinced me to try flats again, and I was eager to be able to comfortably switch back and forth. In 2019 I switched to flats almost full-time, thanks to riding more steeps than ever and appreciating the ability to eject as fast as possible. To be honest, I have far more memories of awkward falls where I couldn't unclip on tech uphills than downhills over the years, but in technical steep lines, the psychological edge of flats has been valuable for me in the last year and a half. I'm committed to staying current on both, but other than for long rides or training for and racing B.C.B.R, I expect I'll stick with flats for half my trail riding and most DH.
When I'm on flats, I prefer a locked-in feeling, so I gravitate towards sticky soles like FiveTen's Stealth rubber. I find I'm able to get my foot in the right place pretty consistently and don't tend to have an overly active style in terms of foot movements. All that said, I was happy with the amount of grip on OWN's FR-01s as well as Shimano's GR9s. I prefer a fairly aggressive pedal (Chromag Scarab, OneUp) and haven't yet tried the Dagga, but plan to do so this year.
More Options to Serve More Riders
FiveTen has tried providing options for less stick with different rubber compounds over the years but for many, their shoes are primarily about grip. And every other shoe is pitted against Stealth rubber, in many cases the original S1 compound for this comparison. That may be unfair because as illustrated above, not all riders care for the sticky grip FiveTen can provide. There's also a market for shoes that aren't as bulky or have a different look to FiveTen but in my experience, most riders not in FiveTen, and happy, aren't after the same traction as the diehard FiveTen crowd.
Ride Concepts are one of the newer brands to offer various rubber compounds, appeasing the different preferences of flat pedal riders. I'm yet to try one of their shoes with matching grip to Stealth rubber but again, maybe they don't need it. To get the stickiest compounds from a shoe manufacturer can require moving to their bulkier shoe models, which also isn't something all riders are keen on. And we can't forget the large impact that the tread pattern and flex of the sole have, which can improve or hinder grip as much as the rubber compound alone.
But for those that prefer to move the foot about, options from shoe companies like Ride Concepts, or the Michelin clad soles of Shimano and Etnies models, as well as many others, help keep every rider serviced and happy. There are now many options and ways to achieve a desired feel. For some riders, pedals are an adequate way of dialling in the fit between the shoe and the bike and we have an insane amount to select from today. Less aggressive pins, platform size and different profiles each affect the interface with a shoe, even if it has the grippiest rubber known to man.
What Do You Prefer?
Considering your progression through the sport, and your style of riding, what are your preferences. All the grip, or a bit of slip?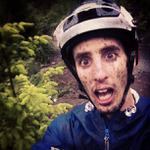 AJ Barlas
Age: 39
Height: 191cm/6'3"
Weight: 73kg/160lbs
Ape Index: 1.037
Inseam: 32"
Trail on Repeat: Changes as often as my mood.
Current Regular: Every test product spends time on Entrail