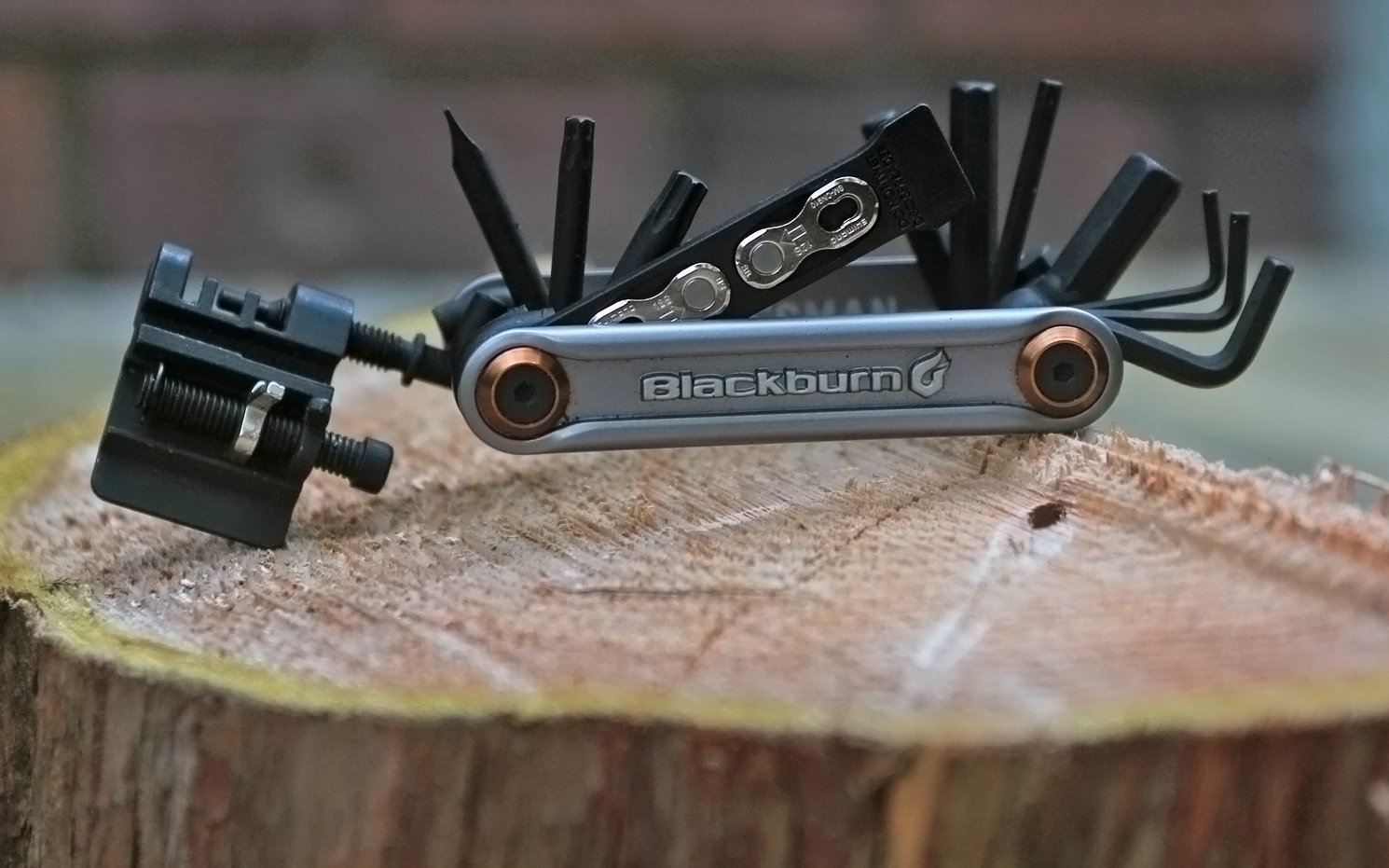 2-MINUTE EXPERT
Let's Talk About Multi-Tools
Presented By

2-Minute Expert is a new feature on NSMB that distills technology and other concepts into short, easily digestible chunks.
---
Being prepared on a ride is not a you are or you aren't proposition. It is a spectrum, and we all fall somewhere along it on every ride. After the bike itself, and a helmet, a multi-tool is the next item you need. Predictably, there are lots of brands that make them, and many options - from svelte to bulky - to choose from. The basic purpose of the multi-tool has not changed in decades: it must be small enough to carry along with you on a ride and light enough that you don't mind doing so, but still capable of making trailside adjustments or repairs - meaning that a multi-tool can be too small if it doesn't provide enough leverage to make one of its tools work for you or, even worse, if the tool you need isn't there when you need it.
Thinking back on my first ever multi-tool is nice in a nostalgic way, but I don't miss that thing one bit. It was a resin-sided unit with a double-sided layout that contained the usual suspects: Allen keys in sizes from 2 - 6mm, and that was about it (it may have included flat and Phillips screwdriver heads). It was cheap and it worked, but I was new to the sport, so I didn't yet know how many things I wasn't carrying. A few of those lessons were learned the hard way but sometimes I was lucky enough to be riding with a buddy who had me covered. It also didn't feel nice in the hand and its flexible frame meant it twisted when I had to apply torque to a larger bolt.
Multi-tools have improved a lot since then, and they've also evolved to reflect the needs of modern mountain bikers. Chain breakers and spoke wrenches used to be separate items, and are now often integrated into a multi-tool's design, and the advent of quick links further complicates that formula. Disc brakes necessitated T-25 bits to tighten a loose rotor screw, and tubeless tires mean valve core tighteners (or a small set of pliers) are a handy thing to have on a ride.
So then, how to decide what multi-tool you need? I spent a little time chatting with Dan Powell and Mark Matson - two of the three-person team responsible for Blackburn Design - to talk about some of the thought that goes into their multi-tool designs.
Jim Blackburn founded the brand in 1975, and its roots lie in touring - an ancient precursor to bike packing, from long before Instagram came along. Blackburn always had a reputation for value and quality - two attributes they still hang their hat on - but in recent years a focus on careful design has carried that reputation forward along with a distinct aesthetic that is both attractive and utilitarian.
Dan and Mark are intent on ensuring their tools cover a rider's needs, but they also are very careful to design their tools based on the way a rider uses them. For example, the 2, 2.5, and 4mm Allen keys on the Tradesman multi-tool are L-shaped, because those are sizes commonly used to adjust things like brake lever throw (for low and mid range brakes without tool-free adjust), and the bent shape makes it a lot easier to get the tool onto the bolt from an awkward angle, like you often find with the 4mm bolts used for saddle rails on 2-bolt posts.
Mark mentioned that he used to hate multi-tools so he carried separate Allen keys because he felt they worked better (in the last year I've heard from several people who feel the same way). When he had his chance to design a multi-tool, he drew on that preference and the Wayside multi-tool was born, complete with 2, 2.5, 3, 4, and 5mm L-shaped Allen keys that detach from the tool completely and have ball ends giving them even better for adjustments in awkward spaces. If you require more leverage for the 5, it fits into the hollowed out end of the included 8mm Allen key. Small, clever details abound in these tools.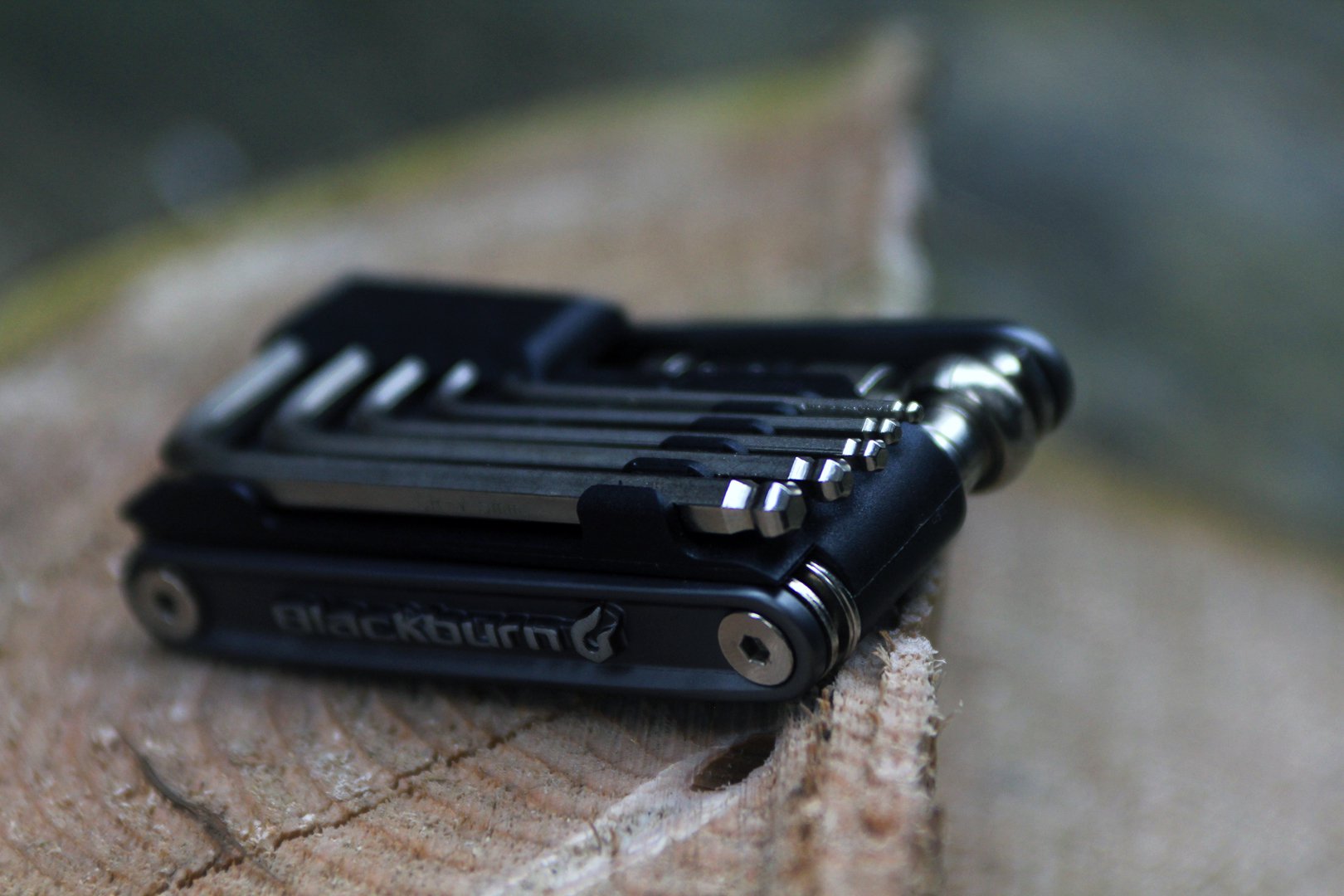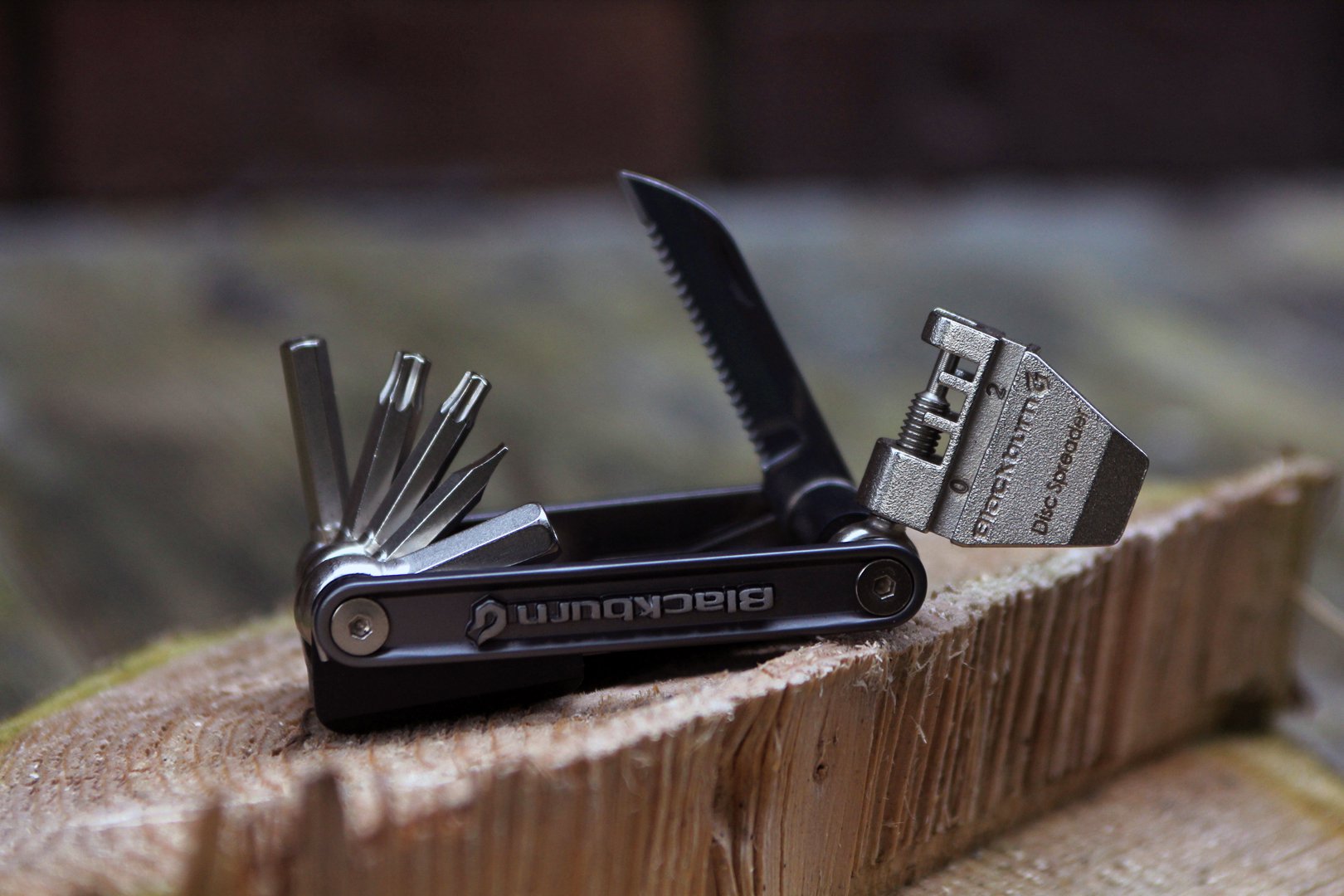 Both the Tradesman and the Wayside come with chain breakers that include disc pad spreader tools, spoke wrenches, and valve core tools. That's a lot of extra utility without making them too bulky or heavy. Like the Wayside, the Tradesman will break chains of any type up to 12 speeds, but it also comes with a Quick Link tool (simply detach and use the 4mm to push links together or apart) and a spot to stick your spare Quick Links. The Wayside doesn't have the Quick Link tool, however it does come with a serrated blade - again, something you may not realize you need until you start to carry it and then it feels essential.
Maybe you prefer to carry something without as many tools all-in-one, but want more leverage and the ability to use in a L or T configuration. In that case, have a look at the Switch, which could be pressed into use at home or on the road as well as when riding. It also comes with a secret feature that I won't reveal*.
*hint: It's a Hit with riders who want to Blaze through repairs, although there's always a risk of having someone Bogart your Switch.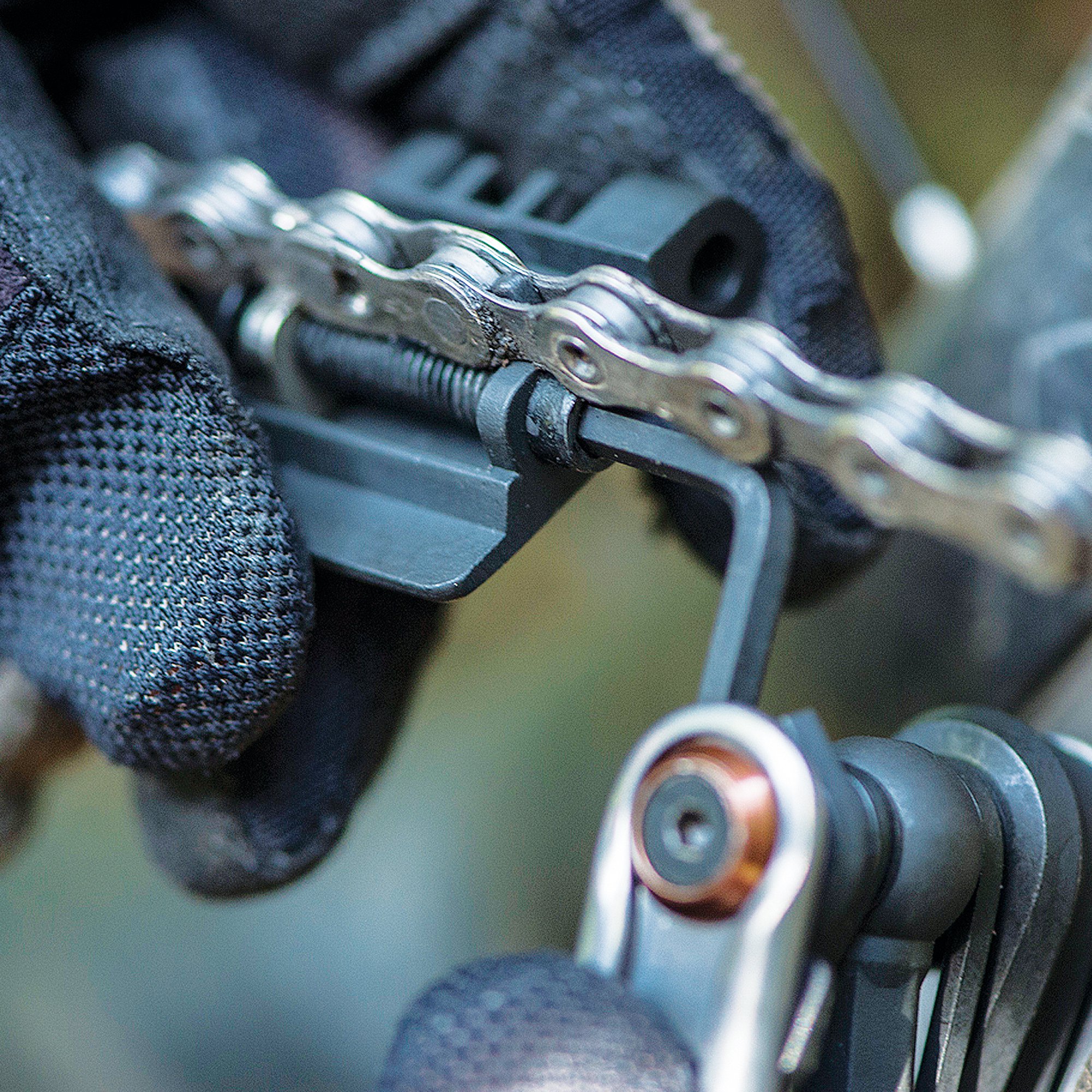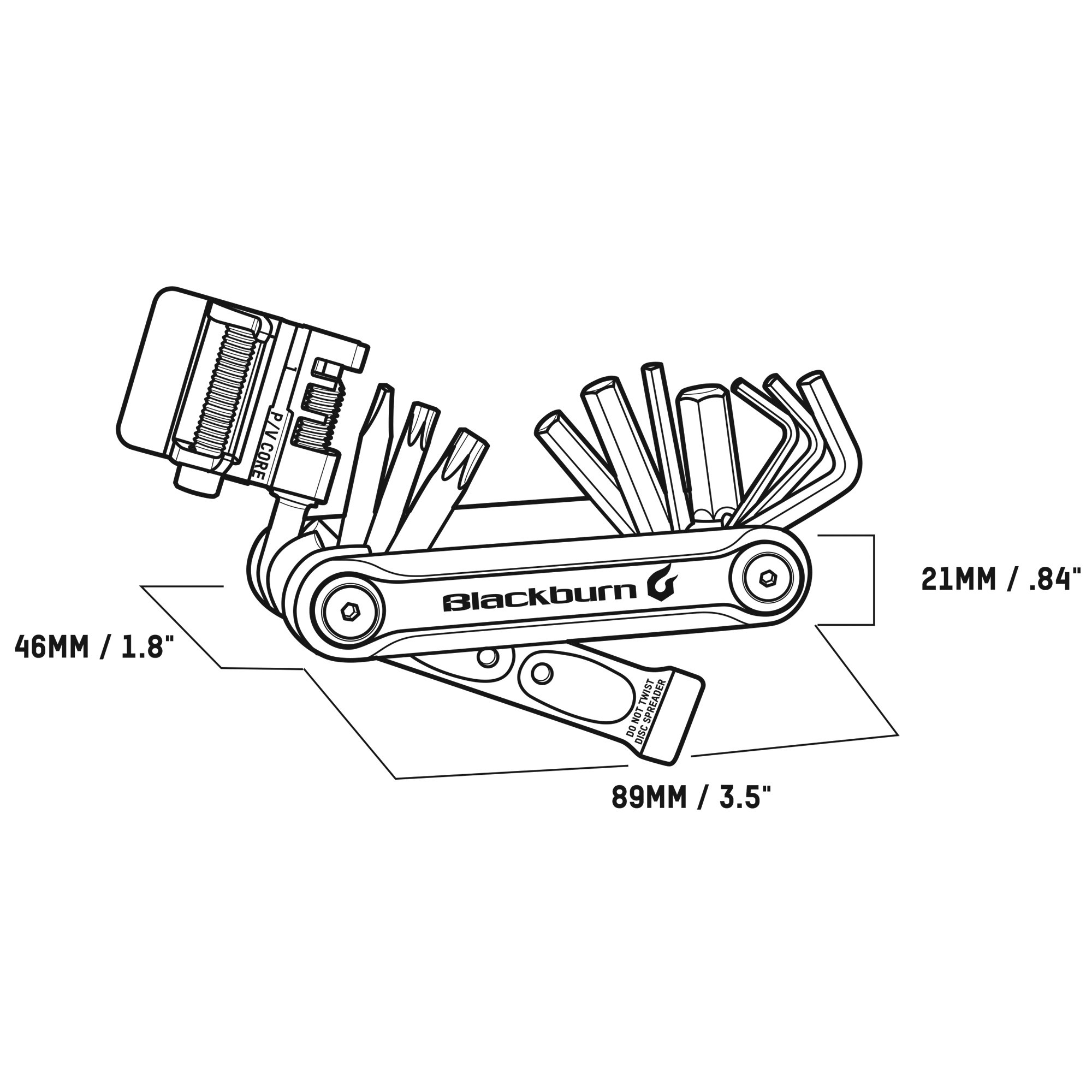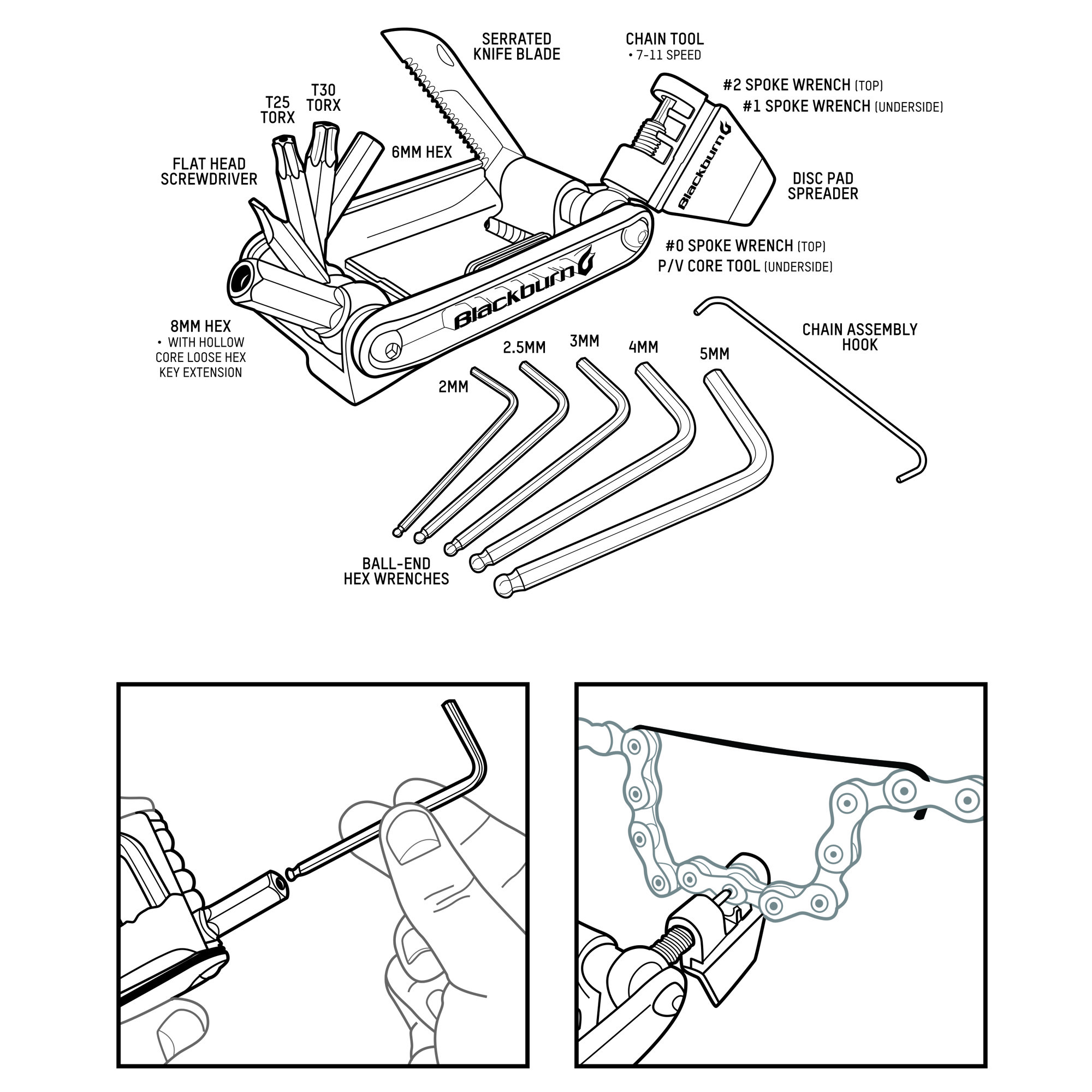 Different configurations for different needs and preferences. No matter what multi-tool you choose to carry, make sure to have a good think about what you need and consider things like design, weight, and cost.
You can find the Blackburn Wayside for $35 online and the Tradesman feels like a steal at $30.
Check out the rest of Blackburn Designs' products on Competitive Cyclist.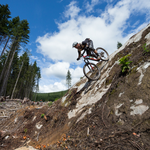 Pete Roggeman
Age: 43
Height: 6'1 // 185 cms
Weight: 195 lbs // 88 kg
Inseam: 32" // 81 cm
Bar width: 780 - 800mm // Reach: 475 - 500mm // Dropper: 170 - 190mm
Flats or clipless: both, but mostly flats right now
Trail(s) of choice: Dreamweaver, Boundary, Lower Digger, Ladies Only, 5th Horseman