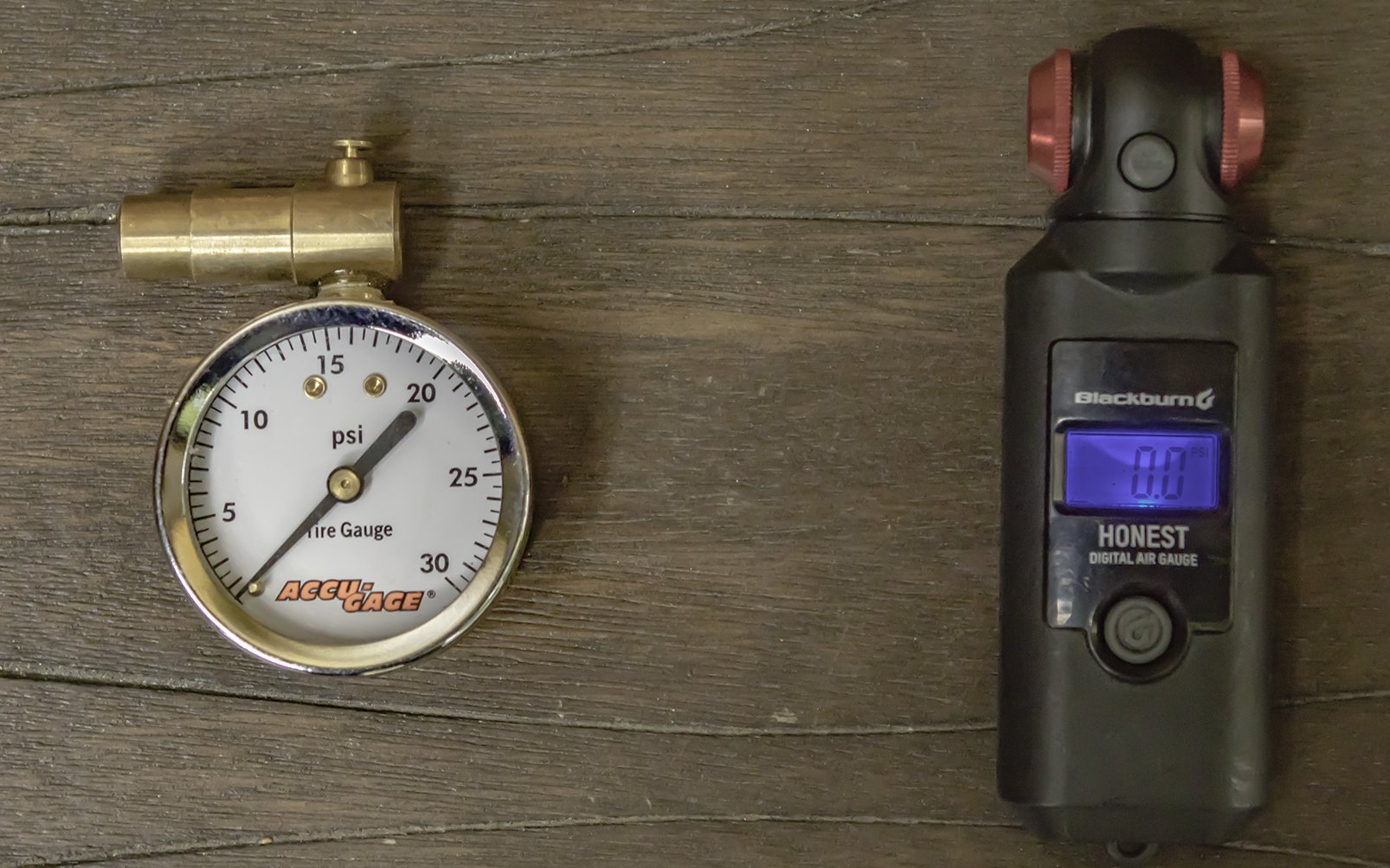 Mano a Mano
Tire Gauges - Blackburn Honest Digital Vs. Accu-Gage
I was feeling good on my bike and riding well in some situations last weekend, but when the speeds rose I was terrified and had to keep things reined in. We have been riding in ice, snow and rain recently and my tire pressure had been trending downward for improved grip. And I got a little lazy about checking, using the squeeze and bounce tests. It turns out that the 2.5/2.4 Minion combo I was running had dropped embarrassingly into the mid teens measured by PSI. Once pumped and checked by gauge to be back at my current big tire mid-winter preference of 20 front and 22 rear,* everything went back to normal.
*for most of the technical, generally low speed riding on the Shore this suits my 160 odd pounds just fine with 2.4 or larger rubber.
One problem with the squeeze test is that you are most likely comparing to your own tires the last time you performed this operation; without reference it's about as accurate as Trump's assessment of Putin. In the era of skinnier, tubed-tires, being 4 PSI off in one direction or the other wasn't a huge deal. If you normally ran 30 you could probably survive on 34 and you may not have flatted riding 26, but that same margin from 22 (or less for plus or fat tires) could mess up your ride - or your brand new rim.
All this means getting an accurate pressure reading is more important now and, aside from occasional laziness lapses, I use one consistently.
This Mano a Mano pits the tech heads against the luddites, analog vs. digital, and old vs. new.
G.H. MEISER Accu-Gage 30 and 15
I can't remember where I first saw an Accu-Gage but I was drawn to it instantly. A large easy to read dial appeals to my inflexible retinas and given the choice between digital and analog I'll take the needle - unless there is some compelling reason not to.
Solid may have been my first thought when I pulled one of the two Accu-Gages out of the shipping box, which isn't surprising considering the brass head, which seems to account for most of the heft. It feels like a quality piece but at 159 grams, perhaps not one you'll want to take on most rides. That impression continues when the gauge is in use; the needle springs instantly to the reading with almost no flicker or bounce. The measurement stays until you hit the reset/bleed release at which point the needle returns to zero just as precisely.
Floor pumps aren't often very accurate (both of mine were out by as much as 10%) but they are generally consistent. To inflate I go to a point above my desired pressure, with pump error in mind, and then bleed until I reach my goal. The head engages without losing much air at all and disengages with similar efficiency. Mounting and removing the gauge releases a volume of air so small, with a satisfying split-second 'pfft,' that it barely registers on the Accu-Gage.
The dial allows you to see half PSI readings easily and even quarters well enough for the 30 PSI model, while the 15 PSI version allows you to determine when the needle is directly between the quarter PSI marks for an eighth of a PSI.
This device works so well it can be easily used with one hand without any measurable loss of air and it's a pleasure to use.
Blackburn Honest Digital Gauge
Blackburn wins the versatility challenge with ease by accepting both presta and schrader valves and measuring up to 150 PSI. The design is sleek and light and features a 180º rotating head and a valve that effectively releases air at a moderate pace . It also switches instantly from PSI to BAR with a tap of the on button and features an illuminated LED read out. The unit is powered by two CR2032 coin cell batteries and is said to be accurate within 1% of pressure.
At 68 grams, the compact shape easily fits in a pocket, bumbag or backpack and it retails for around 25 USD. All this info was great news, but using the product wasn't as tidy. I find it difficult to get a reading without accidentally bleeding a significant amount of air, both engaging and disengaging the unit, often forcing me to start again with the floor pump. Even once mounted the seal isn't satisfactory in my view and it takes a deft hand to get a reading without frustrating gasps from your presta.
One handed operating is even trickier. I eventually had good luck pushing the gage up on the presta with the valve in the high noon position. This is also an easy spot to get view the display. I also had an issue with batteries. Twice I've had the battery indicator suggest "Lob" long before it seemed to me there should have been any significant battery drain. Currently it unpredictably alternates between working fine and indicating low batteries - even at room temperature.
Verdict
For me this is an easy one. I don't carry a gauge on rides so I'm using it in my shop or at my truck before a ride, making portability a non-issue. I want a repeatable, reliable measurement that is easily performed, one-handed if possible. I don't require schrader capability, high pressure or a reading in BAR and if I can avoid batteries I'm happier for it. My preferences make Meiser's Accu-Gage an easy winner.
If your requirements are portability and adaptability as well as the ability to measure high pressures, and you can deal with a little inconvenience, then the Honest Digital Gauge may be for you.
Both are reasonably priced. You can pick up a Blackburn gauge for 25 USD while an Accu-Gage, in either 15, 30 or 60 PSI max will set you back 15 USD or 28 CAD on Amazon.
More on the Blackburn Honest Digital Gauge here and more on Accu-Gage here.