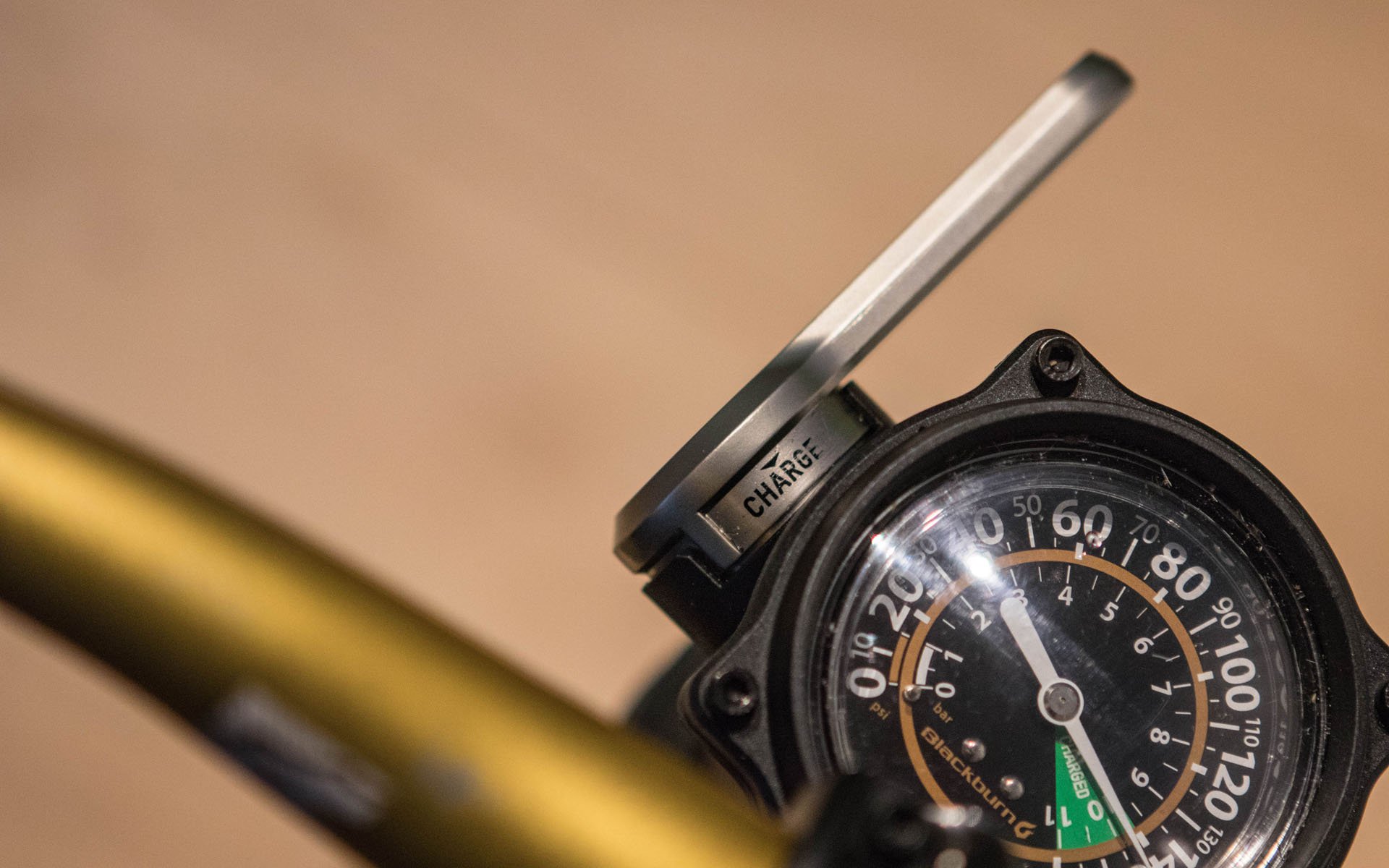 Product Review
Blackburn Chamber Tubeless Floor Pump
The idea isn't new. Mounting tubeless tires often requires a large volume of air, delivered at high pressure. When the stars align and the tire and rim you are using are nicely compatible you can accomplish this task with a floor pump. If Venus isn't in your twelfth hyper phase (or something) you'll need a compressor or something like the Blackburn Chamber Tubeless Floor Pump. 
I own a compressor thanks to a thoughtful buddy (thanks Mike!) and it makes mounting tubeless a breeze, if all goes well. I have had the misfortune of destroying an Enve rim while listening for 'one more crack' from a reluctant tire. The presta adapter I was using shot into the ceiling with alarming velocity and I was left standing there deaf and spattered with sticky sealant. I don't recommend it. Beyond that compressors are noisy, expensive and they require access to 120-volt power. 
Blackburn Chamber Tubeless Features
Ape Hanger Option. A miniature 31.8 mm x 400mm riser bar with grips - that is easily swapped out for the bar of your choice so you can nail the width, rise and sweep.

"Aviation Guage" The large top-mounted gauge is easy to read right up to the 160psi maximum. If you use atmospheres you are accommodated, and this one goes to 11. Coincidence?
Charge Lever. Pump with the lever in charge position then pull it to release to push serious air into your tire. 
Direct Pump Option - if the lever is set to release Blackburn tells us this bypasses the reservoir and allows you to pump right into your tire for fine tuning. 
Well Hung Hose - A four foot length of hose allows you to stand clear of all that cracking and popping that usually occurs, or to use the pump while your bike is on a stand or even on a bike rack.
Any Valve Head - Just push it on and lock it with the lever. It'll even deal with Dunlop valves so presta and Shrader are a snap. 
Bleed Valve - Micro adjust your pressure without removing the head. 
Here's a video demo of the Chamber
After you've grown tired of spitting and swearing, a strategy for particularly difficult tires involves removing the valve core for more direct airflow, whatever air delivery method you are using. That wasn't necessary using the Chamber on any of the five tires I mounted with it. The process is also surprisingly efficient. I timed a moderately vigourous inflation from empty to 160 psi and it took 45 seconds - less time than it takes my compressor to reach operating pressure. 
Blackburn tells us that flipping the charge lever disengages the reservoir so you can use the Chamber like a normal pump. Unfortunately there is some quirk with the gauge because when you do that the pressure shoots up and then returns with every stroke, making it difficult to see how much air you are moving with each pump (my advice would be to hold on to your conventional floor pump if you have a good one). That and the outrageously narrow bar (I kid) are my only complaints about this product. In fact it's so convenient and easy to use that I often reach for it rather than switching on my compressor. A note for lighter riders; you may struggle to get to full pressure if you weigh less than 160 lbs. You can get there by slamming your weight down on the handlebar (as demonstrated by my 106 lb wife) but it may be a little challenging. 
Aside from the large sturdy lever and the swappable bars/grips there is ample evidence of attention to detail. There is a valve to release water build up, just as you'd find in a compressor, and the hose wraps tidily over the bar with a channel recessed into the stem. It's not cheap, but this is well-engineered product that does the job nicely. 
The Chamber Tubeless Floor Pump retails for 149 USD. For more info click here...