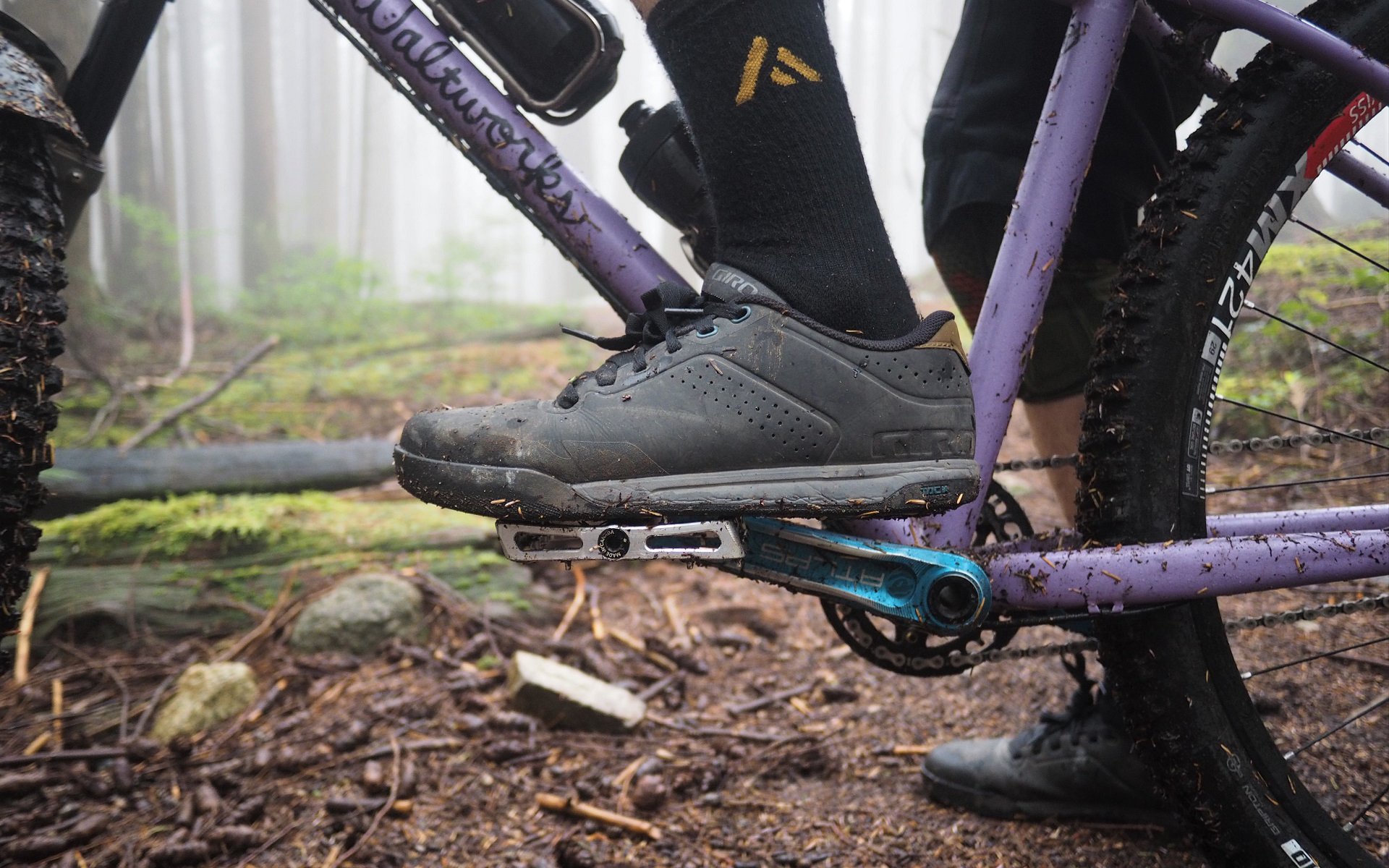 REVIEW
Giro Latch Flat Shoes
Latch Loving
The Latch is Giro's latest premium flat pedal shoe It's an abrupt departure from previous efforts and there's a good chance you're going to appreciate it. The key changes are a much more generous toe box and lighter weight, coupled with rubber that's genuinely sticky. I know that when it comes to Giro's Vibram-soled past there's a bit of a 'boy who cried wolf' factor when they talk about grip, but the new Tack rubber delivers a legitimate challenge to your favourite full-traction sole.
The other feature I'll mention right away, is what Giro is calling Mute. It's a patent-pending slow-rebounding foam-injection-molded midsole layer meant to dampen the bounce from hard landings and punching through chunder-ridden trail sections. Combined with the tacky rubber and good mechanical grip from the sole pattern, these shoes destroy any previous effort Giro has made in the high-performance shoe department. They're really quite impressive. Too impressive for this rider actually, at least on all but the dampest and greasiest days, but that's how I know for sure that most mountain bikers are going to lust for Latch.
I've been using the Latch exclusively since July 28th. I've done long hike-a-bikes, I've commuted on them, I've clawed them into my pedals climbing my single speed and I've loaded them up trying to ride a 120mm travel XC bike down gnarly trails. And most of those rides have been on my two sets of shoe murdering pedals; my base standard OneUp Composites, and a killer set of North Shore Billet's new Daemon pedals.
I note the start date because, a month later, the soles of these shoes speak to the balance between grip and durability that is the dominant discussion point in all things rubber and mountain biking. I have epically more hours in my flat-shoe baseline, the Leatt 2.0, and also in Crankbrothers Stamp shoes, and both have soles that are significantly fresher than these Giro Latches.
Unfortunately, I didn't get a chance to overlap the Latch with the Banshee Titan, because I think I would have loved the thought-free traction in the combination of speed and terrain that the 170mm/155mm sled would get me into. In terms of grip, I like to be able to move my feet around when I'm riding and I generally don't mind having to actively think about dropping my heels and loading my pedals on the descents to make up for it.
Those Laces
I'd write shameless sonnets about my love for the Latch's laces if Giro would agree to give me a box of them. I'd install them in every pair of wide-lace shoes I ride. I don't think I've ever ridden stretchy laces before. At first, it seems like a dumb idea. There's certainly zero-stretch in the premium shoe-tightening systems, like BOA, that appear on many mountain bike shoes, both flat and clip-in, and in my mind the logic of a stiff-stiff upper is sound. Take my Leatt 2.0 shoes for example where the laces have zero give and also don't loosen off when I'm riding. I just have to get the tension perfect before I leave home or I get some aggressive pressure on the top of my foot. With the stretch laces, I've never once stopped to re-tie my shoes either for a comfort adjustment or because they had come loose. There are no hot spots, and I feel like I can just crank them down and go without having to give a thought to not overtightening.
Riding On Mute
I had to get out riding every time there was even a hint of moisture so I could feel like I had some chance of distinguishing the effects of the Tack rubber sole from the slow-rebound Mute mid-layer. Luckily we've had a bit of rain lately. I'm not going to claim that the Mute midsole is experience-changing or anything like that; however, the Latch shoes have a surprisingly damped ride for having such a thin sole.
While I'm not discerning enough, sadly, to distinguish the effects from the super sticky rubber tread and the super-slow rebounding injection-molded mid, I can certainly say that my feet stay in place without a second thought, when combining the Latch shoes with my favourite pedals. If you are landing bigger drops than I do or otherwise finding your feet are getting bounced off your pedals, then Mute is probably a concept that will speak to your flat pedal shoe needs.
I've ridden at least half a dozen different shoes with the OneUp Composite pedals and three different pairs with the NSB Daemon pedals and nothing comes close to the tenacious grip of the Giros with either platform. I have not ridden either pedal with FiveTen's though, so I cannot provide a comparison there.
Tack V. Toughness
The Match rubber soles of the Stamp shoe are worthy of a spot in the high-grip conversation - versus the mechanical, tread related grip of the shoes I usually love - but I've never considered removing pins from my pedals the way I would with the top end Stealth rubber from Five Ten or the Giro Tack rubber. I'd love to read a follow-up review from an NSMB reviewer who's all in on tenacious rubber because, quite honestly, the Giro Latch shoes are more than a bit wasted on me for most of the rides that I'm doing.
I'll certainly be pulling them out for some rides this winter, especially when it's cold and wet and pedals are slick and rubber firms up a bunch but the Tack rubber makes them sometimes shoes for yours truly. I would be all over trying the Mute midsole concept with a mechanical-grip-focused sole like my Leatt 2.0 to see how much of an effect it has separated from the super tacky sole. More grip with a longer wearing sole would be a win-win.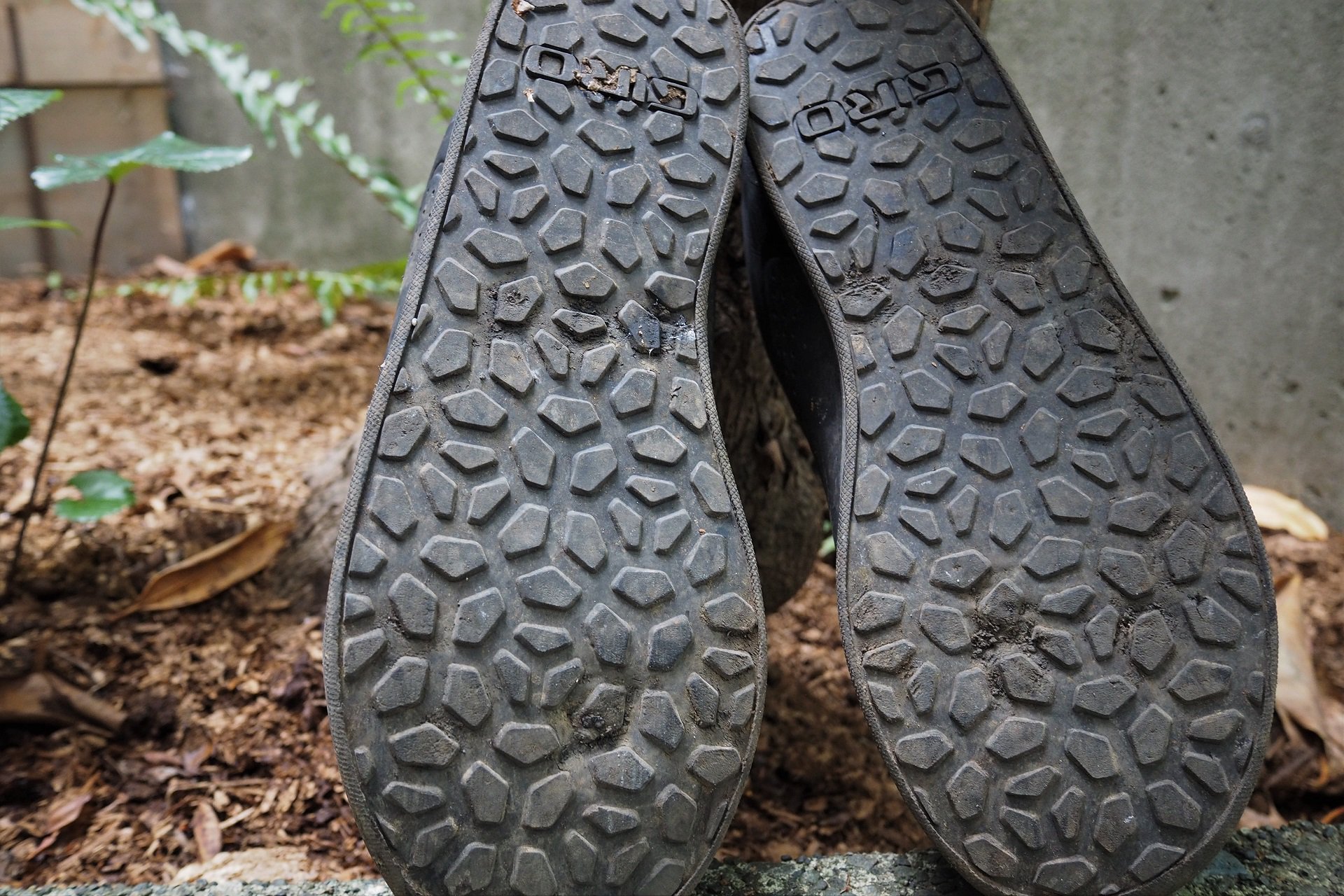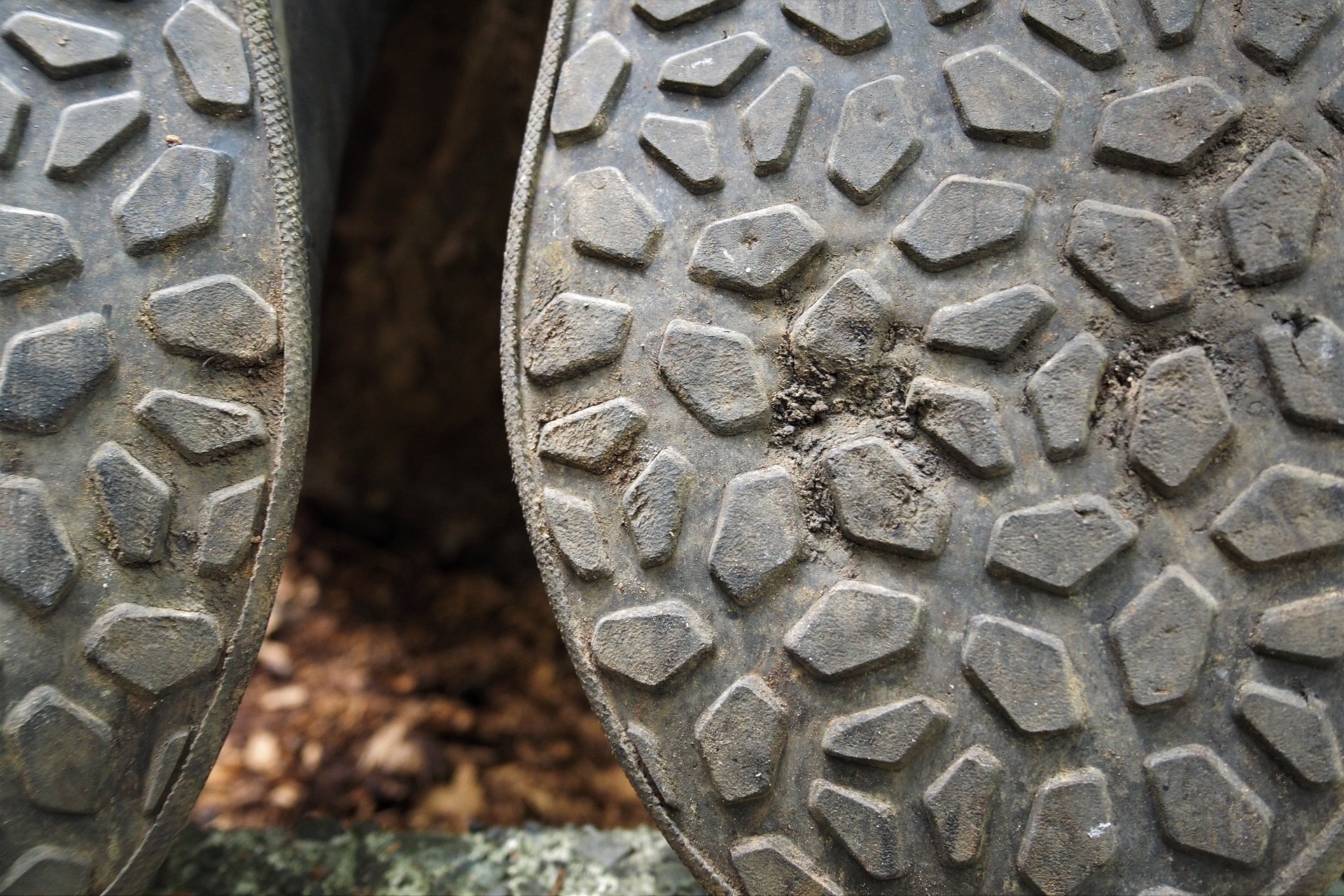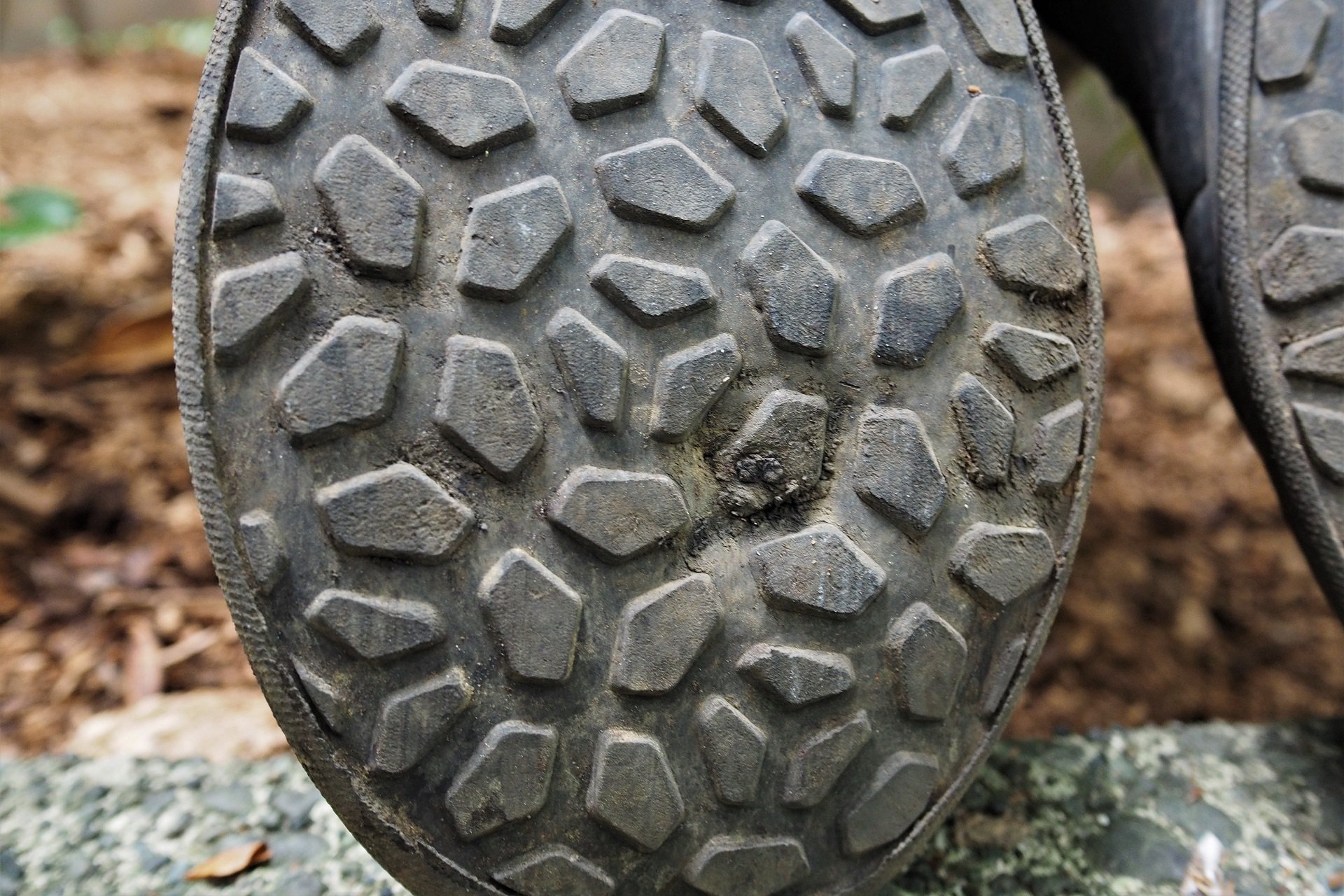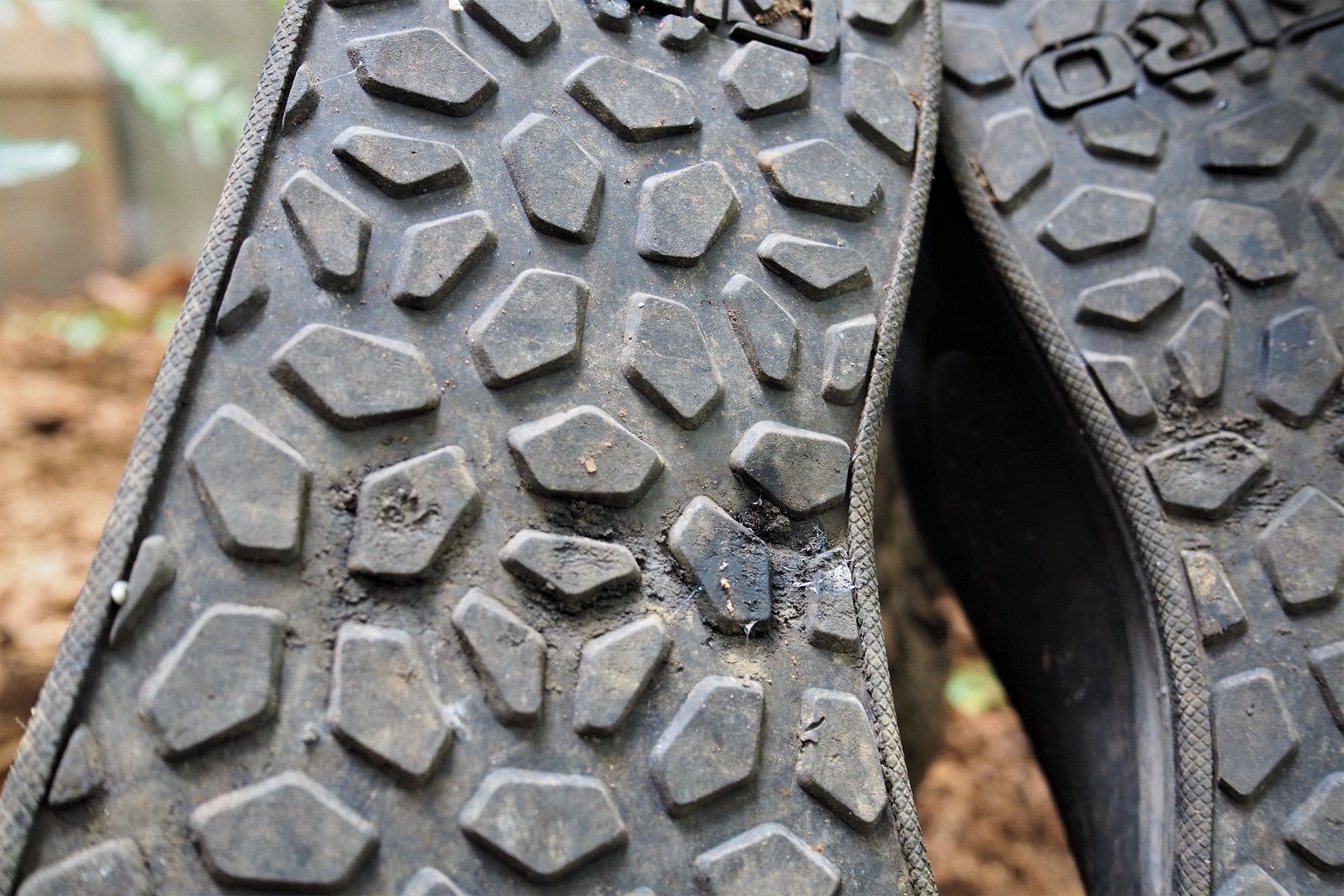 Giro has delivered the quality of manufacturing and materials to command the 150 USD asking price and these are a million miles better than Giro's past efforts. These are a legitimate mountain bike shoe for all traction and weather conditions. While I would trade away a bit of sticky-rubber-grip for increased maneuverability and sole durability, from past comments on shoe reviews I'm certain that these will appeal perfectly to most NSMB readers.
The Latch shoes are competitively light at 324-grams each with no insole (or 395-grams each with my Esker wool insoles installed) and the manufacturing quality seems excellent to me. My tootsies much appreciated the more generous toe-box than the Giro shoes I've ridden in the past and I think these belong on any shortlist for the grippiest, and in most folks' minds, best flat pedal shoes on the market.
More at Giro.com