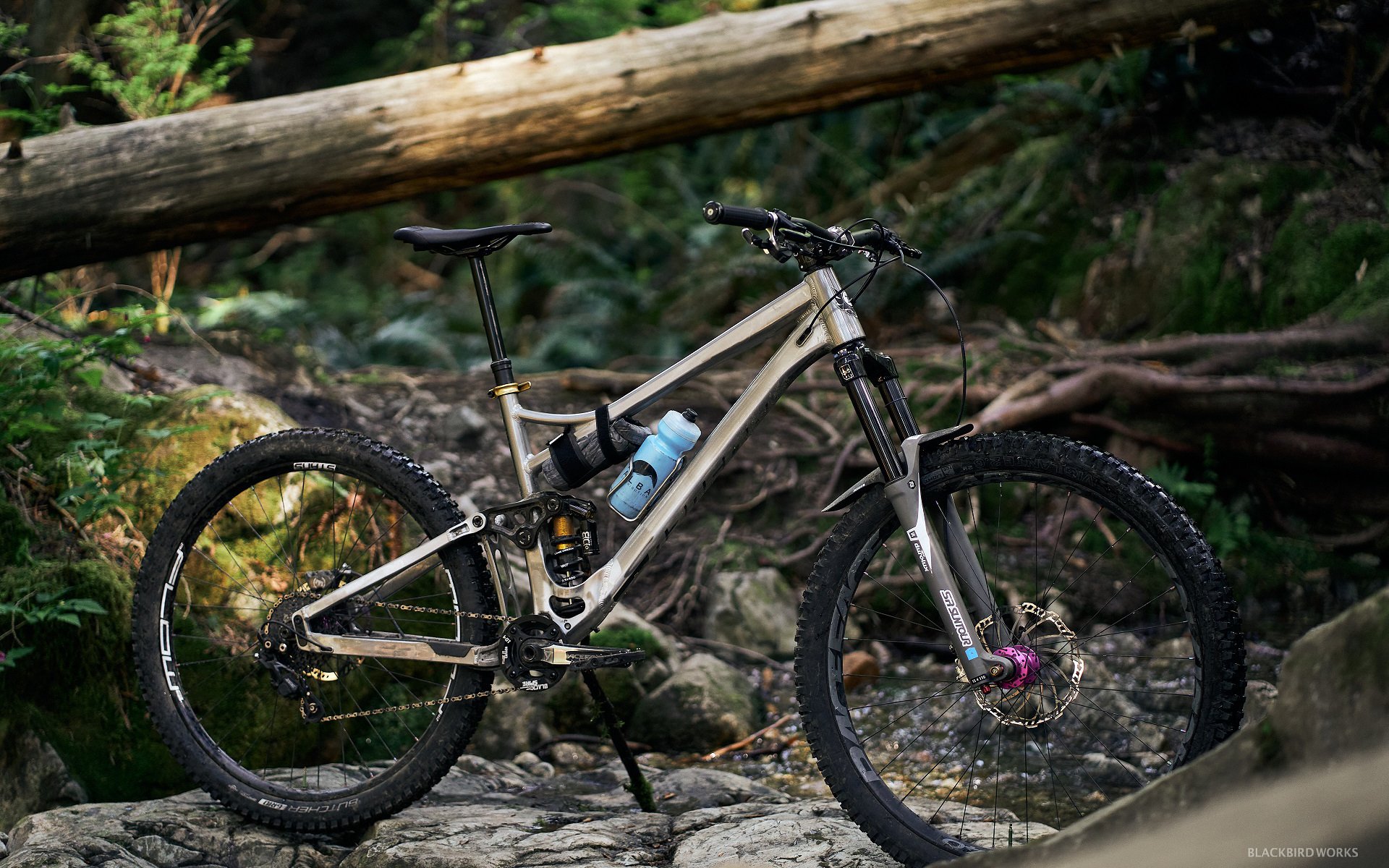 REVIEW
Banshee Titan Review - Part Two
Moving Forward
This is a frame-only review of Banshee's 6" travel Titan. Being a frame-only review and because the build has been ever-evolving, there is a certain degree to which this is a snapshot. Essentially I'm reviewing my experience as the bike sits - from my own mullet wheelset and coil shock, to the Wolf Tooth -1° angleset - on the day that Deniz shot it. So this is a telling of my experience with the Titan and the evolution of my build. Certainly, this has been the most interesting bike review I have undertaken. A curious consumer of content could follow that process through a number of pieces on NSMB:
As much fun as this process as this has been, I'd call the Titan as shown here 'complete.' That is to say, I'm no longer seeking anything from the bike it doesn't deliver, and other than some fresh brake pads and some routine shock & stem swapping I haven't made a single component change since Deniz took these shots.
Seeking nothing more from the Titan this seems as good a time as ever to put together a review. I have a lot to say about the Titan and the process so I can say in advance that this has all been edited for brevity lest it becomes some sort of Odyssey. If there's some detail or avenue that seems to have been missed please hit me in the comments.
Routine Swaps
My two big back and forth component swaps are between two shocks (the SR Suntour TriAir rear shock and my Cane Creek CCDB Coil CS) as well as between 40mm and 50mm stems set at the same height.
No surprise that the TriAir is lighter but that's not a concern for me at all. My shock swapping comes down to the Titan already having a firmly planted feel over all terrain. At my speed and level of pop it takes a lot more muscle to get the bike in the air with the coil than with the less damped feeling SR air shock. I do happen to love the grab-and-go coil setup and just how awesome traction is, up & down, with the Cane Creek setup. Starting from fresh I'd be tempted to try a Cane Creek CCDB Air CS shock to split the difference. In either event, once I removed the stock Fox X2 air shock I never looked back.
On that subject, I don't have anything to add about my experience with the Float X2 beyond my first look. In considering the value of the frame, I would be factoring in the cost difference between selling the stock shock and purchasing one of my choosing. I recognize that some folks are getting along fine with the X2 but I'd be interested in hearing from anyone who tried a different shock - whether it be a DVO, or an SR, or a Cane Creek, or Banshee's recommendation of an EXT - and then didn't find the bike to be significantly better.
For most situations, I prefer my position on the bike with a 50mm stem. Whether running the Fasst Flexx bar or my SQLab 30X I'm running a bar with 12° of back sweep. Occasionally when I'm riding really steep trails and my fork is sitting deep in the travel, or when I'm being a big chicken and riding too far behind the bike, I find the 50mm stem is just a touch too long, so I'll throw on a 40mm stem for that sort of trail. I don't own a 45mm or I'd try the tweener size but really the 50mm feels great 95% of the time and I should just trust the Titan and get over the front a bit more on the other 5% of rides.
In fact, returning to the paragraph above after another half dozen or so rides I've absolutely concluded that a 50mm stem is where I should be and any time it does feel a touch long it's the Titan telling me to get back in a proper riding position. As soon as I scoot forward all kinds of great things start happening both in terms of suspension feel and absolute traction thanks to a truly balanced feel between the front-center and rear-center.
The Long & Short
It's a misnomer to refer to Titan's two rear-center options as 'long' and 'short.' In fact, even changing 'short' to 'medium' is pushing a false narrative. I like to refer to them as 'long' and 'longer.' With that touch of semantics covered, I swapped back and forth a significant number of times before deciding that I preferred the 452mm setting over the 462mm.
For anyone who wonders if they could tell the difference: yes. Yes, you could. It's like jumping back and forth between a 50mm and 60mm stem, or an 800mm and 790mm handlebar, or raising and lowering your stem 10mm, or even swapping between the common crank lengths. In cycling fit, there are two truths: You can adapt to pretty much anything, and 1cm can make a world of difference. I love that Banshee offers options, and the options are almost idiot-proof to swap between, and I find myself wishing I could have tried a 442mm rear-center option as well just so I could talk about it for the purpose of this review.
After playing around I can say for my size large Titan there is no real performance to be gained anywhere from running the 462mm stay. Even in the straight line janky chunk, the wheelbase is plenty long and the weight balance is perfect in a neutral position. I'd love to hear from someone who has tried both lengths on an XL as I can't help but think that combined with the 495mm Reach, instead of the 470mm Reach, the longer stays may be perfect.
Staying with sizing for a moment. I'm about 5'9" tall with T-Rex's ape-index and the size large frame, with its 470mm Reach | 644mm Stack, absolutely felt like the right size throughout the test. At no point was I running a 31mm stem and wishing P-Dent had really become a thing. Even if the medium and large frames added a centimeter to their top tubes I think I'd still be choosing a large and dropping to a 40mm stem.
The long and the short of it is that the largest proportion of riders sit in a pocket between most brands' medium and large sizes and I'd really like to see companies adding a medium-large frame size to reflect that with the added bonus that larges could be true larges and XL bikes could be true XL bikes. Truly tall riders will lament that the "tiny-Titan's" XL Reach is under 500mm and they don't offer an XXL. In an ideal world that XL would be notably longer.
Now, critics will correctly jump on me that the Banshees all have massive headtubes and that increased Stack makes the Reach numbers effectively longer compared to other companies whose short headtubes make for an automatic reduction of effective Reach due to a massive neck of spacers added under their stems. I have two counterpoints. Firstly, it's all about fit before fashion so just pick up a high-rise handlebar for your short-stacked bicycle. Second, I'm happily riding a large.
Two Titanic Misses
In my mind this Banshee has two glaring misses for a premium bicycle. I'm not talking about misses in my opinion, like I'd prefer a truly raw aluminum finish over the satin, or I think the head tubes should be a half centimeter shorter in every size, or I don't like Trunnion mount. These are actually concrete, factual, issues and I'm going to throw them out there right now so that we can move on to the good stuff.
First, the internal cable routing setup is loud. Way too loud. It is the loudest of any bike I've ridden in recent memory. And it doesn't matter how tight you crank down the zip tie in the downtube or how nicely you talk to the exit port hardware, the rattle is real. It's also very easy to resolve the same way most companies do with internal routing on aluminum frames. Just restrict the cables at their exit points.
Knolly uses a rubber grommet, Rocky Mountain uses and zip tie, and with the Titan, I used a few wraps of electrical tape. Just build up a few wraps of tape on the cable where it will sit inside the frame next to the cable ports, install the aluminum ports, and give the cables a tug. It's easy, it works like a dream, and it's more than a bit hokey on a 2500 USD | 3300 CAD aluminum frameset.
The second major miss is that Banshee has done nothing to protect the lower linkage bearings from being bathed in dirt and grime. This is an even bigger issue than I first thought, as I've also learned that going forward Banshee is using full complement Enduro Max bearings in their bikes rather than INA bearings. Switching to a full complement bearing makes perfect sense for suspension pivot applications thanks to a much higher load capacity, but in my experience, Enduro bearings need to be shielded to a much greater extent than Banshee's suspension design accomplishes on its own.
The solution is simple: spec a fender. Banshee even has a nifty template so we can cut one out of a milk jug. Given the template has been around for at least a year, I think at this point it's safe to say that it's not a temporary measure while Banshee works on a production option. I ended up just using a zip tie fork arch fender and a cutting utensil to fashion my own fender by chopping the wings off. It works just fine, but it does look like I downcycled something usable.
Hot For Mullet
If you tell me that the crew at Banshee designed the Titan to be a Mullet, I'll believe you. Heck, I'll believe you even if Keith@Banshee calls me up and swears to the contrary. This is the bike that made me do a 180° on mullets. I'd tried other bike conversions with up-wheeling 27" platforms and I even rode my hardtail for quite a while with mixed wheels and it was all comme-ci comme-ca before now. Something I'd tease my early adopter bike industry friends about with enough personal experience to also see there was some potential behind their hyper-excited ravings.
I have to say, I really enjoyed the Titan with dual 29" wheels. Particularly once I sorted out my pedaling position using the SQLab 60X. I had grand plans to go back and forth between the two hoops and write something interesting but my first ride with the smaller wheel out back and I was totally sold for this platform.
Thanks to the Banshee's excellent rear suspension and long stays I didn't perceive any loss of climbing traction and I had no issues with the smaller rear wheel getting hung up on janky descents. I did drop a rotor size to balance the braking, but otherwise it was a case of there not being any situation where I was missing the bigger hoop in the back. Maybe rollover would have been more of an issue with a lower travel bike or if I was a faster rider, but for me on this bike, there is no redeeming factor for the larger rear hoop.
So, no notable negative differences between the two rear wheel sizes, but what's to be gained? I haven't been riding with many different people lately and I've had multiple friends, including friends who rode with me with both setups, tell me that they've never seen me riding more playfully than on the mulleted Titan. As long as the bike's wheelbase is, it corners like I actually know what I'm doing!
I've never ridden a setup that goes around flat corners as well as this beauty, and I've taken my mediocre cornering skills to plenty of different suspension platforms. I'm not attributing this all to general mullet magic. I'm not in the all-the-mullets-all-the-time camp. But if you own a Titan and you're a serial tinkerer who's thinking of different setups to try, the smaller rear wheel is absolutely something to jump on.
Some setup housekeeping before I go forward. Even with the mullet arrangement, I still stuck with the 'low' geometry position. Throwing it into the higher option would have returned the bottom bracket height, STA, and HTA to approximately the same position they were in with dual 29" hoops but I gave that how-low-can-you-go package a try and I was hooked. It does help that my fork is a bit taller than spec. Even in the low setting, running 175mm arms, crank clearance was rarely an issue thanks to how supportive the suspension design is on climbs. Also, thanks to my smaller-than-normal front chainring with the mixed-wheels (28t), I didn't smack it any more regularly when descending slow janky trails than I do running a 32t on most modern full suspension bikes.
Final Build
Over the course of this review, the Titan has transitioned from a rather mundane but very good Shimano Deore M6100 drivetrain and carbon 29er wheels, to a 2x7 manual front-shifting setup, to the current 1x8 Perry-style setup I'm running (28 x 13-36t). I've installed my mullet wheelset - built off of some P321 hubs that are still going strong - and the OneUp 180mm dropper, which added just the right amount of confidence over the 160mm models I could fit in before.
I rode two different 12° backswept bars in the form of the Fasst Flexx shown in the first look and the SQLab 30X in these photos. I swapped to the 30X playing with Rev Grips as part of an ongoing experiment with different micro-suspension, or noise-canceling, products. I love writing about this stuff and I fully appreciate how much comfort some folks gain from. But, with my Durolux properly serviced and my rear shock setup well I'd be just as happy running my usual push-on Swayze grips on the 12° SQLab.
For folks that follow my ongoing bar-sweep musings (somehow this article keeps attracting fresh comments), I did also try a 16° bar - which is my preferred sweep normally. Fit-wise, it had me going to a 60mm stem. It was fine for climbing but I felt less aggressive while descending compared to my 12° bar with a 50mm setup.
One hidden upgrade that I really appreciate is the angleset I've been running for a good chunk of this review - even before switching to the mullet setup. Between the Banshee's 130mm ZS44/ZS56 headtube and the fact that the Wolf Tooth Geoshift angleset is a -1° version, it's a very subtle addition to the bike. That's subtle both in terms of the appearance, with no obvious headset cup extensions, and also from a performance perspective.
Going from 64.5° in the low setting with my 170mm SR Suntour Durolux and then slacking the system out a degree isn't nearly as profound a change as ditching a degree from a much steeper bike, but it's a difference in handling and stability nonetheless and takes the Banshee closer to the territory that a bike with its travel endowment lives in 2021.
As compared to running the same fork with the stock Banshee headset, the -1° also increases the reach, steepens the STA slightly, and lowers the BB height a touch. The steeper STA wouldn't be desirable personally, but my mullet setup easily compensates for it.
It's true that the Titan frame includes a headset, with the cups preinstalled, right out of the box. For folks who aren't seeking any change in geo, this is a nice little value add compared to buying a frame only. I could certainly see plenty of folks adding a zero-stack angleset to their build though. The Banshee already has a nice and tall head tube for a given size, so the fact the Wolf Tooth angleset doesn't add to that is a bonus in my book.
Putting aside the Titan for the moment, I think an angleset can be an excellent way to refresh any bike , whether it's moving slacker or steeper than the stock geometry. I'm a big fan of the plan to Buy The Bike You Already Own and I also think that anglesets create potential value when looking at used bikes - something I'll be looking into further in a future article.
For a drivetrain, the Banshee is sporting my compelling crankset from Race Face, a 28-tooth North Shore Billet narrow-wide granny ring that's offset inboard, and an 8-speed 13-36t cassette. Shifting is handled by a Shimano Zee short cage rear derailleur and a 9-speed XTR shifter mated to a Wolf Tooth Tanpan. Riding on the North Shore I've been fine with the range this delivers and I like the beautiful chainline. Can't argue with the significant reduction in unsprung mass either - although I chew up the savings running a CushCore Pro insert in the rear wheel.
On that subject, I'm running CushCore Pro inserts front and rear with a Specialized Butcher Grid 27 x 2.6" out back and a 29 x 2.6" Vigilante High Grip/Light Casing tire on the front. The Vigilante 29 x 2.8" is the best 29+ front tire I've ridden, and I've been generally very happy with the 2.6" as a trail tire on a variety of bikes; however, with the Titan I could easily be talked into a slower, more aggressive, option like WTB's Verdict or a Magic Mary. It's particularly the case when I'm on unfamiliar trails and find myself needing to bring the bike down from higher speeds with very limited notice.
'Onion Mount' Tears
As I mentioned above, after I received a number of messages from readers regarding their Banshee frame bearings, I confirmed that folks buying a Titan going forward will find that it comes spec'd with Enduro Max bearings. Full complement Max bearings make a lot of sense for suspension pivots and combined with the judicious use of a fender for that lower link, should have a comparable life span to higher quality, standard INA bearings.
One place I hope the Max bearings will make a difference, and I recognize this is going back on my INA-hopes in my first look, is in the Trunnion shock-mount bearing life. I'll note that the Banshee's Trunnion bearings outlasted any other Trunnion bike I've ridden to date; however, they've been fairly indexed for a few rides now and if this was my bike I would have replaced them a month ago. The rest of the bearings are still rotating just-fine.
It's probably fair to say that the newer Banshee frame layout couldn't exist without Trunnion and that ability to pack a longer stroke into a shorter eye-to-eye length. The shock-basket layout does lower the centre of gravity, look sweet, and contribute to the excellent frame geometry so it's hard to be a giant prick about the use of 'Onion Mount' here. Banshee also did things right with this Titan and the alignment is wonderful.
There's no binding of my shock through the stroke the way the frame is assembled around the two machined sections - front & back - tied together by machined linkages there shouldn't be any of the crazy shock-eating loads that a fair few Trunnion-bikes are starting to see flagged on their resumes. Certainly, at this moment in time, the Banshee is the only Trunnion platform that I'd consider putting my own money down to purchase.
Climbing Up

"This aggression will not stand, man." - The Dude (Big Lebowski)
I'm still fairly shocked at how well the Titan gets up the hill. It doesn't matter what damper I'm using, air or coil spring, and I never hit the climb switch - no extra support needed. Just find the right gear and turn those cranks in circles. The extended rear-centre forces the tire into the ground. The wheelbase is long but it's so well balanced that it's very stable leaning the Banshee around tight switchback corners. The 27" rear wheel of my mullet setup is much easier to accelerate when needed but thanks to the quality of the suspension there's no issue maintaining moment or traction v. the stock 29" fitment.
Of course it's not surprising that the climbing traction is excellent. Companies really have to try to f*** up their 6" travel bikes to have them skittering about on the trails. Don't get me wrong, some do. There's a reason that 6" travel bikes that 'pedal like [heavy] XC bikes' up the hill usually aren't all that fun on the way back down. In the case of this Banshee, I would absolutely put the bike up against any comparable machine in terms of the magical balance of traction and climbing support without sacrificing descending capabilities. I could almost, almost, call it pleasant.

If the latter options have Motörhead playing in my head on the climbs, the Titan is definitely bringing on the Bob Marley.
Pleasant. Like having tea with a polite stranger. It reminds me of other long(er) travel bikes that have a solid reputation for uphill capabilities like the Specialized Enduro or Santa Cruz Nomad. Chill out, maintain a steady pace, be friendly, and I'm at the top of the climb - technical or tame - much faster than I would have guessed. I was happy to be surprised more than once as I spun onto friends' wheels uphill when they were sporting significantly lighter weight bikes.
There's certainly no point in trying to push the pace. The Titan doesn't reward hard efforts efficiently, especially for someone like this fella who likes to climb out of the saddle sometimes regardless of the bike he's on. Nope, on the Banshee sit-and-spin is the name of the game and this platform absolutely rewards the most patient of manners in determining the order of arrival at the top on group rides.
So, a synonym for pleasant, at least in this case, is boring. As in not fun, but not offensive at the same time. For folks who are just winching up to come back down, the Banshee fits the bill perfectly. Perfectly. That's the ideal Titan customer. Even if that winch-up ride is hours long. I've done some very long rides on the Titan and never once complained about how much it weighs or about it being slow.
The flip side is that I really do enjoy attacking technical climbs and, whether I'm sporting a 27" or 29" wheel in the rear, this is not the bike for me in that regard. It actually improved with the addition of the angleset as the bike is just that bit much more composed when I'm up out of the saddle but even with the mullet rear wheel the bike just isn't jumping to it.
I've actually had a pretty good debate with a Banshee Titan owner in this regard and I really feel like we are saying the same thing - it's just that our metrics are skewed. He says it's the best climbing 6" bike on the market and I'm certainly not going to argue on the contrary. I say it's very capable of getting me up the hill but if I was to call it a great climbing bike I'd add the caveat that it lacks severely in the 'fun factor' relative to shorter travel machines I've ridden.
That is to say that the best climbing long-travel bikes on the market are still just getting me somewhere where I find climbing a hardtail or a short travel FS bike is actually a truly enjoyable part of the ride. If the latter options have Motörhead playing in my head on the climbs, the Titan is definitely bringing on the Bob Marley.
The Downs
It's slack. It's long. Stability is excellent in all situations and I appreciate how well it climbs, but let's face it, if you're in the market for a Titan it's the fast and/or janky descents that have you choosing it over the shorter travel bikes in Banshee's line up. Again, the Banshee is a very stable, predictable, bike.
It wants to have fun, really it does, it's just that it wants to do that down very aggressive steeps and at higher speeds than I'm typically going. This is fully a compliment to the bike as I routinely had to push through a minor case of imposter syndrome and ride the bike outside of my typical comfort zone. I hit quite a few lines on the Banshee Titan that I had never hit before, or with newfound confidence, and frankly, it was exhilarating.
Sometimes a bit too exhilarating maybe. I also had some of my larger off-the-bike moments in years. On stuff that I ride my rigid singlespeed down. It's that old factor that speed is indeed itself a technical feature and even great suspension and some of the best brakes money can buy can only help so much to get a bike under control when it's cooking.
The Titan has a relatively tall front end courtesy of its 130mm headtube (size large) and long travel fork. Some folks won't love this - it's 20mm taller than the headtube on an XL Knolly Chilcotin for example - but for me it's ideal. With my 170mm Durolux EQ, 5mm spacer under the stem, and mid-rise SQLab bar I was in my high-bar happy place minus all the judgmental looks.
Thanks to the long and balanced setup getting my weight into the front wheel on descents or in corners was never an issue. Neither was creating power on climbs. Running the dual 29er setup I did occasionally find it hard to muscle the bike through tight, flat, corners. I'm certain that largely comes down to my much-more-progress-needed cornering techniques but with the smaller hoop in the back, the Titan simply railed.
Whether the climbs are all about taking a deep breath and spinning to the top, the Titan rewards more aggressive behaviour on the way back down. My awesome experience running the bottom bracket low with the mullet in tow has me regularly asking the question 'how low is too low?' when it comes to bottom brackets. It certainly helps that I recovered a lot of ground clearance, when my pedals are level, by running a 28-tooth ring; however, I am still running my preferred 175mm cranks and with some judicious technique, I rarely clip a pedal.
I do think that Banshee would do well to spec their bikes with a OneUp dropper post so that folks can be assured they're getting the longest possible drop for their leg length. It's a bike that benefits from increased bike-body separation. Then again, what bike isn't?
I did have a few awkward moments coming off of log rides. Always with turns, and always losing the back or front wheel first as I attempted to drive the Banshee around them. What's bizarre is I'd then go back and hit the same corner with absolutely zero stress. This comes down to the long front & rear centre and I've become ever-so-much better at not losing the rear tire off of stuff with the abundance of practice I've been getting. It's long, especially for having a relatively short reach number, and I generally like that. No, love that. The balance between the wheels on this bike is the best I've ridden in a trail/enduro bike. It reminds me of rolling around on a DH rig except this one can be easily pedaled to the top.
If I had to choose one, I'd ride the Titan with a coil shock for certain. It has plenty of progression built into the suspension design and frankly once you've committed to the aluminum Banshee, gram counting obviously isn't a regular pastime. A good coil shock will cut down on maintenance costs & frequency, and also boost the bike's tendency to hug the terrain and deliver solid traction whether it's cornering, trying to ditch speed on steep terrain, or looking to eke out that last bit of brake control on a grungy sport surface.
The coil shock also accentuates the Titan's best features. Whether it's soaking up repeated braking bumps, or easing away the energy from a big & fast hit, I'm regularly amazed at how good the KS-2 suspension design is turning out to be.
Phantan? Titom?
I love this frame-only review format for a few reasons, not the least of which is I feel encouraged to get my geek on. It also really lets me see deep into a bicycle in a way that's proven very helpful for challenging some of my theories on bike fit and bike maintenance. It's also helped me determine that I really love the Titan but I've decided that it is too much bike for me on a day-to-day basis.
I want the geometry. I want all the geometry - Wolf Tooth angleset, and mullet, and lightly over-forked front end - but I want it dropped directly into a much shorter travel rig. It's more involved than just pressing an angleset into a company's existing 100-120mm 29er travel full suspension platform and then slapping a 27" wheel on the back. I mean, the Banshee Phantom actually starts to get close with the mods installed but it's still not bleeding edge progressive for a short travel bike. I think I'm looking for long, low, slack DH bike geometry in a 4" travel platform?
The Phantan or Titom is going to absolutely fly down trails, while at the same time being very comfortable with the prospect of all day or multi-day periods in the saddle. Enough geometry to get me into all kinds of trouble on the trail and certainly not enough travel to get me out, and isn't that half the fun? Then I'd rather dwell on the potential than the pitfalls.
I feel like a bunch of companies are on the cusp of producing just such a mountain bicycle and don't see any reason a next-generation phantom couldn't be a contender. Certainly, I know folks who are over-biked so they can get certain geometry and folks buying shorter travel options because they want to go out and pedal all day. Sign me up.
In the meantime, cheers to the Titan. Fantastic suspension performance, handled in a mature way, with lots of great details in the bike. I think you get a lot of really nicely made frame for 2500 USD | 3250 CAD in this instance. I've enjoyed progressing on this frame to no end. The adjustable wheelbase and quality of manufacturing just add to the value as does the ease of installing the different length dropouts.
There's plenty more information on Banshee's website, and I'm happy to answer any questions, any concerns, and for anything I've missed in the comments below.